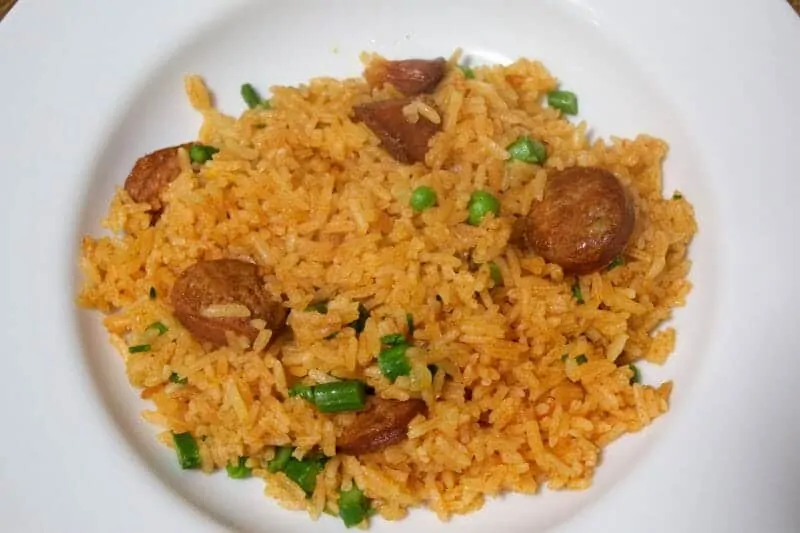 When I first moved to Spain I loved to experiment with new and different ingredients. In the U.S., when we talk about Spanish rice, it usually is closer to a Mexican rice than traditional Spanish rice. A traditional Spanish rice (or Paella) is typically full of vegetables and some type of meat or fish. It is cooked slowly on an open flame in a large shallow dish called a 'Paella', which is where it gets its name.
In Spain, they have so many wonderful sausages to choose from; chorizo, butifarra, fuet, longaniza…etc. I think adding a bit of sausage to this rice really gives it a delicious flavor. This is a combination of a typical 'Spanish rice' you would find in the U.S., with a little authentic Spanish flare.
Since it's Spring right now, we have lots of new things coming up in our garden. We decided to add peas and asparagus that we picked today to add some nutrition and color to the dish. Feel free to add your own flare whether it be other meat or vegetables. This is a very simple recipe, but it is important to monitor it and stir it often so that the rice doesn't burn.

Spanish Rice with Chorizo Recipe
Total Time
1
hour
10
minutes
Ingredients
3-4

tbsp

extra virgin olive oil

½

of a medium onion

2

cups

rice

I used white jasmine rice

1-2

cloves

of garlic

1

cup

chicken broth

1

cup

warm water

1

cup

tomato sauce

1

pinch

saffron

½

lb

sausage*

about 3 links

2

tbsp

spicy oil or hot sauce*
Instructions
Heat olive oil in a medium/large pot over medium heat.

Cook the sausage in the pot, then remove.


Add more olive oil to pot and sauté diced onion.


Add rice to pot and stir frequently for 5-7 minutes.


Add saffron and garlic and continue to stir 5 more minutes.


Add chicken broth, water, and tomato sauce and stir to combine.


Add hot sauce or spicy oil to taste.


Bring to a boil and cover, turn heat to low and cook 20 minutes.


Fluff the rice with a fork and add sausage.

STEP ONE – HEAT OLIVE OIL IN MEDIUM/LARGE POT OVER MEDIUM HEAT
Add about 2 tablespoons of olive oil to a medium/large pot on the stove and warm over medium heat. Swirl the pot making sure the oil covers the whole bottom surface.
STEP TWO – COOK SAUSAGE IN POT
Place the sausage links in the pot and cook over medium heat. When they are cooked on the outside, pull them out of the pot and slice them into bite-sized pieces. Return them to the pot and brown each side, making sure not to burn them. Once cooked, remove the sausage from the pot and set aside in a small bowl.
STEP THREE – ADD MORE OLIVE OIL TO POT AND ADD DICED ONION
Add another tablespoon of olive oil to the pot that you cooked the sausage in and add the diced onion. You may want to lower the heat a bit so the onion doesn't burn. Stir frequently and cook until the onion begins to soften and turn translucent, about 5-7 minutes.
STEP FOUR – ADD RICE TO POT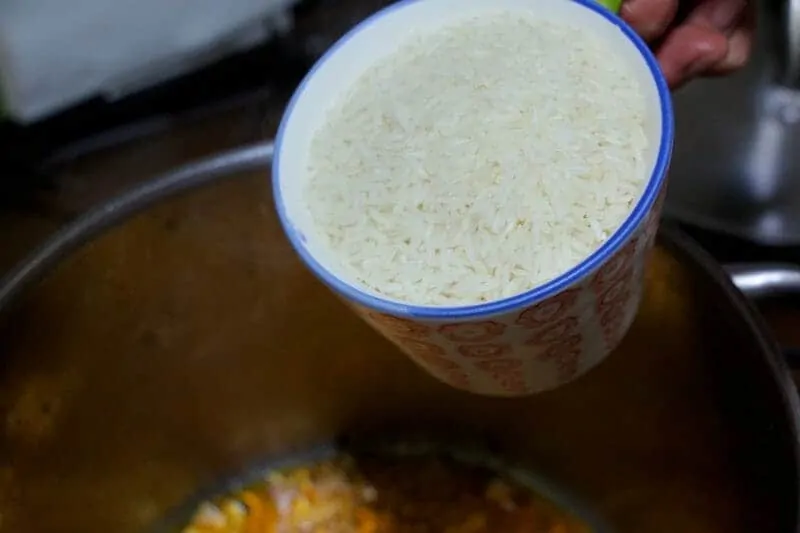 Add the 2 cups of rice to the pot and continue to stir, making sure the rice doesn't stick or burn. If it begins to stick, add more olive oil. Stir frequently for another 5-7 minutes.
STEP FIVE – ADD SAFFRON AND MINCED GARLIC
Add a pinch of saffron and minced garlic to the rice and continue to stir to mix it in.
STEP SIX – ADD CHICKEN BROTH, WATER, AND TOMATO SAUCE
Add the chicken broth, warm water, and tomato sauce to the rice and stir to combine, making sure to scrape the bottom and get any rice up that is sticking.
STEP SEVEN – ADD HOT SAUCE OR SPICY OIL TO TASTE
If you like a little spice in your cooking, now is the time to add it. You can use a few drops of spicy oil, or another hot sauce. I used a little bit of Sriracha and some dried red pepper flakes that came from our garden last summer. Stir it in so that it flavors the whole rice.
STEP EIGHT – BRING TO A BOIL AND COVER
Bring the rice to a boil and then cover it and turn the heat to low. Let it simmer for about 20 minutes, making sure not to burn the rice.
STEP NINE – FLUFF THE RICE WITH A FORK AND ADD SAUSAGE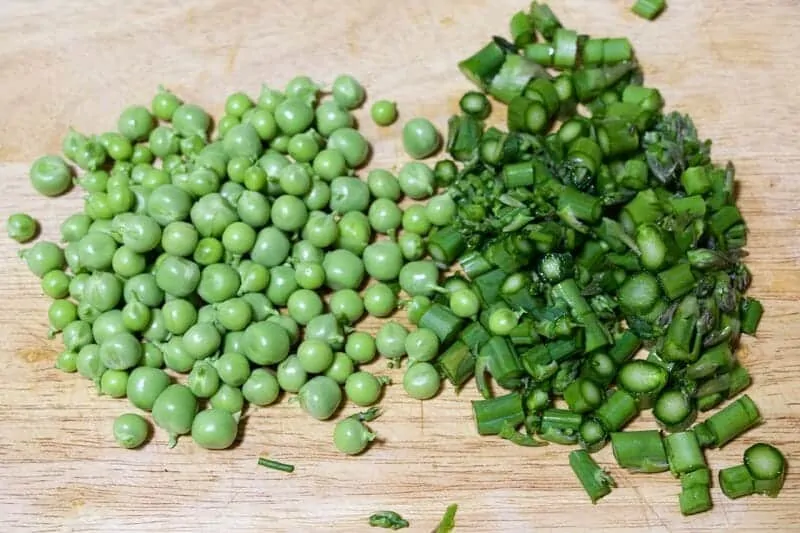 Remove the lid and fluff the rice with a fork. Add the sausage and stir well to combine it. At this point, we also added our sauteed peas and asparagus. Feel free to get creative here and add any other spices or vegetables you like; diced red or green bell pepper, corn, diced zucchini…etc.
STEP TEN – SERVE AND ENJOY!

Serve the rice and enjoy! A side salad goes nicely with this dish if you decide not to add other vegetables, and it pairs nicely with a Spanish red wine.
Enjoy your meal!
The great thing about this recipe is you can modify it to suit your lifestyle. If you are a vegetarian, use vegetable broth instead of chicken broth and don't add the sausage. You might need to add a bit of salt and pepper, because the meat is what flavors the rice.  It is already a gluten-free meal (just make sure your sausage doesn't contain traces of gluten) and it is already dairy-free as well.
This can be served as a main dish on it's own, especially if you add meat and vegetables to it. If you decide to not cut up the sausage, you can serve a whole sausage to each guest with the rice on the side instead of mixing the sliced sausage in.
This dish pairs nicely with a side salad and a glass of Spanish red wine. Salut!