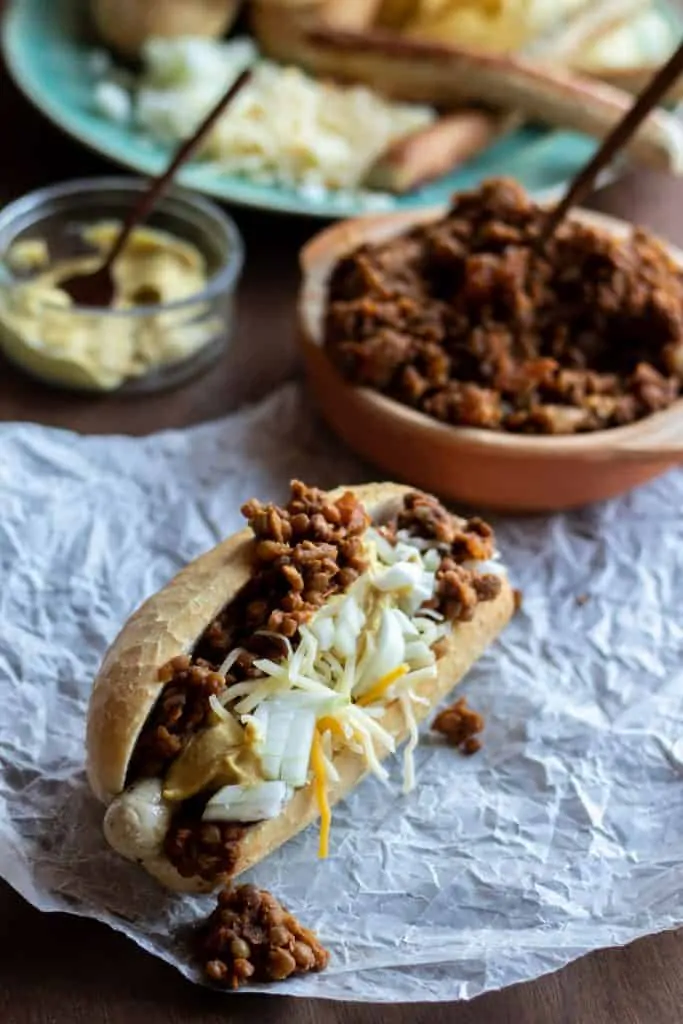 Not much else embodies America's summer like a hot dog. Probably one of the best known is the Coney Island hot dog, a dog that's been smothered in a lightly sweet, tangy, and most definitely savory meat sauce that's then topped with cheese, onions, and a bit of mustard. But what if you're looking to go more vegetable based? Does that mean you can't enjoy a good old fashioned dog? Absolutely not, and that's where this vegan lentil chili comes in.
This chili isn't just for Coney Island dogs, but that's what it was made for. It can be used for anything you would substitute meat rich sauces for pasta to sandwiches. And it takes barely any effort to throw it together and let it cook down. All that's required is a slow cooker, the ingredients, and a whole lot of waiting time.
You see, this recipe is versatile as well as beautiful in its simplicity. It uses Greek-inspired flavors that can be found in the original meat recipe, most specifically with the herbs. This works so well to give it the oomph required to be accepted, if not heartily enjoyed, by meat enthusiasts.
For the lentils, this recipe uses the classic whole brown variety. These are ideal because they have the ability to stay intact when cooked for long periods of time, rather than turning to mush. This texture, paired with diced tomatoes, onions, and garlic really gives this vegan chili a lovely "meaty" mouthfeel.
When all of that has slowly cooked down into a thick chili, there is always the decision of how to serve it. Of course in this recipe, the decision has already been made and it's delicious. Vegetarian sausages fill these buns, whatever is your favorite of course, before being smeared in a heavy layer down the middle and topped by fresh diced onions, shredded cheese, and a deeply flavorful Dijon mustard.
Mouthwatering for sure, so what are you waiting for?
Slow Cooker Lentil Chili Coney Island Vegetarian Hot Dogs
Cook Time
6
hours
15
minutes
Ingredients
Lentil Chili
3 to

matoes

1

onion

2

cloves

garlic

2

leaves

fresh dill

2

sprigs fresh thyme

3

sprigs fresh oregano

1 ½

cups

brown lentils

2

tablespoons

Worcestershire sauce

½

cup

tomato puree

1

cup

beer

2 1/2

cups

low sodium vegetable broth

2

bay leaves

½

teaspoon

salt

¼

teaspoon

ground black pepper
Hot Dogs
2

tablespoons

olive oil

6

vegetarian sausages

6

hoagie rolls

6

tablespoons

mayonnaise

6

tablespoons

Dijon mustard

½

onion

diced

¼

cup

shredded cheese
Instructions
Dice the tomatoes and onions. Mince the garlic cloves. Mince the dill, remove the stems from the oregano and mince the leaves, and remove the stems from the thyme.

Rinse the lentils thoroughly under cool water and make sure there are no small stones or debris.

Place the lentils, tomatoes, onions, garlic, herbs into the slow cooker. Pour in the Worcestershire sauce, tomato puree, beer, broth, bay leaves, salt, and black pepper as well.

Turn the slow cooker to high and allow it to cook, with the lid on, for about 5 hours or until  the liquid has been absorbed by the lentils and they have become thick but not dry.

Heat the oil in a saute pan over medium-high heat. Add the vegetarian sausages to the pan and  allow them to cook, turning so they can brown on each side, for about 6-8 minutes. They will be plump and browned when they are ready. Turn off the heat.

Cut the hoagie rolls down the side, but not all the way through so that one side stays attached. Open them and set them aside.

Spread mayonnaise on the inside of each bun before adding the hot dogs and topping with the lentil chili.

Add cheese, diced onion, and Dijon mustard on top of each hot dog before serving
STEP ONE – PREPARE THE VEGETABLES AND HERBS
On a cutting board, cut the stems off the tomatoes and peel the onion. Dice both before peeling and mincing the garlic.
Rinse the herbs under cool water and mince the dill, remove the stems from the oregano and mince, and remove the leaves from the thyme sprigs.
STEP TWO – RINSE THE LENTILS
Place the lentils in a strainer and run cool water over them to rinse them thoroughly before picking them over to make sure they are completely free of debris.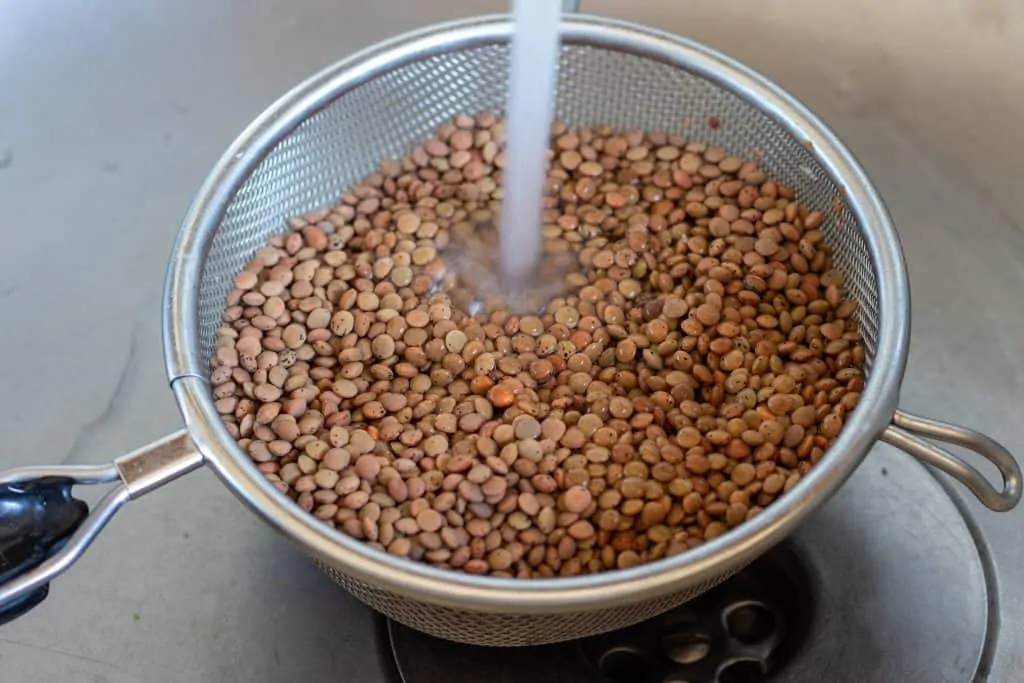 STEP THREE – SEASON THE LENTILS
Transfer the cleaned lentils into a slow cooker along with the tomatoes, onions, garlic, herbs, Worcestershire sauce, and tomato puree. Pour in the beer and broth and add the bay leaves, salt and black pepper.
STEP FOUR – COOK THE LENTILS IN THE SLOW COOKER
Place the container for the slow cooker back into its base and turn it on high.
Let the lentils and everything cook down for a few hours until they have absorbed much of the liquid and become thick and tender, but not mushy. If they start to become dry add a little more water. Turn off the lentils when they are cooked and extend cooking time to 8-12 hours if using low heat.
STEP FIVE – COOK THE SAUSAGES
Once the lentils have finished cooking prepare the vegetarian sausages by pouring the olive oil into a large saute pan and turning the heat on to medium-high. Add the sausages in a single layer to the pan, turning them as they cook so they can brown on all sides.
STEP SIX – CUT THE HOAGIE ROLLS
Cut the bread for the sausages down the side of the middle length wise and open them up like a book, leaving one side intact. Set them aside.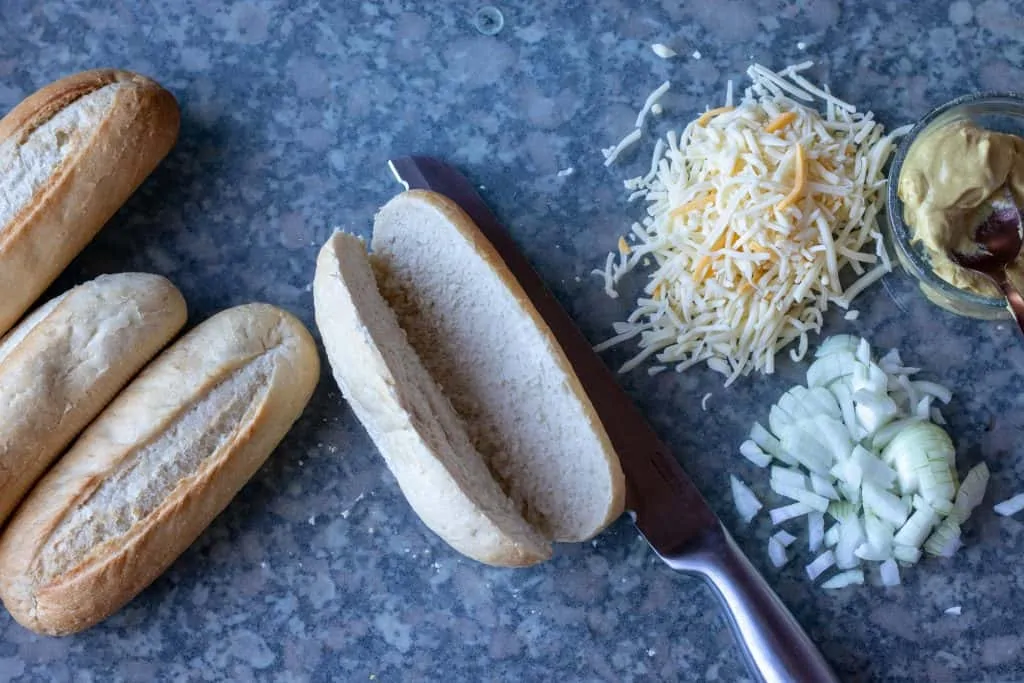 STEP SEVEN – PUT THE SAUSAGES IN THE ROLLS
With a butter knife, spread mayonnaise on the inside of each hoagie roll and transfer the cooked sausages to the buns. Spoon the lentil chili onto each sausage, spreading it from end to end.
STEP EIGHT – TOP CONEY ISLAND HOT DOGS
Sprinkle the shredded cheese on top of each and add a bit of diced onions on top. Spoon some Dijon mustard if desired.
This slow cooker lentil chili isn't just for Coney Island hot dogs. It can be turned into a healthy sloppy joe, added to spaghetti to make a Cincinnati chili, or just add some freshly chopped onions, a sprinkle of shredded cheese, some salsa, and maybe a dollop of guac for your very own vegetarian chili bowl!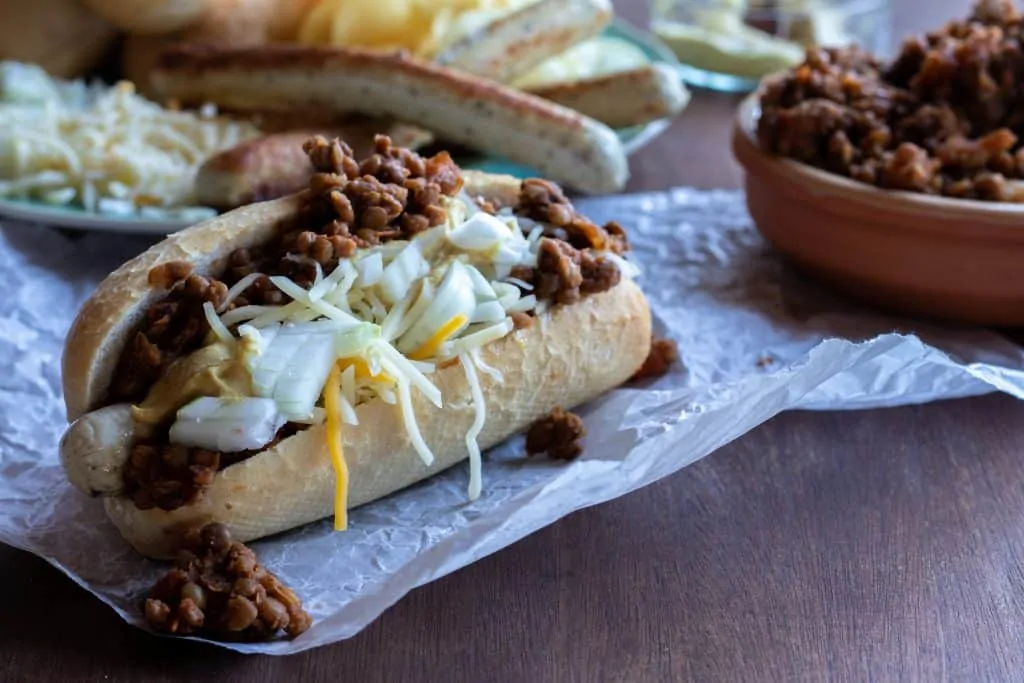 Jen Miller is a former electrical engineer and product specialist with more than 20 years of product design and testing experience. She has designed more than 200 products for Fortune 500 companies, in fields ranging from home appliances to sports gear and outdoor equipment. She founded Jen Reviews to share her knowledge and critical eye for what makes consumers tick, and adopts a strict no-BS approach to help the reader filter through the maze of products and marketing hype out there.  She writes regularly and has been featured on Forbes, Fast Company, The Muse, The Huffington Post, Tiny Buddha and MindBodyGreen.