Cooking with an electric range offers power, precision and – above all – safety. Gone are the days of the white enamel-clad, industrial-looking range cooker with modern, sleek and smart being the new order of the day. Modern electric ranges offer not only a range of cooking options but stylish looks, high-tech smart features, versatility and, above all else, value for money. All this and much more can be found in our Top Pick for the best electric range: the LG LDE3037ST.
Offering powerful, functional cooking with a range of smart features and value for money, the LG LDE3037ST is one of Amazon's best-selling electric ranges with good reason.
An electric range for the serious home chef comes in the GE CS980STSS, offering the very best in smooth-top radiant stovetops and convection cooking. Large enough to easily cater for a banquet while being remarkably easy to use, and with a price tag to match its build quality and features, this range might have your family arguing over who wants to cook tonight.
Classically styled and offering the best in utilitarian function, the Danby DER200W is a budget priced gas range ideally suited for those without a lot of spare room.
Now you're cooking: electric ranges
Developed after the industrial revolution as alternative to the wood stove and for those who didn't have a readily accessible supply of gas, the electric stove was first patented in the 1859. Unlike the gas stove, the electrical stove was slow to catch on and, perhaps as a result, the first electric oven come until come until towards the end of the century. Technology and the quality of components improved and by the 1930s the electric range slowly began to replace the household gas stove and oven.
Electric ranges come in three different models: freestanding, slide-in and drop-in. Due to its versatility the most common type is freestanding, called such because it can be placed anywhere in the kitchen given that it is finished on all sides. Slide-in or drop-in models are designed to sit flush against cabinetry making them seem integrated into the space, giving a kitchen a fully customised look. A slide-in cooking range has contoured sides with a slightly-protruding cooktop, which allows it to be slid between the cabinets so that the cooktop actually rests on top of the countertop on each side. Drop-in ranges on the other hand, require customised cabinetry and are dropped into the prepared base with a cabinet front panel at the bottom. This offers a very integrated and high-end look to the kitchen. Drop-in models can be harder to find and may require special ordering.
The benefits of electric
While the choice between electric and gas may come down to personal preference or be limited to the existing utilities available, there are certainly many undeniable benefits of cooking with electricity.
Electric ranges are easier to install and typically less expensive than gas ranges. They are also generally consider to be the safer option as there is no risk of potentially lethal gas leaks, failed pilot lights and as there are no naked flames to catch thing alight. Additionally, most modern electric ranges will have a hot surface indicator light to prevent you from inadvertently placing anything on the range before it has cooled.
While gas ranges may have the advantage as far as cost efficiency, electric ranges can claim a different sort of energy efficiency: on those hot days you can heat your food without heating the rest of the kitchen as gas cooktops do. This means means lower temperatures in the kitchen and less work for the air conditioner.
Flat-top cook surfaces commonly found in mid to high-end electric ranges are by far the easiest to clean. Gas ranges, by their nature, have more gaps and crevices for food and spills to fall into, which can mean tedious clean-up.
Helping you choose
Shopping for a new electric range can be a daunting experience. With so many different models and options available, there are some important considerations you will need to keep in mind before it becomes time to start cooking.
The first consideration will be one of size. If you're looking for drop-in or slide-in range, your choice will probably be limited to the size allowed by the cabinet recess. If you're not bound by this limitation, the standard width of a residential range is 30 inches with higher-end ranges extending to 36 inches and beyond. The oven compartment on a typical range is 5.0 cubic feet, compared to just over 3 cubic feet in a typical wall oven.
The first deliberation you'll need to make is what you're most likely to use your range for. If your time in the kitchen is primarily spent baking or roasting, then you will want to put the most emphasis on the style of oven the unit has rather than the cooktop. Conversely if you're more into soup, stews or frying, then you'll want to pay the most mind to the size, output and configuration of the burners. This can significantly narrow your field of selection.
Feel the burn: options for burners
Advanced in technology and materials have brought advances in how we cook with electric ranges, and now there are no less than three types of electric stovetop burners to choose from: coils, radiant smooth-top and induction.
Electric coil burners heat cookware by converting the electricity running into the coil into heat using conductible metals. Electric coil and radiant stoves the most cost-effective and are extremely easy to use, but can provide an uneven heat due to uneven distribution of the coil and are slow to heat and cool.
Smooth-top electric ranges are made of completely smooth glass-ceramic cooking surface rather than separate coiled or plate burners and are the most popular kind due to the sleek, shiny appearance of the cooktop. When an element (usually a coil under the glass-ceramic surface) is activated, it will glow red under the cooktop with most smooth-tops having built-in sensors to let you know when a burner is still hot. Besides the stylish look, smooth-top ranges are extremely easy to clean and won't warp or bend pans the way an uneven coil can. The downside is that the glass-ceramic are prone to scratching, meaning that pots and pans always have to be lifted, never dragged, and materials such as cast-iron and stoneware should not be used.
Rather than generating heat and transferring it to a pot or pan, induction ranges use electromagnetic waves to heat the cookware directly and thus cook the food inside. Nothing outside of the pan is heated and when the pan is removed, the heat stops and the stove is no longer hot. A magnetic field produces the heat directly on the pan's bottom and is therefore very energy efficient, using 30% less energy than other electric stovetops. Because only the cookware is being heated, induction ranges are considered the safest of all and as they sport the same sleek smooth-top look, they are also extremely easy to clean. They do, however, require specialised cookware that contains ferrous material in their composition since they need to be responsive to a magnetic field. Also, all 'induction ready' pots and pans need to precisely fit the elements on the stovetop or they will not work.
Finally, the power of a burner can be judged by its indicated wattage. This is a measure of how quickly an element on the stove or oven heats up, and not necessarily its temperature range. The higher the wattage, the faster the element reaches the heat level you want.
Let them eat cake: options for ovens
If you're leaning towards putting resources towards the oven side of your electric range, you're certainly not going to be wanting for options. Generally considered to be an indispensable feature for the serious cook, convection ovens use an internal fan to circulate hot air throughout the oven compartment, improving heat distribution and reducing cook times. Convection options typically add around $200 towards the cost of a range with higher-end models featuring an additional heating element around the fan, often called 'true convection' or 'European convection'.
Another option being adopted by increasing number of ranges is replacing the clunky storage drawer found at the base of the range with a second oven. These 'split-oven' ranges normally feature a smaller upper oven ideally suited for pizza, casserole, cookies or grilling, with a larger full-sized oven below that.
Oven are controlled by either one of two or a combination of two methods: dials or digital touchpads. Ovens controlled via dials are usually very easy to use, with one dial controlling the oven cooking setting and another regulating temperature. Ovens controlled by digital touchpads generally offer more cooking features and can be programmed for detailed variable cooking cycles, but can be more complicated to use until you get to know them.
A popular feature in higher-end ovens and the subject of some debate is a self-cleaning option. Self-cleaning ovens typically use high temperature, around 900 degrees, to burn off residue left from baking or roasting without the use of any chemical agents. This is used in conjunction with a pyrolytic ground coating which reduces foodstuffs to ash with exposure to high temperatures. A self-cleaning oven is designed to stay locked until the high temperature cleaning process is completed, which lasts approximately three hours, and usually have more insulation than standard ovens to reduce the possibility of fire. While self-cleaning ovens are considered more convenient, they can produce smoke and odours during the cleaning process ' in some cases enough to set off smoke detectors. Some people also contend that using the self-cleaning cycle can shorten the lifespan of the oven.
How we picked
Even with our helpful guide, the hundreds of different electric range options can make choosing one a daunting task. In our selection of the best of the best, there were several considerations that we looked for in each and every device.
Construction, durability and reliability were perhaps first and foremost in our selection process. While the online market places the upmost importance on lightweight construction and materials and a low price, electric ranges can cost upwards of $2000 – certainly an investment you won't want to be making too often. More than this, safety was the key considering in quality in construction ' we are talking about high heat, after all. Additionally, a well-constructed and well maintained electric range will last for several years and keep cooking your meals to perfection every time.
Versatility and user friendliness were also essential considerations in our selection. Of course freestanding electric ranges will always be the most versatile as far as installation goes, but in choosing our preferred list, we looked for a balance between cooktop and oven power. Ranges with two oven add more versatility as you can cook different dishes at different temperatures simultaneously. Lots of oven rack positions were also looked highly upon to create more space and options for cooking. Stovetop burners with a high range of sizes and heat outputs were given high praise, especially those with ultra-low simmer option. Ovens that offer cooking cycles with and without convection were also given high regard, further adding to versatility.
Our Top Pick: LG LDE3037ST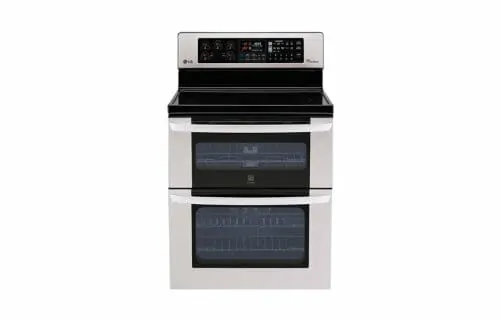 LG LDE3037ST
Featuring the versatility of a freestanding electric range with two ovens, the latest in technology, premium features, sleek design and ease of use while still be exceptional value for money, the LDE3037ST absolutely earns its place as our Top Pick in electric ranges.
Measuring 28.2′ wide x 47.4′ high x 25.8′ deep, the LDE3037ST truly offers the best of both worlds, featuring five radiant burners beneath a glass-ceramic smooth-top as well as two ovens. Two of the radiant burners are 6-inches in size with a capacity of 1200W while two are dual-ring and can be operated either as single-ring burners 6′ or 9′ in size or as with both rings, extending them to 9′ or 12′ in size with capacities of 1400W/3000W and 1700W/2700W respectively. The fifth centre burner serves as a 7-inch warmer burner, just 100W in power ' a very handy feature when you're cooking multiple dishes at once. The two stacked ovens consist firstly of a smaller oven 2.32 cubic feet in size with 2100W of power with a 3200W infrared broiling element which is cleverly recessed to save your hands. The larger, lower convection oven is 4.38 cubic feet in size with 2500W of power with a 3800W broiling element. With all this cooking power, the LDE3037ST requires either a dedicated 14-50R or 10-50R electrical power source.
The LDE3037ST boasts an equally impressive list of features that make it extremely easy to use as well as keep clean. Both the stovetop burners and ovens are controlled via operated via a touchscreen control panel with a liquid crystal display. The burners can be activated and the temperature adjusted incrementally simply by the push of a button. Equally simply, the digital touchpad and scrolling LCD can be used to set the upper oven to bake, broil and warm, or the lower oven to bake traditionally or using convection, convection roast, warm and proof dough. Other features include oven locks, several timers, a delayed start function so different dishes can be ready at the same time, nine pre-set cooking modes and two self-cleaning modes.
As well as being packed with some excellent features, the LDE3037ST also looks a treat with its stainless steel finish and matching handles, nickel-plated dials and glass-porcelain cooktop for easy cleaning. Perhaps it most striking feature is the brilliant blue oven interior, which may being unlike anything you've seen in an oven.
All in all, the LDE3037ST is an excellent all-rounder, providing both a premium in stovetop and oven in one versatile electric range. The aesthetics aren't the only attractive thing about the LDE3037ST either: this electric range is remarkably value for money.
Flaws but not dealbreakers
Due to the twin oven design, the LDE3037ST doesn't have any designated for storing pots and pans as you'd typically find in a single oven range. With all of the LDE3037ST's controls located on the back-panel behind the cooktop, this can make it challenge to operate if you have a crowd of tall pots of the stove, especially if they're putting out a lot heat or steam.
Our Step Up Pick: GE CS980STSS

GE CS980STSS
An electric range featuring the very best of both worlds with a five burner smooth cooktop and a huge 5.4 cubic foot true convection oven as well as a baking drawer is the GE CS980STSS. If there's a space in your kitchen, this top-of-the-line slide-in electric range will give it that sleek, integrated custom finish as well as having you cooking like a professional.
Measuring 30′ wide x 36.3′ high x 28.4′ deep, the CS980STSS features five radiant burners beneath a glass-ceramic smooth-top that includes a bridge burner as well as two ovens. Three of the radiant burners are single-ring ranging in size from 6-inches to 8-inches and in output from 1200W to 2000W, with the other two being dual-ring burners 5/8-inch and 9/12-inch size with outputs of 1900W and 3000W to 5100W respectively. Two of the burners are arranged such that they can be used in tandem to form a bridge burner to accommodate long cookware, with the CS980STSS coming with a cast-iron griddle suitable for the glass ceramic cooktop. The two ovens consist of a 5.4 cubic foot 2585W true convection oven with 3410W variable broiler on top, and a 1.0 cubic foot windowless baking drawer capable of temperatures up from 150F to 450F that can bake, warm or can be used for storage. As with all most premium electric ranges, the CS980STSS requires a dedicated 14-50R or 10-50R electrical power source.
In addition to all this cooking power, The CS980STSS has an equally impressive list of features to match its price tag. While the cooktop burners and baking oven are operated simply by front controlled dials, the main oven and baking drawer are controlled via a digital touchpad with an LCD screen. This can be used to set the oven to roast or bake using true convection or traditionally, set timers and adjust temperatures, turn on oven lights, activate either of two self-cleaning modes and activate the oven lock. The CS980STSS also features three self-cleaning oven racks that can be used in six positons, a delayed bake option, certified Sabbath mode, an oven pre-heat alert, a heat probe that lets you check temperature of cooking food without having to open the oven and interrupt the cooking process and is certified ADA compliant.
All of these premium cooking features come with an equally premium price. Even at that outlay, anyone would be hard-pressed to argue the CS980STSS is still worth every penny.
Our Budget Pick: Danby DER200W
A well-built freestanding electric range without any frills at a budget price can be found in the Danby DER200W. The DER200W is one of Amazon's best-selling gas ranges and, at just 20 inches wide, is ideally suited to those without a lot of kitchen space to spare.
Classically styled in white enamel, the DER200W measures 20′ wide x 43′ high x 26′ deep and features four coil burners and a 2.4 cubic foot oven. The porcelain cooktop consists of three 6-inch 1250W burners and one 8-inch 2100W burner. The oven had a full temperature range of 250F to 500F and features a 2400W broiler which comes with a three-piece pan. The DER200W requires a 220V power source.
The DER200W's oven and cooktop are controlled simply by front-mounted push and turn safety dials, making it kid-friendly as well as extremely easy to use. Other features include an easy-clean, lift-up porcelain cooktop with removable chrome drip bowls, two oven racks with four adjustable positions and fully adjustable legs.
The DER200W is a slim and functional electric range at a bargain price.
Best freestanding induction: Frigidaire FGIF3061NF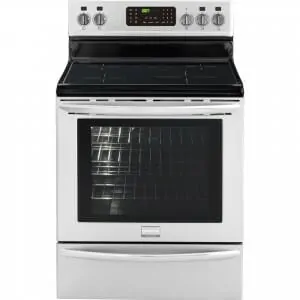 Frigidaire FGIF3061NF
Featuring the benefits of induction stovetop cooking with the versatility of a freestanding electric range with a true convection oven, the FGIF3061NF might just have you checking how magnetic your pots and pans are.
Measuring 28.9′ wide x 47.8′ high x 26.9′ deep, the FGIF3061NF features four induction burners as well as an radiant warming burner, and a 5.4 cubic foot true convection oven. The induction burners range in size from 5-inches to 10-inches and in power from 800W to 3800W with the warming burner being a mere 100W. The oven boasts 3500W of power and features a 3900W variable broiler.
The FGIF3061NF's cooktop is controlled simply via top panel-mounted dials while the oven is controlled using via a touchpad panel with a liquid crystal display. The FGIF3061NF's features include options for traditional and convection cooking, delayed start options, two self-cleaning cycles with an option for delayed start, timers, oven locks, a quick pre-heating cycle, a temperature probe and an integrated storage compartment.
The FGIF3061NF is not only versatile, functional and stylish but also remarkable value for money if you're curious about cooking with magnets.
Largest freestanding oven : LG LRE3025ST

LG LRE3025ST
Whether it's a family-sized pizza, a whole turkey for the holidays or if you're catering for a Henry VIII-style banquet, you'll be well served by the LG LRE3025ST. Featuring a massive 6.3 cubic foot true convection oven while still being only 30-inches wide, this is an electric range for the serious home chef or for those cooking for an army.
Measuring just 29.9′ wide x 47.9′ high x 25.9′ deep, the freestanding LRE3025ST features four radiant burners and one warming burner under a glass-ceramic cooktop. Two of the burners are single-ring, 6-inches in size and 1200W in power, two are dual ring, 6/9-inches in size and 3200W/4600W in power, with the 7-inch warming burner being 100W in power. The 3400W true convection oven also features an infrared broiler.
As with our Top Pick, both the LRE3025ST's stovetop burners and oven are operated via top panel mounted touchpad control panel with a liquid crystal display. The burners can be activated and the temperature adjusted incrementally simply by the push of a button. Equally simply, the digital touchpad and scrolling LCD can be used to set the upper oven to bake, broil and warm, or the lower oven to bake traditionally or using convection, convection roast, warm and proof dough. Other features include oven locks, several timers, a delayed start function, pre-set cooking modes, three self-cleaning modes, four oven racks including a split rack and a convection roast rack, and an integrated storage drawer.
Best slide-in induction range: SAMSUNG NE58H9970WS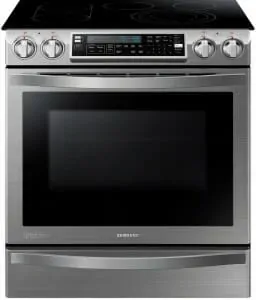 SAMSUNG NE58H9970WS
If you're building a kitchen from scratch or simply crave that seamless look that a slide-in range can provide, the Samsung NE58H9970WS might just be the literal missing puzzle piece you're looking for. Featuring the very latest in induction cooking technology and some extremely impressive oven attributes, the NE58H9970WS was very nearly our pick for Step Up Pick for electric ranges.
Measuring 30′ wide x 36.2′ high x 26.4′ deep, the NE58H9970WS offers four induction burners and one cavernous 5.8 cubic foot dual-true convection oven that can actually be converted into two separate 2.6 cubic foot and 3.1 cubic foot convection ovens with an included divider. The four burners range in size from 6-inches to 11-inches and range in power from 1800W to 3300W while the oven wields 4250W and features a variable broiler. Finally, the NE58H9970WS also sports a 600W warming drawer with three settings that also doubles as a storage space.
The NE58H9970WS's burners are controlled simply by front-mounted stainless steel dials while the oven is controlled via a front-mounted digital touchpad interface. This interface hosts a raft of cooking programs and smart features that make the NE58H9970WS a truly premium appliance, providing for not only traditional and convection baking and roasting, but also allowing for six pre-set cooking programs, three personalised cooking programs, temperature conversion calculator, a child-safe oven lock, a 'keep warm' function, self-cleaning, several timer options and a Sabbath mode. The NE58H9970WS also features a nifty 'virtual flame' function ' LED lights that shine onto pots and pans to provide the appearance of gas cooking ' and comes with a temperature probe and three oven racks including a gliding and recessed rack.
As stated, the NE58H9970WS was a very close contender for our Step Up Pick, missing out only due to the fact that induction cooking isn't for everyone. However, if a slide-in induction range is what you're looking for, the NX58H9500WS could be the best there is.
Affordable style: Frigidaire FGEF3035RF

Frigidaire FGEF3035RF
The sleek, stylish and smudge free finish afforded by a stainless steel doesn't have to set you back the cost of new kitchen. Case in point: the Frigidaire FGEF3035RF, offering not only sharp looks but first-rate performance and features.
Freestanding and measuring 29.9′ wide x 48.' high x 29.3′ deep, the American-made FGEF3035RF features five radiant burners beneath a glass-ceramic cooktop, a 5.7 cubic foot convection oven and a dedicated compartment for storage. Two of the burners are 6-inches in size and 1200W in power while two are dual-ring burners 6/9-inches and 9/12-inches in size, and 1400W/3000W and 1800W/3000W respectively with a fifth 100W warming burner rounding out the bunch. The 3500W convection oven features a 3900W variable broiler.
The FGEF3035RF features top panel mounted digital touchpad oven controls, multiple cooking options, three self-cleaning cycles, a timer and fully adjustable legs. With its sleek looks and ability to boast features usually found only in more expensive gas ranges, the FGEF3035RF is exceptional value for money.
The competition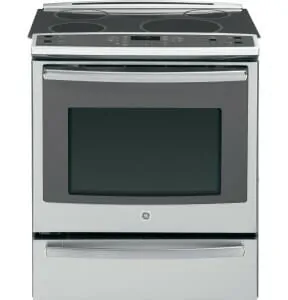 GE PHS920SFSS
Another distinguished option in the induction range category is the GE PHS920SFSS, a popular freestanding range. The PHS920SFSS measures 31.5′ wide x 37.3′ high x 28.9′ deep and features four induction burners and a warming zone, and a 5.3 cubic foot true induction oven. The burners range in size from 6-inches to 11-inches and from 1800W to 3700W in power with the 5350W oven featuring a 3800W variable broiler. The GE PHS920SFSS is controlled exclusively through a front-mounted touchpad panel with LCD and its features include multiple cooking modes, temperature conversion, multiple self-cleaning cycles, delayed start and cleaning options, a pre-heat alert, several timer options, certified Sabbath mode, a temperature probe and a warming/storage drawer.

Avanti ER24P0WG
A close contender for our Budget Pick was the cheap-and-cheerful Avanti ER24P0WG. Also ideally suited for slim spaces, the ER24P0WG measures just 23.5′ wide x 40.8′ high x 25′ deep, and features four coil burners and a 2000W oven with 2100W broiler. Classically styled in white, the ER24P0WG is extremely simple to use, controlled exclusively with front-mounted dials and features an integrated storage drawer.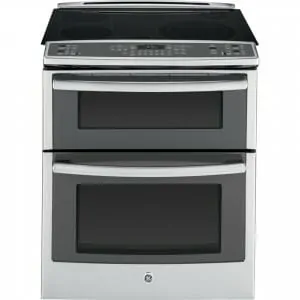 GE PS950SFSS
This range measures 31.3′ wide 37.3′ wide x 28.9′ wide and features four radiant burners plus a warming burner under a glass-ceramic smooth-top, and two stacked convection ovens. The burners range in size from 6-inches to 12-inches and in power from 1200W to 3600W, and include one three-ring burner and two burners that can be used as a bridge burner for a griddle. The two true convection ovens are 2.2 cubic feet and 4.4 cubic in size, boast 2650W each in power and feature 3000W and 3600W broilers respectively. The GE PS950SFSS is controlled exclusively through a front-mounted touchpad panel with LCD and its features include multiple cooking modes, temperature conversion, multiple self-cleaning cycles, delayed start and cleaning options, a pre-heat alert, warming mode, several timer options and a certified Sabbath mode. The PS950SFSS is an excellent slide-in range offering the versatility of separate dual ovens.
Wrapping it up
Hopefully, through our exhaustive explanation section and selection process, we've made choosing the right electric range a little less daunting. In our considerations for making our selection of recommended electric ranges build quality, features, versatility and ease of use were all paramount deliberations. In the LG LDE3037ST you will find all of this in a range that also offers stylish looks and excellent value for money. In the GE CS980STSS you will find an electric range that not only offers the latest in cooking technology but gives your kitchen that custom-made look. In the Danby DER200W you will find a gas range offering excellent practical cooking and unparalleled value for money.
Jen Miller is a former electrical engineer and product specialist with more than 20 years of product design and testing experience. She has designed more than 200 products for Fortune 500 companies, in fields ranging from home appliances to sports gear and outdoor equipment. She founded Jen Reviews to share her knowledge and critical eye for what makes consumers tick, and adopts a strict no-BS approach to help the reader filter through the maze of products and marketing hype out there.  She writes regularly and has been featured on Forbes, Fast Company, The Muse, The Huffington Post, Tiny Buddha and MindBodyGreen.