The kitchen is a heart of every home. It is a place where friends and family members meet and share their thoughts over delicious food. Adding a personal touch to the often bland kitchen exterior is important especially when setting a warm and cozy atmosphere. The last thing you want is your kitchen to resemble and feel like the school cafeteria.
We know that kitchen appliances and cabinets can cost a fortune, but you do not have to dig deep into your pockets to make your kitchen look amazing. You can find an inspiration for your simple and inexpensive kitchen design ideas practically anywhere even in nature.  Home décor can be crafted at home or bought at a low price.
We have created a list of 15 ingenious ideas on how to elevate any kitchen design for cheap. By adding your personal touch to these suggestions you will make your kitchen look unique and more welcoming.
15 Cheap Kitchen Design Ideas:
1. Add Greenery to Your Kitchen
Home appliances are mostly available in stainless steel metallic shade that can make any kitchen look a bit boring. Usual wooden, black or white kitchen cabinets do not help the matter either. If you are facing this lackluster problem, you can easily solve it by introducing some greenery to your interior design.
Natural green color will add a touch of freshness to your home. To achieve this simply place a pot of fresh basil or chives on your kitchen countertop.  You can go even further and add an aloe vera plant or a bonsai tree on your floating shelf right next to the cooking books.
You will notice an instant difference in the appearance. Fresh herbs planted in decorative ceramic pots will improve the aesthetic of your kitchen. Your kitchen will look fresh and your dishes will taste better. If you do not have a green thumb, you can always buy artificial plants that will never die on you. Here are some honorable suggestions: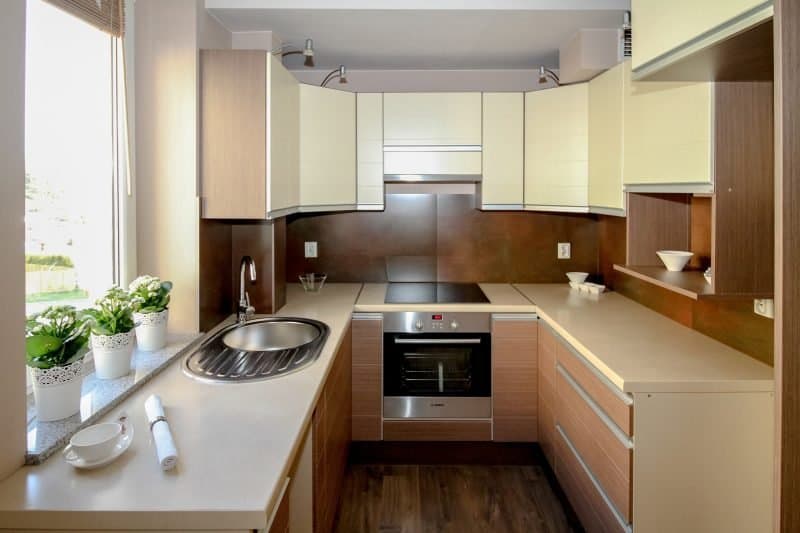 The vibrant green plants placed on the nearby window shelf complete the look of this 80's inspired kitchen. Without the pop of green, the kitchen would look dull and lifeless.
2. Welcome the Sunlight
The easiest way to make your kitchen pop is by welcoming the sunlight into your home. Sunlight will not only make your kitchen appear larger but also make it more welcoming. Natural light will improve the atmosphere in your dining area as well as your concentration and mood.
Sunrays beautifully reflect off glossy kitchen surfaces and glass. Your crystal glass set and marble kitchen island will show their true beauty under the natural light.
To welcome the sunlight into your kitchen, simply expose the nearest windows. Make sure you choose white curtains made out of sheer fabric for the kitchen windows. Such textile will give you some privacy however it will not block out the light completely.
If your kitchen does not have a window you should consider improving your lighting system or replacing your old light bulbs with those that mimic natural sunlight. Any light bulb with a color temperature between 5000-6000 K and a CRI (color rendering index) of above 80 should resemble outdoor light. These light bulbs should help you recreate a white daylight in your kitchen.

This kitchen design fully embraces sunlight. Large windows welcome natural light while displaying beautiful outdoor scenery.
3. Add a Pop of Color
Refrigerators, stoves, microwaves and other kitchen appliances are generally available in a stainless steel color. In addition, very few of us tend to choose kitchen cabinets in vibrant hues. Glossy white and black modern kitchens, in fact, act as a great base one can build upon.
Next time you are at the home store looking for new bits and pieces to add to your kitchen design, challenge yourself, and embrace the whole spectrum of colors. Invest in a set of colorful rubber mixing spoons and spatulas. Do not hide them in your kitchen drawer, proudly display them on your kitchen countertop.
If you feel like vibrant colors may take away from the intended design concept, you may want to look at pastel hues. Pastel colors are trendy because they are not too loud; however, they get the message across. Pastel colors beautifully complement retro, country, and mid-century kitchen styles.
Take a look at these inexpensive items. They might just help you liven up your kitchen design.

Display your colorful kitchen dishes on your kitchen countertop or open shelf. Vibrant colors will give your kitchen interior a playful personality.
4, Decorate the Wall with Art
We can assume that the walls in your living room are well decorated, but how about the walls in your kitchen?  Have you discovered the hidden potential of these given room dividers? If not, let the white façade in your kitchen become the canvas for your creative ideas.
You can enhance the look of your kitchen with the help of modern artwork. You can put your artistic talent to use and create your own masterpiece by using the leftover paints in your garage. If you do not feel like spending money on canvas, you can use wooden planks or old chopping boards as your surface instead. Wooden artwork will beautifully complement your oak kitchen cabinets.
If the contemporary art does not fit your interior style, you can always opt for usual kitchen wall décor, such as decorative chopping boards, rustic clock, chalkboard, or framed inspirational quotes. Here are some amazing wall decor pieces you may find appropriate for your interior design:

The picture above shows a great example of the completely utilized wall. To achieve the chalkboard effect on the right simply attach the black chalkboard contact paper on your kitchen wall.
5. Experiment with Patterned Rugs and Kitchen Towels
Every pattern portrays its own message. Circular patterns without any harsh angles look softer and more romantic. This look is welcomed in most mid-century and country style kitchens. Angular shapes with rough edges, on the other hand, look edgier and bolder. Such look is welcomed in industrial and modern themed kitchens.
The best and easiest way to incorporate the desired pattern into your kitchen design is with a rug, towels, and kitchen rags. These items can act as a décor while still serving their primary purpose. We advise you choose a rug that is easy to clean and is made out of material suitable for high traffic areas, such as wool, cotton, viscose, polypropylene, and nylon.
There are a couple of more features you should focus on when buying a rug, one of them being the color. Make sure your rug beautifully complement the stain of the floor and the color of your kitchen cabinets.
These following items will hopefully give you some inspiration:

Light blue rug under the dining table gives this kitchen an eye-catching center.
6. Bring Nature Inside
Your kitchen is connected to the outdoor world more than you may think. All the produce, running tap water, and groceries used for cooking are in some way or another linked back to the earth. Instead of making your kitchen isolated, try incorporating more elements from nature into your kitchen design.
Next time you are walking through woods or hiking the mountain trails, look for unique and intriguing stones, dried branches, flowers, cones, and leaves. You can hang the beautifully curved tree branch on your wall. With a wire string or a rustic twine, attach other natural ornaments or wooden spoons to it. Complete the project with battery powered LED string lights. The subtle light will give a romantic touch to your creation. These LED lights will not cost you a fortune.

Wild meadow flowers do not cost a penny but yet they are priceless. Tie them with a twine and hang them on your kitchen wall. With time they will dry and become a beautiful piece of rustic décor.
7. Decorate the Tiles with Stickers
Plain and worn out tiles behind the kitchen sink can ruin the look of the whole kitchen design. Installation of new tiles can be quite expensive. If your budget does not allow you this splurge, you should give your old backdrops a makeover. With inexpensive tile sticker, you can give your kitchen a completely new look.
Self-adhesive tile stickers are waterproof which means they are suitable for kitchens as well as bathrooms. They can be attached to smooth surfaces such as tile, ceramic, metal, varnished wood, and even glass. These stickers will allow you to decorate any smooth surface in your kitchen with vibrant motifs and patterns. Just keep the right measurements in mind when buying them.
Here are some fun tile stickers you can try out:

If you are not satisfied with the look of the tiles in your kitchen, you may want to try decorating them with stickers. Fun and colorful backdrop will instantly improve the look of your home.
8. Install Floating Shelves
Another inexpensive way to give your kitchen a quick makeover is with a new set of floating shelves. They are available in different designs and colors. If you are leaning more towards the traditional look you can opt for a plain wooden floating shelf in white or rich oak color. And if you find the contemporary design more appealing try investing into circular or square shelves that overlap each other.
Floating shelves bring freshness to any interior design. They stand out in the room because they are isolated from the rest of the furniture. These shelves can offer you new space where you can display your favorite mugs, antique teapot set, old and new cooking books.
Floating shelves can be easily mounted on the wall as they do come with necessary hardware. These following floating shelves will hopefully give your kitchen functionality and appeal.

Floating shelves can be an inexpensive solution to the lack of kitchen storage. You can display your most valuable kitchen utensils on created space and make your kitchen stand out.
9. Mix and Match Interior Styles
The method of mix and matching is often exercised amongst interior designers. Instead of sticking to the rules of one interior style they embrace the best features of multiple themes. The principles of this designing method are not hard to master.
For instance, if your rustic kitchen interior lacks a hint of edginess, try incorporating some industrial décor into it. A metal clock, iron cabinet knobs and handles, fake piping décor, and an industrial kitchen faucet will do the trick. If the budget allows you, invest in a couple dining chairs with metal hairpin legs. You will be surprised how much the rustic wood and distressed metal compliment each other.
Modern and traditional styles are also compatible. If your kitchen cabinets have a traditional symmetric shape, try pairing them with shapely modern décor. A rug with uneven striping or a colorful abstract painting can bring some balanced contrast to your kitchen. Simply put your designing instincts to use and you will be good to go.
Here are some industrial décor suggestions:

The picture above shows a great example of the mixed interior style. Rustic wooden kitchen cabinets beautifully match low hanging industrial lamps and metal stools. Even small details such as brass handles and knobs make a difference.
10. Create Your Own Marble Countertop
Marble is a luxurious natural stone often used for flooring, building staircases, and kitchen countertops. Items made of natural stones, such as marble and granite can be extremely expensive. With a little bit of creativeness, you can make your home look lavish for much cheaper.
Self-adhesive decorative paper with a beautiful marble veining pattern can save you loads of many. You can stick it on your countertop, kitchen island, shelves and even kitchen cabinets. You can use the leftover material to cover your bathroom vanity as well.
When buying decorative paper always make sure that the material at hand is oil proof and waterproof. Also, make sure that the whole product is non-toxic. You do not want your food to be exposed to any harmful chemicals and glues. These following suggestions will give you a better idea of what to look out for:

Marble countertop is a statement piece worth its price. You can recreate the luxurious look of this natural stone with the help of self-adhesive decorative paper. This cheap solution will help you make your whole kitchen design appear more lavish.
11. Make Your Own Kitchen Island Centerpiece
A kitchen island is a statement piece that can quickly turn into a deserted island if not decorated properly. A plain slab of marble in the middle of the kitchen can appear lonely and isolated. The easiest way to make your kitchen center pop is with a handcrafted centerpiece.
Do not be afraid to put your crafting skills to use. Fill an old fishbowl or a small basket you do not use anymore with artificial flowers. Cut the stems so that they fit into the place properly. You can even stick some dried twigs and cones from your local forest into the arrangement. Tie the whole basket with a ribbon creating a beautiful bow. Such unique centerpiece will make your kitchen countertop stand out.
If you are not good at crafting, you can always find an easier solution. A crystal glass bowl filled with fresh fruits can be just as impactful as any professionally made centerpiece. Pre-made flower arrangements can be bought at any home store or decor boutique as well.
You may find your centerpiece right here on this list:

The kitchen island on the picture above is beautifully decorated with the succulent arrangement. This simple and yet impressive natural centerpiece brings together the entire design concept.
12. Dining Chair Covers
Dining chair can be quite expensive and, it would not be economical for us to replace them whenever we are craving a change.  If your dining chairs have lost their spark, you can give them a quick makeover with the help of fun and inexpensive dining chair covers.
Usually made out of stretchy spandex polyester, they can easily fit over standard sized dining chairs. A tight fit will beautifully hug the chair, protecting it from any damage and stains. And, their maintenance is easy. Simply throw the covers into washing machine whenever they are in need of a good cleanup.
Different colors and patterns will without a doubt give your kitchen a refreshing change in appearance. It is always exciting to change up the look of the dining area, particularly for special occasions.

Dining chairs in baby blue color give this traditional white themed kitchen charming personality. You can easily recreate such compelling contrast with vibrant dining room chair covers.
13. Play with Textures
Kitchen appliances made of stainless steel have a smooth finish. Modern kitchens embrace the polished glossy look too. If you take a step back and look at your kitchen you will notice that there are hardly any textural differences in the overall design.
A subtle way to make your kitchen pop is by introducing some texture to it. Unpolished and grained surfaces will complete your home in an unexpected way. Instead of buying a set of plain smooth glasses try switching things up with a set of roughly cut crystal glasses. Proudly display them on your open shelf.
You can try revamping the glass cabinet doors by sticking a coarse mosaic film on them. These films are usually used on windows to give people some privacy, but you can practically apply them on any smooth surface. Even twine coasters and table runners made of jute instead of silk or satin will make a subtle but noticeable difference in your kitchen design.
These textured decorations may be a good fit for your kitchen:

The kitchen shown in the picture above is completely polished, so much so that you can see reflections on the floor. While this design may look sleek, such uniform look may come across as sterile and lifeless.
14. Install Low Hanging Kitchen Lights
Low hanging kitchen lights have become a go-to statement piece amongst experienced interior designers. They are usually installed right above the kitchen island to successfully draw attention to the center of the kitchen. A well-lit kitchen instantly appears more spacious and more welcoming.
Low hanging lights can become a part of your kitchen design as well. If your old chandelier has completely blended into the background and is hardly noticeable, you may want to consider replacing it with an inexpensive vintage or modern pendant light. You do not have to have a kitchen island to enjoy this trend. You can safely install your new light above the dining table instead.
Fortunately, pendant lights are available in designs to fit every kitchen style, from industrial to modern and rustic. Here are some honorable suggestions we have gathered for you:

Pendant lights shown in the picture above are like two arrows pointing at the colorful heart of the kitchen.
15. Wallpaper
Kitchen walls are often overshadowed by our center-focused designing ideas.
That does not mean that the walls should silently stay in the back. They can easily step forefront into the spotlight with the help of trusty wallpaper.
Wallpaper can set a completely different ambiance in your kitchen. With different designs, colors and textures available, you can precisely narrate the desired message. Remember to always keep in mind your interior design theme when choosing the right product. You do not want your kitchen to become a colorful mess.
If you would like to give your industrial inspired kitchen a raw look, try covering the walls in red brick wallpaper. Exposed brick will beautifully complement the wooden and metal surfaces in your kitchen.
Traditional and country inspired kitchens most definitely embrace floral and swirly patterns in pastel colors. Textured white lace motif will give your traditional kitchen a romantic charm.
The following wallpaper patterns may inspire new kitchen design ideas within you:

Brick wallpaper gives this kitchen an effortless raw look. Exposed brick motif beautifully complements rustic, mid-century, and industrial styled kitchens.