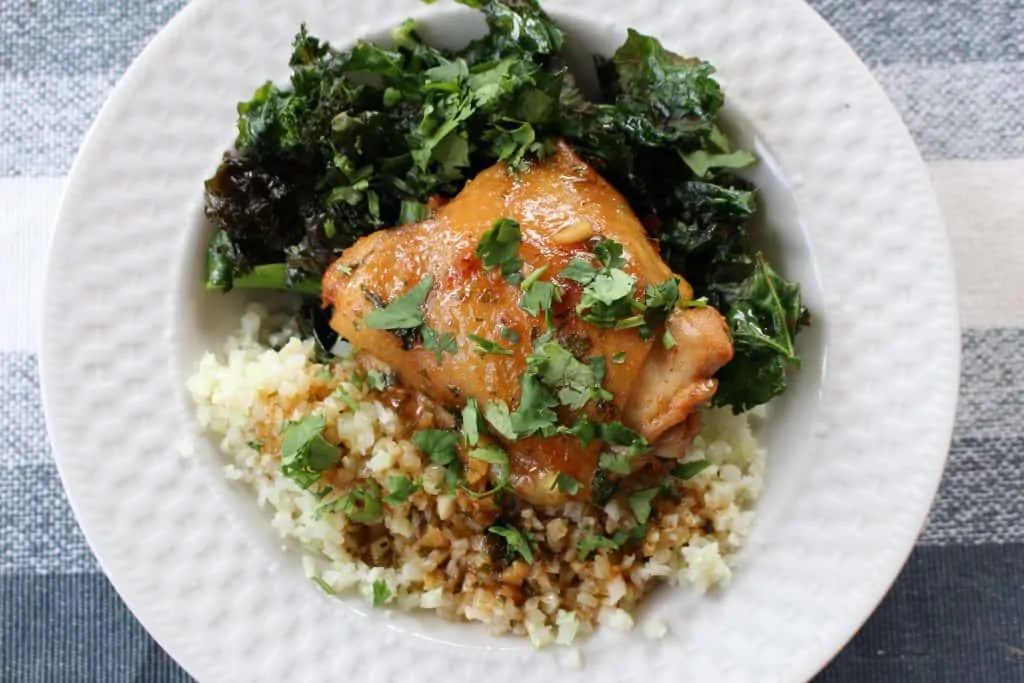 Baked chicken thighs are a blessing for busy weeknights and tight wallets. They're cheap, quick, and easy — plus they're endlessly customizable and can be dressed up with any number of oil, spice, and herb combinations.
This particular chicken thigh recipe is my ultimate go-to. It's packed with flavor without being heavy or greasy, and the combination of sriracha and honey gives it a spicy, sweet-and-tangy  bite. A hint of lime juice brings in some acidity. Mix that with the umami flavors of the soy sauce and you have a deliciously balanced medley of ingredients. (And I bet you have most of those ingredients in your cabinet and refrigerator already!)
Using bone-in chicken thighs with the skin left on is the key to this recipe. I love a good boneless chicken thigh — quick to cook and easy to eat! — but using bone-in, skin-on thighs keeps the meat even more tender and juicy and helps the sauces stick better (not to mention that crispy chicken skin!). Plus they tend to cost less per pound than their skinless, boneless cousins — a win/win!
To save even more time with this recipe, you can make the marinade the night before. Add the chicken before leaving for work the following morning and it'll be fully marinated and ready to bake by the time you get home!
Sweet N' Spicy Honey Soy Sriracha Chicken Thighs
Total Time
1
hour
20
minutes
Ingredients
4

chicken thighs

trimmed of fat, bone in and skin on

1/4

cup

honey

3

Tbsp

low sodium soy sauce

2

Tbsp

sriracha hot sauce

1

Tbsp

olive oil

3

cloves

garlic

1/2

tsp

ginger paste or grated ginger

1

lime

juiced

1/2

cup

cilantro

chopped (plus more for serving)

Salt and pepper to taste

Rice or riced cauliflower

for serving
Instructions
Prep your ingredients: mince the garlic, grate the ginger (if using fresh), and roughly chop the cilantro.

Whisk together the honey, soy sauce, sriracha, olive oil, garlic, ginger, lime juice, and cilantro in a medium bowl until incorporated. Taste and season with salt and pepper as needed.

Transfer the marinade to a ziplock bag. Add in the chicken thighs, zip the bag up, and shake thoroughly to distribute the marinade evenly. (Do this over the kitchen sink to avoid a mess from an accidental leak.) Place the bag with the chicken in the refrigerator and allow to sit at least 30 minutes or at most overnight.

Preheat the oven to 400 degrees and place chicken skin side up into a baking dish. Cover with the marinade.


Bake for 25 mins, then flip the chicken using a pair of tongs. Baste with the marinade at the bottom of the baking dish and bake for another 10-15 minutes.


Serve the chicken (I recommend with rice or riced cauliflower). Drizzle with the marinade and juices from the baking dish and sprinkle with chopped cilantro to serve.
STEP ONE – PREP YOUR INGREDIENTS
Mince your garlic cloves, grate your ginger using a fine-holed grater or microplane, and roughly chop your cilantro. You can use more or less garlic and ginger according to your taste preferences. You can also use ginger paste as a substitute for fresh ginger — this ingredient can be found in the refrigerated area of most grocery store produce sections.
STEP TWO – WHISK THE MARINADE INGREDIENTS
Add the measured honey, soy sauce, sriracha, olive oil, garlic, ginger, lime juice, and cilantro to a medium bowl and whisk until completely incorporated. Taste the marinade and add salt and pepper if needed. I typically only add pepper, as the soy sauce and sriracha tend to add enough salt to the marinade.
STEP THREE – MARINATE THE CHICKEN THIGHS
Transfer the whisked marinade to a ziplock bag and then add in the chicken thighs. Zip the bag up and shake to completely cover the thighs in the marinade. (I recommend doing this over the sink just in case your ziplock is not completely air tight.) Place the bag in your refrigerator for at least 30 minutes and up to overnight.
Do not let the chicken over-marinate! This can break down the thigh meat and leave you with a mushy, unappetizing meal. Nobody likes a mushy chicken thigh.
STEP FOUR – PREHEAT THE OVEN
Preheat your oven to 400 degrees. Place the chicken thighs skin side up in a baking dish. Cover the chicken with the remaining marinade from the bag.
STEP FIVE – BAKE THE CHICKEN
Bake the chicken for 25 minutes. At this point, flip the chicken so the skin side is down using a pair of tongs. Baste the chicken with the marinade at the bottom of the baking dish. Then bake for another 10-15 minutes, until the juices run clear and the interior of the chicken thigh reaches 165 degrees.
STEP SIX – SERVE HOT
Serve the chicken thighs immediately with your preferred accompaniments. Spoon the remaining marinade and juices over the thighs as a sauce, and then sprinkle with additional chopped cilantro. You can also thicken the sauce by heating it in a pot over the stovetop for a few minutes if you prefer.
FINAL THOUGHTS
I love this recipe for the spicy kick you get from the added sriracha. But for those with picky family members to feed, or for anyone who isn't as keen on spice, you can reduce the amount of sriracha in this dish — or omit it completely! Honey-soy chicken thighs are just as delicious as their spicy sriracha counterparts. Also, if you can't find fresh cilantro, you can always substitute sliced green onion for a different but equally enticing flavor profile.
These thighs go best with a starch that'll soak up all of that tasty, spicy sauce! I usually serve mine on top of a bed of freshly-cooked white or brown rice. For those watching their carb intake, or simply wanting to get more vegetables into their diet, riced cauliflower makes a great accompaniment (and you can compromise by mixing together half rice and half cauliflower — you'll barely taste the difference!). Or if you want a more protein forward meal, quinoa makes an excellent side dish as well.
What do you usually serve alongside your chicken? Let us know in the comments below!