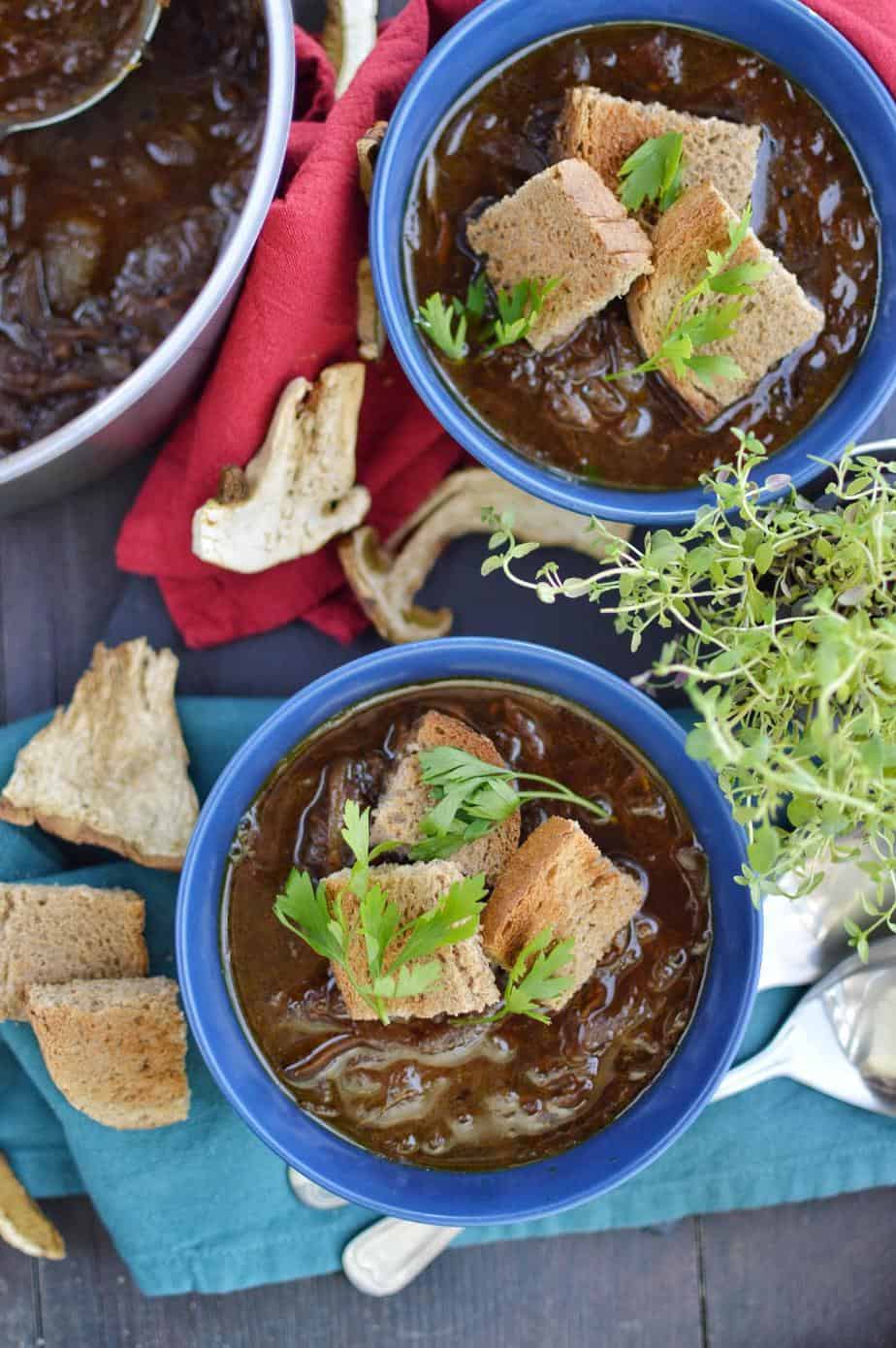 Are you ready to learn how to cook a French classic? I know it sounds difficult, as you know the French have one of the most exquisite cuisines in the World. I want to comfort you by telling you that exquisite doesn't always mean that it's something you need special skills for or expensive products.
I will show you today how to make the really famous French Onion Soup. It's one of the best examples of how less can be more. It's a celebration of the onion and its depth of flavour. The longer you cook it the sweeter and darker it becomes. It actually caramelizes along the way. Then the silky texture it gets and the classy shiny look at the end is marvelous. When you take your first bite you are literally blown away. The soup is sweet and really amazing. It's best if you have it with some bread and cheese toasted on top of it. But, as usual, I will present to you a vegan version – therefore I am not using any cheese.
I don't like playing with the Classics that much and I do them almost without any differences from their original recipe. The only things I changed in that one was the addition of dried porcini, chopped parsley and instead of using beef stock I used vegetable stock. The porcini can really turn every soup into something special. I love their flavour and aroma – so authentic and classy. That's why I decided to use them in my onion soup.
Onion soups have been eaten since Roman times. It was considered as food for poor people because the onion is easy to grow and there was plenty of it everywhere. This most popular version, comes from 18th century Paris and it became quite popular in the USA around the 1960's due to high interest in French cuisine. The Parisian version is the one that is actually caramelized onions, beef broth and finished in the oven with gratinéed bread and cheese. Usually it's served as a starter, but to be honest if you are not that hungry a nice portion of that will keep you satisfied for the whole afternoon if you have it for lunch with some croutons.
There are many good outcomes from eating onions – regular consumption can alleviate diabetes and decrease the chance of developing cardiovascular diseases. And of course there are lots of nutrients with anti-carcinogenic benefits. It's a win win situation with that soup.
The whole process from beginning to end takes exactly 1 hour and 30 minutes. You have 10 minutes of peeling and slicing onions and 1 hour and 20 minutes of cooking. The thing that takes most of the time is caramelizing the onions – it's about an hour.
I will now give you the ingredients in order to get 6 servings.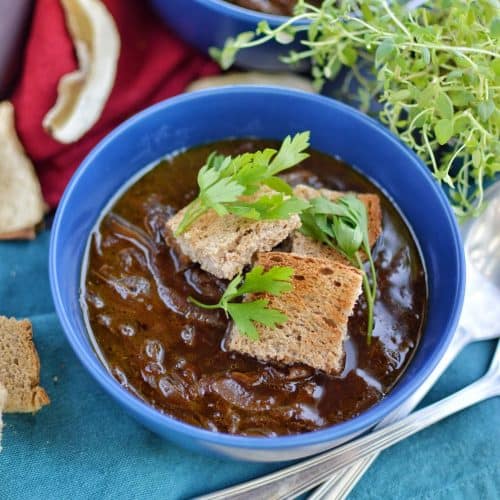 French Onion Soup Recipe
Cook Time
1
hour
20
minutes
Total Time
1
hour
30
minutes
Ingredients
10

heads of onion

I used a mix of red and white, you can choose only one type if you want

Few sprigs of thyme

A bunch of chopped parsley

Bay leaf

150

ml

of red wine

1

l

of vegetable stock

50

ml

of balsamic vinegar

5

dried porcini

finely chopped

50

ml

of olive oil

Salt and black pepper to taste

To serve:

Croutons or a slice of toasted bread

optional
Instructions
Peel and wash the onions with cold water - this will help you not to cry when you slice the onion.

Slice them in thin slices using a knife or an onion slicer if you have one.

Take a big pot, as there are lots of onions to be cooked, and start by heating it up with the olive oil.

When the olive oil is nice and hot it's time to add the onions, fresh thyme, bay leaf and the porcini. They will fill up your pot, but don't worry while they cook they will lose ⅔ of their volume.

Cook it like that for 40-50 minutes, on a medium heat, stirring occasionally.

Now you can add the red wine - this will deglaze your pot. That means that all the small bits of burned onion stuck to your pot will be gone instantly and they will become part of a tasty sauce that will form until the end of the cooking process.

When the wine has evaporated and colored the onions you can now add the balsamic vinegar and cook for another 2-3 minutes. Now the color and taste of the onions are perfect and you can add the vegetable stock.

Cook for further 10 minutes, then add the chopped parsley, and now it's ready to serve. Enjoy with a slice of toasted bread or some croutons. They really soak up the nice juice and become delicious.
STEP ONE – PEEL THE ONIONS
Peel your onions and then slice them in half and wash them with cold water. That last step will prevent you from crying during the slicing process.
STEP TWO – SLICE THE ONIONS
Using a knife or an onion chopper, if you have one, slice the onions into thin slices.
STEP THREE – START BY COOKING THE ONIONS
In a big pot or a dutch oven, start by heating up the olive oil. When it's nice and hot add the onions, bay leaf, fresh thyme and porcini mushrooms. Turn the heat to medium and cook for 40-50 minutes until the onions are super soft and have already started browning a bit.
STEP FOUR – ADD THE WINE AND BALSAMIC VINEGAR
Now it's time to add some deeper flavours and extra brown color to the onions.
Start by deglazing the pot with the red wine and cook for 2-3 minutes until it's completely absorbed by the onions. You can now add the balsamic vinegar and cook for another minute.
STEP FIVE – ADD THE STOCK
Now when you have the perfect color and taste of the onions it's time to add the stock and finish the cooking process. Let it boil for 10 minutes, add the chopped parsley and serve.
That's all you need to do in order to have that delicious soup. As I said – no fancy skills or expensive products are needed. It's the perfect example of classic French cooking. If you want to add something special to it and have it your way – you can add some green lentils and boil for further 30-40 minutes until it's cooked. That's actually not a bad idea.
If you are not vegan, you can have it the original way. Put it in a ramequin and top it with a slice of bread and grated cheese – now put it into the oven and grill it only on top until the cheese melts and forms a nice crust.