There's another week of summer to enjoy – autumn is almost here and its colors have already started conquering the trees. It's that time of the year when the warm soups are coming back to our table.
As a kid I never enjoyed having any kind of soups – especially the blended ones. I never found them that attractive and therefore not tasty at all. As time passed I started to actually respect the products that mother Earth gives to us. All the natural things that grow from the ground and have been taken care of deserve to be respected. In the season ahead of us we should really celebrate the colors of the red peppers, garden tomatoes, carrots, red onions etc. And that's exactly why today I've prepared for you a real Autumn soup with all of my favorite vegetables that are booming with colors on the shelves.
This soup is the exact opposite of what I wanted to eat as a child. I never wanted to hear about it – it sounded disgusting to me. It's quite difficult to make a child eat it- but I dare you to. If you succeed that's super positive for your kid. All of the ingredients are very healthy and they all help for strengthening your immune system and fight numerous diseases. An interesting ability of the sesame seeds is that they can improve respiratory health and prevent asthma. So don't ignore their usage in salads, soups, desserts etc. They also bring nice texture to every bite. On the other hand carrots help protect your brain and improve its function as all the root vegetables do. That's why omitting carbs from your diet is something that I disapprove of. They also keep your skin healthy and fresh looking.
Understanding the products on a deeper level will change the way you choose your next meal. Be conscious about the things you put in your body – they are what fuels our body and the consequences can be disastrous if we don't pay attention to that.
I've prepared for you a cream of roasted tomato soup with carrots, red sweet pepper, onions and garlic seasoned with fresh thyme and finished with chopped dried tomatoes and sesame seeds. I can only say WOW! What a combo! The soup is vegan, easy to make and it bursts with flavor.
I roasted all the vegetables because that intensifies all of their qualities and keeps the colors vibrant. There is no boiling involved and even there's a vegetable stock that is being formed while roasting. It's a proper autumn celebration.
I can suggest you to eat the soup with some toasted bread or croutons. If you are not vegan you can finish it with some double cream on top. Using parsley instead of fresh thyme is not a bad idea as well. Parsley is a very good friend with all of these garden vegetables.
The time for the whole process is 50 minutes. It takes you 3-4 minutes to prepare the vegetables for the oven and 45 minutes to roast them and then 1 minute to blend them.
I'll give you the products in order to get 4-6 servings.
Roasted Vegetable and Tomato Soup Recipe
Ingredients
7-8

medium sized garden tomatoes

2

carrots

2

sweet red peppers

1

head of onion

2

cloves

of garlic

Few sprigs of fresh thyme

2

tbsp

of olive oil

Salt and black pepper to taste
To serve with:
A sprinkle of sesame seeds

A tsp of chopped dried tomatoes

A pinch of fresh thyme
Instructions
Prep all the veg by cutting them in chunks and placing them in a baking tray. Season with salt, black pepper and fresh thyme and drizzle them with olive oil.

Bake in a preheated oven, set to 400 F, for 45 minutes.


Take them out, peel the skins off the tomatoes, and put all the veg in a blender. It's very important not to throw away the juice that got extracted from all of the fruits while roasting. Add it to the blender as well.


Now blitz for 1 minute, until the soup is super smooth and serve with a sprinkle of sesame seeds and chopped dried tomatoes. Enjoy!
STEP ONE – PREPARE THE VEGETABLES
Chop all the vegetables into big chunks and place in a baking tray. Season well with salt, black pepper, fresh thyme and drizzle with olive oil.
STEP TWO – ROAST THE VEGETABLES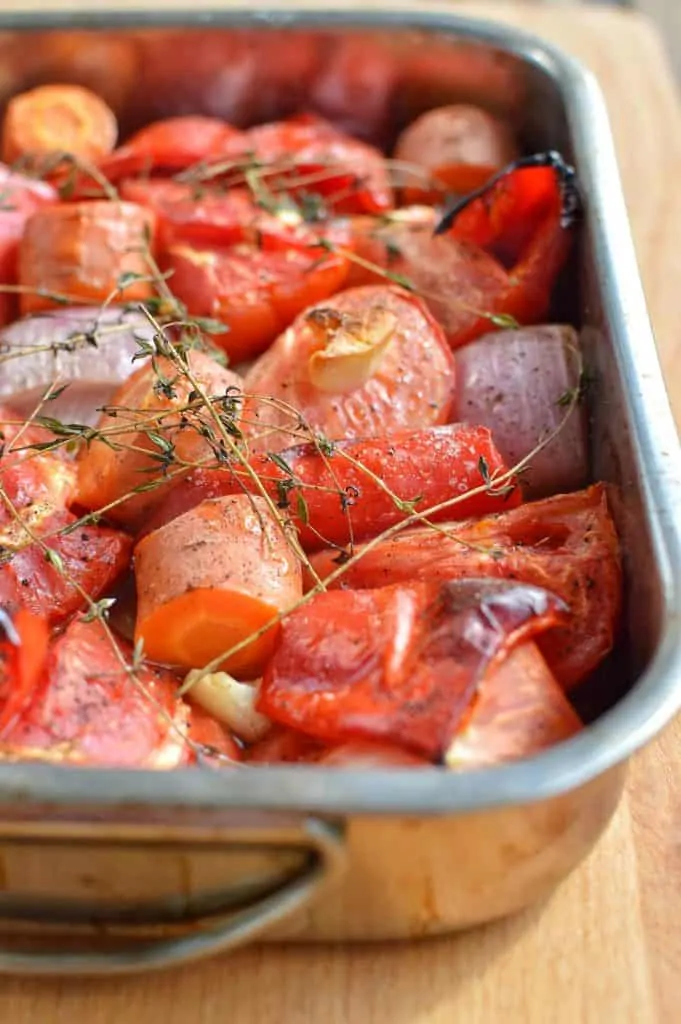 Cook the vegetables in the oven, set to 400 F, for 45 minutes.
STEP THREE – BLEND THE SOUP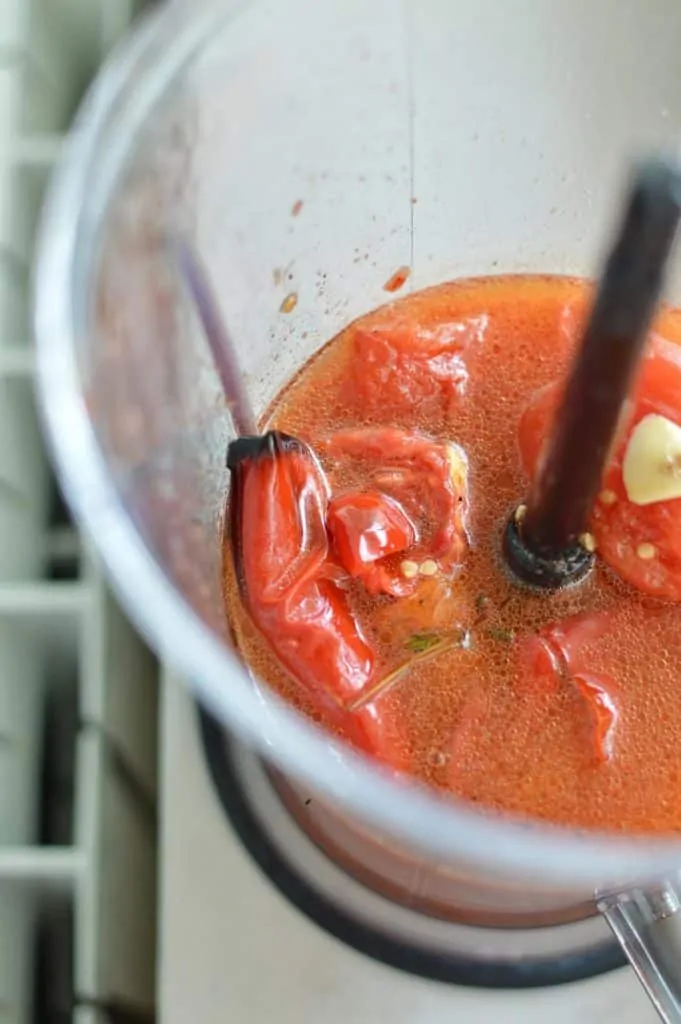 Peel the tomatoes, and add all the vegetables in a blender. Now it's very important not to miss that step – keep the juice that has formed in the tray while roasting, this will be your homemade stock that will give an amazing flavor to your soup. It's hundred times better than just using water. Add the stock to the blender and blitz until super smooth.
STEP FOUR – SEASON AND SERVE
Now it's the moment to taste the soup and adjust the flavor to your taste. If it's too salty, you can dissolve it with a bit of water or if it's a bit bland you can always some more salt and black pepper. Now when all the flavors are up to your standards it's time to serve. I served it with a sprinkle of sesame seeds, chopped sun dried tomatoes and a bit of fresh thyme. Enjoy!
Now that's an amazing way to serve that soup. It gives it character and it will definitely feed your eye first. Super high in nutrients and very delicious.
You can always transform the soup and add another vegetable. An aubergine will add an amazing touch to it. For the meat lover out there, I can suggest crispy bacon on top and for the vegetarians – they can enjoy it with some shavings of parmesan.
I am really happy that the soup season is so close to us and that's one good way to open it.
What is the soup that you like doing – would you rather have a chunky one or blended. Let us know in the comment section below.
Thanks for being with us – see you soon!