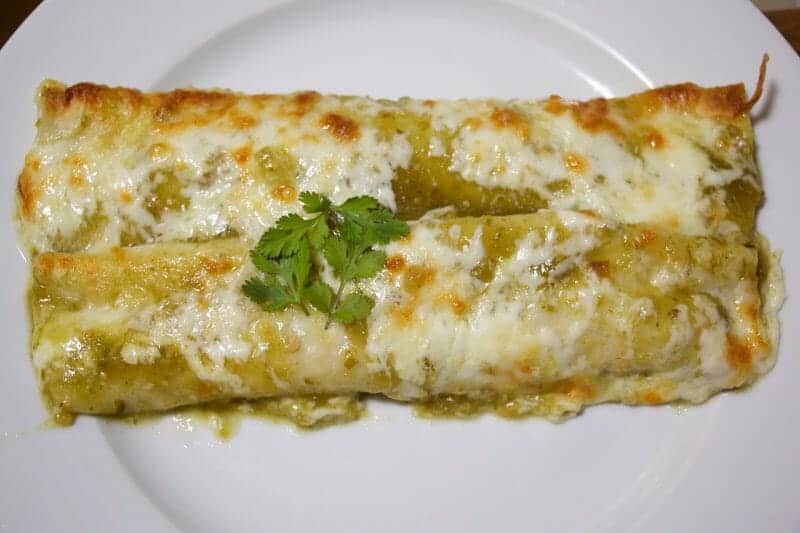 I currently have little sprouts of tomatillo plants growing on my balcony here in Barcelona. Not many locals know about tomatillos, the distant cousin of the tomato, which is used in many Mexican recipes. This green, husk covered fruit is the main ingredient in 'salsa verde'. If you've had enchiladas before, you probably know that there are many versions of this dish. And commonly two sauce varieties: red and green. This recipe is for the green enchiladas, with salsa verde. I prefer the tart green salsa to the red tomato sauce which can often be sweet.
Enchiladas can be made with different meats – chicken, beef, pork – or they can be meatless and just filled with cheese. This particular recipe is for chicken and cheese enchiladas. Living away from the ingredients I grew up with in the U.S. has prompted me to get creative with what I can find here in Spain. In the U.S., I would use a mild soft white cheese such as jack to make these, but here in Spain, I use a white cheese called tierno which is soft like jack and creamy. I buy my tortillas for this dish, but if you have a great tortilla recipe, you can always make your own. I would suggest flour tortillas because they are easier to roll up, but if you are gluten free, corn tortillas can substitute as well.
One of the best things about enchiladas is that you can make them in large quantities to serve big groups of people. This recipe will serve 4-6 people and is made in a 9×12 inch glass baking dish. This recipe is fairly easy with only four ingredients, the longest period of prep and cook time is cooking the chicken to get it tender before assembling the enchiladas.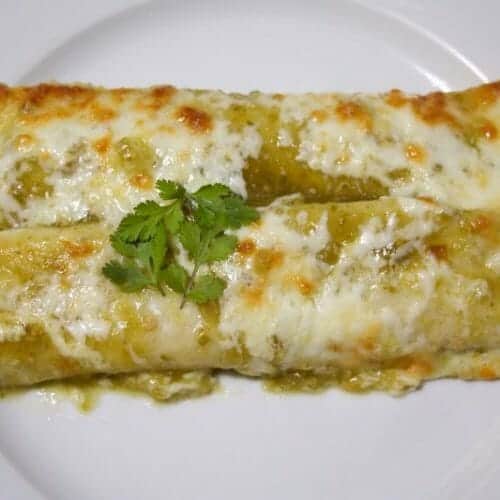 Authentic Chicken Enchiladas Recipe
Cook Time
1
hour
30
minutes
Total Time
1
hour
45
minutes
Ingredients
1 ½

lbs

Boneless

skinless chicken breast

8

Flour tortillas

30

oz

Salsa verde

approx.

½

lb

Medium soft white cheese
Instructions
Place chicken in a medium pot.

Add salsa verde and simmer over low heat.

Remove the chicken and shred.

Assemble enchiladas with shredded chicken, salsa, and cheese.

Place filled tortillas in pan by rolling them.

Cover entire dish of enchiladas with more salsa verde.

Add more shredded cheese to top.

Bake for 15-20 minutes at 350 degrees until cheese is melted and slightly browned.

Remove from the oven and serve immediately.
STEP ONE – PLACE CHICKEN IN POT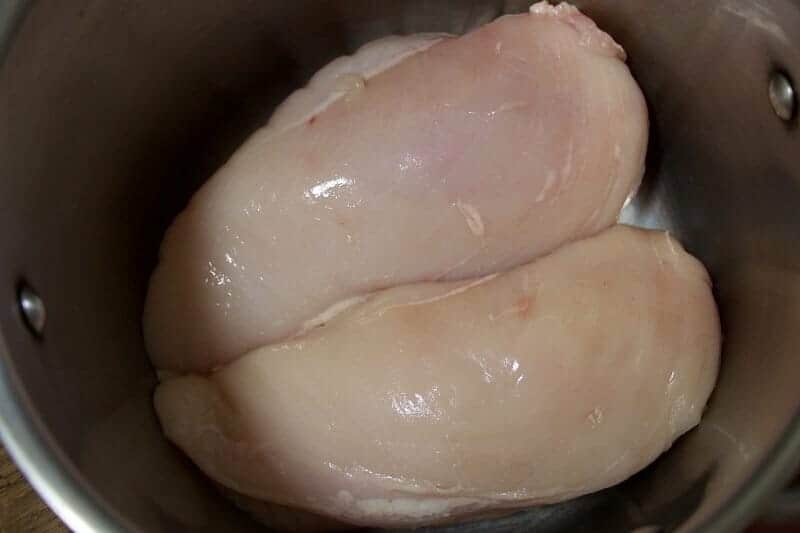 Place the skinless-boneless chicken breasts in a medium pot.
STEP TWO – ADD SALSA VERDE AND SIMMER

Add 8-12 ounces of the salsa verde to the chicken (which should just cover the meat) and simmer over low to medium heat for 45 minutes to one hour. Make sure to place the lid on the pot for this step, as you do not want to lose much of the liquid. Halfway through, you may want to flip the chicken breasts for more even cooking. You will know the chicken is done if it pulls apart easily, if not, leave it to cook a bit longer.
STEP THREE – REMOVE CHICKEN AND SHRED

Remove the chicken and place on a cutting board to shred the meat. I find this works best using two forks and pulling it apart.
STEP FOUR – ASSEMBLE ENCHILADAS
In the middle of a flat round tortilla, place shredded chicken, shredded cheese, and spoon on a bit of the salsa that was used in step two. Make sure not to fill them too full, as it is important to be able to roll them. Warm tortillas tend to be more pliable and easier to work with, you might want to microwave them for a few seconds before step five.
STEP FIVE – PLACE FILLED TORTILLAS IN BAKING PAN
Roll the tortillas with the ingredients inside and place them in the glass baking dish. If your tortillas are too dry, they can tend to tear, avoid this by using a toothpick to close the tortilla. This also helps mark where each enchilada is on the dish making serving much easier. Place them in a line in the baking dish.
STEP SIX – COVER DISH WITH SALSA VERDE
Cover entire dish with more salsa verde. Be generous at this step, the juicier the enchiladas are, the better.
STEP SEVEN – ADD SHREDDED CHEESE
Top the dish with the rest of the shredded cheese by sprinkling it over to evenly distribute it.
STEP EIGHT – BAKE FOR 15-20 MINUTES
Bake for 15-20 minutes at 350 degrees until cheese is melted and slightly browned. The edges of the tortillas may be crisped and brown and these are some of the best bites!
STEP NINE – REMOVE FROM OVEN
Remove the enchiladas from the oven and serve immediately.
Enjoy your meal!
As with most Mexican dishes, you can serve it with sides of rice and/or beans or a small salad. This recipe can also be altered to accommodate your work schedule. Simply place the chicken in a slow-cooker and cover it with the salsa verde. Set the heat to low and cook for 6-8 hours while you are at work. When you return, all that is left to do is build the enchiladas and bake to melt the cheese.
If you've tried this recipe and loved it, take it one step further and try growing your own tomatillo plants and making your own salsa verde from scratch. Salsa verde is easy to prepare, and so rewarding it involves a bit of cooking and other ingredients such as onion, lime, garlic, cilantro and spicy peppers.
While you wait for your enchiladas to cook, dip some tortilla chips in the leftover salsa verde. I like to use any leftover chicken on top of homemade nachos the next day. Sprinkle some chips onto a baking sheet with any leftover white cheese you have and the shredded chicken and broil for 5-7 minutes.
This dish pairs well with Mexican beer or a crisp white wine such as sauvignon blanc.