After hours and months of research and putting tea kettles to the test, product testers have finally been able to determine the best electric kettle. The Molla Púro came out on top, by offering a multitude of features. For those who drink tea that require different temperatures, who want water to stay warm a little longer, and who do not like waiting for water to boil, then this Molla Púro is perfect for you.
Top Pick: Molla Púro Cordless Glass Electric Water Kettle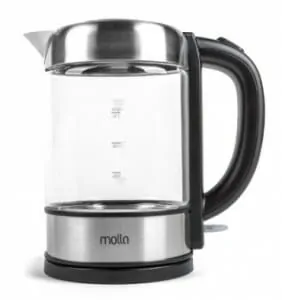 Molla Púro kettle is sleek and stylish on top of being incredibly efficient. The body is made using high quality German-made SCHOTT Duran Glass, which makes it resistant to thermal shock and has proven very durable even when dropped. The function of the kettle is incredibly simple, all you have to do is fill it up and turn it on, and your water will be ready in just five minutes, making it one of the fastest kettles on the market.
It comes with a cordless heading base, that allows for 360º swivel action, letting you shift the kettle any way you want without having to lift it up each time. It also features Strix, some of the most advanced temperature control in existence at this point in time, keeping water temperatures well regulated. The Puro also includes safety features such as auto-shutoff and boil dry technology. Meaning, the Puro will shutoff by itself if left untouched for a little while just as it will if there is not enough water in the tank to boil. This beautiful and highly rated model is sure to make your tea perfectly every time.
(ii) The Step-Up Pick
Step-Up Pick: Cuisinart CPK-17

Cuisinart CPK-17 comes in a 1.7 model with a 1,500 watt power heating coil pad. The kettle has 6 preset temperature options that are conveniently located at the top of the kettle's handle, going from 160ºF all the way up to 200ºF to brew your perfect cup of tea. The boiling process is also one of the fastest of all the models tested, reaching its boil point at just 7 minutes. The Cuisinart also has a special feature that allows you to ensure the water stays are the requested temperature for up to 30 minutes after it has been boiled, making it easy to come back for more.
The CPK-17 also has a number of safety features, such as a handle that is guaranteed to stay cool. Other safety features include an auto shut off feature and sleep modes, which will turn on after a few minutes of inactivity. It also features Boil-Dry Protection, meaning that if there is not enough water in the kettle to boil, it will automatically shut off, and avoid damaging the heating element. It is packed with features, but is certainly not perfect.
(iii) The Budget Pick
Budget Pick: T-fal BF6138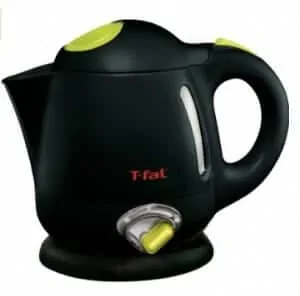 T-fal BF6138 is a small but mighty electric kettle, with a smaller water capacity than others, but it makes it no less efficient. A single cup of water can be boiled in just 90 seconds, making it incredibly fast. Like with all electric kettles on the list, the T-fal features a temperature control option, ensuring that water is perfectly boiled for every type of tea or drink you can make.
The T-fal also features a 360º swivel base, making it easy to rotate out of your way without disturbing the brewing process. Other features include auto-shut off once the desired water temperature has been reached, or when it is removed for its base. The T-fal is a great pocket friendly option that is sure to get the job done.
Some background on the electric kettle.
While there is no one person to thank for the advent of the electric kettle, it is known that it was first created in England during 1891, as a way to more quickly brew tea for thirsty British citizens. Unfortunately, these first electric kettles were slow, expensive, and did not really get the job done like water on the stovetop did. It was not until 1922 when The Swan Company made the first major leap in improving the efficiency of electric kettles by adding a built-in heat element.
Years later, these early electric kettles are no longer known, but they certainly paved the way for the dozens of brands seen today. Keep reading to see a comparison of some of the best electric kettles available on the market today.
Why electric kettles
Whether you use an electric kettle or a stove-top kettle, your water will get boiled. But, both types of kettles come with their own sets of advantages and disadvantages that you should be aware of. In a world where efficiency rules, the electric kettle has come out on top; proving to be much quicker at boiling water than a stove-top kettle, while also using much less energy to do so. These tests put electric kettles against both electric and gas stove tops, with the electric kettle coming out on top each time.
There is also the added benefit of all the safety features that come with electric kettles. When it comes to a stove-top, if you were to forget the kettle was one, there is no auto-shut off feature like you would find on an electric kettle. Forgetting your stove is on can lead to any number of potentially dangerous scenarios.
In some cases, it may just come down to preference. But, for quickly boiled water without having to turn on the stove, then your best bet is an electric kettle, with quality options at every price point.
Why you should skip the microwave
If you ask any tea expert and they will tell you, microwaving your tea water is probably the worst thing you can do. Why, you may be wondering? For the simple reason that with a microwave, there is no really controlling the temperature of your water- which can ruin tea very quickly.
Every kind of tea requires a different temperature for proper brewing and enjoyment. Black tea, for example, is best served at boiling, somewhere between 208ºF-212ºF. When you use a microwave to boil your water, there is no telling what temperature you are really getting unless you check it. But, even if you check, the temperature is likely to not be even all the way through like it would be with an kettle, especially an electric one that usually comes with various temperature settings already programmed in.
Who should buy this?
Not everyone needs an electric kettle, but there are many that may find them extremely useful. More and more people are turning from coffee to tea after hearing all the benefits that come with it. If you are someone that is drinking tea every day, at least once a day, it may be wise to invest in at least a small electric kettle to get properly boiled water for the perfect cup of tea. If you drink multiple cups a day, however, you should consider a bigger model.
But, an electric tea kettle is not just great for making perfect cups of tea. You can use it to make oatmeal, instant ramen, and even French-press coffee. Whatever the reason, an electric kettle is great for tea drinkers and those who like their coffee as fresh as possible.
How we picked what to test
When it comes to testing electric tea kettles, there are a few things that need to be kept in mind. As mentioned before, the perfect cup of tea cannot be made in a microwave or with water that has not been boiled properly. For this reason, one of the most important factors in testing and evaluating electric kettles are the temperature options. But, of course, there are other factors that need to be considered as well. These factors include safety features, capacity, material, and any other special features that may be worth noting.
Temperature will always be the most important factor when it comes to an electric tea kettle. A good electric tea kettle should reach just over 200ºF when it comes to a full boil. It is a bonus if the kettle features a preset or programmable settings that allow you to set specific temperatures for different types of tea.
Kettles should also offer a number of safety features, including auto-shutoff and boil-dry protections. Both of these help to ensure that the kettle is not damaged, but also ensure that if the kettle gets forgotten, it does not somehow cause a fire. Other great features would include the ability to keep water warm for a little after it has reached the right temperature time and a timer that would watch for how long tea has to be seeped.
Capacity is another major factor- the more tea that is made in your household or during any given day will mean you will want a bigger tea kettle, that can handle multiple cups at one time. But, to get this, you should not be forced to sacrifice boiling time. No matter the size of your kettle, the water should be able to come to a perfect boil in a matter of minutes.
A number of tea kettles have been tested, featuring a few from every price point. While not all of them have every feature mentioned above, they are all the best of the best, and will get you that perfect cup of tea.
Our pick: Molla Púro Cordless Glass Electric Water Kettle
While Molla may not be a recognized brand, their Púro electric tea kettle is far better than other kettles currently on the market. Of course, this is not to say that it is perfect five-start kettle. But even with the minor flaws, it is well worth the price that it costs.
The design of the Púro is not just extremely sleek and attractive, it is also very easy to work with. When it comes to setting water to boil in the Púro, it really is as simple as filling it up and turning it on. The great thing is that the water will be boiled in just 5 minutes, though it may take a minute or so longer if filled completely. Once the LED light has shut off, then you know your water is ready for the tea, coffee, or quick meal you may be making.
The actual design of the Púro will make it look great on any countertop, especially since it is a cordless kettle. The body of the Púro is made from incredibly durable German-made SCHOTT Duran Glass. If you accidentally drop the kettle, it will not break, as the makers ensured to perform a number of drop tests before releasing it to the public for purchase.
Other features worth noting at the auto shutoff and boil dry protections. With the auto shutoff feature, your device will automatically shutoff once water has been boiled, ensuring that it does not continuing running and potentially damage itself. The boil dry protection is a great feature that many electric kettles come with, and it helps to ensure that if there is not enough water in the kettle, it will shut off rather tan trying to boil it.
The soft-close lid of the Púro also helps to ensure that boiling water does not splash out when you go to pour it. This helps to ensure that someone does not accidentally gets burned when using the kettle and pouring their water. It also features an anti-calc filter, which will help to remove any unwanted minerals from the water as it is getting poured.
Flaws but not dealbreakers
The main flaw that comes with the Púro is that you cannot necessarily set it to a specific temperature and let it go. Instead, you would have to be more aware so that the water can be right for whatever tea you are looking to make. If you are someone that does not drink teas that require a lower water temperature, this may not be much of a flaw for you, but for others it could be.
Another flaw that buyers have pointed out is that there is a small plastic part in the kettle, which cannot be removed completely. This plastic is part of the filter and the filter holder, and while the filter can be removed, the holder cannot. Another area that has plastic is the lid. While people mention these things in their reviews, the general consensus is that it does not change how great a product it really is. The Molla Púro is a truly great product to consider, even with these minor flaws.
The runner-up: Cuisinart CPK-17
The Cuisinart CPK-17 is jam-packed with great features in a sleek and compact designed kettle. Like our top pick, it is also cordless, making for easy storage when it is not in use and a 360º swivel base. And, in some ways, that seems to be where similarities ends.
In terms of boiling water, the Cuisinart CPK-17 comes with 6 different preprogrammed boil options, ranging from the delicate 160ºF for your white teas up to 200ºF to make the perfect French press coffee. This means that it is also a great option to make a quick bowl of oatmeal, and some tea as well. It also features a very convenient keep warm option, that makes it possible to keep water at the perfect temperature for up to 30 minutes after it has been boiled.
It also offers safety features, such as auto shutoff after a certain amount of time and boil dry protection, to keep from damaging the kettle. Like with the Púro, it has a filter to ensure the cleanest water for your tea possible, and the filter can be removed and cleaned to be used again very easily.
The Cuisinart CPK-17 comes with a 3-year limited warranty to account for any troubles you may have, which sweetens the deal a little.
Budget Pick: T-fal BF6138
The truth is, you do not really have to spend a great deal to get a quality electric kettle. With so many people on a budget, we included one of the best electric tea kettles that are perfect for someone on a tight budget.
The T-fal BF6138 only holds about four cups of water, making it best for someone who may live alone and not be sharing as much. When it comes to boiling a single cup of water, the T-fal takes the grand prize, as it can boil it in just 90 seconds. It also features variable temperature control, to allow for the perfect cup of tea every time, be it anything from white to black tea.
Like the other picks, the T-fal features a 360º swivel base that makes rotating the kettle extremely easy. It also has an automatic shutoff feature which activates once the water has been boiled or if the kettle is taken off the heating coil. While it does not have boil-dry technology, it does still have an easy to remove and clean filter for the cleanest water boiling experience.
The T-fal is extremely budget friendly.
For those that make a lot of tea
If you have a large tea-drinking family, then the kettles mentioned above may not be the best option for you. Instead, you will want to consider the Panasonic NC-EH22PC, which comes in 2.3 quart, 3.2 quart, and 4.2 quart options. This, while not necessarily the most attractive options, have some of the biggest capacities, and will make it much easier to get tea around to everyone faster.
Like its kettle counterparts, the Panasonic goes from 140ºF up to 208ºF, and also features the option to keep water warm at one of four temperature settings. It is great for more than just tea as well and can make everything from a bag of ramen to a bottle for a baby. With a dispense button on the top, there is no need to worry about water somehow spilling out, especially because the lid locks itself in place.
For the college budget
Proctor Silex K2070YA Electric Kettle is a well-rated alternative to our budget option. It features a detachable plug to help make pouring easier, since it is not a cordless model. The Proctor Silex also features the same safety features as our other options, include the auto-shutoff and boil dry protections, which are especially important for dorm room living.
Many college students are discovering the wonders of tea, since it does not have the same caffeine withdrawal effects that coffee has. But, a college student may not necessarily have that much extra money to spend- but that does not mean they have to turn to the microwave for a poorly made cup of tea. An electric kettle would also make college meal time a much faster and tastier time.
One a 1-liter body, the Proctor Silex can boil water much faster than the microwave, and can give a college student enough for a hot drink and some breakfast or lunch.

The Competition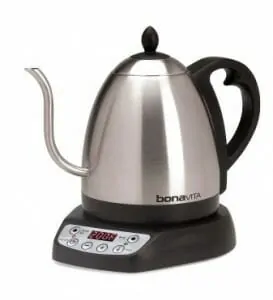 Bonavita is one of our top contenders. There are hundreds of electric tea kettles on the market, and while these were our top picks, there are still many great options out there at every price point. For those willing to spend a little more, there is the Bonavita 1-Liter Kettle. The Bonavita comes with a number of preset temperature options, ranging from 140ºF and up, making it great for all sorts of teas and other products. It also make sit possible to track seeping time for your tea bag, so that it does not sit for too long.

Secura is another competitor worth noting. It has a unique design which features a dark exterior that stays cool, even when water is boiling. The interior and all parts of the kettle that come into contact with the water are made with 100% stainless steel, ensuring that the entire device is completely BPA-free. To make it even better, the kettle features a double walled design, which makes boiling water go much faster and also helps it to hold the heat longer as well. It is great for someone who is willing to buy a mid-range priced kettle for their tea making needs.

Hamilton Beach 40882E is an electric kettle great for those on a budget. It has a 7 cup capacity and a 1500-watt heat coil, that makes boiling the water much faster, especially compared to the microwave or stove. It also comes with the added benefit of being safer to use than the stove, as it comes with an auto shut off feature, keeping it from potentially over heating or damaging the kettle itself. Other safety features include dry-boil protection.
Frequently asked questions
If you have never owned an electric tea kettle before, you may have some questions. here are a few of the most common ones people have.
How do I clean it?
To clean your tea kettle, it may be best to use a kitchen brush, as the lid opening may not actually be big enough for your hand to fit inside. You would wash it just as you would a coffee carafe. Because you are really only boiling water, you just need to wash it lightly and let it dry properly to avoid any mold or bad smells.
If your kettle comes with a filter, be sure to remove it and run the filter under water to remove any minerals sticking to it, otherwise it may build up over time.
How do I know how long to boil the water?
Each electric kettle boils automatically, but to get it at different temperatures requires checking the manual, as it is different in every kettle. For tea, usually the package or box will tell you the ideal temperatures and seeping time.
Do I have to do anything special?
After you have finished using it, be sure to dump out any remaining water so it does not calcify. You also want to be sure to clean it every so often with a vinegar and water mixture to remove any mineral build up that may be occurring.
Wrapping it up
While electric tea kettles are meant for tea, they can be used for a number of other things. This includes hot chocolate, French press coffee, some foods, and a baby bottle to name just a few. Electric tea kettles are a worthy investment for anyone who spends a lot of time boiling water, as they are much safer and more efficient than any microwave or stove will be. If you want a truly sleek design, then you should consider the Molla Púro, with the cordless glass design and quick boil time. Or, maybe you want the preset options and do not mind spending a little more to get them, then the Cuisinart CPK-17 will be your best bet. Or, maybe you want a small, budget friendly model and do not care as much about looks. If that is the case then the T-fal BF6138 will be the perfect model for you. It all depends on your needs and wants, so consider it carefully, and use this article to guide you through making the perfect choice.
Jen Miller is a former electrical engineer and product specialist with more than 20 years of product design and testing experience. She has designed more than 200 products for Fortune 500 companies, in fields ranging from home appliances to sports gear and outdoor equipment. She founded Jen Reviews to share her knowledge and critical eye for what makes consumers tick, and adopts a strict no-BS approach to help the reader filter through the maze of products and marketing hype out there.  She writes regularly and has been featured on Forbes, Fast Company, The Muse, The Huffington Post, Tiny Buddha and MindBodyGreen.