With many people spending hundreds of dollars a year on cappuccinos and other expensive coffee drinks from Starbucks and other coffee shops, it's no wonder that people are looking to save by making the same drinks at home. Personal milk frothers can create the micro-foam for many delicious coffee drinks for a fraction of the cost at a coffee shop.
We looked at hundreds of milk frothers on the market and tested the top few to compile this list of the best milk frother products.
Our top pick is the durable handheld Cafe Casa 2-speed Milk Frother. This handheld tool uses its powerful 15,000 rpm motor to create delicious milk froth in about 10 seconds at the highest speed. With a lifetime replacement warranty, you won't have to worry about replacing your milk frother every few months. Add to this the detachable wand which makes cleaning easier, and you can see why the Cafe Casa tops the list.
If you want a more automatic milk frother, step-up to the Epica Auto Electric Milk Frother. The Epica provides the milk frother in its own carafe. Many coffee drinkers prefer to just hit the button and both heat their milk and froth it automatically. The Epica is the best model of automatic milk frother, heating up to 8.5 oz. of milk or frothing 4.25 oz. of hot or cold milk. The unit features a 2 year warranty, plus a carafe that easily detaches from the base for an easy pour.
For the budget-minded, we can recommend the handheld MatchaDNA Electric Milk Frother. You won't have to break the bank to create beautiful froth for your coffee drinks. The MatchaDNA performed well in our testing, but with only a 60-day warranty, it couldn't break the top.
What is Frothed Milk?
If you have had a coffee drink in the last 10 years, you've seen frothed milk. It's more than warmed milk put on top of coffee.
Frothed milk is a requirement for proper cappuccino and latte coffee drinks. It is poured on top of the coffee. In the hands of a true artist, the froth can be poured into shapes such as hearts atop the coffee to create a drink that is visually appealing as it is tasty.
Frothed milk is also known as micro-foam, a very finely beaten milk. Froth will pour like a liquid and adds a sweet, dense flavor to your coffee. With froth, the bubbles of the foam are so small you cannot detect them with the human eye. Experts agree. If you can see the bubbles, it's not proper froth. Check out what one expert thinks about frothing milk.
Why Do You Need a Milk Frother
According to blogger Jordan Sok (Why Everyone Should Own a Milk Frother), her love affair with her milk frother is because: "1. I work from home. 2. I love coffee. 3. I'm broke.").
Let's face it. Coffee beverages from coffee shops are expensive. You'll easily pay for a milk frother in a few days if you like fancier coffee drinks like cappuccino or latte.
A milk frother in your home (or when you travel), can help you create fanciful coffee beverages at a fraction of the cost. Plus, you don't have to leave the comfort of your own home to enjoy rich and complex coffee drinks.
Different types of Milk Frothers
Excluding the milk frother attached to high-end cappuccino and coffee machines, there are three types of stand-alone milk frothers. Each type has pros and cons and can be used to create the micro-foam you want for a complex coffee drink.
Handheld Frothers
Battery powered handheld frothers are the most common type of home frother available. These units are essentially small, powerful electric whisks. Handheld frothers have the advantage of being lightweight and small.
Many users prefer the handheld frothers because you can control the frothing process much more. But, none of these frothers heat the milk, so you must microwave the milk first. Handhelds can be messy, so make sure you use a large container or carafe to whip your milk into a fine micro-foam.
Many handheld frothers can be used for other common kitchen tasks, such as beating an egg or mixing hot chocolate mix.
Automatic Warmer/Frothers
Combination milk warmers and frothers are another common type. These units resemble tiny coffee or tea pots and produce a small carafe of cold or warm frothed milk. They are mostly automatic. Fill with milk, press a button and wait for the results.
With more parts, warmer/frothers tend to be more expensive than handheld models. But the enclosed design reduces the mess and doesn't require you to babysit your milk frothing.
Pump Frothers
There are also a few pump frothers in the marketplace. These units are human powered frothers. Much like a French coffee press, a pump frother relies on the user pressing the pump repeatedly to generate the froth.
With no electricity or batteries required, a pump frother can be used anywhere at any time. Similar to the warmer/frothers, a pump unit includes a carafe incorporated into the design to reduce the possibility of milk foam sprayed all over your kitchen or work area.
How We Picked the Top Frothers
We looked at a variety of factors when testing milk frothers. Key factors included speed, durability, warranty, cost, weight, and noise. With warmer/frothers we also considered capacity.
Speed
Speed varies significantly amongst the frothers. The fast and most powerful could adequately froth milk in around 10 seconds at the highest speed. Other automatic models could take up to 40 seconds to provide adequate froth for a cup of cappuccino. Hand pump units came in at the bottom of time tests. Variances in human strength could mean 2 minutes or more for froth from the hand pump units.
Durability
Many of the cheaper models have a durability problem. They may fall apart after only moderate use. Since many coffee drinkers will use their frothers on a daily basis, durability is a critical issue.
We preferred frother models made of stainless steel over plastic counterparts, although there can be durability issues with either.
Warranty
Of course, the best way to get a durable frother is to get one with a solid warranty. While you may be without a frother while awaiting a warranty replacement, a good warranty can mean not having to purchase a new unit.
Warranties varied widely amongst all the milk frothers we reviewed. Low-end models came with only a 30 or 60-day warranty. The best units guaranteed lifetime replacement while many high end models offered a respectable two or three-year warranty. In the end, the Cafe Casa won out with a lifetime replacement guarantee.
Cost
You can spend quite a bit on a high end frother/warmer. Handhelds and pump models tend to be much less expensive.
Weight
None of the milk frothers were extremely bulky or heavy. Some of the handheld frothers came in at less than 2 ounces while the warmer/frothers were between 2 and 3 pounds. Note that we found heavier handheld units were easier to control when turned on, so the lightest model did not test the best in our comparisons.
Noise
Most of the frothers we reviewed were very quiet, but a couple or warmer/frothers and handheld electric frothers lost points for having a noisy design and motor. Pump frothers are as quiet as the user and may be distracting due to the physical pumping required.
Capacity
Handheld frothers can be used in almost any size container. This allows you to prepare as much or as little frothed milk as you need. Of course, preparing enough for multiple cups will require more time.
The warmer/frothers and pump units all have a specific capacity. Most of the units we tested are designed to prepare froth for one or two cups of coffee at a time. Using these units to create drinks for multiple people will be time consuming.
The Best Handheld Milk Frother

Jen's Top Pick: Cafe Casa 2 Speed Handheld Milk Frother
The Cafe Casa 2 Speed Handheld Milk Frother took top honors in our testing and review of milk frothers. While other models could match the speed and cost of the Cafe Casa, the lifetime replacement guarantee and heavy duty body put it on top.
The Cafe Casa is very easy to use with a single switch. While the Cafe Casa is slightly heavier than other handheld units, most users preferred the heavier duty body. We found the heavier body made it easier to hold the unit when frothing. There was less concern about dropping the unit.
Cleaning the Cafe Casa is straightforward and easier than most units. While like most models, it's not dishwasher safe, the all stainless steel body wipes clean with minimal effort. As a bonus, the whisk wand is easily detachable. Many other less expensive handheld units cannot detach the wand from the body.
Cafe Casa gets top marks for durability with a lifetime warranty and the large stainless steel body. The batteries are held inside a sliding compartment at the top of the unit rather than a snap-on-door common in cheaper models. The company even claims to hand test every unit before shipping to prevent dead-on-arrival problems common with small electronics.
Cafe Casa was near the top of the pack in the speed testing, creating high quality froth in about 10 seconds for a single cup of coffee at the highest speed setting. While other handheld frothers can make that claim, none are any faster.
Extras with the Cafe Casa
To help explain how to get the best out of your frothing experiment, Cafe Casa has included access to a 30-page manual and recipe ebook entitled "Secrets to Successful Frothing." The book includes some delicious recipes to try plus tips on how to use your new milk frother.
Two "AA" batteries are also included with the unit so you can get started blending and frothing immediately.
This handheld milk frother is powerful enough it can be used for more than foaming milk. You can use the unit to whisk eggs for omelets and scrambled eggs. The high speed whisk will blend hot chocolate, protein shakes and other powdered drinks. You can even prepare salad dressings, sauces and gravy with the Cafe Casa Milk Frother.
Who Else Likes It?
We're not alone in our love of the Cafe Casa Handheld Milk Frother.
Flaws But Not Dealbreakers
The Cafe Casa is a few dollars more expensive than most high-rated, handheld milk frothers. We think the extra cost (less than a single cappuccino from most coffee shops), is well worth it for the added warranty, durability and power. Don't forget some of the extras you get with this powerful little machine.
The Best Automatic Warmer/Frother

Step-up Pick: Epica Auto Electric Milk Frother and Heater
Some consumers may find it easier to purchase a warmer/frother rather than a handheld unit for their coffee needs. The warmer/frother combo gives the advantage of heating milk and frothing it all automatically. Press a button. Grab your coffee. Come back in a few seconds to a fine froth of milk. You don't have to do any of the work except pour the milk.
Our top pick for a Warmer/Frother is the Epica Auto Electric Milk Frother and Heater
. The Epica can warm milk and/or froth cold or warm milk with the press of a button.
The included stainless steel carafe detaches easily from the base unit for cleaning and easy pouring. The carafe is vacuum-sealed to insulate the milk and maintain temperature. The interior is non-stick and will clean easily, especially if you clean immediately after usage.
Like many of the warmer/frothers, capacity is fairly small. The Epica can warm about 1 cup (8 oz./250ml) of milk. If you are frothing with it, you can only prepare half that amount (125ml). This is a functional amount for only two coffee drinks, so you'll be refrothing if you have several guests.
The small capacity does mean quick operation. The Epica will heat and froth your milk in about 90 seconds.
The Epica was one of the quietest models we tested. You probably won't hear it at all with normal ambient kitchen noise.
With that many customers happy with the Epica, you will be happy too.
A Budget Minded Runner-Up

Budget Pick: MatchaDNA's Handheld Electric Frother
This is not much money for the satisfaction of frothed milk at home. But, if you're budget conscious or are looking for a portable model, you'll be happy with our runner-up selection, MatchaDNA's Handheld Electric Frother. This is one of the least expensive milk frothers on the market. To get any cheaper, you'd have to hand whisk your own foam.
At only 2.4 oz., this is on the smaller side, but it's heftier than the very smallest frothers. Unlike many frothers, the MatchaDNA handheld has a slightly ergonomic design. This makes it easier to control, even though it doesn't weight as much as the heavier model we choose as our top pick.
Unfortunately, durability is a slightly mixed bag. The body is plastic and there are occasionally problems with an inexpensive frother like MatchaDNA. Still, it holds up well compared to other frothers that cost literally three times as much. We wish it had a longer warranty than 60 days.
Speed is a little slower in this model, taking about 30 seconds to properly froth the milk for a capucinno. Some consumers might prefer this. The speed is slower, so there is less chance for a milky mess all over your kitchen.
Don't expect any extras with this low-cost model. It doesn't come with batteries or a recipe book. MatchaDNA is a powdered tea company, so the unit does come with a coupon to try their tea products.
If you want simple foamed milk for your coffee drinks, the MatchaDNA performs as well as more expensive models.
Hand Pumping Milk Frothers
There are three kinds of home milk frothers on the market. If you don't want to froth your milk with electric power, you can look at the pump frothers. These models work with your hand to pump up the milk into a creamy froth.
There are many reasons why you might want a hand-powered frother. Perhaps you are concerned about the environment. You may want to be sure your frother will always work whether you have access to batteries or power, or not.
Cost is a huge factor for preferring pump frothers over handheld electric frothers running on batteries. With some handheld electric models needing batteries once a month, you could save in batteries alone.
In our testing, all pump frothers produced less consistent froth than either handheld or automatic warmer/frother models. It wasn't always lower quality froth, but your hand strength and devotion to regular pumping really makes a difference. We suspect with repeated hand pumping, the froth would be consistent.
Both the pump frothers we tested have sealed carafes for holding hot or cold milk. These can keep mess to a minimum, but you must be careful not to disturb the lid of the carafe during vigorous pumping or you can make a huge mess.
Pump frothers are dishwasher safe, so cleaning is very easy compared to electric models.
The carafe on both these pump models holds only 400ml (200ml of froth), which is great compared to most electric warmer/frother models which hold only 250ml.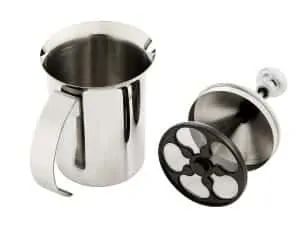 HIC Creamer Frother Foam Pitcher
Our favorite pump model was the HIC Creamer Frother Foam Pitcher from Harold Import Company. The HIC model uses a double aerator screen similar to a French press coffee maker to produce a fine micro-foam froth. You can create your froth in about 30-60 seconds of pumping. The HIC comes with a lackluster 60-day warranty, but with no electrical parts, durability is not much of a problem.
The VKTech Stainless Steel Double Mesh Frother is another pump option and very similar to the HIC model. The VK Tech is less desirable because it only has a 30-day warranty. We also found that the seal on the carafe was difficult to keep down while pumping resulting in milk bubbling out of the carafe.
There Are Many Quality Milk Frothers Out There
Here some of the other milk frother products we reviewed for our tests.
Nespresso's 3190US Aeroccino Automatic Milk Frother was the most expensive unit we reviewed. The Nespresso brand name is certainly associated with quality and the Aeroccino did not dissappoint. The Aeroccino is slower than some of the other warmer/frother varieties, but it has durable and offers a 1 year warranty. We were disappointed with the capacity of the Aeroccino with only 90ml of froth.
MatchaDNA's Automatic Milk Frother/Warmer is the big brother of our value choice for handheld frothers. The MatchaDNA provides a reliable machine that is easy to clean and provides consistent froth. The unit is slower than the other units we tested. Expect 60-90 seconds to produce froth in the smaller 125ml of froth carafe. It does feature a 2-year manufacturer's warranty.
The Secura MMF-003 and MMF-603 are both solid frother/warmers. The difference in the model numbers is capacity. The 003 is more of a single cup 125ml of Froth unit. The larger 603 can hold up to 250ml of froth, good enough for two coffee drinks at a time. Both Secura units feature a 2-year warranty and seem durable with a vacuum-sealed non-stick interior and stainless exterior. The units include a cleaning brush to make cleaning a breeze. The Secura is more expensive than many frothers, but a solid warmer/frother performer. That higher capacity model is one of the only warmer/frothers that can handle more than 2 cups of coffee at a time.
The Cafe Luxe Handheld Milk Frother is a solid product, although a bit more expensive than our top choice. It is actually very similar to our top pick with a heavier body than other frothers at 13.6 oz. The frother also features an all stainless body and a lifetime replacement guarantee. The Cafe Luxe excels as the quietest model in our survey even though the powerful motor can create a creamy froth in about 10-20 seconds. The top rated Cafe Casa, this unit comes with an ebook instruction manual/recipe book and two batteries to get you started quickly.
Classique's Electric Milk Frother is another quality choice for a handheld frother. Like all of the top hand frothers, it's quiet at either of two speeds and you'll get your foamy froth within 15-20 seconds of operation. The all stainless steel construction makes it reasonable durable and easy to clean. You can have confidence with a 3-year warranty. Classique has an attractive price point. One unique feature of Classique is the coffee spoon clip. This great little clip has a coffee measuring spoon and is designed to seal your coffee bag while always leaving a measuring spoon on hand. What a novel and welcome add-on!
Soloxo's Handheld Milk Frother also offers a lifetime replacement warranty. Its 7.2 oz. stainless steel body can create froth in as little as 10-20 seconds. The unit is based on a quiet two-speed motor. We like the unit, but some users were concerned about quality and durability in their reviews.
Ozeri's Deluxe Milk Frother and Stand is a quality handheld style frother with some nice add-ons. The unit comes with an elegant stand, 2 different size milk frother attachments, an egg beater attachment and a cocktail mixer in addition to the two batteries required to operate the unit. This model is slightly noisier than other handheld frothers, but does create froth as quickly as the best in 10 seconds or so. A 1-year warranty makes this unit stand out.
The Aerolatte Milk Frother is another admirable handheld milk frother selection. The plastic-body Aerolatte includes a stand and comes in a variety of colors. The Aerolatte has a 2-year limited warranty. It's speed of 20 seconds for frothing comes at a cost of batteries. Most users report needing new batteries more frequently than other models. They do give you two to start.
The Elementi Premier Milk Frother is an inexpensive handheld electric model. This plastic-bodied kitchen tool has a great look and includes a stand, but it is not as powerful as other handheld models, required up to 40 seconds for a good froth for one cup of coffee. With only a 90-day warranty, we have concerns about longevity. While it's not a large expense, we think it's unfortunate that the Elementi does not include your first two batteries like most other models.
Bru Joy's Gen 3 Milk Frother was one of the smallest units we reviewed weighing only 1.6 oz. A 90-day warranty keeps it from being a top choice. The small, all stainless frother can create quality froth in about 20 seconds. Unlike some models, the button for the one-speed operation is on top of the device. This makes for an easy grip and operation with such a small frother. It is quiet and features an all stainless steel exterior.
The US Kitchen Deluxe Milk Frother is an adequate tool for frothing your milk. It's another small unit at 1.6 oz. While it does offer a lifetime replacement warranty, many users have had quality concerns. The motor operates at 12,000 rpms – well below top models in our survey. It is inexpensive.
Ikea's Milk Frother 303.011.67 has a disappointing history with its all plastic body. We don't think most consumers will be happy with a short 30-day warranty. But, with one of the smallest form factors of any unit we looked at, the Ikea model will interest some users.
Frequently Asked Questions
What About Different Types of Milk?
Most frothers assume you are going to use whole milk for making froth.
Micro-foam creation depends on the chemical structure of the milk, especially the milk fat. But, it may be the opposite of what you think. While whole milk gives the best taste, the lower the fat in your milk, the better the froth. (< ahref="http://lifehacker.com/5646061/use-non-fat-milk-for-better-foam-on-coffee-drinks">Use Non-Fat Milk for Better Foam On Coffee Drinks)
If you're looking for a vegan or dairy-free alternative, rice, coconut, soy and almond milk can froth like regular milk using your favorite frother here. Mark Bittman found almond and coconut milk to froth the best in his article on seeking a Vegan Cappuccino.
Handheld frothers tend to perform better with non-whole milk frothing since you will be able to control the effort. Automatic frothers were designed for whole milk. While you can get froth from non-milks in an automatic frother, the results will vary.
Can You Use Your Frother for Other Kitchen Activities?
Definitely. Many of the frothers we reviewed, especially the handheld frothers, are essentially small hand mixers. You can use them for mixing all kinds of things. They certainly aren't powerful enough to mix up a cake batter, but beating an egg, mixing protein powder into a drink and other small kitchen chores are easy, especially for the more powerful models like our top choice Cafe Casa.
Even pump or automatic warmer/frothers can be used for different mixing chores. Just be careful with your experiments. Cleaning the whisk may be difficult with thicker liquids and substances.
What Type of Carafe Should I Use for Handhelds?
You can foam your milk in almost any container using a handheld, but a small, glass carafe works the best. Glass can allow you to heat milk in a microwave oven and is easy to clean. Stainless steel carafes are also easy to clean and are much safer than glass carafes.
How Do I Froth Milk?
Frothing milk using any of the devices we've reviewed is fairly straightforward. It's so simple, many of the machines don't come with a manual. There are few tips for getting the best results.
For handheld electric frothers, like our top-rated Cafe Casa, remember to use a large container to prevent messes. Your milk will double in volume once frothed, so you should never use a container more than half full of unfrothed milk. The most important way to avoid a mess with a handheld is insert the frothing tip into the milk before you turn the unit on. This lessens the spray from the frother and keeps frothed milk off your walls.
With a handheld, you want to create a vortex, like a mixer, to work through all the milk. This is best in middle of the milk and about halfway down.
Automatic frothers usually involve pouring warm or cold milk into the carafe, replacing the lid, and pressing a button. Again, it's critical that you don't pour more milk into the unit than indicated. Almost all warmer/frothers have a fill line to let you know how much is enough.
Pump style frothers are also easy to use. Simply pour in your milk, replace the lid and start pumping for about 60-90 seconds in most cases. To avoid a mess, make sure the lid seals tightly or apply pressure on the lid with your other hand.
With any type of frother, you'll have best results if you clean immediately after use. Caked on milk can develop harmful bacteria and will interfere with the proper operation of the unit.
Wrap Up
Stop paying outrageous prices for fancy coffee drinks by turning yourself into a barista. With simple, inexpensive milk frothers, you can have the fancy micro-foam for lattes, cappuccinos and other coffee drinks in your own home or even on the go.
Our favorite for price, warranty, speed and durability is the Cafe Casa 2 Speed Handheld Milk Frother. This model jumped ahead of the competition with a heavy duty body that makes it easy to comfortably froth milk and several extras including a great ebook of recipes and operational instruction.
For coffee lovers who prefer full automation, you can't go wrong with the Epica Auto Electric Milk Frother and Heater. Pour in milk and one touch of the button will heat your milk and froth it. Nothing could be easier.
If money is an issue -or- you're looking for a simple, inexpensive travel frother, look no further than MatchaDNA's Handheld Electric Frother. For less than the cost of a single coffee drink at many coffee shops, you'll get decent performance and will be able to enjoy frothed milk drinks anywhere.
Jen Miller is a former electrical engineer and product specialist with more than 20 years of product design and testing experience. She has designed more than 200 products for Fortune 500 companies, in fields ranging from home appliances to sports gear and outdoor equipment. She founded Jen Reviews to share her knowledge and critical eye for what makes consumers tick, and adopts a strict no-BS approach to help the reader filter through the maze of products and marketing hype out there.  She writes regularly and has been featured on Forbes, Fast Company, The Muse, The Huffington Post, Tiny Buddha and MindBodyGreen.