Purchasing the perfect table tennis table can be a daunting task especially for those who are not professional table tennis players, it requires thorough market research. Set on a mission to identify the best table tennis table, we carried out comprehensive research on various tables currently available on the market and ended up agreeing that the JOOLA Nova Outdoor Table Tennis is our top pick. It is a high quality table that takes minimal time to set up and the ball bounce is great on the table. Joola Nova Outdoor table is what we unreservedly refer to as "value for money." The table combines the quality and resilience of an outdoor table with most competitive pricing.
Top Pick: Joola Nova Outdoor Table Tennis Table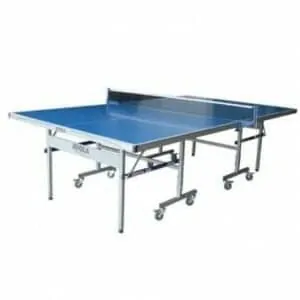 Jen's Top Pick: JOOLA Nova Outdoor Table Tennis Table
Joola Nova is an easy to assemble table, has wonderful security features and gives a consistent bounce. The table is durable and made to with stand the elements of weather. Joola Nova is the table that will give you the features and performance of a top table at a fair price. A versatile table that can be used at home, recreational Centre's and schools. We highly recommend the table and have no second thoughts choosing it as our best table tennis table.
Stiga Instaplay Table Tennis Table is definitely our step up pick. It has a ¾ top that conveniently support both inside and outside use. It is a table of good quality that can replace our top pick for those willing to pay more for a table with instaplay features. Many reviewers praise the table for the zero assembly convenience it brings about. We were also impressed by its security features, ease of transport and storage. With Stiga instaplay, you get a very sturdy table with an excellent bounce.
JOOLA Inside Table Tennis Table is affordable for a high quality, durable table that gives a quality bounce. This is the table for everyone. You find it in homes, recreational Centre's, and at schools. Many top table tennis players claim to have honed their skills on this table. We highly recommend this table for everyone who wants to own a great table tennis table without necessarily spending much.
What you should know before buying
The choice of the ideal table tennis table greatly varies from one person to another. There are a variety of tables in the market made to different specifications. You have tables for indoor as well as outdoors. If you don't have enough space, you can go for conversion tops. If you have small kids, mini top table tennis tables are suitable for they are not high. You also have adjustable height table tennis tables which allow you to adjust the legs and thus the size of the table. Swimming pool table tennis tables can be used in pools. We advise those intended on buying table tennis tables to take the following factors into consideration.
The intended user of the table
Who will be using the table is a question that will guide you directly to the kind of table to purchase in the circumstances. If it is intended for a beginner or the intention is to use the table for fun, professional table is undesirable. What you most probably require is a basic home or high-end home table. High –end home tables will also do for schools and recreational centers, but they have to be more robust to support the frequency of usage. Otherwise, professional players will require a competition table that is ITTF (International Table Tennis Federation) Approved or USATT (USA Table Tennis) Approved.
Indoors or outdoors use?
Outdoor tables are mainly built with weather resistant material such as Aluminum to prevent moisture and warpage. Outdoor tables will have wheels for ease of transport and also are foldable into two to necessitate storage.
Stationary or movable
If you will be moving your table, it is advisable to buy a roll-able table with larger wheels. But if you're table will be set in a particular area, we recommend a stationary table.
Thickness of the table surface
The thickness of the table's surface determines the use of the table. Competition tables are usually 1″ whereas indoor tables are between ½" and 1″ thick. Outdoor tables are generally of made of an aluminum material; thus, they are thinner but necessary for outdoor weather conditions.
The Chassis
The strength of the unit should be a consideration. The frame and the legs will determine the robustness and stability of the table. Also to look out is the thickness of the frame and the number of connections. The more the joint points, the more the stability of the table.
What is a Table Tennis Table?
A Table Tennis Table is a hard table divided by a net whereby a set of players either two or four hit a lightweight ball back and forth across it using a paddle. Table tennis is a sport also referred to as ping pong. The table comes in different varieties, sizes, and thickness. There are outdoor tables and indoor tables. Outdoor tables are usually made of Aluminum so as to prevent them from being affected by moisture and warpage.
How we picked
Picking the right table tennis table is not an easy task. The search has to be wide enough to capture a variety of tables ranging from simple tables for beginners to professional tables for serious competition. There is a list of manufacturers who are known to manufacture high-quality tables. We submit that one way of getting a quality table is to identify a manufacturer who has the necessary experience and who has consistently produced tables of renowned quality to the market.
The physical appearance of the table is important. Everyone looks for something appealing, trendy and fashionable, a table that will easily compliment his décor be it at home or in a recreational Centre. We also gave emphasis on durability. We looked at the kind of the material, the frame, the size and number of legs.
Another area we gave emphasis was the size of the table and the thickness of the top surface. We have to mention that different thickness usually give a different bounce. A table of ¾" thickness is known to give a good bounce whereas a table made of Aluminum is thinner and gives a metallic bounce. The price is of great importance. Expensive tables are not necessary the best. You can get reasonably priced tables that are of high quality. The overriding principle should be to look for a table that satisfies your needs.
Top Pick: JOOLA Nova Outdoor Table Tennis Table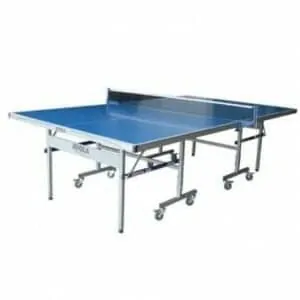 Jen's Top Pick: JOOLA-Nova-Outdoor-Table-Tennis
JOOLA Nova Outdoor Table Tennis Table is a fantastic blue 6mm Aluminum Plastic Composite with multi-layer paint process Table Tennis Table. Its dimensions 9ft x 5ft and assembled weight of 121lbs. The table comes with a metal undercarriage that is powder coated and rust resistant. The table has four wheels on either side that are robust and offer stability and necessitate its movement. The wheel area as we found out was almost double those of its competitors.
The table is easy to assemble as it comes with all hinges pre-assembled. You just need to attach legs, and you are ready to go. The table is in two different pieces which have an advantage of allowing configuration of playback mode. We like the fact that each of the table halves is firm and bolstered by rust resistant, powder – coated 2-inch metal undercarriage. To set up single play feature, you just leave one side folded. We noticed the table had excellent security features such as locking casters and an anti-tilting device. Also, the two halves are fastened when folded down for play.
The table is secure, versatile, and highly durable with the potential to withstand the elements of weather. The table can easily be moved around but is very firm when fully set-up. JOOLA Nova Outdoor can be moved inside during cold seasons and outside during warm times. The table's composite aluminum makes it give a consistent bounce.
Most reviewers out there attest to the fact that the table is lightweight and easier to move around. It took us only 30 seconds to take the net out. We were so impressed by the fact that one adult can conveniently assemble the table. We successfully set up the table in less than 20 minutes.
Joola Nova is one of the most affordable table tennis tables available on the market. It is a perfect table for an intermediate player. It is best suited for recreational centers and home recreational players. The price factor coupled with many great features we've discussed above makes it a bestseller. It is an ideal table for one to hone his or her ping pong skills. We recommend this table as our top pick considering the price and its convenience.
Flaws But Not Deal Breakers
The JOOLA Nova outside Table Tennis Table is a great table going by the reviews out there of customers who have bought and used it. However, some users complain that the two table halves are not level and that you can notice a deep from one table to another. We can't refute the claims of other reviewers. On our part, we found the surface to be even regarding bounce. Again, we submit that the level is a minor problem for recreational players but, could be an issue with professional players. That said, we firmly believe that the many benefits of the Joola Nova outside Table Tennis Table outweigh that minor shortcoming.
Step Up Pick: STIGA Instaplay Table Tennis Table

Step-up Pick: Stiga Instaplay Table Tennis Table
The tables playing dimension is 5″W x 9″ D X 30″ H, Regulation size. It has playback dimensions of 60″ W X 66″ D X 64″ H : 60″ W X 28″ D X 64″ H.
It is a brilliant ¾" black top with Silk Screen wood table that is designed for both outdoor and indoor use. It is high quality and very sturdy. The table comes with Instaplay features thus no assembly is required. This feature has endeared it to many people because it spares them from the tedious, time-consuming assembling that is associated with other units. It is fully assembled and ready, all you have to do is to attach the net and the posts. It has corner pads that provide adequate protection and minimize accidental injury. The table has 2″ legs and 3″ mag bearing wheels with locks that allow the table to roll over hence easier to transport. 2″ steel aprons make the table stable. It can withstand rigorous use and is durable. Though it's an outside table and can withstand weather elements, it is advisable to cover it for longevity. Store the table conveniently by folding it and rolling it away.
Some customers have complained that the table weighs up to 263 pounds unpacked and can be a task moving it to the desired position. A pocket of reviewers claims that they experience sagging in the middle after continuous rough play while others report of warping in areas of high humidity.
The alleged shortcomings associated with this table are minor compared to the many features and advantages. We recommend the Stiga Instaplay Table Tennis Table for those who are willing to spend more for a table with instaplay functions that require zero assemblies, easier to move and that gives an excellent bounce.
Budget Pick: JOOLA Inside Table Tennis Table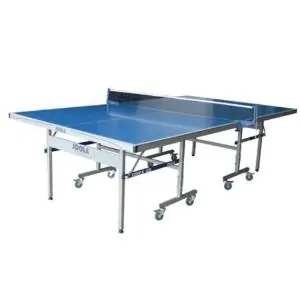 Budget Pick: JOOLA Inside Table Tennis Table
JOOLA Inside is another fantastic popular tennis table from Joola North America. It is an embodiment of excellence and versatility. It has 15mm top made from a high-quality wood composite material with two halves each supported by powder metal coated undercarriage. It is painted blue in color with bright white striping. The double anti-tilting device guarantees safety. It comes with a wide net and two posts to secure the net on the two sides of the table.
The table sits in place by aid of the two casters made with sturdy ball bearings that are locking. The table folds enabling easy roll away for storage. We were amazed by the fact that the two halves have a dual set of legs thus they can be separated and used against a wall.
Many reviewers online were in high praise of the table. Many liked the fact that it was affordable. Others were impressed with the quality of the bounce while others commended it for its durability.
We submit that this is the table that is most competitively priced for its capabilities. It can support from beginners to high-skilled ones. It is equally convenient for the young and the old. Very ideal for families. We recommend the Joola Inside Table Tennis Table for those with a small budget, but none the less would want to own a quality table.
Best Table Tennis Table for Sports People: Butterfly Centre Fold 25

Butterfly Centre Fold 25 Table Tennis Table
The ideal table for sports people. It is a made in German table that is backed by a three-year warranty. The Manufacturer Butterfly is the official Table Sponsor and Supplier of 2012, 2014 and 2016 world Table Tennis Championships. Butterfly Centre has the approval of the International Table Tennis Federation (ITTFC). Its legs are placed 400mm inward so as to comply with the ITTFC requirements for wheelchair competition. The feet's adjustability aid in leveling the table.
The Competition
We cared to review other tables that equally compete with our selected picks just in case our main picks aren't available or for some reason you need more information on a wide range of similar products before making your buy choice.
Rally TL300 Table Tennis Table

Rally TL300 Table Tennis Table
Rally TL300 Table Tennis Table with corner ball holding and magnetic scores is a recreational table with 15mm charcoal painted MDF surface and 30mmx30mm powder – coated undercarriage. It is mainly a recreational table tennis table with four Joola patented corner ball holders with each holding up to three 40mm balls. The table folds up into two for play back mode. It is fitted with two anti – tilting devices and has locking wheels for easy transport and safety.
Rally TL300 Table Tennis Table is a heavy-duty blue 7/8" patented, weather proof ALD – TEC top with climate – control technology. The top is attractively ultra – top, anti – reflective and certified real bounce. To prevent from accidental opening and closing, it uses DSL (Dual Lock Safety) Mechanism.
This is the perfect table for those who are eager to hone their table tennis skills at home, school or recreational Center's. Rally TL300 Table Tennis Table comes with two magnetic abacus score keepers. The table is designed in the US and manufactured by Joola who are the proud sponsor of the US National Team.
We recommend this table to families, schools and to all those out there who are yearning to become champions.
Kettler Top Star XL Outdoor Table Tennis Table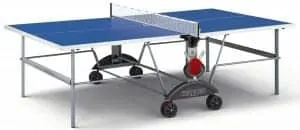 Kettler Top Star XL Outdoor Table Tennis Table
This is a Kettler Top Star XL Outdoor Waterproof table tennis table made of Aluminum. Kettler Aluminum table tennis tops are famed for setting the standards in the development of weather resistant outdoor tables. It has proprietor ALU – TEC climate – control underside that is responsible for controlling expansion and contraction due to weather change. The unit has a safety- fold with dual lock safety to guard against unintended opening or closing of the table. It has real playback feature to enable solo play or warm up. The table is protected by 1.5- in Aluminum Apron to resist warping.
The majority of clients were in praise of the table though some complained that it took two people up to 3 hours to assemble.
The price is justifiable given the kind of harsh weather it can withstand. Customer reviews suggest that the table can withstand the harshest of weather conditions. Some users claim to have had it outside in the 110-degree heat for over six months with rain and wind. We recommend this table for those who are in need of a high – end table that can withstand extreme weather conditions.
Joola Tour 1500 Indoor Table Tennis Table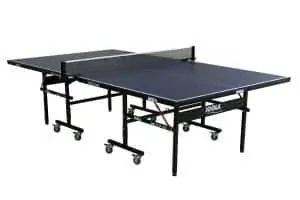 Joola Tour 1500 XL Indoor Table Tennis Table
Joola Tour 1500 Indoor Table Tennis Table features 5/8" inch MDF Blue Painted Table surface for improved playability and performance. The packaging is great; there is plenty of protective material to protect the table edges. The table's two halves allow for easy mobility and storage. It comes with net and posts of tournament grade and has leg levers that create an even playing surface.
Most reviewers attest to the fact that the machine is very sturdy and easy to assemble. Everything comes pre-assembled so that you only attach the casters /T- brackets. The surface feels good and has a quality finish. On our part, we liked the option for backboard position for solo play. The table is of good quality, moderately priced and gives a consistent bounce. In case our main picks aren't available, Joola Tour can be a good replacer.
Hathaway Bounce Back Table Tennis Table

Hathaway Bounce Back Table Tennis Table
Versatile table ideal for those with both big and small space. It has a playing surface of 9ft L x 5ft W X 15mm thick MDF Blue PVC laminate coating. This table has features only found in high – end tables. It folds into playback and storage positions. Hathaway bounce back has durable 2-inch wheels with safety locks for ease of transport and storage. It supports playback position for individual play. The table has 1.25 in powder coated steel tube legs that are larger than others on the market. It has corners pads that protect it from warping.
We submit that it is a good quality table for low budget. On the flip side, many reviewers out there complain that assembly instructions are vague and poorly illustrated.
STIGA Triumph Table Tennis Table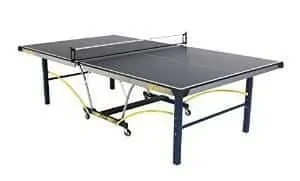 STIGA Triumph Table Tennis Table
Stiga Triumph is superbly easy to assemble. It takes roughly 20 minutes from box to play. It is a 5/8" Thick Tournament Blue Table Top that gives a quality bounce. It has 2″ self – opening steel legs endowed with 3″ wheels, two steel Apron with corner protectors. The package includes 66″ net and a set of posts. Stiga Triumph supports play back position and can easily be folded and rolled away.
It is an incredible consistent table. On the other hand, many clients who have purchased the unit complaint about the table not being good for solo play. We also established gap of about 5 to 6 inch between the net and the back surface when the side of the table is folded. This flaw allows the ball to drop to the floor instead of bouncing back when the ball is hit close to the net. Save for this shortcoming, Stiga Triumph Table Tennis Table can hold its own on quality and durability.
Harvil Insider Table Tennis Table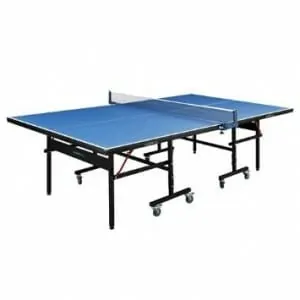 Harvin Insider Table Tennis Table
We felt it necessary to review this table. The table has excellent features. It is ideal for recreational centers, in schools and institutions. It is a recreational indoor table tennis table with dimensions 60 in W X 30 in H /Assembled weight of 180lbs. It has 5/8 – inch wood composite playing surface, 1.2 inch Diameter Automatic Steel Legs. The table has 1/5 inch Resin Apron with a powder-coated steel undercarriage and dual safety locking devices. The table comes with a durable net and posts. Above all, it is in two pieces such that it folds into play back and is stored easily.
Other Frequently Asked Questions
Is there a difference between outdoor and indoor tables?
Yes, indoor tables have a much better playing surface than outdoor tables. Outside tables are ideal for outdoor play.
Can I play with my indoor table outside?
It is possible but remember, it is not made with specifications to withstand outside weather elements. Warping may occur.
What type of undercarriage do you need?
There are different variations available. Some tables come in two separate halves with their legs underneath of the top and the wheels are incorporated into the Centre edge of the table. They can be made from table or wood. Rollways/wheelways have their undercarriage, wheels and table all integrated into one neat unit.
What type of table top color surface is best?
A good table top surface provides a good contrast between the walls, the floor and the background colors of the playing areas. A matt blue color is the most preferred color. The floor being red, it readily compliments it.
What type and thickness of table top do you need?
The thickness and type of table top greatly affects playing characteristics. The type will depend on your need. An outdoor table will probably be light and made of aluminum while an inside top will be thick. A competition table top is usually 1" whereas an inside table is between ½" and 1".
What is the importance of a table tennis cover?
A good table tennis cover will help protect against harmful elements of weather.
How do I know whether a table is ITTF Certified?
Certified tables have the ITTF on each side of the table. The logo is usually 25sq cm and not more than 50sq cm and is located on the table top or on the under carriage.
Wrapping it up
Table tennis is a popular sport across the globe. This popularity has brought about a steady growth in demand for high-quality tables that can withstand harsh weather, are easy to fold, move around and store.
The best table tennis table need not necessarily be expensive. What matters most is to find a table that satisfies your needs.
In our research, we investigated many tables on the market. Out of the research, we concluded that most manufacturers have ensured that the tables they sell are of high quality so as to compete successfully.
We recommend without hesitation the JOOLA Nova Outdoor Table Tennis as our top pick. It is a fairly priced table with the potential to compete successfully with highly priced units. Our step up pick was the Stiga Instaplay Table Tennis Table. Stiga is for those who won't mind coughing some more dollars on an equally excellent table that requires zero assembly. Become a champion with our budget pick the famous Joola Inside tennis table. We also gave a list of other tables that are of high quality so that you can make an informed choice.