It took us more than 80 hours of testing and research to find out which electric skateboard is the best for most people. With its amazing performance, Yuneec's E-Go Cruiser easily outdid the competition. Offering 18 miles per charge, more than double from other electric skateboards we tested, and the average speed between 12 and 15 miles per hour, this electric skateboard offers both fun and functionality all in the same package. Modern, lightweight design makes the ride effortless, but nevertheless, its weight limit supports up to 300 pounds, which makes it ideal for a variety of different people.

Yuneec YUNEGOCR001 E-Go Cruiser
In our tests, Yuneec YUNEGOCR001 E-Go Cruiser easily outperformed other electric skateboard we tested in every aspect, which, frankly, came as a surprise, since we didn't expect much with its more than competitive price. It completely amazed us in our mileage tests- this electric skateboard outdid even the ones double its price with the average mileage of 18 miles per one charge. In our speed tests, it did a solid 15 miles per hour when used on flat surfaces, decreasing to around 12 mph in terrains that were more uneven, which is still quite a feat. This speed makes it perfect for commuting, and when you add outstanding mileage per charge, it really can be a great way to travel to work or school, both fun and eco-friendly.
And, with regenerative braking, every time you use the brake, you actually charge the battery, which a really useful feature. With weight limit around 220 lbs, it's a great choice for anyone, really, since there's no fear of damage or breaking when driving this. You'll be able to truly enjoy your ride, due to special designs like '6 flex' flexible battery case which allows the board to be flexible, and avoids the problem of clunky battery case we've seen in some other electric skateboards, and it doesn't surprise that this board has aviation brushless motor technology, if you know that Yuneec was firstly known for developing electric aerial drive system. In order to have more control over the speed of this electric skateboard, Yuneec E-Go comes with a handy ergonomic remote, which helps you accelerate and decelerate when needed, and helps you keep battery in check, which is a great way to keep track of battery life and charge in time.
In case you have a bigger budget, Boosted Dual+ is a great choice in case our top pick isn't available at the moment. An average range of 7 mile per charge is not very impressive, but, what Boosted Dual+ lacks in mileage, it makes up for in speed, with starting speed at 10 miles per hour, allowing you to get used to the drive, but going up to 22 miles per hour when you get the hang of it. With great speed but poor mileage, it's more suited to be a fun way to drive around the neighborhood or go out with your friends, but its average mileage might be insufficient for some longer drives. If you decide on manual riding, it might be a little bit harder than with a regular skateboard, due to weight, but, this board charges itself when used manually, so it can come as useful in some situations. Similar as our top pick, it supports around 250 lbs as maximum weight, so it is a great pick for different age and weight groups.
The price is a bargain, but even though this electric skateboard goes easy on the budget, Dynacraft Surge performance reflects its price. With weight limitation of 145 lbs, its customer base is reduced to children from 8 years and up, and teenagers, and the 6 miles per hour when it comes to speed won't be able to satisfy a wide range of users. Average mileage per charge is 4 miles, so it's best to not stray too far when driving this electric skateboard. Even though though it doesn't perform as well as our top pick, if you're looking for an electric skateboard that will be safe and fun for your younger or teen child, it's a great choice. In case you're looking for an adult that weighs over 145 lbs, this may not be the perfect solution for you.
Why should I buy and electric skateboard?
If you're in the market for fun and environmentally friendly modes of transportation, electric skateboard might just be the thing you're looking for. More and more people are buying them, since they are a great way to explore urban areas or get by around the campus, and, depending on the model and location of your workplace, they are a great way to commute. Some people also refer to electric skateboard as the last mile transportation, suggesting that the best way to use them is by taking them with you in public transport, and finishing the last part of your journey on electric skateboard, but, some models, like our top pick, offer 18 miles per charge, which means that you can' go all the way on your skateboard.
Considering that the first model resembling electric skateboard, MotoBoard, was created in the 70s, and was ultimately banned because of noise and pollution, it's interesting to see that electric skateboards are now gaining popularity due to their eco-friendly and noise-free qualities.
It's no secret that most non-electric transportation devices have a devastating effect on our environment, and Dr. Jean-Paul Rodrigue goes to great lengths to explain just how harmful transport is to our planet, in his recently published study named The Geography of Transport Systems, which, among other things, warns about direct, indirect and cumulative negative impact of traditional, non-electric transportation.
On the other hand, electric skateboards are on the direct opposite of that scale, proving to be a highly 'green' and cost-effective way to drive.
An article recently published by The Wall Street Journal offers an interesting insight on how electric skateboard are changing the skateboard culture, boarding its scope from primarily young and/or rebellious people to professional adults, by offering them a great way to avoid driving cars and an alternative to bicycles, which aren't as handy and easily concealed when not driven.
What kind of surfaces can I ride it on?
Most, if not all, electric skateboards are designed to be rode on smooth and dry surfaces, like pavements or roads, since curbs and ramps can damage the motor which is located under the board. Some electric skateboards are weather proof, which means they tolerate wet roads, but it doesn't mean they're waterproof, so they can't be driven over puddles, due to risk of motor damage.
However, when it comes to uphill or downhill surfaces, most of electric skateboards perform great, but keep in mind that it's for the best to avoid any non-mild descents if you're not experienced, since you can risk falling from the skateboard and injuring yourself.

Is it legal to drive an electric skateboard?
Due to their unusual nature, it's not always easy to determine under which category electric skateboards are listed, and sometimes there are no explicit laws that either prevent or allow their use.
If you're going to buy an electric skateboard, it's best to check your state's or city's laws concerning transportation before driving it in the public. For example, in the US, electric skateboard are officially legal in Alabama, Pennsylvania and Virginia, and, as of January 2016, in California, which issued a legislation bill that legalizes use of electric skateboards in this state. Due to the fact that electric skateboard are still a fairly new transportation mode, it's perfectly understandable that there aren't many laws that define their use. Technically, in cases your city or state don't have an explicit ban on their use, you're safe. Of course, it goes without saying, that you should always follow traffic regulations and wear a helmet while you drive your electric skateboard.
How we tested
To ensure that our testing wouldn't be biased in any way, we comprised a group of people from different background and with different transport needs to help us test over 10 different models of skateboards. We included students, professionals, experienced skaters and people who never drove a skateboard before, to ensure we find the best electric skateboard for most people.
Since our research indicated that electric skateboards are a perfect way to cover short distances, our team used them to commute, finish their daily errands or as additional component to their daily commute route, all depending on the features of the model we tested.
During our testing, we came up with a list of characteristic that improved the quality of the experience, in an effort to find an electric skateboard that combines all of these characteristics and makes for the best possible experience in the world of electric skateboarding.
First of all, we found that most people want more mileage per charge, which allowed them to drive more freely, without having to worry about power, and to reach farther distances in one take. This also affected speed scores, with higher rates for models that combined good average speed with decent mileage, allowing users to get to their desired locations faster and more secure.
The design and weight of the skateboard were an important factor too, since better design and lighter models offered better flexibility and easier ride, and they were easier to carry when not used.
In the end, bonus points were rewarded to models that offered additional useful features, like weatherproof design, remote control or regenerative charge, just to name a few.
Our pick: Yuneec YUNEGOCR001 E-Go Cruiser

Top Pick: Yuneec YUNEGOCR001 E-Go Cruiser
Outperforming other models in the competition with ease, Yuneec YUNEGOCR001 E-Go Cruiser is our top pick. Yuneec E-Go Cruiser's outstanding results came as a surprise, considering the price, which is lower than many other electric skateboards. Even though we didn't anticipate it, this electric skateboard is definitely in the range with premium electric skateboards, and in some cases, it even surpasses them.
Designed in California, this electric skateboard is created by Yuneec, a company that previously focused on electric aviation industry, so it's no wonder that their design is innovative and has first-class results. Weighing less than 14 lbs, E-Go cruiser is one of the lightest electric skateboards in the market, which combined with its patented '6 flex' flexible battery case provides a smooth ride and deck flexibility. This patented design makes for a sleek, sophisticated look of the skateboard, without clunky battery case or motor parts. Gray and orange combo used is the perfect choice for the urban bug, which, ultimately, is the target audience for electric skateboards.
With an average 12-15 miles per hour, E-Go Cruiser may not be the fastest electric skateboard out there, but it's more than enough for a safe and effective ride, without feeling you're going too slow. The phase of testing where E-Go Cruiser completely blew our minds is the average mileage you can achieve per one charge. Most electric boards keep it in the zone from 4-8 miles per charge, so we realized that you can easily cover 18 miles per one charge with E-Go Cruiser, we've were amazed, to be honest. This completely changed the game when it comes to electric skateboards, offering a better commuting solution and consuming less energy. It made commuting much easier, and completely erased the 'last mile transportation' remark out of the equation.
The battery completely charges in about 3-5 hours, depending on how much it's drained. LED indicator turns from red to green to notify you when your electric skateboard is fully charged, but what we especially liked was the indicator located on the remote, which gives you insight into battery level while you're driving, eliminating the possibility of unpleasant surprises down the road. Battery charging isn't limited to traditional method only, since E-Go Cruiser has the regenerative braking feature, which basically means you charge the battery every time you use the brakes, which boosts its efficiency even more.
It comes with a remote, which, in addition to indicating battery life, helps you accelerate and decelerate, but, in case you forget or lose your remote, you can use your iPhone to control the skateboard, by installing E-Go Cruiser app from the store. It connects to the skateboard via Bluetooth and it's easy to use, since it's intuitive and doesn't require visual confirmation to use, and, as a bonus, it displays lot of useful information, too.
Even though the recommended maximum weight limit is 220 lbs, one of our testers weighed 263 lbs and was able to use the E-Go Cruiser without any problem, so, it's safe to say that it easily supports around 250 lbs.
It seems we're not the only ones who love this electric board, since it's also one of the most popular electric skateboards.
All things considered, E-Go Cruiser is truly a gem among electric skateboards. It proved as a perfect way to commute, drive around town, and genuinely have fun, without having to worry about power going out or having to go half the way by some other transportation mode in order to reach the end destination.
Flaws but not dealbreakers
As we previously mentioned, the average speed of 13 miles per hour, and maximum 15 mph in some circumstances, E-Go Cruiser isn't the fastest electric skateboard on the market, considering some of them can achieve around 20 miles per hour average. However, this didn't affect our overall impression, since its average speed is still pretty fast, and it's balanced with the skill of most people, minimizing the risk of falling due to high speed.
Rather an inconvenience than a flaw, is the switch from remote to app control. Even though the ability to control an electric skateboard through a smartphone app is something that not many manufacturers offer, some people thought that it's inconvenient that the app uses Bluetooth connectivity and the included remote uses Wireless, making it necessary to manually switch the board to Bluetooth to Wireless and vice versa, when changing control method. But, since it's really a bonus option, we can't complain, and the switch really didn't feel like something that can cause dissatisfaction with most users.
The step-up pick: Boosted Dual+
Offering most when it comes to speed, at maximum 22 miles per hour, Boosted Dual+ has no match in this aspect. However, with its price tag, we expected a bit more than maximum 7 miles per charge, especially considering the impressive mileage of our top pick for more than hald the price of Boosted Dual+.
We have to admit that the overall design of this electric skateboard looks similar to our top pick, but it has a more exclusive feel. Fiberglass reinforced bamboo as the deck material affects the overall weight of the skateboard, which, at 13.5 pounds falls under the category of the lightest electric skateboards out there.
It seems that the main focus of the creators of Boosted Dual+ is the speed, since they put the most effort in creating the fastest electric skateboard out there. With an innovative double motor, it improves the acceleration, making it easier to start at 10 miles per hour, which is the average speed for most other models, but in Boosted Dual + case, it's the starting speed.
With maximum 7 miles per charge, Boosted Dual+ might not be the ideal candidate for longer trips, but, it's great for covering short distances.
In addition to standard battery charging, which takes about 60 minutes to charge, this electric skateboard charges itself when on manual mode. That means if you use it like a regular skateboard, you could prolong the battery's life by pushing the skateboard with your feet. With maximum weight limit of 250 lbs, it caters to a variety of different people, without limiting their customer base to specific body type.
Boosted Dual+ comes with a Bluetooth remote, which helps you accelerate or brake with an intuitive thumbwheel, and it also has LED indicators showing you how much juice you have left in your electric skateboard.
In the end, we can't deny that Boosted Dual+ is a premium electric skateboard and it's the perfect choice for people who value speed above anything else, since you will be paying a couple hundred dollars more for bigger average speed, considering our top pick has all the other features for less than half the Boosted Dual's + price.

The budget pick: Dynacraft Surge
Dynacraft Surge is an electric skateboard that has maximum weight limit of 145 lbs, which limits its potential users to teenagers, mostly. If you fit into the optimal weight category, with its price, Dynacraft Surge could be the perfect choice for short-distance, easy-going travelling.
With maximum mileage at 4 miles per charge, it's great for a quick drive around the neighborhood or as an additional, 'last mile' transport option, but it won't be a great solution if you want to cover longer distances with an electrical skateboard only. With modest 6 miles per hour, it was one of the slowest models we tested, but, to some people, it didn't pose as a big problem, since its overall vibe is easy-going, so it was logical it wouldn't achieve top speed, considering the price and its other features. It comes with a three-speed wireless remote, which, as the name suggests, helps you change through three different modes of speed.
All in all, this is a good budget electrical trailer, for older children and teenagers, where all the limitations and things it lacks became more logical considering the target group. However, if you're an adult looking for an electrical skateboard, this will not be the right pick for you.

Competition

Evolve Bamboo Series
Weighing 18 lbs, Evolve Bamboo series is quite a bit heavier than our top pick, but it offers great features. With maximum rider weight at 220 lbs, this electric skateboard offers maximum speed achievable at 23 miles per hour, and competes our top pick with its impressive 19 miles per charge limit. However, this is the best possible outcome, and it can be affected by rider's weight or weather conditions, which means that the achievable range in most cases is much lower than the promised 19 miles. At its price, it comes with a remote, and even though it's a great model, it simply isn't the best one.

Maverix USA Border X
Looking like a monster truck version of electric skateboard, Maverix USA Border X is a crossover between electric skateboard and a dirt bike, allowing you to drive this skateboard through a variety of terrains, like sand, dirt or gravel. It is the perfect choice for people who want to use their electrical skateboard off-road rather than on pavements and roads. It offers 7 to 9 miles per charge and it can achieve maximum speed of 19 miles per hour. It's a great companion for off-road adventures, but it's too clunky an inconvenient for regular usage.

Munkyboards SK-1200BLQ
Another rough terrain compatible model we tested is Munkyboards SK-1200BLQ. Don't let the funky, almost childish design of this electric skateboard fool you, since it can achieve maximum speed of 27 miles per hour, making it really, really fast compared to other models. It has an average 9 miles range per charge, so it can be a good choice for fun, short-distance off-road adventures.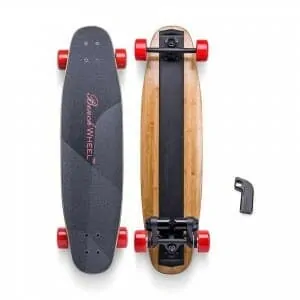 Benchwheel Dual
Elegantly designed, with gray deck and glossy red wheels, the Benchwheel Dual runs at 19 miles per hour as the top speed you can achieve, which makes it an average speedster on the road. In ideal circumstances, this electic skateboard can have a range of 12 miles per battery charge, which takes 4 hours to charge. It fails to impress overall, and the price isn't that great when you consider its average features.

Altered Fantom 1.0
With a weight limit of 120 pounds, the Altered Fantom 1.0 is another electric skateboard that targets the younger population. It looks quite clunky and robust, which isn't appealing, and it can achieve maximum speed of 10 miles per hour. Trigger-style remote offers the possibility of moderate acceleration, and it can have a range of about 7 miles per charge, which makes it usable only for short distances.

Munkyboards SK-500BL
Another electric skateboard from Munkyboards manufacture, SK-500BL flaunts its bright and colorful deck and vivid green wheels, making sure you won't go unnoticed. It offers maximum speed of 22 miles per hour, and you can cover around 10 miles with one battery charge.

FiiK Street Surfer
For the people who love retro design, FiiK Street Surfer in white and red stripes offers a futuristic device that looks like it belongs in the 70s. It is one of the more expensive models we tested, but its performance wasn't a reflection of the high price. With top speed of 22 miles per hour and 10 mile range per battery charge, it performs like many other, much cheaper models. However, this electric skateboard isn't just a street surfer, as the name suggested, since it's compatible with different terrains, thanks to big, sturdy wheels. It's a great solution for rougher terrain, but overall performance isn't enough to justify the high price.

Wrapping it up
In case you're looking for a way to downsize your eco footprint and want an alternative to highly harmful transportation you usually engage in, electric skateboard could be just the thing for you. Sure, you could always go for a bicycle, but where's the fun in that? Another advantage of electric skateboards is that they're, unlike bikes, easy to carry around in case you need to use public transport.
Whatever the reason behind looking into buying an electric skateboard, it's important to find the one that will offer you most for the best price, and that will suit your individual needs.
For most people, the best electric skateboard available is the Yuneec YUNEGOCR001 E-Go Cruiser, which has great price to value ratio, offering premium performance for a bargain price. With an average speed around 13 miles per hour and stunning 18 miles range per one batter charge, this electric skateboard can easily replace your current commuting vehicle, and make longer distance trips fun and green. Its innovative and technologically advanced design allows for a smooth ride, without any hiccups or problems, and remote control helps you increase or decrease speed according to your current needs. E-Go Cruiser comes with a Wireless ergonomic remote control, but, this electric skateboard also has Bluetooth connectivity, which allows you to remotely control your skateboard via smartphone app, making it easy to stay in charge even if you forget your remote at home.
If you're willing to spend over thousand dollars for an electric skateboard, in case our top pick isn't in stock, Boosted Dual+ could be a great next best choice. This electric skateboard is quite the speedster, with maximum speed of 22 miles per hour and dual motor that enables fast acceleration. However, with average 7 miles range per charge, it doesn't offer much in terms of distance you can cover, so it is more suited for short-distance trips, which could be great if you plan to combine electric skateboard with other means of transportation. Boosted Dual + comes with a remote that offers intuitive thumbwheel controls and makes it easier to control the speed when riding. Even though it's price might be a little over the top considering the features, it's a solid, quality skateboard that will last you for years to come, if properly taken care of.
And, in the end, if you're on the lookout for a budget electric skateboard to buy to your active teenager, Dynacraft Surge is a great solution for riders under 145 lbs. With maximum speed of 6 miles per hour and range of 4 miles per charge, it's tailored for a younger audience, making it great for trips to school, or driving around the neighborhood with friends However, if you're looking for a more durable, adult version of electric skateboards, this won't satisfy your needs, but, if you're looking for a present for a kid, this is bound to bring smile to their faces.