The Cobra 75WXST 40 Channels CB Radio is our best CB radio for the price and features. Useful for emergencies or on the highway, it has an illuminated LCD screen display with 40 CB channels. Be prepared for storms as this radio is perfect for tight spaces. It can stand up to hard use and has a sound tracker system. With clearer transmissions, it is easy to use with an optional external speaker. The performance and features are great and it is easy to hide away. It looks nice with the reception and looks great with the brackets for mounting.
Our step-up pick is the Cobra 29 LX 40-Channel CB Radio and with an automatically scan feature, it also boosts your microphone due to its quality of audio. You can also set any of the 4 colors for your customization and preferences. You also get instant channel 9 and 19 access for emergency purposes. Also, it can be dimmed for night driving without distraction. With an antenna warning indicator, it gives you safety and assurance with its 40 channels scan.
The budget pick is the Uniden PRO505XL 40 Channels CB Radio and with an RF power indicator, it works well along with its mounting hardware and easy to read display for emergencies. The strength of incoming transmissions is monitored and the radio fits anywhere. You can keep in touch with others with this radio as the mic is really good with an external speaker jack. Having conversations is a breeze and all the channel select buttons are easy to use crisp and clear sound.
A Little Background
A CB radio or a citizens band radio is one of the most common two-way radio communications among hobbyists. CB radios are quite entertaining and useful for those who are into the hobby simply because it allows you to connect with fellow CB radio enthusiasts.
How We Picked
To choose the best CB radio, consider the following:
The CB radio should provide crystal clear audio output. Having a great sound should be a priority for any CB radio so that you can hear the other party much more clearly.
The CB radio should be quite durable for its price and features. The durability of the CB radio should make it able to withstand years of continual use.
The CB radio should have all of the necessary features a CB radio should have. The features that are contained in this CB radio should all be useful and worth the value of the said CB radio.
Our Pick

Cobra 75WXST 40 Channels CB Radio
Our best CB radio is the Cobra 75WXST 40 Channels CB Radio with up to 10 NOAA weather channels and as an emergency radio. With a dual scan feature and an easy channel scan, it has a remote mount and a memory feature. Ideal when driving, it is very sturdy with clearer transmissions right out of the box.
You can lock the hand controls for safety and it works well with less noisy reception. Hookup is easy and checking out the NOAA weather reports make it full-featured which works great with its unified design. A pleasant surprise will be found as all controls are contained in the microphone. Ideal for the money, the CB fits in your hand and scans all 40 channels.
This is a great little CB radio with a great visibility of display. You can listen to truckers with this CB radio with clearer communication. The unit works well and is super compact and lock on to 2 channels of your choice. The modern design is sheer for off-road use and this radio is a 4-channel radio which cuts noise up to 90%. An all-in-one unit, it has a dual-watch mode so you can be monitoring the emergency band.
Farther than expected range, it is a CB radio for a jeep and for off-road trail events. With an all channel scan feature, it is ideal for a jeep wrangler with well-integrated parts. With a bright and space-saving display, you can change channels at the right conditions. It is pretty slick for its design so you can monitor incoming signals with ease.
With a last 3 channels feature, it brings you clear visibility more than ever. The compact size is great and with weather channels, you can find a very nice radio in this unit. It is easy to keep it hidden and secure and it has a weather band. With a ton of programmable memory locations, some of the features are indeed similar to a Dolby noise reduction. It also performs better when you use a high-quality antenna. As a small package CB radio, you get access to channel 9 and 19 for emergency purposes.
Flaws but Not Dealbrakers
As our top pick, the Cobra 75WXST 40 Channels CB Radio still does have a few hiccups but nonetheless minor, such as the fact that since it is handheld, it is not really that good for audio clarity in comparison to highly expensive CB radios out there.
Step-up Pick

Cobra 29 LX 40-Channel CB Radio
Our step-up pick is the Cobra 29 LX 40-Channel CB Radio and it has a relatively big display with great antenna calibration. With a modern aesthetic design, the driving hours will be great with its multi-color display. You can tune in to as much weather channels as you like and you also get the desired amount of modulation that you need.
No need to set it up as much because of the mere fact that it is factory tuned. It easily offers information at hand and has an RF gain. It has a memory channel programming and you can easily travel with this radio conveniently. With a talk back, all radio functions of a CB radio are found here in this unit.
A clock and timer is also included in this CB radio plus the dynamike feature is adjustable for you needs. You won't feel awkward in night driving anymore with this CB radio due to the features. You can even complement the interior with the color customization. You also get law-based maximum amount of power while you alert fellow drivers on your way.
You can even tune in to public alert stations as you wish with instant access to as much channels as legal. With a neat weather feature for emergency purposes, you will love this radio as the LCD color display is easily selectable. It is a great radio overall with an automatic scanning feature.
Likewise, it works perfectly and flawlessly and the power cabling is included. In severe weather situations, it is a dependable unit for professional drivers. With up to 10 NOAA weather channels, you can use it for your off-road vehicle. It has all of the mounting hardware needed and you can set it up in dash or under the dash. It also has a delta tune feature and it easily alerts you on severe weather whenever needed. You can also highlight weak or strong signal areas and you can tune in to dangers on the road. With so many impressive features, it also allows you to speak clearly.
You can use it well in your area and it keeps you informed during day and night driving. Equipped with great sound, it also has neat SWR levels and decent channel scanning. Members of a jeep club can greatly depend upon the CB radio for its many specs and alarm feature. You can monitor the current conditions while driving or find out about traffic problems in your area.
It easily scans all 40 channels and gives you excellent signal reports whenever you need it. The 4-pin microphone connector at the front is easy to use. Ideal for its weather radio, it is usable and can be set up right out of the box. It also has the function of stopping automatically when done scanning. With factory specifications, this is a great radio with a good transmission. It has a radio check diagnostic feature and it performs amazingly well. As a jeep wrangler owner, you can be assured as long as you are equipped with a good antenna that this will work well.
The microphone cord is at 9 feet in length and it also has all the critical CB aspects. The weather radio for tornado warnings can be useful for your cross country road trip so you can go on trail rides with ease. This mid-sized unit has neat battery voltage and is ideal for a storm chaser.
A great radio out of the box, it clarifies incoming signals with great features and also displays the RF power to be alerted for severe weather. It is actually less expensive than most CBs and is ideal for a meteorologist. An excellent radio that displays the antenna condition, it will be around for many years due to the durability as it works better than advertised.
It looks great and works great with public address capability. Definitely, you get what you pay for with its self test feature. This great radio has a very good microphone and you can setup a public address system with a PA speaker.
Budget Pick

Uniden PRO505XL 40 Channels CB Radio
With PA function, the Uniden PRO505XL 40 Channels CB Radio has a reliable squelch knob and works well even in low light conditions. It is a great starter CB radio with optimal sound and is easier to use than most with the euro-styling design. You can use an external pa speaker and it has an improved reception than other radios out there.
The current channel can be switched and installation is simple. You can make amplified announcements with a PA system as it has a superior range with high quality sound. The backlit LCD screen display is user-friendly. Use it for your public address easily with speakers and a mounting bracket right out of the box. The volume is easy controllable plus you get instant channel 9 access.
You will love the size of this radio as you can hear the trucking traffic easily. You can adjust the sound levels accordingly with the volume control plus many other features such a signal indicator. Traffic situations can be monitored by this small and compact radio as this is a sleek unit.
The speaker output is great and an external speaker can be connected. Switching between channels is very simple and the unit delivers quality sound. With lots of good stuff for better sound, it has a sleek and compact design plus RF gain control and squelch control all in a small package.
The microphone hook is easy to use. For those looking for a better radio, this is great for those who need an external pa jack. It weighs less than two pounds, is easy to use and all knobs are included. With a 40-channel operation, this two-way euro-styled radio can be mounted onto your truck or car. The large display is easy to read for long days on the road. Along with a mounting bracket for easy handling, it is easy to install with easy channel display.
Best CB Radio with Noise Cancelling Capabilities

Uniden PC78LTD 40-Channel 50th-Anniversary CB Radio
Never miss another transmission again with this Uniden PC78LTD 40-Channel 50th-Anniversary CB Radio and its microphone gain. It is very easy to hook up as a 40-channel CB radio with ANL and noise blanker option. Pretty small and compact while you're out on the road, it has refined electronics and is an excellent CB radio. You will like the black face and the powerful build even for a basic radio.
With easy installation for a passenger vehicle, it is sturdy and looks good in this price range. With excellent clarity and simple directions, it offers advanced features with better quality than most. It can reduce static and is a great radio that is a self-calibrating unit with customizable settings. It definitely exceeds expectations as the controls are easy to use. It works like a charm with excellent sound on your service truck and it is awesome and pretty powerful.
Furthermore, with this radio, you get more quality features than expensive ones and enjoy clear sound. You can control the mic sensitivity when you are driving and change the squelch control. You can connect to a pa speaker and achieve a very clear sound. You can see the control functions and set the stealth you want for a great price. It is a really great radio where you can adjust the microphone.
It has a built-in SWR meter for a quality product that allows you to talk on a further distance. For a radio on citizen's band, you can tune your antenna in a precise way for this great radio to tune how it sounds with multiple adjustments straight out the box. For a massive upgrade this simple radio will do at its best and it works well with a lot of features. You will be very happy with it in every way as you can fine-tune the signal better.
Best CB Radio for Novices

Midland 1001Z 40 Channels CB Radio
Ideal for novices, this Midland 1001Z 40 Channels CB Radio is a neat 40-channel radio for theham radio operator with channel knob and switches. It has an emergency channel and is a 4-watt CB radio with a very low cross-talk. Also with pa speaker jacks, it is for CB engineering and a bang for the buck.
It works better and well with a good quality extension speaker. With an RF gain feature and squelch control, the mic connector on the front panel has a locking mechanism. Ideal for seasoned CB users, it has good audio quality and works properly on the squelch control. With the tuning knob, you can get access to emergency channel 9 and you can use the CB/pa switch. With an LED screen display, you can use it on a road trip conveniently as it performs very well.
You can use is as a public address system day or night with its high quality electronics. It has a signal strength meter and has easy to read displays. It can be paired with a pa speaker so it is worth it. The microphone is easy to connect and it is equipped with nice features such as channel readout and RF gain.
A great product overall, this radio is absolutely great with the high-intensity display and with basic features. It has a reception sensitivity range for a very good value as a good radio that gets the job done. With the digital power meter, you can monitor traffic conditions and attain clear communication. It is very easy to install for precise tuning and you are just a switch away to the emergency channel.
It has a microphone jack at the front and it easily installs as a basic CB that works great to use along the interstate. Most car owners will find it fun to have as an inexpensive CB radio with controlled PLL circuitry. It is a basic CB even for trucks and an outstanding radio in which the installation is a breeze.
For those looking for citizen band radios for RVs, it is sturdy with a metal case that will leave you pretty impressed. This CB radio that is mobile has a mounting bracket and has a DC power cord connector. It is unobtrusive and compact. With an owner's manual and all needed hardware, it has a ready to use antenna connector. It is backed by a 3-year limited warranty.
Best CB Radio with Public Address or PA Capability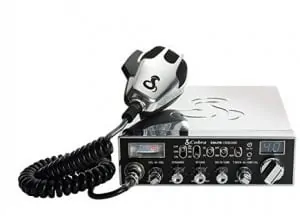 Cobra 29LTD CHR 40-Channel CB Radio
The Cobra 29LTD CHR 40-Channel CB Radio has the law-legal 4 watts power output and an antenna warning indicator. With great design, you get access to emergency channel 9 with the maximum power allowed by law. With a built-in SWR meter, it is a great radio with amazingly clear sound with an extended range of communication.
Easy to use, it has outgoing transmit signals and has neat transmission range. It will stand for years of use due to the chrome cabinet. The Bluetooth function works well and it has a great accent design. With clear communication, you get 40 CB channels and a neat microphone.
You can also adjust and monitor easily. Being known for performance, this radio has an automatic noise limiter and other unique features that professional drivers need for the money. The design is one of a kind and it is very easy to use as an inexpensive am CB. The sensitivity in receiving can be customized with the talk back feature that outputs loud and clear.
With a dynamike boost feature, you can adjust the desired modulation. With many major features, it is truly hands-free with the use of your cell phone. With impressive features during transmit, it also screams of durability loud and clear. With a great standing wave ratio, it is a classic as a public address system unit with SWR calibration.
As a chrome-detailed unit, you can use it while driving together with club members or with a pa speaker. It really shines above the others and you can adjust the calibration of the antenna easily. Matching durability with style, this is a work horse of a radio that can enhance performance. The mounting screws are sturdy and the unit can cancel out the noise.
To answer a call, it is hands-free and you can adjust the squelch level too. With PA capability, this is a solid rig with a blue channel indicator to receive signals readily. The face plate is made of brushed aluminum for sturdiness. With an RF gain feature and a channel display, you can get a strong signal and allow maximum performance with the Bluetooth technology for true quality. It also has a cool blue illumination display.
Best CB Radio that is Handheld

Uniden PRO401HH 40-Channel Handheld CB Radio
The Uniden PRO401HH 40-Channel Handheld CB Radio is a handheld radio with all 40 amp CB channels plus 7 NOAA weather channels. With RF gain control, you can do many things with this little radio. With a low-power setting, it has a weather alert function plus switching between channels is a breeze.
You'll monitoring busy channels in no time as the frequencies are channelized. It can conserve battery life and has no hassle installing a CB radio on long trips. The mic is really good and is quite similar to all modern CB radios. It comes in handy with a high-power setting and a switch for PA in a small package.
Usable in a second car, it is small but you can extend your range, keep track and pushing buttons. The simplicity is great and it has superior range. With a high and low power switch, it has a PA output and can be used on vacations or on a fishing trip as a handheld CB radio.
Ideal for a vacation trip it is a winner for changing weather conditions. With professional features, the power output is 4 watts and it works well with security. You can't go wrong for trucking traffic with this compact radio with the longest range possible.
You can hear truckers yammer on the highway and keep in communication with your friends and colleagues. You can stay in touch with the built-in PA option even in the woods. It features of more expensive CB radios and you'll be amazed on how good it looks and the convenience brought.
Best CB Radio with Weather Updates Feature

Cobra HH38 WXST Hand-Held CB Radio
With weather updates, the Cobra HH38 WXST Hand-Held CB Radio has 2 miles approximate distance for receiving plus 10 national weather channels in a mobile design. It works really well with its sound tracker and is ideal for any 12 inch antenna across the country. You can get in touch with your friends with the latest weather information and use them to communicate with friends and for businesses as it is really portable.
Best CB Radio with AM/FM Feature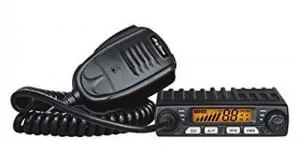 AnyTone Smart CB Radio with FM/AM
With the AnyTone Smart CB Radio with FM/AM, the modulation mode can be switches between am and fm for your holiday road trip with 1-watt audio output power. The frequency range is from 26.565 to 27.99125 mhz and its modulated signal distortion is less than 5 percent.
It can be squelched at 0.3 amps and the power output is a legal 4 watts. As a well-constructed radio, the frequency response is from 300 to 3000 Hz and it is a compact radio for the road with an FM/AM mode. It is a good compact radio as the temperature is controlled properly.
With the output impedance at 50 ohms, it has decent power at 8 watts with adequate airflow for an amateur operator. The frequency control is through the PLL synthesizer with a brilliant design and 13.2v input voltage. With a sturdy metal case for the radio, it is something loud with the push-to-talk system that is great for travel with the included UHF so-239 antenna connector.
A very nice little radio with an UP/DN control, it has 0.005% frequency tolerance and it really fits in tight spaces. With less than 1uv of sensitivity and squelch for 10 db, it gives you local traffic reports under an operating temperature of -20 to 50 degrees Celsius. The transmission interference is less than 4 nW and it keeps the high power with the coiled cord.
Best CB Radio with SWR Calibration

Cobra Chrome Special Edition CB Radio
In a chrome cabinet, the Cobra Chrome Special Edition CB Radio has a phase lock loop synthesizer and it has frequency control plus a blue channel display. The calibration of the antenna is easy plus it out-performs others with 4 to 5 watts maximum power.
With a sleek appearance, you will love its microphone and it can also fit in any cab with its talk-back. It has an analog signal meter and a unique design plus a beautiful exterior. It has a chrome design and SWR calibration and it passes per FCC laws with RF gain.
The talk back feature is useful and it can transmit signals. With a chrome cabinet and dynamike boost, the chrome microphone is great and this is a CB radio that will last for long distance use. With the desired amount of modulation, it works perfectly and has a warning indication for antennas.
You will have a great radio with maximum performance as it boosts communication with the signal strength meter. It has a chrome casing and is also backed by a 90-day warranty.
The CB radio has a ton of features such as scan and weather broadcast for you to enjoy while on the road. You get total and full control of the CB radio with all of its easily accessible features to boot. It is made to be as compact as possible as a neat CB radio for you to use and enjoy.
While driving on the interstate, you will find this nifty CB radio very usable without a lot of failure at all. For combating theft issues, the CB radio is also easily and quickly removable for your needs of safety and stealth overall.
If you are short on extra space then this CB radio can really help you feel more relieved because of its small space and compact design. This is a really nifty handheld component to have for your CB radio needs such as for a full sized truck or a small truck because of its versatility.
You can even use this very handy CB radio if you are working in the cabin to communicate with others. Giving you a very clear voice transmission as much as possible, this particular CB radio also has a boost communication feature and has a very reliable external speaker feature to help you out.
The quality of the speaker will definitely be astounding for you as you gain access to the most popular channels in your locality. It definitely fits nicely onto most dashboards and will have no signs of wear even for extended use.
Whether it is for just plain fun or for serious use, this CB radio is very simple and straightforward for all of its features and it is also relatively easy install. It is super ideal for the long distance drive or for a truck fleet when the power goes out.
As a matter of fact, tuning is easy with this particular CB radio because of its straightforward and reliable controls. It has a remote mount as well as a signal strength meter so you can definitely know what is going on in the dash with this CB radio.
Coupled with a lot of easy to use features, this CB radio is also beginner friendly and is ideal for those who would like to have a lot of convenience with a particular CB radio altogether. To prevent loss, it has a neat quick detach feature for stealth purposes.
Giving you a sleek appearance, the CB radio also stays safe when detached so you won't have to worry about it. Being a compact unit, the performance is good in a very surprising way such that it can go for up to 5 miles of picking up on signal.
Relatively easy to use, the CB radio is a great product whether as an emergency radio in the car or a just-for-fun radio which works perfect wherever you choose to mount it on. it can communicate in an easy and effective way.
Overall, you will be very happy with this CB radio as many people are really enjoying with this particular personal radio whether they are a trucker or a Jeep owner or some other person needing a CB radio.
The Competition
Other CB radios simply were not cut out for the job because they are not very great with reception and were a bit too bulky or frustrating to set up or to get a good signal from. It is important for a CB radio to have all of the necessary features.
Other Frequently Asked Questions
Q: What exactly is a CB radio and how does it work?
A: Citizens band radio, like most personal radio services, refers to a shared radio system of up to 40 channels of selection. It is a two-way radio similar to those operated by security guards and police officers, except that you don't need a license to operate it.
CB radios are mostly enjoyed by people who are riding together in the same automobile club, such as a Jeep club. This is so that they can share information together and keep themselves on track and on course. Some of them can also listen to weather and disaster reports live.
Having a CB radio is a great way to hang out with friends to share and broadcast for fun without signal interruption at all. Because CB radios aren't dependent on cell sites unlike mobile phones, CB radios are a great way to communicate even through the desert and through the forest and remote areas.
Other similar services to CB radios are UHF CB, GMRS, PMR446, FRS, MURS and the like. The Federal Communications Commission or FCC regulates the frequency standards of the CB radio. It is a very common system to find among truck fleet and business establishments as well.
Q: What are the benefits of using CB radios?
A: They are great for driving together through the interstate for vehicle clubs that go on long road trips together. They are ideal for avoiding getting stuck on traffic and for getting good weather updates.
Q: What are the tips to finding the best CB radio out there?
A: Beginners may find it hard to find the best CB radio but with a couple of tips and tricks, they may be able to find the ideal one out there.
For instance, the CB radio should fit well in the worst and most cramped tight spaces to ever begin with, such as small vehicles. The CB radio should give you a lot of convenient access so that you can use the CB radio even when the going gets tough and you have a lot of cargo at hand.
Make sure you chose a CB radio that doesn't take up space because this can take its toll on your vehicle, especially if are going a long way down the vacation trip or off-road use. The CB radio should be as compact as much as possible so the CB radio does not get in the way of your driving.
People who have the space or may not have the space should likewise altogether enjoy a CB radio that is quite versatile when it comes down to the sizing and the dimensions. It is important to keep it hidden and secure because a CB radio is no joke for its price.
It is also important that chatting with other drivers should be a breeze for your newfound CB radio so that you can focus more on the road rather than the signal quality and operation of your CB radio altogether. If you really need to access a couple of commands and controls in the CB radio then it should be easily doable.
The CB radio that you should consider consumes little space as much as possible so it does not distract your driving at all. The CB radio should provide you with every single bit of control that you need while operating on the road.
A good suggestion for a CB radio is something that significantly and profoundly fits under the dash in a very discreet way – something to compensate for those with very limited options for limited space to deal with, such as very small hatchbacks and the like.
A CB radio that can be conveniently mounted onto your vehicle makes it less frustrating to have. It is important to have a CB radio that adheres to the expectations of the user so that it will be worth its value and time.
Due to space limitations, some people don't really invest in a CB radio but bite-sized ones can change their mind. This is why you need a CB radio that is quite convincing in its space saving features. The mount brackets that come with the CB radio should be totally reliable so that it will not trouble the user at all while installing.
Furthermore, one must consider the ease of installation of the radio before proceeding with buying the CB radio. It should be at least without the need or recommendation to drill any holes so you can easily set up the CB radio in a breeze.
The CB radio should also be relatively easily disconnected so that it is hassle-free and also pretty easy to install as a radio that will live up to the user's expectations. The mounting and dismounting of a CB radio is also vital for people who do not want their radio to be stolen.
In fact, the NOAA weather channels are one of the best features to have in any CB radio. In explaining this, having the weather channels can help inform a fleet of truckers or Jeep club that a storm is coming their way or head to the town or city that they are going to.
It is important to have a CB radio that is great with regards to checking regional weather for safety precautions and for preparedness during a disaster. If there are storms are in the area then you should be able to track it down with the help from your good old CB radio without problems at all.
The scanning of all channels should be a reliable feature for a 40-channel standard CB radio to work well. The radio should have a boost transmission feature so that it can allow you to communicate as clearly as possible with other members of a fleet or club.
Even if you are miles away from a fellow trucker, it is important for a CB radio to still maintain good communication if you really want it to be used for keeping all of your crew members flocking together like birds of the same feather. You should also choose a CB radio that has active broadcast features.
A great companion while driving, the CB radio should be still reliable and running well even at highway speeds with its audio clarity. Whether you are driving a truck and part of a fleet or simply driving a motor home, a CB radio should be reliable in its communication and sound.
A good CB radio to depend upon sounds very clear and it can even stay that way even if you are on a noisy highway or in midway traffic jams. The reception and clarity should be superb for a CB radio to be truly worth your while.
The output audio that is given by the CB radio should be crystal clear, if not, bearable so that the CB radio can be used even in the noisiest of conditions. Ideal for off-road use, a CB radio should withstand all the tests of weathering and noise cancelling.
The CB radio should be pretty loud because it will get loud in your surroundings as a trucker or part of your local Jeep club. The sounds that will be produced by the CB radio should be ones that you can easily hear with great clarity to avoid misunderstanding.
True enough, owning a CB radio has its benefits such as the very fact that it is deemed safer and more reliable than texting. However, one must take into account that the CB radio they will own should have the basic features to look for in a CB radio when it comes down to the overall reliability of the radio.
Q: What terminologies do I need to remember in CB radios?
A: VSWR is the reflected power's ratio to your coax transmission line and RF refers to the radio frequency in which the CB radio is from 26 to 27 MHz on its frequency. RX means receive while transmit is abbreviated in TX. UHF channels are from 300 MHz to 3 GHz while VHF is from 30 to 300 MHz and HF is from 0 to 30 MHz overall. AM means amplitude modulation while FM means frequency modulation.
Q: What are some of the handiest tricks and tips for operating CB radios?
A: Getting more out of your CB radio can be a handful sometimes, so there are a couple of tips and techniques for getting your CB radio to perform at its best.
Supertunes can be a great way to boost the signal of your CB radio by finding the resistor and modifying the signal of the driver. It depends on the kind of experiment you want to employ for your CB radio so you should modify at your own risk.
The variable power should be very important to have for your CB radio but you need to find a good circuit diagram for that to work. You can also make use of the modulation limiter to bring you a crystal clear reception from the radio.
Fuel injectors that produce a ton of noise can also take its toll on your radio clarity. Most people use noise reduction equipment to reduce the noise from the vehicle and gain more sound clarity from the CB radio.
The antenna system for most high-end vehicles and new models should also be considered. Some antennas may need to be tweaked a bit and most trucks can use a dual antenna system or stick to a single antenna system.

Wrapping It Up
To summarize the article, the Cobra 75WXST 40 Channels CB Radio is our best CB radio for enthusiasts and even novices on using a CB radio for your local Jeep club or auto club or for truck fleets.
Jen Miller is a former electrical engineer and product specialist with more than 20 years of product design and testing experience. She has designed more than 200 products for Fortune 500 companies, in fields ranging from home appliances to sports gear and outdoor equipment. She founded Jen Reviews to share her knowledge and critical eye for what makes consumers tick, and adopts a strict no-BS approach to help the reader filter through the maze of products and marketing hype out there.  She writes regularly and has been featured on Forbes, Fast Company, The Muse, The Huffington Post, Tiny Buddha and MindBodyGreen.