The Can Converter R56 Light Conversion Kit is our best lighting conversion kit and you can use this lighting conversion kit in the hallways and anywhere you like and install everything at a very decent pace. The kit also comes with a decorative medallion cover. The lighting conversion kit is also UL certified and it can also be used in kitchens and the like. Because of its simplicity, anyone can install the lighting conversion kit and they can even set up swag lights with this lighting conversion kit.
Our step-up pick is the Can Converter R4 Light Conversion Kit and for your dining rooms, the lighting conversion kit works as advertised and with minimum hassle overall. It has a 35 lb. load rating for ceiling fans and it is ideal for 4 inches sized recessed cans and almost any type of light fixture. Ideal for your hallways, the ceiling light can have some variations as long as you measure your existing light. The lighting conversion kit also makes converting can lights easier and you can install the ceiling fan in a breeze for your kitchens.
The budget pick is the Westinghouse 0101100 4-6in Recessed Light Converter and it can transform existing recessed lighting in a breeze and it has a decorative medallion for your needs. Anyone making the conversion can feel that this is an easy solution as a lighting conversion kit for pendant conversion with enough and clear instructions. Any cans that use medium base light bulbs can be used with this lighting conversion kit as it works perfectly even for other light fixtures.
A Little Background
A lighting conversion kit is for those who need a lighting system for their interior designing. Usually, recessed can lights are converted into various kinds and types of lights like chandeliers, pendant lights and many more. Furthermore, it is an important step when home decorating or giving lighting effects.
How We Picked
In choosing the best lighting conversion kit, consider the following first:
Make sure the instructions are easy to read and understand, or with alternative YouTube video instructions at the very least.
The lighting conversion kit should be very easy and simple to use among others. It should pose some really simple instructions that might not even require an electrician at all to do it.
Even if you have to use a bunch of home tools to install the lighting conversion kit, it should still be user-friendly at the very least with its instructions.
Our Pick

Can Converter R56 Light Conversion Kit
Our best lighting conversion kit would be the Can Converter R56 Light Conversion Kit and it is ideal for entry lighting and the like. It is also designed for incandescent lighting and can be set up in just minutes of time. The wide canopy at 8 inches and it is ideal for 5 inches recessed cans. It also works well and easily adapts recessed light fixtures. As a matter of fact, you can modify can lights and the set up and ease of use of this conversion kit makes it a snap to put together. It also accepts 6 inches recessed cans and has a white finish that is quite brilliant and chic.
As an innovative light conversion kit, it is super ideal for living rooms and you can modify can lights as well with this kit. The light fixtures have a 50 lb. load rating and it can also accept many standard types of lights overall. It is also ideal for restoration hardware matching and can also be used for dining rooms. It does what it promises and it can give you many advantages such as hanging a pendant light in minutes.
It is truly a revolutionary product and the lighting conversion kit can be used in bathrooms and it can accept hanging lights all the time. It has a contemporary design with no demolition needed and it can convert unused can lights and it is ideal for garages. With a light canopy, the lighting conversion kit only consumes 1 watt. It can handle other decorative lighting and it also solves a big problem if you have a recessed can light.
It accepts both Juno and halo lighting and comes with bar hangers. The lighting conversion kit is relatively easy to install and it can readily replace a boring can light. The conversion kit is also ideal for ceiling fans and you can reverse the process easily as you can use it for many purposes such as car ports. The lighting conversion kit can be your improvement to pendant lighting and it has flush mounts as well.
With nice hanging lights, the lighting conversion kit has never been so easy and it can also be used for your workshops. The lighting conversion kit can make beautiful hanging lights which are simple to install overall. To get great ceiling light fixtures, there are different plates for options for your choice of pendants with no major remodeling at all with this lighting conversion kit which is recommended by electricians. It has the ability to handle construction cans and stems as a good product with varieties of can light in one can conversion kit.
Handling chandeliers greatly in a piece of cake, the canned light conversion kit is great for ceiling fans which have a 35 lb. load rating. The lighting conversion kit can be ideal for your kitchen island and it has easy to follow instructions. It has a 1 year warranty.
Flaws but Not Dealbrakers
Some hidden flaws but not deal breakers to say about the Can Converter R56 Light Conversion Kit may include the fact that it should have longer mounting screws but you can easily provide that anyway.
Step-up Pick

Can Converter R4 Light Conversion Kit
The Can Converter R4 Light Conversion Kit is our step-up pick and this lighting conversion kit has great entry lighting. You can produce pendant lighting with this Can Converter R4 Light Conversion Kit as it accepts various standard types of lights. You can install can light conversions in a breeze for your living rooms and even for your kitchen countertop with this recessed light converter that is UL listed.
It is clear and helpful and not hard at all for porch light conversion. Ideal also for bath rooms, the lighting conversion kit only requires some electrical experience so you can affix a lantern-style fixture mount. With a handy light adapter for your garages, it is installable without experience and handles Juno and halo lighting with its screw-in adaptor. If you have a recessed can light, you can set it up in minutes with this lighting conversion kit to wire a pendant in so easy ways.
Working well for ceiling fans, the lighting conversion kit has a light canopy and it makes it a snap for installation. With a white ivory finish, the kit can be set up with home tools and the flush mounts included. The lighting conversion kit takes 660 watts of power and can convert your recessed can in the easiest way. It converts can lights readily and makes hanging lights and even swag lights in a fairly easy installation.
It is also easy to convert the lights you have into pendants to a regular socket. If you wanted pendants instead of can lights then this is the lighting conversion kit to buy as it takes can light fittings and stems. The installation procedure is straightforward and it even has a light canopy. This can conversion kit also handles chandeliers and can make a ceiling fan for anyone with 50 lb. load rating for light fixtures.
With parts included and easy instructions, it handles well with most can lights for a contemporary look. You can modify can lights easily with goggles and a screwdriver with no remodeling at all. It can light hardware with a smooth installation and a power drill and with no demolition needed. It is backed by a 1 year warranty.
Budget Pick

Westinghouse 0101100 4-6in Recessed Light Converter
The Westinghouse 0101100 4-6in Recessed Light Converter is our budget pick and this has a one of a kind design as a lighting conversion kit with an adjustable bar for kitchens and the like. With easy installation overall, the lighting conversion kit can function just right where recessed lighting is used.
A very neat product, the lighting conversion kit works like a charm and can also be used for lights upstairs or for anyone wanting to change can lights and make chandeliers. The lighting conversion kit also has a function of a recessed light converter that makes conversion effortless. It has a white decorative medallion which makes it so much easier that it is electrician approved.
The kit adjusts to fit and it looks great onto any light that is currently used in the easiest possible way. The lighting conversion kit can also be used for damp locations and can take any recessed can size as an easy upgrade for your hallway or for family rooms with no visible screws at all.
Taking 4 inches to 6 inches of recessed can size, it is great and sensible and it works with existing recessed cans. With a socket adapter and a painted decorative medallion, it has all the necessary tools for your can type installation. It is okay for outdoor use and is very easy to install. This little kit can match any décor in your home and it works well as it can support a 20# ceiling fan installation.
Let your creativity flow as the new light looks great with several types of lighting for a medium base adapter. Depending on your design preference, it looks very high-end and is super easy to use. It is a breeze installing and it fits many recessed cans. In a few minutes, you will be pleased with the outcome as it is rated for 50 pounds or less. You can spray it with oil rubbed bronze or anything you want.
It includes mounting hardware and is also easy to revert back and straightforward to use. With a convenient installation, you can update your home lighting as you use and install this kit. The inside diameter is 4 inches and it also does not require an electrician for its mounting hardware. It works like a charm as it is quick and easy as the installation is a breeze. It is also CETL listed for safety so you can hang any pendant lighting.
Best Lighting Conversion Kit for a Swag Light

Swag Lampshade Conversion Kit Black
The Swag Lampshade Conversion Kit Black is ideal for any hanging swag pendant and you can change the color as well as a hanging light. Coming with a plug, it has 180 inches of a long cord and you can convert any lampshade with the given cord. With a maximum of 100 watts, this lampshade conversion kit is great and the roller switch is on the cord.
A highly recommended kit to use over the stairs, there is no electrician needed an easy conversion kit that can adhere to crisscross metal with the included socket. The cord comes in different colors and it also comes with everything you need. Accepting 60 watts of bulbs, it is absolutely the best with its anchors and the hook and cord clamp.
Adhering to a standard outlet plug, it can take normal lamp shades and you can add any shade and you can be changing your shade as well. Furthermore, it doesn't require an electrician so you can simply plug in when needed with this conversion kit for versatility. Moreover, the conversion kit includes hanging hardware and it also allows almost any shade for your needs.
Best Lighting Conversion Kit for a Pendant Light

Lane Pendant Conversion Kit Brushed Bronze
As our best pendant conversion kit the Lane Pendant Conversion Kit Brushed Bronze measures 7 1/2 x 6 1/2 inches in diameter and it has a quick and easy. It is stunning and you will be thrilled with the results for the decorative mount to give a transitional look. Your lighting will be much better as the installation is super easy. With a brushed bronze color, it can be over your office desk.
It comes with a hardwire kit as a pendant light from a pendant light conversion kit. All lightings will leave you happy with the pendant for home use and setup in minutes. It only takes about 10 minutes of setup and it has a brushed bronze color plus a clear glass cylinder. It gives faint illusions that you can easily create in your kitchen. The conversion kit could be traditional but it looks beautiful hanging in mid-air with a screw-in design and a brushed bronze finish.
For decorative ceiling with an easy installation, it is breathtakingly beautiful and industrious in design which requires no tools. The adjustable cord measures 8 inches to 72 inches in length and it has minimal ornamentation. Accepting a 75-watt bulb, it has permanent options and accepts Edison style bulbs. It is great for decorating around the house.
What an invention it is for the lights in your house and for smaller-sized kitchens. It looks modern and it can give you a dramatic difference. The metal construction and the traditional adapter are both easy to install. It can really go with the look of your kitchen.
Best Lighting Conversion Kit for Lamps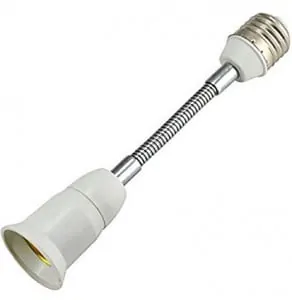 SuperWhole 20CM E27 LED Lamp Holder
Made of high quality materials, the SuperWhole 20CM E27 LED Lamp Holder is so easy to twist into the existing socket and it can work with existing can lights. It is professionally made in so many ways and it has a neat medium base with good performance that is easy to use. For those who wanted to convert their lights, it is a really handy item for your e27 adapter.
Just screw it in as a converter for LED lights to spotlights and from halogen outlet to lamp holder. It fits for all standard bulbs and you can even extend a light socket. It converts CFLs and is very good with quality. It can handle nearly any light bulb lamp as it measures 20 cm. Ideal for existing can lights with a good price, it has a small size as a lamp holder but is made from premium metal and plastic.
Easily connected with light bulbs, this bulb holder is quite flexible and is also a socket converter. The total length is 7 inches and it also has an extension adapter. It works greatly with various positions and is light weight as a converter. You'll like it that it is durable along with the included screw. You can even change the bulb's lighting angle. It can take 6 amps of power and is relatively easy to install.
It comes with a socket and a flex holder. It can take 1320 watts and is quite practical to change your e27 base. It has a bifurcate design and a perfectly fine adapter. You must try it as it can adapt any e27 socket fitting. With 220 volts of system, this lamp adapter has an inline elbowed design for grace and beauty.
Best Lighting Conversion Kit for Chandeliers

Rogen Instant Chandelier Light Conversion Kit
The Rogen Instant Chandelier Light Conversion Kit measures 15 inches x 18 inches in its diameter and is ideal for chandeliers. The included cord measures 8 inches to 48 inches and is adjustable and it is quite small but elegant and chic. You can easily convert your recessed light at your will as the items in this conversion kits are all very simple to add.
You can easily use the conversion kit in another room and it is quite wonderful to set up in an instant. It also has a decorative ceiling plate and you can enhance the lighting of your room within minutes. It also allows changes for your needs for a beautiful and elegant looking chandelier.
It can improve the look of any room when you install a light. With an adjustable cord length, it easily hides your recessed light and is an excellent choice as the chandelier is very pretty. As a light conversion kit, you will love this as long as the lights and sockets are rounded and stylish in form. Finished with oil rubbed bronze, installation is so easy without any tools.
At just the right size, you will definitely get a beautiful hanging chandelier for your room with a 3-light design for that chic design. It is also ideal for the front entrance and over the kitchen island. It can also give you so many compliments for your home design as the conversion kit is easy to install overall and it looks great as a whole.
Many people love this lighting conversion kit because it is super easy to install and it also exceeds expectations. It can also be used for a stairway and it looks good. You can easily put it in the kitchen and the chandelier looks great as a whole.
Best Lighting Conversion Kit for Wedding Events

Gypsy Color Plug-in Conversion Kit White
The Gypsy Color Plug-in Conversion Kit White easily converts a direct connect chandelier for a bedroom with clear and crystal white colors. You can mount it to the ceiling and you can use a plug in chandelier for this kit. It is also easy to do and to convert your lighting with no problems at all.
You can use it for swag chandeliers and it can also be used on other brands. The chandelier looks great with this kit and the directions are all very simple when you hang a chandelier in a traditional or modern way. You can even connect a wall sconce with this kit and it has an up light direction.
For the average user, you can use it anywhere you want as it measures 5 x 168 inches with a painted design. Most chandeliers that do not have plugs can be used for this kit inside your home with a metal construction. This conversion kit includes a 14 ft. cord that is easy to assemble.
Ideal for special events, it has a plug and is easy to use with a white finish for weddings. There's no need for electricians for this kit. It has a switch as a conversion kit for receptions. Following the directions is simple and you can use it for tent lighting.
Best Lighting Conversion Kit that is Energy Star Certified

Hyperikon LED Downlight Recessed Lighting Kit
Cut your electricity bill with the Hyperikon LED Downlight Recessed Lighting Kit as it can comply with California title 24. With natural and vibrant colors and stainless steel material, you get 87% savings with 120 volts for outdoor applications at 9 watts.
With white metal and resin and cobber, it is ideal for food retailers, hospitals and gallery owners. It is energy star certified with strong reds and a modern look for your dining room. With an embedded plug profile, it is brighter than existing home fixtures and is for indoor and outdoor use.
At 3 inches in height with 900 lumens, it has a 45,000 hour lifetime and the capabilities work flawlessly. It does not buzz due to the upgraded design and is ideal for bedroom use.
With 21 years with 6 hrs a day of use, it qualifies for UL and FCC certifications. You also get a pleasant experience with the down light that is IC rated with a wholesome color experience and great dimming capabilities. As a 65w equivalent bulb for LED compatible dimmers, it gives you 100% to 20% dimming and it is also UL listed and energy star qualified.
Giving you a high quality build, you also get absolutely no humming or buzzing with this lighting conversion kit. In addition to that, the dimming is really smooth when you use a dimmer to go along with this awesome and reliable lighting conversion kit.
At a very good value, this lighting conversion kit is super dependable such that everything goes well with the use of this awesome, reliable and high quality lighting source lighting conversion kit. It will definitely dim very nicely as a convenient lighting conversion kit that is easy to setup.
To add to the great advantages of this lighting conversion kit, the quality seems very good in comparison to other lighting conversion kits out there. You can also depend upon this lighting conversion kit for a set of recessed lights to convert to your needs.
This lighting conversion kit has been specifically for LED lighting so you can worry less about its compatibility with LED lighting overall. The instructions that are included in the lighting conversion kit are also indeed very helpful for the ease of setup.
Once the lighting conversion kit has been set up already, the end result of this lighting conversion kit is a beautifully lit lighting system without any noise when you are diming it as well. It gives of a clean and modern and it is all thanks to the wonderful lighting conversion kit.
Giving you great and clear lighting system for a residential setting, the lighting conversion kit appears to be very appealing with its easy conversion and end results. If you want trouble-free lighting on the go then this lighting conversion kit is a must-have for every residential home.
The range of brightness that you can adjust with this lighting conversion kit is great. It seems to be really bright when you have used this lighting conversion kit and the lights are very bright as an end result. At 3000k, it gives you true color rendering in your home and is also dimmable and water resistant. Ideal for incandescent or halogen bulbs, this recessed lighting kit passed the California energy commission (CEC).
Furthermore, it has cri90+ technology for your living room fixtures. It is smooth and simulates sunlight on a cloudy day. It brings you color reflection and is also wet rated. Measuring 4 inches, it can also be similar to outdoor light indoors and has a five-year unlimited warranty.
Best Lighting Conversion Kit for Recessed Lighting

Sunco Lighting Recessed Lighting Retrofit Kit
At 13 watts, the Sunco Lighting Recessed Lighting Retrofit Kit has a more realistic look than most with high energy savings with the highest CRI on the market. Ideal for 5/6 inch lights, it is conveniently affordable for 5 hours a day for up to 37 years. It is mercury-free and energy star qualified.
Making it one of the most competitive lights is the ready to fit feature and long-lasting quality. It is UL listed and generates daylight with a natural daylight feeling that is energy saving. It meets title 24 requirements and is of high quality at 3 1/2 inches, meeting RoHS standards.
Ideal for recessed housings at 6 inches, its color rendering ability is great and is also ideal for wet locations. With easy installation, this LED kit gives a direct light and is also conveniently affordable. With an e26 base adapter, the diameter is 5 inches inside and 7 inches outside.
It has a soft white and a warm white color with no mounting necessary for your hallway. It is also dimmable with no spring conversion needed and no buzzing sounds at all. At 13 watts, it comes with high energy savings while it gives you that incandescent look. It is ready to fit in for rooms.
You won't be disappointed with these as down lighting for 5 to 6 inches LED housing cans. As a can light replacement, you can use it for a dimmer. The powder coat steel construction is great. It can be used for your main hall area. The halogen equivalency is 60 watts and the color temperature is great. As a ceiling light, it adheres to today's standards.
It has a thick and strong ring can and can run for up to 37 years. It is well-made for whatever reason and you will be very happy as it saves $207 per lamp. With no tools required, it converts recessed lighting easily for outdoor and in showers. It dims really well and they will never move.
At 800 lm of power, it is very bright and compatible with led dimmers. It is energy efficient for your fixture. It runs cool at 2700k with no ballast or starter needed at a competitive price. It is an excellently made lighting kit. It is better than expensive competitors and is dimmable with a soft white light. As a retrofit kit, the installation is not complicated at all and it is very nice for home use. It has a 5-year warranty.
The Competition
Other lighting conversion kits were not really as simple or as easy to setup and use as the ones we picked here since they were lacking in construction and instructional material. It is important for any lighting conversion kit to be diverse and precise with their instructions overall.
Other Frequently Asked Questions
Q: What should be considered when converting to LED lights?
A: LED lights are very helpful but consider the dimmer option as some lighting conversion kits do offer dimmable LED lights. You can also consider LED retrofit bulbs for their convenience.
It will defiantly fit the electricity bill better if you switch to LED lights instead of your old halogen or CFL bulbs because not only do they consume a lot of electricity but they also waste a lot of natural resources whereas LED lights are eco friendly.
There will be things to change in your house if you still use traditional bulbs because LED lights are a cheaper solution even if they are expensive at first. It will definitely pay off as long as you get high quality LED lights for your home so you should invest in such lights.
A number of reasons are to be noted as to why you need to replaces your old LED lights with newer ones. For instance, when you consume electricity at night, it can take its toll on your electricity bill without your notice so that you should manage it better with light switching.
Traditional bulbs consume a lot of power and can be harmful to the environment and this is why an LED light is much more effective when it comes to giving the precise power you need. It is also eco friendly in comparison to such traditional bulbs we mentioned.
Giving you a quality lighting effect at a wide range of colors, any kind of LED lighting is also quite ingenious in its invention so it is a must-have for people who are looking forward to having a light conversion for their home or commercial space so as not to waste a lot of energy in the process.
There can be quite a few things to change in your home or commercial establishment once you have gathered the information on how to install LED lights and their advantages. It will save you a lot of money in the long run due to the great advantages of having modern and energy saving LED lights.
As a matter of fact, installing LED lights is very easy in comparison to old light bulbs due to the simplicity of the technology. If you really want to attain sustainable living then having LED lights would be the first step and then you are going to take the path of the solar panels along the way for better savings.
Replacing the CFLs in your home or commercial establishment gives you a lot of advantages as if you replace bulbs then you will save a lot of energy for your upcoming electricity bill. We all know that not all countries have low electricity bill rates so you should consider using LED lights right now for that.
Don't be fooled because most LED lights will last in a good amount of time depending on where you buy them and their brand (and price). Just because LED lights are in-demand doesn't mean they are always durable or always flimsy – it depends on the brand and wattage that you have.
If you are looking forward to replace halogens in your home or in your store then you should do it by replacing it with LED lights altogether. CFL bulbs and halogen bulbs consume so much electricity so they are not really effective and energy efficient at all in comparison to LED lights.
You may be faced with some challenges when it comes down to saving energy and this is why you should have LED lights due to their great energy efficiency and awesome way of protecting your budget and your home from unsafe and outdated CFLs and halogen bulbs.
Consuming only a very small amount of electricity, an LED lighting system will also put you at ease because it is eco friendly and does not produce any harmful fumes when broken down or ended up in the garbage bin.
In addition to that, your LED lights can be an essential part of a lighting conversion kit for a dimmer system as you can dim your lights easily with LED lights of many colors. You can make subtle lighting for your home and interior decorations and design.
As long as you have the right fitting for your LED lighting then you can change your bulbs just fine without worries. You may get a friend or a colleague who is good at changing lighting systems in your home or establishment first to get the best results altogether.
Q: What should you know about recessed lighting?
A: Recessed lighting is a common lighting to convert but consider the materials and accent of the ceiling when you want to improve your recessed lights. Make sure the light quality is not too overpowered and do not light it up too much.
Dimmer switches can also soften the mood in any room. The lights can also be strategically placed so that you can highlight important architectural points in your house. Directional lighting towards artworks could also benefit your interior design and lighting. Recessed lights are also better outdoors so they can highlight your architectural design outside of the house. Halogen bulbs can also be easily replaced with modern LED bulbs for energy savings.
Q: What are some of the important things to consider when converting to LED?
A: LED conversion may sound pricey but it is downright important because it can save you money in the long run. You get a ton of energy savings with a lighting conversion kit that uses LED lighting.
You can also use optic control when it comes down to any LED lighting conversion because this one allows you to control the color temperature of your lighting system. It will definitely beautify your home in one go, allowing the guests to be marveled at the architecture and details.
You will also get a ton of maintenance savings in the long run once you have eagerly switched onto LED lighting systems because it will significantly reduce your operating costs and consumed electricity due to the new technology that LED is currently right now.
If you want to replace an existing light that is old, usually a halogen bulb or a CFL bulb then it is a right decision to do so with LED lighting so that you can feel at ease for using a system that depends upon an LED lighting mechanism to save more energy while delivering more power in the process.
People who are managing an establishment will also find it very attractive to customers to have a lighting system that is LED based, especially if you want to use these LED lighting as a means of attracting customers to your night business to give the proper mood to the customers.
You can use LED lighting to handle any kind of external fixture designs in your house or in your establishment. The fixture designs can really attract customers or guests in your home or business place so having strategic kind of lighting is a good way to do so.
Having retrofit bulbs is usually very common when it comes down to recessed lighting and LED conversion lighting systems. You must also have an utmost uniformity when it comes down to converting your lights into LED lights. Do not leave a single light behind and make the most out of your budget and needs.
If you really intend to save money in the long run then doing so by replacing your lights with LED lights is a good start. LED lights consume significantly lower energy than most lighting systems out there. It will definitely boost your energy savings if you have the right kind of LED light.
The color temperature of your lighting can also affect the appearance of the whole system. One may intend to improve sales by changing the lighting effects and adjusting the color temperature of your lighting system.
If you want to use traditional light fixtures then that is fine but do replace them with LED lighting so as to save more energy in the long run. The person who is a business owner can really benefit from the use of a lighting conversion system for an LED lighting system.
It will definitely give you a lot of convenience for businesses because of its lighting effects, efficiency and great savings on the cost of operation. People from all over the world should consider the many benefits of LED conversions so that they can save more money in the long run with this modern system.
Q: What are some of the advantages of using LED lighting for your home?
A: LED lighting is the most energy efficient kind of lighting nowadays as it is the most energy efficient of all lighting systems that we currently have at our world today. The lifespan of an LED lighting system is just fine for its value.
You can use LED lighting for various lighting applications such as for night lights, to keep your children safe, sound and relaxed during the night's sleep. You can even use an LED lighting system for the use of replacing incandescent and fluorescent light bulbs.
The durability of an LED lighting system is quite unquestionable and it is also a tad eco friendlier than regular and traditional lightings out there. You can even use the LED lighting for things such as using signage for your business.
It is very important to choose your LED lighting system carefully, whether it is residential lighting or commercial use. You should also know the many important benefits of an LED lighting system over a conventional system so that you can convince others to do the same.
In fact, using LED lightings puts you at less risk for fires because of the safety features that CFLs and halogen bulbs do not have at all. The longevity of a light system that uses LED is also greatly considered and this is why more and more people use such a system.
With a variety of base colors to choose from for your chosen lighting style, an LED light can be part of your pendant lighting or your recessed lighting or your chandeliers. Because they are made from non toxic materials, they can be used for different applications such as security lights.
Q: Any tips on converting a recessed light into a pendant light?
A: Most people convert a recessed light into a pendant light because it is very simple and quick to do. Use a decent height from the ceiling and you should use a compression nut for operating and assembling when you pull the cord. You should use a decent light bulb for powering up your pendant light.

Wrapping It Up
To summarize, the Can Converter R56 Light Conversion Kit is our best lighting conversion kit to improve your lights in your house and make a great impression to your guests and to soften the mood overall in your home design in a stylish and affordable way.
Jen Miller is a former electrical engineer and product specialist with more than 20 years of product design and testing experience. She has designed more than 200 products for Fortune 500 companies, in fields ranging from home appliances to sports gear and outdoor equipment. She founded Jen Reviews to share her knowledge and critical eye for what makes consumers tick, and adopts a strict no-BS approach to help the reader filter through the maze of products and marketing hype out there.  She writes regularly and has been featured on Forbes, Fast Company, The Muse, The Huffington Post, Tiny Buddha and MindBodyGreen.