The Pioneer FH-X731BT 2-Din with Enhanced Audio is our best car stereo and featuring hands-free calling, it is great for a better system with USB input and if you want to upgrade for your old stereo head. With enhanced audio functions, the sound quality is good and the all around performance is great with wireless audio streaming. The connectivity works really well and you can get a rich sound out of it. FM reception is great and you can integrate Spotify with a clean and crisp quality. It works exactly as it should even for CD-R playback.
Our step-up pick is the Pioneer AVH-X2800BS In-Dash DVD Receiver SiriusXM-Ready and with a 6.2 inches display, it runs at 4 volts and gives you hands-free calling with ease for a quality stereo. With seamless connectivity and an awesome value, it gives you great audio streaming with sound quality beyond compare. It supports mp3 and WMA and it can be installed straight out of the box. With physical volume buttons, it also supports 2 phones at once.
The budget pick is the Pioneer DEH-X6900BT Vehicle Digital Music Player and as a cheap head unit, it is a very nice stereo and the overall quality of this radio is awesome for the way you want to hear your music. With decent brightness, the display is great. The USB loads and reads much faster and you can even see in the sunlight without dimmed. With built-in Bluetooth functionality, it has USB quick charge and is a great radio for the price.
A Little Background
A car stereo can either be built-in inside your car or can be purchased separately for an upgrade. Usually, people and car owners buy a separate car stereo because their OEM ones are worn out or outdated (e.g. no USB port and the like). Car stereos usually come in a package deal with the stereo speakers with free installation but some just prefer to buy the car stereo unit itself. Car stereos nowadays have a ton of features such as Bluetooth playing, hands-free calling and so much more. Audio quality is also significantly improved over the years with regards to car stereos.
How We Picked
In choosing the best car stereo, you should take note of the following:
Size – the car stereo should have a size that is applicable for your car. Some stereo units are for single DIN and some are for double DIN sized dashboards so choose carefully.
Sound Quality – the sound quality of the car stereo should be of high quality to match the need and demands of the current technology today.
Features – the car stereo should be rich in features such as Bluetooth connectivity, hands-free calling and so much more.
Our Pick

Pioneer FH-X731BT 2-Din with Enhanced Audio
Our best car stereo is the Pioneer FH-X731BT 2-Din with Enhanced Audio and it has Bluetooth capability with an AUX input. It has a built in speaker crossover and the radio has Bluetooth. With great configuration options, it fits 2-din car dashboards and it connects pretty well with an old school design. One can customize the display color and you also get an amazing difference in sound clarity.
It also works with Pandora and has iPhone support as a fantastic head unit that can function properly. It does a pretty good job with 3 RCA preouts at 2 volts each. Even Ford owners who might need a double-din unit can upgrade their sound system with this stereo. It is compatible with the pioneer arc app and is loud enough for your needs.
It has a microphone to talk via Bluetooth and it supports FLAC audio playback. Calls and streaming audio are great with this reliable Bluetooth receiver with Bluetooth functionality and MIXTRAX functionality. The USB port holds 1 amp of charge for your phone and it looks great for the price. It is well worth the money as a CD receiver which generally works great and you will be well pleased about the sound quality and the full-featured design and quality.
Flaws but Not Dealbrakers
Some small faults but not entirely breaking the deal about the Pioneer FH-X731BT 2-Din with Enhanced Audio may include the fact that the colors and illumination can be a bit distracting while driving, but you can always turn that off when not needed.
Step-up Pick

Pioneer AVH-X2800BS In-Dash DVD Receiver SiriusXM-Ready
As a satellite radio capable car stereo, our step-up pick is the Pioneer AVH-X2800BS In-Dash DVD Receiver SiriusXM-Ready which is also a DVD and CD receiver with a double DIN size that is well worth it. It definitely works with the Sirius XM sxv300 tuner and you get awesome value from this must-have car stereo which also works for Spotify and Pandora just fine.
With an AUX input, it can give you various Sirius XM features such as new tune mix, sports flash traffic & weather now, and others. It has tons of features along with great sound quality and it has a TFT LCD with great FM reception with an internal amp. This touch screen radio can easily match your interior lighting and it handles hands free phone calls greatly. It works really well and the amplifier is rated 14 watts RMS cea-2006. With an easy setup, it supports AAC files and has an 800 x 480 display resolution with Spotify integration.
The amplifier has 50 amps peak x 4 channels and it fits well with your digital lifestyle. You can even mirror your phone screen using the AppRadio unchained reloaded app and you can use it to upgrade from your traditional car stereo. It supports FLAC and its XM radio is superb with the built-in Bluetooth functionality and the AppRadio one feature.
Ideal for anyone who enjoys listening to music while driving, it has a good amount of sound settings and can fit in any vehicle for those who want a stereo upgrade. It supports Siri Eyes free with compatible devices and is greatly customizable. It is also finger print resistant and has neat audio and video with top of the line quality.
The EQ on this unit is great with a built-in adapter for the iPod, iPhone, and iPad. It already sounds great out of the box and has great value with modern functionality. You can answer phone calls while driving and you can use the iOS control along with so many awesome features. As a solid performer, if you are mostly streaming music then you can adjust the volume easily. It even has an optional adapter while the sound quality is excellent. With many features, viewing video content is a breeze.
Budget Pick

Pioneer DEH-X6900BT Vehicle Digital Music Player
Our budget pick is the Pioneer DEH-X6900BT Vehicle Digital Music Player and is also a neat CD player wherein you can make so many adjustments in a breeze. With Spotify integration, the Bluetooth is solid and this digital music receiver is highly recommended for its features such as Spotify and Pandora support. It is easy setting colors for calls and it has a neat black finish body.
Very easy to install, it is good for the price point giving you the best sound possible. With Bluetooth capabilities, it is your bang for the buck and it works even for your factory speakers. With hands free calling, you can change to your favorite color and it has great sounding radio while the FM sounds clear. Get the music you want hear with this car stereo for audio streaming. It also comes with a microphone and is a very good stereo to integrate to your steering wheel controls.
With several color options, it is also compatible with the pioneer arc app. Spotify resumes the next drive and you also get enhanced audio settings so you can get more out of an amplifier. The call quality is clear and it is also a great CD player with adjustable illumination displays.
It works great on all the speakers so you will be very pleased with this radio. With a ton a features, the AM/FM is great price and it has a mixtrax feature for local sports. With great quality and excellent radio features, it has many options and has many access functions. It has Bluetooth with a great sound and you can even rewind and fast forward. It plays mp3 decently and sounds good in a car with given presets. With great Bluetooth connectivity, it also displays the artist and album of the song
Best Car Stereo that is a DVD Receiver

PIONEER AVH-X7800BT 7″ 1Din DVD Receiver
The PIONEER AVH-X7800BT 7″ 1Din DVD Receiver is a greatly responsive stereo which has Pandora control. It is also controllable for the iPhone and iPod via USB. There are tons of great USB and Auxiliary inputs in this powerful unit. It has a 24-bit digital to analog converter and the Bluetooth enabled cell phones. This amazing stereo unit is intuitive and has Spotify and Pandora integration.
It is Google Voice (VR) compatible and has a rear A/V Auxiliary input at 3.5 mm. it uses the Nex user interface and has support for the pioneer AppRadio one. With a 200 watts amplifier, the signal to noise ratio is at 91 dB A with crystal clear audio. With a clear resistive touch screen, it has an external wired microphone with great FM quality. It supports Siri Eyes free for iPhone 4s while driving and has dual Bluetooth connection.
Definitely worth the cost for the Spotify control, the screen is great and the screen adjustments are decent. You can get two phones connected simultaneously and you get customization options. The audio streaming and the hands-free talking are both great and the tuner is fantastic. As a CEA-2006 compliant amplifier, the navigation support is great and the touch screen is amazing.
With a clear and convenient design, the power output is at 50 watts peak x 4 channels and 22 watts RMS x 4 channels. This awesome head unit has a dual device connection and is also ideal for a motor home. with 5% THD and <1% THD, it has a backup-camera input and it has a flip-out TFT display at 7 inches with active matrix driving technology. As a theft-deterrent stereo, it has Bluetooth technology and a rear video output and it has a 800 x 480 pixels WVGA display. With a detachable face plate, you will love the Spotify setup as it is a very good radio with easy to follow instructions. It has a camera backup input and it has an AM/FM RDS tuner. The unit measures 7 1/8 x 2 x 6 1/4 inches with a remote control included. All the major features you need are there such as Bluetooth plus 18 FM and 6 AM presets. Also ideal for off-road use, it has tons of home screen shortcuts for distortion-free talking and mp3 ID3 tag display. The manual is in three languages for easy understanding.
Best Car Stereo that has a CD Player

Alpine CDE-143BT Advanced Bluetooth CD Receiver
The Alpine CDE-143BT Advanced Bluetooth CD Receiver powers up at 50 watts x 4 so you will be very happy on how the voice command works. Supporting AAC and WMA playback, it uses a 24-bit DAC and has a high power amp. This thing is awesome for its quality and features and it sounds great with its advanced Bluetooth functions.
With a 3-band parametric EQ, it supports WMA and is good for the money as it detaches cleanly. As a CD receiver, the sound coming from this car stereo is great with the Bluetooth plus feature and other apps. With a high speed USB connection, it gives you the easiest install with high quality audio so you really can't go wrong with this stereo.
Supporting the iPod, it also displays metadata and it has two 2-volt pre-outs. Ideally great when making phone calls, it supports USB sticks with its media expander. It has a high-pass filter and has great CD playback and audio streaming. It has a clock and also okay for a steering wheel remote control. It supports mp3 and is also feature rich. It works surprisingly for its value and price.
Best Car Stereo with a Bass Amplifier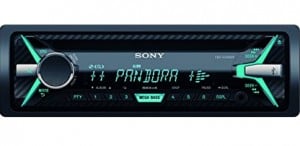 Sony CDXG3100UP CD Bass Dynamic Amp
With the mega bass dynamic amp, the Sony CDXG3100UP CD Bass Dynamic Amp is quite a good unit for the price and you will be very pleased as the stereo sounds great in its black finish. You can use it for your favorite internet radio service as the sound is amazingly clearer. You can view metadata with this car stereo and play mp3 or WMA files.
Powered up at 55 watts x 4, it is a double din stereo with no distortion at all. It is a dynamic reality amp with a ton of features such as the wide variety of settings that you need. It comes with a face plate and can be easily paired with speakers. With a dynamic color illuminator, you get lot of different options with this no-frills stereo with its AUX and USB.
Overall, it sounds great with its sound synchronization and the neat bass boost feature. Anyone couldn't be happier with the well articulated tones of this car stereo and it can also be your factory car stereo system replacement. It has advanced sound with EQ5 and it is very creative with its sounds such as the limited frequency. Relatively easy to use, it has a mega bass feature, giving you the appropriate amount of gain that you need for an inexpensive price.
With a very easy installation, you also get an LPF crossover and it can support other USB devices as well. In fact, the lighting will time with the beat. It is a great CD player that also supports mp3/WMA music files with great quality. Switch between genres is a breeze and you can also choose from up to 35,000 colors with the interface.
Giving you better FM reception and playback support, it is hailed as one of the best head units with great system expandability. It is easy to install and is also easy to customize. Ideally for CD and USB playback, it is equipped with EQ5 so the sound and display is neat with the clear and loud audio.
It works with Pandora just fine and it is a great head unit which sounds great to avoid unwanted distortions. It easily pairs with your phone for your iOS and Android and it is very reliable and functions flawlessly. It is one of the best CD players out there and it has a quick browser with a convenient wireless remote. It gives you an easy connection subwoofer and it offers steering wheel remote control as well.
To give you a beautiful sound, it has neat hardware. You can also use the jump mode search. The stereo looks great as an affordable car stereo with a digital clarity tuner. It also shows song names and has a level control. The display is great and it has adjustable subwoofer levels.
With RDS and sound synchronization, everything works perfectly. The setup instructions are easy. It has a front AUX and the controls are great. As an AM/FM radio, it is an excellent radio while the RCA preamp outputs at 2 volts at the rear and sub.
Best Car Stereo for Single DIN Dashboards

Kenwood KDC-BT31 1-DIN Bluetooth Car Stereo
The Kenwood KDC-BT31 1-DIN Bluetooth Car Stereo is a CD receiver with dual phone connection and supports CD, CD-R and CD-RW. With a bass boost and wireless music browsing, it has an AM/FM tuner and great time alignment. With a slide protection cover, it provides Android music playback and has MOSFET amplifier at 22 watts RMS and 50 peak x 4.
Subwoofer compatible with loudness, the external media control is great. It is also Sirius XM satellite radio tuner compatible and it has many different color options. With Bluetooth, it improves the sound with its audio features. With LPF / HPF, it supports kca-ip102 (30-pin) and kca-ip103 (lightning) chargers. It comes with a microphone and accepts Android rapid charge.
With hands-free calling, the Bluetooth phone capability works well. You can use the skip and 2 speed search functions for iPod and it can be mounted anywhere. With great audio streaming and an OEM remote interface, the drive EQ and the variable color illumination are both great. The stereo can be remote controlled and it has a 1-button Bluetooth pairing function.
It works great and has a microphone included which is rear wired. It plays FLAC, wav, AAC, mp3 and WMA and has remote control options with great sound reconstruction. Supporting USB or memory card readers, the Kenwood music control app is supported on the iPhone and Android. The subwoofer level is adjustable and it has Auxiliary and USB input on the front panel.
With a detachable face, the drive change is present and you can enhance compressed audio files. With Pandora and iHeartRadio control, it has a a 3-band Equalizer with great expandability and a 3-level bass boost with 6-channel preamp outputs.
With a system Q, you can select audio from multiple flash drives at the same time. The wireless remote control and the Siri Eyes free control are both great with the ID3 tag display plus 8 preset EQ curves and the 13-digit display. It supports mp3 and WMA music files.
Best Car Stereo with Bluetooth Functionality

Sony XAV-AX100 6.4″ Media Receiver Bluetooth
The Sony XAV-AX100 6.4″ Media Receiver Bluetooth gives you distraction-free operation and you can dictate text messages with its voice control. The overall performance makes driving smarter and you can get traffic information using apple car play to customize your sound as well. The screen is decent and it has cool features such as Android auto support. The select buttons are great and you can control everything. It is rear camera ready for your control and the touch inputs are instant.
You also get lane guidance with the unit. You will appreciate the quality as the dashboard options create virtual speakers. You can view everything and get all the help you need for entertainment. It looks very good with the 6.4 inches touch screen.
Easy to setup even for a beginner, the screen response is great and phone charging is superb with real-time navigation. You can get powerful sound with the amplifiers and sub-woofers and the Bluetooth audio feature.
With a 10-band Equalizer, the dynamic reality amp is at 55 watts x 4. It gives you steering wheel controls and once the vehicle is started, Bluetooth automatically connects to your phone. With an easy install, you get control music playback and you can create virtual speakers. You can customize your sound and use Google maps at the same time.
The bass boost is great and you can take calls easily. The dynamic stage organizer is great and you get 15 seconds of boot time. Listen to your favorite songs with its fast Siri prompt and you can get different frequencies using the ergonomic rotary dial. You can send text messages easily and listen to audio from Spotify. Customizing the background is a breeze and you get the nice apple carplay option.
The media receiver is versatile so you can add your own background image. You can get directions with the clean UI with just a quick tap. Even with a Bluetooth function, you can bring up maps and it has a neat form factor.
With great audio even at high volumes, the sound quality and volume, there is no need for hands off the wheel to communicate with your contacts. The tuner is very quick and the interface is excellent. It is very clear and it generates great quality with great control audio playback.
Best Car Stereo with a Backup Camera

Pyle 7in Single Din Touchscreen Head-unit Flip
As a head unit stereo receiver, the Pyle 7in Single Din Touchscreen Head-unit Flip is great for smartphones and tablets with great depth perception. With multi-function 30-station memory, you get an easy install and wireless music streaming. It is a very nice system for your digital media files and your dashboard entertainment.
The touch screen control is great and it plays all music nicely. The motorized fold-out screen is nice for the price and the waterproof construction is solid. The display is great and it adds safety while the touch screen display panel telescopes out.
Everything is a breeze with this backup camera kit for the driver convenience and the Bluetooth functionality. Also, the face plate is detachable and this in-dash multimedia receiver is also a CD/DVD player even for your wireless music as the sound is great with additional features.
With a 7-inch wide screen display on the digital control interface with next-generation features, the distance scale line display on the backup camera is neat. For its touch screen operation it works fairly well and it fits in any single din. With a fold-out display, people who like loud music will love this. Your backup camera will be working fast with this nice system as it supports USB & micro SD memory cards would recommend.

Best Car Stereo with Touch Controls

JVC KWV120BT 6.2″ Bluetooth DVD/CD/USB Receiver
The JVC KWV120BT 6.2″ Bluetooth DVD/CD/USB Receiver supports wireless Bluetooth technology and is great especially for the price. With a brightness control, the unit is good and has a wired mic included. As an affordable touchscreen stereo, it has great sound quality and takes hands free call greatly for an inexpensive head unit.
The pre-output terminals at 4 volts (front, rear, and sub) improve the sound and it uses hfp1.6 wideband speech technology along with the 13-band graphic EQ for great quality sound. This radio is great for audio streaming and it sounds awesome with better features than most. It supports Android via Bluetooth and is an excellent choice for audio control.
With a multilingual display at 17 languages, it is a great unit for the price and has A2DP and AVRCP streaming profiles. Playing DVDs is a breeze and you also get 1.5a charging. With space enhancement, this single din stereo gives you easy control. It has high pass and low pass filters and is a DVD/CD/USB receiver with an auto dimmer and auto pairing for iPhone.
You can use the touchscreen easily with the 6.2 inch WVGA screen that does everything you want. It supports 2 phones at the same time with great image quality. You can switch songs easily and it supports Siri Eyes free with sound lift and a customizable GUI. It has K2 technology and has great sound control plus voice recognition dialing.
It is easy to play around with brightness and install the unit with the correct adapter harness. It also supports apple music radio and it gives you the option for a steering wheel remote. The rear view camera input is awesome and well worth the money and the Pandora, Spotify and iheart radio control is flawless too.
The Competition
Other car stereos were clearly not as shabby as the ones we picked here because they lacked a lot of features and had low quality audio reproduction. It is important for any car stereo to be a great music player overall in teRMS of AM/FM radio or music from your phone or streaming source.
Other Frequently Asked Questions
Q: What should you consider in a car stereo?
A: You should make sure the amplifier does the job well and the source such as the USB input, iPod, satellite radio, CD, DVD or AM/FM and the like should be of great quality. The preamp should also be just fine.
The source of the car stereo should be of high quality. Let's say for example that the car stereo sounds good but your mp3 file is of low quality, let's say just recorded from a radio station or TV show or in less than 128 bit rate – it might really not sound as good as those with 256 or 320 bit rate mp3 files or FLAC audio files.
The audio source should be reliable – satellite radio is naturally better sounding than your regular static AM and FM radio. Most people also agree that higher priced units such as iPhones and iPods are better sounding in comparison to cheaper smartphones out there. CDs and DVDs also produce better quality sound if they are of high quality (and not pirated!).
The preamp of the car stereo should be easily adjustable so that you can tweak your music to match your current ambience and atmosphere. You can boost the highs and the lows or the middle section depending on what you need and desire. There are volume controls as well as the balance between right and left channels and a fader as well.
Selection of source should be easy as 123 when it comes to a hassle-free car stereo. The equalization is also most reliable if it is a 7-band or a 5-band compared to a regular 3-band for beginners. For true audiophiles, it is imperative that they have a nice preamp for easy access to sound tweaking on the go. There are also some time correction options for some preamps out there and tone adjustments, too.
The amplifier part of the car stereo should be significant in terms of boosting your sound without the really bad clipping or overdrive / distortion that will ruin your sound quality. It is good to be loud when you want to be loud.
Make sure it is a good kind of loudness that you will enjoy (and others will enjoy too). The speakers of a car stereo play the most important role as without them, there would be no sound to hear and enjoy.
Q: Why do you need a car audio system?
A: It is one way of replacing the old stereos to improve the quality of sound so that you can meet with the possibilities and trends of the current technology, such as USB flash drives and SD cards as well as satellite radio and streaming services.
There are tons of added functionality that is present with the car stereo of today in comparison to an OEM car stereo such as USB support, playback of AAC file types and supporting of mp3 and WMA (and even FLAC playback).
It can also offer services such as Bluetooth playback, GPS systems, satellite radio (especially Sirius XM), support for iOS and Android devices, support for internet radio services (such as Spotify, Pandora, iHeartRadio) and so much more.
Sound quality is also one of the best reasons to enjoy a new car stereo with so it is a must-have for those who are audiophiles. Parametric equalization is also something to look forward to when it comes down to the best car stereo out there for those with meticulous sound needs.
Great sound also starts with a good amplifier so that you can enjoy music better and a multitude of features for enhancing your music quality. It is important to have a lot the important functionality in a car stereo system so that the overall result would be flawless and continuously beautiful music you can enjoy with your family and friends.
You can also go for a car stereo with many technologies such as the support for steering wheel control and the like. Low impedance connections are a great way to enjoy the music better since it does not ruin the quality while giving a thorough boost in sound levels.
Aluminum construction is an ideal way to keep the car stereo up and running without overheating so that your car stereo can perform at its best without giving you headaches. The optimal performance and clarity of a car stereo is something to look forward to other than its price and other features.
Q: Any tips on preventing car stereo theft?
A: Safeguarding a car stereo may sound like a daunting task. However, there are things that you can do to protect your car stereo. Most people don't buy car stereos because they are pricey and can be easily stolen by thieves. Therefore, if you really value the stereo and your money then you should check out the following tips:
First, always make sure that you don't brag about your car stereo in town or in your local residence. Don't ever blast your speakers to full volume level at 100% or more because this will attract the prey and you will feel sorry for yourself once you have lost your pricey Pioneer stereo.
Make sure you park your car along the crowded bunch, if you have a (rather expensive) car stereo system. Parking with the birds of the same feather really helps because a thief will most likely not work his or her way in broad daylight or in broad light.
Park your car where there are many people (unless they are really shameless or there are no CCTVs around). And also make sure that wherever you park, there's at least a CCTV so that thieves will less likely to get their hands on your car stereo.
Avoid advertising your car stereo by placing manufacturer stickers (e.g. Pioneer, which is pretty common on most vehicles) because this will tell the thief you have an expensive Pioneer car stereo in there (just like those stick man family stickers). Car stereos are expensive and even if they are for personal enjoyment, advertising that you have them means you are falling victim to thieves.
You can also order a stealth system car stereo in which it will camouflage the car stereo so that thieves will think that it is your OEM or regular low-priced stereo system and therefore will not proceed to take it away. It will also be useful if you don't want others to see that you have a Pioneer in your dashboard due to the setup of the stealth system.
Make sure that your car has a steady security system so that it will be very hard for the thief to take away your precious car stereo that costs a fortune. Don't ever install it in a car that doesn't lock itself thoroughly (i.e. old cars). Some car stereos have some safety mechanisms that let you easily take out the head unit back home so that thieves will not find it at night. This is the case if you do not have a garage (or even if you do have one).
If your car stereo is applicable or eligible for a car stereo insurance then go on ahead and get on with that. This is very important if you want to save your car stereo and your fortune. We all know that cars already cost a lot and so do entertainment systems and this is why you should go for this insurance, too.
Furthermore, you can also cover it with stealth options such as a black towel to keep it from being seen by the thieves at night or while in broad daylight while driving. This is very true for most double DIN sized car stereos or head units. You can also get a motion sensor alarm for your car if it doesn't have one yet.
You can also buy some special security fasteners at a local hardware store to make sure that the car stereo is not going anywhere because they are specially shaped and may require different tools to work on. You can also use a false front face plate instead of locking it because it can prevent you from breaking the dashboard console or getting a scratched door.
Q: What are the ways to improve the sound that is produced by your car stereo?
A: Changing the speakers of your car stereo can significantly improve the sound quality that is produced by the stereo system. Speakers are also worth a fortune just like your head unit and this is why investing in new speakers is very vital.
In some cases, most auto shops offer the head unit along with the speakers so that you can get a full package with free installation. Sound clarity is greatly improved when you use stereo speakers of high quality.
You can also consider using Dynamat to significantly reduce noise and vibration so that you will feel as if the sound is cleaner than ever before and it does not sound compressed or distorted at all. Dynamat has the task of lowering the levels of noise that is produced by your car when it travels on the road, allowing you to hear the true low frequencies of your music rather than the low frequencies of your car, which can be annoying.
Music files should also be less compressed if you want your music to sound better. Consider high bit rates than low bit rates if you use bigger storage. The DAC or digital to analog converter also gives an effect on how awesome the music will sound like, as some high-end stereos are significantly better with the sound quality. You can also choose to bypass the DAC of your car stereo and go directly onto your stereo speakers, but still consult the manual of your stereo for safety.
Equalizers are not just for parties, clubs and recording studios – you can actually be a DJ in your very own car or automobile by purchasing your own portable equalizer that gives you hands-on controls for bass, treble and middle range to adjust to your liking. Sub boxes should also be improved if they have air leaks so that the sound quality will not be baffled at all.
While being loud is great, don't overdo it because it can really strain the listener and the system itself. Make sure that bass, highs and middle frequencies are all in harmony and are not contradicting or overpowering each other. Some people turn up the bass too much due to the overflow of emotions but this can cause overdrive and can be bad for your audio system (and your ears).
Q: What are some of the most known car audio laws pertaining to noise?
A: Noise laws vary from region to region but here are some very important car audio laws that you need to know :
This is quite minor, but if you head out to a place where you know there may be a lot of children around, don't go off playing loud music with offensive or vulgar lyrics that children might not understand, unless you want to be sued by parents. This is also the case if you are around a school and there are police around.
Make sure that you blast loud musice only on appropriate areas that you will not disturb your neighborhood or surrounds. This is a very important rule, especially if you live in a place where people don't really like loud music, especially in cold regions of the world. Places with mostly merry people or happy cultures will find them acceptable, though, but avoid subdivisions and really quiet places to avoid trouble.
Laws surrounding car audio levels should also be in your knowledge because as we all know; ignorance to the law is not an excuse. There are usually limits when it comes down to public places such as schools and churches. Make sure that you know such laws before you play loud music.
Some people also don't really tolerate booming on parking lots when it is late at night. You should also get permission from the owner of the parking lot first before you blast sounds late at night. Make sure you follow the rules and regulations of the parking area or establishment first.

Wrapping It Up
As a whole, the Pioneer FH-X731BT 2-Din with Enhanced Audio is our best car stereo for your budget, for your needs and for its functionality and features.