The Optima Batteries 8020-164 RedTop Starting Battery are our best car batteries and ideal for most cars, this is a great battery with good cranking power that is ample for any challenge up ahead. It can handle extreme corners and it is built with 2 pure lead plates with a coating of lead oxide for longer lasting performance. Many people who have bought the battery said that the battery holds an amazing charge unlike other batteries out there. It has a reserve capacity of 90 minutes and it can also be used for motorcycles as well.
Our step-up pick is the Optima Batteries 8016-103 D34M BlueTop Battery and up to 3 times more recharges than regular batteries, it has a sturdy package and uses dual SAE which will hold up all day as an AGM battery. It really gets through the day as a maintenance free battery and its stud posts measure 5/16 inches and is made of stainless steel. It is also quite a dedicated starting battery and its features make it a great battery overall.
The budget pick is the Odyssey PC925 Automotive and LTV Battery and overall, the car battery works great and you get no water spill at all with this battery. It is also quite maintenance-free as a battery for your car and it is quite lightweight to carry around as its weight is at 31.7 pounds. The battery runs well and is also a great OEM replacement whatever the car make you have. Likewise, it looks great and also has SAE posts.
A Little Background
A car battery is a very important factor in any vehicle because without the battery, it will not start at all. The battery is what is needed for you to start up any vehicle and to power up most of its necessary components such as lightings and the like. Car batteries depend upon your vehicle so you must pick the right one that is just right for your type of engine.
How We Picked
In choosing the best car batteries, one must consider the following:
Make sure it is fresh from the factory. Ordering a car battery with no manufacturing date means that it could have a lot of faults in it such as it could have been drained when it was in the stock room. Make sure you order a fresh car battery and not something that has been sitting on a car shop for a long period of time, because batteries for a car are no joke when it comes to their price.
Car batteries should fit well for your car and should deliver the necessary amount of voltage to start your car. It is important that the engine and the battery go together just fine so that it will not cause some damage to your car.
Know the life expectancy of the car battery before you buy. Typically, the car battery with a higher life expectancy is much more expensive than regular batteries but they are also mostly maintenance-free. Ideal for hobbyist vehicles with decent results, it should support nearly all vehicles with a longer cycle life and more plate surface area for everyday use.
Our Pick

Optima Batteries 8020-164 RedTop Starting Battery
Our best car batteries would be the Optima Batteries 8020-164 RedTop Starting Battery which can really hold a charge with no problems at all. This is a 12 volts battery that is ideal for just about any car that gives you faster recharging more than before as an automotive battery with high precision and the like.
Just like most car batteries out there, this is an entirely spill proof battery which has 720 cold cranking amps and it also uses a spiral cell technology. It also gives you absolutely normal engine starting without fail and without question. Be sure to know your internal dimensions of your battery case due to the very fact that the dimensions of the battery are 9.38 x 7.69 x 6.75 inches.
In addition to that, they are amazing for their performance and you will be very happy for your car or vehicle with the battery. It is known to give you up to 2x longer life with a great and constant performance. It is ideal for your vehicle for starting up just right as the motor turns twice as fast with the car battery which provides energy that is enough for your needs other than starting such as headlights.
Compared to an old regular lead acid battery, it gives you a powerful burst and it has also been race proven due to its high performance features. It can also fit SUVs well and serve trucks just fine. With great and awesome optimal starting power, the battery can be used for various applications as an AGM battery or absorbed glass mat battery.
It comes unsurpassed even in bad weather and can handle a bunch of critical tolerances. It is also mountable in any position and it is a sealed battery that is frustration-free. The battery can simply outperform other batteries and it works well like it should.
As a far superior battery than the rest, it can withstand hard launches and it has plenty of power to boot whenever it is needed. It is a high-performance battery and one of the good batteries to have due to having 15 times more vibration resistance. Ideal for every road trip for the price and reliability, it went through unique manufacturing process for quality results and a reliable start-up. It uses hot rods and its reputation is unmatched for its ignition power.
Its works great for a long trip and just as advertised as a best performing ultimate starting battery so when you are buying a car battery, consider this simple to install affordable battery. Its durability is superb for cranking and starting and it resists battery failure.
It is one of the best spiral-wound batteries out there with a strong starting burst and is also ideal for street cars and every day use. For automotive and RV usage, it has extreme resistance and even as a truck battery which withstands temperatures and humidity concerns as great batteries with a 36 month replacement period.
Flaws but Not Dealbrakers
The Optima Batteries 8020-164 RedTop Starting Battery may have some cons but they are very small and most likely not deal breakers at all, such as the very fact that since it functions like a normal battery, it can be dangerous to use it when below a certain level, but this is common for most standard any-car battery that there is.
Step-up Pick

Optima Batteries 8016-103 D34M BlueTop Battery
Our step-up pick is the Optima Batteries 8016-103 D34M BlueTop Battery and it is better than a traditional battery. Having 12 volts of power, it has great vibration resistance and works at 750 cold cranking amps. It is made with 2 pure lead plates coated and has a ton of efficient power due to being an ample power source, measuring 10 x 6 7/8 x 7 13/16 inches.
The car battery is of high-performance and is also spill proof in its design. Likewise, the battery is fine as a 55-Ah battery in which the weight is at 43.5 pounds. It can also be used for marine applications and it uses spiral cell technology.
With exceptional running time, the battery is a sure starting battery with 55 ah c20 capacity which lasts for years. There will be no more worrying about your battery due to its exceptional durability and cycle life as well as longevity. You will definitely find it working perfectly as a battery with great and optimal starting power. In fact, engine starting is a breeze due to the ruggedness of this car battery even if you put it up in bad weather.
Whether you are in charge of a car, a boat or an RV, it has the power to spare all the time and it is also easily mountable in any position whatsoever. It also has strong cranking capabilities and it is also more protective in terms of its individual spiral-wound cells. In fact, these batteries are so sturdy that they are 15 times more vibration resistant than regular batteries.
They can also be applicable for marine applications and they have top notch quality for any application. It can also be a flexible boat battery with its durability and it can provide full power for trolling motors.
The durability can also power up electrical accessories and has a reserve capacity of 120 minutes. It can also be an RV battery and can withstand any environment possible as it is tough in performance for a quality you can't beat.
If you are a full timer RV then this is a deep cycle battery that you should get, even as an auxiliary battery as it is one of the most incredible batteries with longer expected life. You can use it indoors and you an even use it as a marine battery.
It is an awesome battery and as a deep cycle battery that can also be used for camping situations. It can be easily charged by the alternator or for your camper van with a constant performance.
Budget Pick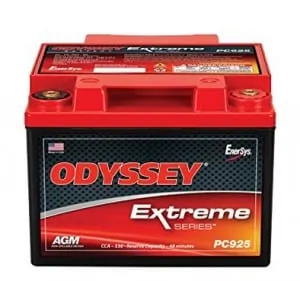 Odyssey PC925 Automotive and LTV Battery
With more electronics, our budget pick is the Odyssey PC925 Automotive and LTV Battery and it has a cold crank amp or CCA is at 330. With massive starting power, its construction can keep up with the changes of the technological modernization. Even antique cars can benefit from the longer service life of the battery for power demands of today.
The range of performance is great and it has imaginable quality with more power with 3 to 10 years of service life. Ideal for high performance cars and for emergency use, it has 2 times the overall power compared to regular batteries. It is also ideal for off-road vehicles and it can save time. It also has a ton of power and it has great and deep cycling capability.
With great starting and electronics, it can save money and it works so good as the plates are made of pure lead. Ideal for 4×4 vehicles, you won't experience aggravation as it has 3 times the life of regular batteries.
This awesome battery has 70 percent longer cycle life compared regular batteries and it can work on modified vehicles with excellent starting abilities. It uses flame retardant cell containers to meet most vehicle demands and it has plenty of power at 400 cycles at depth of discharge of 80%. With a removable spacer at the bottom, it works all the time and can be used for two seasons a year. The operating temperatures are from -40 to 45 degrees Celsius (-40 to 113 degrees Fahrenheit).
Ideal for audio equipment with a high stable voltage, it has optimized recycling power and works on an ATV with cranks faster than most with longer periods of time of voltage. It eliminates acid spills and you can mount the battery sideways. It can easily prevent vibration damage and handle terrain challenges.
As a good and lightweight battery, it has a faster recharge rate and is a really good battery for your 4-cylinder race car with more reserve capacity. You're good to go with its good recharge efficiency as it is worth the price on any orientation. As an AGM or absorbed glass mat designed battery, it will still be functioning for a longer period of time with the proper usage and maintenance or handling.
It is a sealed lead battery that is small and light. It is a great and small battery and it is great at avoiding cylinder dead space. It can last a long time and achieve a 100% recharge in 4 to 6 hours. It starts so easily and can be a replacement for any stock battery. These batteries are nice for the mounting flexibility
One of the best batteries out there, it has high conductivity and this battery works great with its non-spillable design for a clean install. There will be no worrying about the engine starting as you can keep enough charge that you need with this corrosion-resistant battery and its vibration resistance design with no issues over the winter at all.
Its starts very strong as a lightweight battery and protects against shock of high impact. With a high integrity terminal seal, it is a good and solid battery without worrying about anything and it eliminates slow starts and protects against mechanical vibration.
With the sealed design, you will love the reserve capacity. It is a nice replacement battery which is extreme temperature tolerant with its self-regulating relief valve and it works great. It has a limited 3 to 4 years of a full replacement warranty.
Best Car Batteries with a High Output

XS Power D925 12V High-Output Battery
The XS Power D925 12V High-Output Battery is a 12 volts battery that has been highly tested and it works like a champ even in every form of racing. With so much power such as 2,000 amps, it has a low internal resistance and great power. It has also been valve regulated and is proven to be vibration resistant. It performs perfectly and it is ideal for racing.
As a great battery that is sealed, it is an absorbed glass mat or AGM with higher capacity than others. It uses a m6 terminal bolt and is great for your car audio power with a cranking amps of 550. It keeps up nicely with its strong power as an excellent battery for any occasion whatsoever. As a high output battery, it has the highest energy density among competitors so your headlights will not dim at all.
You can mount it in almost any position and it still has amazing overall power with its absorbed glass mat technology. On almost any vehicle, it fits great and is spill-proof with the suspended electrolyte in fiberglass design.
Best Car Batteries with a High Current

Kinetik HC600 BLU Series 600-Watt Battery
Packed with extreme power, the Kinetik HC600 BLU Series 600-Watt Battery has a high current and a voltage of 12 volts. It does the job well and it definitely works as intended with higher cranking amps than other brands. It has a high current and it also works on a v8 engine. It can power car audio stereo systems at 600 watts. It has low equivalent series resistance and it has a no leak design.
These batteries are amazing for their power and performance with a small foot print to boot. You can avoid your alternator working too hard with this battery and you can even power up your car audio with it.
You can mount in any position and it has greater vibration resistance than most maintenance-free batteries out there. It is our highly recommended power cell battery that will leave you very satisfied with its stronger energy density and for its size.
Built for high current amplifiers, it has an ultra low ESR even in a small package. It has a sealed absorbed glass mat or AGM design and it delivers constant power and works very well. The battery seems to be working just fine in any condition, bringing you louder and cleaner sounds. It can also work as a replacement battery which runs just fine.
It is a compact power cell for the car audio system with high energy density, powering any system you want or to fulfill for your vehicle battery needs. With great voltage demands today, power reinforcement is what you need and this battery can give it. The battery can also act as a second battery and it is very surprising in a good way.
A tad better than conventional batteries, it can act as an additional battery and your vehicle starts up just fine as these batteries are great at 800 amps. If you're on a budget then these batteries would be the bomb for normal driving conditions and for other harsh conditions.
Totally sealed, your sound system can be of high performance with the battery that is also high performance. With more plates to protect the battery, it works excellently and your headlights won't easily dim anymore. Powerful and reliable for many years of use, it is a non-spilling battery that is ready to use and has a lower self-discharge for longer life.
Best Car Batteries for Dual Purpose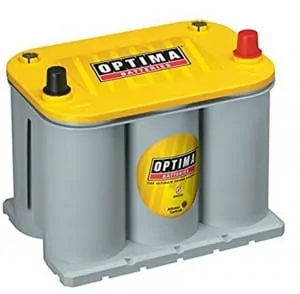 Optima Batteries D35 YellowTop Dual-Purpose Battery
Running at 12 volts, the Optima Batteries D35 YellowTop Dual-Purpose Battery has everything you need for extra performance from a battery with 650 cold cranking amps. It is ideal for off-road use and has a totally low self-discharge rate. The size of the battery is 9 5/16 x 6 13/16 x 7 5/8 inches and it can withstand extreme vibration with a clean power source for technological innovation.
It is ideal for any stereo or AV system in your vehicle. The battery weight is 36.4 pounds only and these batteries are great as a tractor battery. It uses a SAE post and can meet up with heavy duty electronic loads that you need such as hydraulics and winches.
It really surpasses expectations and you can store your seasonal vehicles with this battery. It gives you 98 minutes of reserve capacity and it is great at ensuring the safety of everyone in the vehicle or equipment.
With great endurance, it functions well when electrical loads are higher and it is ideal for drag racers. With constant performance at a great price, the spiral cell design helps you out with this awesome battery with optimal starting power. It really works well even without regular charging and it has a great deep-cycling capability and a great performance even in bad weather.
If your car doesn't have an alternator or if you want to power up diesel powered vehicles, then this battery is recommended as it powers up running lights just fine. It can also work as a forklift battery and it is meant to be set up positive or red terminal is on the right.
It provides a strong source of power and is also a dual purpose battery with faster recharging. It is a great battery with 15 times more vibration resistant and is helpful for the environment.
Meeting your vehicle demands, it can also be for seasonal use with its durability and deep cycle capabilities. A spacer is included for vehicles which required a taller battery. You get a strong start every single time with its cranking power.
It is ideal for vehicles with inverters and it does not drain fast. Mountable in any position, it has 3x longer life with its pure lead plates so you get more years you're your battery.
Best Car Batteries for a Car Sound System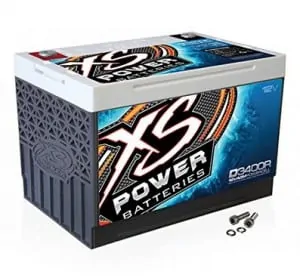 XS Power D3400R 12V BCI Battery
The XS Power D3400R 12V BCI Battery is worth every penny and meets the classification for OE fit. You get deeper bass sounds and crisp middles as it is better than the standard d3400 battery with lots of cranking power.
It fits in 34r applications and is well worth the cost. The battery size is 12 x 10 x 9 inches and this 12 volts battery will fit in your sound system which will sound really clear.
For car audio enthusiasts, the cranking amps is at 1000 ah (65 at 2500 watts or 4000 watts) and it belongs to the BCI group. It is best battery you can buy as the capacity is great with the max amps at 3,300 amps. Using AGM or absorbed glass mat, this 34r batter is ideal for a 4-channel amplifier or a mono amplifier and is bigger than a regular battery.
Best Car Batteries with Lithium Carbon Material

Braille Battery ML14C Lithium Carbon Battery
The Braille Battery ML14C Lithium Carbon Battery is lighter and stronger than most at 4.5 pounds or 2 kilograms with consistent performance at the highest amperage. The total dimensions of the battery are at 5.8 inches x 3.4 inches x 5.8 inches and it uses stainless-steel bolts. It is a left side positive position and right custom and the total impedance connectors are low.
More efficient than most, the automotive posts are true-torque. You get longer life with no acid spills. It is 50 percent lighter with a carbon fiber casing and with more power at 773 pulse cranking amperes. It is safer as a lithium carbon battery with 548 cranking amperes and ring-style connections. A 12 volts battery with signature cranking power, it uses non-spilling internals and sealed-safe lithium cells running at 42 lithium amperes per hour.
Best Car Batteries which are Maintenance Free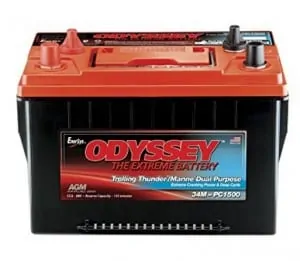 Odyssey 34M-PC1500ST TROLLING Thunder Dual-Purpose Battery
The Odyssey 34M-PC1500ST TROLLING Thunder Dual-Purpose Battery has a cold crank amp of 880 amps and is ideal for the summer without power loss. Ideal for on-board electronic accessories, it has 3 times the life of regular batteries and has robust starting power and longer service life.
It is incredible with its tin-plated brass terminals and 3 to 10 years of service life. Ideal for a jeep wrangler, it has more plate surface area and is ideal for fishing or camping. It can save consumers time for its depth of discharge and in longevity, it is great.
It can be a house battery for the money with a deep cycling capacity and high conductivity. It is corrosion-resistant with longer cycle life and no escaping gases. It can power up recreational vehicles for many more hours when people need it and have a longer shelf life for all-day use.
It delivers more power and is ideal for trolling. Stored on open circuit, it can also be a marine battery and has a venting system that can be resealed. It can take no recharging up to 2 years without having to recharge with a sealed design. It can prevent vibration damage and is ideal for a diesel engine.
As a six-pack design battery out of the box, its recharge efficiency makes it an awesome battery that is totally dry. With a self-regulating relief valve, you get continuous hours from this sealed lead battery with 40% more reserve capacity and vibration resistance. It protects against high impact shock and has flame retardant cell containers.
Adhering to extreme temperatures its internal cell connections will not let you down. The operating temperatures from -40 to 80 degree Celsius and powering lights with it is a breeze. The gases are recycled internally from this maintenance free battery. There is no need to add water with its AGM design and safety measures. It holds a charge well made of pure virgin lead. It has a limited 3 to 4 years full replacement warranty.
Best Car Batteries with SAE Terminals

Shuriken SK-BT80 80Ah S.A.E Terminals Battery
The Shuriken SK-BT80 80Ah S.A.E Terminals Battery is quite similar to the Kinetic HC1800 and can be mounted in nearly any position. As a sealed battery with a great amount of current, it is a non-vented battery with side post adapters which uses absorbent glass mat or AGM technology. At 1900 cranking amps, it has S.A.E terminals ideal for audio systems. As a sealed battery with 80 amp hours, it is dependable when needed, handling 1800 watts of audio systems and also for GM vehicles
The Competition
Other car batteries that did not make it to our list were not really that standing out due to the very fact that they are not very durable, they do not last or hold a charge and they have issues with shipping and handling or battery life which cannot be contained.
Other Frequently Asked Questions
Here are a few frequently asked questions about car batteries.
Q: What can be used to remove build-up on your battery?
A: You can use Epsom salt; soda and baking soda for hard start elimination on the terminals. Baking soda should have at least 3 tablespoons plus a tablespoon of warm water and use any kind of application such as an old toothbrush to scrub the battery terminals of your car. This can significantly remove the corrosive buildup on your car.
Epsom salt can help you start your car nicely without fail so you should add it in warm water for the battery cells. Meanwhile, petroleum jelly also helps remove the battery terminals' corrosion and also helps out during the winter to keep your battery cranking as much as possible.
Soda can also help your battery terminals be free from corrosion because of the very fact that it contains acid, specifically carbonic acid, which is present in every carbonated soft drink to help remove rust in the long run.
And last but not the least; did you know that aspirin can also be used to unclog your battery? It can be helpful due to its acetylsalicylic acid which goes hand in hand with the sulfuric acid of your battery during a scarce situation.
In addition, you should check the kind of corrosion first before you go on ahead and clean it up. If it is a build-up, you will see that it is kind of crusty in appearance and if it is a dull and dark spot, it is a mild corrosion.
For mild corrosion, you can also use cotton buds with vinegar so that the corrosion can go away. Lint-free cloth should be used for cleaning your car battery's terminals.
Did you know that Coca-Cola can also help to clean up your car battery terminals? As stated above, car terminals can rust and one way to pose as a remedy is to use Coca-Cola or carbonated drinks to remove the corrosion and the like.
Scrubbing the battery with soft drinks can really help out to remove corrosion and rust and other build-up in your car battery terminals so that your car can run smoothly. Your car may corrode easily if it is easily exposed to violent weather such as those living near the sea when the corrosion levels are quite high. You should watch for the acidity levels and look for any signs of corrosion here on ahead.
You can try to scrub several times with the soda or soft drink depending on how much is needed. True enough; sodas are really one of the best kinds of remedies for your car battery. It seems to work not just for car batteries that are old but also for a new battery and even one that is not of a car battery. If you seem to be stuck fighting against corrosion then soda scrubbing might do the trick.
Q: What should you remember when changing a car battery?
A: When car batteries are disconnected, your dashboard systems might reset , so make sure to remember PIN codes if any. The positive and the negative cable clamp should be connected in a very secure way and that the connection goes far down. You should also firmly connect clamps, screws and other pipes that keep the battery together after you put it in place if you are changing it.
Q: Why is it important to keep your car in a garage to preserve battery life?
A: Garages act as insulators during the winter when the rust can haunt your car battery. You should also not use heated garages if you want to conserve your battery and keep it away from moist areas. For those not having a garage that is insulated, you can easily perform battery insulation, in which there are many widespread solutions for such.
Q: Any tips on how to check the levels of water on your car battery?
A: Know that different cars have different battery compartments , so you should first know where the battery is. Make sure that the battery is also cleaned thoroughly first before you check the water levels so that any kind of debris, dirt or residue on the battery will not get in the way of the battery performance.
Corrosion should be inspected and corrected as much as possible. Baking soda and water really help out to give the corrosion a goodbye but do not soak it in the baking soda – just a few wipes would be fine. The ports should be opened if the battery is not a maintenance-free battery. The cells, when opened, will easily reveal to you if the electrolyte levels are just fine.
Too little electrolyte levels can be dangerous to your car so you must also check the alternator because it can cause overcharging. Do remember that not all batteries have the same kind of levels because golf carts, Ni-Cad batteries and the like do not have the same kind of electrolyte levels.
Distilled water should be used to keep the fluid levels to the ideal state. Make sure that a funnel that is clean or anything that is as clean as possible should be used for your battery so that it will not lead into problems in the future. Dead batteries should not be filled with too much water. Safety goggles can also be greatly used to protect your eyes so that the electrolyte in the battery will not damage you at all. You should also use protective gloves and the like.
Old clothes can also be worn so that it will not be a waste if the electrolyte gets into your clothing and rots it somehow. Make sure that you should wash thoroughly and immediately when you get electrolyte onto your skin with running water as well as soap. Make sure you also get rid of the disposable gloves that you used because it is made of sulfuric acid, which is dangerous to our skin and eyes.
Q: What kind of water should you put in your car battery?
A: Batteries for your car should be filled with only distilled water so that it will run smoothly. Tap water is not advisable because it has not been thoroughly cleaned and distilled and therefore it can potentially damage your battery and can also reduce its running capacity as a whole due to being filled with minerals. Distilling helps your battery perform smoothly as much as possible.
Q: How do you recharge a battery significantly?
A: Car batteries need to be checked for their battery terminals so that they will be cleaned first and perform at their best without worry before you charge them. Debris, dust and residue should be cleaned first so that the sulfuric acid and corrosion will be out of the way. Use gloves as much as possible because sulfuric acid is dangerous.
A trickle charger is a good way to charge your battery using jumper cables which allows you to charge your battery in a slow but steady manner. It is better to charge it with this kind of mechanism because a trickle charger helps your battery to last longer than it should. A hydrometer can also be used to check the battery's electric energy.
Ni-Cad batteries can also be used for charging a car battery. However, make sure that the cranking amperage is just fine. It is also important to know that a car battery with enough water is much more recommended than charging it without water, as it will not hold its charge at all.
Q: What are the different factors that can affect the lifespan of a battery of a car or automobile?
A: Car batteries depend upon the weather conditions but it will usually last 3 to 4 years if you are buying a standard but high quality or known brand of car battery.
Cheaper ones will usually last 1 to 2 years but more expensive ones can last longer. It also depends on where you live – most countries with a lot of moisture in the air tend to have less lifespan for their battery due to the corrosion build-up and the loss of water or failure to charging.
Humidity and temperature are the keys to giving your car battery the necessary life span that it deserves. The battery should be charged 100 percent and fully, slowly but surely so that its life will be extended. Proper care and maintenance must be upheld so that the car battery can pay for itself.
Living in tropical places such as those near the beach or those with really hot summers and no snow at all can have car batteries that last shorter than those with four-season climates. However, it can also be the owner's maintenance to keep their car batteries in tip top shape.
It also depends upon how much entertainment or lights you use in your car. For example, you have a large and powerful sound system that takes up way too much power – this can add to the charge of the battery and its life span as well.
GPS receivers, navigation equipment and the like can also take their toll onto your battery so that you should consider a heavy duty battery for such occasions for your car or vehicle. You should also consider that you should not leave the head lights by mistake after you park your car or this can really drain your battery faster than it should. Poorly connected batteries can also have a really inflicting effect for your car battery.
Q: What are some of the signs and symptoms to know that you need to replace your battery?
A: Usually, batteries will run 3 years or more and anything beyond that is considered a graduate. Battery fluid levels that are always low means that it is quite ready for a replacement. Hard starting or slow engine crank can also tell you that you need to replace your battery, which is usually the last result if you have proven all other car symptoms negative.
Check engine light can also appear if the battery has problems so you should also consider that. The battery case may also be bloating or smelly due to the sulfur (think of rotten eggs) so you should inspect the battery case as well.
Battery life spans are usually imprinted onto the battery so that you can easily find out how much life span is expected from a battery. As much as possible, do not buy a battery with an unknown expiry date or manufacturing date and make sure that it is fresh from the factory and not stuck in the store.
If your battery was stuck in the store, chances are instead of having 3 years or more, it will malfunction in less than a year, which will give you a big headache in the long run.
Q: Which is better for cleaning the corrosion on your car: baking soda, cola or water?
A: It all depends on the kind of deposits or corrosion that you would want to clean up. Dissolving the deposits might be easier and faster if you use soda and acid or cola and baking soda but water can be enough if it is a very light deposit to consider.
Make sure the brush you are using is quite stiff and one that does not disintegrate in sulfuric acid or suffer a meltdown. It all depends upon the preference of the user and the intensity of the corrosion or build-up in your car or automotive battery.
Hot water can also especially help you remove build-up faster because it heats up the debris to remove it faster, especially if it is really stubborn. Whichever kind of way you choose, all of them can significantly save the battery of your car and increase its lifespan altogether.
Wrapping It Up
As a whole, the Optima Batteries 8020-164 RedTop Starting Battery are our best car batteries due to the very fact that they are very strong and hold a charge as much as they can for longer lasting performance without fail.
Jen Miller is a former electrical engineer and product specialist with more than 20 years of product design and testing experience. She has designed more than 200 products for Fortune 500 companies, in fields ranging from home appliances to sports gear and outdoor equipment. She founded Jen Reviews to share her knowledge and critical eye for what makes consumers tick, and adopts a strict no-BS approach to help the reader filter through the maze of products and marketing hype out there.  She writes regularly and has been featured on Forbes, Fast Company, The Muse, The Huffington Post, Tiny Buddha and MindBodyGreen.