It took us over 90 hours of extensive research and detailed testing to find the best multi cooker for most people – the Instant Pot IP-DUO60 7-in-1. With its great features, such as delay cooking and automatic keep warm, it's perfect for busy people. 14 built-in smart programs make it easy to prepare your favorite dishes with just a push of a button and 6-quart capacity is enough for making family meals.
Instant Pot IP-DUO60 7-in-1 is a life-saving kitchen appliance for every person who wants a healthy lifestyle, but is short on time. You can just put the ingredients in the multi cooker when you have the time, and set delayed start time, and the keep-warm feature will keep the meal warm up to 10 hours after it's done. This multi cooker has 7 different functions that replace most of your kitchen appliances and save your time, energy and money.
Our step-up pick the De'Longhi FH1163 MultiFry is worth every penny. The higher price is justified by additional features- this multi cooker can also fry and bake, in addition to cooking meals. Low-oil consumption is perfect for preparing healthy fried meals and enjoy tasty food without guilt.
If you're on a tight budget, but still need a reliable multi cooker, the 3 Squares 3RC-3010S Time Machine is a good pick. You can use it as a rice cooker, slow cooker, steamer, and it even has additional features for cooking quinoa and making yoghurt.
Why should I buy a multi cooker?
Modern day life makes it hard to find the time to make healthy, home cooked meals for the family, and it's often too much work for which you can't seem to find the time. Multi cookers are great because they offer a shortcut that gets you to a great meal without the mess and time-consuming preparations. Most of the multi cookers on the market have a variety of different functions, but, with most models, you'll be covered for any recipe you want to make, whether it calls for steaming, cooking, broiling, roasting, browning and even baking and frying. But, not only that using a multi cooker will most definitely save you time needed for meal preparing, it ill same you money and counter space. Multi cookers, due to their functionality, make a number of different kitchen appliances obsolete, and therefore, save you the cost of purchasing different gadgets and the space they would all take up in your kitchen. This way, with one appliance, you'll be able to achieve what you would normally need ten different ones for.

Is the food prepared in multi cooker healthy?
There's a myth that, somehow, preparing food in a multi cooker derives it of its nutrients and makes it less healthy than it would be if prepared traditionally, over a stovetop. Well, as it is often the case with the myths, this one too is easily debunked. Truth is, multi cooker will not only make cooking easy and effortless, it will also improve the quality of your meals, and preserve nutrients and flavors far better than any other method of preparing food. Thanks to non-stick coating used in multi cookers and advanced cooking technologies, such as pressure cooking or air circulation, food prepared in multi cookers needs little or no oil, allowing you to enjoy flavorful, tasty meals, without the unhealthy aspect of them. Multi cookers with pressure cooking function take healthy food preparation to another level, according to comparative study conducted by experts with the Department of Foods and Nutrition, whose results indicate higher nutrient retention in food prepared this way. Researchers at Journal of Food Science agree, since their separate study focused on different foods shoed the same results: food prepared by pressure cooking has the highest level of nutrient retention than any other, topping even steaming, which was considered as the healthiest way of cooking food.
So, in addition to helping you make delicious meals fast and without complicating the cooking process, multi cookers make sure that your meals are as healthy as they can possibly be.

What's the difference between slow cooker and multi cooker?
People often mistake multi cookers for slow cookers, presuming that they function the same way and offer same features, but it's far from the truth. Multi cookers often have slow cooker function included, along with many other features, while slow cookers are just that- a kitchen appliance that allows for slow meal cooking. Some recipes call for slow cooking, in order to fully recreate the flavor and texture of a specific meal, but, most of the time, people make meals that don't need a couple of hours to be done. Multi cookers are equipped for such recipes also, but, they offer a lot more beyond slow cooking. In addition to a variety of features, they also hold an advantage when it comes to energy consumption. Multi cookers are much more energy-efficient due to their difference in cooking mechanism, which takes a lot less time to prepare a meal and because of their insulated housing. Higher boiling temperature and, therefore, quicker preparation allow the preservation of nutrients in the meals cooked in a multi cooker, and make sure that any potential toxins commonly found at some types of food get neutralized.

How we tested
After carefully researching what are the best multi cookers on the market, we chose ten different models in order to find out which one is truly the best one for most people. With a team consisting of chefs, amateur cooks, life-long housewives and people utterly unexperienced in the kitchen domain, we managed to create a set of characteristics that an ideal multi cooker should have, in order to appeal to the widest number of users, regardless of their previous experience and skill level.
Here are the characteristics we rated during our testing, and that helped us find the best multi cooker for most people:
Size. We wanted a multi cooker that managed to prepare family meals in one take, but who also doesn't take up too much space on the counter. Even though bigger size should mean more in terms of number of people you can cook for, having to constantly put away a multi cooker to the cupboard when it's not used proved as counterproductive, since most people tend to forget about appliances that are tucked away or just dislike the fuss of constant relocation.
Materials. It quite simple, the better quality of the materials used for manufacturing the multi cooker, the longer it can be used and the less potential problems in sight. It's also important to choose multi cookers which are made of materials approved to be used for food preparation, and don't leak any toxic substances into your food.
Functions. The more features a multi cooker has, the better. Not only it will substitute more appliances, and therefore save you money and space, you'll have much more options and the ability to create a diverse meal plan, using only one kitchen appliance.
Additional features. In addition to basic functions, like saut'ing, pressure cooking, slow cooking and many different modes of food preparing, we were looking for multi cookers that give a bit extra on top, and make a multi cooker truly irreplaceable. Good examples would be remote controlling, delayed cooking start, warmer feature, etc.

Our pick: Instant Pot IP-DUO60 7-in-1

Instant Pot IP-DUO60 7-in-1
If you're looking for a premium multi cooker for a fraction of the price, look no further from Instant Pot IP-DUO60 7-in-1. This multi cooker offers a variety of features and can replace most of your appliances, and, thanks to its big 6-quart capacity, it will also prepare meals for the whole family, too. This multi cooker has 7 different functions, so you can use it for pressure or slow cooking, steaming, saut'ing/browning, as a rice cooker and a yoghurt maker, and even as a warmer. It also has 14 built-in smart programs which make preparing the meals even easier, since all it takes is to press the button to start the meal-customized program, and, to top that off, slow cooker and saut' functions have 3 temperature modes, to ensure the best results. In saut' mode you can choose between browning, simmering or thickening, and in slow cooker mode, you can adjust the temperature on three different levels, depending on the type of meal you're preparing. With a 1,000W draw, it uses almost the same or less amount of energy as a coffee maker, microwave or a food processor, but it offers so much more. And, when you add to that the fact that the preparation of the meal takes less than half the time it would take if done on the stove or the oven, you can see how it makes this multi cooker extremely energy efficient.
This made preparation of meals an extremely easy task, suited for any skill and experience level, but, the results were refined enough for even the most experienced palates. In no time, we were able to prepare a tasty and healthy meal for the whole family, from stews and soups to crispy chicken breast and pulled pork or veggies and rice.
What really makes Instant Pot IP-DUO60 7-in-1 perfect for everyday use are two of its additional features- delayed cooking timer and automatic keep-warm function. With the ability to set the cooking time up to 24 hours in advance, it makes it so much easier to plan the meals ahead and to have them ready at the most convenient time. It's especially useful if you want freshly cooked dinner after work- you can prepare the ingredients and put them in the multi cooker even the night before, and still enjoy a great meal the next day. If you want healthy breakfasts, but just don't have the time to prepare them in the morning, use the porridge making function overnight, and when you wake up, you can treat yourself with a warm bowl of healthy oatmeal porridge, topped with fruit or jam of your choice. Even if the multi cooker finishes the meal before you're home or ready to eat, don't worry, since it automatically keeps the food arm up to 10 hours after finishing them, ensuring you'll never have additionally warm up the food.
In this multi cooker, you can even make your own yoghurt from scratch, or ferment rice- it's not only able to satiate your everyday basic needs when it comes to cooking, it leaves the room for experimenting and creativity.
Instant Pot IP-DUO60 7-in-1 design isn't only easy on the eyes, it's incredibly smart- safety lid prevents opening during the preparation, but also locks the aroma and flavor inside the dish, and the use of stainless steel for both outside and inside the multi cooker, especially on the 3-ply bottom, eliminates the possibility of toxin leakage and leaves a quality, luxurious feel when it comes to the design.
Not only that Instant Pot IP-DUO60 7-in-1 is made of the finest materials that guarantee durability and safe food preparation, it also has a wide variety of different functions and features that make this multi cooker stand out, and the bargain price make it the best multi cooker for most people.

Flaws but not dealbreakers
Even though it's great that Instant Pot IP-DUO60 7-in-1 locks the aroma inside the dish, and prevents smells reach out of it, after some use, it might happen that the silicone ring under the cover retains odors, which can be unpleasant. Although it is inconvenient, you can try odor-removing cleaning methods, like baking soda and water, to get rid of any unwanted smells.
Another thing we thought needs to be improved how intuitive this multi cooker is. Even though it has 14 built-in smart programs, when it comes to manual settings for specific meals, it takes a bit of practice- which can be frustrating if you're unexperienced. If you're not sure how to manually set the parameters for a dish you want to make, visit one of the websites that offer free recipes for this multi cooker, or try to find something similar to your dish in the recipe book that comes with it.

The step-up pick: De'Longhi FH1163 MultiFry

De'Longhi FH1163 MultiFry
The De'Longhi FH1163 MultiFry is a kitchen appliance that really makes sure that each meal you make is healthy and prepared effortlessly. Air-heating mechanism allows for low-oil meals, which take little or no oil to be prepared, but taste all the same, just guilt-free. 3.3lb capacity is more than enough for making dishes that can feed your entire family, and innovative Surround Cooking System ensures that whatever dish you choose to make, gets done evenly, and stays moist and tasty on the inside, and crispy from the outside. That innovative technology is actually what makes this multi cooker extra special, since, according to researchers at Journal of Food and Nutrition Sciences who proved that oil intake is much, much less when food is prepared in air-frying multi cookers, making them leaders in the preparation of truly healthy meals.
But, even though it is revered for its fry function, making it perfect to whip up a batch of delicious French fries that are actually healthy, his features don't stop there. From risotto to curries and stews, ratatouille and couscous, this multi cooker can do it all, thanks to its automatic mixing paddle that does all the mixing for you and ensure that the dish is perfectly made. But, to make things even better, De'Longhi FH1163 MultiFry can also cook meat and fish and even bake pies and pizza, when you remove the paddle. This truly makes it a versatile multi cooker, with virtually endless possibilities for meal preparing, since it covers everything from frying to cooking and baking.
Clear lid makes it easy to monitor your dish, without having to interrupt the process or get an unpleasant surprise when you open the multi cooker. Both the lid, bowl and the paddle are easily removable and dishwasher safe, which makes it incredibly easy to maintain this multi cooker buildup and odor free. Even though the outside of the multi cooker is made out of sturdy plastic, which isn't the best choice of material for the multi cooker's shell, everything that comes in contact with the food, like bowl and paddle, is coated with non-stick ceramic, making it easy to wash and safe for food preparation, The clear lid is no exception, and it's completely BPA free.
With 1,400W power draw for both heating elements, it has bigger power consumption than our top pick, but, it also finishes in record time, which still makes it an energy-efficient appliance.
We loved that De'Longhi FH1163 MultiFry has its own free app for both iOS and Android, which is the perfect place to find customized recipes for this multi cooker, which makes it great for people who don't have much cooking experience or want diverse dishes every day and hate to repeat the same ones throughout the week.
However, one thing De'Longhi should have considered is the delay start timer, but, even without this feature, FH1163 MultiFry is still a tough one to beat.

The budget pick:3 Squares 3RC-3010S Time Machine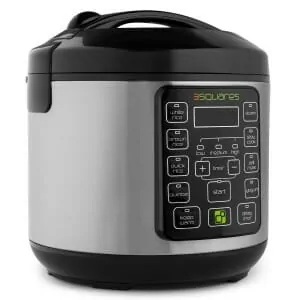 3 Squares 3RC-3010S Time Machine
In case you have a limited budget, 3 Squares 3RC-3010S Time Machine can be a great choice for you. The price does affect the features this multi cooker offers, but it's still a great multi cooker for smaller families, with its 4-quart capacity.
This multi cooker acts a rice cooker and a slow cooker, but you can also steam food and make yoghurt in 3RC-3010S TIM3 MACHIN3. Unfortunately, the price tag doesn't come with a saut' and browning option, so you'll have to rely on slow cooker setting when you want to prepare dishes with meat. However, saut' feature aside, the functions of this multi cooker are quite impressive when you consider its low price. When it comes to rice, it's unbeatable, with separate settings for brown, white and quick rice, making rice fast and keeping splendid texture and taste. We especially loved its quinoa function. This super food may be healthy, but the taste needs a few tricks in order to impress, and 3RC-3010S TIM3 MACHIN3 transforms quinoa from bland to mouthwatering with unique method of preparation, which includes multi cooker toasting the quinoa before cooking. It's really handy that you can use steamer rack while preparing any of these grain dishes, to simultaneously steam veggies or meat and prepare a healthy wholesome dish in no time. Delayed start timer that can be set up to 15 hours in advance and warmer feature, combined with oatmeal function, make it a great solution for overnight oats and a healthy breakfast.
It's great for beginners, not only because of recipes that are available online, but because of Fuzzy Logic 2.0 sensor which monitors the cooking process and automatically adjusts the temperature. With stainless steel used for making this multi cooker and non-stick finish, it's durable and reliable to use, and 900w heating element draws little power, which makes this multi cooker incredibly energy-efficient.
For couples or small families under 4 people, this budget multi cooker can be a great choice, that won't disappoint but won't be a hit on the budget, either.

Competition
Best multi cooker for camping


SPT SS-301
SPT SS-301 is a versatile multi cooker advertised for its unique feature that enables you to make Shabu Shabu, a traditional Japanese dish. But, it's not Shabu Shabu feature that makes this multi cooker perfect for camping, it's its sturdy built and variety of useful features, especially when you're on a camping trip. Transparent tempered-glass lid and stainless steel pot and base make this multi cooker a reliable and durable choice, and functions for steaming, simmering, cooking and grilling. It's perfect for BBQ when camping or a nice, warm stew. 3-quart stainless-steel pot isn't suitable for big crowds, but for smaller families, it will be a great choice, and the additional easily washable accessories will make it an instant camping favorite. When you're at home, you can also use this multi cooker for a variety of dishes, and if you love Asian cuisine, you'll love experimenting with this multi cooker too.
Best multi cooker for college students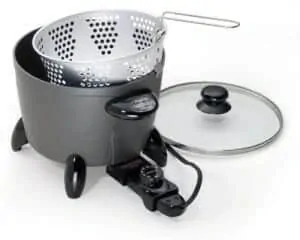 Presto 06003
If you are, like most college students, low on time and funds, Presto 06003 can help you save money and time on healthy, delicious dishes. When you are overwhelmed by classes and finals, you're bound to end up on instant noodles, but, with this multi cooker you can have healthy meals on your tables in no time, and still save money that you would spend on take out. Heavy-cast aluminum and non-stick surface prevent the dishes from burning, and they're easily washable. Capacity of max 6-quarts is great if you want to cook for more people, but you can use it easily even when cooking for one. With this multi cooker, you can steam, roast, make stews, deep-fry and cook rice. The facts that it's easy to use and dishwasher-safe makes it a perfect choice for busy college students that still want to eat healthy and delicious food even when they're far from home.
Best organic multi cooker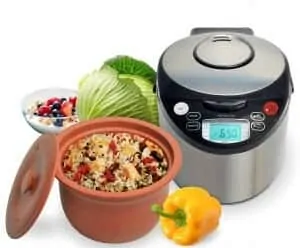 VitaClay VM7900-8
The VitaClay VM7900-8 is unique because of the unglazed clay pot it uses for preparing food. The fact that the bowl is made from clay makes their choice of materials organic and most natural out of every multi cooker we tested, since the only thing coming in touch with your food is the unglazed Zisha clay bowl. This allows great nutrient retention and heightened flavor of the dishes, and 7 function settings covers almost any dish you would make. It has a delayed timer that can be set up to 5 hours in advance and warmer feature, so you can program it to finish your meals when it's the most convenient for you. Operating as a slow cooker, rice cooker and a yoghurt maker, VitaClay VM7900-8 offers an organic, natural twist to the multi cooker market, using natural materials that have great results when it comes to preparing delicious, flavorful meals that retain the optimal amount of nutrients. 6-quarts capacity will be more than enough to prepare healthy meals for your whole family, and 1000-Watt energy draw can only cut down your energy bill.
Best multi cooker for large families

Cuisinart MSC-800
Whether you have a large family, or frequently cook for lot of people, Cuisinart MSC-800 is the right choice for you. With its 7-quart capacity non-stick cast aluminum cooking pot, it's bound to irreplaceable in big families or during the holidays. Both the cooking pot and the lid are dishwasher-safe which makes it easy to clean it, and delay timer and automatic warmer make it incredibly easy to use. This multi cooker can transform cooking for large families into an effortless task, due to its easy maintenance and useful functions. Slow Cook function can be programed to cook up to 24 hours, and in three different modes, and with the Roast function that can be used up to 6 hours, you can easily create the perfect holiday meal. You can also saut' and brown in this multi cooker, as well as steam, and the easy one-touch function allows you to easily change in-between different modes of preparing when needed. Energy draw of 1800-watt is higher than our other contenders, but, when we consider the amount of food that can be prepared in this multi cooker, it's still not a lot.
Best multi cooker for a modern kitchen

KitchenAid KMC4241CA
We agree that design isn't everything, but in KitchenAid KMC4241CA it sure makes you fall in love as soon as you see it. But, this multi cooker doesn't only boast great design that will beautify any kitchen, it is also a very useful and efficient kitchen appliance. It has over 10 built-in settings that make it a versatile multi cooker, and it can sear, saut', simmer, boil and steam, slow cook on two different temperature modes, make yoghurts, risotto, soups and stews, and to top it all off, delayed timer and warmer feature make it easy to plan you meals ahead and always come home to a nice, warm meal. Even though it's already easy to use, you can buy additional accessory- Stir Tower, which even takes care of stirring for you. Tempered-glass lid and non – stick CeramaShield pot are first-class materials, so this 4-quarts multi cooker with a 700 Watts power draw will be durable and cost-efficient.
Best robotic multi cooker

Gourmia GCR-1700
The Gourmia GCR-1700 offers the latest technology trends applied to a multi cooker. With the 10 built-in functions you can grill, bake, steam, saut',stew, stir fry, slow cook, roast, pan fry or make sauces, all without having to monitor the process. Top mounted self-operating stirrer is perfect for making risotto, stews or even scrambled eggs, without any effort needed- robotic functions in this multi cooker take care of everything for you, even stirring. Automatic air circulation allows for even cooking, making the inside moist and delicious and the outside crispy and tasty. Thanks to the air-frying technology, dishes need little or no oil to be prepared which makes them really healthy.
Best smart multi cooker

Instant Pot IP-Smart
Revolutionizing the multi cooker technology, the Instant Pot IP-Smart is a Bluetooth-enabled multi cooker that offers the possibility of programing and monitoring cooking via your smartphone or tablet, with a free app available for both iOS and Android.
With 14 built-in smart programs and 6-quarts capacity cooking bowl, there really isn't much you can't do with this multi cooker, and, to make things better, you can remotely control it via Bluetooth. The app has recipe scripts that program the multi cooker for a specific recipe, and, hat's even better, you can enter your own recipe scripts or modify them to be more suitable to your taste.
Wrapping it up
Multi cookers are a great option if you want to de-clutter your counter and save money and time when preparing meals. They can substitute a wide variety of different kitchen appliances, and create delicious, healthy dishes in much less time. Instant Pot IP-DUO60 7-in-1 with its affordable price and variety if useful functions is the best multi cooker for most people, that offers best features for the best value. If you're willing to spend some extra money, De'Longhi FH1163 MultiFry will cover all your needs from frying to slow cooking, and the air-frying mechanism will dramatically cut down your oil use. When you are on a tight budget, or need a multi cooker with a smaller capacity, 3RC-3010S TIM3 MACHIN3 is the right choice for you.
Jen Miller is a former electrical engineer and product specialist with more than 20 years of product design and testing experience. She has designed more than 200 products for Fortune 500 companies, in fields ranging from home appliances to sports gear and outdoor equipment. She founded Jen Reviews to share her knowledge and critical eye for what makes consumers tick, and adopts a strict no-BS approach to help the reader filter through the maze of products and marketing hype out there.  She writes regularly and has been featured on Forbes, Fast Company, The Muse, The Huffington Post, Tiny Buddha and MindBodyGreen.