Nothing beats a full English breakfast on a Sunday morning. Eggs sunny-side up (or scrambled, if that's your thing!), juicy charred tomatoes, sauteed mushrooms, ham or bacon and sweet yet savory baked beans! But for a typical day, baked beans and toast alone already makes for a satisfying breakfast, easy and quick enough to whip up before work.
Only thing is…canned baked beans are chock-full of preservatives, coloring and copious amounts of sugar and salt. It's not really the kind of thing you want to eat on a regular basis. But homemade baked beans? Now that's a different story altogether. Beans are a great source of protein, fibre and magnesium. They shouldn't be something we eat only to feel guilty about after.
Hence, this recipe for bacon and chili baked beans is exactly the kind of thing you want to keep in your recipe arsenal. Whip up a huge batch, portion and freeze, and you can have exactly the convenience of canned baked beans, without the guilt! Brought up a notch with some deliciously fatty bacon and a touch of spice, baked beans will never be something you buy from the grocery store again.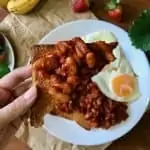 Bacon And Chili Baked Beans From Scratch
Total Time
1
hour
10
minutes
Ingredients
2

cans haricot / navy / cannellini beans

1

can tomato paste

1

large yellow onion

2

cloves

of garlic

8

strips of streaky bacon

3

tbsp

sugar

1

tsp

salt

1

tsp

chili powder

½

tsp

black pepper
Instructions
Dice the onion, mince the garlic, slice the bacon and drain and rinse the beans.

Saute the bacon for 5-6 minutes.

Add in the onion and garlic and continue sauteing.

Sprinkle in the chili powder.

Pour in the tomato paste.

Add in the beans and simmer covered for an hour.

Serve immediately or let rest overnight for better flavor development.
STEP ONE – PREP THE INGREDIENTS
Start by draining and rinsing your beans. If using dried beans, soak for 24 hours and boil till cooked through but not mushy. Roughly slice the bacon but not too finely as you still want some of the texture. Dice the onion and mince the garlic.
STEP TWO – SAUTE THE BACON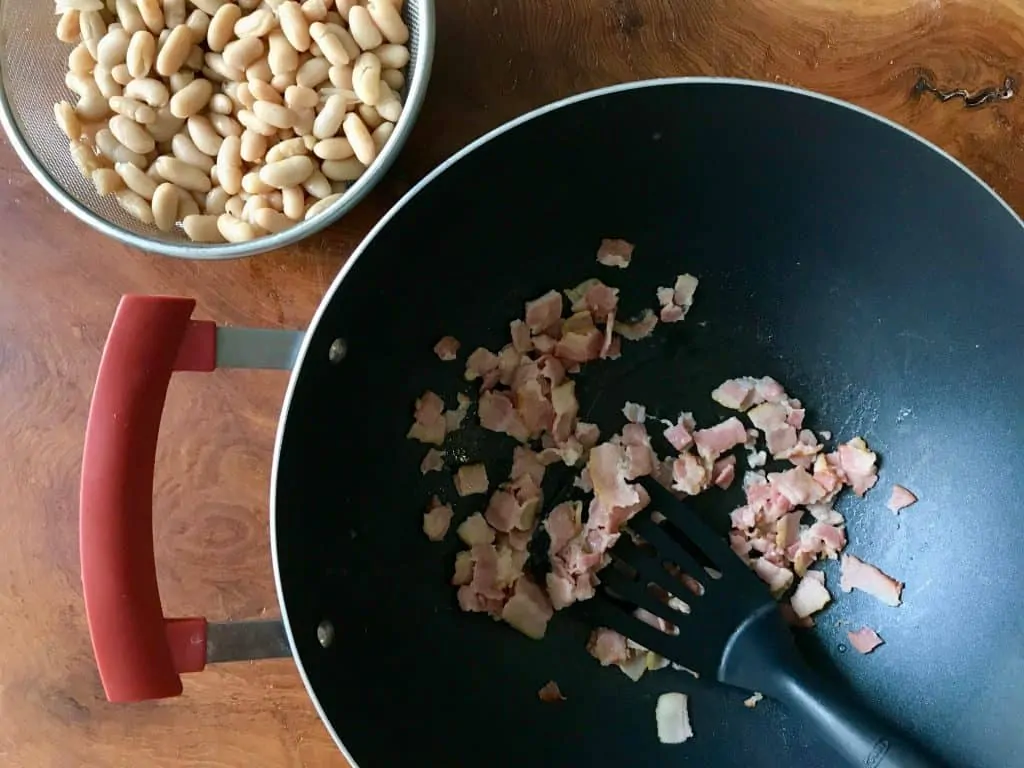 In a cold pot or wok, start by sauteing the bacon to render out some of the fat. No need to add any oil here, just bring the pot up to a medium-high heat and saute for 5-6 minutes. The bacon doesn't need to crisp up as you'll continue cooking it along with the aromatics later.
STEP THREE – SAUTE THE ONION AND GARLIC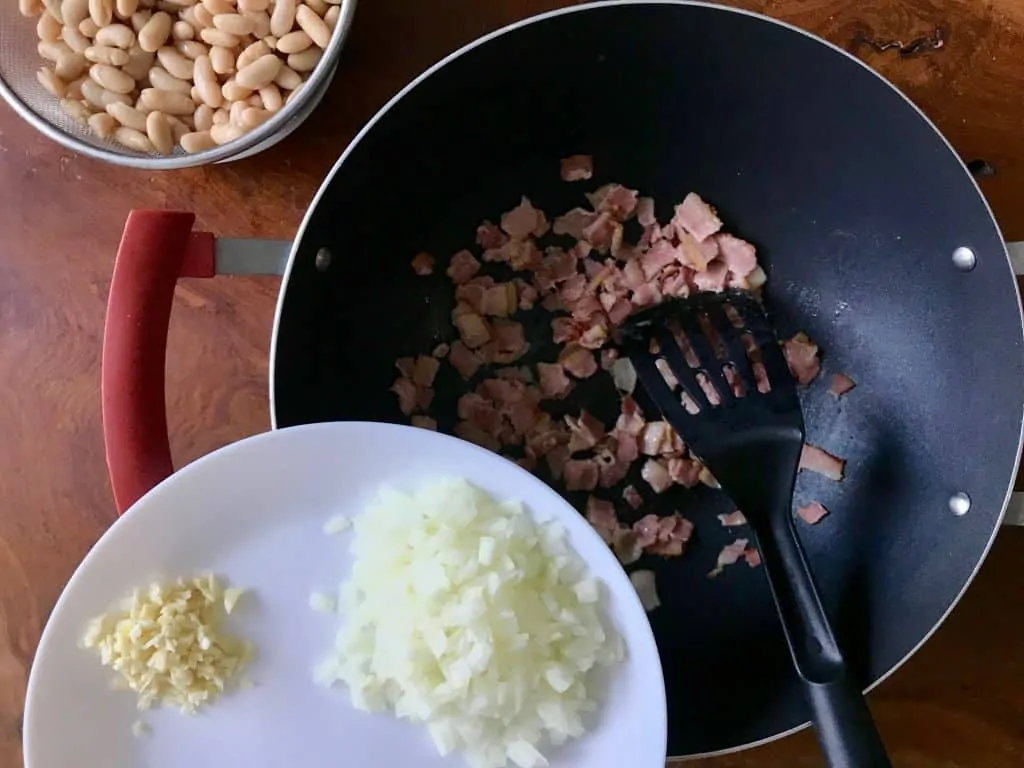 As you can see, the bacon has shrivelled considerably and taken on a little color. At this point, toss in the onion and garlic and continue sauteing on medium-high heat till translucent and aromatic. About 4-5 minutes or so.
STEP FOUR – SPRINKLE IN THE CHILI POWDER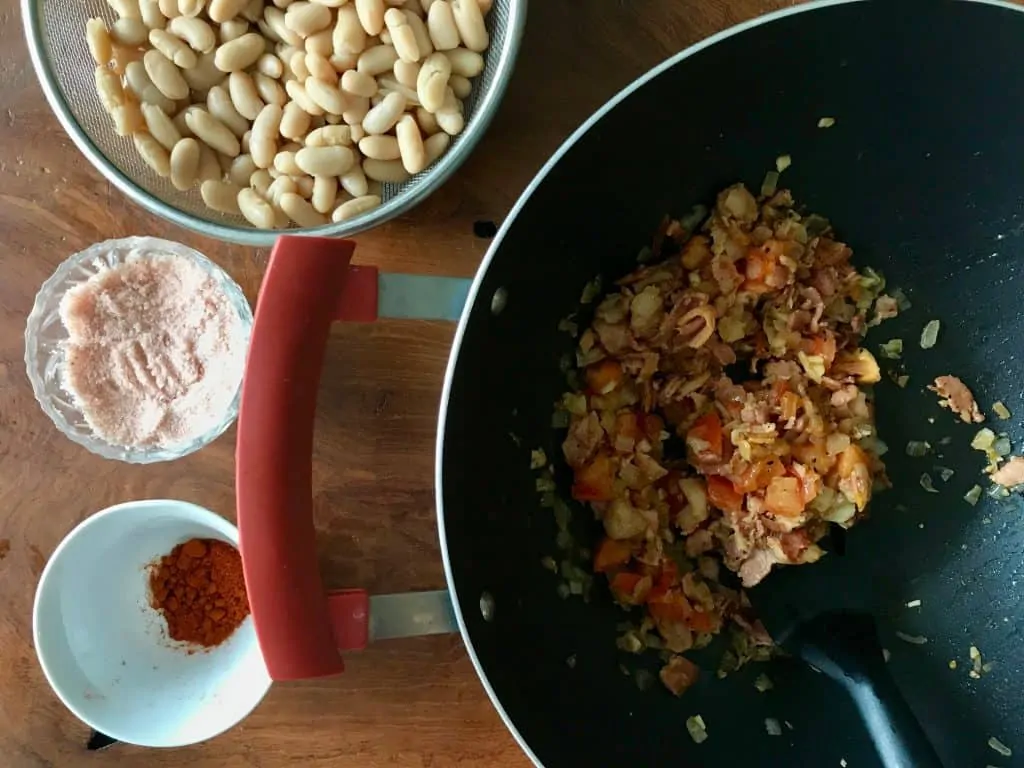 Add in a pinch of salt and chili powder. I chopped up a lonely overripe tomato I found in my fridge and chucked it in here but feel free to leave this out. If you'd like to add any other seasonings at this point, now's the time to do so so that you can extract the full aroma, but leave the rest of the salt and sugar for later. Be careful not to oversalt as the beans and bacon are fairly salty on their own.
STEP FIVE – POUR IN THE TOMATO PASTE
Pour in the can of tomato paste and using the same can, fill ¾ of the can with water and add it in as well. This way, you get all the residual paste at the bottom and sides of the can. On a medium-low heat, cook for 5 minutes before adding in the beans. Take note not to use diced tomatoes or peeled tomatoes as the end result will be very different from that smooth consistency akin to say, Heinz baked beans.
STEP SIX – ADD IN THE BEANS AND LET SIMMER FOR AN HOUR
Pour in all the beans at once. Bring to a boil and let simmer for an hour, COVERED. The tomato paste will splatter like mad all over the kitchen so make sure you keep the lid on, ever so slightly uncovered. Stir every once in awhile to keep the beans from sticking to the bottom and burning.
10 minutes before it's ready, add in the sugar and salt, seasoning to taste.
STEP SEVEN – SERVE FOR BREAKFAST!
Toast? Check. Runny eggs? Check. Baked beans? Check!
Serve the baked beans straightaway or even better, let them rest in the fridge overnight to allow the flavors to really meld and get to know each other properly. They'll taste even more phenomenal the next day.
FINAL THOUGHTS
Making your very own pantry staples is a skill unto itself. Bread, canned stuff and even butter or yoghurt makes for a unique gift. Just remember to label them and remind the recipient to put them in the freezer!
On another note, don't be put off by the amount of sugar in the recipe which may seem like a lot for a savory recipe. It's necessary to balance out the acidity of the tomatoes. Plus, it's nothing compared to the amount of sugar in standard canned baked beans!
Try out this recipe and let us know what you think! Even better, try your hand at making bread from scratch to go with the beans, this rustic rosemary sourdough bread is the perfect accompaniment!
Jen Miller is a former electrical engineer and product specialist with more than 20 years of product design and testing experience. She has designed more than 200 products for Fortune 500 companies, in fields ranging from home appliances to sports gear and outdoor equipment. She founded Jen Reviews to share her knowledge and critical eye for what makes consumers tick, and adopts a strict no-BS approach to help the reader filter through the maze of products and marketing hype out there.  She writes regularly and has been featured on Forbes, Fast Company, The Muse, The Huffington Post, Tiny Buddha and MindBodyGreen.