On cold and rainy nights, or if I am just craving comfort food, my go-to recipe is spaghetti and meatballs. There's nothing like homemade meatballs and spaghetti sauce, it comforts and warms. For those out there who are looking for a leaner option, or if you simply don't eat beef, this recipe might be for you. These meatballs are a healthier option to their beef counterpart…but then I added cheese. So if you want to keep it healthy, omit the gooey cheese center of these meatballs, and if you want a little mozzarella surprise in your bite, definitely follow this one closely.
I used gluten-free noodles made with quinoa for my pasta, so if you are gluten-free, this recipe will accommodate you, just make sure your oats are also processed gluten-free. If you have time to make your own spaghetti sauce, it always makes the dish a little better with the extra time and love. I've included an easy but delicious sauce recipe that you can tailor to your tastes.

Mozzarella Stuffed Turkey Meatballs with Spaghetti
Ingredients
Meatballs
1

lb

ground turkey

1

Ball fresh mozzarella cheese

1

Egg

¼

cup

tomato puree

¼

cup

oats

½

Onion

Basil

Oregano

Salt

Pepper

Olive oil
Spaghetti Sauce
½

Green bell pepper

½

Onion

1-2

Cloves

of garlic

32

oz

Tomato puree

¼

cup

red wine

optional

Basil

Oregano

Red pepper flakes

optional

Salt

Pepper

1

Package spaghetti noodles

I use gluten-free
Instructions
Meatball Instructions
Chop the onion, basil, and cut mozzarella into ½ inch cubes.

Place ground turkey in a medium to large bowl.


Add egg, tomato puree, oats, onion, and spices to the turkey.

Mix all ingredients together with hands.


Heat oil on a non stick frying pan.


Roll meat mixture into balls, insert mozzarella.


Brown on all sides, then place in baking dish. (Begin spaghetti sauce now)


Bake meatballs in a baking dish in a preheated oven at 350 degrees for 10-15 minutes.

Spaghetti Sauce Instructions
Puree bell pepper, onion and garlic in a blender (you can also use a hand mixer).


Reduce the puree in a medium pot on the stove on medium heat.


Add tomato puree, wine and spices to the pot.


Cook on a low boil 15 minutes until well combined.


Serve noodles with meatballs and sauce on top.

STEP ONE – CHOP THE ONION, BASIL, MOZZARELLA
Chop the onion finely. Use either dried basil or for better results, chop fresh basil. Cut the mozzarella into ½ inch cubes and set all these ingredients aside.
STEP TWO – PLACE GROUND TURKEY IN BOWL
Place the ground turkey in a medium to large bowl. If the turkey has only gone through the grinder once, you may want to mix it up a bit with your hands.
STEP THREE – ADD EGG, TOMATO PUREE, OATS, ONION, AND SPICES

Add the egg, tomato puree, oats, chopped onion, and all of the spices to the turkey.
STEP FOUR – MIX ALL INGREDIENTS

Here's where you have to get a little messy. Mix all of the ingredients together with your hands until well combined. Make sure that the egg is really combined with the rest of the ingredients, this is what will hold the meatball together when you cook it.
STEP FIVE – HEAT OIL IN FRYING PAN

Heat about 2 tablespoons of olive oil in a large non stick frying pan over medium-high heat.
STEP SIX – ROLL MEAT INTO BALLS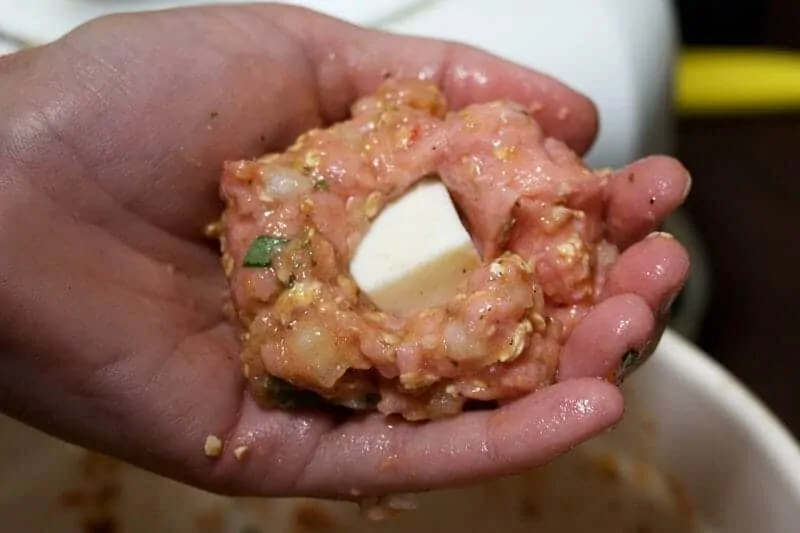 Take a small handful of the meat mixture in your hand and roll it into a ball. Using your thumb, push an indent into the ball and insert the mozzarella. Pull the meat mixture up and around the mozzarella until it is completely covered. Add more meat if you need to.
STEP SEVEN – BROWN THE MEATBALLS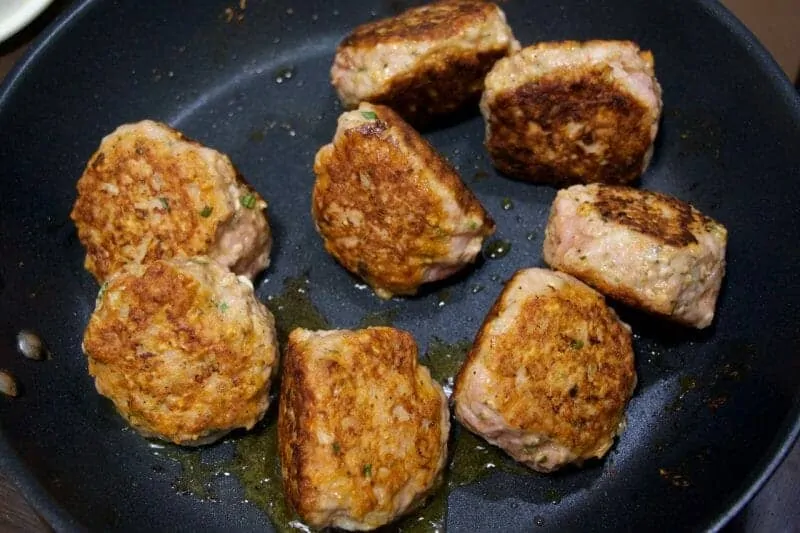 Brown the meatballs on all sides, adding as many as you can to the frying pan and turning them about every 2 minutes. Once browned on all sides, place in a baking dish. This is when you will want to begin to make the spaghetti sauce. You can set the meatballs aside while you prepare it. If you are making your own sauce, save step 8 until just before you boil the noodles in step 13, they only need about 15-20 minutes to bake.
STEP EIGHT – BAKE MEATBALLS

Place the meatballs in a baking dish and cover it with foil. Bake them in a preheated oven at 350 degrees for 15 minutes. (The larger the meatball, the more time they may need to bake.)
STEP NINE – BEGIN SPAGHETTI SAUCE

Puree the bell pepper, onion and garlic in a blender or use an immersion blender.
STEP TEN – REDUCE THE PUREE

Heat 2 tablespoons of olive oil in a medium pot on the stove over medium heat. Reduce the puree mixture until there is very little moisture in it, stir occasionally. This should take about 10 minutes.
STEP ELEVEN – ADD TOMATO PUREE, WINE, & SPICES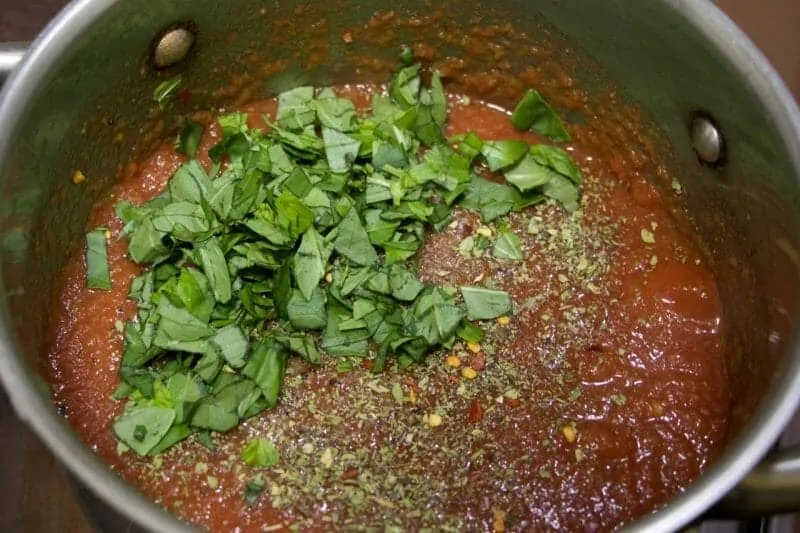 Add the cans of tomato puree, the wine, and the spices to the pot and stir to combine.
STEP TWELVE – COOK UNTIL COMBINED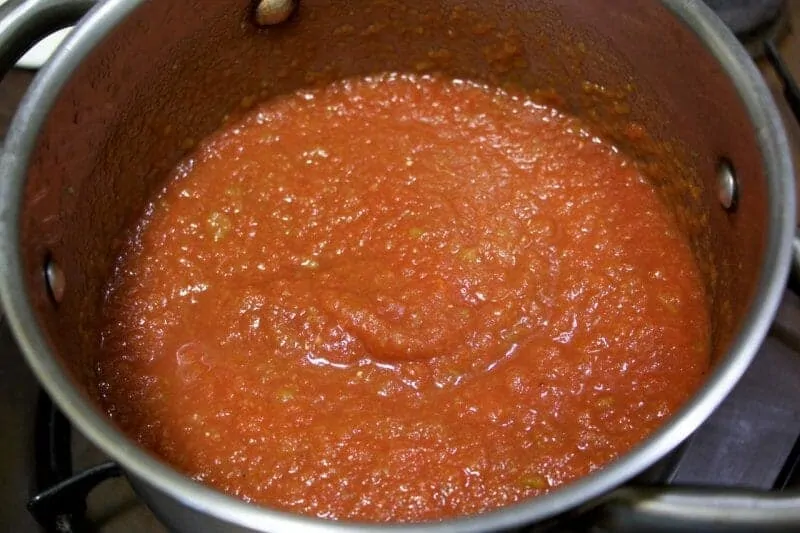 Cook the sauce on a low boil for about 15 minutes until well combined and thickened. At the end of this process, you can put the meatballs into the oven (see step eight).
STEP THIRTEEN – BOIL NOODLES

Boil the noodles in salted water. If you are using gluten free noodles, I've found it is helpful to add a couple drops of olive oil to the water to keep the noodles from sticking to each other.
STEP FOURTEEN – SERVE AND ENJOY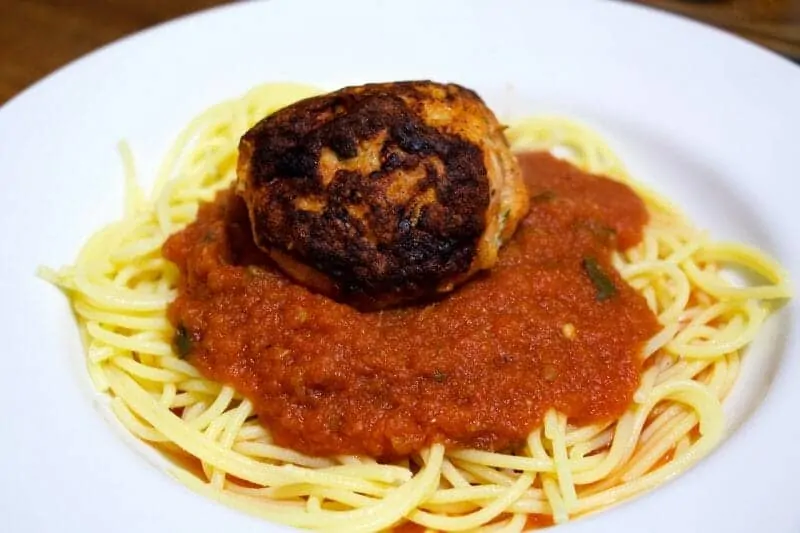 Serve, placing the noodles in a bowl with meatballs and sauce on top.
Meatballs don't always have to be served with spaghetti noodles and sauce. I often make meatballs and take them to parties for an appetizer. You can serve them with gravy or pasta sauce for dipping. You can also make meatballs and put them between two slices of bread with more mozzarella cheese, some tomato sauce, and basil for a delicious and messy meatball sandwich. They are a much more versatile food than you'd think.
The sauce recipe may take a couple times before you get it to the flavor and texture perfect for you. We find that if we don't reduce the sauce enough, it can be too wet and thin. We prefer a thicker sauce. If you absolutely love garlic, you may want to add an extra clove or two to the recipe, and I've found you can never have too much bell pepper! The longer you have to cook the sauce, the more the flavors will come out in it.
For a dinner party, serve this dish with a large green salad and garlic bread. Don't forget the red wine!