Are you looking for that perfect food combo to impress your friends and even yourself ? One of the best things I've ever tried is the combination of carrots with hummus. I decided to take it to the next level by playing with the ingredients a bit. Today I did fresh thyme hummus topped with roasted garlicky carrots and chimichurri sauce. A love story that I will tell you more about in the next paragraphs.
I really like tweaking recipes and do them in my own style. Usually I use all the products that I love and all the things that created a good memory in my food past. I've created a special place in my head for meal "souvenirs" and I often go there to find something that blew my mind while I was learning about cooking.
Using fresh herbs is one of the first things that actually made me fall in love with preparing food from scratch. They really can transform a meal and it shows that the chef actually cares about the final result.
My favorite fresh herb is the thyme. Its smell can be felt far away. When you use it in cooking, and it's heated up….. Then it's something else – it fills up the rooms of your home with that fresh herby smell that makes you hungry straight away. It's great in sauces, roasted vegetables, salad dressings, marinades etc. Today I used it for my homemade hummus.
I love hummus, it's been one of my best friends since I started eating lots of vegan food. It's so nutritious and so versatile. It goes best with vegetables – raw or roasted, completely up to you. But if you want to bring that extra flavour to your plate – roast them with some herbs, a good olive oil, some sea salt and some garlic. This will make you want to have that kind of food much more often. You can really forget that meat exists after trying something so full of flavour.
The chimichurri sauce is something that I learnt from an Argentinian chef in the first restaurant I've worked, ten years ago. I tried it with beef steak and it blew my mind. This will be a sauce that I will often have on my table. So vibrant and fresh, combines so well with roasted carrots. I will show you how to do it in just a sec.
To cook that meal you will need exactly 45 minutes.The prep is exactly 5 minutes, so in 50 minutes you should be done. I will give you the ingredients in order to prepare 2 servings of it.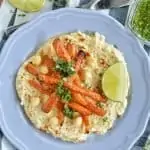 Fresh Thyme Hummus with Roasted Carrots and Chimichurri Sauce
Ingredients
For the hummus:
400

gr/2 cups of cooked chickpeas

1

tbsp

of tahini

1

tsp

of fresh lime juice

2

cloves

of garlic

A pinch of oregano

A pinch of fresh thyme

A pinch of salt

3

tbsp

of olive oil

½

cup

of water
For the roasted carrots:
5-6

medium sized carrots

6-8

sprigs of thyme

A pinch of salt

A pinch of smoked paprika

1

clove

of garlic

1

tbsp

of olive oil
For the chimichurri sauce:
2

tbsp

of olive oil

2

tbsp

of vinegar

1

tsp

of chopped spring onions

1

tsp

of chopped parsley

1

tsp

of chopped fresh thyme

1

tsp

of dry oregano

1

clove

of finely chopped garlic
Instructions
Cut the carrots in 4 pieces, cutting them into strips (the long way, they should look like big french fries)

Place them in a baking tray and toss them around with the thyme, salt, paprika, finely chopped garlic and olive oil.

Bake in the oven, set to 400 F, for about 40 minutes.

While the carrots are being cooked you can prepare the hummus and the chimichurri sauce.


Let's start with the hummus.

Put all the ingredients for the hummus, mentioned above, in a blender and blitz until smooth - it should take about a minute.


Now when your hummus is ready, leave it covered with cling film, so it doesn't become dry while the carrots are cooking. Keep it in the fridge - the hummus is delicious when a bit cold.

To prepare the chimichurri sauce, you need to mix all of the ingredients in a small plate until well combined.


Now, when the carrots have been taken out of the oven, you are ready to serve.


Start with the hummus and top it up with the roasted carrots, some cooked chickpeas, a wedge of lime and pour some of the chimichurri sauce over your plate. Adding some paprika powder on top is optional, but trust me it really enhances the flavour of the hummus.

STEP ONE – PREP THE CARROTS
Cut the carrots into long stripes.
STEP TWO – ROAST THE CARROTS
After you've done that, it's time to get the carrots ready for the oven. Put them in a baking tray and toss them around with the fresh thyme, salt, paprika, finely chopped garlic, fresh thyme and olive oil. Bake them in the oven, set to 400 F, for about 45 minutes.
STEP THREE – PREP THE HUMMUS
While the carrots are cooking in the oven it's time to prepare your fresh thyme hummus.
Add the chickpeas, lime juice, water, garlic, oregano, fresh thyme, tahini, salt and olive oil to a blender or a food processor and blitz until smooth – it should take a minute.
STEP FOUR – PREP THE CHIMICHURRI SAUCE
Now you can prepare the easiest part of this meal – the chimichurri sauce.
You need to finely chop all the fresh herbs, the garlic and mix them with the olive oil, dried oregano and vinegar, in a small bowl.
STEP FIVE – SERVE
When the carrots are ready and out of the oven, you can start serving.
Start by spreading the hummus around a flat plate and top it with the roasted carrots, some chickpeas and pour over some of the beautiful chimichurri sauce. Enjoy!

If you are not such a huge fan of garlic, you can always remove it from the recipe or use just 1 clove in the hummus.
Another way to tweak my recipe is to put some beetroot in the hummus – another perfect combo with a gorgeous purple colour. You can also add some roasted cherry tomatoes on top.
I kept it a bit more simple, as I started in the beginning – this is a love story between the carrots and the hummus and I kept it this way. The thing that sends them far away from ordinary is the fresh thyme and oregano in the hummus and the Argentinian chimichurri sauce.
What's your favourite food combo and how do you like transform it into something special? Let us know in the comment section below.
See you soon!