Salmon is a very versatile fish so you can use several modes of cooking to prepare it.  In this recipe I decide to go the easy way but also a super delicious way so I used my slow cooker.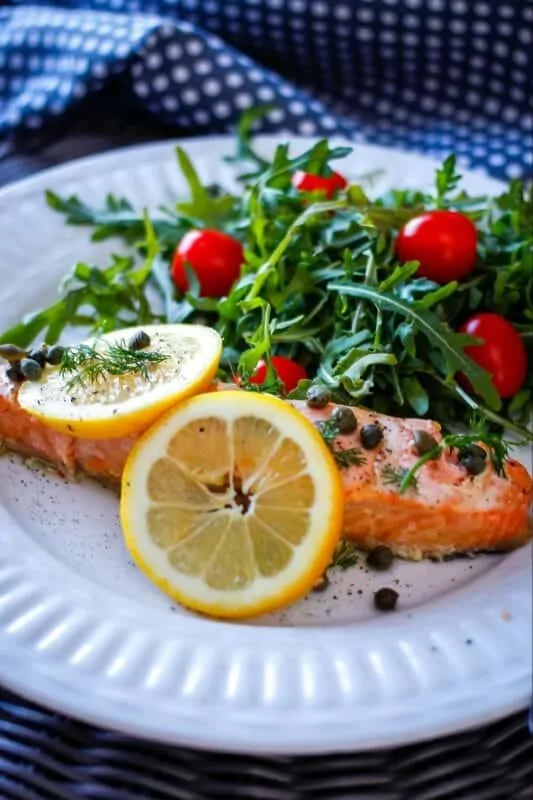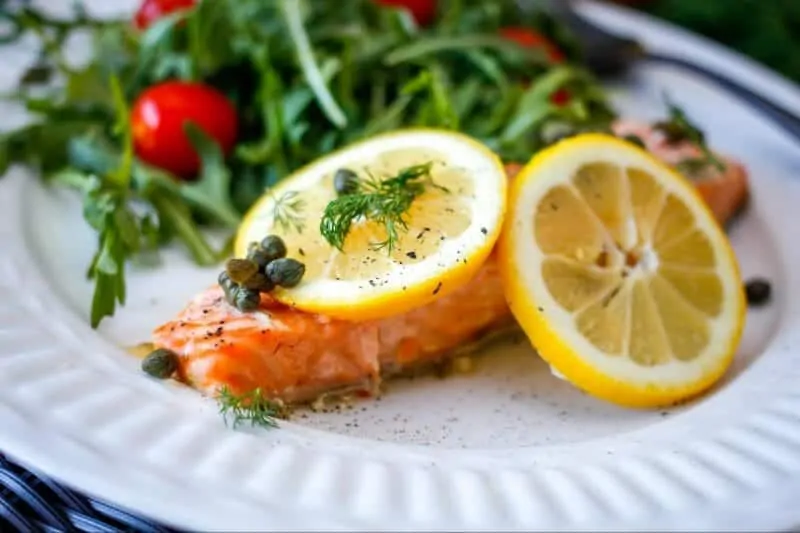 But first here's some tips :
As is the case for all fish, freshness is essential. Fresh fish should give off a slight smell of cucumber and, most importantly, never smell of ammonia. The flesh of the fillets or steaks must be tight, soft and show no sign of drying. The belly and fins of the whole fish sold must be intact, his eye bright. The body should be stiff and bulging, and the stomach firm.. Ideally, it will be purchased the same day it is delivered to the retailer. Never refreeze salmon once it has been thawed. If sealed, the salmon can be refrigerated for up to two days. For freezing keep the frozen salmon in an airtight container and ideally consume it within a month.
Leave the salmon skin on the fillets during cooking. It will be easier to return them without breaking them and without the flesh getting rid of. If you wish, remove the skin before serving.
It's so satisfying to be able to mix ingredients in a crock pot and the result turns out to be delicious and satisfying. Add to that the fact that you can serve this recipe in many ways ( in rice, in a tortilla, with vegetables, ETC.) and you have a tasty and super practical dish.
Preparing meals in the slow cooker offers various benefits. At first, you put all the ingredients and then you start the device. Another advantage of the slow cooker is to reduce the number of utensils used and, consequently, the chore of cleaning. No need to use the roasting pan, two or three pans. The slow cooker will do all the work in your absence. And you only have to clean it …
Remember, however, that the slow cooker is getting very hot. Place it on a fairly large a cutting board or baking sheet. If your countertop is granite or marble, a material used more frequently in modern kitchens, you can place it directly on it.
The slow cooker is really ideal for a perfect salmon. It is halfway between steam and poaching cooking, a great discovery! If you are not comfortable cooking fish, this technique is for you. I don't think it's possible to miss your recipe if you cook your salmon in the slow cooker.
As this recipe is really versatile, you can use the ingredients described below but you can also improvise and season as you want: herbal mix, curry paste, citrus fruit, etc. Also if you don't have chicken broth on hand just put white wine or even water.
I advise you to check the cooking of the fish after 2 hours of cooking. Then, at half-hours. Because the cooking time varies depending on the thickness of the fillet and the crackpot you use.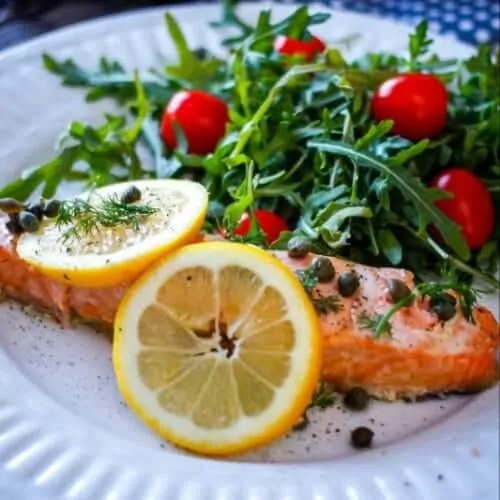 Salmon Slow Cooker Recipe
Total Time
3
hours
10
minutes
Ingredients
1

or 2 salmon fillet depending on the size

2

lemons

1/2

cup

of chicken broth

2

tbp of fresh dill

2

tbp capers

Salt and pepper
Instructions
Cut 1 lemon into thick slices and place in the bottom of the slow cooker. Pour the chicken broth wine into the slow cooker. Place the salmon fillet on the lemon slices. Salt and pepper to taste.

Cut the remaining half lemon into thin slices and place on the salmon.

Sprinkle with the dill, and add capers.


Cover and cook on high lightly about 2 hours or until salmon flakes with a fork.
Step One – Prepare all your ingredients
Prepare all the ingredients you will need for the recipe.
Step Two – Add lemon and Salmon
Slice the lemon, dispose enough slices in the bottom of the slow cooker and place salmon on top .
Step three – Add more Lemon slices
Add more slices of lemon on top. Sprinkles with dill and capers.
Step Four – Add the chicken broth
Add the chicken broth in the slow cooker and start at high temperature . Cover and cook for about 3 hours.
Step five – Setting on a plate
Place the cooked salmon on a plate, add 2 slices of lemon on top. Serve with a salad
The benefits of salmon
Salmon is a fish with pinkish-orange flesh that belongs to the family of salmonids. It's considered a fatty fish although its lipid content varies significantly depending on the species. The impact of oily fish consumption on reducing the risk of cardiovascular disease and mortality from coronary heart disease is now unanimous among researchers. Studies have also shown that people who eat more fish have less depression and are less likely to have Alzheimer's disease. Other studies have shown a beneficial relationship between fatty fish consumption and decreased incidence of arthritis.
Salmon is also  an excellent source of two fatty acids in the omega-3 family. These act as precursors of chemical messengers favoring a good immune, circulatory and hormonal functioning.
Salmon is an excellent source of complete protein as it contains nine essential amino acids. Proteins are used to form digestive enzymes and hormones, as well as to form, repair and maintain tissues such as skin, muscles and bones. In addition, several animal studies have shown that the consumption of fish protein, in this case cod protein, would improve insulin sensitivity and increase glucose uptake by the body. It should be noted that studies in humans have just been completed and confirm these results.
About The Author
Sophie is a recipe developer who specializes in helping families get healthier one small step at a time by creating easy, delicious healthy recipes. She styles and photographs recipes for her website nobletandem.com, as well as contributes to a variety of websites. In her free time, Sophie enjoys traveling, hiking and bird watching.