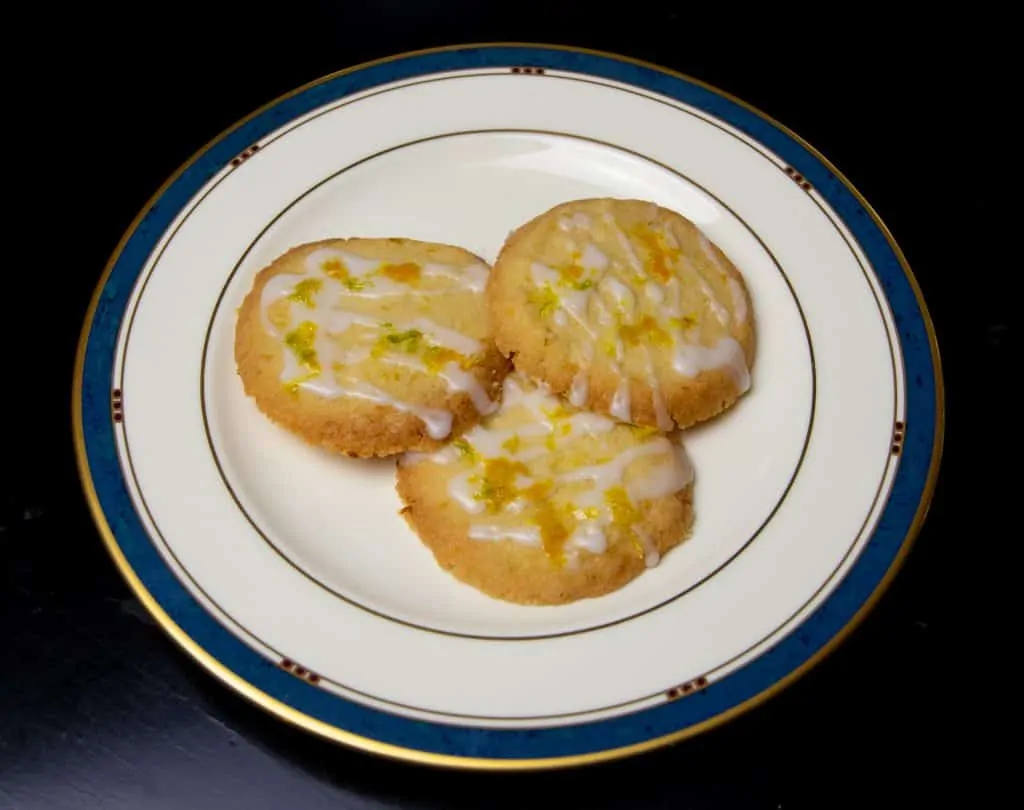 Shortbread cookies are one of those no muss, no fuss kind of cookie. They don't require leavening (baking powder or baking soda) and they do not need to be cut out with cookie cutters in order to look pretty.
A little history: No one quite knows when shortbread was invented, but it seems to be derived from a type of medieval biscuit bread. At some point, butter took the place of yeast and shortbread cookies came to be. Some claim that way back in the mid-16th century Mary, Queen of Scots, was one of the first fans of this type of cookie, although the biscuit of that era was flavored with caraway seeds. Sugar and butter were expensive in those days, so cookies like these would have been saved for holidays and special occasions. For example, in certain parts of Scotland, a shortbread cake would be broken over the head of the bride before she crossed the doorway of her new home.
Luckily, you won't need a special occasion to whip up a batch of these Triple Citrus Shortbread Cookies. Traditionally, shortbread cookies are made with only three ingredients: butter, flour and sugar. But I wanted to up the shortbread game a bit. I used three different types of zest — orange, lemon and lime, along with lemon extract —  to amp up the citrus flavor.
Because shortbread cookies have such simple ingredients, make sure to use the best butter you can afford. That delicious buttery taste will be apparent so no using poor quality butter or margarine (oh the horrors!). Also, make sure you use unsalted butter (if you do used salted, omit the ¼ teaspoon salt)  and that it is at room temperature when you start baking. Creaming the butter and sugar together will go much more smoothly if your butter is soft.
Shortbread cookies are usually docked. This term has nothing to do with boats or anything nautical. Docking is simply poking holes in the cookie dough to let the steam from the melting butter escape. The end result is a lighter, flakier cookie. You can use a wooden skewer if you don't mind the tedium but a fork works even better. I just gave two little jabs to each cookie before baking.
I also thought these cookies needed a glaze. I made the glaze with confectioners sugar and lime juice because I like how the tart zip of lime contrasts with the sweet cookie. However, you could also try making the glaze with lemon juice or orange juice. Lemon juice will be tarter still, and orange juice will be the most mellow.
For finishing, I sprinkled a bit of reserved zest over each just-glazed cookie. This gives this dessert an elegant, finished look. Fancy, yet not difficult to make. These cookies are perfect with a cup of tea and would perk up anyone's cookie platter.
Triple Citrus Shortbread Cookies with Lime Glaze
Ingredients
For Cookies:
1

tablespoon

combined lemon

orange and lime zest

½

pound

2 sticks unsalted butter, room temperature

½

cup

granulated sugar

2

cups

all purpose flour

¼

teaspoon

salt

1

teaspoon

lemon extract
For Glaze:
1

cup

confectioners sugar

2

tablespoons

lime juice

1

tablespoon

combined lemon

orange and lime zest
Instructions
Zest the citrus.

Cream butter and sugar.

Add dry ingredients,extract and zest.

Divide dough.

Slice dough.

Dock dough.

Bake cookies.

Make glaze.

Drizzle glaze and sprinkle zest.
STEP ONE – ZEST THE CITRUS
With a microplane or the fine holes of a box grater, zest the orange, lemon and lime. Make sure you are only grating the colored part of the fruit and not the white pith, which tends to be bitter. Mix the zest well and then divide into two equal parts. Set aside.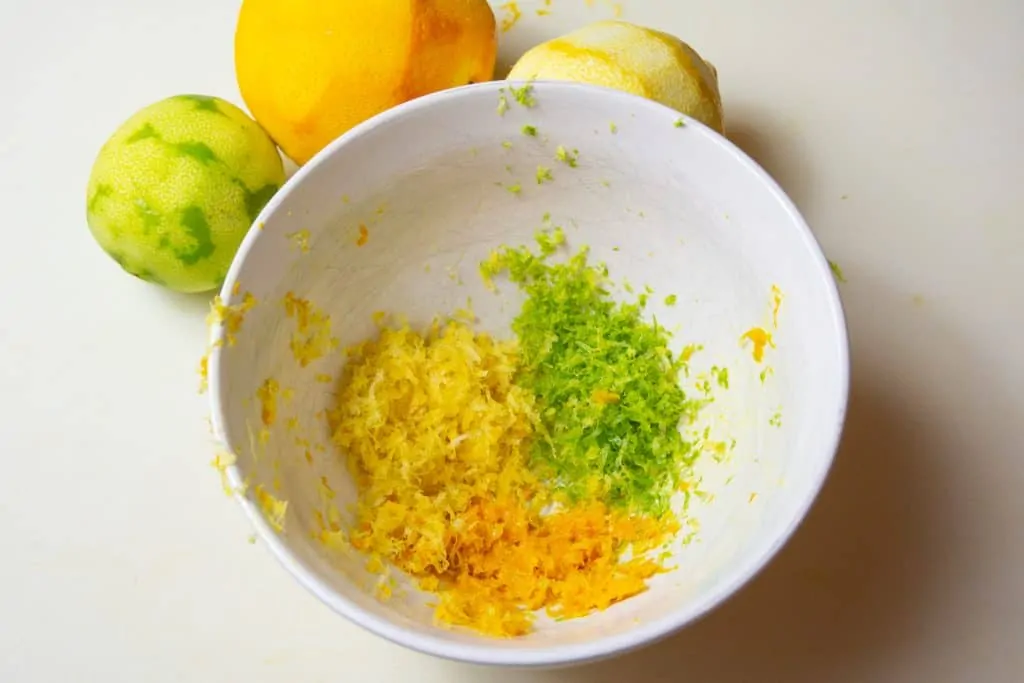 STEP TWO – CREAM BUTTER AND SUGAR
In a stand mixer on medium speed, cream the butter and sugar, approximately 3 minutes or until the mixture is light yellow.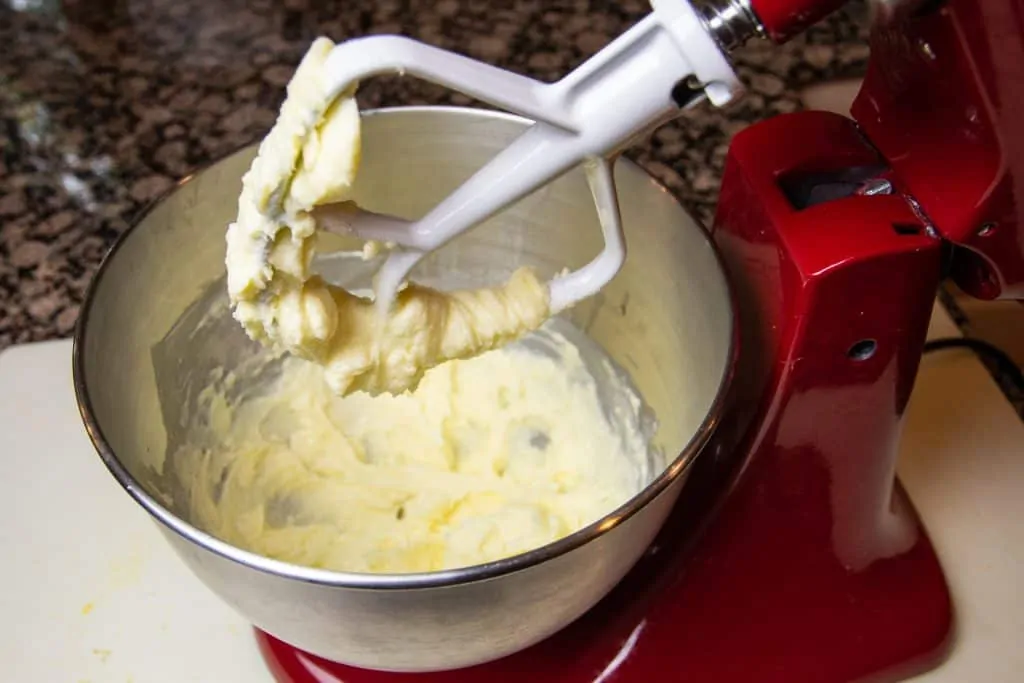 STEP 3 – ADD DRY INGREDIENTS, EXTRACT AND ZEST
Add the flour and salt. Mix for two or three minutes, scraping down the sides of the bowl, until flour is completely incorporated. Add the lemon extract and then one tablespoon of the combined zest. Mix for one minute more or until zest is well mixed into the dough.
STEP FOUR – DIVIDE DOUGH
Turn dough out onto a clean, dry surface. Divide into two equal parts. Roll each piece of dough into a cylinder, approximately six to eight inches long.
Wrap each cylinder in plastic wrap. Refrigerate for 30 minutes or until dough is cold.
STEP FIVE – SLICE DOUGH
Remove dough from refrigerator and remove plastic wrap. With a sharp knife, slice dough horizontally into ¼ inch rounds. You should have approximately 36 cookies.
STEP 6 – DOCK DOUGH
Place cookies on baking sheets lined with silpat or parchment paper leaving ample space for cookies to spread.

With the tines of a fork, gently dock (poke holes in) the dough. This will allow the steam from the melting butter to escape.
STEP 7  – BAKE COOKIES
Bake cookies in an oven heated to 350 degrees Fahrenheit, for approximately 20 minutes or until edges just begin to brown.
After removing from oven, let cookies cool on cookie sheet for 2 or 3 minutes before placing on a wire rack to cool.
STEP 8 – MAKE GLAZE
In a small bowl, add confectioners sugar. Add two tablespoons of lime juice. Whisk or stir until combined. The mixture should be slightly runny.
STEP 9 – DRIZZLE GLAZE AND SPRINKLE ZEST
When cookies are completely cooled, gently drizzle the glaze with a spoon or a whisk over four or five cookies. Then sprinkle a bit of reserved zest on each cookie.
Repeat with remaining cookies. Do not glaze all cookies first as the glaze will harden before the zest has a chance to adhere. Let the glaze set before placing cookies in an airtight container, using waxed paper to separate each layer. Cookies will keep about a week. They also will keep for about three to four weeks frozen.