One of my favorite comfort foods is a quick and easy bowl of chili. Packed full of flavor, nutritionally dense, and loaded with fiber– it's the perfect guilt-free comfort food.
The great thing about chili is that it's extremely versatile. This basic recipe tastes great on it's own, but you can have it with just about anything, from tortilla chips, garlic bread to a simple bowl of rice. Either way, this wholesome recipe will definitely lift your spirits no matter the occasion, plus chili is one of those dishes that tastes even better the next day, which is why I personally love making different types of chili when I meal-prep for the week.
Whether you're having one of those lazy days, or you're just short on time but still craving a wholesome yet simple meal, this recipe will definitely get you hooked on chili. Once you actually cook it yourself, you'll see how easy it is to get creative with chili recipes. You can add different types of beans to the mix and play around with how thick or saucy you want it. I recommend using just one type of bean at a time, this way you'll minimise the potential post meal bloat!
If you're worried that the beans will distress your digestion or make you gassy, don't be. That's what the garlic and coriander are for! I'm pretty sure by now everyone knows the amazing benefits of garlic. Surprisingly, coriander has been used to soothe upset stomachs for centuries. The natural chemicals found in the "living water" in its stems and leaves have compounds that act as antihistamines, anti-inflammatory and antimicrobial agents. I wasn't joking when I said that this is a nutritionally dense dish! If you're one who tends to shy away from coriander, please don't! Once the coriander is mixed in with all the other ingredients, you won't need to worry about tasting it at all.
When making chili, I prefer to use one type of bean because I find that it's a lot easier on the stomach and causes little to no bloat. Rich in potassium, manganese, phosphorus, iron, copper, magnesium and fiber, pinto beans are definitely the way to go, especially if you're in search of an energy packed pick-me-up.
Although canned vegetables can be less nutritional compared to fresh vegetables as they lose some of their nutrients in the canning process, beans, however, take such a long time to cook anyway, that they are still just as nutritional whether they are canned or cooked fresh from dried pinto beans.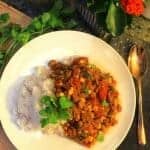 Rustic Pinto Bean Chili Recipe
Ingredients
½

tsp

of ground cumin

½

tsp

black pepper

3

cloves

of garlic

you can add more or less depending on personal preference

1

red onion

A handful of coriander

1

level tsp smoked paprika

Mixed herbs of your choice - I used thyme

marjoram, parsley, oregano, sage and basil.

Coconut oil

any oil will do, I just love the smell of coconut oil!

Cherry tomatoes

100

g

vegan mince

you can switch this out with a mince of your choice or omit it completely

2

cans of pinto beans

2

cans of chopped tomatoes

1

can of sweet corn
Instructions
Prepare your ingredients - mince the garlic, chop the onion, cherry tomatoes and coriander, drain the pinto beans

Heat oil in a large pot on medium heat, add minced garlic and chopped onions. Fry until garlic is golden brown and onions translucent

Add cherry tomatoes and fry until slightly charred

Add sweet corn and vegan mince. Fry for 2-3 more minutes

Add canned tomatoes and seasonings, cook on medium for 5 minutes

Serve
Step 1 – Preparation

Prep your ingredients! Mince the garlic and roughly chop up the onion, cherry tomatoes, and coriander. Don't forget to drain your canned pinto beans. Set aside for now, so they are ready to just grab and toss into the pot.
Step 2 – Fry onions + garlic

Heat oil in a large pot on medium heat and add the minced garlic and chopped onions. Fry until the garlic is golden brown and the onions are translucent. I used coconut oil, and when combined with the garlic and onions, it makes my whole house smell amazing!
Step 3 – Add tomatoes
Add the chopped cherry tomatoes and fry until slightly charred. Did you know that tomatoes are actually more nutritious when cooked? Although cooking tomatoes reduces the levels of vitamin C, their phytochemicals are actually increased in the cooking process.
Step 4 – Add sweet corn + mince

Add the sweet corn and vegan mince. Continue frying for another 2-3 minutes. Alternatively, if you don't want to use vegan mince, you can add mushroom instead. Either roughly chopped or finely minced depending on how much texture you want.
If you're using ground meat, I recommend marinating it over night in some sesame oil, minced garlic and soy sauce to really add some flavour and dimension to it.
Step 5 – Canned tomatoes + seasonings

Add the canned chopped tomatoes, smoked paprika, ground cumin, salt and black pepper. Cook on medium for a further 5 minutes.
Step 6 – Time to serve

Finally, stir in chopped coriander and serve! If you feel that the flavour of coriander is too strong, you can substitute it with parsley for a milder taste without compromising the nutritional benefits.
RECIPE NOTES:
I was meal-prepping when I made this, so I cooked white long grained rice in a rice cooker while boiling pasta in another pot as the chili was cooking.  After setting aside some chili with rice, I simply tossed the pasta into the remaining chili.
For more texture, you can always add celery and bell peppers. This chili is also a great topping for nachos and goes great with guacamole as well — seriously, the ways you can eat this chili are endless! Whether you're enjoying this after a long day, or just as a healthy snack on a Netflix night in, it's a recipe that's way too easy and delicious to pass up.
How do you like your chili best?