For many, pork chops are one of the few dishes that have followed us our whole lives, never quite something that we would order at a restaurant, yet not something to turn down either. Perhaps it is due to distant memories of overcooked family dinners or late night diner runs for some fried pork and gravy that has made pork chops a classic comfort food. Regardless of the reasoning this dish is incredibly versatile, making it a great one to master.
These pork chops will be pan seared with minimal seasoning, but will be coupled with a rich and flavorful creamy garlic sauce. Although this may sound like a lot of work, it is actually incredibly simple and can all be done with a single pan. Perfect for feeding the family or impressing on an extravagant date, this dish is sure to have all of your guests begging for the recipe.
Ingredients
2

bone-in pork chops

2

Tbsp

butter

1

Tbsp

olive oil

Approximately ½ tsp fresh thyme

Salt and pepper to taste
Creamy Garlic Sauce
3

Tbsp

Butter

1

minced clove of garlic

¼

cup

sherry cooking wine

2-3

Tbsp

all purpose flour

¾

cup

chicken stock

½

cup

heavy whipping cream

Juice and zest of ¼ lemon

½

tsp

salt

1

tsp

freshly cracked black pepper
Instructions
Heat a cast iron skillet or frying pan over medium-high heat with 1 Tbsp of olive oil. Season both sides of the pork chops with salt and pepper.

Once the pan and oil are up to temperature, place the pork chops into the pan and let it cook for 2-3 minutes.


Add 2 Tbsp of butter and the fresh thyme to the skillet, letting the butter fully melt before flipping the pork chops over.


After flipping the pork chops tilt the pan and baste them with the hot butter and thyme, using a spoon to continuously drizzle the butter over the pork chops for one minute.


Once both sides are sufficiently seared, remove the pork chops and let them rest.


Lower the heat to low-medium and add 3 Tbsp butter to the skillet.


Once melted, add a minced clove of garlic and quickly stir to keep it from burning. After 20-30 seconds add ¼ cup of sherry cooking wine to deglaze the pan.


Let the sherry reduce for a minute before stirring in flour until a thick roux is formed, then add ¾ cup chicken stock and ½ cup heavy cream to the roux and stir until no clumps are left.


Season the sauce with ½ tsp salt, 1 tsp freshly cracked black pepper, and the juice and zest of ¼ lemon. Return the pork chops to simmer in the sauce for 5 minutes, flipping halfway through.

Step One – Heat the Skillet and Season the Pork Chops
Heat your favorite cast iron skillet or non-stick pan over medium-high heat and add 1 Tbsp of olive oil. While the skillet comes up to temperature season both sides of the pork chops with salt and black pepper.
Step Two – Let the Pork Chops Cook for 2-3 Minutes
Making sure to lay the pork chops away from you to avoid any oil burns, let them cook for around two to three minutes. It is important that you do not touch or move the pork chops around during this time, allowing the meat to build up a nicely seared crust.
Step Three – Add Butter and Thyme and Flip the Pork Chops
Right when they are ready to be flipped, add 2 Tbsp of butter and a few sprigs of fresh thyme to the skillet. Once melted flip the pork chops over.
Step Four – Baste the Meat with Hot Butter and Thyme
The butter will become infused with the flavor and aroma of the thyme, which will then be used to baste over the pork chops. Using a spoon, carefully tilt the pan so that the butter will pool up near the bottom and drizzle the hot butter over the top side of the meat. Not only will this help to add more flavor to the pork chops, but it will also help to fully cook them on both sides. Continue basting for about a minute, then remove and rest the pork chops once both sides are sufficiently seared (about 3 minutes each side).
Step Five – Begin Preparing the Creamy Garlic Sauce with a Simple Roux
Reduce the heat to low-medium and using the same pan that was used for the pork chops, melt 3 Tbsp butter and add a minced clove of garlic. Make sure to keep the garlic moving, stirring it constantly for 20-30 seconds before adding ¼ cup of cooking sherry wine. Deglaze the pan by using a spatula or fork to scrape all of the burnt bits off of the bottom of the pan, the wine should make this quite simple. Next add around 2-3 Tbsp of all purpose flour, stirring constantly until the mixture is a thick almost liquid-less roux.
Step Six – Finish the Sauce with Chicken Stock and Heavy Cream
Stir in ¾ cup of chicken stock (any broth or even water can be used here), mixing well until it is no longer clumpy. Add ½ cup of heavy whipping cream, 1 tsp black pepper, ½ tsp salt, and the juice and zest of ¼ lemon. Stir the sauce until everything is well combined.
Step Seven – Return the Pork Chops to the Sauce
Next, return the pork chops to the skillet and let them simmer over low heat for around 5 minutes, flipping them and stirring the sauce halfway through. The meat should be perfectly cooked by now, and smothered with creamy garlic sauce. Remove from the pan and cover with more sauce if desired, and enjoy!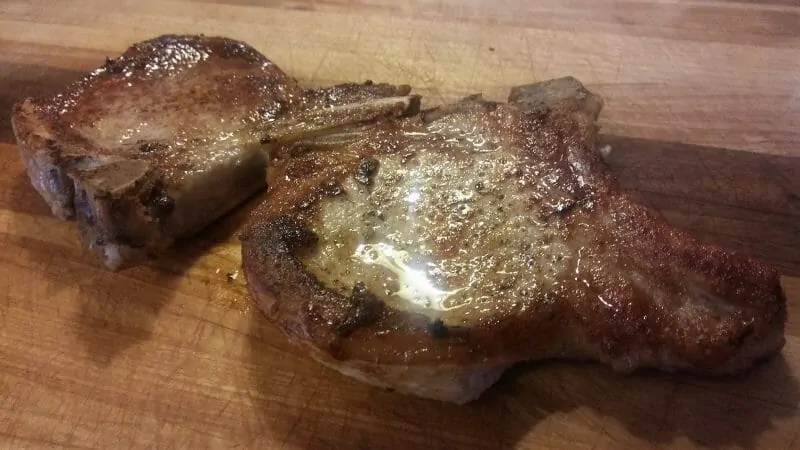 I told you it was easy! If the flavorful seared pork and creamy garlic sauce weren't enough to convince you to give this recipe a try, the fact that it can all be done within thirty minutes surely must have piqued your interest. It sure doesn't hurt that there will only be one pan to clean up at the end of the night!
As with most dishes, there is a lot of room for experimentation here. Perhaps you would prefer a darker ale-based sauce with plenty of mushrooms and onions. Or even a sweet crusted glaze. However you choose to prepare these pork chops, you can almost never go wrong. So give it a try, maybe serve some sides of mashed potatoes and keep plenty of forks and knives ready because everyone is going to want a piece of it.