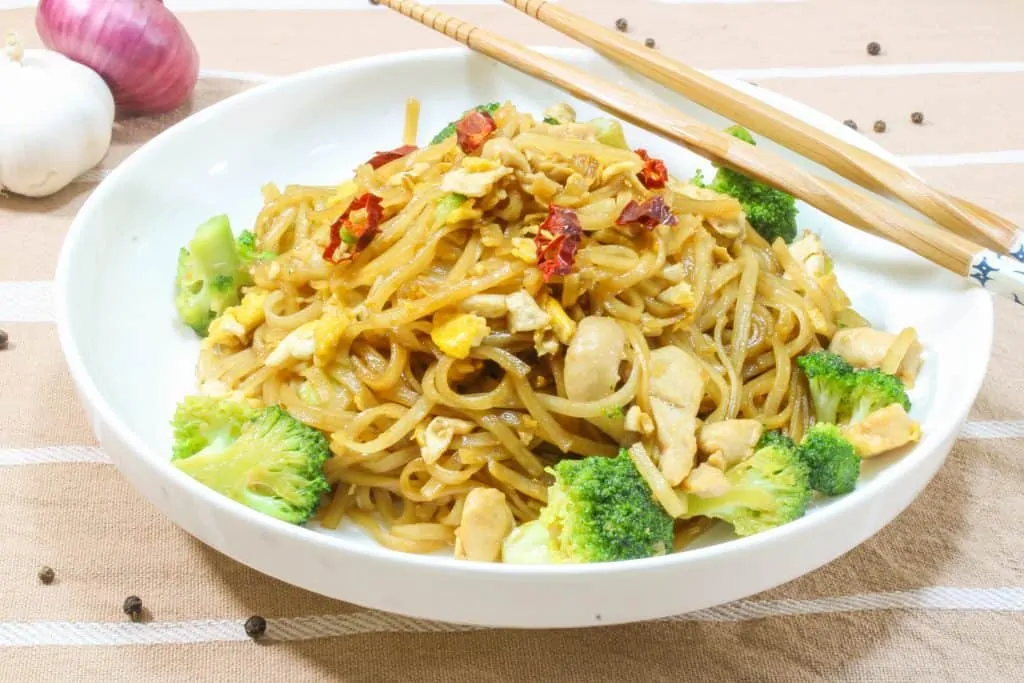 Phat Si-Io or transliterated as "Pad see Ew" is a dish from Thailand that is influenced by Chinese cooking which means stir-fried with soy sauce. It is a stir-fried noodle usually consist of flat thin rice noodle, dark and light soy sauce, protein meat, egg garlic Chinese broccoli and sugar. This dish is not really that different from Pad Thai which is also a stir-fried noodle and the main ingredient is still rice noodle. This dish is usually made with chicken or pork but this can be also made with any types of meat like seafood, beef or any protein meat that you like. It is also a good pair with tofu for those people who are vegan that's why this dish is popular with people who are on diet or health conscious.
This recipe will help you how to make a savory Thai pad see ew that you constantly crave for in a Thai restaurant.
Pad See Ew Recipe
Total Time
1
hour
15
minutes
Ingredients
2

cloves

-  garlic

½ -

shallot

100

g

- Dried Flat Rice Noodle

soaked in water for 1hr

50

g

- Boneless Chicken

50

g

- Broccoli/Chinese Broccoli

1

pc. -  Egg

1

tbsp.

- Light Soy Sauce

½

tbsp.

- Dark Soy Sauce

½

tbsp

 - Fish Sauce

½

tbsp

- Oyster sauce

1

tsp.

- Sugar
Extra for Garnishing:
Dash of Black Pepper

½

bsp. - Vinegar

Dried Chili Pepper

cut Diagonally
Instructions
Soak the dried flat rice noodle in water for 1hr.

Make the sauce by combining the sugar, dark and light soy sauce, oyster sauce and fish sauce in a small bowl.


Saute the garlic and shallots in a heated pan until the garlic turn light brown.

Add the chicken in the pan then saute it together with the garlic and shallots until the chicken turns a little brown as well.

Add egg in the pan then whisk the egg to break the yolk then mix it with the chicken.

Add the broccoli into the pan saute it along with other ingredients that are already in the pan.

Add the sauce that you made earlier to the pan mix it a little then add the soaked rice noodle into the pan.


Saute the noodle along with all the ingredients that are already in the pan until the noodle is cooked.

Remove the pad see ew from the pan and place it in a shallow plate then sprinkle on top the black pepper, add the diagonally cut chili pepper then lastly pour vinegar on top of the noodles.
Step 1: Prepare all Ingredients
The first thing to do is soak your flat rice noodle in water for 1 hour, but if you can find a wide flat rice noodle that is usually packed and ready to use then that noodle is better for pad see ew which is the original authentic recipe, but due to that it's a south asian product it might be hard to find in your local grocery, this product usually can be found on chinese groceries but if you can find it then a dried flat rice noodle is fine as it doesn't change the taste.

Second is to find a Chinese broccoli or also called as "Gai Lan" it is a leaf vegetable that has a thick stem with green leaves and has a flower head that looks like a tiny broccoli this vegetable might be hard to find but if you can't find it you may use a normal broccoli.

Next is light and dark soy sauce I believe that this product is available in your local grocery store, the dark soy sauce is a concentrated soy sauce, it is darker and much thicker than ordinary soy sauce while the light soy sauce is a little bit dark brownish soy sauce much lighter color than normal type sometimes it is named as premium light soy sauce.

As for your meat you may use any types of meat that you want like pork beef or seafood, this recipe is chicken, you may use any part of chicken as long as it's boneless, I prefer with skin on cause it adds a little flavor to the dish.

Other ingredients like fish sauce, oyster sauce, egg garlic shallots, etc. is available in your local grocery.

For the extra ingredients for garnishing, you may add or you may not add these, but they do add a little taste enhancement so I recommend you to add these ingredients to also add as a little design in your plate if you're planning on serving this with your guest.
Step 2: Create the Sauce
The first thing you make is the sauce, take a small bowl then mix in the sugar, light and dark soy sauce, oyster sauce and fish sauce. Whisk the sauce with a small wire whisk or a spoon until the sugar is diluted in the sauce.

This will serve as your pad see ew sauce so set it aside for a while for later use.
Step 3: Begin Cooking.
Take a large Pan or a Wok that is suitable for stir-frying then heat it in medium-low heat, add oil into the pan to heat.

Add the minced garlic and onion into the hot oil then saute it until the garlic turns into brown about 1 min.
Add the chicken into the pan then saute it together with the onion and garlic, saute it until chicken is cooked and a little bit brown about 3 min.

Add egg into the pan then using a ladle whisk the egg to break the egg yolk mixing with the egg white, make sure to not over mix the egg. then mix the egg immediately into the chicken so that you don't overcook the egg.
Grab the broccoli and add it into the pan then saute it together with the egg and chicken very quickly then add the pad see ew sauce that you made earlier stir it a little bit to coat the chicken with the sauce.

Add the soaked flat rice noodle into the pan and quickly stir it together until all the noodle is coated with sauce, keep stirring about 30 sec until the noodle turn soft but not so mushy, the rice noodle will quickly absorb the sauce so you need to stir it quickly as soon as you add the noodle. then turn the heat off and transfer it to a plate.
Step 4: Plating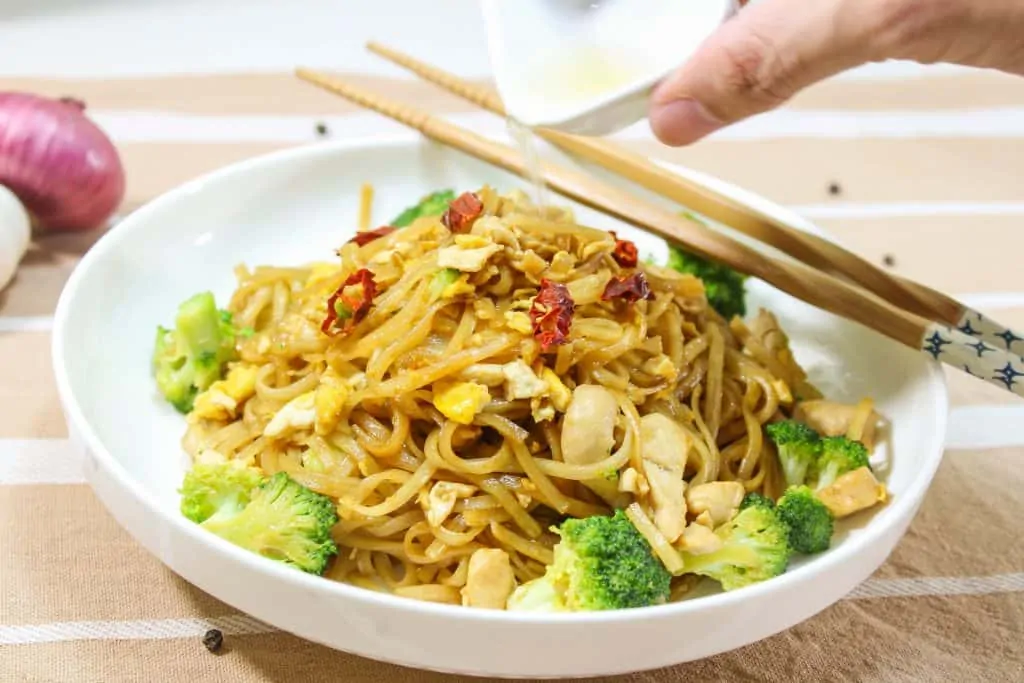 Sprinkle the dish with a little of ground black pepper and chopped dried or fresh chili pepper and pour over the vinegar to enhance its taste. Serve Hot.

Adding chili may turn this dish a little bit hot you can omit adding it if you're not into spicy food.
This dish is frequently found on Thai street food, but due to its popularity in Thailand this dish is served in Thai restaurants and now known all around the world.

This dish may also be cook as vegan style by replacing the meat with cubes of tofu, removing the fish sauce and adding another ½ tbsp of dark soy sauce.

If you going to change the meat in this dish always make sure that you cook the meat well before adding other ingredients.
Jen Miller is a former electrical engineer and product specialist with more than 20 years of product design and testing experience. She has designed more than 200 products for Fortune 500 companies, in fields ranging from home appliances to sports gear and outdoor equipment. She founded Jen Reviews to share her knowledge and critical eye for what makes consumers tick, and adopts a strict no-BS approach to help the reader filter through the maze of products and marketing hype out there.  She writes regularly and has been featured on Forbes, Fast Company, The Muse, The Huffington Post, Tiny Buddha and MindBodyGreen.