I don't know about where you are right now, but I can say for certain that it has been a banner year for my herb garden. I have basil, mint, rosemary, lavender, and sage coming out of my ears.
Even my neighbors are experiencing the herb boom. Last week when we were visiting our neighbors, Mr. Taylor handed me a big bag of basil to take home. On the walk back to our house, the Hubbster turned and asked me, "Don't we already have a lot of basil from our own garden?" To which I replied, "You can never have too many fresh herbs."
In all seriousness, if you don't know how to save your excess herbs, then I suppose too much of a good thing would be a bad thing, but I'm here to help with a recipe for DIY loose leaf tea straight out of your very own garden.
Is there anything cuter than a homemade jar of tea?
Health Benefits
Before we dive into the recipe, why should you take the time to brew a cup of mint tea to start with? Tea across the board has many health benefits, whether you choose green, chai, rose, oolong, white, or yerba mate, or mint. For starters, all plants in the mint family are full of antioxidants. Lots of people rely on mint, in oil or candy form, to relieve stomach aches and nausea. Brewing a cup of all natural lavender mint tea is a faster way to get the benefits from peppermint oil.
My favorite way to enjoy lavender mint tea is a relaxing sleep-inducing bedtime cuppa. The warmth of the tea is soothing and the lavender, a trusted relaxation aid, helps you drift off into sweet dreams or at the very least into a more blissfully relaxed state. Neither mint nor lavender contains caffeine, making this DIY recipe perfect for an afternoon or evening treat. This tea has helped me on many a stressful afternoon at work.
The best part about this recipe is that when all of the ingredients come from your own garden, you can be sure your tea is high quality and doesn't have any weird chemicals in it.
Now onto the fun part…
Making Tea Right From Your Garden
Drying herbs have the added bonus of making your kitchen smell amazing!
Drying your own herbs is actually a very simple process. If you are like me and you prune your mint about once every 2 weeks or so to encourage new growth, then the best method for you is to pull all the leaves off the plant and then soak them in a 1:10 vinegar and water solution for 10 minutes or so and then follow with a rinse of clean water.
From there, simply lay the leaves out to dry in a single layer in a dry, preferable sunny spot. I like to dry my herbs laying on a tea towel right in front of my kitchen window. It usually takes a few days for a small batch of herbs to dry out, but you will need to use your sight and touch to make sure they are fully dry before storing them. Nobody likes moldy mint tea.
If you're like my friend Mary and mint has taken over one of your beds and you have to do an annual spring mint rampage to make sure that you have enough space for other things to grow, the best way to go about it is to rinse your cuttings very well and then use twine to make small bundles and hang them somewhere airy and dry. Bundles will take longer to dry, but you will have much more tea ready when it is done.
Take 5 parts dried mint and 1 part dried lavender and mix well. I recommend storing in a recycled glass jar, but an airtight vessel will do the trick. Voila! DIY and so easy.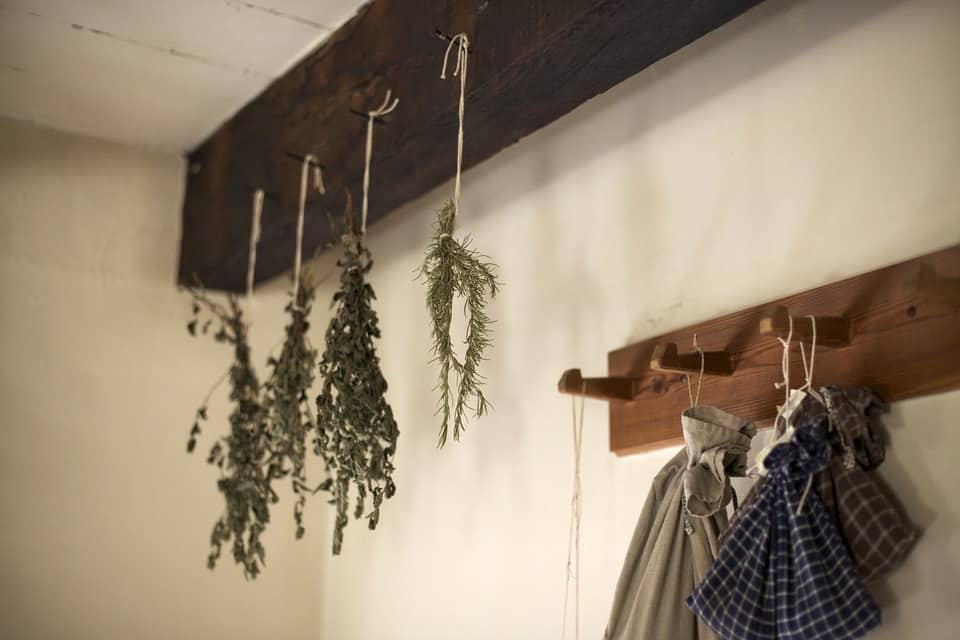 I love how "pioneer homestead" drying herb bundles makes my home feel.
Brew and Enjoy
Lavender mint tea is a loose-leaf variety, which just means that it is not neatly wrapped into a tee bag for brewing, so you will need some sort of infuser. For herbal tea, like lavender mint, you will want two teaspoons for every one cup serving and should let it infuse for about 2 minutes.
My favorite single serving infusers are:
The Most Amazing Tea Infuser– A practical infuser that is easy to fill and clean with small enough holes that no leaf bits escape
The DCI Tea Rex Infuser– It's silicone and heat safe and best of all shaped like a little green dinosaur because we all need a little more whimsy in our lives
Charles Viancin Lily Pad Tea Infuser Set – This set comes with an elegant glass mug, a silicone iinfuser, and a lid to keep the heat in for better infusion.
I've used all of these and they are fantastic.
You can also use a larger tea kettle style vessel for preparing tea for multiple people. I like
Chefman Electric Glass Cordless Tea Kettle – It includes an infuser so you can easily heat the water and infuse in the same pot.
Teapot Kettle with Warmer Teapot and Tea Infuser Set– It's microwave safe so you can heat the water while you're filling up the infuser and have hot tea ready for company in less than five minutes.
Both options are highly rated on Amazon and make preparing tea for a group simple and easy.
Now get out there and make you some tea and while you're enjoying your cuppa, read about the history and lore of tea here.