The La Crosse Technology 308-1414B Forecast Station is our best weather station and as an atomic clock with intelligent weather forecast, it works plugged as a great color weather forecast device that is self-setting. Moreover, the display is gorgeous and the time alarm with 10 minute snooze function is great. The LCD is very easy to read and very clear all in all and the accurate time and date makes it great to read information whenever and wherever.
Our step-up pick is the AcuRite 02064MA1 5-in-1 Pro Weather Station and very easy to install, the weather station can present historical data as a wireless weather sensor to give you access your weather data. It can also track rainfall and the weather can be privately monitored with your Android and iOS device. It accurately measures weather and this color display weather station transmits signal up to a distance of 330 feet or 100 meters. It can also capture high or low records.
The budget pick is the AcuRite 75077 Jumbo Display Weather Forecaster and it can display the barometric pressure and it is wireless. It can display the maximum and minimum temperature and it is also an atomic clock that is maintenance-free. With an LCD display panel, it is very accurate and reliable and it has a weather prediction algorithm. It updates time easily and it subscribes to WWVB broadcasts.
A Little Background
A weather station (not to be confused with weather channels and the like) is a display that is meant to be placed in a conspicuous space for people to know the fast facts about the temperature, humidity, and wind speed and many other information that is needed. Usually, weather stations are more than just clock displays – they can be attached to an outdoor sensor to know the weather and other information that you need on the go with great and pinpoint accuracy.
How We Picked
When it comes down to the best weather station, some of the following features it must have are:
Accuracy – the weather station should be very accurate at the very least so that it will be a true to life weather station that you can depend upon in times of need.
Full of features – the weather station should be full of features and must record a lot of data in one go so that you can have a great weather station whether you are a weather geek or just need the information at hand.
Customizable – the weather station should be customizable with its units depending on where you live and what standards of units you are using in your locality.
Good display options – the weather station should be very visible with its fonts and in its display so that older people will be able to see it easily without problems. A de-cluttered display would be easier to read because it is quite organized.
Our Pick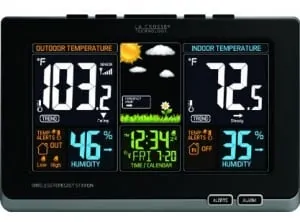 La Crosse Technology 308-1414B Forecast Station
As our best weather station, we chose the La Crosse Technology 308-1414B Forecast Station which is in a full color LCD and you can get information on the screen on demand. This weather station can give you accurate readings and will work day or at night and is equipped with weather icons.
With easy to follow instructions, the weather station gives a bright and colorful display and it also has adjustable backlight settings. You can see if it is sunny or partly sunny with this weather station and you will be absolutely amazed. Working with batteries, the weather station has a cute animated forecast background and it can also show whether it is cloudy or rainy.
It is deemed our best weather station of the review and you can also adjust for 12 hour or 24 hour time display. It is easy to read and the weather station can easily detect whether it is stormy or snowy. With 2 AA batteries to power it up, the weather station can give you alerts and it is plugged in to wall outlet.
Receive updates to your location with this weather station in vibrant color and the daylight saving time reset is automatic. It also allows for user defined time zone and the weather station can sit on a base stand or wall hanging display. The wireless transmission is flawless and you can use it to measure indoor and wireless outdoor temperature in Fahrenheit or Celsius.
As a wall mountable weather station, it can show humidity levels with great and accurate forecasting. It can measure humidity as well as the dew point. It can measure extreme temperatures and it seems very accurate. With a colorful weather station at your hands, you should allow from 3 to 4 weeks for proper calibration with this weather station.
Having recorded min and max temperature values, the heat index is also detected with this weather station. It can receive any WWVB signal and it is great for any room. It also shows atomic reception that is accurate and bright overall and it can give temperature alerts.
It works awesome and the sensor works over 300 feet away and it is bright enough. It is fast and accurate and it is powered up by either lithium batteries or alkaline batteries. It also has low battery indicators for your convenience.
Flaws but Not Dealbrakers
While having a few cons, the La Crosse Technology 308-1414B Forecast Station does not have deal breakers at all. Nonetheless, these few small limitations include the fact that it can lose sync with outdoor use but it depends upon your situations and weather conditions.
Step-up Pick

AcuRite 02064MA1 5-in-1 Pro Weather Station
Our step-up pick is the AcuRite 02064MA1 5-in-1 Pro Weather Station and it has great and high-precision qualities for sensor data collection. Moreover, you can even export the changes to CSV data file and the system is wireless in it is operation. It can also measure barometric pressure and is a 5-in-1 device which can also make use of the AcuRite website.
Any temperature will be recorded thoroughly. The 2-year battery life makes it a long-lasting weathers station to view your weather that is personalized for your location. You can make use of the reliable weather conditions and know the humidity of the current day with its weather ticker feature.
The illuminated color display is so great and the pinpoint accuracy is awesome. The wind speed can be detected and the comprehensive data can be used for seasonal information purposes. It reports so many items so it is very useful. The wind direction can also be measured. It uses 3 AA alkaline batteries and you can also use email and text alerts for staying informed of weather alerts.
It has a barometer and you can also use the weather underground feature. It can track rain and wind speed and direction all in all in many environmental conditions. With entry level pricing, it has an illuminated color display and can display the current local weather with great ease.
With rain gauge calibration, you can view your weather in a breeze and all functions definitely work. It has an adjustable dimmer and it can also display interesting facts and you can also report the weather conditions. You can use your smartphone or tablet to track the weather and it also measures the data points. It can use electric power wisely and can connect to your computer.
It can hold information and it can work inside and outside the house. Learning weather technology is great with this weather station as it also has battery backup for reliability. You can connect the display easily with any remote monitoring app. It is a very good device and the weather ticker feature is useful for displaying real-time data.
You can use it in your back yard and it has a PC connect feature. The moon phase is also displayed and the unit is relatively easy to set up. It can connect via USB and it is much more accurate than other weather stations out there.
The indoor comfort level is also given and the calibration of barometer is so simple and fairly accurate. Any real-time weather information is given and the "feels like" temperature is also displayed. The unit has a limited one-year warranty.
Budget Pick

AcuRite 75077 Jumbo Display Weather Forecaster
With a huge display, our budget pick is the AcuRite 75077 Jumbo Display Weather Forecaster which is relatively simple to install. It can stand upright with no worry at all and is easy to install. It displays well-spaced data and it has a jumbo display screen for convenience.
Giving an accurate timekeeping standard, it is weather resistant and very easy to use. With a slim profile, it has a radio-controlled signal and it is ideal for outdoor environmental conditions as well. It has uncluttered reading display and can give you the most accurate forecast available.
The sensor is wireless and you can also measure indoor and outdoor temperature and make your personal weather report with split-second accuracy. It is accurate in time telling and is very easy to set up for tabletop use as it automatically updates with great ease for giving you weather data.
Changes in temperature can be known in a breeze and it can display high and low records. It also automates to daylight saving time with great precision and accuracy. Its jumbo display is extremely accurate and its extra-large LCD display is very helpful, giving you a 12 to 24-hour weather forecast for your exact location.
As a wall-mountable device of compact size, it has up to 14 different icons and it has integrated mounting options. With a remote sensor, it works very well so you can plan the day ahead using a weather forecast in degrees Fahrenheit or degrees Celsius. Using powerful wireless technology, you can enjoy self-calibrating forecasting with pinpoint accuracy with this weather station. It has a wireless range of up to 330 feet or 100 meters.
Using a unique algorithm, just use the sensor in your backyard. It has an atomic clock and date and can record things indoor and outside. It has a large forecast icon and is simple to install, giving you the most accurate forecast. As a self-calibrating weather forecaster, the weather-resistant design is reliable and is great for measuring changes in your exact location.
Best Weather Station with an LCD Screen Display

aom A001 Color LCD Weather Station
Giving you the right forecast, the aom A001 Color LCD Weather Station gives you accurate humidity data and adjusts the time accordingly. Humidity is measured so that you can plan your day. It can be hung outside of the window to detect temperature with its vibrant color forecast. Its power cord is easy to set up and the alarm clock is a breeze to set up.
You can choose between battery and power cord and it has a tabletop design for convenience. It has an alarm snooze for your needs. With your forecast at hand, this device works great even as an outdoor sensor to show everything you need.
Using 3 x AAA batteries, it has snooze and light functions and has a full color LCD screen to display items easy to read. With data of temperature from outdoor sensor, you can set the time clock easily and it has neat weather icons. It can be used for adjusting your air conditioner and it passed European CE certifications. Using the RF 433 MHz sensor, it has a total of 7 languages display for convenience.
You can measure indoor and outdoor temperature just right with three level light conveniences. It passed FCC snooze function and it can give you humidity forecast as well with the most climate information that you need. It gathers sensor data in open air and gives you environmental conditions.
The wireless outdoor sensor is great depending on the exact location time and it can give you humidity and temperature information from the best transmission possible. It has a wireless range of up to 115 feet or 35 meters and it can also be a good alarm clock. Giving you accurate forecast information, it can show you humidity and temperature and can also function as a calendar with an off backlight option. It has a thermometer with remote sensor and can detect weather from your location. It has a neat time and alarm clock and you can also feel convenient with a 12/24 format clock time.
Best Weather Station with Self Contained Power

Davis Instruments 6250 Vantage Weather Station
For self-contained power, the Davis Instruments 6250 Vantage Weather Station is great and it also has a functioning anemometer that is very satisfactory overall. It is a wireless weather station that can be your personal weather monitoring system with matching graphs.
With a radiation shield, it can be great for weather analysis and it has a integrated sensor suite (ISS). The weather forecast icons are eye-catching and the time and date display is accurate. The current weather conditions are detected using the LCD console. It also has a rain collector and can display the sunrise and sunset times in your area.
It is capable of sending data wirelessly and it comes with mounting hardware. It has passed cyclic corrosion tests and is able to detect rainfall. It can save up to 50 graphs and is easy to read overall. It can also detect the last 25 hours and save data such as indoor and outdoor temperature and barometric pressure. The backlit LCD screen display is easy to read and the weather proof cover makes it durable.
Humidity can be measured and the rain rate and the dew points can be measured as well. Using a user-friendly keypad, it has a functional glow in the dark keypad. It can update the weather information every 10 seconds and it has great quality and features. It can measure both indoor and outdoor temperature and it has alarms for the clock as well.
With variable display options, it can also display the moon phase. The bubble level is very useful and the wind direction can also be detected. It can receive wireless transmission up to 1,000 feet and it can be powered up by a solar panel as well. It can detect rainfall and can also measure speed and direction. The weather station poses an easy installation and it has all the needed mounting hardware included. It can also analyze weather trends and it updates every 2.5 seconds for convenience.
Best Weather Station with Atomic Time Function

Oregon Scientific BAR208HGA Advanced Weather Station
You can get reliable weather forecasts on the Oregon Scientific BAR208HGA Advanced Weather Station as it is easy on the eyes using the white EL backlight. It seems to work well with its great graphical icons. It can detect indoor and outdoor temperatures and it has a simple setup overall.
The unit is sleek and it can display weather warning messages and you can manage your environment better. It can determine the temperature and humidity and can also show you when the weather is in great heat. It can detect humidity levels and it works very well.
It can also show the current moon phase and wind information. It will also work for specific rooms and it is so convenient that you can setup in a couple of minutes. It can alert you in storms and you can also set up multiple sensors. It is very useful and easy to set up and you can also detect fog outside.
The proper date and time will be set and the quality of the temperature will be determined. You will be very pleased with this weather station as it can detect frost outside. With a good sized display, it displays weather warnings in the large LCD.
Having a self-setting atomic clock, it is an advanced weather station where you can choose between Fahrenheit and Celsius. With a solid clock and temperature display, it has a 12/24 hour format as an excellent product to determine levels of temperature to the fullest.
The time zone offset feature is useful and it gives you the data you want such as relative humidity. It has a month and day calendar and is great for nighttime viewing. It weighs just 12.8 ounces and is great for planning outdoor activities. It monitors indoor and outdoor temperature and has easy to read numbers as well as wind and rain data.
There is a white sensor included and it can work for up to 3 remote locations. You can enjoy your day as it gets updated automatically. The sensor reception is excellent and the min and max temperature memory really works.
Best Weather Station with Unique Projection Display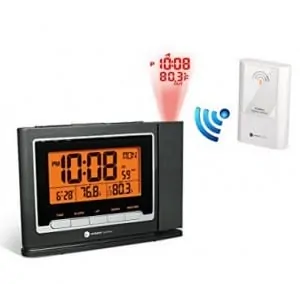 Ambient Weather WS-8365 ClearView Projection Clock
The Ambient Weather WS-8365 ClearView Projection Clock allows you to project on the ceiling or wall. The features are nice and it has a a volume adjustment which works very well. The indoor temperature and outdoor temperature is detected and you can measure temperature remotely.
With a wireless sensor, it shows time clearly and well and is a great projection clock. Utilizing both 12 hour and 24 hour time formats, it is a great thermometer with 433 MHz sensor as well as a focus adjustment dial. It works like normal clocks for the weather geek and it comes with an AC adapter.
It projects bright and far with crystal clear projection and can be your bedside companion. Displaying Fahrenheit or Celsius, it has long-term reliability and can be reversed at 180 degrees. It has the best alarm clock even with a snooze button. Displaying the current time and temperature, it has optimal viewing and the time is always visible.
It can project a great image and can detect the outdoor temperature. It is very accurate throughout the room and you can look at it with just a glance. It is definitely worth the money as you can display the information on the ceiling. It scrolls automatically conveniently.
With 150 feet of maximum wireless range line of sight, it will be going strong for indoor temperature detection and is very clear for room temperature. It works as an alarm clock and is fairly accurate. It can take up to 3 wireless remote sensors and comes with the user's manual.
Helpful in the middle of the night, it has a bright backlit screen and a weather display. Using 2 AA batteries, it casts a soft glow and it displays time, month, date and day of week.
Best Weather Station with a Wireless System

Chaney Instrument Wireless Weather Station Clock
As a wireless weather station, the Chaney Instrument Wireless Weather Station Clock works well and it can detect temperature trend information in one go using the one remote sensor included. With a clear readout, there are accurate information reported and the clock is functional.
Super simple to set up, it runs at 433 MHz and is able to receive temperature data with accuracy and quality. Working for a heated green house, it can take up to three remote temperature sensors and is very nice. It is a very convenient station that could track the temperature up to 100 feet away.
It seems to be working well and will ensure accuracy as a weather station. It is accurate using its internal clock antenna to save the day and date. It comes with its own stand and is totally functional and excellent battery life. With easy to install the batteries, it sets itself using atomic clock broadcasts and works fine. It is also radio controlled and inexpensive.
As an easy to read display, it can show the minimum and maximum temperature and it works very well being wireless. Very accurate, it has an alarm that is functional. Compared to competitors, it is an outstanding product and has a snooze function. It is a very good product and is a great weather station. With a backlight, it is easy to use and is very easy to set up. You can detect the indoor and outdoor temperature with the easy to read display either in Fahrenheit or Celsius.
Best Weather Station with a Curved Shape


Frigidaire 308-2408FR Wireless Curved Mirrored Thermometer
The Frigidaire 308-2408FR Wireless Curved Mirrored Thermometer has an atomic clock and is a great weather instrument. It is extra bright and has easy accessible buttons. It has a self-setting time and date function and is powered by 2 AAA alkaline batteries.
With wireless technology, it uses a CR2032 alkaline battery and has automatic DST updates. With an optional manual time set, you will love this clock and its LED thermometer. Having a sleek modern design, it has a stylish mirrored design with indoor and wireless outdoor temperature in Fahrenheit.
The reset button is helpful in this station for your needs. The station sends outdoor information and has automatic daylight saving time resets. It has a time alarm and also has WWVB frequency. With an outdoor sensor with bracket, it can detect backyard temperature in a good looking device. With snooze settings, it has a 4.5v AC adapter.
As an indoor display, it has a sleek curved design and has a really nice look. It has accurate atomic time and color control settings. It is an accurate thermometer with up to 60 additional minutes of snooze. It is a great clock and has backup for power outages. Coming in with an instructional manual, it is super bright and the wireless transmission up to 196 feet of .range,
Best Weather Station that is Portable

Ambient Weather WM-2 Handheld Weather Meter
Great for outdoor enthusiasts, the Ambient Weather WM-2 Handheld Weather Meter is ideal for outdoor sports such as sailing such that it can detect wind gust. It can also be used by model plane pilots. It uses a cr2032 battery and is compact.
Weather data collection is accurate and weather reporting is great. It can be useful to shooters and for camping as well. The battery life is about 1 year and the neck lanyard is useful. Hikers can benefit from it and it can also be used in HVAC maintenance.
It is very nice and portable and the wind speed average interval is from 2 to 10 seconds. Athletic trainers can use it and the wind speed accuracy of +/- 3% and it has a rugged design. Comparing airflow is easy and it can be used also for storm chasing and wind surfing. With a versatile LCD display, it can display the comfort level and has a wind hold mode.
You can switch between units of measure and it can be used for golfing. As a small weather meter, it has easy to access functions such as temperature. There is an optional tripod mount and a Beaufort scale. With a user replaceable battery, this all in one station can display in Fahrenheit or Celsius. As a handheld wind meter, it has a low battery indicator and it has a wind average mode and can also detect wind chill.
The Competition
When it comes down to other weather stations out there, they were not too effective because they lacked in comprehension when it comes down to the display, the accuracy, the setup and the features and functionality of the weather station all in all.
Other Frequently Asked Questions
Q: What exactly is a weather station?
A: According to Wikipedia , while a weather station on a large scale refers to a whole site that has instruments for recording weather and temperature changes and the like, there are weather stations that are portable desk buddies that can be placed with a sensor outdoors to monitor temperature and the weather at home at one's own pace.
Q: What are the benefits of having a personal weather station?
A: According to PCE Instruments , weather stations can measure a lot of data such as air pressure, wind speed, temperature humidity, weather and the like, which can be beneficial for certain fields of work or leisure such as sports.
Wrapping It Up
As a whole, La Crosse Technology 308-1414B Forecast Station is our best weather station due to its great features that will be very helpful for those who will need to track weather changes and the like for their intended purposes.
Jen Miller is a former electrical engineer and product specialist with more than 20 years of product design and testing experience. She has designed more than 200 products for Fortune 500 companies, in fields ranging from home appliances to sports gear and outdoor equipment. She founded Jen Reviews to share her knowledge and critical eye for what makes consumers tick, and adopts a strict no-BS approach to help the reader filter through the maze of products and marketing hype out there.  She writes regularly and has been featured on Forbes, Fast Company, The Muse, The Huffington Post, Tiny Buddha and MindBodyGreen.