The RunningSnail Solar Crank NOAA Weather Radio is our best weather radio. Equipped with a flashlight, it takes about 3 to 4 hours to be fully charged and is also very bright in terms of the flashlight. A real lifesaver, the weather radio also has a reading lamp and a solar panel to power it up during outdoor nights. You can use the lighting and radio conveniently to keep your household prepared in drastic times. You can also control the lighting range and keep your room bright during emergency situations.
Our step-up pick is the Sangean H201 AM/FM/Weather Digital Waterproof Radio and featuring a real time clock, the reception quality is so grand and it has PLL digital tuning as well. Packed in a sturdy cabinet, you can use it on a fishing trip and it has great sound overall with all the needed hardware included. You can also listen to stock and financial news and it has 10 station presets. With an adjustable sleep mode, it has easy push-button controls and an intuitive LCD screen display. Having an auto seek function, it has a battery power indicator for your needs plus snooze timers.
The budget pick is the iRonsnow IS-088 Dynamo Emergency Weather Radio and you can use it as a cell phone charger and it comes with cables as needed. It is a radio your family can depend on and it is less than 0.5 pounds as a portable, multi-tasking device. Pack this radio you're your emergency equipment. The brightness is pretty good and you get up to 5 minutes radio play time for 1 minute of hand cranking.
A Little Background
A weather radio is a very helpful way to keep you updated during the midst of a storm, a typhoon, a hurricane or many other emergency situations where you need help to get alerts about the current weather situation, and whether you should take action or such. It is important to have such an emergency radio that is not just battery operated but can also be powered in a variety of ways such as through solar and other ways. A weather radio, most of all, should have access to weather stations from NOAA channels and the like to give you broadcasts and weather updates during heavy situations. Most of all, weather radios are also mostly meant to be weatherproof.
How We Picked
In choosing the best weather radio, here are some of our criteria in judging:
Weatherproof – the weather radio should have some waterproof rating at least so that you can use it during hurricanes, strong winds, typhoons and other natural disasters that are coming your way.
Weather channels – the weather radio should be able to access the channels that refer to weather updates, such as NOAA weather channels.
Signal reception – the signal reception of the weather radio should be loud and clear so that you will be able to hear every single detail on the announcements on the radio for news and information.
Our Pick

RunningSnail Solar Crank NOAA Weather Radio
Our best weather radio is the RunningSnail Solar Crank NOAA Weather Radio and is ideal for emergency purposes during such times like the storm and power outages. It has a NOAA frequency of 162.40 to 162.55 MHz and it can be powered by a solar crank. Use it at a table lamp at home and it fits at the palm of your hand. Capable of AM/FM and NOAA weather alert radio, its power capacity is beyond compare.
It works well as a decent weather radio in which the frequency of the AM radio is at 520 – 1720 kHz and the FM radio at 87 – 108 MHz for convenience. You can also charge the radio via USB during emergencies using the built-in 2000 mAh power bank. During rainy weather, the weather radio is reliable due to the big capacity battery and the full featured radio.
Having an IPX3 waterproof level, the weather radio also offers passive charging options and 4-6 hours of radio on the average. It gives you emergency weather alerts and the audio is good for the radio. You can keep the battery powered as much as possible in the dark and it can give you a lot of radio stations.
Hurricanes and tornadoes cannot wear you down using the flashing red light of the weather radio and its capability for a self-charge for outage purposes. You can also adjust the light zoom on this weather radio and you have an emergency. You can survive severe storms with this weather radio. You can also depend upon the zoom adjustable flashlight and the SOS alarm is also useful.
The solar charging is great and it can light your way when you need it. Also, the antenna collapses safely and the 1-watt led flashlight is so useful. You can ask for help when you are in danger with this emergency weather radio which comes in handy when you need it. With a USB cable, it can act as a table lamp to bring more power.
Powered up by 3 AAA batteries, you can charge your cellphone easily with this weather radio on your camp trip. If you want to have a portable radio then this is the one to depend upon. It gives about 12 hours of light and is an excellent NOAA radio and is useful after a storm knocks out your power. If you live in hurricane areas then this is the one to depend on for long working times. There are many ways to charge in this weather radio. It comes with a user manual and it has a 45-day money back guarantee and 12 month replacement warranty.
Flaws but Not Dealbrakers
The RunningSnail Solar Crank NOAA Weather Radio does have a few limitations but they are nothing compared to its good sides, such as the fact that it does not have a headphone jack, but since it is an emergency weather radio, not everyone will be having headphones during such times, anyway.
Step-up Pick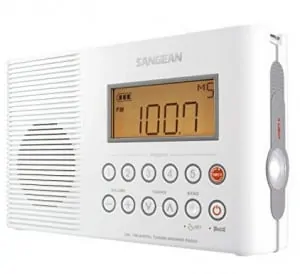 Sangean H201 AM/FM/Weather Digital Waterproof Radio
Our step-up pick is the Sangean H201 AM/FM/Weather Digital Waterproof Radio and it has a strong AM/FM antenna with over 20 presets to choose from. As a portable radio, you can enjoy your morning news just fine and it is an alternative to internet and television news. It can be taken anywhere and especially during extreme weather and even during trips to the beach.
With a built-in timer for your needs, you can listen to your favorite radio show easily. Moreover, it is JIS7 standard water resistant and is relatively easy to operate even in the rain and such situations. It is also submersible and is capable of saving you from power outages. Likewise, it has a loud audio and a large amount of power. With its sturdy and functional DSP tuner, it is extremely portable and it has a handy LED flashlight.
All 7 NOAA weather channels are accessible in this radio and the LCD is easy to read. Running on 2 d-cell batteries, you can be prepared and safe with this radio and it has been digital tuned and it has accurately stored presets. Look no further for the best weather radio with an auto-seek function. You can use it as a shower radio and it is quite similar to marine grade radios.
You will notice difference in quality as you can use it in wet or dry situations. Using a segment-style LCD screen, it can be used on weather emergencies and it has a handy backlit LCD. The sound is superb and the carrying strap is convenient. With an excellent reception quality, all your favorite stations are at hand even in any wet environments with the radio.
It has a wall mount bracket for mounting and the bracket and hanger that is easy to apply likewise. It is an extremely portable radio with exceptional FM reception for listening pleasure. It has a siren function and can be a good source of information. It has an emergency buzzer and is really waterproof so you definitely get what you pay for.
As an emergency radio, the FM reception is outstanding and you can pull in the stations that you want with the small size. You can use it in the basement or bathroom and the sound quality is very good all the way. What a great radio it is to be used as a beach radio as well. It is an excellent radio that produces strong and mellow sounds.
It is durable and reliable and a much better radio than others, truly above the standards. You can use it as a camping radio as the signal reception is excellent. You can even use it during work in the morning and it has a fairly deep sound and great radio quality.
Budget Pick

iRonsnow IS-088 Dynamo Emergency Weather Radio
Our budget pick is the iRonsnow IS-088 Dynamo Emergency Weather Radio and it is quite compact. The flashlight is brighter than most competitors out there and is easy to use. It can get wet without question and it has AM/FM functions. It is easy to carry and has an easy phone charge service.
As a power full radio, it can give you NOAA weather radio alerts and makes gadgets easy to charge. It gives you over 5 minutes talk time on the cell phone on a hand crank and it can act as a power bank. Using a 3 LED flashlight, it gets great reception anytime and anywhere.
It will hold a charge for a long time as a great emergency expert that is rugged and part of a good survival kit. You can charge via USB cable to computer and it has a dynamo for emergency. The brightness of the light is at 5000lux at 120mm, 0.25w per7 lumen and it can self-charge itself.
With a retractable antenna, you can turn on the NOAA channel with great ease and the radio will also charge your phone. It also uses solar charging and has a smart phone charger. As a self-powered emergency radio, it is better than regular radios and can work in any weather with its external recharge power. You can charge by solar panel and it has an internal 300 mAh battery with a wrist lanyard. There are multiple ways to charge the radio. With the user's manual, it is very compact and can give you 30 minutes of continuous torch light. With the hand crank alternator, you can't go wrong with it.
Best Weather Radio with a Solar Panel Charger

Kaito KA500 5-way Weather Alert Radio
With a dynamo crank, the Kaito KA500 5-way Weather Alert Radio works for all stations and for all emergencies and disasters. With a red blinking light, the wind up emergency action of this radio is very helpful when a disaster arrives.
On the AM radio, it has 520 – 1717 kHz frequencies and 88.00 – 108.00 MHz on FM on its AM/FM radio function. It can also charge via USB port and you can maximize the sunlight's rays using the solar panel. It also allows for SW/NOAA weather alerts as needed during emergency uses.
With a rechargeable battery pack, you can also charge small electronic items with great ease. You can use the flashlight and its AC type brushless generator is dependable. You can power the radio with great ease and it is usable during the day time. With 7 standard bands, the reading lamp is also useful in certain situations. It can be used under the direct sunlight to power it and it uses 3 normal AA batteries.
Having a reliable solar panel, it can be your convenient cellphone charger and the perfect radio for emergency situations. With a super bright LED light, the yellow body finish will not wear off anytime soon. The red flashing emergency signal is helpful and the solar panel is great for emergency use as well as the dynamo cranking power.
The PLL crystal control circuit is sturdy and the self-powered analog radio can be used for camping. This high quality radio is useful in an emergency situation and the amount of volume is excellent. With up to 120 turns per minute, it has a 5-led reading lamp that is useful when the power has gone out. Giving you maximum reception, it can give you weather alert signals and is powered by a Ni-Mh battery.
The reading lamp is impressive and the radio can be used as a flashlight as well. The solar panel is truly useful and it can charge small electronic items. The current and voltage is great and the built-in batteries are okay even in poorly lit conditions. There is a USB jack in this radio as well.
Best Weather Radio with a Built-In Clock

C. Crane CC Pocket Weather Radio
Capable of AM/FM radio, the C. Crane CC Pocket Weather Radio is great with its sensitivity to weak signals to give you crisp highs in sound. Broadcasting NOAA weather bands as well, it is a surprisingly good performer for a small weather radio for sound and reception.
With a great overall performance, you will get high quality audio while listening from this pocket sized radio. You can get surrounding radio stations in stereo or mono and it also has a sleep timer, providing rich lows for its sound quality. It has excellent selectivity and the reception is sensitive.
Equipped with rechargeable batteries, the design and feel of the radio is great and the sensitivity is nice. The clock display is very easy to use and the sensitivity for reception is nonetheless right for its size. The battery strength is clean and clear and it has 5 one-touch memory presets for convenience.
The FM stereo reception is beyond compare and the build quality is superb. The built in speaker works well compared to other pocket radios. It is quite sensitive with great selectable frequency so you can use it with ear buds. The bass sounds are clean and the LCD panel displays are reliable for overall performance. The backlight ensures the buttons and features are all visible, provide a firm grip.
The built-in speaker works well and the sleep timer is functional. The music reproduction gives the best audio possible for its size. The clock and alarm are great and there are premium ear buds included. The backlight comes on automatically and the sides are rubber coated for ergonomics. You can use it for a cross country trip and it has a removable belt clip. It stands upright with a great look, providing up to 75 hours of play. It runs on 2 AA batteries and is backed by a 1 year limited parts and labor warranty.
Best Weather Radio with a Hand Crank

KIPOZI Solar Hand Crank Weather Radio
With a solar hand crank, the KIPOZI Solar Hand Crank Weather Radio is a good radio with up to 30 minutes of torch light. Great for the price, it features AM/FM, WB and NOAA channels and is better than many competitors. With 3 LED lighting, it has a very solid construction, giving 5 minutes radio time using a multifunctional compact dynamo,
A nice little radio, it is small and lightweight with no need for batteries. It gives about 100,000 hours of service life as an emergency weather radio that can charge any phone. It is great for emergencies and an addition to an emergency kit. With 2 USB cables and an LED flashlight, all of the adapters are included plus the 3 x AAA batteries at 300 mAh at 3.6v Ni-Mh.
It is lightweight with a smart phone charger and everything you need for a portable radio. It is ready to use out of the box and is self-powered with cables needed. It has 2.7v to 4.2v of working voltage and the ease of operation is sure to impress you with this compact radio.
The frequency for AM: 525 kHz – 1710 kHz while for FM: 88 MHz – 108 MHz and for NOAA: 162.450 MHz – 162.550 MHz and it can power-up cell phones as well. It has 4 different interfaces and three charging ways to charge cell phones.
It can handle mp3 players as well and has hand crank charging features. The illumination of the led light is at 5000lux @ 120 mm. Overall, it is a good emergency kit as a small emergency radio for your camping light. It has solar charging and the power rating is at 0.5w. This emergency weather radio can charge other small devices and it has a micro USB port charging. It is backed by a 12 months warranty.
Best Weather Radio with a Flashlight

Horizons Tec HT-747 Emergency Weather Radio
With an emergency NOAA weather radio, the Horizons Tec HT-747 Emergency Weather Radio has IPX3 water resistance in case of emergency during the rain. With a compass fire starter, it is also solar powered for out of remote locations. With 1000 mAh of power, the whistle becomes rope that measures 11 feet long for emergency.
As a handy emergency radio, it can be hand crank powered for cell phone charging. With a sturdy ABS clasp, it has a self-charge hand crank and a cell phone charger with great battery capacity for those in need of help. Having an LED flashlight, you can tune in to weather and disaster alerts with the AM and FM radio as well. As an emergency power source, it is intuitive to use and it has a free paracord bracelet.
With a multi-band tuner, it gives up to 10 hours of power and can be used in emergency situations as part of your survival kit. The volume goes pretty loud and it works as described with the durable construction and magnesium flint. Having an emergency radio is great for disaster preparedness.
With everything you need, it has a 3-led flashlight and is lightweight but rugged. With a compass, this lasting radio can give 20 minutes of radio and flashlight power and takes up very little space. It comes with an operating manual.
Best Weather Radio with an Emergency Siren Feature

Midland WR120 NOAA Weather Certified Radio
The Midland WR120 NOAA Weather Certified Radio gives NOAA weather updates such as tornadoes at night and all latest weather updates and all hazards, regardless where people live. It can give tornado warnings with its 90 db siren as a public alert certified radio.
People with larger homes can benefit from it and it has a built-in clock. It has SAME (specific area message encoding) programming sounds and can be an emergency power backup. With a larger screen, it can be used up the highway.
Featuring a trilingual display, it is great for high-risk weather areas and gives winter weather advisories as a weather radio. You can program the radio easily. It has an alarm clock that can be used in the morning. It can be used for smaller homes and it gives you all 7 NOAA channels with silent programming for any selected county for flood alerts.
Stay up to date with the backlight on the display and the color coded alert indicators for tornado alerts with up to 10 reviewable alerts. Made for outdoor use, it has alarm and snooze function and can detect thunderstorms. It is RoHS compliant and comes in 3 languages. With 25 programmable counties, it gives danger warnings with over 60 alerts during power outages.
With a DC-in jack, it can be used for hazardous weather with a voice alert. It can give emergency information, powered by 3 AA alkaline batteries. In English, Spanish, French languages, it is functional with the flashing LED warning systems. It is great for emergency power back-up and has an owner's manual. It is backed by a 1-year warranty.
Best Weather Radio that also works as a Power Bank

EpochAir Emergency Hand Crank Emergency Radio
The EpochAir Emergency Hand Crank Emergency Radio features an emergency hand crank and it comes with adapters in case of an emergency. As a self-powered radio, it gives power of 20 minutes at normal volume. It comes with a wrist lanyard and is perfect for typhoon outages. With AM/FM function, it is very compact and won't take much space as part of a good survival kit.
With NOAA weather radio alerts, it is worth the price with up to 5 minutes radio play time. It is easy to use with an LED flashlight. It can support TF card and has a retractable antenna. With a 2000 mAh capacity, it can be a smart phone charger and it is compact. With 3 ways to charge, the maximum power consumption is at 0.5 watts on this emergency radio. It has a built in flash light and can act as a power bank with the mini USB cable.
Ideal for hiking, it is a great concept with multiple ways to charge. The AM band is from 525 kHz to 1710 kHz and the FM band is from 88 MHz to 108 MHz while the weather band is from 162.40 to 162.55 MHz and it is easy to carry as a multi-function radio. It can fit in a car trunk and it can charge by solar panel.
Perfect for camping, it can give 30 minutes of continuous torch light and a nice volume. The lifespan of the LED is about 100,000 hours and it is lightweight for survival purposes. With 5 minutes phone talk time, it has a rubberized housing and you can wind up the internal alternator. The overall construction is solid. The KED illumination is at 5000lux @ 120mm and it has a waterproof housing.
Best Weather Radio with an Emergency Beacon

Eton American Red Cross Weather Radio
The Eton American Red Cross Weather Radio has AM/FM function for emergencies and disasters and has weather alert radio to stay alert. With a digital radio with display, it works even in the car for all 7 NOAA and environment Canada weather bands.
As an all-purpose radio, it charges your smartphone as an excellent emergency radio for individuals and families. With a red flashing beacon, you can protect your family. It charges via USB and is useful for hurricanes to be prepared. With multiple power options, it is great for emergency purposes and has a bright LED flashlight.
Ideal for emergencies and for preparedness actions, it has rechargeable batteries that can be for smartphone charging. It has a glow in the dark locator and gives storm alerts when you need it. The radio allows you to play an external mp3 player and the hand crank can charge it.
You can receive news and information and it also has solar power. It is full of features and runs on AAA batteries as a multi-powered radio. It is a great emergency radio that can make a difference in an emergency. Having an emergency beacon, you can feel safe and sound with the multi-function radio with an alarm clock and an aux input.
The Competition
Other weather radios were not as great as these ones because they did not have a lot of features that make up a great and informative weather radio such as accessibility and signal strength, all of which are important aspects that make up a great weather radio.
Other Frequently Asked Questions
Q: What are the benefits of listening to weather warnings on the radio?
A: According to WISN , weather broadcasts are free and they give information for as long as you can stay in the program and they can alert you for updates in your locality or area about weather situations.
Q: What is NOAA and how important is it listening to their weather radio channels?
A: According to FEMA , the National Oceanic Atmospheric Administration or NOAA gives alerts through weather radios that are capable of accessing NOAA channels so you can get nonstop weather alerts whenever and wherever for hazards, weather updates and the like in a very comprehensive way.
Wrapping It Up
As a whole, the RunningSnail Solar Crank NOAA Weather Radio is our best weather radio for those situations where a hurricane or typhoon might be entering your area and you have to listen to news to get information when the power is out.
Jen Miller is a former electrical engineer and product specialist with more than 20 years of product design and testing experience. She has designed more than 200 products for Fortune 500 companies, in fields ranging from home appliances to sports gear and outdoor equipment. She founded Jen Reviews to share her knowledge and critical eye for what makes consumers tick, and adopts a strict no-BS approach to help the reader filter through the maze of products and marketing hype out there.  She writes regularly and has been featured on Forbes, Fast Company, The Muse, The Huffington Post, Tiny Buddha and MindBodyGreen.