Here are the 100 best things to do in Germany that will show you the charm, beauty and cultural diversity of this country.
Germany is rich with surprises and contrasts just waiting to be discovered by the discerning tourist. A country of enchanting little villages nestling between lofty and imposing mountains, fairytale castles and churches and lush vineyards rolling down towards the banks of the Rhine or the Mosel, Germany also boasts of the more rumbustious Munich Beer Festival and the Cologne Carnival, a very fine choice of gateaux, sausages and beer and a powerful and somewhat spooky folkloric tradition.
1. Die Zugspitze
Located in the Garmisch-Partenkirchen region of Upper Bavaria, the Zugspitze can be accessed by cable car from the Eibsee lake (around ten minutes) or by cogwheel train from Greinau followed by a cable car from the Zugspitzplatt to the summit. There are also five hiking routes for the more intrepid and guided tours with overnight stops are a popular tourist attraction for avid hikers.
At 2.962 metres above sea level, the Zugspitze is not only the highest mountain peak in the Wetterstein mountains, it is the highest peak in Germany. On a clear day, the breathtakingly lovely panorama of the mountain ranges of four neighboring countries – Germany, Austria, Italy and Switzerland – is clearly visible from its summit. For those who love hiking and/or winter sports, the Zugspitze is definitely a number 1 choice when visiting Germany!
2. The Castle of Neuschwanstein (Munich)
In 1868, four years after acceding to the throne, the shy and reclusive King Ludwig II commissioned his architects Eduard Riedel and Georg von Dollmann to build him a mediaeval castle where he could hide from his people. Paradoxically, Ludwig himself only lived a few months in the castle before his death in 1886; 7 weeks later the castle was opened to the public and it has been one of Germany's most popular tourist attractions ever since.
Located in Hohenschwangau in the rolling green hills of southern Bavaria, surrounded by blue lakes, Neuschwanstein appears to float in the clouds like some magical castle in a fairytale. From Munich, it can easily be visited as a day trip. Tickets should be booked in advance!
3. Europa Park (Freiburg)
North of Freiburg in Baden-Württemberg in the little village of Rust is the biggest amusement park in the whole of the German-speaking world. In 2015 alone, it boasted 5,5 million visitors and is among the top 5 tourist attractions in Germany worldwide. In 2016, it won the "Golden Ticket Award" as the best amusement park in the world for the third year running. As an additional bonus, it is also open in winter!
With more shows, rides and attractions than one could ever imagine, including the biggest roller coaster in Europe, the Europa Park offers unlimited fun, excitement and entertainment to young and old alike. The Europa Parkc can be accessed from Freiburg by car in around 30 minutes and the closest railway station is Freiburg. Additionally there are a number of airports close by which offer shuttle-bus transport directly to the Europa Park.
4. Oktoberfest (Munich)
Munich`s flamboyant Oktoberfest is famous the whole world over. Since its inception in 1810 in celebration of the wedding between Ludwig of Bavaria and his bride Therese von Sachsen-Hildburghausen, the Oktoberfest has grown continuously in size and popularity. With its dirndls and its lederhosen, its stalls and diners offering a multitude of German and Bavarian specialties and – of course – its fourteen beer tents offering beer for every taste (and wine, too!), the Oktoberfest is a must for anyone seeking the fun side of Germany.
The Oktoberfest takes place once a year, beginning in September and ending in October, on the famous "Theresienwiese", otherwise known as "Festwiese". Travel by public transport from München is recommended owing to lack of parking.
5. Cologne Carnival (Cologne)
Traditionally, Cologne carnival begins whimsically at the 11th hour on the 11th day of the 11th month, although the serious partying does not begin until Shrove Thursday. However, when it does, it goes with a bang! Cologne carnival is a celebration, above all, of fancy dress: streets, pubs and restaurants are full of exotic and bizarre costumes, streamers, balloons, practical jokes and laughter. The highlight is a 6 kilometre-long parade through the streets of Cologne on shrove Monday. A colorful, unforgettable, once-in-a-lifetime experience!
Though Cologne carnival is predominantly a street festival, there are plenty of carnival dances, dinners, parties and other indoor events running at the same time to choose from. Street activity during carnival time is at its height in the city center and the old parts of the city, which are accessible by bus or train from Cologne airport within 20 to 25 minutes.
6. Cologne Cathedral (Cologne)
At the time of its completion in 1880, Cologne Cathedral, with its awe-inspiring twin spires, was the highest building in the world. Even now, at 157m, it dominates the surrounding architecture with ease. Building commenced in 1248 but was halted during the Middle Ages and recommenced in the 19th century. Cologne cathedral reputedly houses the remains of the Three Biblical Magi- which were given to the Archbishop of Cologne by the Holy Roman Emperor Frederick Barbarossa in 1164 – and is an important destination for modern-day pilgrims to this day. For this reason, but also because of its being "an exceptional work of human creative genius", Cologne Cathedral was dubbed an UNESCO World Heritage Site in 1996.
Cologne cathedral is situated very close to Cologne railway station and is impossible to miss! It is around 25 minutes from Cologne airport by bus or rail.
7. Miniature Wonderland (Hamburg)
In 2000, brothers Gerrit and Frederik Braun set out to fulfil a long-cherished dream – to build the largest model railway in the world. 16 years later, Miniature Wonderland ist just that! The Hamburg section alone encompasses 200 square metres and includes all of Hamburg's main attractions, including an airport and 1,500 trains arriving and departing the railway station, all computer-powered. Every 15 minutes it becomes "night" in Miniature Wonderland and the lights come on. Visitors can "travel" from the American section – with the Grand Canyon or Las Vegas – to the fjords of the Scandinavian section, just in a few short steps. Sensational!
Located in Hamburg's Speicherstadt, Miniature Wonderland is only 800 metres from the city centre and is easily accessible within a few minutes from Hamburg railway station by bus or subway.
8. Black Forest
For romance, hospitality and great cooking, the Black Forest is hard to beat. Whether your preference is alpine sports and hiking, or wellness and relaxation, the Black Forest has it all.
Located in the south west of Baden-Württemberg in the central German highlands, the Black Forest boasts dense woods, green and rolling hills and quaintly-timbered houses in sleepy villages. In addition, 20 destinations in the Black Forest were awarded "Family Friendly" holiday seals, so the Black Forest is great for children.
The Black Forest is easily accessible from railway stations Freiburg (1 hr) or Karlsruhe (1hr 20 mins). The nearest airport is Stuttgart.
9. The Romantic Road
The winding path of Germany's Romantic Road, which incorporates over 400 km between Würzburg to Füssen in Allgäu through Germany's south-central countryside, was travelled by the Romans over 2,000 years ago. Whether by coach or by bus, by bicycle or even on foot, the Romantic Road offers some of the most memorable visual impressions you will experience in Germany. 28 of Germany`s quaintest mediaeval villages, lush green countryside and rolling hills, blue lakes and finally King Ludwig`s spellbinding castles are only part of this spectacular trip back in time.
Starting from Würzberg or from Füssen, the Romantic Road can be travelled within a day; however, you may well wish to take more time to enjoy its beauties and coach trips of several days are offered for you to do just that!
10. Brandenburg Gate (Berlin)
As a former symbol of Berlin's´ division upon itself, Brandenburg gate actually looks back on over 200 years of history. Brandenburg gate was erected between 1788 and 1791 and is the only one of the former 18 city portals which remains. In the years between 1949 and 1990, the gate drew visitors from both sides of the Berlin wall to look at "life on the other side". Since the reopening of the wall in 1989, the gate has come to signify the reunification of Germany. It is one of the most popular attractions in Berlin and thousands of tourists flock to Berlin every month to view it.
Brandenburg Gate is situated 5 minutes from Berlin railway station on Pariser Platz, a highly-frequented shopping and tourist precinct. The closest subway station is Brandenburg Tor.
11. Checkpoint Charlie and the Wall Museum (Berlin)
Checkpoint Charlie, immortalized in spy films and literature alike, was until the reopening of the Berlin Wall in 1989 the checking-point in the wall between the American sector and East Berlin, beyond which only foreign visitors or allied personnel could pass. Close by is the Berlin Wall Museum, which documents the history of the Wall and the daring and often fatal attempts made by East Germans during the years of the Cold War to cross it.
Checkpoint Charlie is 3 minutes by taxi or 17 minutes on foot or by subway from Berlin's famous Alexanderplatz (subway station Kochstr/Checkpoint Charlie) and 9 minutes on foot from Berlin's main railway station. A visit to this sobering and illuminating reminder of Germany's more recent political history is well worth it!
12. The Loreley (St. Goarshausen)
Few legends have so captured the imagination of poets, artists and musicians and the general public alike as that of the Loreley: the beautiful maiden, sitting on a rock combing her hair and luring sailors and fishermen to their deaths by drowning. Yet in the little town of Sankt Goarshausen on the eastern shore of the Rhine in Rheinland Pfalz, the Loreley is more than just a legend. At the end of St. Goarshausen`s little pier, her beautiful bronze statue, 3.3 metres high, still gazes mournfully into the water.
High above is the famous Loreley rock, which can be reached by steps up the cliff. Its summit offers a fascinating view of the Rhine gorge which should not be missed.
13. The City of Lübeck
If you like mediaeval architecture, a maritime atmosphere and marzipan, then the City of Lübeck in Schleswig-Holstein is the place for you! Lübeck on the river Trave, famed for its brick-gothic architecture, is also one of Germany's largest ports and a former member of the Hanseatic League. For these reasons it was listed as a World Heritage Site by UNESCO in 1987.
Lübeck has its own airport; the closest international airport is Hamburg. By rail it is 45 minutes from Hamburg.
14. Harz Mountains
100 km long and 300 km wide, the Harz mountains in Northern Germany stretch from Lower Saxony through Thüringia and into Saxony Anhalt, dwarfed by the famous Mount Brocken or "Blocksberg", which at 1,141.2 metres above sea level reputedly draws all the world's witches on Walpurgis night. The Harz abounds with strange legends of haunted mines and wild giant men, but its wide popularity as a holiday resort has not suffered.
Whether it's hiking, rock-climbing, alpine sports or mountain biking you're after, or wellness, spas and excellent cuisine, the Harz has them all, for beginners, experts and small children alike.
15. The Island of Juist
At just 17 km long and 0,5 – 1 km wide, the little island of Juist is nonetheless the longest of the north frisian islands.The locals refer to it as Töwerland" or "magic land"; with its long idyllic beaches and atmosphere of unruffled tranquillity (no cars are allowed on Juist except to doctors), it is the perfect place to relax and escape from the noise, bustle and hectic activity of everyday life.
Juist has only two villages, Juist and Loog, both of which offer apartments and housing at modest prices. Transport is by bicycle, carriage (from the airport) or on foot, so comfortable shoes are a must! The island can best be reached by taking the train from Berlin to Norddeich and then travelling by ferry (around 90 minutes) or by plane (just seven minutes) to Juist.
16. Hamelin – Pied Piper Land
On the banks of the river Weser in Lower Saxony, nestling among the lovely Weser hills, is the small city of Hamelin. It was here in 1284, as legend would have it, that the famous Pied Piper of Hamelin rid the city, first of an infestation of rats and then, when the agreed payment was denied him, of the city's children. The legend permeates Hamelin even today: the Pied Piper`s house is a popular tourist attraction and in a little bakery in the old part of the town it is possible to buy loaves of bread in the shape of rats.
Equally attractive are the winding cobbled streets and charming timbered buildings of the old town center and the promenades along the banks of the Weser, with their fish restaurants and pubs. Ferry trips and boat parties on the river are a further huge attraction. Hamelin is a relatively small city, but it is definitely worth a visit.
17. Museum Island (Berlin)
It is rare to find an internationally significant museum on a small island, and still rarer to find five, but on the northern half of Berlin's Museum Island in the river Spree you will find just that. From the Pergamon Museum with its collection of ancient architecture – including the Greek altar after which it is named – to the Bode Museum with its art exhibitions, you can marvel at artefacts of all kinds and from all ages on Berlin's Museum Island.
But there is more to Museum Island than just museums. It houses both the magnificent Berlin Cathedral and the City Palace, both of which are definitely worth seeing. Museum Island is within walking distance from Berlin's famous and central Alexanderplatz (around 15 minutes).
18. Moritzburg Palace (Moritzburg)
The exquisite baroque castle of Moritzburg lies in the municipality of Moritzburg, approximately 16 km from Dresden city center, in the center of an artificially contrived symmetrical lake. Originally conceived as a hunting lodge in 1542, the castle gradually took on its present form in the 18th century under the rule of Augustus the Strong; today it is considered one of the finest examples of Baroque architecture in Sachsen. And if its exterior is breathtaking, its interior is rich and lavish beyond description. Not for nothing was Moritzburg Palace used as the backdrop for the movie "Three Hazelnuts for Cinderella"!
Similarly worthy of interest is the little pheasant castle in Moritzburg Palace grounds, another delicious example of baroque architecture at its finest. And if you like gingerbread, Moritzburg is definitely the place to go! Moritzburg Palace can be easily reached by bus or coach from Dresden in under an hour.
19. The Port of Hamburg
Lively, colorful and bustling, Hamburg is everything a harbor town ought to be and then some. Hamburg's history goes back to the reign of the Emperor Charlemagne in AD 808. Owing to its position at the mouth of the Elbe estuary, Hamburg has been Germany's most significant port since the 12th century. It is also the second largest city in Germany and the eighth largest in the EU.
Whether you choose to go to a musical or the theatre, to visit Speicherstadt, Miniature Wonderland or any other of Hamburg's numerous tourist attractions, to take a boat trip down the Elbe or simply to enjoy a meal in one of the countless excellent fish restaurants along the banks of the river, Hamburg will not disappoint you. Lesser-known but equally fascinating attractions include the fish market, the Portuguese Quarter and Harry`s Bazaar. Hamburg
has both a major railway station and an airport and is easily accessible from anywhere in the world.
20. Tübingen`s Chocolate Market
On the banks of the river Neckar in the province of Baden-Württemberg, approximately 30 km from Stuttgart, lies the beautifully nostalgic town of Tübingen, one of Germanys oldest university towns whose renowned Eberhard Karls University, founded in 1477, is one of the oldest in Europe. The town itself is lovely with its castle Hohentübingen high above the town, its beautiful mediaeval church – the "Stiftskirche" -, its Hölderlin tower and the wonderful reflection of its buildings´ facades in the waters of the Neckar.
Tübingen is also home to Germanys one and only chocolate festival.Against the romantic backdrop of the old city center, master chocolatiers from five continents demonstrate the amazing versatility of the cocoa bean in a breathtaking (and mouthwatering) display of imagination and expertise. Visitors are encouraged to try not only the finished products, but also the processes by which they are made. A must for chocolate lovers! Tübingen can be reached from Stuttgart by train or bus in just under an hour.
21. The Fairytale Route
Germany's "Fairytale Route", established in 1975, has rapidly become a leading tourist attraction. Running from Hanau (Hessen) in central Germany to Bremen in the north, it encompasses 600 km of nature parks, towns and villages associated with the brothers Grimm and their stories as well as numerous towns and buildings of visual or historical significance.
The Fairytale Route can be travelled by car or by coach, or even by bicycle; alternatively, there are many different guided tours on offer, with overnight stops, which make the route more restful and informative.
22. Kiel Week
Kiel Regatta, the highlight of Kiel week, is the largest sailing event in the world and one of the largest festivals in Germany. Beginning as a sailing competition in the 19th century, it has gradually expanded to become a huge festival, with free music events, cabaret, beer tents and the best cuisine Kiel can offer. It also offers an exhibition of historical sailing ships and a spellbinding display of fireworks, but the regatta itself, with around 2,000 sailing ships and regattas in every discipline, is an exciting and awe-inspiring event which should not be missed.
Kiel week takes place during the last complete week of June. Kiel is the regional capital of the province Schleswig-Holstein, directly on the Baltic coast, and can best be reached by train from Hamburg (around 1,5 hours). The nearest airports are Hamburg and Lübeck. Since it is a relatively small city and is bursting at the seams during Kiel week, hotel accommodation should be booked well in advance.
23. Goslar
Believed by many to be the prettiest town in Germany, the little town of Goslar in lower Saxony, founded in 922, has over 1,500 timbered houses from different periods in a beautiful state of preservation. For this reason, the entire old part of the city, as well as the Rammelsberg silver mine – which has been continuously in use for over 1,000 years and upon which Goslar's wealth was founded – were designated UNESCO world heritage sites in 1992.
Despite its diminutive size Goslar offers a wealth of attractions. The old market place, the pewter museum, the Stabkirche and – of course – the silver mines and the mining museum are all definitely worth a visit. But above all, it is the atmosphere and charm of Goslar which leave a lasting impression. The Christmas market is quite simply unforgettable. Goslar is around 40 km from Brunswick (approximately 1 hour by car or train) and 71 km from Hanover (around 1,5 hours). The closest airport is Hanover-Langenhagen.
24. The Reichstag (Berlin)
The Reichstag was opened in 1894 to house the German Parliament, but fell into disuse after it was severely damaged by fire in 1933. Some work was done on it during the 60s, but it was only after the reunification of Germany in 1989 that it was completely restored and partially reconstructed, including the addition of an amazing glass dome, work of architect Norman Foster, which offers a breathtaking view over the city. Work was completed in 1999 and the German Bundestag, or Parliament, convened there again for the first time in April of that year.
The Reichstag is one of the most frequently-visited attractions in Berlin, however visitors should be aware that they will be required to register in groups in order to gain admission. Situated on Berlin's Platz der Republik, it is only a stone's throw away from Brandenburg Gate and well worth a visit!
25. Herrenhäuser Gardens (Hanover)
The magnificent palatial gardens in the urban part of Hanover, the capital of Lower Saxony, are a definite must for lovers of plants and landscape gardening. They comprise four gardens covering a total of 135 hectares; over 1,500 plants from different climes have their home here, including over 800 flowering orchids.
The Castle museum, the Wilhelm Busch Museum and the Kunstfestspiele (a major summer art and music festival) are only some of the additional attractions this 300 year old baroque garden complex has to offer. An absolute highlight, however, is the annual firework competition, which takes place between the months of May and September. Herrenhäuser Gardens are around 15 minutes from the railway station by car, or 20 minutes by subway. Subway station is Herrenhäuser Gärten.
26. Memorial and Museum Sachsenhausen (Oranienburg)
35 km north of Berlin in the province of Brandenburg lies the town of Oranienburg. Here, in the concentration camp Sachsenhausen, over 200,000 people were held captive between the years 1936 and 1945. Tens of thousands of them are thought to have died here of exhaustion, illness, undernourishment or by execution. At the onset of liberation by the Russian Red Army, the camp was evacuated at the beginning of April 1945 and 33,000 prisoners were marched north towards Wittstock, many of them dying of cold or disease on the way. The 3,000 left behind at Sachsenhausen were eventually liberated by Polish and Russian soldiers.
Sachsenhausen was officially declared and opened as a museum and memorial in 1961. Today it is one of the most nationally and internationally significant memorial sites of the Holocaust in Germany and a chilling reminder of the darker side of the country`s not-so-distant past.
27. Aachen Cathedral
Aachen cathedral was the first German building to be put on the UNESCO World Cultural Heritage list and is one of the oldest buildings in Germany which are still in use. For nigh-on 600 years it was the coronation cathedral for German kings, and the marble throne of the Emperor Charlemagne used for this purpose – still virtually intact today – is one of the Cathedral's most popular attractions. Two gilded shrines from the early 13th century, containing the remains of Charlemagne and relics from the life of Christ, are a further attraction, both for tourists and for pilgrims from all over the world.
Aachen borders Holland and Belgium, with the closest airport being the Maastricht Aachen airport in Holland. The Cathedral is approximately 1.4 km from the main railway station.
28. Schnoor Quarter and Old City (Bremen)
The Schnoor Quarter is the oldest and by far the most charming part of Bremen`s old city center. Narrow, winding cobbled streets connect quaint, 13th or 14th century houses one after the next like pearls on a string, from which the precinct may well have derived its name, for "Schnur" is the German word for string. In earlier times, this was the poorest part of the town and house-owners could not afford to modernize their homes. The result is that they have remained almost exactly as they were in mediaeval times, though they have been lovingly restored.
Today the Schnoor Quarter is a favorite haunt for visiting tourists; nostalgic shops, cheery pubs and cosy cafés create a warm and inviting atmosphere against a background of mediaeval charm. Definitely worth a visit, the Schnoor Quarter is only 15 minutes on foot from Bremen`s main railway station, or 20 minutes by bus. Bremen has its own airport.
29. Allianz Arena (Munich)
If the roar of 75,000 football fans and the excitement of this most popular of team games is one of your passions, then the Allianz Arena should be on your list of places to visit in Munich. Since its inauguration in May 2005, this huge stadium has seen all the home games of FC Bayern Munich; it was also one of the venues of the World Cup in 2006 and hosted the Champions League Final between Bayern and Chelsea in 2012.
The Allianz Arena is around 25 minutes by car (or 45 minutes by bus) from Munich's main railway station.
30. Müritz Nationalpark (Waren)
With its more more than 100 lakes of over one hectare and surface of 322 sq km, 70 % of which are woods and 30% water, the Müritz National Park in the south of the province Mecklenburg Western Pomerania is not only the perfect habitat for nature lovers, but for many endangered species of bird and animal too. The possibility of observing these shy creatures close up from specially constructed hides turns any holiday into a voyage of discovery, and the stunning beauty of the surrounding environment is a feast for the eyes.
For those less interested in the beauties of nature, there are hiking routes, cycling routes and canoe routes within the Park. Steamboat cruises take place regularly and are very popular with visitors. The Müritz National Park is located in Waren, approximately 175 km from Berlin and 100 km from Rostock.
31. Saalfeld Fairy Grottoes
On the perimeter of Thuringia's slate mountains lies the town of Saalfeld on the river Saale. From around 1530 onwards, alum was extensively mined in the area, giving rise to the wonderful fairy grottoes now included in the Guinness Book of Records as the most colorful cave grottoes in the world and drawing an average of 160,000 visitors yearly.
Guided tours include the history of the mediaeval alum mines and their geological composition, as well as fairy tales and legends associated with the caves. Saalfeld lies 1,5 hours south of Leipzig by car or train.
32. Berlin Television Tower
At 368 m tall, Berlin`s television tower – located close to the city's bustling Alexanderplatz – is the highest structure in Germany and the second highest in the EU. Originally built between 1965 and 1969 as a symbol of Berlin, it now houses a visitors platform and a rotating restaurant at just over 200m, which offer a panoramic view of up to 42 km, depending on visibility.
The Television Tower is located around 28 minutes on foot from Brandenburg gate, or 7 minutes by taxi. It is only 7 minutes on foot from Berlin's main railway station and is thus very central and impossible to miss! Owing to its immense popularity with visitors, long waiting times for entry may occur.
33. Bastei Bridge, Saxon Switzerland National Park
Saxon Switzerland National Park, 42 km southeast of Dresden, comprises 93 km of the most breathtaking natural beauty in Europe. Located in the Elbe sandstone mountains, it offers over 400 hiking routes through the lushest scenery imaginable, over 700 peaks for rock climbers and a wealth of apartments, camping sites or hotels for those who prefer just to relax and enjoy the view!
The most popular attraction of the region is the Bastei Bridge, which was built in 1851 of the same sandstone as the surrounding mountains, thus blending beautifully with them. 76,5 m long and 193 m above the winding banks of the Elbe, the bridge affords the most unique and spellbinding views. Best route is by train from Dresden to Lohmen (around 1 hour). From Lohmen, free shuttle-buses run directly to the National Park.
34. The Green Vault, Dresden Castle
Anyone deciding to visit Dresden Castle`s Green Vault must first decide whether to visit the historical Green Vault or the New Green Vault, for this fabulous collection of gold, silver and precious gems set in the most exquisite of artwork was so huge that the decision was made, during restoration of the castle, to divide it between two venues!
The New Green Vault contains more than a thousand magnificent examples of jewellers`art dating from over three centuries.The Historical Green Vault houses over three thousand masterpieces of goldsmiths` and jewellers`art, as well as exquisite pieces of ivory or amber. Insiders speak of the richest treasure chest in Europe and it is well worth while to take the time to visit both. Dresden Castle is around 20 mins on foot from the railway station, or 7 minutes by bus.
35. Nuremberg Christmas Market
Few events embody the anticipation, sweet nostalgia and sheer cosiness of Christmas as does a German Christmas market. Wool-hatted and -mittened vendors sell every Christmas gift you are likely to need from little wooden chalets gaily decorated with Christmas lights, and the scent of German mulled wine, roast chestnuts, sugared almonds and donuts wafts on the air, combining with the sweet strains of German Christmas carols.
Nuremberg's Christmas Market has been taking place since at least 1628. Between 25th of November and 24th of December each year, Nuremberg opens its Christmas Market to receive and enchant guests from all over the world. With an estimated 2 million visitors, Nuremberg's Christmas Market is one of the biggest in Germany and one of the most famous in the world. It takes place on the market-place in the old city and surrounding streets, right next to the railway station. Nuremberg has its own airport.
36. Bodensee (Lake Constance)
Lake Constance, at the northern base of the alps, borders on Germany, Austria and Switzerland with its German borders in Bavaria and Baden-Württemberg. It is by far the biggest lake in Germany and has long been a very popular venue for watersports and sailing enthusiasts. But the area is also rich in culture, history and scenic beauty. Konstanz town, on the Swiss border, and Konstanz Harbor are well worth a visit, as are Lake Constance`s largest island, Reichenau (joined by a causeway to the mainland) and the famous Stilt House Museum.
Konstanz town has a large railway station with connecting trains from the closest airports: Stuttgart (2 hours) or Frankfurt am Main (4 hours) in Germany, or Zurich in Switzerland (1 hour).
37. Halbe Tropical Islands (Krausnick)
Just 60 km south of Berlin, in the 1,000 year-old village of Krausnick, Halbe, lies the leisure and family park "Tropical Islands". This little paradise just outside Berlin has to be seen to be believed. Set like a jewel in the enchanting Spreewald Forest, but with palm trees, sandy beaches, tropical birds and gardens overflowing with exotic plants, it offers exactly what it promises: a holiday on a tropical island.
Playgrounds and water games ensure that the smaller guests are happy, while the larger ones can enjoy the biggest sauna and wellness resort in Europe. A number of different types of accommodation are available for overnight stays. A great opportunity to relax from the bustle and activity of Berlin, Halbe Tropical Islands is easily accessible from Berlin or Cottbus to the station of Brand. A shuttle bus travels regularly from Brand to Halbe Tropical Islands.
38. Dresden Frauenkirche
Dresden`s famous Frauenkirche has witnessed both opulent glory and complete destruction in the course of its over 1,000 years of history. Originally conceived as a missionary church in the 11th century, it underwent a number of major architectural changes to re-emerge, in the middle of the 18th century, as one of the finest examples of sacred Baroque architecture in Germany.
In February 1945 the Frauenkirche was totally destroyed in one of the last bombing raids of WWII, to lie in ruins for more than forty years. It was not until after the reunification of Germany that the project to begin rebuilding it was discussed, a project which began in 1994 and was to take 11 years. Today the Dresden Frauenkirche can easily be accessed and viewed in all its former glory. It stands in the middle of Dresden's old market place, nearest tram stops "Altmarkt" or "Pirnaischer Platz".
39. Erlebnis Zoo (Hanover)
Of great appeal to young and old alike is Hanover's huge adventure zoo, which was founded in 1865 and now attracts over 1 million visitors per year. 22 hectares in size, the zoo houses over 2,000 different animals and nearly 200 species. Alongside close contact to the animals through thick protective glass plus various shows and public feeding-times, the zoo offers additional attractions such as the Sambesi boat trip, Yukon bay and an adventure playground for children.
Refreshment is offered by numerous little cafes offering specialties from a number of different countries. Since at least a day is required to see everything, this is all to the well. It is located in Adenauerallee, on the outskirts of the Eilenriede woods; bus or tram stop ("Zoo") are minutes away. The zoo is closed on Mondays, its winter season with different attractions is from 31st October to 21st March.
40. Heidelberg Castle (Heidelberg)
This lovely, partially-ruined old castle is generally considered to be one of the finest examples of early Renaissance German architecture, as well as Heidelberg`s biggest landmark and attraction. In its earliest form, the castle existed prior to 1214 and was developed into two castles around 1294, with additions and changes being made in the 17th and 18th centuries. Although wars, fires and two lightning bolts have caused recurring damage to the castle and it has never again been fully restored, its majestic position in the hills above Karlsplatz and the amazing view it affords attract over 1 million visitors a year.
The castle can be reached on foot via 315 steps up the hill, or by funicular. Both start from P12 at the "Kornmarkt". A shuttle bus runs every 60 to 90 minutes from Frankfurt airport directly to Heidelberg.
41. Gendarmenmarkt Open Air Festival (Berlin)
Every year the in the heart of summer, one of the loveliest town squares in Europe – Berlin`s Gendarmenmarkt – opens for a few days to invite visitors from all over the world to a series of classical concerts under the night sky.
Against the spectacular backdrop of this beautiful square, you can hear works of classical composers, but also light opera and jazz, pop or rock played on classical instruments. Many of these concerts are also accompanied by fireworks to amaze and delight the eyes as well as the ears. Closest subways from Berlin railway station are "Französische Str." or "Hausvogteiplatz".
42. Jewish Museum (Berlin)
The three buildings of Germany's Jewish Museum in Berlin comprise one of the largest documentations of German-Jewish history in the whole of Europe, spanning a period of over 2,000 years. With 720,000 visitors in 2012, it is one of Berlin's most popular museums.
Quite apart from its content, the main building itself is a fascinating example of contemporary architecture. Designed by the Jewish architect Daniel Libeskind, it most clearly resembles a broken Star of David with its futuristic angles, planes and facets. A visit to this museum should definitely not be missed! The Jewish Museum is located on Lindenstr., 10 minutes by taxi from Brandenburg Gate and 11 from Berlin`s railway station.
43. Wernigerode
In the Harz mountain region of Saxony-Anhalt at the foot of their most majestic peak, the "Brocken", lies the enchanting small town of Wernigerode. With its numerous small cobbled streets of half-timbered houses, its quaint castle and market place, its lofty position in the mountains at 250 m above sea level and its picturesque location on the Holtemme river, Wernigerode was dubbed by the poet Hermann Löns "the brightly-coloured town of the Harz".Nearest cities are Brunswick (55 minutes) and Hanover (1 hour 35 minutes) by road.
44. Bad Gandersheim Open Air Theatre
The little town of Bad Gandersheim at the foot of the Harz mountains is known not only for its spas and hot springs, but also for its famous open air theatre productions. These have been taking place annually in front of Bad Gandersheims`s small cathedral since 1959; they run from the start of July to the end of August. With up to 55,000 visitors (2006), Bad Gandersheim`s open air theatre is the fifth largest in Lower Saxony.
Bad Gandersheim can be accessed by train from Hanover or Brunswick in just over an hour. The nearest airport is Hannover-Langenhagen.
45. 1888 Water-Powered Funicular (Wiesbaden)
North of the beautiful city of Wiesbaden lies the Neroberg hill and the two are connected by the Neroberg funicular railway line. The funicular has been running since 1888 and was declared a technical monument by the state of Hessen in 1988. It is one of the few water-powered funiculars still in existence.
Wiesbaden lies only an hour by train from Frankfurt; the closest airport is Frankfurt am Main.
46. Westernstadt El Dorado (Templin)
For lovers of the wild west, the adventure park Westernstadt El Dorado in Templin, Brandenburg is definitely the place to go. In between live shows including stunt riding, native American dance and storytelling, young and old alike can try their hand at panning for gold, pitching horseshoes or pony-riding in an authentic wild west environment.
Templin lies approximately 100 km north of Berlin. The town has its own railway station.
47. Hamburg Dungeons
The Hamburg dungeons in Speicherstadt, Hamburg are among the city's most popular attractions. In a 90-minute program, 600 years of their history are reenacted before your eyes, among them the Inquisition, the bubonic plague and the great fire. 2 special rides, a torture chamber and a number of special effects round off the program. Admission for children 14 and under only with a parent, for children under 10 not recommended.
Subway stations Stadthausbrücke or Baumwall are just a few minutes on foot from the dungeons, as are "Miniature Wonderland" and Hamburg Port.
48. Steinhuder Meer
Steinhuder Meer, with its surface area of 32 square kilometers and an average depth of 1,5 m, is classified as the the largest shallow lake in Germany. It lies at the heart of the 310 square kilometres Steinhuder Nature Reserve. For sailors, wind- and kite-surfers, anglers, divers and hikers, for anyone who loves water and nature, and particularly for families with children, Steinhuder Meer is the perfect vacation resort.
Steinhuder Meer is only 33 km northeast of Hannover. The nearest airport is Hannover-Langenhagen.
49. Heidepark (Soltau)
For one exciting attraction after the next and endless fun for the whole family, the theme park
"Heidepark" near Soltau in the Lüneburg heath would be hard to beat. 850,000 square metres house every kind of ride and activity imaginable. From loop-the-loop roller coasters to merry-go-rounds and water-slides, from Transylvania to the Pirate Bay, fun and entertainment are guaranteed.
For those who don't manage to see everything in one day, there is the Adventure Hotel for overnight stays, in which children under 11 are entitled to free bed and breakfast. The Park is closed from November until the middle of March. By train, Soltau is easily accessible from Hanover, Hamburg or Bremen. A bus goes directly to the Heidepark from Soltau railway station.
50. Museum Quarter St. Annen (Lübeck)
The St. Annen Art Museum, erected on the site of the former ruined St. Annen cloister and incorporating some of its walls and arches, is a fascinating synthesis of modern and ancient architecture and a perfect setting for the modern art exhibitions which are its specialty. The St. Annen Museum is one of the most beautiful in Germany and its exhibits encompass Lübeck's history in the Middle Ages, from the 14th to the middle of the 17th century. Nine further museums are available in Lübeck within walking distance of one another!
Lübeck is approximately 80 km northwest of Hamburg and can be reached by train from Hamburg airport in under an hour.
51. Sanssouci Palace (Potsdam)
Sanssouci Palace was commissioned to be built by Frederick the Great in 1745, making it the oldest of the Berlin and Potsdam palaces and under UNESCO World Heritage Protection since 1990. Its name "Sans souci" is French and means "with no cares", indicating that the palace was built for recreational purposes. With its rococo architecture and extensive gardens dotted with follies, it is easy to imagine that the King sought refuge from the burdens of his office here. Together with the other imperial palaces of Potsdam and Berlin, Sanssouci Palace attracts over 2 million visitors a year.
Luisenplatz or Charlottenhof are the closest tram and bus stops from Berlin railway station. They depart every twenty minutes.
52. Ozeaneum (Stralsund)
Stralsund, a town in Western Pomerania on the Baltic coast and a former member of the Hanseatic League, is by reason of its gothic brick architecture and its picturesque waterfront location a particularly attractive one. It also hosts the Ozeaneum, which opened in 2008 and was named European Museum of the Year in 2010 and which boasts the largest whale exhibition in the world and a total of 45 tanks. For lovers of underwater worlds, the Ozeaneum Stralsund is a must!
Stralsund can be reached by train from Berlin or Hamburg. The Ozeaneum is twenty minutes on foot from Stralsund's main railway station.
53. Allgäu
The Allgäu is the name given to the pre-alpine region of Swabia in southern Germany. It is a region of lush green hills and mountains, sparkling rivers and lakes and quaint villages. It is also famed for both its mountain sports and its dairy products, in particular cheese.
It is the perfect region for a relaxing holiday, in particular since both its air and its water are said to have healing properties! Its largest town, Kempten (also one of Germany's oldest settlements) can be reached by train from Memmingen-Allgäu airport in around 50 minutes. The nearest international airports are Munich and Zurich.
54. Island of Sylt
The Island of Sylt, off the North Sea coast of Schleswig-Holstein, is often referred to as "The Queen of the North Sea". At 99 square kilometres, it is the largest of the North Frisian islands and famed for its sporting events – in particular the annual Windsurfing World Cup – and for its cooking, which is often praised by international connoisseurs. With its 40 kilometres of long sandy beaches and its nature parks, Sylt is an idyllic place for a restful seaside holiday.
Since 1927 the island has been connected to the mainland by the Hindenburgdamm, so that it is easily accessible by shuttle bus or car. Alternatively, there is a ferry from the Danish island Rømø (40 minutes), or you can fly directly to Sylt, which has its own airport.
55. Geierlay Rope Bridge
At 360 metres in length and 100 metres above the ground, the Geierlay Rope Bridge in Rhineland Palatinate – which connects the towns of Mörsdorf and Sosberg, near the Luxembourg border – is the longest rope bridge in Germany and one of the longest in Europe, and is definitely not for the faint hearted! Opened in 2015, it is expected to draw at least 170,000 intrepid visitors a year to test their head for heights and marvel at the spectacular view.
The best starting-point is the village of Mörsdorf, which has a reception area built especially for the purpose. The bridge begins approximately 2 kilometres farther on. Good walking shoes are recommended. Mörsdorf has its own railway station and is best reached by train from Koblenz or Frankfurt am Main.
56. Bayreuth Festival
First opened in 1876 with a historical performance of Wagner's "Das Rheingold", the "Festspielhaus" in Bayreuth is now a cultural and social Mecca for Wagner lovers all over the world, including many members of the aristocracy. Though it can take a few years to obtain tickets for some productions, the Bayreuth Festival is a unique musical, visual and social experience which is well worth waiting for.
Bayreuth is located in Upper Bavaria on the Red Main River. The closest airports are Nuremberg (1 hour 41 minutes) and Munich (3 hours 18 minutes).
57. Bad Mergentheim Wildlife Park
Immediately apparent to any visitor at the Bad Mergentheim Wildlife Park in Baden-Württemberg is the overriding intention of keeping animals as closely as possible in accordance with their natural habits. Boundaries, if any, are all but invisible and made almost exclusively out of natural materials. This guarantees close, intimate experience of its animals without the underlying sadness which accompanies watching living beings in cages.
The park houses over 70 different species of indigenous animal, including wolves and bears, and is a great day trip for a family with young children. Bad Mergentheim is 40 minutes by train or road from Würzburg, and 1 hour 40 minutes from Frankfurt am Main.
58. Porta Nigra Gate and Roman Monuments (Trier)
The city of Trier in Rhineland Palatinate is the oldest city in Germany. Originally founded by the Romans 18/17 BC as Augusta Treverorum (City of Augustus in the land of the Treveri), it rapidly expanded to become one of the three main provinces of what was then Gaul. Of the buildings erected by the Romans, the amphitheatre, Roman baths and Porta Nigra Gate are still standing and are well-frequented by tourists from all over the world.
Best connection is by rail from Koblenz, which takes around 1 hour 15 minutes.
59. Baden Baden Spa and Hot Springs
As long ago as AD 69, the Romans, long aware of the benefits of hot springs and spas, had established the first baths in Baden Baden, Baden Württemberg. Today the healing powers of the twelve thermal springs still in existence remain undiminished: from all over the world, visitors come to Baden Baden, quite literally to "take the waters". The city is also famous for its sports, in particular horse-racing, and is the perfect resort for exploring the neighboring Black Forest.
Baden Baden has its own airport. Stuttgart and Karlsruhe are the nearest large cities. Baden's railway station is some distance from the city center and best accessed by bus.
60. Karl`s Village of Discovery (Rövershagen)
On the Baltic coast near Rostock, around 3 hours from Berlin by road or train, lies the small town of Rövershagen. Karl's Village of Discovery is a farming and rural-themed adventure park which is open all year round. Alongside animal shows, visitors can try their hand at bread-, cheese- or jam-making, or even pottery and glass-blowing. Attractions and activities for children include a bobby-car run, a ball bath and any number of climbing frames indoor and out.
Rövershagen is 10 minutes from Rostock by train or car.
61. Island of Rügen
At 926 square kilometres, the Island of Rügen off the West Pomeranian coast of the Baltic sea is the largest of the German islands. Famed for its long Baltic beaches, its white chalk cliffs and its elegant resorts and hotels, the island also hosts the open air Störtebeker theatre festival, which draws 100,000 visitors annually.
Rügen can be accessed by train from Rostock in under 2 hours, by car from Stralsund across Germany's longest bridge, or by ferry from Trelleborg in Sweden.
62. Wadden Sea
The Wadden Sea is a shallow stretch of water between northwestern Europe and the Frisian islands, an area of wetlands and mudflats rich in biological diversity. Many species of wading bird, but also seals and porpoises have their home here; this UNESCO world heritage site houses many species which have become extinct elsewhere, and incorporates the three Wadden Sea National Parks of Hambury, Lower Saxony and Schleswig Holstein.
Holiday resorts by the Wadden Sea include the Frisian islands and seaside towns such as Cuxhaven or Neuharlingersiel.
63. Phantasialand (Brühl)
Phantasialand in Brühl, North-Rhine Westphalia was founded in 1967 as a small family park. 50 years and a great many additional attractions later, it now draws 1,75 million visitors a year. With its dozens of exciting rides, roller coasters to suit every taste and the loving attention to detail in their Chinese or African design, Phantasialand is sure to delight the whole family.
Brühl can be reached by car from Cologne in under half an hour, or by train in around 45 minutes.
64. Legoland Günzburg
Günzburgs theme park "Legoland" in Bavarian Swabia is a wonderful day trip for Lego lovers of any age. Opened in 2002, it draws around 1.3 million visitors yearly and is one of Bavaria's most popular attractions. In 2012 it was dubbed the most child-friendly park in Germany. The heart of Legoland is a miniature landscape of Germany, built from over 25 million Lego bricks,
but like any other amusement park there are rides and shows galore to entertain and amuse the whole family.
Günzburg is 1.5 hours from Munich by train. A shuttle bus runs regularly between the railway station and Legoland.
65. Botanical Gardens (Frankfurt)
Lovers of exotic plant and animal life will be thrilled to discover 22 hectares housing tropical plants from almost every climate, right in the center of one of Germany's largest cities. In the Tropicarium, an assembly of 14 greenhouses, various climates around the world are perfectly simulated to give the visitor unique insight into the growing conditions of each species. Particularly impressive is the 18 metre high palm house, which was built in 1869; the towering leafy palms it houses are as popular today as they were then.
The Botanical Gardens are only 9 minutes from Frankfurt railway station by car, or just over 20 minutes by bus.
66. Neckar Park (Stuttgart)
Stuttgart`s Neckarpark is a 55 hectare expanse of land on the right bank of the river Neckar, which hosts the Mercedes-Benz Arena and the Porsche Arena, the club center and football stadium of local football team Vfb Stuttgart as well as the city camping grounds, and many other attractions.
Popular events taking place in the Neckarpark are the spring festival (middle of April to beginning of May), the Stuttgart Marathon (usually in June) and the Cannstatter Volksfest, which takes place towards the end of September and can compete with Munich's Oktoberfest.
Nearest subway or bus station is Bad Cannstatt, however the Mercedes-Benz Arena is only ten minutes on foot from Stuttgart railway station.
67. Germanisches Nationalmuseum (Nuremberg)
Nuremberg Germanisches Nationalmuseum is internationally recognized as the largest museum of cultural history in Germany. Founded in 1852, it houses around 1.2 million objects of cultural and historical significance, dating from prehistoric times to the present day. Paintings of Albrecht Dürer and Rembrandt can be viewed here, as can the first pocket watch ever invented. The museum also houses the largest collection of musical instruments in Europe.
The museum is only 10 minutes on foot or 3 by tram from Nuremberg railway station (tram stop Opernhaus).
68. The Green Citadel (Magdeburg)
The Green Citadel was the name conferred by eccentric architect Friedensreich Hundertwasser upon one of his last masterpieces, which was completed in 2005, five years after his death. With its pink walls, exotic towers and minarets and typical Hundertwasser contempt for straight lines, the building is a colorful and provocative point of interest among the Baroque facades and drab post-communist buildings to be found in Magdeburg.
The Green Citadel on Breite Straße is only 8 minutes on foot or by bus from Magdeburg`s railway station. Magdeburg is around 2 hours from Berlin by train. The closest airport is Leipzig/Halle.
69. Kurfürstendamm (Berlin)
Berlin's Kurfürstendamm – or "Ku'damm", as it is affectionately known – is an internationally famous boulevard, 3.5 kilometres long, on which elegant shops and tasteful cafes and restaurants nestle cheek by jowl with older, more historical buildings. Many fashion designers have shops on the Ku'damm, as do a number of car manufacturers; it is THE place to shop in Berlin.
The Kurfürstendamm runs through Berlin's Charlottenburg-Wilmersdorf borough and is 15 minutes by subway from the main railway station.
70. Bamberg
The beautiful city of Bamberg is built – like Rome – on seven hills, each with its own church. Much of the city has been under UNESCO World Heritage Protection since 1993. Of particular interest is the old Town Hall, with its rococo architecture and its position in the middle of the Regnitz river! Bamberg`s cathedral – which dates from the 11th century – and St. Michael's Monastery are two further attractions in this lovely city.
Bamberg lies in Upper Franconia, Bavaria, with the closest airports Frankfurt, Munich or Nuremberg. It can be reached from Nuremberg by train in less than an hour.
71. Mainau Island
The Island of Mainau, 45 hectares, lies off the shores of Lake Constance in southwest Germany. The "Flower Island", as it is known by locals, gets its name from the million roses, tulips, dahlias and flowering perennials which bloom in its parks and gardens, as well as its 150 year old Arboretum with its huge sequoias and towering palms. Palms and citrus plants round off the gardens, giving the island a mediterranean atmosphere in the summer.
Mainau also boasts a castle and a church and many attractions for children. With its idyllic setting in the lake, it is a wonderfully relaxing holiday venue for the whole family. Mainau can be reached by ferry from Meersburg. The nearest airport is Friedrichshafen, while the nearest railway station, Uhldingen-Mühlhofen, is only 6 kilometres away.
72. Museum of Art (Düsseldorf)
Düsseldorf's Museum of Art, which is located in the center of Düsseldorf on the Rhine river, first opened its doors to the public in 2001 and has seen a steady stream of art lovers ever since. It is famed all over the world for its collections of modern painters such as Dali or Miró and its artefacts ranging from mediaeval times to the present day. Its famous Hentrich Glass Collections boasts examples of glasswork from contemporary glass artists right back to glass objects from the Romans.
The Museum of Art is located around 30 minutes by bus from the railway station, or 3.5 kilometres from the city center.
73. Stolzenfels Castle (Koblenz)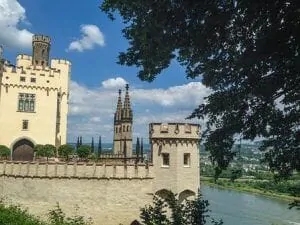 Stolzenfels Castle in Koblenz, Rhineland-Palatinate on the left bank of the Rhine was originally built as a mediaeval fortress in 1259. The castle underwent much expansion and modification – as well as being completely destroyed by the French during the Nine Year's War – before becoming the Gothic masterpiece that it is today. Poised poetically on the green banks of the river, this romantic castle with its towers and turrets and its opulent grounds is an enchanting sight.
Castle and grounds are open to the public but closed on Mondays. The castle is 5 kilometres south of Koblenz and is accessed by a short walk up the hill (around ten minutes).
74. Zollverein Coal Mine Industrial Complex (Essen)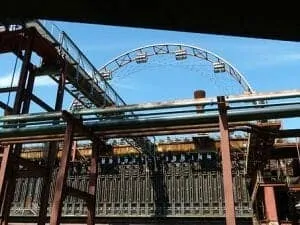 An active coal mine between the years of 1851 to 1986, the Zollverein Coal Mine in Essen, North Rhine Westphalia has since become a fascinating architectural and industrial monument and was declared a UNESCO World heritage Site in 2001. Today the buildings of the coalmine and the museums they house are the number 1 attraction in Essen, offering as they do unique insight into the rise and fall of this most important industry.
The mines are 30 minutes from Essen railway station by bus, or 15 minutes by car. The nearest stop is "Essen Zollverein". Sturdy shoes are recommended.
75. Esslingen
The pretty town of Esslingen on the river Neckar in Baden-Württemberg is only 14 kilometres from Stuttgart and well deserves a visit. With its half-timbered houses and cobbled streets, its castle and houses in and on the river (more than 800 of which are protected) and its romantic stone bridges, Esslingen is a little-known jewel in southwest Germany just waiting to be discovered.
The train from Stuttgart takes only ten minutes. Nearest airport is also Stuttgart, with a bus going directly from the airport to Esslingen around twenty minutes.
76. Städel Museum (Frankfurt)
The Städel Museum in Frankfurt am Main was founded in 1851 and has since expanded to become one of the most highly-acclaimed art museums in Germany, with art collections spanning seven centuries. On a 4,000 square metre display area, it houses over 2,700 paintings, 100,000 drawings and prints and more than 600 sculptures. It was designated Museum of the Year in 2012 by the German Art Critics Association and is a favored attraction in Frankfurt for art lovers from all over the world.
The Museum is barely 3 kilometres from the railway station (five minutes by car or 15 minutes on foot).
77. Monsterkabinett (Berlin)
In the eerie cellars of Haus Schwarzenberg in Berlin, the artist Hannes Heiner has created an underground world peopled by bizarre creatures, half monster and half robot, which he has created out of recycled waste materials. These creatures have feelings; they sing, dance and tell their stories. For anyone who loves the grotesque and doesn`t mind the odd shock, Berlin`s monster cabinet is full of fascination and surprise.
The Monsterkabinett is only open Thursdays through Saturdays in the afternoon. Admission for children under six is not recommended. The Monsterkabinett is 10 minutes by car and around half an hour on foot from the main railway station. Nearest subway station is Hackescher Markt.
78. Krämerbrücke (Erfurt)
The Krämerbrücke, or "merchants bridge", is a bridge dating from mediaeval times lined with 60 quaint, half-timbered houses. It spans the Breitstrom fork of the river Gera and is 79 metres long, thus unique in Europe and the longest inhabited bridge worldwide. It is also wonderfully picturesque, particularly at night when the lights reflect in the water.
Erfurt lies approximately 100 kilometres southwest of Leipzig. It is the largest town in Thuringia and has its own airport. The Krämerbrücke is only 1 kilometre from the railway station and can be reached by car or on foot within 13 minutes.
79. Bergpark Wilhelmshöhe (Kassel)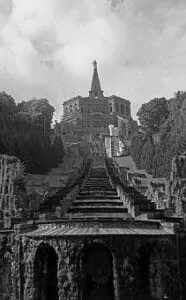 The landscape park of Wilhelmshöhe in Kassel was proclaimed a World Cultural Heritage Site in 2013 and is the only one of its kind in the world. 2.4 square kilometres in area, it rises up the Karlsberg mountain to a height of 526.2 metres. The summit is dominated by the prodigious Hercules Monument, one of Kassel`s most famous landmarks.
The Park is most famous for its downward-running water cascades and fountains and its panorama view of the city of Kassel with its elegant castle of Wilhelmshöhe. It is only 7 kilometres from the railway station and can be reached by car or bus in around 15 minutes. Closest airports are Hanover or Frankfurt.
80. Opel Zoo (Kronberg in Taunus)
The Opel Zoo lies in a thickly-wooded area between Königstein and Kronberg in Taunus, Hessen. Founded in 1955, it has rapidly grown to become the second largest zoo in Hessen and the only one to house the african elephant. The Zoo was furthermore successful in rescuing the mesopotamian fallow deer from extinction and is part of further plans to salvage more endangered species.
More than 1,4000 animals can be viewed here in a natural setting close to their preferred habitat. There are a number of events and children are allowed to feed many of the animals, making a trip to the Opel Zoo a great family outing. The Zoo is best accessed by taking a bus from Kronbach railway station to Königstein, exiting at "Opel-Zoo".
81. Therme Erding (Munich)
At 145,000 square metres, Therme Erding is the second largest complex of baths in Europe. They consist of four distinct sections: the "Galaxy" waterslide section, the "Thermen Paradies" with spas, hot springs, Jacuzzi and water massage, the "Sauna Paradies" with 25 different saunas and the "Vital Oase" (both only available to those aged 16 or over). For a day of water fun, relaxation and wellness, the Therme Erding is hard to beat.
Therme Erding is located 30 minutes by car or just over an hour by train from Munich railway station. The nearest airport is Munich.
82. Berchtesgaden Eagle`s Nest, Salt Mine and National Park
Berchtesgaden, with its stunning location in the Bavarian Alps near the Austrian border, is a beautiful if little-known resort for a holiday. Its famous "Eagle's Nest" (or "Kehlsteinhaus" in German) is located right on the peak of the Kehlstein mountain, at a height of 1.835 metres, offering a breathtaking view of the three parallel valleys which encompass the Berchtesgaden National Park. The first salt mines here were opened in 1517 and are the oldest salt mines still active in Germany. A visit to the salt mines of Berchtesgaden is an unforgettable experience.
Berchtesgaden is 30 minutes by bus from Salzburg, or 2 hours 45 minutes from Munich by train.
83. Lake Königssee and St. Bartholomew's Church
Lake Königssee, reputedly the cleanest lake in Germany, is a mountain lake around 7.7 kilometres long and 1.7 kilometres wide situated in Bavaria, close to the Austrian border. It is the third deepest lake in Germany. Famed for its echo, its majestic waterfalls and the distinctive pilgrims`church of St. Bartholomew, Lake Königssee is a popular resort for visitors and locals alike.
Lake Königssee is easily accessible from Berchtesgaden railway station by bus and a ten minute walk. The nearest airport is Salzburg.
84. Old Town of Rothenburg ob der Tauber
The mediaeval charm of Rothenburg ob der Tauber in Middle Franconia is legendary. The little town became so impoverished during the 17th century that it stopped growing, and it sustained little damage during WWII, so its mediaeval state is astonishingly well-preserved. Take a voyage back in time when you walk its cobbled streets or around its old town wall. Visit the Mediaeval Crime Museum and the Castle Gardens and glory in the view from the Town Hall's 50 metre high tower.
Rothenburg ob der Tauber can be easily reached by train from Munich (2.5 hours), Nuremberg (1.15 hours) or Frankfurt (3 hours). The nearest airport is Stuttgart.
85. Nuremberg Castle
The oldest parts of Nuremberg`s Imperial Castle date from the beginning of the 13th century; however, in the Middle Ages, it was also a significant fortress for the Roman Empire. Particularly attractive for tourists are the Deep Well (which is probably as old as the castle itself), the Palace with its Imperial Chapel and the Kaiserburg Museum. Visitors may tour the castle for themselves, but the Deep Well can only be viewed as part of a guided tour.
Nuremberg Castle is 6 minutes by car or 15 minutes by bus from the city's railway station.
86. Serengeti Park (Hodenhagen)
The Serengeti Park in Hodenhagen, Lower Saxony, is loosely divided into 4 areas: Animal World, Water World, Monkey World and Leisure World. Animal World is divided into 13 different zones for different continents and climates – the animals roam freely and entry is by car or the Serengeti bus. Waterworld centers on water creatures and can be visited on foot, Monkey World houses 20 different species of monkey and is approached in an open-top bus and Leisure World consists of 40 different rides and activities for adults and children.
A great venue for an exciting family outing, the Serengeti Park is only an hour's drive from Hanover, Hamburg or Bremen. The Park lies around 3 kilometres from Hodenhagen railway station.
87. Millennium Tower (Magdeburg)
At 60 metres in height, Magdeburg's Millennium Tower is among the tallest wooden towers in the world. It is also a fascinating museum, leading its visitor chronologically through 6,000 years of human history, with the earlier exhibits on the ground floor and later artefacts on subsequent floors. Its upper floor consists solely of an observation platform, as if it were looking towards the future.
The Millennium Tower is located in Magdeburg's Elbauenpark, 5 km from the railway station, nearest stop Tessenowstr.
88. Wismar
The attractive port town of Wismar on the Baltic sea in Mecklenburg Upper Pomerania, a member of the former Hanseatic League, was declared an UNESCO World Heritage Site in 2002. Wismar combines charming and romantic architecture with the tang of its maritime past in a way which is unique. Particularly worthy of a visit are the Nikolaikirche and the Old Hansa Harbor. Wismar has great fish restaurants, too!
Wismar has its own railway station, which is best accessed by train from Rostock or Schwerin, Berlin or Hamburg. The nearest airport is Lübeck.
89. Grugapark (Essen)
This botanical park in Essen, North Rhine Westphalia was established in 1927 for the "Great Ruhr Landscape Gardening Exhibition", which in German is shortened to "Gruga". The heart of "Essen's most beautiful garden" is the botanical garden with its giant cacti and bonsais, its roses and its Rhododendron Valley. Sculptures and statues abound to delight art lovers, spas and wellness are also represented and there are playgrounds for children – including areas with friendly animals for children to feed and pet – making the Grugapark a great destination for the whole family.
The Gruga Park is 10 minutes by car or 40 minutes by bus from the railway station. Exit at "Grugapark Essen".
90. Waldspirale (Darmstadt)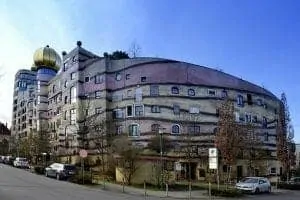 Darmstadt`s Waldspirale ("forest spiral") is a residential complex designed in the 1990s by the eccentric architectural genius Friedensreich Hundertwasser. In former times the complex boasted a cafe for visitors on its upper floors; currently there are no amenities for visitors. Nonetheless, with its over 1000 windows (no two the same) and its typical pink and yellow facade and minarets – not to mention the trees growing out of its roof – it is well worth a visit.
Darmstadt is located in the Rhine Main area; the nearest train connections are Frankfurt and Heidelberg. The Waldspirale lies on the crossing Friedberger Straße/Büdinger Straße, 11 minutes by car or half an hour on foot from the railway station.
91. Reptilium (Landau)
In 2004, Germany's largest Reptilium (zoo for reptiles) opened in the town of Landau in Rhineland Palatinate. Over 1000 reptiles and amphibians have their home here, as do scorpions and giant spiders; the "Baby Station" offers insight into hatching and raising their offspring and public feedings and other shows are available. Particularly popular are the spitting cobras!
Landau can be reached in just over half an hour from Karlsruhe by car, or an hour by train. The nearest airport is Mannheim.
92. Martin Luther's House (Wittenberg)
Now the largest museum of the Reformation in the world, the Martin Luther house was originally a monastery and then part of the University. Luther and his wife occupied it around 1515; since Luther's death in 1546 it has been used as a military hospital, a boarding school and a Protestant seminary, becoming a UNESCO World Heritage building in 1994.
Wittenberg is just over an hours`drive from Hamburg. There is no direct train connection, but trains run from Hamburg with two changes. The Martin Luther house is located on Collegienstraße, 15 minutes from the railway station.
93. Deutsches Museum (Munich)
With around 28.000 exhibits covering a total area of over 50,000 metres and an average of 1.5 million visitors annually, Munich's "Deutsches Museum" is the biggest museum of science and technology worldwide. The laws of physics as well as scientific methods and instruments are presented in a way which is both entertaining and instructive for adults and children equally.
Visitors are advised to come by public transport, as parking spaces are very limited. Exit at tram stop "Isartor" or bus stop "Boschbrücke" (around 13 minutes).
94. Ducal Vault and Historical Graveyard (Weimar)
Weimar's Ducal Vault and Graveyard is the last resting place, not only of the members of the duchy of Saxe-Weimar-Eisenach, but also of those two literary Weimar giants, Goethe and Schiller. It is also one of the finest examples of classical architecture in Thuringia. The Ducal Vault contained 43 caskets until 1994, when ten had to be removed for conservational purposes. The oldest contains the mortal remains of Duke Wilhelm IV (1598-1662).
Further places of interest in Weimar include Liszt's house and the Kirms-Krackow house, the Goethe museum and the Buchenwald memorial. The nearest large towns are Erfurt and Jena. Weimar is accessible by rail or air from Berlin in around 2 hours.
95. Rakotzbrücke (Kromlau)
The exquisite Rakotz bridge is located in the Azalea and Rhododendron Park, Kromlau in Gablenz, Saxony. It was built to create the illusion of a perfect circle when reflected in the water. The park itself, conceived in the English style in the 19th century, is a beautiful place to visit, especially in the spring when the azaleas and rhododendrons are flowering. Entry to the park is free and it is always open.
The park is most easily accessed by rail via Cottbus from Berlin. The nearest railway station is Weißwasser, from which buses run regularly to Kromlau (around 15 minutes).
96. Summer Toboggan Park and Fairy Forest (Ibbenbüren)
Located in the beautiful Teutoburg Forest between Lower Saxony and North Rhine Westphalia, the Ibbenbüren Summer Toboggan Park and Fairy Forest delight all who visit them, combining the fun and excitement of tobogganing with the magic of fairies and elves hiding between the trees and dwarves working and singing in walk-through caves. Dodgems, bowling and a large adventure park for children round off this marvellous family venue.
Osnabrück (25.7 km to the West) and Münster (43 km to the South) are the nearest large cities. Münster/Osnabrück is the closest airport (25 minutes by road).
97. Bernkastel-Kues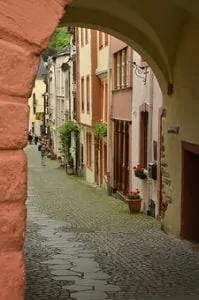 Bernkastel-Kues, located directly on the Middle Moselle in the Rhineland Palatinate (approximately 50 km from Trier) is a recognized health resort, a famed wine growing region and one of the most charming old towns imaginable. Whether you choose to visit the wine museum and wine-sampling centers or the birthplace of the 15th century scholar and humanist Nicholas de Cusa and the "Graacher Tor" (1300), Bernkastel-Kues has something for every taste, including great restaurants!
Bernkastel-Kues is approximately 50 km northeast of Trier and 150 km west of Frankfurt. It has no railway station and is best approached by bus from Wittlich station (24 minutes).
98. Hamburg Fish Market
From 5am to 9.30 am from March to October, and from 7am to 9.30 am during the winter months, the Hamburg fish market attracts 70.000 visitors a week to the banks of the Elbe: those who get up early especially to visit it, and those who are still up after a night of partying alike! Not only fish, but fruit and vegetables, clothing, souvenirs and many other goods can be bought there after the traditional haggling. Street vendors still cry their wares so raucously that they can be heard at the nearby Reeperbahn. You cannot leave Hamburg without visiting the Fish Market!
Bus stop is "Landungsbrücke" (10 minutes) or "Reeperbahn" (12 minutes) from the railway station.
99. Hofbräuhaus (Munich)
Munich's "Hofbräuhaus" or "Beer Temple", formerly a brewery, is the perfect place to drown your disappointment if you happen to miss the Oktoberfest! With an estimated 30,000 guests a day, it is probably the largest beer hall in the world. Waiters in Lederhosen and waitresses in dirndls still serve foaming glasses of beer in the famous Mass (1 litre tankard) and culinary specialties from Bavaria fill the air with delicious smells.
The "Hofbräuhaus" is located in the old quarter of Munich at "Am Platzl" , 9 minutes from the main railway station by tram (nearest tram stop "Marienplatz"), or 13 minutes on foot.
100. Historical Market Place (Hildesheim)
Hildesheim is one of Germany's oldest cities, having been the seat of the bishopric since 815 AD. Once considered one of the loveliest market places in the world, it was razed to the ground by bombs during an air raid in March 1945. However, in the years between 1984 and 1990, little by the little, it was restored to its former state with a great deal of love, attention to detail and professional expertise. Today it attracts coach loads of visitors from all over the world to marvel at this miracle of restoration.
Hildesheim is approximately 37 km south of Hanover and easily accessible by rail or road in about 40 minutes.
Jen Miller is a former electrical engineer and product specialist with more than 20 years of product design and testing experience. She has designed more than 200 products for Fortune 500 companies, in fields ranging from home appliances to sports gear and outdoor equipment. She founded Jen Reviews to share her knowledge and critical eye for what makes consumers tick, and adopts a strict no-BS approach to help the reader filter through the maze of products and marketing hype out there.  She writes regularly and has been featured on Forbes, Fast Company, The Muse, The Huffington Post, Tiny Buddha and MindBodyGreen.