After many hours of testing, we conclude that the best steam mop is the Black & Decker BDH1850SM 2-in-1 Steam Mop that comes with extra mop pads. The time spent was well worth it as we are sticklers when it comes to cleanliness and hygiene. If your concern is about getting the dirt removed completely, and not just what lies on the surface of the floor, then you need a steam mop of this calibre.

Top Pick: Black & Decker BDH1850SM 2-in-1 Steam Mop
The best steam mop, the Black & Decker BDH 1850SM 2in-1 Steam Mop that we got is a multi-tasker that effortlessly picks up minute particles of dry debris and fine dust particles settled on the floor.
Our step-up pick is the Bissell 1132A Symphony Vacuum which is more powerful but also slightly more expensive.
Our budget pick is the Shark Light Easy Steam Mop, which is conveniently priced. This features a flip down scrubber that makes cleaning an easy chore. Although you do have adjustable settings for the steam pressure it has some other drawbacks. You may not be able to set the machine according to the stain or increase the steam output for those irritatingly stubborn stains that simply refuse to disappear.
Advantages of Steam Cleaning
Steam cleaning has stormed the market today, and not without good reason too. Steam mops are probably the fastest and easiest way to clean stubborn floors. The traditional mop and bucket are outdated and out of favor. Although there may be some skepticism in the beginning, it makes sense to invest in the best steam mop to have sparkling floors in your home. It is a simple process actually; the water is heated to boiling point and converted to steam which is pressure-fed through the mop head on to the grimy floors. Otherwise, while using a traditional mop one would have to vigorously scrub the floor multiple times. Even then, there is bound to be traces left behind. The advantage with the best steam mop is that it cleans brilliantly and uniformly.
The best steam mop is built to handle all types of floors. Be it linoleum, hard wood floors, laminated floors, a ceramic tiled floor, a marble floor or a granite floor. There are several models that come with a choice of attachments that help manage countertops, grouted areas, and various other crevices that are normally very difficult to reach. Care needs to be taken while selecting the size of the mop head as it needs to suit the floors in your house. A mop head that is a bit too small will consume more of your precious time, and one that is too large will be unwieldy while negotiating edges and corners.
Another great advantage with a steam mop is the incredibly short time, or rather no time it takes for the floor to dry up. A traditional mop and bucket which can leave behind telltale wet floors, and god help you if you have kids whose feet pitter patter around on wet floors. When you use the traditional mop and bucket cleaning the floors can take up most part of the day. However, when you use the best steam mop drying time is drastically reduced. If you have an area that has a stubborn stain, all you need to do is to allow the mop head to hover over the stain a bit longer. Though holding it in one spot for too long has a regurgitating effect and the steam is forced back into the water.
Even a kid can do it because all it takes is to fill up the water reservoir and hold on until enough steam is generated. The best steam mop is incredibly light as well, and is a lot easier to maneuver around when compared to a traditional mop and a sloppy bucket. Imagine lugging a bucketful of water and spilling some all over the place in the process. Moreover, you don't have to use as much pressure as you would use while using a traditional mop. It effortlessly glides across the floor with the user having to just gently guide it around.
Although most steam mops come with extra mop pads, you can make each one last longer by looking after it well and cleaning it up after every use.
Another great advantage with the best steam mop is that it comes with its own holding mat, making the problem of storage a lot easier. It is not that you are going to be using your steam mop day in and day out. You have to let it lie idle for some time, and the holding mat ensures that the surface where you store the steam mop does not get affected. What's more is there is no need to waste time waiting for the equipment to cool down after use, you can just park it on the holding mat and carry on with your other chores for the day.
Steam Mop versus Traditional Mop
What's the great difference between steam mopping and traditional mopping? Traditional mopping, as most of us already know, involves using a cumbersome bucket of hot water, some cleaning agent like detergent powder or liquid cleaner, and the trusted old mop. Walk into any store and you'll find an array of cleaning mops displayed, which includes sponge mops (super absorbent) flat mops, mops made out of strips of absorbent cloth, etc.
All that was needed along with a traditional mop was a bucket of hot water to rinse the mop and wring the waste water. If the mops were not wrung properly, the floors would become soppy and wet, resulting in extra work. However, there are some super absorbent mops available today that tend to hold the excess water well, saving a lot of precious time and energy. There are several people who still favor the traditional way of cleaning floors and wouldn't change to a steam mop that easily.
Coming to a steam cleaning, it is indeed a pleasant change, and a great experience. However, steam cleaning has been in practice for quite a while now, and continues to become popular day by day. What with people being terribly busy these days, with little or no time left to spare for domestic chores, a steam mop is a god send. Using a steam mop does away with the need to lug around a heavy bucket of water, or disposing the dirty water and refilling it multiple times.
Another major benefit with a steam mop is that it eliminates germs like no other mop can. It kills 99.99 per cent germs that are invisible to the naked eye. The steam generated at extremely high temperatures which no bacteria can survive. What's more is there are no chemicals used and this eco-friendly method of cleaning is by far the best and economical as well. Most steam mops of today don't need detergent powder or cleaning liquids to be added, and your hands are well protected while using a steam mop. So much so, that you don't have to wear cumbersome gloves while mopping the floors in your home. Moreover, you kids and pets are never at risk from chemical residue that can be left behind on your floors when you use the conventional cleaning methods.
Steam mop
Steam cleaning is effective in getting rid of harmful bacteria that cannot be done by traditional methods
The floors dry up faster while using a steam mop, unlike a traditional mop, which takes too long.
Eco friendly – no use of harmful, toxic chemicals in the cleaning process.
A single piece of equipment that is handy and easy to maneuver and use.
Some models of steam mops are great for floors as well as other surfaces like countertops, edges, by just changing an extension.
Steam mops are absolutely safe where kids and pets are around.
Traditional mop
Traditional mops are cost effective, and often cost a fraction of the price of a steam mop.
Using traditional mops for cleaning the floor is a great form of exercise and helps burn calories.
Top Pick

Top Pick: Black & Decker BDH1850SM 2-in-1 Steam Mop
The first thing that strikes as extraordinary with most people is that this best steam mop is capable of killing 99.99 percent germs by simply using water without any harmful or toxic additives. It is kids-friendly and pet-friendly. The special feature called Digital SmartSelect Technology lets you set the machine according to the type of floor you are about to clean. The mop is set to release precisely the required amount of steam for that particular type of floor, thus saving power, time and energy while mopping the floor.
When it comes to tackling tough and stubborn stains, the equipment can be set to release 50% extra steam in bursts, thus removing the stain completely without a trace. With the water being converted to steam rapidly you may wonder how long you need to wait before the steam is generated. Not to worry, the ready-to-go reservoir tank has an indicator that automatically changes from red to blue when the required amount of steam is ready, and is released automatically at the optimum temperature. While pausing during mopping, the best steam mop can be left upright so that the steam is automatically cut off.
Although there are several models to choose from, it makes sense to settle for a model that lets you customize the steam output according to your floor and the dust levels in the neighborhood. Moreover, just as you'll need a lengthy cord for your vacuum, carpet cleaner or power generator, you'll want to look for the best steam mop that has a long cord. This saves you a lot of time and energy as you don't have to keep plugging and unplugging. The Black & Decker BDH 1850SM 2in-1 Steam Mop is great to reach the most tricky spots that are always a challenge. The specially designed telescoping handle reaches far out to clean, and the extra mop pads come in handy too.
Q: Can you use this to clean your bath tub?
A: Yes, you can use the detachable handheld machine part to clean your bath tub
Q: What is the lifespan of the equipment?
A: Although the equipment comes with a 2-year warranty, it lasts much longer.
Q: What is the length of the cord?
A: The steam mop comes with a handy 25-foot long cord.
Q: Is the steam mop very noisy?
A: The steam mop runs quite noiselessly, though you may want to check the voltage before ordering
Q: Can it be used for cleaning carpets?
A: The steam mop is primarily meant for use on hard floors like ceramic tile or hardwood, but can be used on carpets as well.
Q: Does the water tank need to be cleaned frequently?
A: As the water tank holds just water without any additives, it does not require cleaning.
Q: Can this be used to clean ceilings?
A It is meant to be used on floors, though there is nothing to stop one from trying it on a ceiling
Q: Is it difficult to maneuver around?
A: As the equipment is quite lightweight it is easy to push around, though while vacuuming it takes more effort.
Step-up Pick


Bissell 1132A Symphony Vacuum
The Bissell 1132A Symphony All-in-One Vacuum brings you the versatility of a hand-held steam cleaning device with the efficiency of a heavy duty upright steam mop that can handle grimy floors effectively. It is perfect for ceramic tiles, granite floors, marble, and hardwood floors. The best steam mop gets rid of all the grime and dirt around the house along with unwanted germs. It can also be used to disinfect bathrooms, kitchen tops, by using the hand-held steamer that can reach most unreachable spots.
The Bissell 1132A Symphony All-in-One Vacuum is one great cleaning aid that uses plain water without adding toxic chemicals to get rid of 99.99 percent germs found on the floors of most households. It is great for households with kids and pets, where one can never be too careful, thanks to the technically brilliant SmartSelect® steam mop that gives you one of the healthiest and safest ways to clean your floors.
The best steam mop that the Bissell 1132A Symphony All-in-One Vacuum has been described as does have some drawbacks, or small flaws. There are some claims on reviews that the steam is not hot enough to serve the purpose. Some stubborn areas needed extra cleaning for the stains to go away. Some said that the limited amount of steam generated was not enough for covering large areas. Of course, the best steam mop is meant to be used in households, where the floors are not extensive, and can be covered in bits. If enough time is given after refilling water, the problem of steam generation at high temperatures can probably be solved.
Of course, there is the more expensive Bissell 1132A Symphony All-in-One Vacuum. It vacuums and steams simultaneously, thus saving some time. It has a special feature known as cyclonic action vacuum that picks up dry debris. This steam mop is good for tackling sticky messes on the floor, and also eliminates 99.99 percent germs like the Black & Decker does. The edge bristles found on the Bissell helps sweep debris away from the edges, leaving an overall clean floor once you are done. In spite of the couple of extra features, we settled for the Black & Decker BDH 1850SM 2in-1 Steam Mop as it was more appealing price-wise.
Budget Pick

Shark Light Easy Steam Mop
There is always a cheaper alternative, and we found the Shark Light & Easy TM Steam Mop quite cheaper when compared to the others. Although this steam mop has 4.1 out of 5 rating, and a large number of reviews, it is not the preferred steam mop for obvious reasons. Except for the price factor, this steam mop is probably not the best choice. Most critical reviews state that it takes an excruciatingly long time to clean, much longer than the higher priced steam mops that can do the same job almost in a jiffy. The handle is also very weak and so flimsy that users feel it is not sturdy enough. The mop head tends to stay in a fixed position as it lacks the swivel feature. Of course, one cannot expect the finer trimmings on a low-priced product.
Best Steam Mop for Carpets

Bissell 86T3/86T3Q Big Green Carpet Cleaning Machine
We were surprised to note that there were steam mops for cleaning carpets as well. The Bissell Big Green carpet cleaner is another amazing cleaning equipment that is very popular. This is a machine with a professional finish and is quite easy to use at home and in offices as well.
Best Steam Mop for Hard Floors

Bissell 1940 PowerFresh Steam Mop
Similarly, we also found a specialized steam mop for hard floors. It is the Bissell 1940 PowerFresh Steam Mop, which gives excellent results on unusually hard floors. It also has special scent discs included that leave behind a fresh and refreshing smell after cleaning up.
Best Heavy Duty Steam Mop

Hoover MaxExtract All-Terrain Steam Mop
A combo machine for a hard floor and a dusty carpet is the Hoover MaxExtract All-Terrain that takes on the toughest cleaning tasks with consummate ease. It's goodbye to nasty stains with this wonder cleaning machine. Of course, the versatility of the McCulloch MC-1275 has to be seen to be believed. It is specially meant for tackling stubborn grease and grime that refuses to go with normal cleaning aids. This steam mop can be used on cars, trucks, boats and almost any other surface that needs a bit of spit and polish.
Best Steam Carpet Cleaner

Hoover F5914900 SteamVac Carpet Cleaner
The Hoover SteamVac with Clean Surge is supposed to give great value for your money. It can clean floors, carpets, rugs and upholstery as well. The manufacturers claim that it comes with that extra "oomph" factor for handling stubborn stains. The Hoover Twin Tank is another steam mop which is priced slightly on the higher side and comes with an extra-long cord and larger tank capacity. The run-time and performance are commendable, and while comparing price and quality, it comes as a real cropper.
Best Eco Friendly Steam Mop for Hard Surfaces

Eureka Enviro Hard-Surface Floor Cleaner313-A
For people who are very budget conscious, the Eureka Enviro Hard-Surface Floor Cleaner313-A is a god send. Apart from being reasonably priced, it is eco-friendly as well as it does not use any chemicals. In addition to cleaning your floors, it also sanitizes them by destroying millions of unseen bacteria lurking in the floors.
Best Multi-Purpose Steam Mop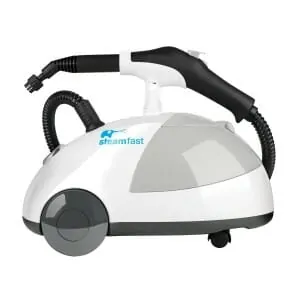 Steamfast SF-275 Canister Steam Cleaner
A great multi-purpose cleaner is the Steamfast SF-275, which is a small beast with an extraordinary cleaning capacity. This versatile cleaning device is great for cleaning up BBQ grills and smelly sneakers and almost any hard, dirty surface that poses a challenge as far as cleaning is concerned. This is a low priced steam mop that is good for the budget conscious.
Best Floor Steamer

HAAN HD-60 Duo Sweeper and Floor Steamer
The Haan range of steam mops includes the Haan Total Steam-and-Sweep Mop comes with a resting pad that protects your floors while the equipment is hot. It is capable of standing upright on its own, and the cleaning cloth adheres well to the unit. It also has a detachable water tank. The range also includes the Haan Agile Steam Mop, which is ideal for a quick cleanup of mild stains. This mop leaves behind little or no traces of water, hence gets the job done faster. However, it proves quite ineffective while combating tough dirt stains as the steam output is rather low.
Best Multi Surface Steamp Mop

SteamFast SF-142 Multi-Surface Steam Mop
The SteamFast Multi-Surface Steam Mop is great for getting rid of oily and other sticky, messy stains found on ceramic or vinyl tiles. The equipment is quite noiseless while running and leaves hardly any traces of water behind. It comes with an adjustable handle, though it takes a shade longer for the steam to heat up. The Sienna Dynamo Pro Steam Mop & Sweeper is yet another steam mop that comes with an adjustable handle, which is also foldable. This steam mop is great for removing stubborn oil stains and also has a removable water tank.
Best Steam Mop for Tiles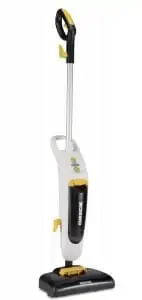 Oreck Grab-It & Steam-It Steam Mop
The Oreck Grab-It & Steam It Sweep-and-Steam Mop performs well on ceramic and vinyl tiles. It has a steam-ready indicator, and comes with adjustable settings for steam control. It can be run continuously for 25 minutes, but is not great for cleaning dry debris.
Best Steam Mop for Hard Wood and Ceramic Floors

Reliable Steamboy T1 Steam Floor Mop
The Reliable Steamboy T1 Steam Floor Mop is very effective especially on hard wood and ceramic floors, while removing oil or other messy stains. It generates a commendable amount of steam and comes with a rather large water tank that is removable.
Best Floor Steam Cleaner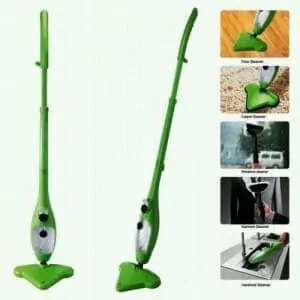 Thane H2O Mop X5 5-in-1 Steamer
The H20 Mop X5 5-in-one Steam Mop hardly leaves behind any traces of water while mopping. It also features adjustable steam settings, though it can be run for just 15 minutes at a stretch.
Wrapping Up
On the whole after researching and reviewing more than a dozen steam mops, we came to the conclusion that the Black & Decker BDH1850SM 2-in-1 Steam Mop is the most versatile and worth the price we paid. You don't need a steam mop that can't take care of stubborn, oily or messy stains. For such stains it is better to rely on the best steam mop we chose. You could, of course settle for the more expensive Bissell 1132A Symphony Vacuum steam mop which definitely costs more, but may not have any special features justifying the price. Then there is the lower priced Shark Light Easy Steam S3251 that comes very cheap. However, it does not have the special features our preferred choice has, and may not live up to expectations.
Jen Miller is a former electrical engineer and product specialist with more than 20 years of product design and testing experience. She has designed more than 200 products for Fortune 500 companies, in fields ranging from home appliances to sports gear and outdoor equipment. She founded Jen Reviews to share her knowledge and critical eye for what makes consumers tick, and adopts a strict no-BS approach to help the reader filter through the maze of products and marketing hype out there.  She writes regularly and has been featured on Forbes, Fast Company, The Muse, The Huffington Post, Tiny Buddha and MindBodyGreen.