The Golden Bell 4-Piece Spice Herb Grinder is our best spice grinder, which has a nice design in which the top is magnetized to keep the spice and herbs secure. What's more, the diamond shaped teeth are very sharp so the spice grinder grinds very smoothly. It is great for cooking and it is also easy to carry to picnics, camping and the like.
Our step-up pick is the Kingtop Herb Spice Grinder 3 Inch and the spice grinder is quite durable and pollen collects onto a screen when you process certain herbs. It has sharp teeth and it is great for your home kitchen. It is made with durable and food safe zinc alloy material that makes it quite convenient and easy to use.
The budget pick is the Homasy 4-Piece 2″ Spice Herb Grinder and this spice grinder is quite portable and it is also great for your local garden herbs. With a total of 3 chambers to separate the flavors, the teeth are durable in terms of grinding spices and herbs. It is a very compact spice grinder to consider with no bad effects on your health due to the materials used.
A Little Background
Spice grinders are basically used to grind spices. If you have things such as cinnamon bark, basil leaves and black pepper at home, you can manually grind them with a spice grinder. Cumin seeds can also be ground into ground cumin. Many other ingredients in the kitchen can be processed with a spice grinder, which makes it easier for you to include or incorporate the spice into your current recipe.
Generally speaking, spice grinders are used by most chefs and cooks all over the world. However, if you don't have a spice grinder, you can also use a low end coffee grinder because it pretty much works the same way. Grinding coffee beans is much like grinding your favorite spices, such as cinnamon or basil leaves. You can also do it the traditional way, with the use of the good old mortar and pestle to grind leaves and the like. However, you can also use special grating tools like the micro plane.
The main purpose of a spice grinder is not just to grind your dry and whole ingredients but also to retain their freshness and taste better. While it is easier to just buy ground leaves or cinnamon in the market, it is actually a lot better if you grind the ingredient yourself because it will keep its flavors better, much like how home ground coffee is better than commercial coffee. If you really want to improve your cooking flavors then ground spices are a must-have for your kitchen.
Choosing spices can be difficult if you don't have a lot of background in cooking, but anything can be learned with practice. Spices can be pre-mixed in a pack for you to easily pour into your kitchen dish. Later on, you might be eventually thinking about including individually spices and eventually grinding them from raw ingredients. You can also roast them for better flavor. Researching on the different spices is helpful depending on what you are trying to cook.
Coffee grinders and spice grinders don't really have a lot of difference because they do pretty much the same thing. While there are some coffee grinders that are only coffee-specific, the rest of the products can be really used for a variety of spices as well. You can just purchase a low end to medium end coffee grinder and have it grind spices for you instead of coffee.
Grinding coffee can also be done in a spice grinder, although a coffee grinder works the best for it. Nonetheless, if you can grind cinnamon barks in your spice grinder then grinding coffee on it would be absolutely okay. You can experiment if the spice grinder can take coffee and not get a lot of hassle doing it. In fact, if your spice grinder can do nutmeg, it is absolutely okay for coffee because nutmeg is pretty hard to grind.
Whole spices can be great starters for you to grind with your spice grinder. Common spices you can grind are cinnamon barks, some seeds and leaves, such as laurel, oregano or basil leaves. Depending on the type of recipe that you have and the availability of the spices in your locality, most of these whole spices are present in your local market so you can have the option to have them ground manually or buy them ground.
Grinding spice might be a necessity for some, but it is actually optional for most chefs and cooks. Certain spices are better off whole and not ground, such as cinnamon sticks, vanilla beans, coriander seeds, nutmeg, star anise, cloves and the like. This is because their flavors retain more for certain dishes so you can make the flavor last even longer than it should, which is great for long-term serving for dishes, whether at home or in a restaurant.
Some recipes require dried herbs. If your specific herbs aren't dried yet, the process will be a lot easier if you use a spice grinder to grind them in pieces (much like how you would on a mortar and pestle). Grinding herbs enhances their flavor and also makes the drying process easier. So the next time you need dried herbs right away, you can use a spice grinder for that purpose.
Herbs and spices are often mixed together by those who aren't knowledgeable with culinary arts. Herbs pertain to the leaves such as basil leaves, oregano leaves, mint and the like. These are some of the most common whole spices you can buy at the market. You may also want to grab a pack of laurel, basil or oregano leaves and grind them to your needs.
On the other hand, coriander, cloves, paprika, cinnamon barks, seeds, ginger roots and the like fall into the category of spices. Both herbs and spices make your food taste good, however. Spice grinders are great for making dried herbs of any kind, especially if you're going through specific recipes.
How We Picked
When you want to have the best spice grinder either for your home kitchen or work kitchen at a restaurant, you can look for the following criteria:
Number of pieces: most of these spice grinders can be disassembled into various pieces, from 2 to 6 pieces depending on the model that you have. The importance of the number pieces of a spice grinder is that you can grind more spices and herbs in just one go. In fact, grinding spice is actually a lot easier if you have a spice grinder that has many pieces. In addition to that, the spice grinder that has many pieces can allow you to grind different spices without the worry of mixing flavors in just one spice grinder container.
Size: most spice grinders have a size range of 2 to 8 inches depending on how much spice you need. Some are very small but some are very large. Most smaller spices and smaller kitchen needs may just require a small spice grinder but for those who work on very large kitchens and need to spice up many foods as much as possible, you may want to purchase a spice grinder that has a lot of capacity inside so you can fit as much spice or herb as you want to, especially for larger ingredients like cinnamon bark.
Magnetic: some spice grinders are also magnetic due to their design, which allow you to easily stack them when they are not in use and to keep the spices intact and not falling over your kitchen countertop. The purpose of the magnetic mechanism of a spice grinder is to keep them stacked well and also to keep the spices in their place. Just make sure that the magnetic part of the spice grinder does not alter the taste or quality of your spices or herbs with its design whenever you use this particular spice grinder.
Material used: spice grinders should not easily rust because they will keep food items. Most spice grinders are made out of anodized aluminum, zinc alloy, titanium or even stainless steel. Make sure that the material used for the spice grinder is very durable, will not rust and will not affect the food quality and taste quality in a bad way. The spice grinder should have a high grade material and food grade material for the casing so it will be durable for the many years to come.
Manual or electric: while most spice grinders are manually turned, there are some spice grinders that are also electric powered. Do consider a spice grinder that is best for your needs. For example, if you are just using a spice grinder at home, you can just go for the manual one that can be turned. However, you may want to purchase an electric spice grinder if you work at a large kitchen or need to feed a large family with foods that require a lot of spices in the recipe.
Our Pick

Golden Bell 4-Piece Spice Herb Grinder
Our best spice grinder is the Golden Bell 4-Piece Spice Herb Grinder which is made out of heavy duty zinc alloy so it is durable. It has a grommet seal to keep the spice inside and to get better control when grinding the spice or herbs. It is easy to clean and comes in a total of 4 pieces.
With a total of 3 chambers inside, the spice grinder doesn't mix flavors between spices and has great durability. You can also adjust the fineness or coarseness of your spice. It has a smooth twist and it is great for fine pollen as you can use the mesh screen filters.
You can grind seeds with this stylish grinder and you can bring it anywhere due to its portability. You can produce much better powder and even grind a small amount with this spice grinder. There is an included pollen scraper which is also made of food grade quality materials.
The spice grinder can process red pepper flakes and provides you with an efficient grinding action to keep your herbs fresh and tasty. It can also reduce spilling with the magnetized lid as a decent little grinder. It also allows you to grind lavender and grind up herbs in no time at all.
As an easy to use spice grinder that is quite tough and sturdy, it can help you achieve smooth grinding with the use of the included poly o-ring in its design. What's more, your chosen processed herbs don't dry out in this spice grinder.
With this spice grinder, you can basically grind down anything for your various needs such as for cooking or herbal remedies and teas. You can be very precise with this spice grinder and it also gives you less friction with its design so it doesn't grind your ears with a metallic noise.
Flaws but Not Dealbrakers
The only small concern about the Golden Bell 4-Piece Spice Herb Grinder that is not a deal breaker is that it might not be big enough for certain spices or uses, but you can easily upgrade to a higher priced grinder for that purpose anyway.
Step-up Pick

Kingtop Herb Spice Grinder 3 Inch
Our step-up pick for a spice grinder is the Kingtop Herb Spice Grinder 3 Inch which is both a spice and herb grinder so you can enjoy making teas with it and also make curries and the like. It can give you consistent pieces of your chosen ingredient and you can make home herbal remedies with it.
Great for your cooking needs, this powerful spice grinder does not leave large chunks behind due to its design as a high quality grinder. It has a total of 45 shaped sharp teeth to make your grinded herbs and spices deliciously ground. The spice grinder is great for those who are cooking with fine herbs.
Whether you want to process your bud or spice, this is quite a heavy duty spice grinder to consider for your needs of consistent grinding. It grinds food items evenly as a spice grinder and it also provides a smooth texture to them. What's more, the included screen is removable.
If you are often using fresh herbs, you can find that this spice grinder does a great job for such herbs and even spices. You can grind your herb in any way possible as it comes in 4 pieces for your different needs. The spice grinder works well for the smaller jobs and has sturdy glide rings and a pollen catcher.
You can evenly grind your herbs and spices with this spice grinder that is easy to clean as it also safely keeps the ingredients inside to avoid spillage. You can use the spice grinder for single recipes so it is economical and it is also grinding much smoother. There are also magnetic lids to help reduce spilling and the spice grinder is backed by a lifetime warranty.
Budget Pick

Homasy 4-Piece 2″ Spice Herb Grinder
The Homasy 4-Piece 2″ Spice Herb Grinder is our budget pick spice grinder which is also made out of zinc alloy material for grinding those herbs whenever you need them for your recipes. Anyone who loves to cook and uses spices and herbs often will enjoy this 4 piece spice grinder.
If you want a spice grinder for herb grinding needs then this is the one to get with less friction than cheaper ones out there. Great for dried herbs in general, the spice grinder also features mesh screen filters. You can add and discover new flavors with this simple yet durable spice grinder.
Including a pollen scraper for specific herbs, you can also process small herbs anytime and anywhere with very little effort. Bearing a magnetized lid to reduce spilling, the spice grinder also has a thin poly o-ring as part of its mechanism. You can process dry herbs in no time while keep the grinder firmly in place.
This 2 inch black herb grinder is also quite easy to twist and simple to operate and carry for anyone who loves to travel and cook. It gets the job done as a spice grinder and it also does not make annoying metallic sound unlike cheaper ones out there.
As a travel sized kitchen tool, the spice grinder is quite convenient to hold overall. It has razor-sharp metal teeth that effectively grinds spices, herbs and nuts with a good grinding action that is not too messy. The spice grinder is backed by a 12-month worry-free warranty.
Best Spice Grinder that is Electric Powered

Cuisinart SG-10 Electric Spice Nut Grinder
The Cuisinart SG-10 Electric Spice Nut Grinder is an electric powered spice grinder that can help you make your own spice blends without a lot of effort. You can also grind nuts in it for your nut recipes as a spice and nut grinder. It can help you homemade pasta with specific ingredients.
Grinding efficiently, you can also vary the coarseness with this durable and reliable spice grinder to get freshly ground spices as a result. If you need something to grind spices with then this is a good spice grinder to consider due to its stainless steel blades.
You can also use the spice grinder for cinnamon sticks to powder. The spice grinder also processes fennel, allspice and nutmeg with one touch due to its high quality and heavy duty motor. The spice grinder can get the smell and taste of your flavored spices across your food.
This spice grinder also helps you process sunflower seeds and similar seeds. With the easy push-top lid mechanism, it is easy to operate. If you're into flax seeds then this spice grinder can easily grind them as well. It will very much grind any spice with a simple on/off control.
There are recipes included in this spice grinder and it is also designed to grind most spices available in the market. Its included bowl holds 90 grams and it can also process whole fenugreek. With an easy to use press-down lid, the spice grinder is quite spacious with extra storage space in lid.
Also processing cumin and coriander seeds, the spice grinder is quite stable due to the nonslip rubber feet. You can also make gluten-free rice flour with this spice grinder as it processes finely ground spices in no time. The lid and bowl are both dishwasher-safe so they're easy to clean. Also working well for coffee beans , the spice grinder comes with an instruction manual for your reference.
Best Spice Grinder that has a Manual Ratchet Design Mechanism

Kuhn Rikon High Performance Ratchet Grinder
The Kuhn Rikon High Performance Ratchet Grinder is a ceramic stone grinder that looks traditional but is great for coarse sea salt and even some herbs. Ideal for cooking with fresh herbs and spices, it won't corrode unlike other spice grinders out there and it can also be a great pepper grinder to have.
If you want to use fine herbs and spices to season food in a large volume then you can use this spice grinder for your needs. What's more, you can also use pepper and salt for this spice grinder and also use it for peppercorn. It can easily wipe clean after you have used it.
Looking great on almost any kitchen counter, this spice grinder is a superstar in the kitchen due to its design with no corrosion threats at all. You can use it with salt, especially for grinding coarse salt. You can also use the spice grinder for coriander seeds as a high-output ratchet grinder on a dinner table.
It can be used with salt and even allspice as a spice grinder. It also processes cumin seeds with no problem grinding at all. Also great for pepper and for those who need to grind flax seeds, the spice grinder is so ergonomic even if you have a bad wrist.
You can process other spices such as chia seeds with this spice grinder and also process a large amount of pepper along the way. Working well for different spices, the spice grinder is absolutely not a hassle to use and is quite easy to refill as well.
Best Spice Grinder that has a Pollen Catcher

Zip Grinders Large Herb Grinder 2.5″
The Zip Grinders Large Herb Grinder 2.5″is a nice herb crusher and can help you make teas and spices all the time. Great for grinding spices and herbs straight from the garden, it is also a lot bigger than ordinary grinders so it is great for large meals.
Made with high quality and food grade solid CNC machining, this spice grinder has a clear chamber so you can see your ingredients. Whether it's grinding basil or oregano, you can grind your fine herbals with this spice grinder due to its neodymium magnets that keep the ingredients locked and intact.
This spice grinder can take up to 6 heaping tablespoons of herb and it also has a transparent center section to see your ingredients. It is quite a strong and durable spice grinder and its grinding teeth are sturdy as well. With this powerful grinder model, you can be cooking with fine herbs all the time.
It is also easy to turn unlike other spice grinders out there so you can grind fresh herbs with minimal effort and use the pollen scraper for certain herbs. It also has a couple of precision glide rings for a smoother grind, especially for home herbal remedies.
What's more, the screen is excellent in terms of design. The spice grinder has a total of 49 diamond shaped sharp teeth for effective grinding. With an acrylic window to see what's going on, it is far more consistent than other spice grinders out there and it has a food safe anodized color coating.
Giving you a smooth grinding result, the spice grinder can be used for tobaccos as well and is a great grinder for herbs and spices alike. It has a 100 micron mesh screen that is very accurate. It also has a pocket grinder included for your travel needs.
Best Spice Grinder that is made of Ceramic Material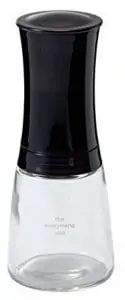 Kyocera Pepper, Salt, Seed Spice Mill
The Kyocera Pepper, Salt, Seed Spice Mill is a ceramic burr mill that also clearly avoids salt and pepper spills on the table due to its design. Working well for adding spice on your food, it has an upright design that prevents spillage. It is also non-reactive with most foods and great for sesame seeds.
With no flavors or odors retaining after you've used it, the spice grinder is great for processing sesame seeds and flax seeds. It will never rust at all and is also quite comfortable to use to give you an efficient grinding process. With enough durability, the spice grinder also has an adjustable dial for fineness.
As an easy to use spice grinder, it also looks elegant for the dining table in terms of design. It can outlast metal grinders due to the ceramic material and is great for peppercorns, dried oregano and any dried herb leaves. Quite perfect in the kitchen, it can also be used for salt and pepper.
It does not absorb flavors from any spices and you can fresh results in no time. You can make green tea and choose from fine to coarse grinds with this spice grinder. You can process coarse salt, celery seeds and parsley flakes and get a consistent and fresh taste that is fresh and flavorful.
You can simply adjust for different fineness or coarseness with this spice grinder and it has a reusable glass base as well for a fresh release of flavor. It is dishwasher safe in most of its parts and can process red pepper flakes, mustard seeds and cumin seeds as well. You can also make Turkish coffee with it for your preferred brewing methods. It also has a food-safe acrylic top.
Best Spice Grinder with Adjustable Fineness Settings

Accevo Stainless Steel Pepper Spice Grinder
The Accevo Stainless Steel Pepper Spice Grinder is made of brushed stainless steel and is a handheld spice grinder that is great for dry based spices. It has a simple grind adjustment and has a durable glass body. With a classic design, you can have spices ground to perfection even for traveling purposes.
With non-corrosive ceramic blades, you can also enjoy fresh ground coffee with it and it is also easy to clean and wipe. Perfect for any kitchen, this can also be a pepper and spice grinder for both travelers and campers alike. It can also process peppercorns with its adjustable thickness.
Giving off a contemporary and modern look as well as an ergonomic design, you can also use it as coffee grinder and you can control the coarseness as well. The lid and wide mouth are both removable for cleaning easily. It is made for those looking for a pepper grinder.
Okay to use in a restaurant or hotel, there is also a grinding indicator that shows the difference between coarse and fine grinds. You can use it for salt and pepper and have a no-mess refilling experience. You can also use it for brewing with a French press and also on salads or steaks. Presentable on your dinner table, this spice grinder has a transparent acrylic window for viewing your spice. Ideal for a home kitchen, it is quite easy to use.
Best Spice Grinder for Tobacco and Similar Herbs

Chromium Crusher 2.5 Inch 4-Piece Grinder
The Chromium Crusher 2.5 Inch 4-Piece Grinder has a clear top and is quite easier to turn. You can add a pinch of tobacco for your pipe with this spice grinder and its solid construction. It has a mill handle and you will love this grinder due to the 4 piece construction and no debris of ingredients gets stuck.
It can produce a nice and even grind and it is also nice and heavy but not bulky. Great for seasoning purposes and the like, this heavy duty grinder has teeth that are quite sharp. Giving you a smooth grinding process, it is made with durable zinc alloy and has a mesh screen for pollen.
As an affordable grinder with a pollen scraper included, it also has a magnetic top to keep ingredients locked and safe. Made with food-safe surfaced CNC aluminum, it has a ring designed for fast grinding as well so you can grind more at once. It is also made for people who use a vaporizer. With its 3 chamber design, this grinder gets the job done and has a nice machining design. It has a limited lifetime warranty.
Best Spice Grinder that is also a Coffee Grinder

Epica Electric Coffee & Spice Grinder
If you want a powerful grinder for both spices and coffee then Epica Electric Coffee & Spice Grinder is great. It can grind egg shells as well with a consistent and quick grind. You can easily grind coffee beans or spices with this unit and it is easier to clean than others.
You can process flax seed with this 250 watt grinder and for safety, machine cannot be turned on if the lid is open, so it's safe to use. Its ease of use makes it great for any kitchen and it is also resistant to breaking. Great for coffee beans, the unit allows you to grind beans and spices all the time.
As an excellent grinder even for dried peppers, the unit can allow you to adjust the fineness settings and you can be grinding without the mess due to the design. Great for espresso due to its effortless pouring mechanism, it is made with food-safe stainless steel that is both stable and strong.
You can grind nuts and perform any grinding job with this strong unit with a detachable grinding cup. It looks pretty cool on the counter and runs silently. With absolutely no chemical plastic smell at all, it is a sleek and compact unit with a 2 year guarantee.
The Competition
Other spice grinders did not make it to our list because they lacked a strong grip and were also not very easy to use. They can also not take specific spices whereas the ones we included here are so versatile with all kinds of herbs and spices. It is important for a spice grinder to be usable in the kitchen, have durability that is longer lasting and won't stain your food with corrosion or other bad tastes.
Other Frequently Asked Questions
Q: What is a spice grinder?
A: The spice grinder is a kitchen tool that lets you grind spice right off the bat from a raw ingredient, such as basil leaves, cinnamon bark, black pepper and the like.
Spice grinders are used in the kitchen if you have fresh raw ingredients and don't want to buy ground spices in the supermarket. Spice grinding is a fun activity for everyone and can be a great and rewarding experience for your food and tastes.
Q: How else can you grind spice without the use of a spice grinder?
A: There are many ways to grind spice other than with a spice grinder. For example, you can use the traditional mortar and pestle, which is either made out of wood or ceramic material.
Mortar and pestles are very cheap compared to a spice grinder and can be found in your local wet market. Coffee grinders can also work as a spice grinder. Even if you purchase a low end coffee grinder, you can use it for grinding spices, such as cinnamon barks and the like. You can also use a micro plane which is like a cheese grater.
Q: What is the benefit of using a spice grinder over buying ground ingredients?
A: The use of a spice grinder is beneficial if you want your food ingredients to have a longer lasting aroma and taste. When you buy supermarket ground ingredients, they might not last longer than when you buy whole ingredients and then grind them with your spice grinder.
Q: How do I get well-acquainted with choosing spices? What should I know?
A: Using spices in the kitchen can be tricky if you don't know what to mix into your recipe. If you are a beginner, start off with pre-mixed spices that often come in pouches.
Next, you can just learn which spice is best for which recipe and then buy individual ground spices. After that, you may start to just get your own raw ingredients and grind them manually. Last but not the least, you can also start to roast them to get more flavor.
Q: Which is better: a spice grinder oa coffee grinder?
A: Spice grinders work the same way as a coffee grinder, so most people believe that most coffee grinders and spice grinders are interchangeable. However, there can still be coffee grinders that are specifically for coffee. Nonetheless, there are a ton of coffee grinders out there that are also okay for spice grinding procedures.
Q: If I have a spice grinder, can it also be used for grinding coffee?
A: That depends on your model and its instructions, but most spice grinders can also be coffee grinders depending on their durability and capacity. Most spice grinders are also designed to grind coffee because most of them are also capable of grinding cinnamon barks, which is pretty hard as coffee beans.
Q: What are the most common whole spices I can grind with a spice grinder?
A: If you want to use a spice grinder then you might want to look for raw ingredients, such as seeds, roots, buds and bark (especially cinnamon bark). You will most likely find cumin seeds and coriander seeds and you can also find ginger roots.
Q: Are there specific spices that are better of not being ground at all?
A: While most spices can be ground, some are better off not being ground so that the flavor will last even longer. Some of these spices include vanilla beans, cinnamon sticks, coriander seeds, cumin seeds, nutmeg, cloves, star anise and much more.
Q: Can spice grinders be used for drying up herbs?
A: Yes, dried herbs dry up faster with the use of a spice grinder. This is because it breaks up the herbs, such as leaves, to make them super easy to dry and smoke and thus the flavors will be better concentrated.
Q: What is the difference between herbs and spices?
A: Herbs are mainly leaves and plants and comprised of leafy greens, such as oregano, basil, mint and the like. Cinnamon barks, roots, paprika, cloves, nutmegs, buds and other seeds are the spices. Both herbs and spices can be ground in a spice grinder depending on how you need them, and they can be easier to put into your dish that way.
Q: What is cinnamon used for and what are its benefits?
A: Cinnamon is a very famous spice due to its unique kind of sweetness and is mostly a pastry and bread flavor ingredient.
Cinnamon can be used on roasted vegetables, potato fries, oatmeal and various dishes. Cinnamon contains a lot of antioxidants and can also be beneficial for people with risks for diabetes. Cinnamon can be in the form of a bark or stick or ground up. Cinnamon is mostly used in pastries like muffins, cakes, bread and the like.
Q: What is basil, its benefits and uses?
A: Basil leaves are among the most common herbs to use in the kitchen. Basil leaves can be added to your omelets, vegetable dishes, soups, salads and so much more. Basil tastes fresh and makes your cooking smell and taste good. Basil leaves can help fight cancer and also help with digestion and bone problems. If you have an egg or veggie recipe, it will taste better with basil leaves.
Q: What is sage and what is it used for and benefits?
A: Sage is a great herb to consider for those with Alzheimer's disease or memory problems. Sage is a great addition to your meat recipes such as pork, chicken or beef and other poultry products. You can also put it in your favorite pasta meals. If you suffer from memory retention then sage is a great herb to put into your dish.
Q: What is oregano used for and what are its health benefits?
A: Oregano leaves are super effective for respiratory problems such as coughs and colds.
Aside from that, menstrual cramps and urinary problems can also be cured with oregano. It is also filled with antioxidants and has anti-inflammatory properties. Oregano is a common salad ingredient or even used in certain sauces, poultry, pasta and seafood dishes.
Q: What benefits can I get from vanilla beans?
A: Vanilla beans is also a common spice but is mostly used for desserts and pastries, much like cinnamon bark. Vanilla is a flavor that is commonly found in the kitchen and in ice cream. It contains magnesium and calcium for the bones and also has potassium for a healthier blood pressure and heart rate. General body metabolism can also be enhanced due to the vitamin B-6 of vanilla.
Q: How can herbs and spices help you eat healthier?
A: Herbs and spices enhance the flavor of your food without having to use monosodium glutamate or MSG. Simply put, you get full flavors straight from natural ingredients without much sugar, salt or pepper. Herbs and spices are a lot healthier due to their antioxidants and the like, so most chefs and cooks in a restaurant and home cooks prefer to use herbs and spices as an alternative to regular condiments in the kitchen.
Q: What are the benefits of curry powder?
A: Curry powder is a mixture of turmeric and other spices and is greatly beneficial for so many purposes, such as for immunity due to its vitamin C and for your skin due to its vitamin E. You can also possibly fight various cancer types due to its cancer-fighting properties. You can put curry powder to your favorite soup, meat or fish recipe, or of course, curry recipes.
Q: Why is turmeric a popular spice nowadays?
A: Turmeric powder has been a stable in India and Asian cuisine for a long time and is mostly seen in curry powder. Turmeric is known to fight cancer, inflammation, arthritis, digestive problems and so much more and this is why more and more people are getting into the turmeric craze. In most Asian countries, turmeric is super accessible at a local market. You can mix it with soups and curry recipes, much like curry powder, or you can also use it as a homemade herbal drink ingredient.
Q: What are the benefits of anise seed (star anise)?
A: Star anise or anise seed has many benefits for your immune system due to its wide range of vitamins and minerals. It is also great for your digestive system, your blood flow and for your skin. Star anise or anise seed is great for pastries, desserts, dinner rolls, sauces, drinks and much more.
Q: What are the benefits of cayenne pepper?
A: Cayenne pepper is a great way to fight obesity due to its spicy flavor. It is also great for its anti-cancer properties and also contains iron and potassium, which is essential for your health. If you want to cook up something spicy (e.g. Korean or Thai cuisine) then cayenne pepper is a good choice.
Wrapping It Up
As a whole, the Golden Bell 4-Piece Spice Herb Grinder is our best spice grinder that is portable, with a mesh filter and has a magnet to keep herbs locked and safe.
Jen Miller is a former electrical engineer and product specialist with more than 20 years of product design and testing experience. She has designed more than 200 products for Fortune 500 companies, in fields ranging from home appliances to sports gear and outdoor equipment. She founded Jen Reviews to share her knowledge and critical eye for what makes consumers tick, and adopts a strict no-BS approach to help the reader filter through the maze of products and marketing hype out there.  She writes regularly and has been featured on Forbes, Fast Company, The Muse, The Huffington Post, Tiny Buddha and MindBodyGreen.