Small cameras are portable, compact, light, and easy to handle. They're an excellent addition to those first getting into photography, those just trying to do recreation pictures, those who find themselves on the go frequently, or any number of reasons. No matter the reason you've ended up here, we've created this guide to highlight over the benefits of using a small camera, answers to common questions about small cameras, and a variety of recommendations. The recommendations, including our top choice of the Canon PowerShot SX600 HS 16MP Digital Camera as the best small camera, are simply there to help you figure out what's in a good small camera. We even explain how we picked the Canon PowerShot SX600 HS 16MP Digital Camera as our number one choice in this guide, as well.

Top Pick: Canon PowerShot SX600 HS 16MP Digital Camera
We didn't just design this guide for the recommendations, though. On the contrary, we've mostly geared it towards giving you the information and knowledge you need to find the best small camera for you. We don't get paid to advertise the recommendations we provide you, so we explain in detail why we came to the conclusions we did and which small camera is going to be the best for each particular specialized category. In fact, we compiled a list of specialized options to give you more explanation as to how to find a good small camera so that you can find the best one for your particular needs.
Benefits of Using a Small Camera
There are four main benefits of owning a small camera compared to having a bigger camera on hand. While there are pros and cons to owning each size and type of camera, here are the benefits of using a small camera.
Portable
The first thing designed to sell small cameras is the fact that they're so portable. They're small, some even tiny enough to put into your back pocket, so the portability of a high-quality small camera beats any other type of camera. Some have portable chargers, so you can take it with you on the go literally anywhere, just adding to the overall convenience of having a small camera instead of a giant one.
Easy to Hide Away
Leading back to the fact that small cameras are the most portable, that also makes them incredibly easy to hide away. As we said, some are small enough to even fit inside your pocket, which is why small cameras are the perfect option for covert missions or secret recordings. Small cameras are the cameras you need to use when you need to gather and record evidence on someone without letting them know they're being recorded.
Affordable
Nine times out of ten, a small camera is going to be a much more affordable option than its big-time DSLR brothers. While there are some small DSLR cameras, most small cameras are going to be more affordable simply because it took less materials to put together a small camera than it did a big one. The size of the camera plays to its advantage once again in this particular situation.
Less Equipment
Most small cameras come with a small camera case and its charger. Unless you want to purchase additional lenses (if the camera can have additional lenses), props, flashes, or other photography equipment, then you're good to go from here. Small cameras don't require all of the equipment the big-time cameras require, so it's less of a job for the photographer and less of a workout for whoever's carrying all the photography gear (who, as it turns out, is also usually the photographer).
How We Picked the Best Small Camera
Everyone has a buying guide that they follow for each product they shop for online. Whether they do this subconsciously or actually write down the variables included in the guide is entirely up to the individual. We got our team of experts and testers together to compile a buying guide that narrows down the long list of small cameras to just one final winner. After we put together the list of factors in play, we were soon able to compare each camera and rule them out until we had one final contender – the Canon PowerShot SX600 HS 16MP Digital Camera, which met all of the specifications and preferences we had previously set up.
Wi-Fi capabilities, a 1080p HD resolution, and a decent display screen are three features we have to have on the best small camera. Additionally, optical zoom of at least 15x and a minimum of 10MP is what we really prefer – and that's even lowballing our specifications. Overall, since we were in search of a small camera, we can't expect a quality DSLR camera most of the time.
Given our budget, we weren't looking at the best camera out there, ever. The features we wouldn't budge on are reasonable and it's possible to find a multitude of small cameras that fit this list. Out of the 9 small cameras we were able to narrow it down to, the Canon PowerShot SX600 HS 16MP Digital Camera simply impressed us the most, especially after testing each of them.
Our Pick for the Best Small Camera

Top Pick: Canon PowerShot SX600 HS 16MP Digital Camera
This particular digital camera is also satisfactorily in the middle of the price range we had set up ahead of time.
The Canon PowerShot SX600 HS 16MP Digital Camera has a flawless 1080p HD resolution and Wi-Fi capabilities, along with a 3-inch LCD screen in full color. It even has an easy one-touch Mobile Device Connect button for easy Wi-Fi functions. This 16MP camera has a 18x optical zoom and a 4x digital zoom, equaling a 72x combined maximum zoom. The optical image stabilizer actually makes this distance for zooming feasible, though it's always recommended to get as close to the subject as reasonably possible.
Our Second Pick

Canon EOS Rebel SL1 18MP CMOS Digital SLR
Since we have a first place pick for the best small camera, it goes as no surprise that there's also a second place choice – the step-up pick, actually. The Canon EOS Rebel SL1 18MP CMOS Digital SLR is sold in a camera bundle pack. It's pricier than the other cameras on our list, but it makes up for it in quality and features.
The screen display is completely interactive with touchscreen capabilities, and the camera also has a Full HD Movie Mode for quality video shooting. The accessories and additions that come with the camera is what sold us, though. The bundle comes with an HD 58mm wide angle lens, a professional 2x telephoto lens, a DSLR hand camera grip, a DSLR auto power flash, and an RC-6 wireless remote control. There's also lens caps and appropriate straps for each lens, a one-year warranty, and dust caps, a cleaning kit, and a variety of other pieces that make this bundle worth every penny.
Budget Small Camera Pick

Olympus E-100 Rapid Shot 1.5MP Digital SLR Camera
If you're on the lookout for a small camera when you're on a small budget, the Olympus E-100 Rapid Shot 1.5MP Digital SLR Camera is an excellent option to take a peek at. It has a 10x optic stabilized lens. More interestingly, though, is that this particular digital camera has a feature that no other digital camera has been able to match – every seconds, the Olympus E-100 Rapid Shot 1.5MP Digital SLR Camera is capable of 15 different shots.
Our team of experts tested this camera against all the other cameras around the same price range, and this one won out thanks to its features and overall reputation online. It's a budget alternative for those looking for the best small camera at a low price without having to sacrifice quality.
Specialized Picks
Our team of camera experts compile a list of specialized options for particular needs, since we understand our top pick might not be yours. There are, of course, plenty of small cameras on the market that fit the needs of our readers. That's why we have a list of a variety of options, so you can see which cameras are best for which needs.
Best Small Camera for Kids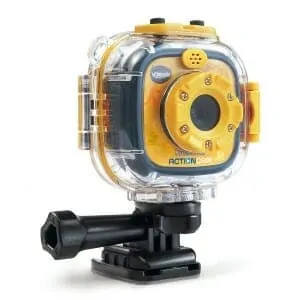 VTech Kidizoom Action Cam
Kids love to snap pictures just as much as photographers who always have a camera strapped to them. The VTech Kidizoom Action Cam is a great present for a child who's shown an interest in photography. Many children will go through a phase involving photography, turning it into a hobby as they become teenagers. Some will even be able to mold it into their future career. The VTech Kidizoom Action Cam, in particular, comes in yellow and pink, and it's durable enough for kids aged 4 and up to handle.
The 1.4-inch color LCD screen makes it easy to view pictures, videos, and much more on the little gadget. It's waterproof, able to take pictures and videos up to six feet underwater, and it even comes with a waterproof camera. It's a great start for some child's future passion in life – or if they don't happen to follow photography afterwards, at least they had a fun time.
Best Small Camera for Hidden Video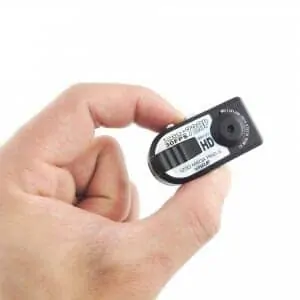 Wiseup 1280x720P HD Mini DV Camcorder
This little camera – and we stress little camera – is a small, covert device that can be hidden in your pocket as a voice recorder. You can use it as a listening device in order gather evidence on abuse, assault, bullying, or mistreatment of loved ones receiving care.
It can also video record, and it's small enough to be hidden from sight for lectures, interviews, meetings, concerts, and any number of other events. It runs at 30 FPS with a resolution of 720 x 480p, which is better quality than we thought possible for such a small camera. The Wiseup 1280x720P HD Mini DV Camcorder is an ultra-affordable option for those in need of a particularly tiny camera.
Best Small Camera for Scuba Diving and Underwater Swimming


Intova Duo Waterproof HD POV Sports Video Camera
The Intova Duo Waterproof HD POV Sports Video Camera is perfect for scuba divers, athletic swimmers, and those who enjoy a nice day out on the beach and swimming through the ocean. It shoots in 720p HD video resolution and 5MP for still photo resolution. The removable housing around the camera is waterproof up to 100 feet underwater, it floats, and it's rugged and compact. The 1.77-inch screen in full LCD works as both a playback monitor and a viewfinder.
With 4x digital zoom and a burst mode designed for continuous shooting, it's got more features than other comparable underwater cameras. Especially with how far it can go underwater, it's a reasonably priced camera that works for sports, underwater, and action shots. It also comes geared with a one-year warranty, as a bonus.
Best Small Camera for Close-Up Photography


Nikon COOLPIX S9500 Wi-Fi Digital Camera
The Nikon COOLPIX S9500 Wi-Fi Digital Camera has an impressive 22x zoom for the closest close-ups you can imagine. You're never far from the action when you're looking through the lens of this camera. It's got an 18.1 MP quality camera for exceptional images that look good even under low-light scenarios.
An interesting feature about the Nikon COOLPIX S9500 Wi-Fi Digital Camera is that it has a built-in GPS that records and tracks the location of each picture you capture, allowing you to create a timeline of whatever adventure you're on. From there, you can post the adventure online with the built-in Wi-Fi that the camera comes equipped with. It comes in three different color options, including black, red, or silver. Lightweight and ultra-thin, it can fit in your pocket or purse when it's not in use so you don't have to worry about lugging it around everywhere you go.
Best Small Camera for Beginner Photographers


18MP 2.7-Inch LCD Screen Prinsam Digital Camera
Easy to use and understand the menu options on, the 18MP 2.7-Inch LCD Screen Prinsam Digital Camera comes equipped with an 8x zoom and anti-shake technology. It's the perfect gadget for beginning photographers to get started with, since it's got simple instructions, a giant 2.7-inch LCD screen, and photography software to install on your computer to make it even easier to use.
The battery is rechargeable, so it's just a matter of easily charging your camera whenever it dies. It has a fairly reliable battery life, too, taking over 250 photos before the battery is drained enough to justify charging it. It's easily manageable for just about anyone, whether it's their first time picking up a camera or they've been at the photography game for a while.
Best Small Camera for Driving


AUSDOM AD282 Dash Camera
Safety is of the utmost importance when it comes to driving, so you need a camera that can record it all without getting in the way – and especially one that you have to have one hand on at all times. The AUSDOM AD282 Dash Camera is specifically designed for cars, capable of recording in full 1080p HD resolution. It's got a 2.4-inch LCD TFT screen, big enough to glance at while you're on the road without distracting you.
There are specific features that make it perfect for driving, other than the fact that it can easily stick to your dashboard. The parking monitor feature, for example, automatically starts recording if shaking or a collision is sensed. The automatic car accident detection feature locks all of your video files to memory using the G-Senor Technology built into the camera. Overall, it makes for an even safer journey, especially if you have children in the vehicle, to ensure that everything can be properly recording if the need arises.
Best Small Computer Web-Cam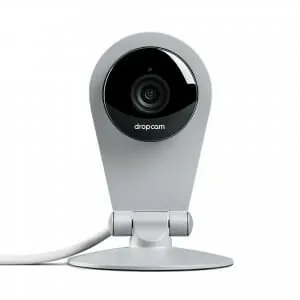 Dropcam Wi-Fi Wireless Video Monitoring Camera
This particular webcam is designed for you to start live streaming in under a minute with the speed setup. The Dropcam Wi-Fi Wireless Video Monitoring Camera has a 720 HD video resolution, with a 107-degree diagonal field of view, night vision, and a zoom feature. The Cloud Video Recording feature allows you to review all the videos you take, crop and make them into clips, and you also get access to secure offsite recording at the same time.
We feel this is the best small webcam because it doesn't just have those convenient features, but it also allows you to stay connected at all times, if you want to stay connected at all times, with Intelligent Alerts, Two-Way Talk, organized scheduling, and various website and mobile apps.
Best Small Camera for Hiking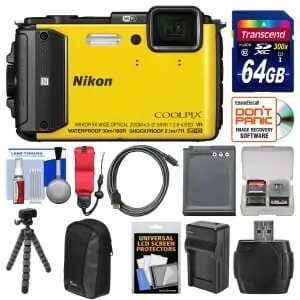 Nikon Coolpix AW130 Shock & Waterproof Wi-Fi GPS Digital Camera
While the Nikon Coolpix AW130 Shock & Waterproof Wi-Fi GPS Digital Camera is waterproof like the Intova Duo Waterproof HD POV Sports Video Camera, it's also shockproof, with built-in Wi-Fi and a built-in GPS tracking system. The bundle that comes with this camera includes a 64GB memory card, a battery and charger, a strap kit, a durable camera case, and a flexible tripod. Not only that, but the bundle also comes with a pack of LCD screen protectors, so you never run out throughout the camera's lifespan. The image recovery software is intuitive, and you have the bonus gift of a 5-piece complete camera cleaning kit.
Overall, the bundle that comes with the camera is enough to sell us, because we need all the necessary equipment on our person when we're out hiking. The Nikon Coolpix AW130 Shock & Waterproof Wi-Fi GPS Digital Camera has a variety of features that make it a great buy all on its own, though, with a 5x optical zoom, wide-angle lens, hybrid vibration reduction, and much more.
Best Small Camera for Business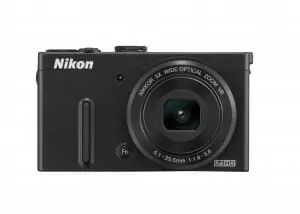 Nikon COOLPIX P330 12.2 MP Digital Camera with 5x Zoom
In a business setting, you need a camera that's sleek, small, and inconspicuous in the midst of meetings, interviews, and more. It also needs to capture everything at a true HD quality, so you can play it back later and be sure you got everything you needed. The Nikon COOLPIX P330 12.2 MP Digital Camera with 5x Zoom hits both of these marks, shooting at 1080p HD video with a stereo audio sound while remaining small, thin, and lightweight.
There is usually a delay in picture-taking with digital cameras from the moment you press the button to the moment the picture is actually captured. While no digital camera is capable of getting rid of that completely, the Nikon COOLPIX P330 12.2 MP Digital Camera with 5x Zoom has a lesser delay time than most.
Commonly Asked Questions About Small Cameras
Small cameras are just digital or DSLR cameras built into a smaller frame. Because of this, it comes as no surprise that you may have additional questions regarding small cameras in general. Fortunately, we compiled a list of all the most commonly asked questions that we've gotten regarding small cameras, and certain DSLR and digital camera questions that tie into small cameras as well.
How Many Megapixels Are Needed for a Camera?
Unlike what many people say – especially the salesman at the camera store down the street – more megapixels do not necessarily mean better quality. On the contrary, the more megapixels in a camera, the more pixels are tightly packed into each photo you capture. This could cause purple fringing, less sensitivity, more noise, and a variety of other issues that most photographers just prefer to avoid. Even a 4MP camera can produce a high-quality image that can be blown up as an 8 x 10-inch photo. There's no need to spend more money on a higher megapixel camera when it's not going to affect the overall picture. The other features on a camera, in addition to the high MP is what you should be focusing on.
How Fast Can a Camera Take a Picture?
The speed of image-capturing depends on the FPS that a camera is capable of. "FPS" is just an acronym for "frames per second," so the more FPS your camera has, the more pictures you can take continuously. For example, a camera with a frame rate of 2 FPS takes less continuous photos than a camera with a frame rate of 8 FPS.
Which SD Memory Cards Are Recommended?
A lot of cameras come with memory cards already packed with them. If you don't get a memory card with your camera, or you need to get additional SD cards, Class 10 cards with at least 30MBps for speed is recommended. San Disk is a popular brand that supports those requirements.
What Does Reformatting Memory Cards Do?
The "reformat" option is something that needs to be considered before it's selected, since reformatting an SD card completely wipes it clean. While there is a common rumor that SD cards lose their quality after continuous formatting, experts and professional photographers actually recommend reformatting your card as often as possible. Scrubbing it clean of all files, names, and details so that you can start fresh can only be good for it.
What File Format Should You Take Pictures in?
While it's recommended that photos always be captured in the RAW file format, some cameras may only have JPEG available. In this case, JPEG is appropriate, but RAW file formats are preferred for all cameras that are capable of switching to that particular format. This is because RAW file formats can be processed correctly, unlike their JPEG counterparts.
What's Wrong with Shooting in JPEG?
To touch further on the fact that JPEG doesn't process correctly, any time a JPEG file is opened and re-saved, some of the detail is diminished. Ugly artifacts are left behind, not visible to the naked eye but plainly visible when you zoom in. It's easy to avoid all of this simply by processing your RAW file format photos instead.
Do Small Cameras Offer the Same Quality as Larger Cameras?
This is an individualized question and depends greatly on each small camera. In reality, a small DSLR camera is going to have comparable quality to a larger DSLR camera, and a small digital camera is going to have comparable quality to a larger digital camera. However, if you're looking for a small digital camera that has the same quality as a larger DSLR camera, you won't have nearly as much luck.
What's the Difference Between Digital Zoom and Optical Zoom?
This is one of the most common questions, and you saw in this guide that we mentioned a certain level of optical zoom for one camera and a certain level of digital zoom for others. There's a very easy way to remember the difference. Your camera's lens is what the optical zoom is centered around. Once the digital camera's sensor picks up the image you have the lens on, the digital zoom is achieved by enlarging a photo and cropping the excess until it's zoomed into your satisfaction.
Wrapping It Up
In this guide, we touched on the benefits that you get when you purchase a small camera, along with a detailed list of how we came to our decision for which small camera we thought was the best. The Canon PowerShot SX600 HS 16MP Digital Camera came out on top, and we listed a variety of other high-quality or equally comparable cameras, like the budget alternative, step-up pick, and specialized options. There's a perfect small camera out there for everyone, and this guide was geared towards ensuring that you have all the tools you need to find the best small camera for you.
Jen Miller is a former electrical engineer and product specialist with more than 20 years of product design and testing experience. She has designed more than 200 products for Fortune 500 companies, in fields ranging from home appliances to sports gear and outdoor equipment. She founded Jen Reviews to share her knowledge and critical eye for what makes consumers tick, and adopts a strict no-BS approach to help the reader filter through the maze of products and marketing hype out there.  She writes regularly and has been featured on Forbes, Fast Company, The Muse, The Huffington Post, Tiny Buddha and MindBodyGreen.