Every great photographer has to start somewhere. Entry-level DSLR cameras are a dime a dozen, but beginners don't really know how to determine which camera is the best for their particular needs. Those serious about taking quality pictures are open to recommendations and willing to learn more about DSLR cameras in order to be knowledgeable enough to make their own purchasing decision.

Top Pick: Canon EOS Rebel T5 DSLR Camera
We put together a team of experts, looked at all of the DSLR cameras that fit well for a typical beginner's needs, and tested them out. After hours of research, testing, and deliberation, we decided that the Canon EOS Rebel T5 DSLR Camera is the best DSLR camera for beginners, and we explain in detail how we came to that conclusion in this guide.
That's not our only recommendation, though. On the contrary, there's more than one camera fitting for a beginner. The best DSLR cameras for beginners also include our step-up pick, the Nikon D750 DSLR Camera, our budget alternative, the Nikon COOLPIX L340 Digital Camera 33rd Street Deluxe Kit, and a variety of specialized options.
We took into consideration the fact that some beginners have more particular needs than just being beginners. For example, some beginners need the best DSLR camera for a business venture, to get some sweet shots at concerts, or some reason in between. We tried to find as many specialized options that we could put together so that every photographer can find a camera that's fitting for their particular needs.
In this guide, we don't just give you recommendations for a bunch of DSLR cameras. On the contrary, we provide you with the information you need to find the best DSLR camera for yourself. Whether that camera fits the recommendations we have on our list or you find a different camera altogether, our goal with this guide is to provide you with the information you need to make that decision for yourself. This allows you to put your world of photography in your own hands.
9 Important DSLR Camera Tips for Beginners
Before you start purchasing a DSLR camera, you should probably learn at least a few tips for how to use one properly. Soaking in as much knowledge ahead of time will actually make the choice of purchasing one that much easier. When you finally decide on which DSLR camera to purchase, try to take advantage of these tips as often as possible.
1 Shoot as Much as Possible
The perfect shot is not the first picture you snap. It's not the second one you shoot, either. For that matter, it more than likely won't be the third, fourth, fifth, and so on. You can never take enough pictures. When you think you've shot enough, shoot some more. Change up the perspective, move around, use the zoom on your camera, play around with the other options your camera has to offer, and shoot, shoot, shoot.
2 Pace Yourself
Take your time. Would the picture look better from an angle you can't even achieve on your tip-toes? Take the time to climb the tree beside you. Pace yourself, be careful, and understand that patience is the absolute best tool you're ever going to have as a photographer. With the right amount of patience, you'll be able to capture the masterpiece you were after.
3 Understand You're Not an Expert Overnight
Even after the hundreds or even thousands of pictures you shoot in a single photoshoot, you could walk away with nothing. You have to go in expecting this, trying your hardest with the tips you learn, and understand that just because you walked away with nothing this time, that simply means that you understand what not to do next time.
4 Auto Mode is Just Fine for Beginners
Your camera comes with modes like auto, sports, portrait, landscape, program, etc. If you're not familiar with a DSLR, or you're just transitioning from a regular point and shoot camera, there's nothing wrong with taking advantage of these modes. This allows you to learn what variables are changed with each mode so that you can eventually adjust it yourself without relying on the default modes that come with the camera.
5 Try to Shoot Your Pictures in RAW
You could shoot your picture in the default jpeg format, but a lot of cameras also have the option of capturing a picture as a RAW file format. It's similar to a jpeg, but it holds a lot more information. When you shoot in RAW instead of jpeg, you open up a world of additional options when it comes to contrast, white balance, exposure, and much more. It is important to keep in mind that images that are shot in the RAW file format will have a much larger file size than a default jpeg. We definitely recommend multiple memory cards on hand for a photoshoot you're really getting into.
6 Learn Your Camera Before You Even Pick It Up
This goes without saying, but you should always read your camera's manual before using it. There are certain features, rules, and requirements that each individual camera has that's different from the next, so getting a feel for how it works before you even touch it is highly recommended.
7 Always Double Check Your Equipment
Even a photographer who's been at the photography game for twenty years could forget something important if she didn't double check her bag before she left. Always double check to make sure you have absolutely all the equipment you need for your photoshoot, whether that includes additional lenses, a tripod, props, or something else altogether. Some of the photographers on our team actually make a checklist before they leave for every photoshoot, making sure that they have everything on the list before they're out the door.
8 Post-Processing is Half the Job
Whether you've already got PhotoShop geared up and ready to go or you only have the default photo editor that comes pre-installed on most computers, post-processing is an important part of photography. Putting them on the computer will allow you to organize them, delete the ones you don't want, crop, adjust the exposure, correct the color, fix any red-eye, and anything else that improves the overall quality of each image.
9 Always Be Selective
An expert photographer that's been at the photography game for decades is going to be one of the pickiest people you meet, 9/10 times. Seasoned photographers are picky for a good reason, though – you have to be selective when it comes to your final pictures. The photos that you decide are good enough to show the rest of the world need to be worthy of being shown to the rest of the world. Don't try to display ten different angles of the same flower. Pick the best picture out of those ten, process it, and make it a masterpiece to the naked eye.
4 Factors That Play into a Perfect Picture
Even if you're not a beginner, it's always recommended to brush up on the variables that make up a beautiful picture. There are five particularly important factors that come into play when you're trying to get the perfect picture, whether it's for a wedding, festival, a nature shot, or a sports event. These factors always need to be considered and incorporated simultaneously to snap a beautiful picture.
1 Point of View
Taking a picture from your point of view is great, but is it the best one for that particular picture? Position your camera at different angles, line it up so that it's looming down or peering up as a different perspective, get far out or zoom in. Giving a picture a different perspective is the best way to get the viewer to see from that point of view, too.
2 Focus or Subject
Most cameras have an auto-focus feature. Those who don't will still have typical zoom options, allowing you to focus in on one particular subject. The important thing to remember is to pick a subject, focus in on it, and move your camera and change the options accordingly until the picture is properly focusing on just the subject. Everything around it should be blurry and made out to be the background, which is exactly what you want to go for most pictures.
3 Exposure
The world can be either very bright or absolutely dark. For each picture, your camera is only capable of capturing so much. Fortunately, you can control the range of exposure that appears in each shot. Typically, your "exposure compensation" button is the easy solution to what could be a potential problem. It's almost always written as a +/- symbol, either as a button, dial, or option on your camera's menu.
4 Composition
Our brains naturally find things that are slightly off-center, especially with pictures, to be aesthetically pleasing. This is where the composition of the picture comes into play. An easy method for good composition is to follow the "Rule of Thirds" rule. Some cameras have the grid available to view over the lens, but the trick is to divide the photo into three both horizontally and vertically. The subject of your picture should be at the center of one of the four lines that cross towards the center. This is an easy trick to get a natural, nicely balanced composition for each image you capture.
How We Chose the Best DSLR Camera for Beginners
When you get to the heart of what makes a good camera a good camera, we decided that the Canon EOS Rebel T5 DSLR Camera is the best DSLR camera for beginners. No, we didn't come to that conclusion because we were paid to – it just fit all of the variables that we were looking for. We put together a list of important factors to help us narrow it down to one camera.
The first factor we weighed into consideration was the reputation each camera already had. Amazon is a great way to see how a camera fairs for the average consumer. By scanning over the reviews and ratings for each camera, we can see the ones that come out on top. From there, we narrow it down further through other factors.
The next variable in play is the price of the camera. You don't want to blow your savings on a DSLR camera, but you also aren't looking for the cheapest camera around. We tried to stick somewhere in the middle.
The overall features of each DSLR camera is the next most important factor for beginners to take a look at. Do you want it to have HD resolution? We sure did, and any camera that had a resolution any lower was ruled out automatically. The megapixels it's capable of shooting is also important. Really, we looked at any camera with at least 16MP.
Our Pick for the Best DSLR Camera for Beginners

Canon EOS Rebel T5 DSLR Camera
We were super fortunate to find that the Canon EOS Rebel T5 DSLR Camera excelled beautifully with all of the factors we took into consideration.
Finally, the best part, the features offer even more than we were looking for. The full HD 1080p resolution is exactly what we wanted, but it also has an 18MP camera, so it's better quality overall. The 4-image processor and 18-55mm lens included with the camera are just a bonus. It's got an intuitive menu on a 3″ LCD screen that's easy to use and a great toy for beginners to get the hang of photography with.
Our Step-Up Pick

Nikon D750 DSLR Camera
Some photographers, beginners included, are willing to go a step up in price to get the next best thing. If you have the extra dollar to throw around, the Nikon D750 DSLR Camera is that step up. It's a 24.3MP FX-format camera with true HD recorded at 60FPS. Overall, this particular camera exceeds our expectations as far as features go.
This isn't even to mention what this camera comes. The price is a bit higher because it also comes with a 16GB memory card, a camera cap, camera strap, and a 6-piece starter kit, which comes with a cleaning cloth, a memory card keeper, a 5-pack of cotton swabs, lens cleaning fluid, and a mini tabletop tripod. Basically, it comes with everything you could possibly need to get started with a photography career, hobby, or passion.
Budget Alternative

Nikon COOLPIX L340 Digital Camera 33rd Street Deluxe Kit
While we weren't looking for the cheapest DSLR camera when it comes to the best DSLR camera for beginners, we did have a team looking for the most affordable high-quality DSLR camera. We do take price into consideration, but we also never sacrifice quality for price. The Nikon COOLPIX L340 Digital Camera 33rd Street Deluxe Kit impressed us with the features and accessories that it had to offer, so we simply couldn't pass it up.
The camera itself has a 28x optical zoom lens and it captures 20.2MP pictures. It does record in 720p, but that's a sacrifice we were willing to make, since we're really year to take pictures, not record videos. The video option is simply nice for extra things like weddings, family events, graduations, etc. the 3″ high-resolution LCD screen lights up with an intuitive menu and it has motion detection.
The whole bundle includes the Nikon original accessories, a flexible spider tripod, an SD card reader, 2 16 GB SD cards, extra AA batteries, a AA battery charger, and a deluxe camera carrying bag to store it all in. You get a little bit of everything with this excellent starter kit, perfect for those beginner photographers who are on a budget.
Specialized DSLR Camera Options for Beginners
As we mentioned, we looked into specialized options for beginners. Whether they're trying to start a business, get into professional photography as quickly as possible, to capture shots for a concert, we compiled as many specializations that we could find so that beginners can get started on their particular needs right off the bat.
For the Future Professional Photographer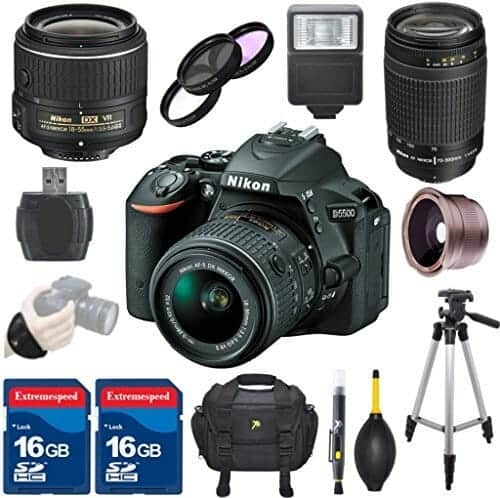 Bundle for the D5500 DSLR Camera
If you want to look the part, the Bundle for the D5500 DSLR Camera is a premium recommendation to get there. This bundle comes with more accessories and additional parts than any other kit on the list, so it's a good purchase all around. The additions and accessories include a 70-300mm G lens and an 18-55mm VR II lens, along with a .42x fisheye lens, an electronic flash, a 3-piece filter kit, a tripod, and 2 16GB memory cards.
For the Selfie Queen or King


Pentax K-S2 20MP DSLR Two Lens Kit
Whether you've got a teenager who loves to take a selfie, or you love to take a selfie yourself, the "selfie" mode on the Pentax K-S2 20MP DSLR camera is definitely convenient. That's not to mention the fact that this particular DSLR has a dedicated Wi-Fi connect button with Wi-Fi capabilities. It has a 4K interval movie capture, 1080P HD video capture, and a variable angle swing out LCD monitor that offers something new to what you're used to. This camera is definitely one you would get just to have fun and have a good time, whether you're a professional or just a recreational photographer.
For Learning the Rule of Thirds Quickly and Easily


SL1 DSLR Camera
The SL1 DSLR Camera's 9-point autofocus has a center cross-type point, allowing you to easily see your subject on one of the four appropriate focus points. This camera is perfect for utilizing the Rule of Thirds, and it has 18MP. It does have a manual override option in autofocus mode if you prefer to really get the perfect picture you're after. It's got a 9.8″ minimum focusing distance, making it a perfect camera for portraits and close-ups, too.
For Sports and Other Fast Action


Canon EOS Rebel T6i DSLR Camera
The 24.2MP Canon EOS Rebel T6i DSLR Camera has a high-speed continuous shooting rate of up to 5FPS, allowing you to capture the ball, player, and everything around it without much of a blur. It's the perfect companion for sporting events and fast action shots. It also has an impressive 19-point all cross-type autofocus system that allows for exemplary autofocus performance overall.
For the Most Impressive Ratings Overall


Nikon D3300 24.2 MP CMOS DSLR Camera
For When You Need to Get Cold and Dirty


Pentax K-50 16MP DSLR Camera Kit
The Pentax K-50 16MP DSLR Camera is dustproof, weather-sealed, and it has a cold-proof design. In fact, it has 81 weather seals in place so that your camera never has to face the elements, whether it's sand or rain. It makes it perfect for particularly freezing conditions, because this camera can get -10C, or 14F. The ISO can speed up to 51200 and it has a shake and dust reduction technology incorporated into its frame to ensure that even the camera stays a masterpiece.
For Something a Little Different


Sony Alpha a58 DSLR Camera
The Sony Alpha a58 DSLR Camera is a high-quality camera that doesn't get a popular enough vote because it's not the popular Canon or Nikon. Its a 20.1MP camera that shoots in full HD 1080p. It comes with technology specifically designed to optimized eye-level framing, among many other features. Overall, it's a great starter DSLR camera for the beginner wanting something a little different.
Frequently Asked Questions About DSLR Cameras
There are some questions that a surprising amount of people have, professional and not professional. There are some questions that you may need answered about DSLR cameras that you may have just been too afraid to ask until now. These are some commonly asked questions about DSLR cameras that we rounded up for beginners and seasoned photographers alike.
Which Camera Brand is the Best?
There's no one camera brand that is "the best." While our number one pick is from a Canon, our step-up pick is from a Nikon. We also have Pentax and Sony cameras on our list. Those four brands, in particular, are the most popular and widely used DSLR camera brands on the market. However, none of these brand have any real leg over any other camera brand.
Is a Memory Card Necessary?
Almost every DSLR camera has no memory of its own, or a miniscule amount that might capture a total of five pictures if you put it to that use. In short, yes, a memory card is necessary when you get a DSLR camera. Fortunately, most of the camera kits that are offered, including the recommendations on our list, have memory cards that come with the purchase of the camera.
Is a Lens Necessary?
A lens is also a necessary part of your camera ensemble. You have the option from here to either use the lens that comes with the camera or to get an external lens. Some camera kits actually come with multiple lenses, for different uses.
How Do You Get Your Pictures on a Computer?
Your camera should come with a USB cable that allows you to hook one end into the camera and the other end into the computer. If your camera, for some reason, doesn't come with its USB cable or doesn't have one at all, you can get a memory card reader and pull the pictures to your computer that way instead. Some prefer the memory card reader method, anyway.
What if You Get an Off-Brand DSLR Camera?
While the four most popular brands are what you usually want to stick with, there are some off-brand DSLR cameras that outshine the others. While this is the exception and not the rule, if an off-brand DSLR camera meets all of the specific requirements you have for a good camera then there's nothing stopping you from going with an off-brand option. Sometimes, it can beat the contenders that it was being matched up with.
Wrapping It Up
In this guide, we didn't just explain why we chose the Canon EOS Rebel T5 DSLR Camera as the best DSLR camera for beginners, we also provided the steps you need to take to find the best camera for your particular needs. That's not to mention the specialized recommendations, step-up pick, and budget alternative that you have to choose from, if you can't come to a conclusion on your own or find one of the cameras we recommended is the one for you.
We also uncovered the tips and factors that come into play when snapping a picture. It's easy to see very quickly that it's not going to take just one picture to make a masterpiece. Using the tips you've learned and taking the factors into consideration is the best way to shoot a picture that looks like a literal work of art.
Getting into photography is a satisfying and enjoyable endeavor that a lot of people pick up on and then carry on for the rest of their lives. If you research ahead of time and take the knowledge you learn into consideration, you can find a passion for photography itself with every picture you shoot. You'll understand why professional photographers do what they do when you find the right DSLR camera for you, whether it's one of our choices for the best DSLR camera for beginners or a camera that you find in a different place altogether. The important thing is that we've provided you with the tools you need to get the best camera possible.