Whether you're suffering from back pain or just want some rock solid abs, a high-quality roman chair can make all the difference and Stamina Hyper Bench is a sturdy, comfortable and versatile piece of gym equipment which will transform the way you work out.
Robust and well-built, the Stamina Hyper Bench could easily fit in a professional gym. The ergonomic design makes it really comfortable to use, and the high-quality materials make Stamina Hyper Bench reliable and secure.
This roman chair is easily modifiable, and the added hand rest broadens the scope of exercises you can do with this piece of gym equipment. The strongest suit of this roman chair is its versatility- you can easily customize the intensity of the workout to suit your individual level of fitness, and the fact that you can completely fold Stamina Hyper Bench in a matter of second makes it perfect for different spaces.
With superb design and ultimate comfort, the BodyCraft F670 is a fully-adjustable roman chair that will be a worthy addition to anyone's home gym. With angles customizable from 0 to 25 to 45 degrees and a wide injection molded pad, you'll have your choice of exercises for your back, core, and oblique.
Simple but effective, the Topeakmart 45 Degree is a compact and solid roman bench. The pad can be moved to 5 different positions, and the inclined angle of Topeakmart 45 Degree ensures you'll be comfortable while working out.
What is a roman chair?
Otherwise known as hyperextension chair, roman chair is an indispensable piece of gym equipment that allows you to strengthen your core and work on your abs, gluteus and hamstrings simultaneously. In fitness, the roman chair has been around since its early stages, but its popularity is still strong- both men and women find roman chair as an amazing tool for defining and sculpting their abdominal muscles and legs. When you're exercising on a roman chair, you'll have to rely on your upper body strength, which powers up your core, and rips your abs like no other equipment. It's also extremely effective for toning leg muscles and shaping your gluteus.
The key advantage of the roman chair is that it's not only useful for improving your physique and working out, it's also valued by physical therapists. The roman chair can improve your posture, help you get rid of chronic back pain and even help you get back in shape after an injury. However, if you're experiencing back pain or have suffered an injury, it's not advisable to start doing exercise on a roman chair without first consulting a physical therapist- even though the roman chair is great for recovery and overcoming pain, you'll need a professional to give you the green light for exercise.

What are the reasons for buying a roman chair?
There are many reasons why people choose to make the roman chair newest addition to their home gyms. First of all, most roman chairs are easy to install and place in home gyms, which eliminates complications and waste of time on complex and ineffective equipment. They're also quite adjustable and can accommodate most people, regardless of their height and weight, so they're great for the entire family. Due to their versatility, roman chairs can also be adjusted to suit people with different experience levels, so you can customize the difficulty level to match your own skills and capacities.
The roman chair is pretty straightforward and easy to use, but the results you'll have with it are stunning. By engaging your core and back muscles completely, you can sculpt your body and improve your posture significantly. The roman chair will strengthen the muscles in your lower back, too, which will help you eliminate back pain if you're experiencing it, and improve your overall body capacity.
In addition to refining your posture and giving you better spinal support, the roman chair can be used to train your whole body. It's not just the core and the lower back that will benefit from exercising on the roman chair- all muscles in the back, abdomen, legs, glutes and even your neck and shoulders will get sufficient exercise. If you really want to make most out of your roman chair, you don't have to limit yourself to the standard set of exercises that engages the aforementioned groups of muscles- you can do a variety of different exercise with it, from sit-ups, crunches to leg raises- the sky is the limit.
So, if you want to finally overcome your chronic back pain, or just want to redefine your muscles and sculpt your body, the roman chair is the most versatile piece of gym equipment you can buy- and the simplest one to use, too.

Who should use a roman chair?
Most people wonder if there are any limitations or recommendations for using the roman chair, and who can use it safely.
The fact that the roman chair can be fully adjusted for different height and weight makes it great for a wide variety of different people, but the thing that makes it especially great is that you'll completely rely on your body for exercise, so you it's up to you to determine the difficulty level. Of course, if you've suffered an injury or have back problems, you should always consult with an expert before doing any kind of exercise, but if you haven't sustained any injuries, you can use the roman chair without having to worry.
Additionally, you can adjust the angle or add weights to the mix to raise the stakes and increase the difficulty of the exercise, or start with standard workouts- either way, you can tailor the workout to be a perfect fit for your own, individual needs and capacities!

How we tested
To ensure that the results of our testing were unbiased and valuable for people with a variety of different needs and skill sets, we've asked a few fitness buffs to contribute their opinions and try out the models we were testing. This way, we didn't base our review only on opinions of skillful and experienced gym enthusiasts or clueless newbies finding their way into the world of fitness, but rather on a series of tests for different difficulty levels and input from a broader range of people. This kind of approach resulted in finding the best roman chair for most people- the one that would be a great gift for both beginners and experienced fitness fans.
When it comes to the set of features we examined and rated on roman chairs we tested, the overall quality of manufacture was our starting point. Before even considering a specific model for our competition, we wanted to make sure that the manufacture was top-notch and the materials used were of the highest quality. The worst thing that could happen is that you end up with a poorly made roman chair that could break or bend after a couple of uses.
After determining that the materials and manufacture were of satisfactory quality, we focused on the exercise itself. Sure, you might think it was a pretty straightforward part, but even though there's only so much you can do on a roman chair, this phase required extensive testing. First of all, not all roman chairs have the same scope of adjustability- some of them have a fixed degree incline, others offer the ability to change between different angles. Some roman chairs have useful additional features, like handstands or foot plates, which make the exercising more convenient and increase the number of possible exercises you can comfortably do. And, last but not the least, the pads of the roman chair made a world of difference- to be able to truly enjoy your workout and exploit all the possibilities, you'll need to be comfortable. Thin cushions or narrow, badly positioned ones made exercising inconvenient and unpleasant, so we wanted the pads to be great as well.
In the end, our final choice for the best overall roman chair would have to be one of superb quality, with full adjustability and a good price to top that all off.
Our pick: Stamina Hyper Bench

Stamina Hyper Bench
The Stamina Hyper Bench is a worthy addition to anyone's home workout space- it's well-made, dependable and enjoyable to use. The frame is made out of solid steel, so there's no risk of it bending or breaking, and the red finish is both really stylish and gives this roman chair a high-end feel. The non-slip rubber placed on the bottom of the frame ensures that Stamina Hyper Bench stays in place during your workout and adds a sense of additional security, but it's also a great way to protect your floors from scratching and damage.
Besides high-quality materials and luxurious design, Stamina Hyper Bench has a tremendous advantage over other models of roman chairs we tested- it's completely foldable. Even though this roman chair wouldn't look out of place in an expensive professional gym, the manufacturers made it extremely practical for owners of home gyms- in a matter of seconds, you can fold the Stamina Hyper Bench and store it away. This is really useful if you have a small space that you use for working out or if you don't have a dedicated gym space- with Stamina Hyper Bench, you won't have to trip over your gym equipment.
Thickly padded cushions upholstered with vinyl make the exercise much more comfortable, and their position makes it convenient for both sexes to use, and the pivoting foam rollers are quite cozy for your feet and add great support. The footrest, although admittedly a bit small, is non-slip, so you don't have to worry you'll slip when your feet are down.
What we really liked are the extended hand grips covered with durable vinyl. This adds a whole other dimension to the workouts you can usually do on a roman chair and gives you more bang for the buck.
Adjustable footrest and backrest add to Stamina Hyper Bench's versatility and allow you to customize this roman chair to match your height and meet the difficulty level you want. This makes it a great tool for working out whether you're up for some challenge or if you're just starting out. Although it's fully adjustable when it comes to height, the maximum weight capacity of Stamina Hyper Bench is 250 lbs.
Stamina Hyper Bench is the best all-around roman chair, with its affordable price, top-notch quality and the great workout it provides.

Flaws but not dealbreakers
Even though you can adjust the Stamina Hyper Bench to be a fit for your height, some of the users reported that it's not as practical to use if you're under 5.5 feet tall. For shorter people, the cushion might end up in an uncomfortable position and the rollers might be harder to reach with your legs, which makes the whole exercise inconvenient, and in some cases almost impossible to perform. However, it's not always the case- it pretty much depends on the length of your torso and legs, so if you're worried you're not tall enough to use Stamina Hyper Bench, it might not be the case.

The step-up pick: BodyCraft F670

BodyCraft F670
The BodyCraft F670 is a high-end roman chair and the ultimate piece of equipment for your workout sessions. The heavy-gauge steel construction and the clean, sleek design leave impression of an unyielding machine, and the lifetime warranty on materials and workmanship is there to back it up. The sturdy frame is complemented by high-quality components such as extra wide injection molded pad and high-density foam rollers, making BodyCraft F670 truly an exclusive model amongst its competitors.
The superb craftsmanship aside, this roman chair is a delight to work out on. The extra wide injection molded pad we previously mentioned accommodates people of all shapes and sizes comfortably, and the cushion is ultra-thick, so you won't feel uncomfortable while doing exercise. The pad is split in the middle, so it's suitable for both men and women, and the slightly curved sides protect you from slipping and shifting when sweaty (and trust us, you'll definitely be sweaty after a good workout on this chair). Also, since the pad is by default positioned far lower than our top pick's, this ensures that the BodyCraft is suitable for short people, too.
The height is adjustable, but, if you're on the taller side of the spectrum, you might find this roman chair a tad uncomfortable. The adjustability part where BodyCraft excels is its ability to go from flat to 45 degrees in no time, making it easy to switch between difficulty levels and different types of exercises.
The footplate also extra wide, so you'll have plenty of space to rest your feet, and the foam rollers are wide and cozy enough to put pressure on your leg muscles without feeling uncomfortable. When it comes to the weight limit, BodyCraft F670 easily handles up to 300 lbs.
Although this roman chair isn't foldable, it won't take up too much space- it's a great choice if you have dedicated space for working out and want a dependable, high-end piece of equipment to add to it.

The budget pick: Topeakmart 45 Degree

Topeakmart 45 Degree
The Topeakmart 45 Degree is inexpensive but good. Simple but sturdy, this roman chair is great for beginners and pros alike, and, although modest, is quite efficient and a great budget solution.
Robust steel frame with a powder-coated scratch and rust resistant finish in white might not make it seem like the fanciest or the newest fitness gadget, but its minimalistic and plain design have their appeal.
The two pads are separated in the middle, making it continent for both men and women to work out on Topeakmart 45 Degree hassle-free, and the two-inch thickness ensures you'll be comfortable while doing exercise. When it comes to adjusting the difficulty of the workout, you won't be able to rely on customizing the angle of the frame, but if you're looking for a challenge, you can always incorporate dumbbells or weights to make things more challenging and demanding.
Unlike our top and step-up pick, Topeakmart's foot rollers are not adjustable, so you'll have to rely on pad positioning to accommodate your height. The pad can be moved to 5 different positions to make a better fit, but if you are a tall person, chances are that you'll find this roman chair inconvenient. The manufacturer advertises maximum weight limit at 440 lb, but after having firsthand experience with this roman chair, we would advise taking this with a grain of salt- considering the materials used, it's more suitable for up to 300 lbs limit. With that said, for most people, Topeakmart 45 Degree will be a solid home gym choice. It's dependable and sturdy, and it will be a great way to sculpt and redefine your muscles.

Competition
Best Roman Chair for Glutes

Powerline Roman Chair
Let's face it, who doesn't want killer glutes? Although you can do exercise for toning and defining your glutes on any roman chair, you'll get the best workout by far with Powerline Roman Chair. The two by two heavy-gauge steel construction makes for a robust, high-quality equipment, and the ultra-wide base makes this roman chair absolutely perfect for some high-intensity glutes workouts since it prevents the chair from rocking and wobbling under you.
You can do a variety of different exercises with Powerline Roman Chair, and work on your hamstrings, abs or back muscles in addition to your glutes, but, compared with other models, this roman chair has the most efficient and fastest results in the glutes area.
The wide pads split in the middle accommodate fitness enthusiasts of both sexes, and their density will satisfy even the pickiest among them- they won't be uncomfortable when you press your hip bones against them, no matter how boney you think they are. The foam rollers can be adjusted to better accommodate people of different height, but if you're over 6.2 feet, chances are, you'll find this roman chair isn't the best fit for you. The maximum weight limit is 250 pounds, and its length 46 inches, so have those references in mind when choosing, to ensure you'll be completely satisfied with your purchase.
Best Roman Chair for Obliques

BodySolid GHYP345
If you're tired of hiding your love handles, some hardcore workout for your obliques will help you transform your waistline, and the best roman chair for this exercise is BodySolid GHYP345. With a fixed 45-degree incline and special extra wide footplate, this roman chair is perfect for side crunches that will trim and tone your obliques. The absence of foam rollers and unique design of this roman chair are the biggest advantages of this model if you're looking to strengthen your lower back and sculpt your waist. The exact 45-degree angle of the heavy gauge commercial grade steel frame will give you the perfect position for a killer workout, and special three-inch-thick double stitched DuraFirm pads will provide you with the ultimate comfort and support.
The BodySolid GHYP345 is fully adjustable, so you can customize it to fit your height, and whereas the weight limit is concerned, the maximum supported weight isn't specified, but it can easily support up to 300 lbs, maybe even more.
Best Roman Chair for Lower Back Pain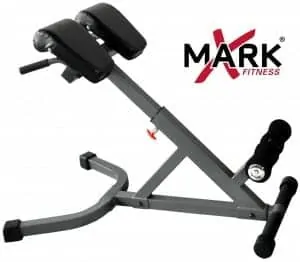 XMark XM-4428
If your orthopedic specialist recommended you to exercise on a roman bench to relieve back pain, XMark XM-4428 is a good choice. Although working out on a roman chair by default strengthens your lower back muscles, if you're recovering from an injury or have chronic back pain due to a sedentary lifestyle, the 45-degree incline will be especially beneficial.
But, it's not only the angle of the 14-gauge steel frame what makes XMark XM-4428 great for your back pain. This roman chair is quite comfortable and great for beginners, in big part thanks to super thick high-density pads, upholstered with Duraguard vinyl. The XMark XM-4428 itself is fully modifiable, and with 12 different levels of adjustments, it will be a great fit for most people regardless of their height, but the maximum weight limit is 275 lbs, so it might not be the best choice if your weight exceeds this limit.
Working out on XMark XM-4428 will improve your flexibility, range of motion, and circulation and help you either recover from your injury or completely eliminate back pain.
Best Roman Chair for Abs

Yaheetech Roman Bench
When you really want to engage your abdominal muscles and finally get those six-pack abs, Yaheetech Roman Bench will help you get there in no time. This roman chair will give you a beast of a workout, working on different sets of muscles and defining your whole body, but if you want to pay special attention to abs, you won't be disappointed. The steel frame powder coated with a glossy white finish, which is rustproof as well as waterproof. The interesting tweaks to this models are curved, a tunnel-shaped cushion which is great for support and convenience and not one, but two sets of foam rollers for working on your legs. In addition to rollers, you'll also have a footplate for easier and more secure positioning. The length of the frame's base allows you to experiment with different types of exercise that target abdominal muscles specifically, so you can focus on different parts of your body without having to switch between different gym machines.
With 6 different positions for leg holders, Yaheetech Roman Bench is adaptable to different heights, and the maximum weight capacity of 440 lbs accommodates people of all sizes, too.
Best Roman Chair for Experienced Gym Goers

Powertec Fitness P-HC10
Are you a fitness enthusiast, looking for a challenging piece of equipment for your home gym? If so, the Powertec Fitness P-HC10 will most definitely fulfill your expectations and allow you to create demanding and interesting workouts for your whole body.
The design of Powertec Fitness P-HC10 is really outstanding and the finest materials used for manufacture justify the high price. The highest level commercial grade steel frame supports the most weight out of all models we tested with 500 lbs weight capacity, and the adjustable rollers and the pad accommodate a wide range of different heights, making Powertec Fitness P-HC10 truly a roman chair for people of all sizes and shapes. Both the pad and the rollers are upholstered with vinyl, giving it a more professional look but also making these components more reliable and robust. The pads are quite thick and comfortable and can be positioned to assure most comfort and support. The superb adjustability of difficulty levels and inclinations allow you to work out on a standard 45-degree slant, 90-degree incline, as well as do abs crunches, oblique crunches and work on your core stability, just to name a few.
This roman chair really offers the most work out variations and it will satisfy even the hardcore workoutaholics out there.
Best Roman Chair for Newbies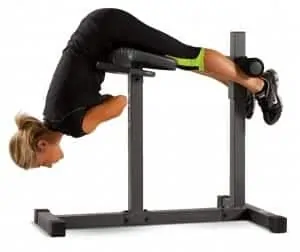 Marcy Roman Chair
When you're curious to try out exercising on a roman chair, but you're not that eager to commit financially, Marcy Roman Chair is a good choice. Inexpensive but well-built, this roman chair is perfect for newbies who are not quite sure if the roman chair is the right piece of gym equipment for their needs. Marcy Roman Chair is a great choice because if you decide you like working out on roman chairs, you'll end up with a decent and dependable one, but if you end up regretting the choice, you haven't spent much money it to get frustrated.
The two-by-two inch steel frame is robust and sturdy, and the high density boxed pads are cozy and provide good support. Fixed 90-degree incline is great for beginners, and it allows you to work on your whole body at once, without confusing adjustments and alterations. However, the foam rollers are adjustable, so you can tweak the difficulty level by moving their position. When it comes to height and weight limitations, this roman chair is a fit for standard measures- it's not adjustable for height (but it will fit people under 6.2 feet) and the weight capacity is 300 lbs.
Best Roman Chair for Small Home Gyms

Valor Fitness Roman Chair
Although our top pick is the most compact roman chair we tested, due to its folding feature, if you're not looking to put away your equipment after working out, but still have limited space, the Valor Fitness Roman Chair is a great choice.
The quality of production is truly high-level one, and the two-by-two inch steel frame is well-made and sturdy. For support and convenience, both the pad and the rollers are covered in high-quality vinyl and pretty densely filled, so you'll enjoy the time you spend on this roman chair.
In terms of adjustability, besides pad and rollers, you can use locking pull pins to further customize this roman chair to provide ultimate comfort while exercising.
Some people are not too keen on folding and unfolding their roman chair before and after their workouts so the most compact ones like our top pick won't be the best fit, but if you're looking for a dependable roman chair that won't take up half of your home gym space, you can't go wrong with Valor Fitness Roman Chair.

Frequently Asked Questions
Q: Can I improve back and spine health with a roman chair?
A: If you have a medical condition concerning your spine or have sustained injuries to your back, you should always consult your doctor before doing any exercise. With that being said, the roman chair is one of the oldest fitness machines, and there is a lot of proof that they, in fact, do benefit the health of your back. A clinical study published in Medicine & Science in Sports & Exercise journal indicates that exercising on roman chair takes the pressure off one part of your back and divides it equally on upper and lower back, causing less stress to spine and helping you improve motion and flexibility.
Q: What kind of exercises can I do on a roman chair?
A: Although you will engage your whole body in a roman chair workout, most of the exercises focus specifically on different sets of muscles in your body, like abs, glutes, hamstrings and so on. If you're interested in some examples or ideas, Garage Gym Builder and Bodybuildingestore websites have some interesting workout examples.
Q: Can I use weights or dumbbells when exercising on a roman chair?
A: Sure, if you're up for a challenge, you can add some additional weight to make things more demanding. Of course, it goes without saying you should up the stakes only if you're experienced and fit enough, and in specific exercises only. If you're looking for a way to add a twist to your roman chair workouts, Healthy Living suggests using a medicine ball, to spice up your ab crunches a bit and define muscles in your arms, too.

Wrapping it up
Whether you're a fitness buff or looking for a way to get rid of lower back pain, the roman chair is a great way to become fit and flexible. The hypertension exercise done on this gym machine will contribute to your spine's health and the intensive workout will tone your muscles and define your body like no other piece of gym equipment.
For its great, affordable price, outstanding quality and convenient features, Stamina Hyper Bench is our choice for best overall roman chair. If you're willing to allocate more funds for your home gym, BodyCraft F670 won't disappoint you. And, in case you're looking to get fit on a budget, Topeakmart 45 Degree roman bench is a reliable choice.