The Yamaha NS-AW150WH 2-Way Indoor/Outdoor Pair Speakers is our best pair of outdoor speakers. As a passive pair of outdoor speakers, it is capable of surround sound audio so you can enjoy music or TV programming without sacrificing the quality of new music and new movies as well. It also comes with mounting brackets that will make it ready to be installed on your outdoor setting, such as a porch.
Our step-up pick is the Bose Free-Space 51 Outdoor In-Ground Speakers and if you want outdoor speakers that are loud enough then these are the ones to invest in. they are also weatherproof from -40 to 150 degrees F so you can play music with the outdoor speakers even on bad weather. The 4 1/4 full range driver is downward firing for quality and sleek sound production.
The budget pick is the DOSS Touch Wireless Bluetooth Portable Speaker and any party can be spiced up with this outdoor speaker due to the portability and the great design overall that allows you to play Bluetooth music from any device with the capable technology. The fingertip control of tracks and volume makes the outdoor speakers super convenient overall.
A Little Background
A speaker is a device that lets you play audio or music from a source, such as your desktop computer, laptop, notebook, mobile phone (smartphone), tablet or any other device or source. It can also play from older sources such as CD players, cassette players and so much more.
Floor standing speakers and bookshelf speakers are both encased with a cabinet but the floor standing speakers are usually bigger and for the subwoofer or bass while the bookshelf speakers are intended for the trebles and mid range, usually the left and right channel, and are smaller. In-wall and in-ceiling speakers needed to be installed in your wall and ceiling, as the names imply. On-wall speakers are more often used for flat TVs.
Many speakers come in various shapes and sizes and may come in either passive or active. Passive speakers need electricity for them to run while active speakers can work on their own, which is most commonly found on most clubs and sound system units, making them more expensive and of heavy duty. These speakers can be connected to a centralized stereo receiver or music player.
There are many kinds of speakers that make up a full-blast sound system, such as the woofer, subwoofer, tweeter and mid-range, which all work together to create a full sound in all frequencies that are audible to us. For example, a deeper and more immersive sound will be experienced with subwoofer systems due to their frequency.
Subwoofers are the lowest in terms of frequency, and are also the newest, giving a lot of bass and deep sounds, which can be used to amplify the mood of a home theater system or help people enjoy electronic music much better. Woofers are next in the frequency because they also use the lower spectrum sounds, but are higher than that of the subwoofer. Mid range speakers are, well, in the middle frequency range while the tweeters are responsible for the high frequency (e.g. cymbals and consonants) sounds.
In addition to frequencies, speakers have channel systems. Having a 2.1 channel system is okay but you can choose to upgrade to 5.1 for your best home theater experience, or better yet a 7.1 channel system, if you can afford it.
An outdoor speaker can be placed strategically if you maintain a bistro or outdoor restaurant, park or any kind of outdoor business which requires an outdoor speaker for public announcements or just to set the vibe with music. Also, most outdoor speakers nowadays are camouflaged to look like garden ornaments so that they will not feel that awkward for most people.
How We Picked
When you want to choose the best outdoor speakers, here are some fast facts you need to know first:
Waterproof rating: consider an outdoor speaker that has a good water rating because it is meant to be an outdoor electronic device. If you get a speaker or set that has an IPX8 rating then that means you can drop it in the pool and expect it to survive afterwards. However, those with IPX7 and below are only okay for water splashes.
Speaker size: speakers can be a single small or large speaker system, depending on what you need it for. For example, garden speakers can be of any size but those that are mounted to a wall or under the eaves of your porch or patio need to be smaller so that they can be hung up there with safety. Most outdoor speakers can be from 1.9 inches up to 2 feet in its width and up to 20 inches in height and depth, depending on where you want to place your speaker.
Bluetooth compatibility: most outdoor speakers nowadays are compatible with Bluetooth technology, which lets you play music wirelessly from your phone or device to the speakers. This also means that these outdoor speakers are wireless instead of being wired, and is ideal if you don't want to go through the trouble of having to install wiring around your house and across your lawn, patio, garden or yard.
Durability: make sure the outdoor speaker is completely durable against the elements in terms of its casing and housing, so that it doesn't deteriorate due to rain, storm and strong winds. It should be shielded strategically so that no kind of debris will get inside the components of the outdoor speaker and tear it apart or ruin its electrical and electronic parts.
Mounting style: an outdoor speaker can be a bookshelf style, for mounting to the wall, a floor standing speaker or for mounting to a ceiling (of your patio, perhaps). The bookshelf style outdoor speaker is ideal for those with spaces such as tables and flower pot holders while floor standing speakers are ideal for gardens, such as those that look like rocks. Mounted outdoor speakers to the porch or wall are usually lighter and also usually comes with the mounting hardware needed.
Stereo or surround sound: consider a outdoor speaker that is applicable for your music source. If you want to connect the outdoor speaker to a home theater receiver then you should consider a speaker that is compatible with 5.1 or 7.1 channel systems. This also dictates whether you want a surround sound setup for your outdoor speaker or just a simple 2-channel system.
Camouflage factor: do consider a pair of outdoor speaker that has a good camouflage factor, such as being shaped like a rock, like a sprinkler system, like a flower pot (so you can plant flowers or any kind of plant on it) to add as an accent to your garden rather than being too intimidating as a speaker.
Power saving: it is also important to consider a pair of outdoor speakers that save power, such as those with auto off features when you are not playing anything and those that consume less power overall. Having a power saving outdoor speaker is good because it saves you more on the energy bill in the long run and it will also be less prone to the inner electronics easily breaking down.
Our Pick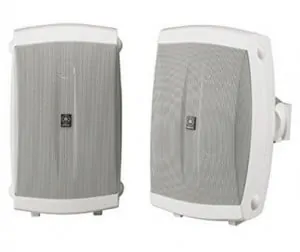 Yamaha NS-AW150WH 2-Way Indoor/Outdoor Pair Speakers
The Yamaha NS-AW150WH 2-Way Indoor/Outdoor Pair Speakers are our best outdoor speakers because of its acoustic suspension design that makes it high quality sounding, despite being small and outdoor speakers. The PEI dome tweeter at 0.5 inch produces a clear sound when it comes to the high frequencies. It has a volume control switch so that you can control your music volume on the go.
The controlled bass response of the outdoor speakers makes it easy for you to pump up the bass at any party. It is also water resistant so you can use it near the pool and it won't have a lot of elements and water splashes. The outdoor speakers are fully sealed to withstand the elements so they stay safe.
With 5-way binding posts for ease of setup, the outdoor speakers are great when it comes to out of the box installation. In addition to that, they only consume about 35 watts of nominal power and 120 watts of maximum power so they are good for those energy conscious households.
Measuring 5 x 10 inches in the design, the outdoor speakers are quite compact yet packs a lot of power with 6 ohms for its nominal impedance. In addition, it is also available in bundles with wires (16-gauge) and additional speakers so you can maximize your setup time and save up on costs in the long run.
You can install the outdoor speakers under a porch so you can setup your device easily. The outdoor speakers can take light wind and rain due to its durability and materials. Adjusting the brackets is quite easy with the outdoor speakers so you can use it for various setups as you like and need.
Giving you no picture degradation when you connect it to your TV, the outdoor speakers are also magnetically shielded so they stay safe and working even under the elements. With a user's manual, the outdoor speakers are easy to install and are durable with the polypropylene and mica-filled woofer.
Flaws but Not Dealbrakers
Although they are not deal breakers, the Yamaha NS-AW150WH 2-Way Indoor/Outdoor Pair Speakers does have a few cons such as the fact that since they are small speakers, they aren't intended for big and loud outdoor or barbecue parties, which may require subwoofers.
Step-up Pick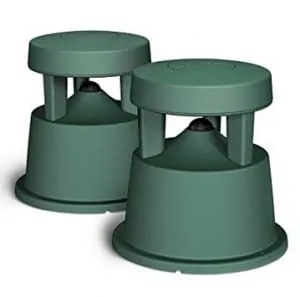 Bose Free-Space 51 Outdoor In-Ground Speakers
The Bose Free-Space 51 Outdoor In-Ground Speakers are our step-up pick because of the ease of installation with mounting holes and the quality music that comes from the Bose brand, which is a pioneer brand among speaker makers. It has a radial design so you get sound from anywhere.
The passive in-ground speakers are super simple to install and yet have a unique design that can't distract anyone. Moreover, real sprinkler systems won't get in the way with these outdoor speakers, meaning to say that they are not just unobtrusive but also water resistant.
You can expect punchy sounds with these outdoor speakers. For those who want 2-channel outdoor or indoor listening, the outdoor speakers can work on a deck of a boat. You can also use it under a garage roof just fine or anywhere you want to install speakers outdoors.
As a pair of all-weather speakers, the pattern distribution of 360 degrees makes the outdoor speakers great for parties and for ambient systems. The rugged design of the outdoor speakers makes them really sturdy against bad rain and storms and even gusts of wind.
You can expect the outdoor speakers to be salt fog resistant for boats as well as other water craft. You can also enjoy backyard music or outside listening with these outdoor speakers due to the flexible design. Likewise, they are waterproof underwater because they can survive floods.
The textured green enclosure gives a great design to your garden, path, patio, walkway, garage, yard, lawn or other outdoor areas. The outdoor speakers passed the Marine Industry Standards and can be placed around a pool area without a lot of problems.
The pair can disperse sound with a power of 10 to 100 watts. The outdoor speaker pair withstands various temperatures and can be used in the rain and cold just fine. With a case flange design to make it easy to install, it handles low frequency notes just fine. During the hot summer, this is a good pair of outdoor speakers to have for easy installation and for durability.
Budget Pick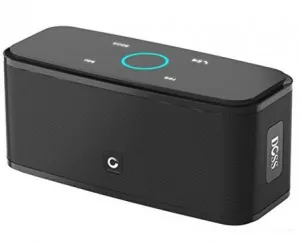 DOSS Touch Wireless Bluetooth Portable Speaker
The DOSS Touch Wireless Bluetooth Portable Speaker is our budget pick because it is easy to control and yet it is a compact speaker system for your portable and on the go needs, not just in the garden or yard or patio but also while you are outdoors. Its Bluetooth memory reconnects to the last device used.
With a long lasting battery so you can play a lot of music while walking outside or while camping for a very long time, the outdoor speaker only takes 12 watts of power due to being wireless and also because it is portable and battery operated.
It is capable of playing your newest digital media such as music and even movie sounds. This outdoor speaker can be installed on a deck so you can relax outdoors while listening to good music. You can use the outdoor speaker for camping and hiking and other outdoor activities just fine.
You have black, blue, red and white case choices for this portable outdoor speaker and it can give you up to 12 hours of runtime at 75 percent of volume. Producing decent sounds from a good audio technology, it is a Bluetooth speaker which uses Bluetooth 4.0 technology.
You can also use the speaker for biking needs and it is also a neat speaker that can take your micro SD so you can play music off your SD card for a long journey ahead or during vacation. It also produces high definition stereo sound with support for newer receivers.
It takes just 3 to 4 hours to recharge so it can be used for longer hours of time. With an AUX input for your older devices, you can use the speaker to play music around the house. The Bluetooth feature of this wireless outdoor speaker can play music up to 33 feet away.
Equipped with a rechargeable battery (2200 mAh lithium ion battery) for longer hours of playing music, you can also travel with this speaker due to the drawstring travel pouch, which can be attached to a bike. It also comes with a micro USB cable for charging.
Best Outdoor Speakers with a Rock Design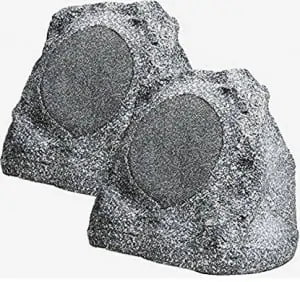 OSD RS670 6.5-Inch Outdoor Rock Speaker
If you want the best rock designed outdoor speakers then you can try the OSD RS670 6.5-Inch Outdoor Rock Speaker which has a cone woofer that is made out of polypropylene and measures 6.5 inches. The outdoor speakers is great in durability because its composite cabinet made of different layers.
You can also put these outdoor speakers on flower gardens due to the unique design. Moreover, the speakers have a sealed voice coil on each which makes it clear in its audio signal. In addition to that, the very crisp highs of the outdoor speakers can help you get a quality sound.
Being weather-resistant as an outdoor pair of outdoor speakers, they are made out of audiophile grade parts so they can last for a very long time. The silicone encased leads for both the woofer and the tweeter also improve the audio quality as the impedance is at 8 ohms.
You can expect the outdoor speakers to survive even on harsh weather conditions due to its build quality that is specifically tailored to outdoor environment. Producing a deep sound, the included dome tweeter is made of polyamide and measures 1 inch.
The sound is clean when you use the outdoor speakers due to the frequency response of 35Hz to 20kHz. It can be used near a pool area so you can relax with music. Moreover, it has a sensitivity of up to 90 dB and it also easily survives pool chemicals and salt.
You have a choice of grey, brown and slate for the design of these outdoor speakers. As coaxial mounted speakers, you can play music lively with more bass yet get a natural rock look for an outdoor speaker that is all-weather in its construction. Its power handling is up to 150 watts.
As for the setup, the outdoor speakers only requires 2 sets of wires due to being a stereo outdoor speaker set that requires two channels. In addition to that, rain and different temperatures won't really give off any bad impact to the outdoor speakers due to the durability it presents.
The acoustic enclosure ensures that the outdoor speakers are acoustically treated so you get a good sound out of it. The outdoor speakers are backed by a 2 year limited warranty.
Best Outdoor Speakers with a Lantern Design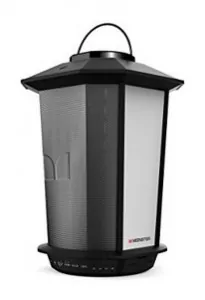 Monster GLO Outdoor Multi-Color Lantern Speaker
With a speaker output of up to 20 watts, the Monster GLO Outdoor Multi-Color Lantern Speaker is our unique outdoor speaker that looks like a lantern in its design. It has a total of 8 different colors that make it attractive at night for parties. It can also survive splashes of water from pools and rain. It is also wireless so that you can set it up and play music without having to setup wires at all.
You can hang or mount it to a porch or a tree and it will definitely attract your visitors or family members. With 2 passive radiators, the speaker can fit different occasions due to the stylish design and the connection option of up to 8 speakers for flexibility and setting up a 7.1 surround sound setup.
With 2 full range drivers to power it up, the outdoor speaker is powerful enough for listening to it on your deck with a good battery life of up to 10 hours. In addition to that, this Bluetooth speaker also comes with different brightness levels so you can set it up even in the afternoon near sunset.
You can use the outdoor speaker for campsites and you will also like the LED light panels to add color and vibrant vibes to your party at the backyard or during a barbecue party. It gives you the best sounds in ambient light environments due to its unique lantern design.
The outdoor speaker can be used indoors or outdoors due to the stylish design with no dropouts or distortion at all because of its great audio signaling technology. It is also dustproof to protect it from wearing out in the outdoor elements. You'll also find it easy to install because there's no wiring needed.
Most backyards will definitely be improved when you add the outdoor speaker to them. With an IPX5 water resistant rating so it can take decent splashes of rain and water, it is also a color lantern speaker that is the perfect party companion.
It also has some timer settings so you can set the lighting effects of the outdoor speaker as you like it, so that it will not waste battery life, since it is wireless. Using the EZ-Play system, you can play your favorite tunes from your phone or device. You can adjust the duration settings for the lighting as well.
Best Outdoor Speakers with a Built-in FM Radio

Ancord Portable Outdoor Waterproof Bluetooth Speaker
The Ancord Portable Outdoor Waterproof Bluetooth Speaker is a unique portable Bluetooth speaker that has its own FM radio so you can use it in the afternoon to play your favorite radio stations. It is a perfect traveling companion as well for people on the go.
The outdoor speaker also has a good battery life so you can play more music on the go while outdoors. Using Bluetooth 4.0 technology for connecting to devices, it is a great outdoor speaker for camping and barbecue parties. You can definitely use it for nearby pools and boating because it is IPX6 rated.
Good for the great outdoors, the outdoor speaker can be a great music companion if you are going on a hiking or climbing adventure. It can sync with devices for up to 33 feet away and it can also resist splashing and rain due to its construction. The rugged square design withstands pressure and breakage.
With a soft rubber body for protection, the outdoor speaker can allow a mobile device to play any kind of tune that you want for outdoor activities. It will also automatically search for the next station for its FM radio. With only 3 seconds of connection from your device, the sound is amazing despite its size.
The outdoor speaker also supports iOS for the battery balance display feature and it can be used while canoeing or boating due to the water rating. You can hear music from any angle when you use this outdoor speaker. It can also give you up to 12 hours of playtime (80% volume), which is pretty long.
As for the compatibility for its wireless playing system, the outdoor speaker supports Android, Windows phones, iOS devices, tablets and many more. In addition to that, the speaker takes low pressure water streams so it is great for the outdoor adventures you may want to go to, and you need music to get by.
This is a decent wireless speaker that makes it easy carrying due to its portable size. You can carry this outdoor speaker at the beach so you can soak up the summer sun and enjoy the waves with some relaxing music. The powerful battery also allows this outdoor speaker to last longer on your trip.
Best Outdoor Speakers for a Boat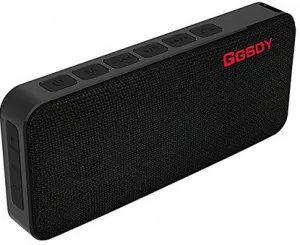 Hapyia Waterproof IPX7 Portable Bluetooth Speakers
If you want a set of outdoor speakers for a boat then you can try the Hapyia Waterproof IPX7 Portable Bluetooth Speakers. Granting you up to 8 hours of music, it is known for its IPX7 for its waterproof rating, which translates to up to 1 meter of underwater immersion for 30 minutes, so it is boat-friendly.
There is also a carrying fabric strap so you can focus more on rowing the boat, fishing, canoeing, kayaking or any other activity while you are listening to music. It also has a rechargeable lithium battery so you can just use a power bank to charge this pair of outdoor speakers when you need to.
The outdoor speakers have a cover that uses a high grade fabric so they are very durable and can withstand pressure and the like. Being compatible with Echo Dot, the outdoor speakers are great to have while travelling and for outdoor use as well.
You can make phone calls if you try to use this pair outdoor speakers with your phone or device to contact someone. For your high quality sound needs in a pocket sized package, this pair of outdoor speakers is a good companion across all water environments and you can submerge it as well.
As a 10 watts stereo speaker set, it is a great device pair to have while being outdoors and the outdoor speakers can float in a pool when fully covered with its ports. Moreover, you can listen to music for hours with the outdoor speakers and it can also survive rainfalls.
Covering up to 33 feet or 10 meters of wireless connection, the outdoor speakers come with an 3.5 mm audio cable. You also get no worries about water leaks due to the construction of the outdoor speakers and the quality of sound.
With a USB charging cable included, the outdoor speakers have a construction that permits loud bass so you can play more music with decent quality. Running with a 2000 mAh battery capacity, the fabric cover makes it less slippery. The outdoor speakers are 12 month warranty.
Best Outdoor Speakers for Gardens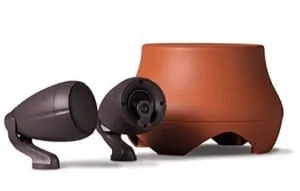 Polk Audio Atrium Garden Speaker System
The Polk Audio Atrium Garden Speaker System is a great satellite speaker set for your garden to get a outdoor surround sound. It includes 1 subwoofer speaker and 2 smaller speakers and can also be setup for a patio. With a dynamic balance woofer, you can use it for a roof overhang.
As an outdoor speaker system, it uses about 25 feet of cable on the average when connecting to an indoor receiver. Its subwoofer can take up to 200 watts. It will blend in well with your garden and it is also weatherproof. Having this kind of speakers make you ready for any kind of weather. You can play music outdoors easily for the years to come with this set due to its durability.
Giving a full sound with good bass, it has an all-weather enclosure and a good disguise design. Its dual voice coil measures 10 inches for superior sound and a rugged design to make it strong and durable. You can play music near a river with this speaker due to the speaker terminals that can survive bad weather.
Best Outdoor Speakers with an In-Ground Installation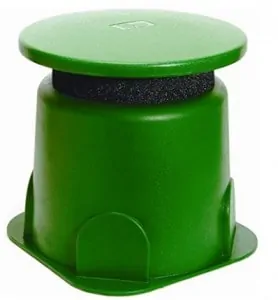 TIC GS-3 8″ Outdoor In-Ground Speaker
The TIC GS-3 8″ Outdoor In-Ground Speaker looks like a water sprinkler on your garden but is actually a speaker. It is a speaker system that can survive through the seasons and it is made for burying into the ground. You can get up to 360 degrees of sound with this speaker for your outdoor living needs.
You can use it as a backyard speaker and it gives you omni-directional music, designed for exterior use. The speaker can withstand rain and snow and its co-axial drivers are at full range. If you are on a budget then this can work due to its surface mount installation that is easy and can take a 12-gauge wire.
The 8 inches woofer and 2 inches tweeter components of this speaker will allow you to play quality music from Spotify or Chromecast audio. Its polypropylene speaker cone is weather resistant and it is also great for landscapers due to the design.
With a peak power of 200 watts and 100 watts of RMS power, you can use your phone or iPad to play music while it can blend in with your lawn. Being weather resistant, it can survive flooding and it will be beneficial to yard contractors.
Best Outdoor Speakers with a Plant Pot Design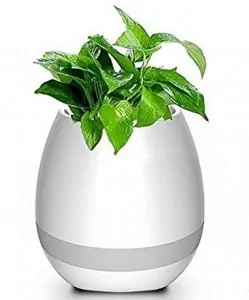 Kingfly Colorful Night Bluetooth Pot Speaker
The Kingfly Colorful Night Bluetooth Pot Speaker is a wireless speaker that is eco-friendly while it is capable of Bluetooth pairing. This colorful speaker has an SNR or signal to noise ratio at 90 dB. Touching the real plant can produce sounds on the speaker using a sensor at the bottom.
It can act as a night light and is tough using quality ABS material. As a 50 mm speaker with a smart touch feature, it is simple yet beautiful and uses a 1200 mAh battery. Great for home and office use, it can play music up to 12 hours.
With a frequency response range of 20 to 20 kHz, its unique egg shell shape makes it a good decoration. It also charges up to 4 hours so it's simple to power up. It also carries Bluetooth music up to 10 meters or 33 feet so you can play more music on the go.
The Competition
Outdoor speakers that did not meet our criteria had reports of missing parts and easily breaking components, causing the speaker to quit early on. It is important for any outdoor speakers to be able to take not just the weather but also the capacity of sound from your player or source.
Other Frequently Asked Questions
Q: What exactly are speakers and what are they used for?
A: You cannot have sound without the use of speakers, no matter what your source is from. The speakers are output devices that produce the sound of a source, such as a music player, a device or anything else, to amplify it to a louder sound, usually towards a bigger audience, or just yourself, depending on its size.
Q: What are the different types of speakers according to size and purpose?
A: The most common types of speakers include the floor standing speakers, in-wall, in-ceiling, on-wall, bookshelf among others. They all have different benefits and have different looks and designs.
Q: What are the different kinds of speakers based on frequency?
A: The different kinds of speakers based on frequency include the subwoofer, woofer (bass), mid range and tweeter speakers.
Q: What are speakers usually made of, in terms of raw materials?
A: The usual raw materials that make up a speaker body is iron or aluminum for the frame and a magnet that is a combination of strontium, iron oxide and others. Treated paper makes up the other parts such as the cone, spider and surround, while the voice coil is backed by a copper wire with insulation and just the right gauge. This is what makes speakers of higher quality pretty expensive.
Q: How does a speaker produce sound?
A: The speaker magnet directs the coil using electrical signals and drives it back and forth when it is powered up. This rocking motion is what creates sound that goes out to the loudspeaker cone. If you look closer at a speaker when it produces sound, it will vibrate back and forth.
Q: What are channels in a stereo receiver or stereo speaker system?
A: The channels of a speaker system refers to how many smaller speakers are there aside from just the main woofer or subwoofer. 2.0 and 2.1 channels are the oldest and only uses two channels, left and right, to produce sound, which is the most common setup. 5.1 channel speakers use more speakers and have speakers at the back as well. 6.1 is just an upgrade for that and 7.1 is currently the most advanced speaker system so far. These systems are mostly used for home theater setups.
Q: What's the difference between 2.1 and 5.1 speakers?
A: The big difference between these two technologies is that 5.1 speakers have speakers at the back while 2.1 only has speakers on the front.
Q: How else is 7.1 surround sound better than 5.1 other than the number of speakers?
A: The 7.1 surround sound is significantly better than the 5.1 channel surround sound because of its newer technologies and more offered formats. They are also better in terms of sound quality and are more applicable for large rooms, so they are probably the best to have for a realistic home theater experience.
Q: How can a subwoofer improve your speaker sound experience?
A: The subwoofer has the unique ability to bring the "oomph" into the area because of its extra low frequencies. Subwoofers have their own amplifier so they are actually more economical to have than regular speakers and will also not distort the quality of your music compared to traditional speakers.
Q: What's the benefit in having an outdoor speaker system?
A: If you setup an outdoor speaker system then you can have parties more often in your backyard or front yard. Most outdoor speakers can be installed for various reasons: for your high tech door bell system, for your backyard party area or for any other reason.
Moreover, just using regular speakers for your outdoor speaker system won't do the trick, because they are not very good in terms of cancelling out wind noise and other factors. In addition to that, regular speakers are not very good in handling rain and storm, whereas outdoor speakers are great in that department.
Q: Where can you place your outdoor speakers?
A: Some of the best places to put your outdoor speakers may include the garden or yard, patio, porch (if you maintain a video door bell system) and many more. If you have a spot where you often relax and read books or hang out with the kids then you can also place speakers there for a relaxing music.
Q: How much can a single pair of speakers cover in any area if you want to set them outdoors?
A: Usually, the total coverage of an outdoor speaker pair on the average is from 200 to 400 square feet. However, this is not exactly the case for most people if they live in a highly traffic area with a lot of noise pollution and other disturbances.
Nonetheless, having a pair of speakers outdoors is important because almost all music today are in stereo so you need to have left and right channels for an outdoor speaker system. Outdoor speakers that you can buy today often come in pairs, anyway.
Q: Should I go with wireless outdoor speakers compared to wired outdoor speakers?
A: A wireless speaker for the great outdoors is okay, but there can be many challenges. Sure, it may be wireless but you can experience some signal drops once in a while, because it is wireless, after all.
Moreover, a wireless speaker is usually battery operated and it will definitely be a nuisance for you to have to plug it in to an outlet at home when the battery suddenly runs out and your favorite song is playing. Bandwidth or musical quality can also decrease if you use wireless outdoor speakers too far away from your music source.
Q: Is it advisable to connect your outdoor speakers to your home stereo receiver?
A: That depends on how far you want to take the speakers , since the design of your house can play a role on this. If your living room or entertainment room is upstairs or very far away from your yard then things can be a problem when it comes to routing your speakers to your stereo receiver. It can be a bit tricky to look for longer wire and may cost you even more, depending on how far it will be from your receiver to your speakers outside.
Q: How do outdoor speakers survive the weather?
A: The usual outdoor speaker can be equipped with water-resistant qualities, which make them suitable for rain and storm instances. Think of those waterproof Bluetooth speakers that you can carry to the pool. Most of them are also very stable and they can take almost any weather. The casing of the outdoor speakers are also usually made out of high quality material that can't be easily broken down by rust or other outdoor factors.
Q: How do you hide outdoor speakers or make sure they're not intimidating or interfering with your garden or lawn design?
A: There are many strategic ways to include your outdoor speakers for your landscaping routine. First, putting them in the direction of your house or whoever listens to it will be the best way so that you won't disturb the neighbors. This is also very true for most modern speakers that have strict directional sound technology, which works much like a flashlight or laser beam, but in sound.
Moreover, outdoor speakers usually have unique designs that can be camouflaged to look like garden elements: gnomes, sprinklers, rocks and many more. Your neighbors won't even know that some of your garden pots actually make up an outdoor speaker system.
Q: How are outdoor speakers installed outdoors?
A: There are many ways to set up speakers outdoors. You can choose permanent or patio speakers depending on your needs. Permanent speakers can be mounted to your porch, deck or any high place while patio speakers can be situated or held to the ground so you can listen to music while you are on your outdoor patio or garden table.
Q: Why should I worry about the compatibility of my outdoor speaker?
A: Some outdoor speakers are not compatible with some stereo receivers or may sound bad when you connect them, so it is best to check the manufacturer to see if it will work with your sound system or device.
Q: What tools will I need for hard wiring outdoor speakers?
A: You may need a couple of tools such as a drill, nails and equipment for installation that are usually provided by the speakers or as instructed.
Q: What wire gauge is the best for outdoor speakers?
A: It depends on the distance of the speakers to the receiver but 16 gauge may be the best for short distances while up to 10 gauge will be the best for longer distances.
Wrapping It Up
As a whole, the Yamaha NS-AW150WH 2-Way Indoor/Outdoor Pair Speakers are our best outdoor speakers due to the water resistant capabilities, acoustic suspension design and volume control.
Jen Miller is a former electrical engineer and product specialist with more than 20 years of product design and testing experience. She has designed more than 200 products for Fortune 500 companies, in fields ranging from home appliances to sports gear and outdoor equipment. She founded Jen Reviews to share her knowledge and critical eye for what makes consumers tick, and adopts a strict no-BS approach to help the reader filter through the maze of products and marketing hype out there.  She writes regularly and has been featured on Forbes, Fast Company, The Muse, The Huffington Post, Tiny Buddha and MindBodyGreen.