Shampoo is a product all of us use but never really think about beyond its scent despite the fact most commercial brands are jam packed with a whole host of nasty chemicals most of us can't even pronounce. Ingredient labels are filled with harsh cleaning agents such as sulfates or vague additives described as "fragrances," but many of these things are causing damage to our hair.
Luckily Dr. Bronner's Pure-Castile Liquid Soap offers a product you can count on to be natural and leave your hair feeling amazing. It is made with organic, 100 percent certified fair-trade ingredients such as coconut oil, olive oil, peppermint, jojoba oil and more to add volume and shine to your hair without drying it out later on. As an added benefit, it is packaged in a fully post-consumer recycled bottle so not only will you gain healthier hair but you can feel good about using it.
If you prefer something you don't have to dilute with water before using, Alba Botanica Natural Hawaiian Shampoo has you covered. This product uses tropical extracts like mango, pineapple and aloe vera to add volume and shine to your hair with a naturally fruity smell. Alba Botanica only uses vegetarian ingredients and don't test on animals either so animal lovers can use this product completely guilt-free.   
If you're looking for something to clean your hair naturally on a tighter budget, try out Burt's Bees Very Volumizing Pomegranate Shampoo. It is a sulfate-free product that cleanses and repairs flat hair that has been damaged by chemical-loaded products with pomegranate seed oil and jojoba oil to add natural shine. This product offers the best bang for your buck if you're looking to clean your hair without a ton of added chemicals.
How I started my healthy hair journey 
Healthy, natural hair is highly desirable for both men and women and can do a heck of a lot for your self-confidence. There really is nothing quite like running your fingers through a soft, shiny head of hair and that starts with picking out the right type of shampoo.
If you're like I used to be, buying shampoo consists of looking at what is available at the grocery store to match your hairstyle, taking a whiff of whichever bottle catches your eye and testing it out to see how it feels. But let me tell you, there's a better way to make a decision about what you're using on your body.
My journey to gaining healthier hair began six years ago when I got tired of dealing with unruly, long curls and dreadlocked my hair. I'd heard every stereotype about dreadlocks you can imagine – you can't wash your hair, you have to use wax to get them to stay in place, you'll have to shave your head bald if you decide to get rid of them – but my hair naturally dreadlocks itself and I wanted to find an easier way to take care of my hair.
After I conducted some hefty research, the myths about dreadlocks began to unravel. Although commercial dreadlock wax companies sounded like experts and had tons of positive customer reviews, I had read enough stories of people explaining they grew mold in their hair (Eww!) from using wax to know that was the furthest thing from what I wanted. Plus my hair was naturally dreading itself, I just needed to find the right product to help move the process along.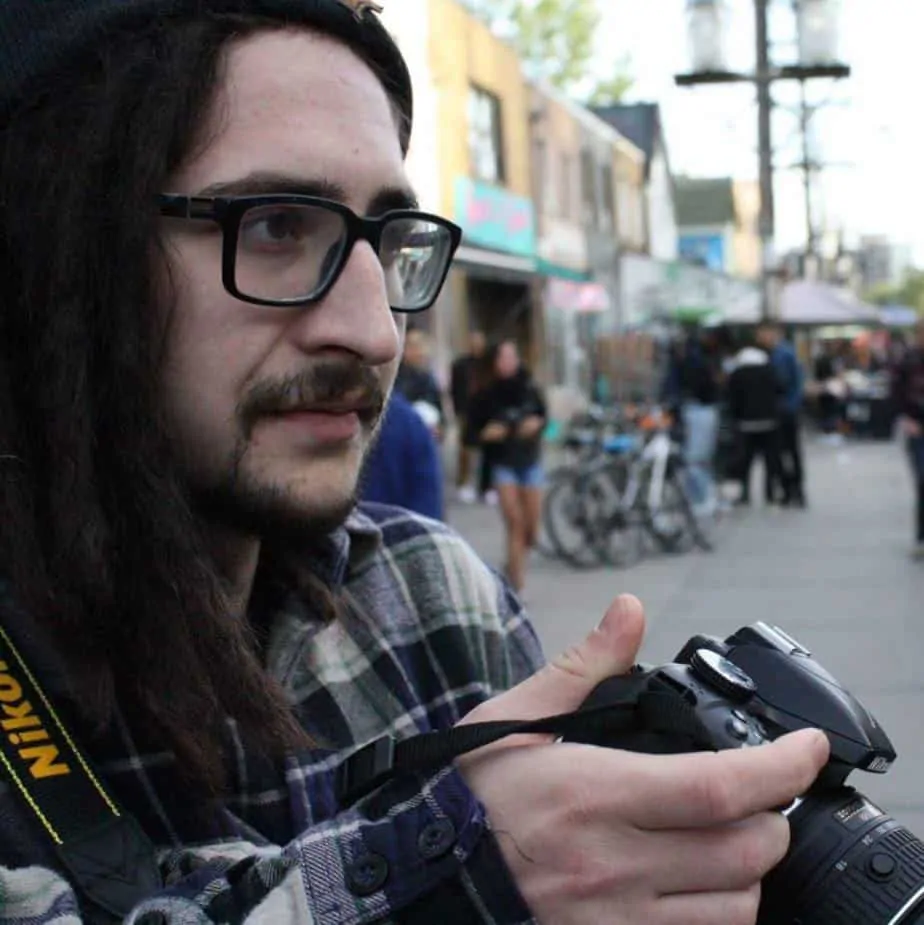 One of the last photos taken of me before I cut off my dreadlocks
For dreadlocks to form your hair simply needs the right texture and lots of time to knot itself into shape. To be able to knot up though, your hair needs to be clean and free of any products which make it feel greasy. What I learned about commercial shampoos and all of the vague chemical ingredients inside of them is that they are doing more bad than good to our hair and can cause a whole host of problems.
Commercial shampoo brands often add "cleaning" chemicals such as:
Sodium Lauryl Sulfate
Sodium Laureth Sulfate
Chloride
Polyethylene Glycol
Parabens
Many of these ingredients and their similar counterparts strip your hair of the essential oils our bodies produce and cause it to be dry, brittle, itchy and flaky. None of us wants that, but commercial hair care brands keep pushing these products because the more we see these problems with our hair, the more we want to use something to eliminate the issue.
Although I chopped off my dreadlocks about a year and a half ago, I'll never go back to using harmful commercial shampoos on my hair. Since I stopped using commercial brands I haven't dealt with any dry skin problems, dandruff, itchiness or greasy feeling hair.  
What are we putting in our hair?
Shampoo ingredient lists often look like they are written in a foreign language to the average person, but they don't need to seem so daunting. One of the most important things to understand about ingredient lists is that the first ingredient on the list is used the most with each following ingredient being used to a lesser extent than the last.
Essentially this means that if you're hunting for a non-commercial product to use and you notice a few of the ingredients we recommend avoiding are in the product, it's best if they're towards the bottom of the label. This won't tell you how much of each ingredient is being used, but it gives you a good starting point to make an informed decision. Here's a short rundown of some of the ingredients you should be looking out for in commercial and non-commercial shampoo ingredient lists.
Synthetic Detergents: Synthetic detergents often used in commercial shampoo products are designed to clean away dirt and oils and foam up while you're lathering your hair. Some of the common ones to watch out for include sodium lauryl sulfate, sodium laureth sulfate and ammonium lauryl sulfate but generally speaking, any chemical name on an ingredient list that ends with "eth" is a detergent.
During the manufacturing process, many of these detergents can get contaminated with ethylene oxide, a known carcinogen. They can also ruin your hair over time by stripping your scalp of essential oils that help make your hair grow thick and long. Synthetic detergents are designed to bind water and oil molecules together to be washed out when you're bathing but they take away a lot of oils we need to keep our hair healthy.
Polyethylene Glycol: You'll most commonly see these types of ingredients listed as PEG on hair product bottles. Polyethylene glycol is used in hair products as a thickening agent and to lubricate the skin. This chemical strips your hair of natural moisture and if that wasn't bad enough, it's horrible for the environment.
Just like synthetic detergents, polyethylene glycol can be contaminated with ethylene oxide as well as 1,4-dioxane which both cause harmful effects to our water systems. To make matters worse, these compounds don't break down easily so they'll be staying in our ecosystem for a long time after your shower.
Synthetic Fragrance: Some commercial and non-commercial hair care brands will list out what fragrances, synthetic or natural, are used in their product but an overwhelming amount of them will simply list "fragrance" in their ingredient list. Depending on how high up on the ingredient list this sits or how sensitive your skin is, steering clear of this vague description would be a good idea.
We will likely never be able to know all of the different chemicals used in the process of creating "fragrance" as there can be thousands of different compounds used depending on the manufacturer. You shouldn't necessarily be scared off by the word showing up on labels, but be extra cautious and aim for it to be as low as possible on the ingredient list.
Parabens: These are used in a variety of cosmetic products as a preservative. You can find them listed on labels as methylparaben or propylparaben but there are a number of parabens used in cosmetics. Although the research isn't conclusive, parabens mimic estrogen in the body and have been found in breast tumors.
Your skin can become irritated by parabens in hair care products which could cause an unhealthy scalp. If your hair is on the thin side, you should be extra careful of parabens since they can affect hormone levels and cause hair loss.  
Alcohol: Nearly every hair product will contain some amount of alcohol but whether it comes from a plant-based material or a chemical will determine how worried you should be about it. Alcohol is used in hair care products to thicken it if other ingredients used are too thin, but you should be careful about choosing a shampoo brand with many alcohol-based ingredients or if they are near the top of the list.
If an alcohol-based ingredient is placed near the top of the ingredient list, you would be well off staying clear of that product since it will be more likely to dry out your skin, cause an irritation or an allergic reaction.
Sodium Chloride: We all consume sodium chloride pretty regularly, it is just table salt after all! When sodium chloride is added to our hair products though, it can easily dry out hair, cause an itchy scalp and thin out your locks.
Many commercial companies choose to add sodium chloride because it thickens shampoos and conditioners that also include sodium lauryl sulfate. If you experience issues with moisturizing your hair or keeping it nice and soft, sodium chloride should be on the list of things you keep an eye on when shopping for hair products.
Synthetic Colors: Although it is totally unnecessary, commercial companies love to add color to their products to be pleasing to the eye. If you're someone with an allergy to food coloring, you should be extra cautious of what you're putting in your hair as these additives can cause a flaky or irritated scalp.
Synthetic coloring in hair products is often labelled as something like FD&C or D&C followed by a color and a number. I don't know about you but I know I don't feel particularly comfortable with putting "blue" or "red" in my hair without knowing what is actually creating the color!
10 alternative options to commercial shampoos
Our best pick
Dr. Bronners Liquid Soap is a concentrated soap made from all natural ingredients. Not only is this my favorite product on the market, it can be used for a range of things. Shampoo, body wash, hand soap, even as a cleaner for your floors. This soap is so versatile I can't imagine my life without it at this point.
It comes highly concentrated so you have to dilute it with water prior to using but that just means a bottle will go much further than you would expect. Ingredients such as coconut oil, jojoba oil, hemp oil and more that will make your hair shiny and voluminous without damaging your scalp in the long run.
Our best backup pick
This product from Alba Botanica is a solid choice if you're looking for a non-commercial shampoo. Using mango, papaya, pineapple, aloe vera and more, this tropical shampoo can boost your hair's volume with all natural ingredients. Animal lovers can feel great about using this product over the commercial brands too since it uses only vegetarian ingredients and isn't tested on animals.
Our best budget pick
If you're looking for a low cost shampoo that doesn't have all of the gnarly chemicals in commercial hair products that damage your locks, look no further than Burt's Bees sulfate-free shampoo. It is made with a mixture of pomegranate seed oil, jojoba protein and other natural oils which will cut down on issues with frizzy or dry hair with ease.
Our best pick for scent-sensitive individuals
If you're someone with scent allergies or sensitivities, buying cleaning products can already be difficult let alone if you wanted something that uses natural ingredients. Oneka has your back with their unscented shampoo which is gentle on the skin while adding moisture and shine to your hair. Using a mix of essential oils and vitamins, this product is odor-free and great for people with sensitive hair, skin or scalp.
Our best pick for curly hair
Curly hair faces a lot of extra damage from sulfates and other heavy chemicals used in most commercial hair care products than other hair types but DevaCurl No-Poo original shampoo helped me a lot with dryness. It has a gentle scent of Turkish rose and peppermint and uses grape seed oil, rosemary extract, hops extract and more beneficial plant extracts that will make your curls more defined and strong.
Our top choice for colored hair
Washing colored hair can be a bit difficult if you want the color to last, so if you're looking for a non-commercial shampoo that is also safe for colored hair I'd recommend Eufora moisture cleanse shampoo. It is made with organic aloe and is sulfate-free, fair trade and all natural. I really recommend this for people dry or damaged hair as well since the extra aloe vera provides a ton of natural moisture to your hair to make it shiny and sleek.
Our top choice for oily hair
If you have problems with oily hair and scalp, Maple Holistics degrease shampoo provides a great solution to the problem. Their ingredients include a mixture of jojoba oil, keratin, lemon oil and other essential oils that give your head the necessary moisture it needs to cut down on excess grease and oil built up by commercial shampoos.
Our top choice for thin hair
Thinning hair can be difficult to handle, but luckily Paisley Botanics offers a product that can thicken your hair without all of the added chemicals. Created with caffeine, coconut oil, argon oil and more natural ingredients, it is designed to thicken and repair your hair and even helps prevent further hair loss. While commercial hair brands are pushing chemicals to fix a thinning head of hair, this company is looking for safe natural alternatives to help you out.
Our top choice for traveling
If you're traveling around, carrying a bottle of shampoo with you can be a nuisance but luckily Friendly Soap offers natural bar soap you can bring on any trip. It is made with lavender, geranium, caster oils, coconut oil and other essential oils and does not contain any parabens, sulfates or other harsh cleaning agents. This company prides themselves with being cruelty free which made me feel even better when I bought it for my last camping trip.   
Our top choice for babies
Babies are gentle, so why use a harsh product on their bodies? If you want to avoid commercial brands for your little one, Earth Mama Angel Baby shampoo is made with all natural ingredients and has a soft lavender smell you'll likely fall in love with. It is also recommended by numerous hospitals which should put an end to any fears of what you're putting on your little one.
What have we learned?
We highly recommend Dr. Bronner's Pure-Castile Liquid Soap if you're looking for something other than a commercial shampoo. The strong chemicals used in the vast majority of commercial shampoos on the market are nowhere to be found in Dr. Bronners plus the I can't get over how great the peppermint scent is when I'm fresh out of the shower. Ultimately we all should be cautiously reading ingredient labels on our shampoo and making an informed decision about what we're putting on our bodies and spending our money on. What do you think? What are your favorite natural non-commercial shampoo brands to use?
Jen Miller is a former electrical engineer and product specialist with more than 20 years of product design and testing experience. She has designed more than 200 products for Fortune 500 companies, in fields ranging from home appliances to sports gear and outdoor equipment. She founded Jen Reviews to share her knowledge and critical eye for what makes consumers tick, and adopts a strict no-BS approach to help the reader filter through the maze of products and marketing hype out there.  She writes regularly and has been featured on Forbes, Fast Company, The Muse, The Huffington Post, Tiny Buddha and MindBodyGreen.