Canoes and kayaks have come a long way since the days of heavy wood and bulky fibreglass. Light, sleek and easily transportable are not just desirable features but expected standards in today's market. You're sure to find all these and a great deal more in the Lifetime Sport Fisher Kayak. From the literal fleet of watercraft we tested, the Sport Fisher stands out as the most versatile, user-friendly and absolute best value for money.
Both popular and highly recommended with boating enthusiasts, the Lifetime Sport Fisher Kayak's design, features and overall value for money made it an obvious choice for our Top Pick. Designed for maximum stability and built tough, the Sport Fisher is also remarkably versatile. Able to be used solo, tandem or even by three, powered by either paddles or a motor, and ridden either seated or standing, the Sport Fisher may just be the last word in multipurpose vessels.
For those looking for outstanding quality, versatility and a range of premium features that is simply unmatched, look no further than the Hobie Odyssey DLX Kayak 2014. At home on both inland and ocean waters, from its adjustable padded seats to the multiple storage compartments, there's no denying the Odyssey DLX has the features to match its price tag.
If you're after fun on the water without the price tag to sink a ship, the Intex Explorer K2 Kayak may just be the answer. While it may resemble something you'd expect to see in floating in a swimming pool, the inflatable Explorer K2 is the best-selling fishing kayak. Coming complete with paddles and its own air pump, the Explorer K2 offers the ultimate in value for money.
Canoeing & kayaking: fun and fitness on the water
Chances are if you're reading this, the idea of spending a day on the water appeals to you. Sun shining down as you float lazily on lake, or paddling your way downstream, why wouldn't it? There are few things more enjoyable than sitting in a canoe or kayak far away from the hustle and bustle of the everyday. Having a picnic or trying your hand at some fishing while taking in the panoramic view of the landscape, or watching it pass by as you explore winding waterways of rivers and streams. Yes, canoeing and kayaking can offer stress relief, exercise and all round fun like nothing else.
Paddling is great exercise. There are few activities that offer this specific degree of aerobic exercise combined with an upper body workout while also being impact-free. While it's great for your arms, shoulders, chest and abdominals, it's also beneficial for the lower body since it is possible to navigate the boat through leg movements which keeps your entire body active during the activity. But it's not just a way to create variation in your workout; this water sport has a number of benefits that can greatly improve your overall health. The general benefits of all forms of aerobic exercise include increased endurance, improved heart health, better regulation of cholesterol and blood sugar levels, lower blood pressure and better lung strength. And that's not to mention the burn: moving at a speed of approximately 3 to 5 miles an hour burns almost 400 calories ' more than riding a bike! Additionally, exercise triggers the release of chemicals in the brain that can quickly improve your mood. If you're depressed, stressed or just need to clear your mind, paddling a canoe or kayak can also provide a relaxing workout.
Canoeing and kayaking facilitates and even enhances many other activities such as fishing and camping. What other quieter way there is to access those hard to reach fishing holes than by drifting up in a canoe or kayak? What other activity can add a whole new dimension to a weekend camping trip? Since so many major cities and towns are built around waterways or the coast, what better way can there be to explore and discover new perspectives of the place you live? In tropical areas it is also quite common for spear-fishers and scuba divers to canoe or kayak right off of the beach. Really, the possibilities are endless.
If getting closer to nature is how you want to improve your leisure, canoes and kayaks grant you that capability like few other means. You will get to see sights of flora and fauna that only sleek, silent waterborne craft will afford few others.
Whether you canoe or kayak solo or as part of a team, fellow paddlers share a bond that enhances friendships and builds camaraderie. The stories from just one weekend of paddling often provides for a lifetime of reminiscing, tale-telling and laughter. Although not for everyone, the popularity of racing canoes and kayaks has grown immensely to the point now where it's an Olympic sport.
Above all and quite simply: paddling is fun!
Is it a canoe or kayak?
Canoeing and kayaking are both water-based activities that involve paddling and rowing by propelling yourself forward using your own power. While 'canoe' and 'kayak' are often used interchangeably, there are a few fundamental differences. A canoe is an open vessel and the paddler either sits or kneels inside the canoe and uses a single-bladed paddle to push the craft through the water. A kayak is an enclosed vessel and the paddler sits inside the kayak with legs extended and uses a double-bladed paddle. There are exceptions where some canoes may be enclosed and some kayaks may be open depending on their intended use. The interchangeability of the two terms will lead most search engines will return results for both canoes and kayaks regardless of which term is entered.
How we picked
With the literally hundreds of wildly varying options in choosing a canoe or kayak, it can be a daunting task. In our choosing of the best of the best, there were several considerations that we looked for in each and every canoe and kayak we tested.
Construction, durability and sturdiness were perhaps unsurprisingly first and foremost when it came to choosing a piece of equipment one takes out onto the water. While the draws of lightweight composition and portability can be big selling points, safety always has to be of paramount importance. Any well-constructed and well maintained canoe or kayak will last for several years but hours spent repairing and patching are hours you're not spend enjoying your time on the water. Additionally, canoes and kayaks will commonly set you back at least $100 and can range upwards of $3,000 so looking for something you can rely on to last is also a factor in our recommendations.
'Versatility' is another phrase you are likely to read more than once when we're discussing the merits of our top rated canoes and kayaks. Besides general recreational models, the market is ripe with highly specialised boats at both ends of the price spectrum: Long and sleek 'competition cruising' canoes, short agile kayaks designed for hard-core whitewater rafting, wide and ultra-stable 'sportsman' canoes' the list goes on. Essentially, the more specialized a craft is, the less versatile it is. Taking this into consideration, we focused on this broad category as an introduction as the majority of buyers are looking for a general recreational canoe or kayak.
In following, for the general recreational canoe or kayak we looked for a balance of controllability, maneuverability and stability on the water. How easy the vessel is to keep in a straight line, to steer and how likely it is to capsize if you make a mistake are important factors and uniquely specialised craft will boast a stranglehold one or even two of these of these elements. As mentioned, we consider this to be an introductory guide to canoes and kayaks and as such we considered a balance of all three to be the most desirable of all.
Our pick

Jen's Top Pick: Lifetime Sport Fisher Kayak
Billed as 'the ultimate fishing kayak', you're likely to find that and much more in the Lifetime Sport Fisher Kayak. Both popular and highly recommended with boating enthusiasts, a whopping 89% of Amazon purchasers said they were happy or extremely happy with their purchase. What makes the Sport Fisher our Top Pick is its excellent design and construction, its versatility, its features and its remarkable value for money.
Made from high-density polyethylene (HDPE), the Sport Fisher is extremely tough and extremely light. The extra advantage with HDPE is that is comparatively heat resistant when compared with other materials, able to withstand continuous 230'F heat without bother. Also having UV protection, this hull with never fade, crack or peel in the sun. The Sport Fisher is a 'sit-on-top' designed vessel as opposed to the traditional 'sit-in' image one would have when imagining a canoe or kayak. The means than rather sitting inside a hollow with only one layer between you and the water, the sit-on-top design puts the rider on a deck above the hull. This makes the Sport Fisher extremely stable, easy to get in and out of and there is no feeling of confinement. Another advantage is that it's self-bailing via 'scupper holes' that allow the water to drain right through, meaning no wet feet. These holes can be also sealed with the provided plugs. Perhaps the biggest design positive is the ease you can slip on and off the Sport Fisher, making it ideal for paddling with kids that love to swim.
The Sport Fisher weighs in at 60lbs, making it feasible to being carried and stored by just one person or two using the moulded front and rear carry handles. At a length of 10 feet it that may seem shorter than traditional canoes but the Sport Fisher can hold up three people easily and has a weight capacity of 500lbs. Due to the tunnel hull design it remains remarkably stable in the water with several reviewers describing the Sport Fisher as 'almost untippable'. This makes it an excellent choice for the novice boater. This stability makes the Sport Fisher suitable for use with single and tandem paddlers either seated or standing ' even sitting side-saddle. The other advantage of the shorter length is manoeuvrability, with many reviewers proudly stating the Sport Fisher turns on a dime. The three moulded seats sit nice and high above the kayak floor, eliminating the risk of a wet bottom as can happen with a traditional kayak. Another clever design feature is the moulded footrests extend down the length of the craft, not only allowing for all heights of occupants but doubling a convenient place to hold small items without them rolling around the deck. On the subject of storage, the Sport Fisher also features a rear storage hatch to keep things like wallets, keys and phones nice and dry, and front cord straps to hold down bulkier items. The Sport Fisher also features a rear accessory mount for an electric motor or rudder, three fishing pole holders, three cup holders and front and rear moulded paddle cradle and clips for storing paddles when not in use ' very handy.
Considering the Lifetime Sport Fisher Kayak's outstanding build and design, versatility and features, the most outstanding feature has to be the price. It already represents extraordinary value, but considering that the Sport Fisher also comes with two padded backrests and two paddles box – extras sold separately – making it adventure-ready right out of the box. If your next waterborne escapade is on the Sport Fisher, we are sure you'll see why it was an obvious choice for our Top Pick.
Flaws but not dealbreakers
The main disadvantage of sit-on-top canoes and kayaks is that as they don't offer the side-surround protection of the sit-in variety, meaning that you're exposed to the elements and more likely to get wet while paddling. This also limits the ocean faring capabilities of the Sport Fisher to an extent, as the higher seat positioning means that you'll want to keep it away from all but the smallest of surf unless you're an experienced paddler. Keeping with the theme of trade-offs, while a shorter vessel makes for a more agile and stable vessel, the Sport Fisher is not a speedy craft. Some users reported that the moulded seat were a little hard on the backside and could use some cushioning on longer journeys over the water. One minor gripe ' and it is minor ' is that the Sport Fisher only comes in one colour, that being olive green.
The step up

Step-up Pick: Hobie Odyssey DLX Kayak
When it comes to a watercraft boasting outstanding quality in design, construction, versatility and range of superior features, the Hobie Odyssey DLX Kayak offers a premium vessel at a premium price. Even so there's no denying the Odyssey DLX is worth every penny.
Made of rotocast polyethylene, the Odyssey DLX is a hybrid of sit-on-top and sit-in designed canoes and kayaks, offering the best of both worlds ' superior in stability and handling while sporting the protection of a traditional canoe. At 14 feet long and weighing 92lbs fully rigged, the Odyssey DLX can seat three with plenty room and has a maximum capacity of 550lbs. The normal setup allows for two people but should you want to get out on the water solo, you can reconfigure the seating to put in a centre seat for single paddling. Beautiful to look at as well as paddle, its hybrid design and ultra-sleek lines allow the Odyssey DLX to really move through the water as well as being stable and manoeuvrable enough for a novice to intermediate level paddler. Its design also allows for seafaring adventures, with many reviewers being impressed with how the Odyssey DLX cuts through small to medium sized ocean waves.
Where the Odyssey DLX really impresses is with its outstanding list of features. The two adjustable padded seats and backrests wouldn't look and feel out of place in a high-end automobile and make long days paddling extremely comfortable. The Odyssey DLX has a phenomenal amount of storage room with a 8-inch twist-and-seal hatches at each of the two seats ' a nice feature of which being the lid is permanently attached via a hinge so you won't leave it behind ' and a third hatch at the bow, two cord-secured stowage areas at the front and rear as well as two mesh stowage pockets and two cup holders at the sides of each seat. If you're wetting a line, you'll be glad to find there are two moulded fishing pole holders. Two oars are included and can be stowed on-board using the built-in clips. Moulded carry handles and stainless steel pad-eyes on the front and rear with additional side handles make the Odyssey DLX easy to carry and store.
Offering its hybrid design, sleek looks and an unmatched range of features, even at the Hobie Odyssey DLX Kayak presents outstanding value.
The budget pick

Budget Pick: Intex Explorer K2 Kayak
When it comes to an excellent all-round package for beginners at reasonable price, you'd be hard pressed to do better than the Intex Explorer K2 Kayak. Coming with everything you need to get you on the water, the Explorer K2 offers the ultimate in value for money.
Inflatable canoes and kayaks are quite possibly the best choice for someone who has never owned a one before. Portable, extremely lightweight and far more cost-effective, the popularity of inflatables has now actually exceeded their rigid framed counterparts. The Explorer K2 is the leading example of this, being the #1 best-selling fishing kayak on Amazon. Constructed from tough 30-gauge vinyl over a 1,200 denier nylon shell, the Explorer K2 is just over 10 feet in length but weighs only 32lbs and holds two people with a total weight capacity of 350lbs. The body comprises of two separate air chambers located in the floor and the main hull, so if a puncture occurs it remains buoyant enough to get back to shore. A reinforced bottom that also increases the weight carrying capacity of the vessel protects the chamber in the floor. The inflatable I-beam floor and provided removable skeg (think the upside-down shark fin on the bottom of most surf boards) make the Explorer K2 both stable and manoeuvrable, with the inflatable adjustable seats and backrests offering plenty of comfort. The included pump and two Boston valves make the Explorer K2 extremely easy to inflate and deflate and, of course, once deflated it can be storage at a fraction of the space of a regular canoe or kayak. While the vessel is recommended for easy flow lakes and ponds, experienced canoe and kayak enthusiasts should be just fine in rougher conditions.
In short, the Intex Explorer K2 Kayak offers functionality, reliability, fun and safety at a bargain price. Complete as a package that includes two oars, an Intex high-output pump and a patch repair kit, the Explorer K2 is unbeatable value for money and our top Budget Pick.
Specialised picks
Best Kayak for cyclists
Hobie Mirage Oasis Tandem Kayak
If your dream is to be on the water but you still want the leg workout offered by a bike, the Hobie Mirage Oasis Tandem Kayak might be for you. Offering many of the features that made the Hobie Odyssey DLX Kayak our Step Up pick, such its superb design and construction, sleek looks, balance of speed and stability, numerous excellent features and massive amounts of storage, the Mirage Oasis presents one unique difference: pedal propulsion. It does away with paddles completely, taking advantage of the natural fact that our legs are stronger than our arms, meaning less work and no fussing with cumbersome oars. The MirageDrive system is adjustable for differing paddler ' sorry, wrong word ' driving heights and comes in two different fin size options for either straight-line speed or easy coasting. To account for the absence of oars, the Mirage Oasis comes with smartly designed stowable rudder. All this comes at a cost, however, some might say that price could buy a lot of elbow grease.
The ultimate in versatility and transport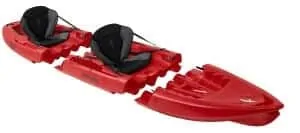 Tequila! GTX Tandem Modular Kayak
If you have a small car, don't like roof-racks or have limited space and inflatables don't appeal, the Tequila! GTX Tandem Modular Kayak could be what you're looking for. While you may have never heard the words 'modular' and 'kayak' in the same sentence before, the GTX presents what could be considered the ultimate in versatility. Its innovative design allows for the three modular sections to be assembled as a 14 foot, 530lb capacity kayak that can hold three, or just the end two sections for a 10 foot kayak for two that can hold 300lbs. Featuring comfortable adjustable seats and backrests, room for storage in the rear, moulded handles, cup holders and recesses for water bottles, the GTX is available for – not bad considering you're getting two kayaks in one.
Best Kayak for shooting the rapids

Sea Eagle 330 Inflatable Kayak
Perhaps the ultimate in inflatable canoes and kayak, the Sea Eagle 330 Inflatable Kayak would be our first choice if we were brave enough to take on some white water. At just over 11 feet, the 330 seats two and can hold up to a whopping 500lbs ' unmatched in our research into inflatables. Made from 33mm polykrylar and held together with high-frequency welded seams, the 330 is as tough as they come and is rated up to Class III whitewater rafting. Features of the 330 include inflatable spray skirts, front and rear rope handles and a self-bailing drain valve ' extremely handy on whitewater or ocean surf and another feature not usually found in inflatables. The Pro Package you get here includes two paddles, a foot pump and a storage bag, making the 330 an absolute steal for thrill seekers.
The ultimate in fishing – Best Kayak for Fishing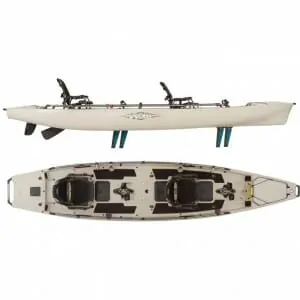 Hobie Pro Angler 17T
Conceivably the ultimate amalgam of the Hobie Odyssey DLX Kayak and the Hobie Mirage Oasis Tandem Kayak, the Hobie Pro Angler 17T is absolutely unsurpassed when comes to specialty fishing canoes and kayaks. With all the features that made the Odyssey DLX a standout and with more on offer, the Pro Angler 17T is equipped with the leg-powered MirageDrive propulsion system and stowable rudder from the Mirage Oasis. Measuring in at 17 feet and weighing 244lbs with a capacity of a staggering 900lbs, the Pro Angler 17T is a true titan. The additional features of the Pro Angler 17T not already mentioned in the Odyssey DLX review include a 5-point adjustable seating system, brass anchor trolley, rails for horizontal storage, mounts for electric motors and depth sounders, and a host of fishing-specialised storage containers and compartments.
As you may have guessed, the Pro Angler 17T has a price to match its virtues. You can add the Hobie Livewell to keep your live bait at the ready. With another three pole holders, an eight gallon capacity and a rechargeable battery, the Livewell feeds a constant supply of fresh water to keep your fish alive and healthy. Needless to say, this is for your serious angler.
The Competition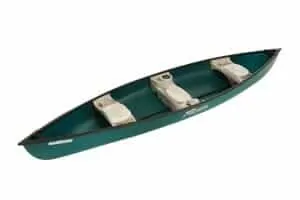 Sun Dolphin Canoe
Beautiful in its simplicity, the Sun Dolphin Canoe mixes old-world elegance with modern design and construction. The Sun Dolphin has room for three, measuring just under 16 feet, weighing 96lbs and with a capacity of a very respectable 800lbs. Made from UV-stabilized HDPE as is the Lifetime Sport Fisher Kayak, the sit-in style Sun Dolphin was a close call to make our Top Pick. Featuring moulded seats, a dry storage and cooler compartment, cup holders, there's a lot to like even if you do have to bring your own paddles.

Lifetime Manta Tandem Kayak
Another close call for both the Top Pick and the Budget pick was the Lifetime Manta Tandem Kayak. The Manta is essential a pared-down version of the Lifetime Sport Fisher Kayak, boasting the same excellent design and construction, but with without some of the storage options and amenities that made the Sport Fisher our Top Pick. You could do a lot worse.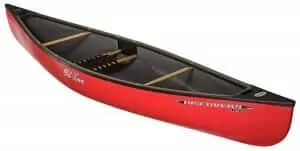 Old Town Canoes & Kayaks Discovery 119 Solo Canoe
Old Town Canoes & Kayaks, a brand synonymous with the simple and elegant sit-in canoe style, gives us the Old Town Canoes & Kayaks Discovery 119 Solo Canoe. As the name suggests, the Discovery 119 is intended for a single paddler and measures just under 12 feet, weighs 49lbs and has a capacity of 500lbs. Built from three layer polyethylene and featuring nylon web seats, and being one the few to use actual wood in its construction, we felt the Discovery 119's price tag was a little steep considering the relatively few features.

Useful UH-TK181 Tandem Fishing Kayak
Somewhat resembling an aircraft carrier in appearance is the Useful UH-TK181 Tandem Fishing Kayak, another hybrid sit-on-top/sit-in design and contender for our Step Up pick. The UH-TK181 measures 12.5 feet, weighs 68lbs, has seating for two and can hold up to 450lbs. Both stable and sleek, its features include two dry storage compartments, cord secured stowage, cushion seats and backrests, flush-mounted paddles rests and three adjustable fishing pole holders. Coming complete with two paddles, the UH-TK181 offers outstanding value for money.
So now you're a boat captain'
If you've decided to take the plunge (hopefully not literally given the many stable craft we've recommended), you may be wondering 'So what now?'. You will definitely want to read up on what the mandatory requirements are for boating in your state. Many states require licenses to operate certain types of craft and many have strict rules regarding minimum safety equipment required. Learning the rules, etiquette and protocol of the water is also an excellent idea.
Why not join a club? The best way to learn how to paddle is to join a local club. While it's possible to learn a great deal about the sport through reading, lessons will improve your technique, reduce your risk of injuries and help you become more aware of safety issues when on the water. Also, be a competent swimmer: since paddling may involve the occasional trip into the water, make sure you are a competent swimmer. If necessary, brush up on your swimming skills.
Wrapping it up
Hopefully, through our exhaustive selection process, we've made choosing the right canoe or kayak for you a little less daunting. In our considerations for making our selection of recommended canoes and kayaks quality construction, features, versatility a balance of controllability, maneuverability and stability on the water were all paramount. In the Lifetime Sport Fisher Kayak you will find all of these as well as unparalleled value for money. In the Hobie Odyssey DLX Kayak you will find a vessel that offers exceptional design, features and looks (with a price to match). In the Intex Explorer K2 Kayak you will find a well-built, easy to use craft ideal for beginners without the frills at a price that won't sink your ship.
Fair winds and following seas, captains!
Jen Miller is a former electrical engineer and product specialist with more than 20 years of product design and testing experience. She has designed more than 200 products for Fortune 500 companies, in fields ranging from home appliances to sports gear and outdoor equipment. She founded Jen Reviews to share her knowledge and critical eye for what makes consumers tick, and adopts a strict no-BS approach to help the reader filter through the maze of products and marketing hype out there.  She writes regularly and has been featured on Forbes, Fast Company, The Muse, The Huffington Post, Tiny Buddha and MindBodyGreen.