People who are into fishing, kayaking and other water recreational activities will always find a good use for an inflatable boat. This takes away the need of buying more expensive versions, the fuss for proper storage, and the worries of keeping the boat in shape every time you use it. And after an in-depth look at the many product offerings online, we have found our best inflatable boat in the Intex Excursion 5 boat kit. This new version presents ease of use and large user capacity, allowing up to five people to cruise comfortably on back-rested, cushioned seats. Two fishing rod holders are strategically placed on each side, and there's a mount for water motors, in case you want to speed up the ride. We'll tackle more about this item as we go on with our review, but first, you may want to know a few things about an inflatable boat's basics.
An inflatable boat is usually made up of tube-like parts that are made of tough fabric; usually, of PVC-coated textiles or neoprene mixed nylon. These cylindrical elements are what users inflate and deflate on cue. The inside part, the floor, is composed of floorboards which are either segmented or unsegmented. The floor is also made of fabric, but some varieties offer harder materials for durability. The bottom part is either made up of fabric, aluminum and fiberglass. On some boats, a transom is constructed to make way for a small electric motor, which users can install when desired.
Overtime, inflatable boats have undergone many changes to suit the needs and demands of modern hobbyists. They're not just used as floaters; these items have become great, affordable substitutes for sport-boats, offering similar performance without breaking a hole in a consumer's pocket. These come in different varieties, from roll-ups, softies, sports boats, rigid inflatables and hulls. Each are meant to cater a certain demography of users, from the simple recreationists, to the more challenging adventurists. Design and construction has also changed for aesthetic and functional purposes. However, the goal is the same: to provide consumers a practical option for enjoying their water activities, and to promote the physical and emotional benefits one can acquire during these recreations.
Top Pick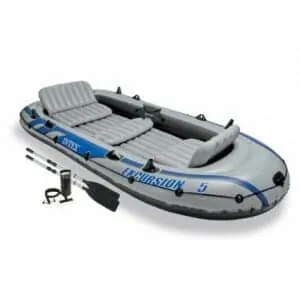 Jen's Top Pick: Intex Excursion 5-Person Inflatable Boat
This large capacity boat is perfect for a group day-out on the lake, allowing users to enjoy their favorite water activities while bonding at the same time. This inflatable boat carries as much as 1,000 lbs., but despite its size and weight, assembly is easy. Its additional features, such as fishing rod holders, inflatable flooring, motor mount and oar locks make it an ideal boating option for the family. It comes with an additional repair patch for that quick fix, so that nothing can stop you from enjoying your holiday on water. Get the fun and all these features.
Step-Up Pick

ALEKO 250 8'4′ Inflatable Boat
If you're more into high-performance water sports, and is willing to pay more for the solid experience, then you might want to take a look at ALEKO 250 8'4′ Inflatable Boat with Aluminum Floor. Built with prime materials, this inflatable boat is made to withstand both saltwater and freshwater activities'it's exceptionally durable that it's even used by coast guards! Take it with you as you go river rafting, diving spot hunting, family fishing, and more!
ALEKO 250 8'4″ Inflatable can carry up to 3-4 persons in its spacious, 2-bench seating. Impressive features, such as a gas tank, battery box, one-way drain and pre-packed repair kit adds up to its great design. However, be prepared to shell out a few more: along with its quality make comes the price.
A perfect beginner inflatable boat is Solstice Voyager 4. This 4-person boat is listed as our budget pick because of its remarkably low price. But don't think this factor will reduce Voyager's highlights. Made with heavy-duty PVC material, this inflatable boat is perfect for pool, lake and even seaside use! It offers multi-person capacity and holds up to 450 lbs. The seats are cushioned and inflatable, and smaller details, such as swivel oar locks and fishing rod holders, add up to its satisfying appearance. This version also has a motor mount and can run with a 2HP electric motor, or a gas motor.
The Advantage of Inflatable Boats
Recreational boating hobbyists are turning to inflatable boats for all the good reasons. Companies took a page from its practical use, as shown by prominent security departments like the coast guard, and equipped these versatile water transport vehicles with ease of use and comfort features. Compared to traditional boats, inflatable boats offer many benefits. One is portability; the lightweight construction allows the you to carry it wherever you want. Some boats, surprisingly, can weigh less than 40 lbs. Take it out of the car, inflate it when desired, deflate it when not in use, and hide it away. Storage, of course, is another of its wonderful factors.
Affordability is also a good point to tackle. Its versatile fabric material makes an inflatable boat cheaper than the common, hard-built boats. But this does not take away some important features the traditional boats have: many inflatable boats have a large seating capacity and stably buoyancy that makes the material impossible to capsize.
Users can choose whether to row or to employ a motor with their boats; this all-in-one feature allows one to make use of their muscles, or sit back and relax at the comfort of their cushioned seats. Special types of inflatable boats are used for particular activities; there are varieties for kayaking, rafting, or simply a relaxing fishing session by your favorite lake. These recreational activities, in return, offers a lot of benefits to a person's physical and emotional well-being. With advantages in leisure, savings and health, is there any reason why one should not look into buying an inflatable boat?
How We Picked
Looking into the plethora of inflatable boats in the market, we have carefully chosen our best picks with a set of important factors: Versatility & Storage, Durability, Loading Capacity and Additional Features. Let's take a look at each of these points.
Versatility & Storage. Inflatable boats are created as an answer to these two demands. We have chosen our picks by taking into consideration their convenience features, especially when inflated, and when deflated.
Durability. Despite of its softer construction compared to traditional boats, we think that inflatable boats must also be built to last. Looking into its parts, we weigh in the characteristics that makes an inflatable boat sturdy enough to hold a variety of masses, as well as the push and pull from users as they move within the raft.
Loading Capacity. Recreational activities, when done alone, offers a quiet, healing experience for hobbyists. However, there's much fun when one bonds together with close friends and family while on their favorite water sports. Thus, we take into account the number of people which can fit comfortably in boat.
Additional Features. Everyone one loves a plus feature, and attention to detail is always taken positively. For the most meticulous consumers, we have uncovered the inflatable boats with the best add-ons around!
Our Pick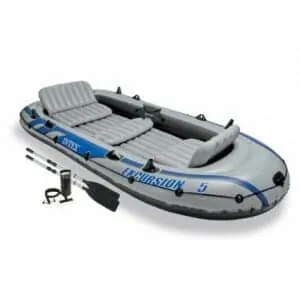 Jen's Top Pick: Intex Excursion 5-Person Inflatable Boat
Our top pick is the Intex Excursion 5 Inflatable Boat. Taking a few notches up the similarly popular Excursion 4, Excursion 5 lodges 5 users inside its wide, cushioned seating area, nicely constructed with back rests for a comfortable ride. Set-up time takes 20-minutes tops. Sail away by mounting your motor, or use your muscles to row your way in the middle of the lake; your choice. This inflatable boat promises only fun, convenience, and a lot of other great bonuses.
Two built-in fishing rod holders are placed on both sides, so four people can relax their arms while fishing. There's a wide foot space in the middle of the seats, so you can carry your snacks and enjoy the scenery as you move on to your watery tour. Now, for its add-ons: you'll find a pair of 54-inch aluminum oars to help you traverse through the surface. Tuck these away by using the oar locks, fitted on both sides of the Excursion 5. Also included in the set is a high-output manual pump that releases air at every push and pull. There's also a gear pouch that contains a repair patch when an unforeseen emergency arrives.
Intex Excursion 5 is made up of a durable, 30-gauge vinyl material and has 3 inflatable sections: the floor, and the primary hulls. With this construction, you can take this boat to a variety of water terrain, opening doors to new adventures. It spans 12 feet long and 5.5 feet wide when fully inflated, and can carry a maximum weight level of 1000 lbs. When not in use, the two Boston valves on the primary hulls make deflating easy, and you can hide away this versatile boat in its gear pouch (included in the set) complete with a grab handle for convenient carrying.
We take Intex Excursion 5 as the best inflatable around. Many commended this product for its sturdiness and space, as well as its noteworthy features that makes cruising more expedient. This inflatable boat offers a great value for money, longevity and ease of use, paving the way for new recreational experiences with your favorite people. Intex Excursion 5 is also US Coast Guard approved and can be paired with a 1.5 HP motor. Warranty is up to 2 years.
Flaws But Not Dealbreakers
Despite of its affordability and impressive functions, Intex Excursion 5 is not without a flaw. It has quite a number of drawbacks, and among them: the thick vinyl material which can be a hassle to fold up during disassembly. There's also a limited range of low-powered motor which can be mounted on the boat. Customers have reported that the oars tend to break easily during a forceful row. The manual pump can also be stressful to use, and it is recommended to use another convenient pump that doesn't take too much effort to inflate the boat. While these factors can be off-putting, they are not enough to disregard the generally positive charm of Intex Excursion 5. Overlooking these faults, customers can still have a great experience using this crowd-favorite.
Step-Up Pick

ALEKO 250 8'4′ Inflatable Boat
For those who are willing to invest on a highly aesthetic and functional boat, the ALEKO 250 8'4′ Inflatable Boat may just fit the bill. A high-performance, heavy duty water transport vehicle, this boat is designed with adventure in mind. Use it as a sport, dinghy, fisher, tender or a beach boat and discover the many possibilities of riding above water with your friends and family.
The secret to its excellent construction: its durable aluminum flooring paired with polyester-reinforced PVC coated with anti-corrosive coating. Separate internal air chambers are lodged into the built, with a 1-way drain valve that squeezes the air out at the time of deflation. 2 aluminum oars, a gas tank and a battery box comes with the package. Pair this inflatable boat with a 4HP motor and experience the splash of wind and water as you pierce through the surface.
ALEKO 250 8″4′ Inflatable Boat is a bit smaller than our top pick, expanding only up to 8.5 feet, and can take a limit of three to four people, or at most, 880 lbs. Despite being new, we think that the company's generous attention to ALEKO 250's construction, it's eye-catching design, and its set of add-on features make it a great high-end boat to top.
Budget Pick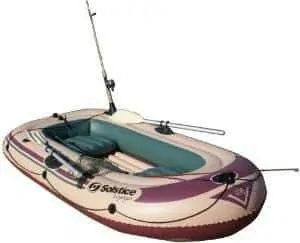 Solstice Voyager 4
Our budget pick features a sturdy, stylish inflatable boat that feels like a steal. The Solstice Voyager 4-Person Inflatable Boat is made from heavy-duty PVC fabric with a four-chamber design, in a double hull construction to ensure that you can use this for the coming years. It is capable of carrying up to four people (or at most, 750 lbs.) with each person fitting snugly inside the air-padded interiors, thanks to its inflatable seating.
Solstice Voyager 4 is a perfect companion for a little family expedition; suiting pool parties, fishing trips and a little fun at the beach. There's a fishing rod holder conveniently placed on the rear deck, swivel oar locks to keep your paddles in place, and accepts optional motor mounts for 2 HP powered electric, or gas motor.
Using Solstice Voyager 4 is easy to use. It comes with its own hand pump and can be prepped up in no time. Set out into the water and paddle with your friends; the oar locks make paddling so convenient as it swivels to every direction. When done, use the two Boston valves to deflate it; tuck the material away, and store it to your own convenience as you set out to your next adventure.
The Competition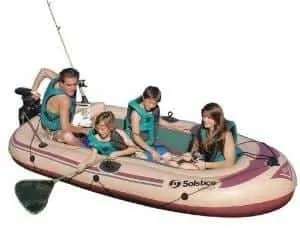 Voyager 6 Person Inflatable Boat
Raising a few bars from out budget pick is another from its brand; this time, fitting 6 persons in place. Just like Voyager Solstice 4, Solstice 6 has the same remarkable built: tough, leather-like PVC material surrounding four chambers and a double-hull design. The seats–three spacious, inflatable cushions, is snug enough to fit four adults and 2 kids, making it a perfect family inflatable boat for vacations by the water.
Intex Explorer 300
This little boat is a surprise; it may only carry three persons (or 401 lbs.) at a time, but its price is enough for one to take a second look. Intex, one of the most loved inflatable boat makers, releases this small yet powerful wonder that suits a small group of water hobbyists. The durable material is paired with a rigid construct and an inflatable, I-beam flooring for enforced balance. Dual air chambers and double valves allow easy inflation, which can be done with the manual pump that comes with it. There's a grab rope located on the bow and welded oar locks to keep your 48″ French oars in position, which are included in the package.
Bestway Hydro-force Marine Pro
This three-seater boat is created with highly durable, three-ply reinforced vinyl material: A Marine-grade textile that withstands even the most extreme conditions. It doesn't matter; rugged water terrain, damaging UV rays and exposure to petroleum elements'Hydro-Force Marine Pro promises to withstand all. It comes with a sturdy, inflatable floor, motor mount grommets, and inflatable cushions to add and remove when you require more space. Two 60-inch aluminum oars come with the set for that fun rowing experience, along with a 14.5″ air pump and a storage bag to keep the boat when not in use.
Intex Relaxation Station
If you're looking for an inflatable boat that's fun, exciting, and aesthetically different from all the others, the Intex Relaxation Station may just hit home for you. It's not an adventure boat in any way, but it offers an alternative means for you to enjoy the waterscapes as you lounge about with your friends. The raft features four back-rested seats, with cup holders for your favorite drinks and a mesh-constructed center so your feet can take a dip in the water. There's a rope ladder that keeps you up close when in the water, and sturdy grab handles so you can easily climb aboard.
Bestway Drift Commander
Clad in tropical grassland design, this inflatable boat from Bestway offers a cool way of gliding through familiar swamps and marshes as you go fishing. The sturdy vinyl material showcases photo-realistic visuals from Realtree, merging into the environment like a true chameleon. It comes with an inflatable floor and padded seats for the user's comfort. Capable of carrying up to 661 lbs., this Commander fits two to three persons within its snug interior. Practical oar locks and an integrated rod holder comes is set on its deck.
With an inflatable boat like Coleman Colossus, you'll never go out of style, or out of space. This 9-feet long versatile boat offers a hefty room for four people to get together and bond with their favorite recreational hobbies. Cruise around this heavy-duty PVC constructed boat, and brave through strong currents, thanks to the three individual air chambers that offers better protection in case you are met with an unforeseen circumstance along the way. Its patented Airtight system diminishes the possibility of a leak, and its inflated floors are sturdy enough to handle its users' movements. There's a grab line at the deck, as well as molded oar locks that fastens your oars within reach. Also included: 4 oars to use in manual paddling moments.
Known for their much-commended series of inflatable fishing boats, Airhead releases another impressive product with its Angler Bay series. Angler Bay 6, our featured inflatable raft, is capable to carry 6 persons on one trip, with enough room for movement and added features for them to enjoy the ride. 2 rod holders and molded drink holders are locked in place over the heavy-duty vinyl material. Electronically welded seams ensure that there will be no leak. Angler Bay is made specifically lightweight and portable, perfect for passive water recreations, such as trips on a calm stream or freshwater fishing. Swiveling oar locks, grab lines, mounts for trolling motors and side mounted oar holders are among its noteworthy features. Consumers love its well-made built and secure three-air chambers.
Buying Your Inflatable Boat
We have listed down the most excellent inflatable boats in the market, but the best choice always depends upon the consumer's preferences. In order to find the best inflatable boat for you, you need to understand a few points, such as:
How many people should it carry? Most inflatable boats have a median capacity of three people. This is a good way to start; not too many, but few enough to enjoy a tranquil ride over the waters. Some boats offer bigger, better space for 6 individuals; if you're looking to buy one for your family, this type may be the right choice for you. It is important to stick to the maximum weight limit, as the inflatable material could only hold as much and may endanger your ride. When planning for passengers, also consider the items you bring along. If a boat says it carries a maximum capacity of 500 lbs., this means that you need to weigh in your additional items, such as food or fishing kit, along.
What type of inflatable boat suits your lifestyle? Common inflatable boat models are rafts with padded cushions, but it doesn't end there. Some floaters are equipped with flat designs and back-rest seats. There are also pontoon boats which are light enough to use on a fun-filled day on a running stream. If you love extreme challenges, a kayak might be good for you, although it limits passengers from one to two persons. At best, know the instances where you'll use these boats for, so you can make the most out of your recreation moments by the lake or sea.
Other types of inflatable boats include: yacht tender, river rafts, explorers, saltwater boats, and scuba in/off shore boats.
What are your accessory must-haves? A pair of oars, removable seats, motor mounts and cup molds; these may seem like miniscule details, but they make the overall experience more meaningful. Check out what is included in the set and see which ones you need, or don't. Never purchase an item that offers too much of what you need, especially if you're a beginner. The basic things you want in your inflatable boat are oar locks, repair kits, durable fabric material, and secured hull.
Does it have warranty? Different brands offer different pricing and warranties for their boats, and this is one important factor you shouldn't miss. Because it is an active outdoor gear, your inflatable boat is prone to many damages, such as leaks, discoloration, mold build-ups, and exposure to gasses and petroleum, as caused by its motors. Make the most of your investment by checking the warranty so you and your family can enjoy your inflatable boat for a longer run.
How To Maintain Your Inflatable Boat
Even with a strong built and a reliable warranty, the best inflatable boat cannot last without proper upkeep. It is your responsibility to keep your boat in shape after every use. Fortunately, these boat types are low maintenance and requires little effort. Here are some practical ways to preserve your boat:
Clean it. Water is a breeding ground for most bacteria and fungi, and one wouldn't be able to know how much of these microscopic elements have clung to the bottom parts of the boat. Not only will it result to a certain, unwanted odor; build-ups also result to discoloration and risks the integrity of the material. Sand and gravel can also cause abrasion later on. It is important, therefore, to clean and dry your boat every time after use. Disassemble the parts and wash it with the brand's suggested cleaners. This may seem finicky, but using the wrong cleaners may end up destroying the boat fabric. As most boats are made up of PVC-coated textiles or rubber, find cleaners that match with the material.
Deflate and dry. Before putting it back in its storage, take out the air and dry it first. Be careful not to leave it in direct sunlight; UV rays may cause damage to the material.
Inspect the hardware. Some boats have wooden and metal parts for sturdier use. Before tucking them away, inspect the condition of these parts. Just like the inflatable aspect of the boat, clean the wood and metal fittings and leave it to dry in a well-ventilated area. Check if the metal parts are corroded; replace these parts to avoid future mishaps.
Check electrical / motorized systems. Keep your trips safe by ensuring these parts are working in order. While most electrical parts are resistant to corrosion, a small drop of salt water can cause serious damage to the item. All contacts, wiring and cables must be dry at all times. Battery clamps must be cleaned and tightened regularly.
A few things to remember:
Do not over-inflate. Just give the right amount of level pressure as indicated per part.
Air temperature may cause changes in the chambers. During warmer settings, the air within the tube expands. At some point, you may have to let out some air at different points throughout the day.
Protect your inflatable from sharp objects, as a small puncture may cause a big damage to the boat.
After every use, check the boat for holes. Easily trace unseen cracks through the bubbles from the soap during cleaning time.
When adding a repair patch, make sure that the boat is thoroughly dry.
Wrapping It Up
Inflatable boats are affordable, practical options for fishing hobbyists and outdoor fans to enjoy the water. Hassle-free, less bulky and highly inexpensive than the traditional boats, one can easily store these massive water vessels into a single pouch when not in use. Other than saving space, it is also versatile; one can use it to frolic by the pool, raft through the beach or explore a quiet stream by the countryside. Most of these vehicles are approved and used by the coast guard, so consumers can trust on the quality and strength of the boats' material and construction.
In order to help you with your inflatable boat shopping, we have put together some of the most lauded products online. Our top pick, the Intex Excursion 5, was chosen as the best inflatable boat because of its durability, space and comfort. It fits the mid-range budget, and is perfect for a family of four to five members, out to enjoy a weekend getaway or a beach holiday. The brand Intex has long been serving the inflatable boat market, and has proven their capability to produce impressive yet low-cost rafts for the modern family to enjoy.
Jen Miller is a former electrical engineer and product specialist with more than 20 years of product design and testing experience. She has designed more than 200 products for Fortune 500 companies, in fields ranging from home appliances to sports gear and outdoor equipment. She founded Jen Reviews to share her knowledge and critical eye for what makes consumers tick, and adopts a strict no-BS approach to help the reader filter through the maze of products and marketing hype out there.  She writes regularly and has been featured on Forbes, Fast Company, The Muse, The Huffington Post, Tiny Buddha and MindBodyGreen.