After many hours of trying different hot tubs and home spas we conclude that the best hot tub is the Strong Spas SS13300300 Rio 11 Jet Spa. With its relaxing jets and efficient motor, it's as if you brought your own personal heaven. Well, if you need more convincing, we'll be listing down the ten best home hot tubs available in the market

Strong Spas SS13300300 Rio 11 Jet Spa
Based on our research, the best home hot tub available online is the Strong Spas SS13300300 Rio 11 Jet Spa. This amazing hot tub comfortably seats up to five people. With its very durable body, weatherproof heater and relaxing 11 hydrotherapy jets, this hot tub is a great long term investment. It's also very easy to assemble and use. Just plug it in and you can enjoy a nice, warm bath under the stars.
In cases that this particular brand and model is not available, try the Lifesmart 400DX 5-Person Rock Solid Plug and Play Spa. This step up to the Strong Spas Rio 11 Jet Spa offers almost the same features. It can seat up to 6 people and is very easy to use as well. It also has a very sturdy body that is virtually indestructible. However, it costs more than the Strong Spas Rio 11 Jet Spa. By how much? By almost a thousand dollars.
However, if you're a bit tight on the budget but still want to enjoy a very nice spa day at home, why not try the Real Wood Spa-N-A-Box Portable Hot Tub Spa by Oceantis. Unlike traditional home hot tubs, the Real Wood Spa-N-A-Box Portable Hot Tub Spa has over a 100 micro jets that can massage you better than other home hot tubs. It can also seat around 4 to 6 people, depending on the leg room. All of these feature for a fraction of a cost
Now if you're looking for something that can make you enjoy a nice, quiet time with your husband or wife, check out American Spas AM-630LM 5-Person 30-Jet Lounger Spa. This hot tub has a very powerful motor that allows the tub to function as quietly as possible. With 30 hydrotherapy jets waiting to massage your pains away, this is the perfect companion after a very stressful week at work.
If you want to invite friends over for a very good time over cocktails and cheers, the Home and Garden Spas 6-Person 40-Jet Hot Tub is perfect for you. It has a built-in sound system that allows you to use your iPod or MP3 player while soaking in the tubs. You can listen to Pitbull while having a blast with your friends or you can enjoy the cool tunes of Ed Sheeran while relaxing under this very awesome tub.
Nowadays, it's important to become environment – conscious. If you're that kind of person, why don't you try the Lifesmart 600DX 7-Person Rock Solid Spa? This spa brand is one of the most energy efficient brands in the market. They have exceeded the standards set by the California Energy Mandate. Pair it with its 65 therapy jets and a 7 person seating capacity; you're bound to relax while saving the environment.
History Of Hot Tubs
Before we discuss each of our top picks one by one, let's talk about the history of hot tubs. The first concept of hot tubs came from the Spanish calderas, were hot stoned was place to heat the water. The Greeks then became popular for their hydrotherapy sessions done in marble tubs. Around 700 A.D., the Japanese people opened their first hot spring, which eventually housed inns and bath houses. In the 1940s, Americans built the very first hot tub, which has been inspired by the Japanese hot spring. Jacuzzi was the first company to introduce hydrotherapy pumps into the hot tubs and has further revolutionized the industry of home relaxation through hot tubs.
How Do Hot Tubs Work?
Hot tubs work using a very simple principle; letting the water pass through a series of pipes to a heating device and directly dispensing the water into the tub. The first thing that happens is the temperature is set via the keypad or knob found above the hot tub. Once the temperature has been set to the desired level, the setting is then relayed to the hot tub's control center, which takes charge of all of the hot tubs functions. Water that is used in hot tubs is drawn from the outside. It enters the system and gets filtered for impurities and dirt. Once the water has been filtered, it will go through the heating mechanism which heats the water to the desired temperature. After the water is heated, it will pass through a series of pipes until it arrives on the jets. The jets eject the water unto the tub, which can be controlled, depending on the model and brand of the hot tub. After use, hot tubs have drains attached to them to allow drainage of the tub into the outside. Some models have filters attached to the drain to minimize chemical waste to be drained in to the environment.
Components of A Hot Tub
Hot tubs are composed of several parts that allow it to function as is. These parts include:
Control System
The control system is the one that takes care of the tub's function. The control system is connected to the key pad above the tub. This allows the user to change the settings of the tubs.
Filter System
Water, before it enters the tub, passes through a filter to purify and remove any harmful particles and dirt from the water. There are two types of filters used in hot tubs. The first type is the suction filter. It works by filtering the water through the use of a high-powered suction. The suction forces the water through a filter to allow removal of particles and dirt. Another type of filter is the pressure filter. This filter has two parts: the cartridge and the skimmer. Here, the water enters the skimmer and pressure is applied to allow the water pass through the cartridge for efficient filtration.
Heater
This is the part of the hot tub that heats up the filtered water. Most heaters have safety features such as an overheat high-limit switch. Heaters can heat up water up until 104 degrees Fahrenheit.
Pumps
Usually, the water pumps are located near the heater. Water pumps attract heated water from the surface to allow filtration and reheating.
Jets
These are a bunch of PVC pipes that receives the heated water from the heater. They are small branches of pipes that expel the water with the help of air from the outside.
Ozonator
This is typically located below the hot tub to allow maximum water exposure. It acts a deodorizer and improves the quality of the water. It removes the odors and helps reduce the chemical content of the water. Not all of the hot tubs in the market have this, so it would be better if you buy one with an Ozonator
Drain
This is where water passes through after you have used you hot tub. It drains the water from the inside to the outside of the tub
What Should You Consider Before Buying A Hot Tub?
Buying a hot tub can be a very difficult decision. It's an investment you need to think about many times. So, what should one consider when buying their first hot tub?
Features
This is probably the most important factor that one considers when buying any electrical equipment for the house, especially if they cost money. We all want to get the best value out of our hard-earned money so, might as well get the product with the most features.
Hot tubs offer a lot of features such as the number of jets, adjustable temperature, efficient filter systems, audio system, LED lights and others. One of the most sought after features that customers look for is the number of jets. Jets provide the massage and create the relaxing effect that hot tubs bring.
Price
This is probably the make-or-break factor when it comes to buying a hot tub. You might love that hot tub that seats 7 and has 100 powerful hydrotherapy jets but you don't have $3,000, do you? Hot tubs can be expensive, especially the high-end ones. However, there are many hot tubs out there that offer a lot of benefits for the fraction of the cost. Keep reading and we'll help you find the perfect hot tub that fits your budget
Size
Size definitely matters especially when you plan to share your hot tub with your family and friends. Ideally, the more seating capacity, the better. But, there are people that prefer the small tubs so that they can share an intimate moment with their significant others. So, whether you prefer the large one or small ones, it's best to consider the volume of people you plan to use the tub with.
Practicality
There are hot tubs out there that seem nice and look cool but actually offer not many features. So, it's best to be practical and stick with what you need and prefer…
Needs
…which brings us here. What do you actually want? Do you need more jets? A large tub? A sound system? An energy efficient hot tub or one that has LED lights? Take into consideration your needs and find them in the following hot tubs that we will be featuring today.
How We Picked
We chose the best home hot tubs based on the following criteria:
Price
The price needs to be just right. Not too cheap, but not too expensive. It has to be affordable enough for most people who might be interested in buying their own hot tubs
Features
It has to have a lot of features. Nowadays, people are looking for equipment and devices that do more than just their basic functions. That's why smartphones are such a thing today. Nobody likes a mobile phone that just allows you to text and call. It has to do so much more. So, this is why it's important for a hot tub to function more than just a hot tub,
Value For Money
Of course, everybody wants to get as much value as they can out of their money. Not even rich people would go around the buying stuff that is not worth their price. So, we considered every hot tub and checked if the features and design are truly worth its price.
Add-Ons
Amazon offers a lot of deals that gives a lot of freebies if you purchase certain brands. So, same as making sure you get the best value out of your money, the hot tub must come together with other exciting accessories that will make your hot tub experience the best ever.
Our Pick

Strong Spas SS13300300 Rio 11 Jet Spa
Our top pick as the best home hot tub in the market is the Strong Spas SS13300300 Rio 11 Jet Spa. It's a bestseller among the lines of hot tubs available and this is for a good reason. One, it seats four to five people, making it ideal for families and a small group of friends. Its octagon shape body allows very spacious seating and makes it more space-friendly. It's also very easy to assemble. Just take it out and after a few minutes, you're good to go. This is definitely for people who hate complicated stuff. With its indestructible body that is made of the strongest materials, you're bound to enjoy this tub for a long time, making it a very good long term investment.
One of the unique features of the Strong Spas Rio 11 Jet Spa is its relaxing foot jets. Most hot tubs have jets that massage the whole body, but this hot tub has specialized jets that can massage your feet, giving you a complete massage right at the comforts of your own home. Also, with its powerful motor, it can easily accommodate the needs of a hot tub this big and still operate smoothly and quietly.
This hot tub can easily fit through a door. This makes the possibilities endless. You can enjoy it anywhere. You can even have it indoors. With its cool and relaxing underwater LED lights, your hot tub experience is going to be unforgettable.
Aside from its unique foot jets, the Strong Spas Rio 11 Jet Spa has 11 hydrotherapy jets that can massage your whole body. It also has an outlet conversion kit that can convert a 120-volt outlet to a 240-volt outlet. This makes the Strong Spas Rio !! Jet Spa a product that can be used anywhere in the world. It is a Plug and Play device that makes it so much easy to use. Just plug it in and use it. It also has a very powerful pump that can accommodate the demands of a person who's really into hot tubs.
Who Liked It?
We love how it's very compact and yet, still able to fit 5 people. It does not take up too much space off of people's lawns and patios and the best of all, it delivers everything it promises.
Flaws But Not Deal Breakers
Compared with other brands and models, the Strong Spas Rio 11 Jet Spa only has 11 hydrotherapy jets. Other brands offer 60 to 100 hydrotherapy jets. However, the hot tub's powerful motor can really get the water going right, so the 11 jets would still do its job.
The Runner Up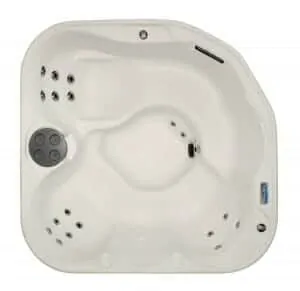 SLifesmart 400DX 5-Person Rock Solid Plug and Play Spa
If you're not thoroughly convinced of the power and capabilities of the Strong Spas Rio 11 Jet Spa, you might want to try the Lifesmart 400DX 5-Person Rock Solid Plug and Play Spa. This hot tub is made with a virtually indestructible Arctic White Rock-solid Shell. It comfortably seats 5 to 6 people and has 19 jets with an additional waterfall. It's a good, energy saving hot tub because it uses a foam insulation system and a very good cover. It also uses ECOSMART technology that makes energy usage more efficient.
It has an LCD control panel that allows you to adjust the settings of the hot tub according to your preference. Also, it has a multicolored LCD, which gives off a very nice effect while using it outside. If you can do away with the LCD lights, you can use the ozone system, which will efficiently remove any harsh chemicals and improve the condition of the water.
The Lifesmart 400DX Rock Solid Plug and Play Spa is also easy to assemble and use. From the name itself, it's plug and play equipment. So, you can just set it up, plug it and use it. It runs on 110 volts without any need for special wiring.
Best Portable Hot Tub

Real Wood Spa-N-A-Box Portable Hot Tub Spa
The Real Wood Spa-N-A-Box Portable Hot Tub Spa by Oceantis is a great choice that gives you the best of both worlds, for the fraction of the cost. This hot tub is built with beautiful real wood panels with very durable and natural looking wood finish. It can reach up to 104 degrees Fahrenheit, making the experience intense and very relaxing. Instead of having jets, they have over 100 micro jets that give your body a very invigorating massage. This is perfect for those who don't like how jets from other hot tubs massage their body.
According to the manufacturer, the Real Wood Spa-N-A-Box Portable Hot Tub Spa by Oceantis seats 4 to 6 people with no problem and can be used to any climate. With its insulated foam layer underneath the tub, water stays warm and helps keep the cold out.
This is definitely worth your money. The product really delivers. From the wood panel to the micro-jets, everything that Real Wood Spa-N-A-Box Portable Hot Tub Spa has promised came true.
Best Hot Tub For Those Who Want A Quiet Time

American Spas AM-630LM 5-Person 30-Jet Lounger Spa
Sometimes, we do want to be left alone and relax with ourselves or with our significant other. After a long day at work, it's nice to just lie in your tub and watch the stars as you soak in warm, clean water. But, there are hot tubs that are too noisy. So, if you want to spend a quiet time while relaxing in your hot tub, then the American Spas AM-630LM 5-Person 30-Jet Lounger Spa is for you. This spacious hot tub seats five and can deliver 30 hydrotherapy jets. With its 5.5 kilowatt heater and motor, the hot tub runs whisper quiet and is capable of delivering good quality hot water.
Best Hot Tub For Parties And Celebrations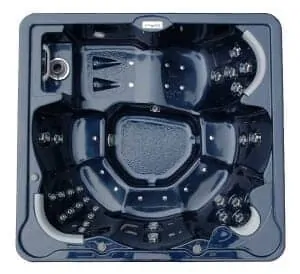 Home and Garden Spas 6-Person 40-Jet Hot Tub
Hot tubs are good staples for a party. You and your friends can go and sit down a hot tub while sipping margaritas or fruit juices. Well, if you want to turn up the fun meter, then get the Home and Garden Spas 6-Person 40-Jet Hot Tub. It seats six, so you and your who group of friends can all join in and bond. With it 40 neck, shoulder, calf and foot jets, your friends can relax while enjoying the company of your friends. The best part is, this hot tub has a MP2 auxiliary output. You can connect your iPod, MP3 player or a CD player while lounging inside your hot tub. Now, you can listen to the tracks of Rihanna or Sia while relaxing or chatting inside your tub. Why don't you tell your dad to play his Beatles CD while using the pool. Everybody's bound to have a good time while using this tub. With its 6 horse power motor, this hot tub will meet your power demands and deliver more. Uou bet you can have good times and fun memories using this hot tub.
Best Energy Saving Hot Tub

Lifesmart 600DX 7-Person Rock Solid Spa
During this time when it's important to be environmental conscious, it's best to choose a hot tub that not only relaxes you, but helps you take care of the environment. If this is you, then the Lifesmart 600DX 7-Person Rock Solid Spa is your best choice. This 7 seating hot tub can generate 65 hydrotherapy jets that helps you and your family relax and unwind. It has adjustable valves that allow you to not only adjust the temperature of the water but the mixture of water and air as well, allowing you full control over the intensity of the jets. The great thing about the Lifesmart 600DX 7-Person Rock Solid Spa is that is has exceeded the California Energy Mandate, making it environmental friendly.
Best Hot Tub For 6 People

American Spas AM-730LM 6-Person 30-Jet Bench Spa
The American Spas AM-730LM 6-Person 30-Jet Bench Spa is a six setting hot tub that can deliver 30 hydrotherapy jets. It has a very efficient bottom armor that acts as insulator and protection. It spacious body plus its other features is what makes this a good hot tub.
Best Plug and Play Spa

Lifesmart Rock Solid Simplicity Plug and Play 4 Person Spa
The Lifesmart Rock Solid Simplicity Plug and Play 4 Person Spa With 12 Jets can accommodate four people inside and has 12 soothing hydrotherapy jets that will massage the pain away from your body. It also has a waterfall feature, an energy saving cover and a foam insulator.
Best Home Spa for 4 People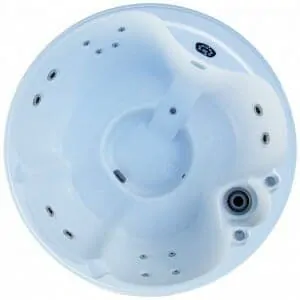 Home and Garden 4 Person 14 Jet Plug-and-Play Spa
The Home and Garden 4 Person 14 Jet Plug-and-Play Spa is perfect for small families. It seats four people but it features neck, shoulder, foot and calf jets. It has 14 jets in total, giving you the perfect relaxing break you need from work. With an Ozonator installed, you're assured that your family is free from harm and will be safe from harsh chemicals.

Lifesmart Rock Solid Luna Spa with Plug & Play Operation
The Lifesmart Rock Solid Luna Spa with Plug & Play Operation is perfect for those who live alone or prefer to enjoy their hot tubs alone. This hot tub allows three sitting positions and has 12 hydrotherapy jets to give you the best massage ever. It's also a plug and play spa, making it easy to use. Its practicality and straight-forward operation make it a solid home spa.
FAQs
What position can I place my hot tub in?
Ideally, it should be placed on a flat surface. That's why it's best placed on the porch or the backyard. If you have doubts about the stability of the spot where you plan to place your hot tub, you can place a concrete slab first to make the surface flat.
Will my hot tub still maintain its temperature even during cold seasons?
Most likely no, but, you can utilize the insulated covers that come with the hot tubs. Also, most of these hot tubs have a very good and reliable insulating system, so your water can stay warm for long periods of time. But, situations may differ.
Wrapping Up
With the best hot tub such as the Strong Spas SS13300300 Rio 11 Jet Spa, you can plan this as a bonding activity with your family, or with your partner. You can also invite your friends from work and plan a spa date. You can chill and relax while sharing the latest office gossip over cups of tea.
Jen Miller is a former electrical engineer and product specialist with more than 20 years of product design and testing experience. She has designed more than 200 products for Fortune 500 companies, in fields ranging from home appliances to sports gear and outdoor equipment. She founded Jen Reviews to share her knowledge and critical eye for what makes consumers tick, and adopts a strict no-BS approach to help the reader filter through the maze of products and marketing hype out there.  She writes regularly and has been featured on Forbes, Fast Company, The Muse, The Huffington Post, Tiny Buddha and MindBodyGreen.