The Troy-Bilt TB42 27cc 2-Cycle Gas Brushcutter is our best gas trimmer which is significantly easier to start compared to other gas trimmers out there and it is also awesome for its size, being not too bulky at all. It can handle the thickest brush possible and it is okay for both right or left-handed use, which is helpful for left-handed people.
Our step-up pick is the Husqvarna 128LD 17-Inch 28cc String Trimmer and this brush cutter aims to give you some heavy duty cutting skills and performance with its straight shaft design. The gas trimmer features a powerful 28cc engine and it is also compatible with a Husqvarna edging attachment. It is quite strong enough for heavy tall grass and is great for standard yard work.
The budget pick is the Poulan Pro 967105301 25cc Gas Trimmer and being quick and simple in terms of replacing the line, the gas trimmer can use almost any size line due to its diverse design and versatile system and trimmer head. Being easy to use, the gas trimmer can also have the option to add 5 pro link attachments due to being attachment capable.
A Little Background
String trimmers have become more popular with people because of the very fact that they are more flexible than large lawn mowers and can be used on uneven land and terrain. In addition to that, the string trimmer is quite a time saver.
For example, it can take minutes for a string trimmer to cut the grass but it will take a lawn mower almost an hour or so depending on the size of your yard. The only catch is that a lawn mower does it with a level height compared to the uneven height of grass produced by the string trimmer.
There are some problems, however, that you need to mind when using a gas trimmer. For example, the air filter might also be clogged or dirt if your gas trimmer produces smoke. Clean it up and see if there is an improvement. The oil levels should also be checked and refill it as needed if the engine smokes a lot.
As with any string trimmer, proper precaution and safety measures are seen in using it. If it is unavoidable, make sure you are not using your string trimmer in action on the grass when someone walks by to avoid the debris such as rocks (because they really hurt!).
How We Picked
In choosing the best gas trimmer, you should keep in mind the following properties of the trimmer:
Cutting speed: the gas trimmer should have a decent cutting speed that should be enough for your needs, such as for thick grass. The usual gas trimmer can have at least 7,000 to 8,000 rpm of speed but it depends upon the usage of the trimmer and the application area.
Easy starting: we all know that gas trimmers are generally harder to start in comparison to cordless and corded trimmers out there. However, you should still make sure that the gas trimmer can start in less pulls of the cord.
Gas tank: consider the gas trimmer that has a lot of capacity so that you do not have to worry about the fuel running out too quickly all the time. Make sure that the gas trimmer is also easy to refill on the fuel tank and it does not leak out the fuel at all.
Capability of attachments: you can also consider a 2-in-1 or even a 3-in-1 gas trimmer that can become an edging tool or even a mowing tool in just one machine. There are many weed whackers or weed eaters out there with that kind of capability so you may want to check them out.
Protective features: the gas trimmer should have a lot of protective features such as a trimmer guard to keep all of the debris away from your body and face and keep you protected all the time. The gas trimmer should also have protection against overheating and other problems in the internal components of the unit.
Motor noise levels: make sure that the gas trimmer is not too noisy because it will disturb the people around you. Considering that the gas weed whacker is usually loud due to the engine, make sure that it is still in a bearable tone.
Ease of operation: the gas trimmer should be simple enough and should not give you a lot of problems on choking, priming and pulling the cord altogether as a gas trimmer. Usually, any gas powered equipment is a hassle for some but it should still be fairly simple to use with instructions given.
Weight of the weed eater: the gas trimmer should not be too heavy because it will put a lot of stress on your back and on your shoulders and neck if you wear it for longer periods of time. Consider a gas trimmer that is powerful enough yet will not sacrifice it for weight.
Shaft style: the gas trimmer may come in either a curved shaft or a straight shaft. However, usually the gas trimmer is a straight shaft designed trimmer because a gas trimmer is mostly used for heavy duty work such as taller grass and the like.
Commercial or casual: while it is true that a gas trimmer is usually made for commercial use and really tough work, there are some light duty gas trimmers that do exist and are cheaper and more lightweight as well, such as those for lawn usage.
Cutting path width: consider the gas trimmer that has a good cutting path or swath so that you can cover a lot of area in just one pass or one go.
Nylon configuration: the gas trimmer should accept most common line types such as rounded and square and should have an indication of what diameter of line it should use, such as .065 to .080 inch for light to medium duty and .095 to .105 inch for heavy duty gas trimmers.
Our Pick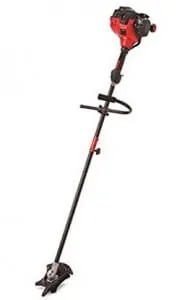 Troy-Bilt TB42 27cc 2-Cycle Gas Brushcutter
The Troy-Bilt TB42 27cc 2-Cycle Gas Brushcutter is our best gas trimmer which is a superb string trimmer that works well on brush and heavier weeds. The weed whacker can definitely take down some different outdoor tasks and it has a low vibration so it is not very stressful and will not cause user fatigue.
Weighing 14 pounds, it is light for a gas trimmer and yet it is powerful and dependable. As a brush cutter, this hand held tool provides longevity beyond compare and it does an excellent job as a 27cc motor gas trimmer with a spring assist starting system. Moreover, the unit readily comes with 2-cycle oil.
You just need to remember that it has a 50:1 fuel ratio for gas and oil mixing. Made with a premium engine, this weed whacker also has a jumpstart capability which adds convenience as well as power and performance along the way. The gas trimmer can work on any area of land in the county.
Being a heavy duty brush cutting tool powered by a 27cc motor, the j-handle is quite adjustable and can be used for summer maintenance for your lawn or for cutting heavy brush. The gas trimmer can be used to trim around house and it gives you added control all the way for saplings and brush.
Made with a sturdy steel boom, the grass trimmer offers easy maneuverability and can work on either a small piece of land or even a large one. The included steel brush blade measures 8 inches has a 4-tooth system. As a heavy duty gas trimmer, it includes a shoulder strap for ease of use.
Including the shoulder harness for comfort, the gas trimmer also has less vibration and you can use it with a pole saw and edging attachment. Including an operator's manual, the gas trimmer is also compatible with ten different trimmerplus attachments and is backed by a 2-year warranty.
Flaws but Not Dealbrakers
While not serious deal breakers, the Troy-Bilt TB42 27cc 2-Cycle Gas Brushcutter does have some small disadvantages such as the fact that it will have some small troubles when starting, but this is true for just about any gas powered string trimmer.
Step-up Pick

Husqvarna 128LD 17-Inch 28cc String Trimmer
The Husqvarna 128LD 17-Inch 28cc String Trimmer is our step-up pick for the best gas trimmer. With the additional string head attachment included, the gas trimmer can go through dense weeds with no problem at all and it is able to handle up to 4 acres of land due to being heavy duty.
The quality of the construction is superb and the gas trimmer has a cutting width of 17 inches.
This gas trimmer uses .095 diameter trimmer line but can also use 0.065 and 0.080 inch diameter lines and it is one of the best yard and garden equipment out there for the best edging on your lawn. Being capable of attachments, you will love this weed whacker as it is not as loud as a chainsaw.
Being a gas trimmer, it only requires you to have a 50:1 mix of fuel and oil or even a 40:1 ratio will do just fine. The line feed works well and the whole thing weighs 11 pounds so it is not too stressful to your shoulders. Packing tons of power, you can also remove other debris other than grass.
The whole thing never slows down and the 2-cycle machine works like a charm. As a multi-purpose trimmer for your garden, lawn or land area, it is not too heavy and has a good and reliable fuel pump. With a balanced weight, the gas trimmer measures 70 inches in its total length.
With the balance of power and portability, this machine has lots of power. The T25 trimmer head is semi-automatic and the gas trimmer can trim almost the whole yard with just one string set. It is easy to add new line to this trimmer and most landscapers can edge a yard with great ease with this trimmer.
Working well on a very large yard, the gas trimmer is also compatible with a pole saw attachment (pa1100). The vibration is minimal and with the smart start recoil system, you get an easy starting mechanism. The gas trimmer is backed by a 2-year warranty.
Budget Pick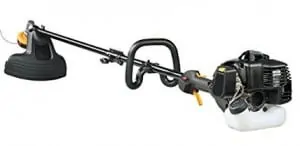 Poulan Pro 967105301 25cc Gas Trimmer
Our budget pick for the best gas trimmer is the Poulan Pro 967105301 25cc Gas Trimmer. As a perfect lawn care product, this 2-cycle gas trimmer is great for most cutting and trimming jobs around the lawn or some other area of land.
It cuts like a champ and can work on 1 inch saplings with its straight shaft design. It also has a detachable trimmer and it does not cause fatigue that much. With a manual pull start that is reliable, it is a full crank engine gas trimmer that has a 4-tip steel blade.
The gas trimmer uses the SureFire Fuel Delivery System to make sure that the fuel efficiency is at its best. With the spring assisted starter system, you can also feel at ease with this gas trimmer in its starting capabilities. It is a light duty machine but it is still tough enough for the competition.
The ease of starting can really be felt with the gas trimmer due to the no-fuss starts and superb system that requires less pulling of the string. You can really trim more grass and weed in a matter of minutes. The cylinder displacement of 25 cubic cm in this gas trimmer.
The fuel for this gas trimmer is mixed at 40:1 ratio so it is quite economical. The trimmer has a total of 17 inches in its cutting width so it covers a lot more area than other gas trimmers and even electric trimmers out there.
It will gladly accept 0.095 inch trimmer line as a straight shaft trimmer that weighs just about 14 lbs. you can also add a brush cutter attachment to this gas trimmer for the best lawn care possible. With effortless pull starting, you can tackle more demanding jobs with this gas.
Being cost effective, you can also add pole pruner (pole saw) attachments to this gas trimmer for your lawn maintenance needs. It is a dual-line feed head (tap'n go) system in which the engine starts fast and the motor runs well. It is backed by a 2 year warranty.
Best Gas Trimmer with a Solid Drive Shaft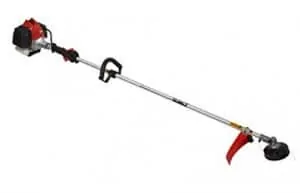 Tanaka TCG27EBSP 2-Cycle Gas String Trimmer
If you want a gas trimmer that has a solid drive shaft then it is advisable to go for the Tanaka TCG27EBSP 2-Cycle Gas String Trimmer. It takes 20 seconds to change end shafts so it is time saving. Working well on a lake bed for weed trimming, the gas trimmer's wire cable drive is braided and is quite strong.
Moreover, the diameter is the blade arbor is at 6 inches. You can also buy a carb adjustment tool for it. This gas trimmer is a commercial grade weed whacker that is made out of the highest standards possible. With a clear thick brush, the gas trimmer uses the s-start technology and has a 50:1 gas and oil ratio.
As a 2-cycle engine, the purge primer works well and the whole unit weighs only 11.2 pounds so it is lightweight for a high-end grass trimmer that is gas powered. With maximum reliability overall, the 17 inch cutting diameter helps you reach more places and cover more area in less amount of time.
It is a well balanced gas trimmer that has a 17.6 oz. fuel tank capacity for more action in the long run. What's more, the engine is very smooth and it packs a lot of durability as a gas trimmer. Moreover, the handles are comfortable and it is made of an aluminum clutch housing so it does not rust at all.
It uses the Walbro carburetor to make sure that it is powerful enough for most tall grasses. It also prevents the clutch from overheating and has a trimming head that can be replaced and is also durable. With a spindle lock, the gas trimmer also has an option to add a harness for comfort.
Moreover, the shaft length is at 58 inches. With a rugged fuel tank protector, you can also add a brush cutting handle and blade guard. You also have a choice of 26.9cc, 23.9cc or 21.1cc engines.It only takes 2 minutes to load the line and the gas trimmer is made of high quality molded plastics.
The gas trimmer is also CARB and EPA compliant as it is 300 hour rated for power and safety. It is backed by a 2 year commercial warranty (7 years consumer warranty). With a spindle lock, the gas trimmer is also backed by a lifetime drive shaft warranty.
Best Gas Trimmer with a 4-Cycle Engine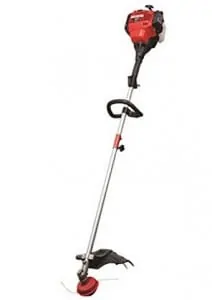 MTD Southwest TB685EC 4Cyc Gas Trimmer
Our ideal 4-cycle engine gas trimmer would be the MTD Southwest TB685EC 4Cyc Gas Trimmer. Running smoothly all the time, you can also add some cultivator attachments to this gas trimmer which makes it an awesome machine.
It is also capable of various attachments such as some hedge trimmer attachments so you can double the gas trimmer as a hedge trimmer in one go. Moreover, reloading the trimmer spool is very easy in this weed whacker so it is quite convenient as a weed trimmer.
Made with little vibration, the gas trimmer also has a padded front handle to make sure that you get less user fatigue as the unit reduces vibration overall. In terms of durability, the gas trimmer has been made with a forged steel connecting rod for excellent stability as well.
This gas string trimmer uses the unique spring assist starting system to make it easy to use and simple to start for your next cutting work. The gas trimmer accepts .095 inch diameter line so it is quite easy to find a line for it, and you can tell that it is of high quality.
This is a 4-cycle gas trimmer that is of high quality and is of heavy duty use and it is also eco friendly due to being a 4-cycle design. It is quite powerful in its engine and the body of this gas trimmer is made out of stainless steel.
The powerful 30 cubic cm engine makes it outlast the other gas trimmers out there for durability and performance. What's more, it also has a click 'n trim bump head that makes it easier for you to trim down all of the weeds and grass that lurk around your yard.
Being quite organic and eco friendly in its construction as a 4-cycle gas trimmer, it has a split boom that is quite durable and the easy start makes it user friendly in the long run. Moreover, the gas trimmer is quite lightweight for a gas powered weed whacker at only 11.25 lbs.
With 17 inches in its cutting width, the gas trimmer can be used for extended reach when it comes to really large areas of land and lawns. Being EPA compliant in 50 states, this gas trimmer is one of the best eco friendly gas weed whackers out there, backed by a two-year limited warranty.
Best Gas Trimmer with a 2-Cycle Engine

Snapper Red Straight Shaft Gas Trimmer
The Snapper Red Straight Shaft Gas Trimmer is our ideal choice for a 2-cycle gas trimmer. With an adjustable handle for your needs, the head spins counterclockwise like all straight shafted gas trimmers out there.
As a great residential lawn maintenance machine, the trimmer is a gas powered multi-functional yard machine that is a great gas trimmer to consider due to its fuel delivery system. Filled with opportunities for using a couple of universal attachments, the gas trimmer also features effortless pull starting.
If you have a small yard then this is a great gas trimmer to consider because it is truly fuel efficient. In fact, changing the cutting attachment requires no need for tools. It has a fiber lined clutch for reducing fatigue and there is a blade kit for this weed whacker.
With a nice balance, you just simply bump it on the ground to get more string out. The gas trimmer chows down very quick and it comes with a pre-wound replacement trimmer head. Running at 28cc, the gas trimmer controls weeds and overgrowth and it has a great balance and maneuverability.
The gas trimmer has been made with advanced engineering as a 2-cycle engine for the person who wants a hard-working trimmer and a brush cutter in just one go. Great for the small trees, the gas trimmer is both a trimmer and brush cutter in just one tool with lots of power.
Mowing the lawn has never been so easy with this versatile gas trimmer with 17 inches in its cutting path. As a gas trimmer, it has a convenient j-handle that can make you feel at ease in any situation of mowing the lawn. The gas trimmer is quite easy to start and it uses 0.095 inch dual cutting line.
Able to tackle bigger jobs on acres of yards, the gas trimmer is easy to crank and can work on most property lines with an extended reach. With a straight shaft, it creates less vibration and controlling the angle is easy with the 2-line feed out.
The bump feed head has a dual exit and the gas trimmer also accepts universal attachments to take out tangled undergrowth. With a longer lifespan, the gas trimmer gives you no backache. With an easy line replacement, the gas trimmer is backed by a 2-year limited warranty.
Best Gas Trimmer with a Curved Shaft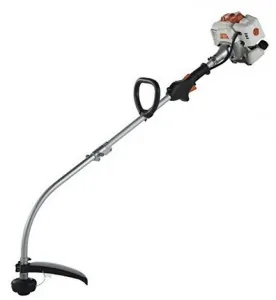 GTI26 26cc 2-Cycle Curved Grass Trimmer
As a curved shaft gas trimmer, the GTI26 26cc 2-Cycle Curved Grass Trimmer is an excellent choice. The gas trimmer works well with weeds and it has a powerful cable drive shaft as a weed eater with 2 strings. It comes preloaded with a full spool and gives you an easy start all the time.
You simply can't go wrong with this weed eater to remove weeds as it is lightweight and you can also add a blade or saw attachment. With a smooth running motor, the gas trimmer meets most people's outdoor power equipment needs and it is more than the average lawn trimming.
Built with great ergonomics in mind, the solid steel drive shaft is lined well and it accepts .095 thickness line. As a right tool for the job, the gas trimmer doesn't vibrate as much and it is faster spinning than most gas trimmers out there.
Being perfect for homeowners, the gas trimmer starts the first pull almost every single time. This gas trimmer works wonderfully and the trigger is well placed for you to easily access it. With a blade and attachment capable system, you can get replacement parts easily for this gas trimmer.
With a fast throttle response, the line feeding mechanisms are excellent and this gas trimmer is built for the maximum comfort of the user. You can go forth and use this gas trimmer for a steep slope with no problems at all as it is made with the best commercial grade engine components possible.
With a split boom shaft, the gas trimmer has the option to add a cap gasket replacement as well. You can use it for occasional use or for regular use. This gas trimmer is also quite capable of jumpstart so it is easy to start for your gas trimming needs. It is also equipped with a multi-position handle for comfort.
Best Gas Trimmer that is CARB Compliant

Husqvarna 128C 28cc 2-Stroke String Trimmer
The Husqvarna 128C 28cc 2-Stroke String Trimmer is a great CARB compliant gas trimmer that is eco friendly. Matching most lawn caretakers' outdoor power equipment needs, the gas trimmer also quickly converts your trimmer to various tools due to its diverse mechanism.
With an extended reach due to the straight shaft design of this gas trimmer, it also provides less vibration than other engines due to the ergonomics. There is no need to pull a cord due to the jumpstart design of this gas trimmer.
For a longer operation, this gas trimmer has a good horizontal reach and you can also add a thick brush attachment. Handling thick weeds greatly, you can also tap to feed more string with this gas trimmer. It gives you less fatigue and you can also add a harness strap to it for comfort.
What's more, the trimmer head is already pre-wound so you do not have to do much in terms of setting up. Starting the gas trimmer is super easy as you just prime, choke and pull and the gas trimmer will be on its way.
Made for the experienced or a novice yard landscaper, this full crank gas trimmer is really powerful and it is also easy to assemble to take down some vines with a high output overall. As a gas trimmer, it is surprisingly quiet and can be used with some adaptable accessories for your lawn care projects.
With optional accessories to choose from, the gas trimmer already comes with spool of line and the priming bubble doesn't always pop back up. Moreover, the front and rear handles are greatly padded in this gas trimmer.
Best Gas Trimmer with a Dual Line System

Homelite 26cc Gas Powered 17-in. Trimmer
With the dual line feed, the Homelite 26cc Gas Powered 17-in. Trimmer is our best bet for this kind of gas trimmer system. It is in fact, one of the better gas trimmers at a low price. You can add other attachments such as blower and edging tool to this efficient and reliable gas trimmer to provide superior cutting results.
With a 4 bearing gear box, the gas trimmer packs a lot of performance and durability. It is a gas powered machine that is made for trimming lawns extensively with its aluminum clutch housing. You can take good care of a few small trees with this easy start up gas trimmer that has a powerful performance.
Moreover, this gas trimmer accepts trimmer plus attachments so it is quite versatile in the long run to get the most out of just one tool or machine. In addition to that, the gas trimmer is designed to have a straight shaft so it is really meant for the really bad grass and tall weeds out there.
Using the rapid attachment system, you get no problems at all with this gas trimmer due to its no confusing choke system. The lawns and brush can be trimmed with this gas weed whacker. The parts and materials make it really tough and durable in the long run.
Best Gas Trimmer for Commercial Use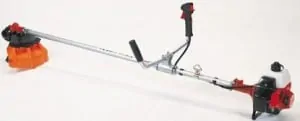 Robin 34.4cc 2-stroke Commercial Grass Trimmer
Great for commercial use and heavy duty work, the Robin 34.4cc 2-stroke Commercial Grass Trimmer is an awesome choice for the big jobs. Taking on heavy vegetation, the gas trimmer is also considerably light weight for a gas trimmer in its power category. It can also be used on uneven land and terrain.
Working well on most thorny undergrowth in any land, the design is attachment-capable so it is versatile. With easy priming, choking and pulling, the gas trimmer comes with a commercial-grade gearbox and you can mix oil in gas in the most convenient way. The trimmer engine is also built tough.
If you want to upgrade to gas (if you previously had a corded or cordless trimmer or weed eater) then this is a great option to consider. Moreover, the gas trimmer always starts easy from 1 to 2 pulls so it is easy to use when you want to go full throttle.
There is a shoulder strap to keep the user from fatigue all the time. The gas trimmer is able to handle Johnson grass and similar species and it has a red finish that will not corrode easily. The gas trimmer is okay for both commercial or residential usage.
This gas trimmer can reach almost anything and it has an attachment capable coupler so you can put in other attachments to this weed whacker. Made with a professional grade dual exit bump feed, the gas weed eater is a strong trimmer to consider with a straight shaft trimmer design.
Having a built in gear case spindle lock, the simplicity of the design is great and the handles and switches are all placed strategically. Going well through dense weeds, the gas trimmer comes with a steel cutoff guard to protect you from getting hit by debris.
The Competition
Other gas trimmers did not make it to our list because they did not have enough fuel capacity, durability and easy starting. It is important for a gas trimmer to have power as well as a good starting method so it will be convenient for the person who will use it.
Other Frequently Asked Questions
Q: What is a string trimmer and what are the different types of trimmers?
A: The string trimmer or sometimes called grass cutter, weed whacker, weed eater or grass trimmer, is a tool that takes the place of a lawn mower in trimming thicker weeds, grass and bush in an area.
There are three types of trimmers: electric (corded) types, gas types and battery (cordless) types. There are also some variants that have wheels. Corded trimmers are powerful but are bound by wire. Cordless trimmers have less power but more convenience. Gas types are the most powerful but are a hassle to start.
Q: Why do some people still prefer the lawn mower over the gas trimmer?
A: The gas trimmer is only effective for thick grass and uneven terrain. However, it is not very even when it comes to trimming grass and leaving it polished and aligned, so it is meant for just taller grass and not as a finishing tool. You can leave that duty to the lawn mower instead.
Q: Why are string trimmers called weed eaters or weed whackers?
A: It is a well known brand of string trimmers that was so famous that it became an accepted colloquial term, just like Thermos, Kleenex or Xerox. String trimmers are known by many names such as weed whackers, grass cutters, weed eaters, and whatever their fuel is, such as gas trimmers or electric trimmers.
Q: What makes a string trimmer better than a lawn mower?
A: The string trimmer is fast and is versatile because it can work on uneven land and terrain. It is also significantly faster in terms of work.
Q: What might be wrong if my gas trimmer produces smoke?
A: There are a couple of problems in your system if the gas trimmer produces smoke. For instance, you might have poured in the wrong oil or it is not sufficient for the temperature of the environment and the gas trimmer itself. You should consult the user's manual for the correct oil to use.
Q: Why is it important to pick the right line size for my gas trimmer?
A: Any trimmer needs the appropriate nylon line because the wrong line might take its toll onto the motor and cause it to get damaged easily. Most lines come in .065 for light duty trimmers and .080 and .099 for heavy duty ones, such as the gas powered ones.
Q: How often should I replace the spark arrestor of a gas trimmer?
A: The spark arrestor of any gas trimmer can only be used once per season or about 25 hours, especially if it is made of fiberglass. However, you can also clean it every 25 hours if it is made from some other material. Proper maintenance of the spark arrestor is quite important to keep your gas trimmer in shape.
Q: How does a gas line of a gas trimmer get damaged?
A: The gas line of any gas powered trimmer can be worn out once the fuel lines that are made of plastic become cracked so that fuel efficiency and flow is not too efficient anymore. Replacing the fuel line or gas line is the only solution to this problem so that you can feel more assured that you get the best flow and fuel efficiency for your weed eater or string trimmer.
Q: What kind of fuel should I use for my gas powered string trimmer?
A: It depends on the model or age of your gas trimmer and it is still the best to consult your user's manual. However, make sure it is of high quality such as premium and ethanol-free. The gasoline should not be older than 30 days so it is still fresh and will not lead to engine stalling. Fuel stabilizers can make sure the gas in the trimmer stays put if you want to store it for many days or months.
Q: How long does it take for you to do a DIY repair of the gas trimmer's gas line?
A: Usually, it only takes about 30 minutes or less depending on the level of your mechanical skills. If you have the right tools, the correct diagrams and other references, you will be able to do it in less time possible.
Q: What makes gas trimmers with higher cc better than those with lower ones?
A: They are usually equipped with a spring assisted system which makes the gas trimmer easier to start. In fact, some of these gas trimmers may even have an integrated electric start system that makes it more convenient for those who are tired of pulling the strings on a gas trimmer yet want to have the power and harness the strength of a gas trimmer with enough convenience.
Q: Are gas string trimmers the same as propane string trimmers?
A: Propane string trimmers are different because they are powered up by propane canisters, usually containing 16.4 ounces (a.k.a. the ones used at picnics and camping).
The only few similarities of gas string trimmers and propane string trimmers is that they both use liquid fuel, they can both be expensive and yet they are very powerful. However, propane string trimmers can be troublesome to refill due to the canister's limited amount of fuel.
Q: What kind of safety gear should I keep in place when I am operating a gas trimmer?
A: Consider wearing a face shield or some eye protection such as safety goggles. Long pants, long sleeved shirts or overalls are great PPEs to consider for your gas powered grass trimmer. Make sure you also wear boots so that it will not accidentally get into your feet.
Q: How do I prepare the surroundings for using a gas string trimmer?
A: Make sure people are away from the area at least 50 feet away or so. Make sure you stop the trimmer when someone is walking near you or move away because it might spray some debris onto you or the person.
Q: How should I position the string trimmer when I am storing it?
A: Make sure that the fuel cap is not leaning on the side so it will not leak out fuel. Make sure you also do not keep fuel in the string trimmer if you are storing it for a long time. Ideally, a string trimmer is stored horizontally or vertically but make sure it is in a safe place without being disturbed by weather or hazards such as a in a garage.
Q: Why should you adjust the carburetor of a gas powered string trimmer regularly?
A: The carburetor or carb can become not tuned well because of the fuel mixture, vibration and other factors. Most gas trimmers have a 2-stroke engine system so it is a good idea to check on your carburetor once in a while.
Q: What are the two types of gas string trimmers and how are they different?
A: The gas string trimmer can be classified into 2-cycle trimmers and 4-cycle trimmers. The 2-cycle trimmer is the best choice for most people who want the most convenient starting but you will need to mix gas and oil in the proper proportions. A lot of these 2-cycle trimmers will have a spring assisted startup option so it is not a problem at all.
If you want a more powerful gas string trimmer then you can go for the 4-cycle trimmer because it does not require oil and gas mixing, runs quieter than the 4-cycle trimmer and are somewhat cleaner in emissions due to adhering to CARB and EPA regulations.
Q: Why should I keep the gas trimmer's fuel fresh?
A: The fresh fuel is important for keeping the gas trimmer in shape and to eliminate hard starts in the long run. It may also lessen the damage on your fuel filter if you keep using fresh fuel or even higher quality fuel, especially if the string trimmer is old.
Q: Which is harder to maintain, a string trimmer or a lawn mower?
A: The lawn mower can be expensive and needs to be polished but it will be less often in comparison to replacing the nylon strings of a lawn mower, which in turn, is cheaper. It all depends upon the usage and needs of the person whether they need a lawn mower for lawn maintenance or a string trimmer for taller grass.
Q: What sets a string trimmer different from a lawn edging tool?
A: The lawn edging tool is more suited to maintaining the edges of a lawn while a string trimmer is for general usage on any lawn and may also be attached with accessories for edging, mowing and the like.

Wrapping It Up
Overall, the Troy-Bilt TB42 27cc 2-Cycle Gas Brushcutter is our best gas trimmer due to the attachment capability, 27cc motor and adjustable J-handle.
Jen Miller is a former electrical engineer and product specialist with more than 20 years of product design and testing experience. She has designed more than 200 products for Fortune 500 companies, in fields ranging from home appliances to sports gear and outdoor equipment. She founded Jen Reviews to share her knowledge and critical eye for what makes consumers tick, and adopts a strict no-BS approach to help the reader filter through the maze of products and marketing hype out there.  She writes regularly and has been featured on Forbes, Fast Company, The Muse, The Huffington Post, Tiny Buddha and MindBodyGreen.