The Best Choice Products 48″ Foosball Table is our best foosball table. Giving you fun family time, the foosball table also comes with chrome finished steel rods for extra durability with the finish and the material for less maintenance. Requiring very minimal assembly, you will find this foosball table quite sturdy and stable in comparison to others.
Our step-up pick is the Pinty 48″ MDF Foosball Table Soccer and this foosball table is a great pastime or entertainment source such that kids will love this. In fact, any game rooms can be spiced up with this cool foosball table installed. The steel rods offer the best kind of ball hitting techniques in the game due to its simple operation.
The budget pick is the Sport Squad FX40 40″ Foosball Table and measuring 40 x 20 inches in its dimensions, the foosball table is good for hand-eye coordination as a sport or a pastime. It is a good tabletop foosball to consider that does not take long to assemble due to the simple parts and instructions. It includes 2 soccer foosballs with the set.
A Little Background
A foosball table is also called portable football and is a mini-game that can be played at the comfort of indoors. Foosball is a game in which players on both sides of the table control the soccer or football players using the handles to kick the ball into the opponent's goal. It works much like regular soccer or football except that it is in a smaller scale for indoor use and for two players only.
The idea and concept of foosball is to take the action of soccer inside your home or office, which can also be a great workout for your reflexes and your focus. Most office workers have a foosball to help them relieve stress at work while some gaming centers or arcades will also have these mini soccer tables for fun. Because more and more offices demand foosball tables as a form of relaxation, they are easier to find in your local stores.
Foosball is a great instrument to help you relax and sharpen your mind, and it is also a mood booster for work so that employees will feel happy and not stressed all the time. Aside from foosball, some offices even put up ping pong tables because these games are entertainment for adults due to their challenge factor and their fun factor as well.
While foosball is not really a team sport, it can enhance your focus and sense of teamwork as well by controlling the players on the table as you want them to work as a team. Foosball is a stress reliever and it is also a mood booster for adults, so it will naturally keep you motivated for work in a boring office setting. In fact, some unique office spaces integrate their work space along with a wide field indoors for golf, foosball and table tennis among other indoor sports to help the employees relax in their spare time.
People such as managers and CEOs may be worried that foosball can distract employees from productivity but it is actually beneficial for them because it helps them become more motivated and also connected with their peers and fellow employees, much like a team building program outside of the office. If you believe you have arthritis and you need a good source of entertainment or workout indoors then a foosball match may be what you need.
Most beginners spin the rods, but this is actually an illegal move. Spinning the foosball rods will also decrease your chances of catching the opponent's ball more accurately. In addition to that, you might also accidentally break parts of the table if you spin the rods too often. Aiming your foosball is a much better practice than that.
How We Picked
If you choose the best foosball table then you should consider these facts first:
Dimensions or size: the foosball table should have the right size or dimensions that will fit for your spot. If your home or office room has a limited size then you should not get something that is too big or else it will be hard to fit. Some foosball tables are pre-assembled so you should also consider its width so it will fit in your office or home door just fine.
Number of players on the table: consider the teams in the foosball table and count how many players are on each team. This can help you identify which foosball table is much more challenging and which one is for the beginner. Team players need to be made in the same way so as not to cause an unfair advantage over the other.
Easy grip rod bars: having a foosball table that is reliable lies on the easy gripping of the rod bars or otherwise known as the turning rods. They should be soft and ergonomic on the handles yet are made of high quality material (such as stainless steel or simply steel) in the rod themselves. The rod bar's handles should also have specific shapes that matches human hand profiles for you to easily grip it and control the game of foosball (and score a goal).
Table material and durability: consider a foosball table that is made with high quality materials. If the foosball table is made of wood then the wood quality should be fine and of high-grade (e.g. with special coating) so it does not deteriorate (or get infested with termites) easily. If it is made from other materials then it should be temperature-resistant yet durable.
Rod material and quality: having a foosball table that has a good rod material is a plus on our list. We think that having a stainless steel rod set would make it the table last longer and you can even use it outdoors due to the corrosion-resistant properties of the foosball table rods.
Ease of assembly: do consider a foosball table that is easy to put together so that you can save more time and speed up to the game itself. Most of these foosball tables have a user's manual or instructions on how to set it up, and they should be clear and concise with diagrams and pictures as well as labeled and numbered parts. A customer service hotline should also be available in case of missing parts.
Ease of storage and portability: a foosball table that is easy to store and move from one place to another is also a great advantage over other tables because they will be simpler to put away. If you intend to keep one in an office then you can easily store it away when the executives want your office room as decent as possible, or when you're going to meet up with important clients.
Included balls: at the very most, foosball tables usually have 2 to 3 game balls that can be used for the foosball game itself. These balls can get lost easily so there should be a decent storage area for the table as well or a ball catcher.
Fiberboard quality: consider a foosball table that has tough fiberboard built in it. The fiberboard also dictates the overall durability of a gaming table for foosball other than the strength of its table legs, the turning rods and the like. Its fiberboard should be built to last and not easy to tear apart with the constant swinging and motion of the foosball table's rods.
Our Pick

Best Choice Products 48″ Foosball Table
The Best Choice Products 48″ Foosball Table is our best foosball table. It is made with a medium density fiberboard for its structure so it is quite sturdy. At 48 x 24 inches, it is fairly big but not too big for most spaces.
It is a great pastime for children due to its ease of use and playing mechanism. In fact, there is no grease required for the rods so maintenance is a breeze with this reliable foosball table. There are also 2 cup holders for the big boys who often drink beer in their man cave or office rec room.
The foosball table will take 2 to 3 hours on assembly, which is considered normal and average among other tables. It has the ability to hold beers during your match as one of its awesome and easy accessibility features. You can put this foosball table in your favorite entertainment areas such as your man cave or office room or even the family room.
There are no dead spots on the playing field so it is smooth and fair. The foosball table comprises of 2 teams in 8 rows with 11 red and white players each team. An attractive wood veneer finish has been given to make it sturdy yet not out of style. What's more, the rod bars have comfortable grips for you to easily operate them to score a goal.
With a height of 33 inches from the floor, the foosball table has a total of 2 balls included in the packaging. Perfect for dorm rooms, it is indeed very sturdy and it has a surface with less friction for a smooth goal. You can have a game with the family or in the office with this foosball table, which is backed by a is 60 day warranty.
Flaws but Not Dealbrakers
While not really deal breakers, the Best Choice Products 48″ Foosball Table does have a few caveats such as the fact that it can be too small for some adults, but this depends on the size of your hands among many factors.
Step-up Pick

Pinty 48″ MDF Foosball Table Soccer
Our step-up pick for the best foosball table would be the Pinty 48″ MDF Foosball Table Soccer. With over 8 handles and steel rods that are sturdy and easy to control, the result is fast paced action with every single match. It has a fancy foosball table design and it spans at 42 x 23 inches in its play area.
There are also 4 rubber edges present in the table for less impact. You get long lasting fun overall with the design of this foosball table. It has a total of 22 players at 11 for each team and the smooth rotation of the rods will help you feel at ease with every single game. The ABS material football players will be quite durable even through tough abuse from the players.
All of the setup instructions are included for you to put together this foosball table. It also comes with 2 foosballs that are ready to be used. The skid proof material of this table makes it safe to play and the protective rubber also prevents accidents while keeping a steady grip with the table. All of the included steel rods move smoothly to give a good game.
The table legs are built with enough stability so you won't feel wobbling at all. It has a set of comfortable grips to make playing foosball a great ease. The foosball table is suitable for most homes, workplaces and offices and it is not difficult to put together due to the simplicity of the parts.
You get better control of the ball and the players with the design of this foosball table. With only minimal assembly required, the medium density fiberboard of this foosball table is such a durable part for longer playtimes.
Budget Pick

Sport Squad FX40 40″ Foosball Table
Our budget pick for a foosball table would be the Sport Squad FX40 40″ Foosball Tablen it is equipped with ergonomic rubber handles to make it easier to handle during games and matches. It is a compact yet reliable and non-wobbling foosball table to have due to being light weight but sturdy. It is easy to move around in your home space, man cave or rec room at the office.
Bearing great portability so that you can be able to move it from room to room. The foosball table also has 3-man goalie boxes for your custom game preferences. The portability of this foosball table gives you a convenient storage solution overall
It only takes about 20 minutes of assembly time on the average when done with one person. The playing field is made of MDF or medium density fiberboard which is quite durable yet doesn't hinder the game area's smoothness.
You can place this foosball table on a small kitchen table for your indoor gaming needs. The table's chrome plated steel rods are easy to turn and to operate for each match and won't rust easily as well.
Made for rigorous game play, the rubber grooved handles makes this foosball table easy to flip for hours of playing foosball with your officemate or family member. There is also an easy ball return mechanism so you can get to the next turn right away.
Your family can benefit from this foosball table because it will bring the foosball fun with your kids due to the safe materials. Bearing a strong grip, you can use this table when you have guests for entertainment. It also has rubber pads at the bottom legs to prevent floor scratches. To keep you on track in the game, the foosball table has sliding manual scorers as well.
Best Foosball Table that is Weatherproof

Kettler Weatherproof Indoor/Outdoor Foosball/Soccer Game Table
The Kettler Weatherproof Indoor/Outdoor Foosball/Soccer Game Table is a considerable option if you want an outdoor weatherproof foosball table. Measuring a total of 58 x 46 inches, it has a large but tournament playing size with a straight playing surface.
It has a total of five balls included and also has a weatherproof resin to protect it from outside factors. It is also protected with chromium plating to avoid rusting. You can use this foosball table under a covered patio as it is designed to be both an indoor and outdoor table for foosball.
The resin score counters can help you keep in track in the game. There are also a couple of leg levelers to help you balance the table when you set it up on a slanted or uneven ground. Speed is to be expected as this foosball table is made out of a glass playing field. Moreover, the steel telescopic rods provide convenience for the player when it comes down to control and storage.
Built with solid players, the foosball table has great durability and all of the players are molded on the rods. It also comes with regular white balls for you to play with and there are nylon bushings for high speed action game play. The foosball table stands 35 inches from the floor.
It has absolutely no dead spots for a fair game in every single match. There is a ball drop in the mid-field part for easy kick-off during matches. The foosball table only takes 2 adults to assemble in the fastest way possible. Moreover, the high quality laminates makes this foosball table a sturdy one.
Assembly won't be an issue with this foosball table due to the simple parts. What's more, a cover is included for keeping it safe against the elements. Made with a durable cabinet, there are ball pockets to make ball retrieval a breeze. There are also some side and corner ramps to secure the ball.
Best Foosball Table that is Tournament Sized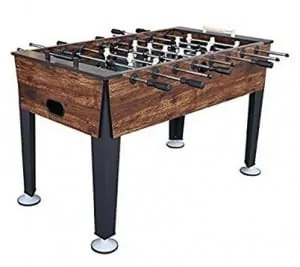 EastPoint Sports Newcastle Foosball Table 54-Inch
The EastPoint Sports Newcastle Foosball Table 54-Inch is our ideal tournament sized foosball table that will give you the best thrilling experience for any game of foosball. The table has a total of 2 foosballs in its set. The design of this table is easy to setup so you can show off your skills right off the bat.
With a competition sized design, the foosball table is a good pick for beginners on a budget and it has a bead style scoring system. It has a total length of 54 inches across so it is of tournament and official size. The foosball table has a capacity of 2 to 4 players.
It has oversized leg levelers for an even playing surface. The foosball table has all hardware included for you to install it as easy as possible. Made with a sturdy construction, the foosball table stands 35 inches from the floor so it is just right for its height.
You can focus on the excitement due to the durability of the table with a luster long finish given to it. Perfect for any family room or gaming room setup, the steel player rods keep you in action for hours as they are sturdy yet easy to turn.
The components of this foosball table are wear and tear resistant so they can last for a long time. The foosball table only requires a room clearance of 10 x 8 feet. You can get a lot of entertainment with this reliable table and have long lasting fun for your matches.
Perfect for man caves or covered patios, the foosball table comes with robo-style players for the player rows. It also comes with player rod bushings for easy flexibility. Made with pretty straight forward instructions bundled to it, you can generate maximum power with the design of the rods.
Also made for kids, the foosball table can help you enjoy fast-paced action from any foosball game and it also keeps you in track of the action due to the scoring mechanism. With only minimal assembly required, you can also convert it to a ping pong table later on when not in use.
Best Foosball Table with a 3-Goalie Design Option

KICK Foosball Table Royalton 55 In
The KICK Foosball Table Royalton 55 In is a good 3-goalie system design for a foosball table that is durable. It has a total of 26 red and 26 blue foosball men for your game needs and it has a slide scoring system for both table ends. It has an elegant design and a flat surface that is even.
The package comes with 6 balls and it also comes with both counter balanced and uniformed men sets. Moreover, the foosball table can only take about two and a half hours for 2 adults to put it together. Having a table that is easy to setup is great so you can spend more time playing the game.
With bearings to help it keep its flexibility, it comes with 8 player rods made of solid steel. The rod quality is important to look at any foosball table because it will define how long the table will last depending on the usage.
The foosball table measures 55 x 30 inches in total and it comes with nonslip handles for a better grip at each game. With a rubber grip to help you stabilize your moves, the foosball table stands at 36 inches in its height and it comes with 4 corner ramps to prevent dead spots.
You can choose between a 1-goalie or 3-goalie design for this foosball table. It weighs about 50 to 60 pounds when fully assembled so it is a compact designed table. Having a compact table helps you to play foosball anytime and anywhere – even at the comfort of an apartment or anywhere that is small.
It is a great table for any foosball enthusiast due to the design. The kit comes with a total of 8 wooden handles and rod safety caps. The wooden handles will help you to hold on to the table while in play and the rod caps can prevent accidents and the like.
Including 4 foosballs for you to play with, there are also 2 stop rings for safety. As a high quality game table, the foosball table comes with sturdy leg levelers for you to play even on uneven ground. With a total of 2 attachable chrome cup holders, it has an unlimited lifetime warranty to back it up.
Best Foosball Table with a Compact Design

Mainstreet Classics 36-Inch Table-Top Foosball/Soccer Game
If you want a totally compact and small design for your apartment for a foosball table then the Mainstreet Classics 36-Inch Table-Top Foosball/Soccer Game might be a great pick for you. It gives you the fun of foosball in a small size with 6 rows of players (2 goalie rows and 4 defender rows).
Kids and adults alike will enjoy this 36 x 20 inches foosball table that can be placed in your game room or even on a man cave. Having a fairly small size means that this table is easy to squeeze onto a dorm room, a condo unit or any apartment space that is quite narrow or limited.
You won't have problems assembling it due to the simple installation. It comes with 2 soccer-style foosball balls ready for action. However, you can also add your own foosballs separately if you want to have more so you don't have to worry about losing them.
Having a sturdy build, your kids can be playing hard with it and it will still be fine due to the quality of the construction. The compact size of this foosball table makes it a great choice if you have grandchildren whom you want to play foosball with, but without breaking the bank.
The easy storage mechanism of this foosball table is also a great factor that makes it ideal for small spaces such as apartments and the like. With a total height of 11 inches, the foosball table comes with 2 manual score sliders that are easy to use.
As a pretty durable foosball table, it comes with dual-end ball returns for you to simply pick up the ball once someone scores a goal. With good portability, you can have fun anywhere with this reliable foosball table. It also does not move around even if it is being played hard so it is stable.
Best Foosball Table for Kids

Ancheer 48″ Foosball Table Professional Soccer
The foosball table Ancheer 48″ Foosball Table Professional Soccer is a great foosball table for kids due to its solid frame and easy installation for any game room. Measuring 48 x 25 inches, the foosball table is made with a medium density fiberboard and it is also made of wood for its finish.
Totaling to 11 red and 11 blue players in its design, you can put it in clubs and gyms due to the simple design and chrome finished steel rods. Good for all ages, the foosball table comes with 2 balls and it doesn't shift or move due to the great design.
This foosball table is perfect for enhancing the hand and eyes coordination of your kids. It has a total of 8 rotation rods that give you an ergonomic grip and give your kids assurance whenever they get into foosball matches. It has a total of 4 rows per team like most tables.
With an inested spring for flexibility without a lot of noise, the bar is easy to control for this foosball table. Okay to use for both home or office, you can easily control the ball due to the extremely smooth movement of the foosball table. Having a smooth movement is important for you to score a goal easier and to prevent faulty movements when you move your foosball men.
It is quite a stable table due to the design of the rods and the feet. In addition to that, the foosball table comes with manual scorers so that players will know how they stand well in the game and in the current match. You can be assured that this foosball table has the quality of those that you see in bars and hotels. The foosball table also comes with leg spanners for safety and to keep the playing surface even.
Best Foosball Table with a Bamboo Laminate

Atomic Pro 56″ Force Foosball Table
The foosball table Atomic Pro 56″ Force Foosball Table is a great table to have if you want a foosball table that is made with a bamboo laminate for the material. It is made up of robot style players for you to fully control and it includes 4 balls in total so you get a nice set of balls in just one packge.
You can help your kids and yourself to have an active play while indoors due to this foosball table. Moreover, feet of the men are grooved for you to easily catch the ball. Measuring 56 x 30 inches, the foosball table comes with an internal ball return mechanism to speed up any match or game play.
As an MDF table foosball table, it has a ball entry system that makes every single match easy. Moreover, you can also customize it by adding led lights to enhance it for a game room or gaming center. The foosball table stands 35 inches from the ground and it has a nifty manual scoring system.
With 3.5 inches for the leg levelers, the foosball table has some rubber octagonal handles as well. The playing field is nice and smooth with 1/2 inch for the playing field surface thickness. Made with chrome steel rods, the foosball table takes 3 to 4 hours of assembly but will be faster with 2 people involved.
Made with heavy duty legs, the foosball table keeps you on track due to the included slide scoring system. With comfortable rubber handles to help you and every player to strike the ball easily, the steel parts makes this foosball table a durable one so you can expect it to last for quite a while.
Best Foosball Table with a Mahogany Finish

Tornado Sport Mahogany Melamine Foosball Table
If you want a foosball table that has a mahogany finish for its material then the Tornado Sport Mahogany Melamine Foosball Table is a good bet. It can accommodate both starters and professional players for its design and level of skill and it also comes with a 1 inch thick cabinet to protect it.
You can use the foosball table for your employees or team at the office for breaks. With a mahogany melamine finish, the foosball table is great a company recreation area due to its great workmanship and quality as well as its adjustable legs.
The foosball table can take up to 4 people or players and it can also be used for bars and pubs. With boot levelers for uneven ground, the foosball table weighs 205 pounds so it is very stable on the ground. It has a professional level design and it comes with black plastic handles for comfort.
The assembly is not complicated at all and it is made with very sturdy rods for ease of control. An end ball return mechanism is also included in this foosball table for easy ball retrieval.
The Competition
Other foosball tables were not included in our list because the turning roods are a bit too hard and stiff to handle, which can be a nuisance when playing the game. It is important for the foosball table to have comfortable turning rods for an easier game play.
Other Frequently Asked Questions
Q: Why do offices have foosball setups?
A: The foosball table is a great pastime and stress reliever for offices and office workers. Playing foosball during breaks can help in workplaces that often have a serious tone or work schedule, so that the employees will have a breather from time to time.
Q: Can foosball tables increase work productivity for office workers?
A: Yes, most office employees actually boost their productivity more with playing foosball from time to time during breaks, as compared to having no time to break at all.
Q: Why should you not spin the rods of a foosball table?
A: While spinning the rods of your foosball table may sound fun, exciting and prompt you to score better, it actually doesn't do much because there are already techniques that help you to score as far as possible to reach the opponent's goal without having to spin, such as a wrist flick technique.
Q: Can foosball help with arthritis?
A: Yes, people with arthritis can benefit from playing foosball because it is a low impact sport or game. Any kind of game that is done on a table top can really help you exercise but not in a suppressing way to hurt your knee joints and the like, as compared to running or walking.
Q: How can foosball become an indoor form of team building for office workers?
A: Team building is an event that office workers and employees have to help them get acquainted well with their fellow employees to develop a sense of teamwork and team spirit.
Q: Where can you buy a foosball table?
A: Most foosball tables can be bought on most sporting goods centers and stores, both online and in the real world. Because a foosball table can come in different sizes, it is easy to store in the comfort of your home or office space and usually easy to setup.
Q: How do you position a foosball table in an office setting?
A: If you lack a place or area for foosball in your office space, you can re-arrange it so that there will be less cubicles and more space for the gaming table.
Q: Where did having foosball and related indoor games in office settings originate?
A: If you've heard of Google headquarters and they way they treat their employees, you will be surprised to see that their headquarters are full of awesome perks, such as nap pods, free meals, interactive indoor games, studio rooms and so much more. Indoor games can help keep employees as happy and as lively as possible in the workplace and this is why many offices around the world have been inspired by Google's unique ideas to include indoor amenities for employees to replace the boring cubicle setting.
Q: Why do most foosball tables have drink holders?
A: A lot of foosball tables are associated with beverages such as beer, and in fact, some offices put mini fridges in their foosball area so that when employees feel like having a game during their break time, they can also grab a nice, cold beer and put it on their foosball table during their match for the ultimate in refreshment, entertainment and stress relief from work.
Q: What is the proper way of handling the foosball table rod?
A: The rod of a foosball table should be gripped just fine – not too tight and not too loose. It should be enough for you to easily swing the rod (but not spin it, as we mentioned above) to score a goal by hitting the foosball. You can also try a handle rolling technique to add more speed to the ball when you shoot it to the opponent's goal.
Q: What is the ideal size of a foosball table if I want a full sized one?
A: The common biggest size of most foosball tables can go for up to 56 inches by 30 inches. This is not the only thing you need to consider – the room should also have a clearance of 7 to 8 feet depending on the size of your foosball table. This is so that you can easily play the foosball table without the rods bumping on the sides of the wall. Having enough room for your foosball game is important because it is a sport or game that requires more space to move the rods.
Q: What is the advantage and difference of the modern foosball man design to the traditional one?
A: The modern foosball man is a new design nowadays for foosball tables in which the feet of the player is slightly pointed instead of being more rounded. They also have cross hatching whereas the old designs don't have them. These features will help the players catch and control the ball even better in the game to score a goal.
Q: What is the ideal weight of a foosball table?
A: Most foosball tables can be heavy depending on the materials that have been used. To keep the foosball table as stable as possible, it should be at least 100 kg or 220 lbs in its entire weight. This allows the table to sit on the floor without being easily moved by the player's actions as they control each rows of foosball players during a game. It will also help to prevent cheating by moving the table from side to side to control the ball.
Q: Why is the goalkeeper important and how do you handle it in foosball?
A: Think of your goalkeeper as an important part of the team, even from time to time that you can't always control it. The goalkeeper can be hard to control but with a proper multitasking technique, you can handle it. This is what makes foosball a great office setting game because it helps us manage tasks easily. Goalkeepers may need to be controlled with just one hand but it takes practice for you to control both the goalkeeper and the players simultaneously.
Q: How do you stop or catch a ball in foosball?
A: With an angle of 30 to 45 degrees for your foosball player, you can easily catch the ball to prevent it from going into your goal. Having a straight player will only prompt the ball to go back to your opponent instead of catching it. If you catch the ball in foosball then you will have more opportunities to pass the ball from one row of players to another, resulting in a chain reaction to help you score a goal, much like in real life foosball (and also in other ball-passing sports like volleyball and basketball).
Q: What is the long pull shot and why is it an advantage?
A: The long pull shot is one of the coolest techniques that you will ever learn from foosball. It is an advantage because the defending side will have to go to one side of the goal to defend it but will lose their guard on the other side or even leave the goal unguarded, causing an advantage for you.
Q: What other shots can be done with foosball?
A: The foosball table is open to various other shooting techniques, such as the mirror shot, which is closely watching the goalkeeper and defenders and then flipping the shot back when they try to pass or shoot. There is also the bank shot which might involve some knowledge with physics for you to use in a certain game situation.
Q: Is foosball also an official tournament sport?
A: Yes, a lot of foosball tournaments are held all over the world in both singles and doubles, so you can compete in such tournaments if you think you've got what it takes to score many goals. Foosball is a rigorous sport which prompts a lot of mental and physical prowess.
Q: What is the wrist flick and why is it an advantage?
A: The official foosball games and tournaments usually don't allow spinning of the rods, so you must master the wrist flick technique, in which you use the middle row of players in your team and the middle man in that row. It involves a snapping wrist movement to effectively shoot the ball towards the goal.
Q: What's the best way to play an offensive side in foosball when you want to score a goal?
A: The passing techniques should be polished when you want to score a goal in foosball if you play offensively. You should act fast and try to focus on the goal but try to take it slow and not get too worked up with shooting to the goalie all the time.
Wrapping It Up
Overall, the Best Choice Products 48″ Foosball Table is our best foosball table due to its 48-inch length that will fit most homes and offices, its easy installation and decent amount of rows and players in the table itself.
Jen Miller is a former electrical engineer and product specialist with more than 20 years of product design and testing experience. She has designed more than 200 products for Fortune 500 companies, in fields ranging from home appliances to sports gear and outdoor equipment. She founded Jen Reviews to share her knowledge and critical eye for what makes consumers tick, and adopts a strict no-BS approach to help the reader filter through the maze of products and marketing hype out there.  She writes regularly and has been featured on Forbes, Fast Company, The Muse, The Huffington Post, Tiny Buddha and MindBodyGreen.