The Fat Cat ElectronX Soft Tip Dartboard is our best electronic dartboard that is meant for all ages. It has a couple of built-in slots for dart storage on the doors that keeps 12 darts in place so you can store them in the smartest way possible. With over 167 scoring options to choose from, you will feel challenged and excited with this electronic dartboard.
Our step-up pick is the Arachnid Cricket Pro 800 Electronic Dartboard and featuring large X/O displays for cricket games, the electronic dartboard also comes with a solo play feature for those who just want to train. It has a ton of games such as '01s, cricket variations, round the clock, shanghai, golf, baseball and many more.
The budget pick is the Hathaway Magnum Electronic Soft Tip Dartboard and it is a great activity for the kids due to its simplicity and straightforward design. With a tournament-quality design, the electronic dartboard comes with highly responsive sensors so you feel confident with fewer bounce-outs, which can result to more entertaining games and better scores.
A Little Background
Playing darts has many benefits, such as hand-eye coordination, which is very important not just in sports but also in various life situations such as work or school. You also exhibit a good stance so that your throw will be just right from your distance to the target, which can help improve your posture as well as your legs.
In the same way, office workers can find it as a stress reliever while kids and their parents can have a good bonding time when playing darts because it's fun, exciting and promotes hand-eye coordination for children. Darts is a game of both the mind and the body because you need accuracy and strategy at the same time to hit the target.
An electronic dartboard is a kind of dart board game that uses electronic scoring rather than manual scoring. Instead of the traditional way of striking the dart onto the board, the electronic dartboard has holes in which a soft tip dart can go into, thereby counting the score.
The scores of a dart board are known through the numbers around the circular board. The outer regions are the doubles while the inner regions are the triples, which can either double or triple the score, leading to less moves in one game.
Electronic darts are popular because they are safer than regular darts that have sharp tips, in contrast to the soft tip of the electronic darts. Electronic darts are also larger on their boards, making them more ideal for beginners and casual players, both at home or in the arcade. Most of these dart boards can be screwed to the wall or back board of your home or establishment.
The main purpose of an electronic dartboard is to act as an alternative darts game to traditional dartboards, in which the dart tip might cause injuries. Kids who want to play darts but are at risk for such potential injuries can use an electronic dartboard so they can have fun and enjoy playing the sport and game.
Traditional darts can have a tip made of copper, brass, tungsten, silver, nickel among others, and are usually heavier than electronic darts, which may sometimes be made of plastic but may also be made of copper, brass and the above-mentioned materials. Soft tip or electronic darts go into the electronic dart board using the holes in it.
There are actually electronic dart board tournaments that happen in some countries. The good thing about these tournaments is that the dart board itself will keep your score, without having to manually compute them (although you still have to compute your next move to score properly).
How We Picked
When you pick the best electronic dartboard, you might want to consider the following factors:
Scoring styles: most electronic dartboards have a plethora of scoring styles, which make the game of darts even more challenging and adjustable to any skill level of player. The number of scoring style can also be in tune with the number of games present in the system of the electronic dartboard.
Display quality: usually made with LCD screen displays, the quality of the display of the electronic dartboard should be considered so that the numbers and the scores can be easily seen. Having a clear and crisp display even from 8 feet away (the required throwing distance for darts) is important so that you will know your current score easily.
Housing durability: made of ABS or similar material, a good electronic dartboard should be durable, since it is a sport and game equipment. Consider an electronic dartboard that has been built with a high quality ABS material and that the holes on the housing will fit well on the soft tip darts – not too tight and not too loose.
Choices of games: do consider a electronic dartboard with various scoring and game options, such as 501 and 701 dart games. Having a wide choice of game systems and score styles for a electronic dartboard is important to keep the players from getting board. If you want an ultimately flexible electronic dartboard for various occasions then do include the number of games as a criteria for picking.
Number of darts: know how many darts come with the electronic dartboard. Usually, these darts are soft tip types, which will go through the board and caught in the small holes of the electronic dartboard. The number of darts in a board can help you tell if it is the right electronic dartboard for you depending on how many players will use the board.
Safety features: a good electronic dartboard should have safety features such as blocking the darts from hitting other surfaces outside or a dart catcher, in case the dart does not stick well to the dart board. Having safety features like these would be great because it will ensure that the electronic dartboard cam be a safe game to play, especially for the kids and youngsters.
Size of the dart area: a bigger dart area for the electronic dartboard would be more ideal for entry-level game play or for the kids. A dart area that is bigger in dimensions means that it is easier to hit and also clearer to read, especially for people with slight vision problems but want to play the electronic dartboard. You should also consider where you want to put the electronic dartboard to find the right size for your best needs.
Portability: do consider a electronic dartboard that is easy to transfer from one place to another. This is especially the case if you want to play darts outdoors or on different rooms. Most electronic dartboards can be large in size but still lightweight enough to carry and handle.
Power: most electronic dartboards can run on AA batteries so it is pretty easy to find a battery for them. Most AA batteries can be found in stores and are easy to install and you can even try using rechargeable batteries on them. The electronic dartboard should not consume too much power so that it can give you more than hours of entertainment.
Number of players: do know how many dart players can be able to use the electronic dartboard at once. Most bigger and higher-end electronic dartboards can be able to accommodate up to 8 players at once.
Our Pick

Fat Cat ElectronX Soft Tip Dartboard
The Fat Cat ElectronX Soft Tip Dartboard is our best electronic dartboard which has a total of 38 games in its system for you to play. Since there are many dart games and rules around the world, having a lot of games can be a handful for you not to get "board" (pun intended).
The board diameter is at 13 inches which is the right size for most dartboards. Made with an ABS cabinet, It is also made with durable thermoplastic for the construction of the segments so it will last for a long time. It also has an attractive looking cabinet.
A cyber play option is also available for this electronic dartboard, making it more challenging. It has a total of 6 darts in the package (although the storage can store up to 12 darts in total). With an easy to read control panel, the electronic dartboard comes with the mounting hardware that is needed.
With 11 silver buttons for navigation that work responsively, it has a total of 5 skill levels so it is applicable for various people as well as for kids. You can also play cricket on this board due to its various games. It can accommodate up to 8 players in its design.
There are indicator lights on this electronic dartboard so you can find out its status such as the battery levels. It comes with an AC power adapter for easy charging and it also has quick shortcuts to a 301 game or a 1 match game so you can quickly start off playing.
Made with concave segment holes that fit perfectly with the darts, it also comes with 6 spare tips. With a sufficient surface area that is suitable for legal tournament and practice, bounce outs will be prevented using the thin spider.
With an LCD front display that is easy to read, the cabinet design protects it from the elements. You can also play against the computer with this electronic dartboard. The unit is backed by a 1-year warranty for defects.
Flaws but Not Dealbrakers
Some flaws but not really considered deal breakers to say about the Fat Cat Electronx Soft Tip Dartboard include the fact that there are some reports of mounting hardware not present, but that is only a case-to-case basis and they can be easily replaced with hardware store counterparts.
Step-up Pick

Arachnid Cricket Pro 800 Electronic Dartboard
The Arachnid Cricket Pro 800 Electronic Dartboard is our step-up pick and it stands sturdy for many dart games as much as possible. You will find this electronic dartboard perfect for almost any location and a game manual is included with it.
With a lot of playability at hand, this electronic dartboard also has a current player indicator so you can feel at ease when you go for a multiplayer mode, especially with a larger group of friends or players or with the family.
It comes with a total of 6 soft tip darts and a board that is of regulation size at 15.5 inches. With a target area that is greatly designed, there is also a volume control for the electronics of this dart game board. The large LED score display can be seen from far away, making it easy to tell scores.
The electronic dartboard contains a total of 39 games and there are also 3 levels for its unique heckler feature. The red, black and yellow classic style colors gives a traditional yet lively design for this electronic dartboard.
There are a total of 7 cricket games in this system so you won't get tired of the same cricket game. With a smooth operation for the game and option menus, the electronic dartboard is built for your home or gaming area due to its decent size.
As we mentioned above, there is an interactive heckler system to mimic crowd cheering to motivate the player. With micro-thin segment dividers that easily catch your darts, the mounting hardware included are all of good quality.
It can take up to 8 players and it even has 179 variations for the games of this dartboard. There is also a sleep mode and reset so you can conserve its battery life. There are also a couple of extra dart tips for spare and emergency purposes.
With an AC adapter for wall charging, the electronic dartboard is built with nylon-tough segments which cannot be easily broken down due to regular play. It is also backed by a 1 year warranty against defects.
Budget Pick

Hathaway Magnum Electronic Soft Tip Dartboard
Our budget pick is the Hathaway Magnum Electronic Soft Tip Dartboard which is also a cool dart board for its number of games and operations. In addition to that, the design of this electronic dartboard gives you less bounce-outs. It has a dart board diameter of 15.5 inches so it's a regulation sized board.
There is also an on-board storage for darts to easily store them when you are no longer using them. It has fairly good durability and it can directly installed onto your drywall due to the included materials. Being lightweight and portable at less than 7 pounds, it is fun for the family due to its features.
It can be powered through electricity or 4 AA batteries which makes it convenient. Including 2 sets of soft tip darts with total of 6 darts (3 in each set), it has concave segment holes to make it easy to stick your darts. It is portable such that you can carry it from place to place.
The clear LED screen display makes it intuitive and a nice dart board to use with the kids. Giving you a fewer bounce-outs in general, the scores are counted correctly most of the time due to its accuracy. With over 90 game options, the electronic scoring helps a lot in math errors and to save more time.
With a bounce out button and a push button control panel, there will be no more worrying about subtraction errors due to the electronic scoring system. You can also get some additional darts for it to expand the dart board aside from the included darts that are in place.
It only weighs around 5 pounds so it is pretty portable. It is also easy to setup and hang onto any wall or area for a fun playing experience. Accommodating up to 8 players in its size, the electronic dartboard can take up to 20 games. It is also backed by a 180-day limited warranty.
Best Electronic Dartboard with Online Connectivity

Guz Sigma Online Battle Dart Board
The Guz Sigma Online Battle Dart Board is our ideal online electronic dartboard that brings fun sport of darts together with the latest in technology. It gives you a game history record for your personal best so you can share your achievements with your friends.
This electronic dartboard can adhere to international dart rules due to its built-in game system. It is perfect for maintaining a healthy lifestyle for yourself or for your family and friends. Because of the electronic scoring, even if you have no idea how the scoring works, it will be just fine.
Great for the family, it is easy to setup and only requires you to charge it with the USB power cable. The electronic dartboard is suitable for both home and office use and is okay for both indoor and outdoor use as well, so you can set it up for a birthday party.
Both professionals and beginners can be able to use this electronic dartboard just fine with the free guz board app which supports iOS and Android platforms. You can even use the app for LED lighting control and connect via Bluetooth or smart TV to go for online battles and such.
This great training dartboard can help you with online battles due to its interactive system. Being light weight at only 5.38 lbs, the electronic dartboard already comes with 2 sets of soft darts at 14 grams each but you can add your own darts as well.
With its automatic scoring system, you can enjoy the game of darts with the electronic dartboard as it can take up to 8 global players for the online tournaments. Being easy to install with hanging screws included, all the tools are included for installation.
Moreover, all accessories are with this electronic dartboard for you to put it together and to have fun in playing darts. It also has a decent global rating system to help you post your results and see what other people have achieved so far.
The way to challenge online darts players is not far behind because of this awesome electronic dartboard which can be a great pastime for reunions and parties. The easy installation guide will get you playing darts in no time.
Best Electronic Dartboard with a Bluetooth Feature

Gran Board Lite Bluetooth Electronic Dartboard
If you want a Bluetooth enabled electronic dartboard then you can go for the Gran Board Lite Bluetooth Electronic Dartboard which is a soft tip dart board that has a standard 15.5 inches board face. Its low energy Bluetooth is power saving and eco-friendly.
This electronic board has a lot of different games to choose from and it can take up to 18 grams of maximum dart weight. All of the darts stick well in the holes of the face and the unique Bluetooth feature lets you play wirelessly with other players.
Giving you player details, the electronic dartboard also comes with several extra tips. It is a dart board that is not too loud so it will not wake up or annoy the neighbors or the other tenant if you're in an apartment. It runs on 2 AA Batteries for its power.
You can use the electronic dartboard for practice or even play live against players. It has a cordless installation so it is easy to put together and lot of fun to play with. It has a total of 6 darts that came with the board which are lightweight.
Anyone can challenge players all over the world with this electronic dartboard as the batteries last a long time for more games and more fun. It is also pretty easy to remove the darts so you can get to the next turn right away. It easily computes your averages for the game scores due to the electronic system.
The electronic dartboard is compatible with iOS, Android and Smart TV so you can use it with your iPad and iPhone and will most likely link up very well with your phone or device so it is great for its connectivity aspect.
In addition to that, the design of this electronic dartboard will produce almost no bounce outs so it will mean more time to play and less time to pick up a fallen dart. This is highly important if you want to consider a electronic dartboard that reduces bounce outs.
The easy power button switch for this electronic dartboard also makes it simple to turn the unit on and off. Overall, we think that this board is a great pick for those who want to compete in online darts against players.
Best Electronic Dartboard with a Built-In Camera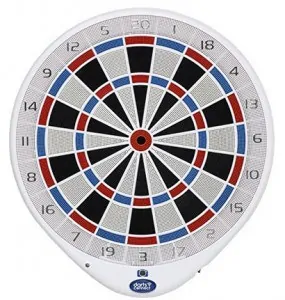 Darts Connect Online Electronic Dartboard White
The Darts Connect Online Electronic Dartboard White is our go-to unique electronic dartboard pick if you want one that has a built-in camera to let you see the other player. Measuring 15.5 inches in its playable face, the board is suitable for both amateurs and professionals alike.
Bearing a good elastic recovery, the electronic dartboard comes with the hanging strips needed to affix it to your wall or area. It is a nice soft tip board that is completely wireless in its light weight design so it is easy to install. It is also made with tournament-quality in mind for durability and standards.
With a global league table function to play against others online, it is a quality soft board that will fit well in the lobby of your office, hotel or home because of its sleek design. As an electronic dartboard, it is significantly quieter than other boards (with rarely audible noise) due to the double layer EVA material.
The electronic dartboard also has unique downloadable animations in the online store which adds spice to the dartboard itself. It is applicable for both Android or Apple smart devices through a mobile app. The board only weighs 2.6 kg so it is an easy setup and portable board to have.
You can play darts against somebody else with this electronic dartboard and you'll see every move that your opponent makes and know if someone is cheating with the wide angle camera. It conveniently links using WiFi to get you matched up with another player online.
The mechanical switch of this electronic dartboard has a simple operation. You can put this electronic dartboard in your living room, bedroom or any other room. With a simple user interface, it makes this board a friendlier game to play with the kids as well.
There are a total of 3 hanging holes in the electronic dartboard so that you can install it easily. The design of this electronic dartboard might suit everyone's needs due to its wide range of options. Giving you a fair and transparent darts game due to the camera, it prevents cheating as well.
You can challenge anyone to an online battle with this electronic dartboard. Powered by a USB cable or 4 AA batteries, you can also unlock new game modes with this dart board and then challenge darts players anywhere and anytime.
Best Electronic Dartboard with a Storage Cabinet

Goplus Professional Cabinet Electronic Dart Board
If you want an electronic dartboard that has a cabinet enclosure then the Goplus Professional Cabinet Electronic Dart Board might be a good pick for you. It comes with a total of 12 darts, which is significantly more than most dartboard packages out there. Having a lot of darts is important in any electronic dartboard so that more players can play and you can also avoid having to pick up the darts all the time from the board itself.
With lots of games to choose from, this electronic dartboard is quite entertaining due to that factor. There is also a progressive cricket scoring display for all your cricket needs. It has a total of 27 games and it measures 13.5 inches for its target face so it is still of regulation size.
As a complete set of an electronic dartboard, it comes with soft tip darts. It can be displayed in your game room and it even has over 216 game variations to maximize your game time. It comes with an AC plug for you to power it up in place or to charge the 4 AA batteries as well.
The electronic dartboard also comes with a total of 12 replacement soft tips for the inlucded darts. Taking up to 8 players, it has a sleep mode for power saving after 10 minutes of inactivity. Moreover, the segments have automatic scoring because of the fact that it is an electronic dartboard.
With an LCD screen display, the regulation size of this electronic dartboard makes it a worthy board to have for its game features. It is powered by a total of 4 AA Batteries which you can provide yourself. There is also a power adaptor and user instructions included with the package of this board.
The electronic dartboard is also built with a heavy duty cabinet to protect it from damage and to keep things as organized as possible. The electronic dartboard can be used in your basement or any kind of gaming area to serve as an entertainment source for you and your guests.
A total of 8 players can play on this board so you can have fun with the whole group with this electronic dartboard. It also has in-board dart storage which makes it a great organizing mechanism for your darts game when it is not currently in use.
Best Electronic Dartboard for Heavy Darts

Eagle Dart BlueTooth4.0 Luminous Electronic Dartboard
If you want an electronic dartboard that can take even heavy darts then you might want to choose the Eagle Dart BlueTooth4.0 Luminous Electronic Dartboard as it can take darts up to 22 grams in weight. This electronic dartboard speaks of a sturdy build quality so it is made with the tournament minded people and players in mind.
This is an app driven electronic dartboard so you can play against other players online with the use of your phone or device and challenge others as well. Due to the live online play system, the electronic dartboard is quite interactive for you to play your favorite '01 games such as 501 or 701 darts.
The electronic dartboard has a standard size at 15.5 inches so it is okay to use for practice or for official tournaments as well. It is powered by either an A/C Adapter or 2 AA batteries and connects wirelessly with the use of Bluetooth 4.0 for its technology.
With easy hanging instructions, the electronic dartboard can be setup in no time so you can get to your favorite cricket games in a breeze. There are also LED lights on the numbers that signify that it is a bright, clear and crisp electronic dartboard to have when it comes down to the display. It only requires at least iOS 8.4 or Android 4.3 versions for your phone or device.
Best Electronic Dartboard with a Team Play Function

Viper 777 15.5 Target Electronic Dartboard
The Viper 777 15.5 Target Electronic Dartboard is our ideal team play enabled electronic dartboard which can take up to 8 players at once. There are voice over options in this unique dart board which add interactive play and it also has a tournament size of 15.5 inches.
There are over 320 variations of your favorite games (up to 43 games) and you can also customize it with 201 options to add flavor to your dart experience. The thermal resin material in the segments helps you reduce the number of bounce-outs and give you a better playing experience.
A thin spider also makes it better at catching shots. It also has a score keeper for cricket and has a stylish LCD screen for the scoring system. This luminous electronic dartboard has an intrinsic design so it is quite attractive for almost any room that you have in your office or home.
Best Electronic Dartboard for an Arcade or a Gaming Center

Shelti Eye-2 Coin-Op Electronic Dart Board
The Shelti Eye-2 Coin-Op Electronic Dart Board is a great arcade or coin operated electronic dartboard which has a full LCD screen menu interface and a T60/30 target. It is also portable despite being a coin-op device. It has a 3/4 inch style cabinet for its housing. You can have a really great playing experience with the use of this electronic dartboard and play your favorite count up games as well.
When it comes down to the setup, the electronic dartboard includes the mounting template that is required for you to put it together to the area of your choice. An easy to setup electronic dartboard means that it will take less time for putting together and more time actually playing darts.
The Competition
The other electronic dartboards that were not included were too small for most people and had reports of malfunctioning parts, especially for the display. It is important to have a fully functional electronic dartboard so you can enjoy a good gaming experience with electronic darts.
Other Frequently Asked Questions
Q: How do you win at darts?
A: It depends on the game rules but the general rule (for the common x01 or '01 games) is every player starts with a score of 501, in which the player must empty that score with the fewest possible moves by hitting the dart board with the corresponding score. Some games may come in the 701 variation as well.
If you are bad at playing darts, don't always go for the triple 20 (which equates to 60) to speed up the game, because it can be impossible to hit sometimes, unless you are very accurate. Consider treble 19 or similarly large score areas instead.
Q: What is the advantage to having electronic darts?
A: Electronic darts have been popular since the dawn of the electronic game industry. The soft-tip or electronic darts game is an alternative to the traditional game, and can be portable while being electric.
Q: What is the required height of the dart board from the floor?
A: The dart board should be set at least 5 feet and 8 inches from the floor to make it as level as possible with the player. This is also the official measurement from the floor as dictated in official darts games. The 20 wedge should be at the top when you position the dart board.
Q: What makes regular darts different from electronic darts?
A: The tip of the dart is what sets apart traditional and electronic style darts. The traditional ones are the ones with sharp edges because they need to land on the felt board of a traditional dart board. However, electronic darts have a soft tip that only lands onto the electronic board surface to hang on to the board.
Q: Where can electronic dart boards be found or used?
A: Almost any person can have an electronic dart board installed at the comfort of their home, but most of them will be seen in casinos and gaming centers, which are usually coin-operated. Like traditional darts, there are also tournaments held with the use of an electronic dart board.
Q: Who can play darts?
A: Anyone can play darts whether you are an office worker or a competing athlete. Darts is a sport or game that can be anyone's game, depending on the difficulty level. Electronic darts can be safer for kids and for work environments because they have less dangers due to the soft tip dart design.
Q: What skills will I improve when playing darts?
A: Aside from throwing skills and hand-eye coordination, playing darts can also help you have mental relaxation, focus, self-control, strategic skills, self-esteem and most importantly your math skills. Playing darts require you to do some math because of subtracting your score from the 501 or 701 initial score.
Q: Are there electronic darts tournaments around the world?
A: Yes, electronic darts tournaments can be found locally or even internationally depending on the tournament's scale. Much like traditional darts, a couple of tournaments about electronic darts are already being held around the world.
Q: Are darts a great stress reliever?
A: If you're angry and stressed from work, school or some unfortunate event, the first thing you want to do is to throw a sharp object into something to ease your anger – and that's what darts is. Most people play darts to take away their frustration and anxiety into the dart board. This is also why you'll see most movie scenes with a character throwing a dart to a person he or she is angry at, to express his or her rage. You not only relieve stress with darts but also learn to be more accurate by hitting the target.
Q: How much do soft top and steel tip darts weigh in general?
A: The weight of a dart depends on where it is intended to be player. Traditional darts that have sharp, steel tips can be from 20 to 30 grams while soft tip darts that are meant for electronic darts are ideally 14 to 16 grams in weight. This is why darts with soft tips are for beginners and casual players alike because they are generally lighter than steel tip or traditional darts.
Q: What parts of the body are exercised and improved when you play darts?
A: Your eye muscles definitely improve because you tend to become more accurate when throwing the dart into the distant target. Moreover, your arm and hand muscles get more control, strength and endurance when you practice hitting a target.
Q: Why don't some people like electronic darts?
A: While people from the U.S. and other countries love electronic darts, they aren't always popular. Traditional dart players who are mostly from the UK believe that the traditional way of hitting the dart board is still the best way to play the game or sport. It is also probably because darts have originated in the UK and thus they mostly don't feel good about the game being converted into a modern style using soft tip darts.
Q: Which organization oversees the rules of tournaments for electronic or soft tip dart boards?
A: The National Dart Association is responsible for soft tip dart board tournaments as well as steel tip or traditional dart board tournaments. The NDA promotes the rules and regulations as well as gives access to tournaments for sanctioned players, both nationally and internationally.
Q: What are the '01 or x01 games?
A: The x01 or '01 games are the most common darts rules that people know about. It is usually a game of 501 or 701 initial score (as mentioned above) and can also vary with 401 and so on. The finishing move of these games usually require you hitting on a double area.
Q: Aside from the x01, what other dart board games can be player on a dart board?
A: A dart board can be used for different kinds of games, such as the ever-famous cricket, baseball, shanghai, round the world, killer and much more. These various dart games have different corresponding rules and regulations.
Q: What is the flight in the dart and what are the requirements for it?
A: The flight of a dart is the back part which causes the dart to take flight using aerodynamics when you shoot it towards the target board. The requirement of the dart flight is 3/4 inch on its width and should have 4 wings or less to be qualified under most tournament regulations, such as those officially sanctioned by the National Dart Association. Flights can also be as long as 8 inches in their total length or less.
Q: What is the killer game in darts?
A: The killer game is a darts game which is played by 3 people and in which the main objective is to be the last person standing with a life on the game's score board. The killer game involves a lot of throwing into the doubles of the board, which improves your accuracy. Each player is assigned a number, in which the killer must hit that number's double panel to take a life from that person.
Q: What is the around the clock game?
A: The around the clock or also known as the 180 or the around the world game, is a darts game in which you get 3 darts for each number panel at 1 point each and your aim is to score on the treble (or triple) for 3 points, but double areas only score 1. The perfect score on this game is 180 which makes up the name, because 180 will be your total score if you hit all 3 darts on all of the number panels on the trebles.
Q: What is the cricket game in darts?
A: The cricket game is a common game that you often see at pubs due to its simplicity and popularity. The goal is to hit all parts of a number panel: the white/black, the double and the triple or treble part. It makes the use of numbers 15 to 20 with the bull's eye and are usually assigned in a board for scoring if in a traditional dart board game.
Q: What are the common sizes of dart boards?
A: Dart boards can vary in size depending on your game needs. Electronic dart boards usually have 13 to 15 inches of diameter while hard tip regulation boards can be up to 17 inches. However, the playable area of the hard tip or traditional dart board is notably smaller at only around 13 inches compared to the playable area of electronic dart boards or soft tip regulation boards, which can be up to 15 inches.
Wrapping It Up
Overall, the Fat Cat ElectronX Soft Tip Dartboard is our best electronic dartboard which has up to 38 games with variations, adjustable skill levels and segment holes that reduce bounce-outs significantly.
Jen Miller is a former electrical engineer and product specialist with more than 20 years of product design and testing experience. She has designed more than 200 products for Fortune 500 companies, in fields ranging from home appliances to sports gear and outdoor equipment. She founded Jen Reviews to share her knowledge and critical eye for what makes consumers tick, and adopts a strict no-BS approach to help the reader filter through the maze of products and marketing hype out there.  She writes regularly and has been featured on Forbes, Fast Company, The Muse, The Huffington Post, Tiny Buddha and MindBodyGreen.