Our pick for the best cordless drill is the Dewalt DCD771C2 20V. The Dewalt DCD771C2 emerged as the best owing to how easy it is to handle and control. It is also lightweight and performs well in limited spaces. It is ideal for both DIY tasks and professional use.
Our step pick is Hitachi DS18DSAL, which is a lightweight, compact, cordless drill that performs optimally in both small and big tasks. It is ergonomically designed, giving you a near perfect user experience.
Our budget pick is the Black + Decker LDX120C which is reasonably priced and is suitable for drilling into a wide range of materials. It is also ideal for all screwdriving tasks.
A Little Background
Cordless drills are electric drills which are powered by rechargeable batteries instead of being attached to a power source through a cord. They are suitable for both DIY works and professional use. Since they do not have the limitations brought about by a cord and availability of a power source, cordless drills are portable and easy to use even in the tightest angles.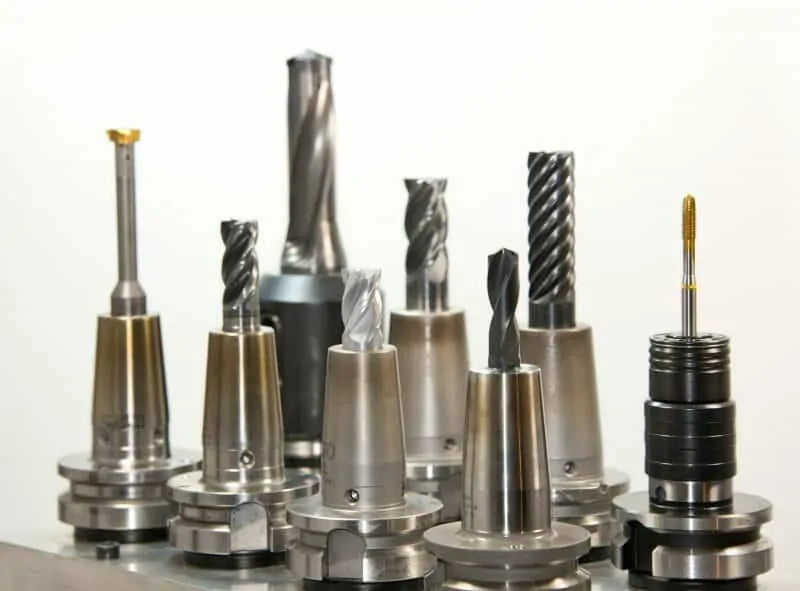 Different drill bits are used for different tasks.
Though the main intended function of cordless drills is to drive screws and drill holes, the best models can be used for more applications, such as cutting and mixing. All you need to do is to change the bit to suit whatever task you want to perform with your tool. There are different bits for drilling and screwing. You can also attach cutting and mixing tools to your drill chuck.
How We Picked
When coming up with this best list, we tested several models to see how they fare in different parameters. Some of the factors we considered include:
Batteries: Since cordless drills are powered by a rechargeable battery, you want something that will allow you to work for extended periods of time without having to take frequent charging breaks. It should also be able to get to full charge in a short period of time. Most modern models are powered by Lithium ion (Li-ion) batteries, which are much lighter and powerful. Generally, the higher the voltage of the battery, the more powerful the tool will be.
Torque: This is the amount of force applied to twist a drill bit or turn a screw. The higher the torque, the better your power tool handles complex work such as boring holes through metals or wood or driving lag screws. Different models come with different speed settings and clutch settings which enable you to control the speed at which you drive or drill. The best models are equipped with computer technology which automatically controls levels of torque depending on the demands of the task at hand. This is a great feature since it protects your tool from getting damaged.
Weight: The weight of your power tool is an important factor that you shouldn't overlook. The lighter the tool, the more portable and easy to use it is, even in awkward positions. The best manufacturers design their brands to be small and compact, with reasonably high torque and high Ah batteries. However, the heavier the machine is, the more torque and battery life it generally has.
Chuck Size: Chuck is the side which holds the bit and determines the size of bit shank that your cordless drill can take. Chucks come in various sizes, with the most common being 1/4, 3/8 and 1/2 inches. 1/4 inch is ideal for most household light duties. The chuck size also helps you to determine how powerful the machine is. The bigger the chunk size, the more powerful the machine is.
Charger and Charge Indicator: Most of the early Li-ion batteries needed to be used and charged under controlled environment to ensure they performed at optimal levels. However, with the continued evolution in technology, recent generations of chargers and batteries have the ability to prevent overcharging, eliminating the need to drain the battery completely before charging. The chargers have indicator lights which show the percentage of the battery. Some of the best brands even have an indicator light on the battery itself.
Comfort: The best tools are ergonomically designed in order to allow you to comfortably handle and balance the power of your tool against the surface you are working on. The best brands are equipped with brushless motors which sense resistance and reduce friction on the material you are working on by continuously adjusting the amount of power the battery transmits. This in turn increases the power and durability of the machine.
Our Pick
Sale
Our top pick for the best cordless drill is the Dewalt DCD711C2. This cordless tool has an aesthetically and ergonomically designed body. It is both compact and lightweight, making it an effective tool for working in tight areas. The DCD711C2 is quite powerful, with a motor of 20 volts that is capable of transmitting 300 units watts, making it ideal for a wide range of applications.
The Dewalt DCD711C2 20v has two high speed transmissions which you can set it to operate at. The first one is 0-450 revolutions per minute (RPM), which is the best setup for precision drilling. The other one is 0 – 1500 RPM, which is best used for hard surfaces like masonry. It is also equipped with a 16 clutch setting which allows you to control the force which you apply, helping prevent accidental damage of delicate materials or surfaces.
The Dewalt DCD711C2 20v is made of steel, making it durable and perfect for use on hard surfaces. Its pistol shape makes it easy to handle and operate even with a glove on. It also has rubber bumpers which prevent the cordless drill from damaging your work once you place it on the sides. The speed switch is also strategically placed on the sides, making it easy for you to adjust the speeds using your thumb.
We also liked how the ½ inch single ratcheting chuck locks tightly click by click and doesn't loosen up even when holding tiny and thin bits. It is also equipped with LED light which stays on for up to 20 seconds after releasing the trigger, in addition to a bit holder and removable hook which are located right above the battery.
Dewalt DCD7711C2 Specifications
Chuck Size
½ inch
Clutch Settings
16
Chuck Type
Keyless
No Load Speed
0 – 450 RPM $ 0 -1,500 RPM
Variable Speed Settings
2
Flaws but Not Deal Breakers
The only concern we had with the Dewalt DCD711C2 20v is how quickly the batteries drain. This is isn't a major flaw if you are light DIY worker, as the motor transmits enough power and torque to complete a wide range of applications within a short time.
Our Step Pick
Our step pick is the Hitachi DS18DSAL, which is a lightweight, compact cordless model that weighs just 3.5 pounds and stands at 7.7 inch in length, making it easy to use and handle for long hours. This powerful machine is powered by 18-volt lithium batteries and produces high torques of 460 in/lbs, making it one of the best picks for tough jobs on surfaces such as masonry and hardwood.
The Hitachi DS18DSAL comes with an impressive speed trigger which allows you to set speed from 0-350 RPM or from 0 – 1500 RPM, giving you versatility in your job. This tool has a 22 clutch setting, allowing you to switch speed while working for precision driving and to prevent accidental damage of materials due to high torque. It also has a brushless motor which detects resistance and adjusts according to the task by drawing the required amount of power from the battery thus increasing efficiency.
The Hitachi DS18DSAL comes with two lithium-ion batteries which are powerful, lightweight and long lasting. This model allows you to switch between the two batteries in case one dies in the middle of a project. The best part is that the batteries take about 40 minutes to be fully charged. Unfortunately, unlike the Dewalt 20v, the Hitachi DS18DSAL doesn't have charge indicators or a battery meter to show you the battery charge percentage.
The DS18DSAL is also equipped with LED light to illuminate your work surface, ensuring greater precision even when you are working in dark environments. It also comes with an extra Hitachi UB18DAL Lithium-Ion flashlight, which allows you to position it into five different positions. The flashlight can stand alone and can be aimed direct to the point you need light. It is equipped with a shoulder strap which allows you to easily and comfortably carry it and has low battery indicator to ensure you do not run out of power mid-use. The DS18DSAL has a 1/2-inch keyless ratchet metal chuck which allows you to change bits quickly and easily using your hands, giving you more flexibility.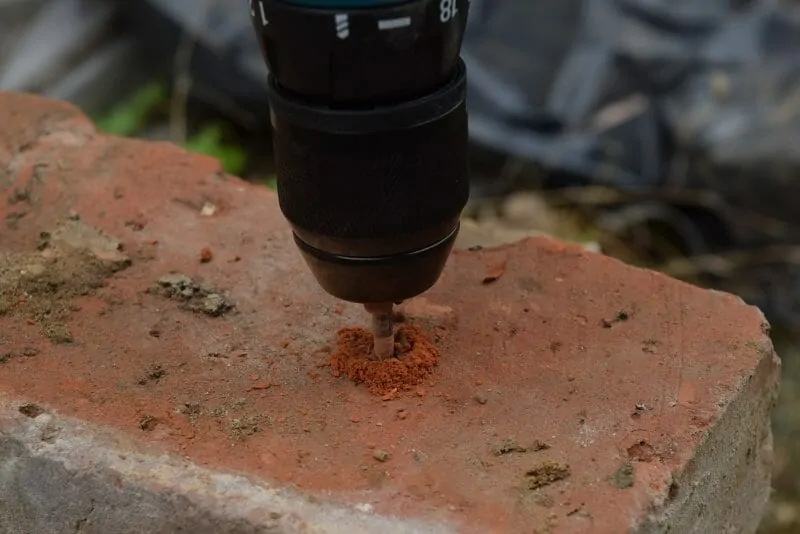 A powerful drill can be used for tough jobs, such as drilling through masonry.
Our Budget Pick
Our best pick for those on a budget is the Black + Decker LDX120C. The LDX120C is convenient for most small household tasks and comes at a relatively cheap price. This tool can bore holes in metal, plastic and wood, and adequately perform all screw driving tasks.
The LDX120C weighs 3.4 pounds and measures 10.6(L) X 3.7(W) X 8.5(H), making it one of the lightest cordless drills in the market. The small and lightweight build make it one of the best choices for use in confined spaces and tight angles. It is made from top quality materials and is ergonomically designed. Its body is covered with anti-slip materials which prevent the hands from sweating, providing tight grip and reducing fatigue.
Being a budget tool, the LDX120C has a reduced variable speed which clocks a maximum of 650 RPM and produces 155 inch pounds of torque. However, this is still good enough for basic home tasks. It is powered by a 20-volt Lithium-Ion battery which lasts for long durations and takes about 2 hours to get fully charged. The LDX120C comes with LED light which illuminates your work surface once you press the trigger, increasing your vision when working in dark corners or at night.The LDX120C also features an 11 clutch setting, which enables precise drilling and prevents stripping of screw heads.
Best Cordless Drill For Professional Use
If you are looking for the best tool for commercial use, you should consider the Makita XPH102 hammer drill which clinched our top position for the best cordless drill for professional use. The Makita XPH102 has a variable 2-speed design of 0 – 600 RPM and 0 -1,900RPM. Being a hammering drill, it has some hammering action, with an impressive 2 speed blows per minute (BPM) of 0 – 9,000BPM and 0 – 28,500BM. This makes it the best choice for driving or drilling even on hard rocky surfaces.
The Makita XPH102 weighs 10.3 pounds and has 4 – pole motor which combines torque and speed in a compact size. It is also ergonomically designed, allowing you a tight grip and good control. It is engineered to perform a wide range of applications in masonry, wood, concrete and metal. It is a versatile tool which can be used as a driver-drill or a hammer driver-drill.
The Makita XPH102 is equipped with extreme protection technology (XPT), which protects it from water and dust making it ideal for harsh job conditions. While most of 18 volts Lithium-Ion batteries may take some hours before being fully charged, XPH102 3.0 Ah battery takes just 30 minutes to charge fully, giving you more time to work.
Best Compact Cordless Drill
Sale
Our pick for the best compact cordless drill is the Bosch PS31-2A, an incredible professional-grade tool which weighs just 2.14 pounds, making it ideal for underneath or over-head tasks and hard to reach areas. The Bosch PS31-2A has 2 variable speed of 0-350 RPM and 0-1.300RPM, making it the best performance-to-size ratio power tool. It also comes with a 21 clutch setting, which allows you to adjust speed for maximum precision.
The Bosch PS31-2A has a maximum torque of 265 inch pounds, ruling it out for tough applications. This means it is best suited for most DIY tasks which don't require high amount of power, such as boring into drywall, thin sheet metal or wood. The PS31-2A is also equipped with LED light for enhanced visibility, making it possible for you to work on low-light areas and dark corners. It is also easy to manage the battery as the integrated fuel gauge is strategically located on the sides.
The Bosch PS31-2A is made from nylon composite material which enhances its flexibility and durability even in harsh job conditions. It also comes with a 3/8 single-sleeve-three-jaw chuck which makes it versatile, capable of fitting a wide range of bits.
Best Cordless Impact Driver
The Milwaukee 2653-22 M18 is our best impact driver. The Milwaukee M18 comes equipped with a brushless motor for enhanced efficiency. It has a no-load speed of 0-2,000 RPM and 0-3,600 which projects a no load torque of 1,600 inch pounds, making it ideal for DIYs and tough applications. In addition, it is lightweight, allowing you to work for hours without compromising efficiency.
One of the best features on the Milwaukee M18 is the inbuilt Red-Link Plus Intelligence system, an additional feature which enhances performance of the cordless drill while decreasing overheating of the batteries and motor. This new technology is designed to optimize the tool's performance while under load, making it easy to drive screws in tight angles. This cordless tool is also has an integrated LED allowing you to work in dark environments.
The Milwaukee M18 comes with 2 M18 Red lithium batteries with an extended capacity. It also comes with a carrying case and belt clip, which makes it more portable, easy to store and easy to carry while working.
Best Cordless Tool Kit
If you are looking for the best kit with basic drilling and driving accessories, you should consider buying Cartman 2-Speed Cordless Drill. It comes equipped with 6 different screwdriver bits, 6 different drill bits and 1 extension case.
The Cartman has a variable speed of 0-1500 revolutions per minute which generate 221 inch pounds of torque, ideal for light uses such as driving screwdrivers and boring holes in wood, metal and plastic. The Cartman is not suited for heavy uses, such as drilling stones or concrete. It has a 21 clutch speed setting for increased precision in boring or driving. It is also compact and lightweight, allowing you to work in confined spaces and for more hours with less fatigue.
The Cartman comes with a 20 volt 1.5AH Lithium-Ion battery which takes about 3 – 5 hours to get fully charged and has no memory, meaning you can top up the charge at any time without affecting the battery. It is also equipped with a belt buckle for easier carrying. This tool also features a LED light which lights up the work surface for easier boring.
Best Cordless Power Tool For Entry Level
If you are starting out your professional journey, are on a budget and don't want to spend on an expensive cordless drill, you should consider buying the Bosch GSB 18-2-Li. This is one of the best tools in terms of performance to price ratio and is a great a choice for most entry-level professional applications as it can penetrate any material, including concrete and bricks. Unlike most other models, it has a dual-grip handle for better handling and is lighter than most models, weighing just 2.4 pounds.
The Bosch GSB is powered by an 18 volt Lithium-Ion battery which gets it to a no-load speed of 0 – 500 RPM and 0 -1,900 RPM. One of the best features on the Bosch GSB is the Electronic Cell Protection which safeguards the battery from overload, deep discharge and overheating, helping extend the battery life. Its motor is also protected from overload by Electronic Motor Protection (EMP), which ensures longevity.  It also comes with a belt clip which allows you to hang it on your belt or a ladder. For easy transport and storage of bits, the Bosch GSB comes with a mountable bit holder.
Another feature that makes the Bosch GSB one of the best picks is that it has inbuilt sensors which shut it down once it detects jamming, preventing drill kick back and further damage. It also has the ability to rotate in both right and left hand, thanks to its multiple gears. Lastly, it also features a LED light for illuminating your work surface in dark places.
Best Cordless Drill For Women
If you are looking for the best cordless tool with a lady in mind, the Pink Power PP182 is your best option. The Pink Power is a combination of flair, stand out color and a powerful motor capable of doing most DIY works. It is powered by 18 volt Nicad battery and reaches speeds of 0 – 500 RPM, which is good enough to penetrate surfaces such as metals and woods. This model also features a keyless chuck, which allows you to conveniently change bits with your hands. It is also equipped with a magnetic base for holding screws and bits, allowing your hands to be free while you are working.
The Pink Power PP182 also comes with a built-in-bubble level for improving accuracy. Weighing just 3.5 pounds, this tool is light enough for anyone to use for long periods without getting exhausted. It also comes with an inbuilt LED light, which allows you to work in dark corners with minimal errors.
Best Cordless Drill For Small And Medium Tasks
For the best cordless tool for small and medium tasks which don't require substantial amount of power, consider getting the Work WX176L, which has a 12 speed brushless motor. This tool jumps into action with a single press of a button. It is powered by a 20 volt lithium-Ion battery, and can reach a maximum speed of 1,500 revolutions per minute.
The Work WX176L is a two in one machine, which means that with the shifty system and a ¼ inch keyless chuck, you can quickly switch it from a drill to a screwdriver. The dual chuck feature allows you to quickly interchange the bits. It also comes with an 11 clutch system which allows you to adjust torque for more accurate results. The clutch also protects delicate surfaces and makes sure that there are minimal cases of stripping screws.
Weighing 3.1 pounds, the Work WX176L is a fairly light, compact tool which you can use for long hours without tiring your hands. It also equipped with a LED light that makes it ideal for dark corners and poorly lit places.
The Competition
While there are several other models available in the market, some did not make it to our best list due to factors such as weight, low torque level, clumsy handles and battery issues. Others were left out due to their short life span and poor design, making them totally unreliable.
Other Frequently Asked Questions
Q: What type of cordless drill should I buy?
A: This largely depends on your needs, whether you want one for home applications or commercial use. Different types of tools perform different roles. The common cordless drills in the market are:
Drill driver: These are light, compact tools with average power and torque. They are best suited for home use and can perform variety of tasks from boring through wood, metal and masonry to driving screws. Due to their weight, they are easily portable and can perform well in enclosed spaces or tight angles. However, due to their limited power, they can't handle tougher applications.
Impact driver: They look similar to ordinary cordless drills but they are designed to specifically drive screws and not to drill holes. They combine percussive blows and high rotating torque against the driver bits to drive screws to tough surfaces. Due to their smooth operation which lack back and forth pull like in SDS and Hammer drills, they are tender in hands. Impact drivers use hex-shank driver bits and are not the best to work on millimeter-precise jobs. Though driving screws is their main job, you can swap between driver and drill bits when you require to make a guide hole for the screw due to their extra power.
Combi drill: This is the perfect tool for your daily DIY work which performs both drilling and driving of screws. It can drill through woods, concrete and metals in high speeds, but it struggles against tough applications. It is much pricier than the average cordless drill but less powerful than SDS rotary hammers and high-end hammers.
Hammer drill: Also known as roto-drill, they are designed to drill into hard applications like stone, mortar and brick. These powerful tools produce short, rapid thrusts with high spinning which make it possible to drill fast with less effort. You can use them as normal drills by switching off the hammering action. Hammer drills are bulkier and expensive than their counterparts and produce more noise.
SDS drill: These are the heaviest and are designed for the toughest applications like blasting through masonry and concrete. They are found in three categories; two-mode, three-mode and three-mode with a swappable chuck. The two mode is designed to alternate between combined hammer action and rotary-only, while the three modes add the third option of hammering only. Their driver and drill bits have a notch on the rear which allows easier slotting without necessarily requiring a chuck key. They also have a ball bearing on the SDS chuck which hold the bits tightly to their place while you are in action.
Q: What are the advantages of brushless motor over traditional motors?
A: A brushless motor is designed for smooth operations with square waves alternating current inputs to the phases. Brushless motors holds several advantages over traditional motors which include:
Extended battery life: Dc brushless motor enjoy up to 50% more battery run time doing more work with less downtime than the traditional (brushed) motor.
Increased durability: Designed to operate smoothly, brushless motors cause less friction therefore releasing less heat, ensuring longevity for your tool. In addition, brushless motors don't have brushes which require to be replaced from time to time, increasing their durability.
Increased power and performance: A brushless motor has better electrical efficiency and power transfer that increases its power and performance.
Low cost maintenance: A traditional motor has carbon brushes which need to be replaced occasionally to improve efficiency, increasing your run cost over time.
The table below shows some key differences between the two:
| | |
| --- | --- |
| Traditional Motor (Brushed) | Brushless Motor |
| Carbon brushes communicates with the motor to complete the current and power your best tool. | The current flow is controlled by a microprocessor in the motor. |
| The carbon brushes wear out with time and need to be replaced occasionally | Doesn't have carbon brushes which cause unexpected downtime and need regular maintenance |
| The mechanical contact between the motor and carbon brushes causes frictional resistance, electrical loss, contact wear and heat build which decrease the performance and durability of your tool. | There is no mechanical contact on the motor, which results to less heat being produced minimizing the wear rate of the motor. This greatly improves power transfer and electrical efficiency. |
| The manual trigger which increases and decreases the current flow to the motor may cause further current loss and wear. | The microprocessor communicates with an inbuilt optical trigger, which is a wear resistant trigger and improves the responsive rate of the variable speed. |
Q: What is memory effect and how do I correct it?
A: Memory effect is what causes the battery to lose its capability to deliver full charge. It is more common in Nicad batteries, occasional in NiMh and rare or non-existent in Lithium-Ion batteries. When you charge your battery partially frequently, it causes the battery to recall the immediate charge it held and it shuts down when you demand extra work from your tool. The easiest way to correct memory effect is by reconditioning your tool.
Here are the steps to follow to recondition your tool:
  Charge your tool fully
  Tap the trigger button to turn it ON and then allow your tool to run on its own without a load until it stops.
  Recharge your battery to full capacity
Q: How do I keep my Lithium-Ion batteries in good condition?
A: The best way to keep your Li-ion batteries in good condition is by:
  Ensuring that the battery charge doesn't drop below 20 – 30%
  Operating your tool when the charge is between 30 – 90% and not letting it to be fully charged or discharged. This increases your battery charge cycle several times.
  Operating and storing your tool in cool places. High temperatures decrease performance and capacity.
  Storing your battery in partial state of 40-50% charge
  Reconditioning your cordless drill under a load (while using it) till the battery runs out and then charging it to full capacity.
Q: What is no load speed?
A: No load speed means the number of times a cordless tool can rotate in a minute without a load, usual denoted as RPM which stands for revolutions per minute. The best tools are gauged by the maximum no load speed they can reach, since the drilling and driving speed under load largely depends on the toughness of the applications.
Q: What is the best voltage for a cordless drill?
A: The best voltage will largely depend on the type of work you will be doing most. Cordless drills fall under three categories of volts; 12 volts – these type of tools have 3/8-inch chuck and they are most suitable for small home applications and your everyday basic DIY chores. The second category are the 18 – 20 volts tools which feature a 1/2-inch chuck. These are ideal for heavy DIY tasks like large scale remodeling or deck building. The third and the last category is 28 volts and above, these are heavy duty cordless tools which are perfect for professional contractors working on projects which deal with concrete boring.
Q: What are the ergonomic features I should look for when buying a cordless drill?
A: These are the 5 key ergonomic specifications you should look out for when purchasing a cordless power tool:
Handle grip: Go for a soft handle grip which is comfortable to control and handle. This will protect your hands from bruises.
Forward and reverse button: A good tool has the forward and reverse switch strategically placed, allowing you to operate it with your index finger and thumb without releasing your grip.
Chuck: This is the part which holds the driver and drill bits. The best tools feature a keyless chuck which allows you to easily fix or remove the bits. In addition, you should also look out for single-sleeve chucks which ensure that the bits are locked securely to your tool.
Trigger: Always make sure that you can control and round your index finger on the trigger comfortably before purchasing any tool. This is vital especially if you are into hard tasks like drilling into stones or masonry.
Drill accessories and kits: Most of the tools are designed to accommodate extra accessories which can give your tool added functionality. Some brands also come with kits which have two different drills such as the impact driver and drill driver.
Q: When should I use impact driver?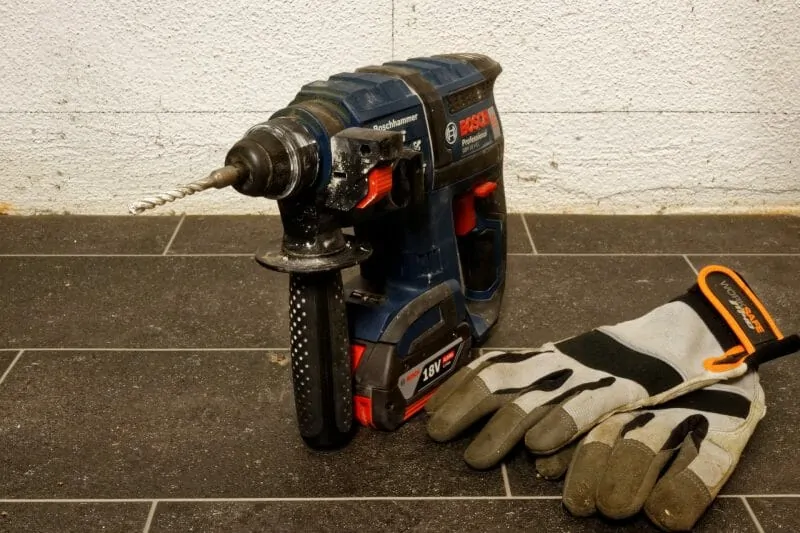 A: The impact driver is designed to drive screws but you can use it to fasten any fastener such as nuts, all sizes of lag bolts or even drive an I-hook or eye-bolt. Using a cordless drill to drive in a long screw to tough applications such as hardwood may strain your wrist as you counter the rotations. That force may cause the bit to come out, damaging the screw head.
The impact driver is designed in a way that the rotational force is created by the hammering action inside it, causing a reactionless torque. In this case, the bit is less likely to come out due to the downward force applied.
Q: What is a combo kit?
A: Please checkout out our combo kit review where we discuss it in details.
Q: What are the pros and cons of a cordless tool?
A: The following are the advantages and disadvantages of using cordless tools:
Pros:
Portability and convenience: Cordless tools are not restricted by a cord or closeness to a power source of power, which means that they can be used anywhere.
Storage friendly: Due to their compact size and weight, cordless tools can be easily be stored even in limited spaces.
Mobile and light weight:  Most of the cordless tools, except the heavy duty ones, weigh an average of 3.5 pounds, making them mobile and easy to work with.
Offers better control and are manageable: The ergonomic features in cordless tools give you a firm grip, allowing you to be in control. They are also very manageable thanks to the brushless motor which doesn't require constant replacement.
Cons:
Less powerful: They are less powerful than corded tools of the same class.
Charging time: Time dedicated to charging them, eats into valuable time which you could be winding up on your project.
Expensive: Cordless tools cost a fortune compared to corded ones.
Q: What are the safety measures of cordless tools?
A: When using a cordless tool, always ensure your safety comes first. Here are some precautions you can follow to avoid face and hand injuries:
Make sure your tool is clean.
Ensure your preferred tool speed is the best for the job. Turn on the trigger to ensure that it doesn't rotate too slow or too fast and it shuts off once you release the trigger.
Examine your bits to make sure they are set straight in the chuck. Lift up your tool and turn it on, if the bit jiggles then it means it is either not straight or it is not securely locked. A sharp straight bit should easily hold.
Always make sure you start drilling at the right angle and strive to maintain steadiness throughout the process. The bit may break or bend if you don't hold your tool straight, which may result in flying pieces of metal.
Be careful when working on hard surfaces like metals. Avoid applying too much pressure as it may cause your tool to overheat.
Always keep your tool out of children's reach and don't allow untrained persons to work with it unsupervised.
Wrapping Up
If you are in need for a powerful, lightweight and versatile cordless drill, you should consider going for Dewalt DCD7712C which topped our list. This tool is best for both home and professional use. With a no load maximum speed of 1500 RPM, it is capable of tackling even the toughest applications.
Jen Miller is a former electrical engineer and product specialist with more than 20 years of product design and testing experience. She has designed more than 200 products for Fortune 500 companies, in fields ranging from home appliances to sports gear and outdoor equipment. She founded Jen Reviews to share her knowledge and critical eye for what makes consumers tick, and adopts a strict no-BS approach to help the reader filter through the maze of products and marketing hype out there.  She writes regularly and has been featured on Forbes, Fast Company, The Muse, The Huffington Post, Tiny Buddha and MindBodyGreen.