Bottle warmers add a level of convenience to your life that some moms absolutely can't live without. While it starts to become less of a necessity as they begin to mature and develop into a little toddler, a bottle warmer is still a big part of your life if you're a busy parent on the go frequently with a baby attached to you. The thing about having a child is that they don't care what you're doing or when you're doing it; they're hungry when they're hungry, which is exactly why a bottle warmer comes in so handy.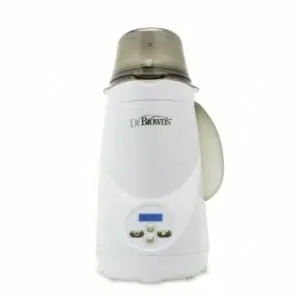 Dr. Brown's Bottle Warmer
We actually have a few new moms on the team, so they've had the opportunity to recently test a variety of different bottle warmers. Along with the hours of research and consideration we put into each decision made, we conclude that the Dr. Brown's Bottle Warmer is the best bottle warmer in our book.
Just because we selected one bottle warmer as the best doesn't mean there aren't other comparable products of equal quality. On the contrary, the Conair Cuisinart BFM-1000 Baby Food Maker and Bottle Warmer comes in at a close second, there are multiple options for a budget alternative, there's are bottle warmers that are able to double as coolers, and much more. This guide gives you a summary of each of the bottle warmers we feel deserves a mention, as well as all the valuable information you need in order to find the best bottle warmer for your particular needs, even if it's one that you find elsewhere completely.
Is a Bottle Warmer Necessary?
Many parents may find that they don't need a bottle warmer at all. While it may not be a necessity for some, busy parents find a good bottle warmer absolutely invaluable. For the moms, dads, and guardians that don't have time to boil water or are out and about and can't even get to a microwave, much less a stove, a bottle warmer on the go becomes you best friend.
Parents also find that a bottle warmer is a necessary part of life with a small baby if you have a babysitter, whether they're babysitting at your house or at a different location altogether. A bottle warmer will indicate exactly when a bottle is warm enough, and it will never make it too warm. Having people use a bottle warmer instead of boiling or microwaving will ensure the utmost in safety for all parties involved, especially your little one.
Bottle warmers are small, usually able to only heat one or two bottles at once, and they're typically portable, so you can take them with you wherever you need to go. If you find the right one, they're extremely affordable, highly rated and reviewed, and easy to use.
Five Different Types of Bottle Warmers
There are five different types of bottle warmers, and each of them has their different uses that makes them more convenient than other types for certain situations. For example, if you're in the car and in for a ride, but you need to warm your child's bottle while you travel, a car bottle warmer would be the best type of bottle warmer for the job. Understanding the differences and the benefits for each type is an excellent way to better determine which bottle warmer is the best one for you and your needs.
1. Portable Bottle Warmers
As the name indicates, this type of bottle warmer is portable. Probably the most convenient out of all the bottle warmers, a portable bottle warmer is able to heat up milk on its own. This means you don't have to rely on boiling the water beforehand. Instead, simply select the settings you want, pour water at any temperature in, and wait for the water and the bottle to both be warm enough for your baby to eat.
2. Standard Bottle Warmers
Many standard bottle warmers are for at-home use, though some are able to be transported while in-use. Different bottle warmers plug into a wall, are also able to plug into cars, or run off of batteries or a rechargeable source. The standard bottle warmers are really any bottle warmer that doesn't fit into the other categories.
3. Flask-Type Bottle Warmers
For this type of bottle warmer, all you have to do is heat up or boil water, pour it into the jar that resembles a flask, and you're good to go. The water will keep your bottles warm for a few good hours, so you're able to go run a couple of errands, take care of business, or just enjoy a day out without having to worry about your child getting fed.
4. Car Bottle Warmers
Specifically designed only to be used in cars, car bottle warmers have a plug that connects through a cigarette lighter socket. Some have it connect through an auxiliary cord instead, but they're able to heat up bottles easily while you're on the move. This comes in especially handy if you find yourself taking long trips, having to telecommute with the baby on board, or just find yourself driving around frequently and having to make stops to feed your baby properly.
5. Feeding System Bottle Warmers
A commonly available option, feeding system bottle warmers are similar to other types of bottle warmers. The only difference is that there is a section dedicated to also cooling bottles and food. The additional feature allows you to cool off bottles while heating other bottles at the same time, so it adds a level of convenience to your life if you find yourself frequently cooling bottles as well as heating them.
Benefits of Using a Bottle Warmer
While being incredibly easy to use, affordable, and versatile in the different products available, there are also countless benefits to using a bottle warmer over a stove or a microwave. A look further at what bottle warmers do and what microwaves and stoves do to formula and breast milk when being heated is necessary for parents that are concerned about their children's wellbeing.
Retain All Valuable Vitamins and Nutrients
When heating up a bottle in the microwave or with boiled water on the stove, the heat can lose its valuable vitamins and nutrients. Breast milk, if heated up to too hot of a temperature, can actually break down, losing the vitamin C it could have provided, changing the composition of the milk itself, and losing its anti-infective properties.
Consistent Temperature
Heating a bottle in the microwave or in a pot with boiled water on a stove can cause a lot of issues as far as the temperature throughout the entire bottle goes. Sometimes, it can heat the entire bottle much too hot, potentially even burning your child's mouth. It cannot be warmed evenly throughout the entire bottle, causing some parts to be Luke warm, some parts to be hot, and some to be cool. You wouldn't want your soup to be heated incorrectly, so it's important to ensure that you get a bottle warmer that allows for a consistent, solid temperature throughout the entirety of the bottle.
Cut Down on Time
When you think about it, you really don't save that much time by just heating up a bottle in the microwave. You have to heat every individual bottle each time your baby needs feeding, which already takes away from you consoling them while they're hungry. You run the risk of making it too hot or some parts not hot enough, so you have to keep checking it on your wrist and adding a few seconds or letting it cool off for a couple minutes. With a bottle warmer, you put in the bottles you're wanting to use for a portion of the day, push the settings in, and let the bottle warmer do its job. Whenever baby is hungry, you pop a bottle out and feed the baby. How is that not cutting down on time?
Safer Alternative
As we've mentioned, it's much safer to have a bottle warmer heat a bottle up to the correct temperature and keep it there until you need it than to heat a bottle up over boiled water on the stove or in a microwave. Using a bottle warmer is a much safer alternative, and if you're a particular clumsy parent, highly recommended to prevent any burns or accidents.
How We Picked the Best Bottle Warmer
Given that we had the moms on our team try out the bottle warmers, there are a number of reasons we concluded that Dr. Brown's Bottle Warmer is the best on our list. First off, we only considered bottle warmers that had high reviews and high ratings on Amazon. While it doesn't have to be in the thousands, a product that only had 3 customer reviews is just not going to be considered for our number one slot.
We don't just go off what others say, though. The features and the bottle warmer itself is the most important thing to focus on. The individual functions of the bottle warmer and the variety in those functions plays a big part in which bottle warmer was our number one spot.
Accessories or additions that come with the bottle warmer we chose, while a bonus, are things we take a look at when we're considering the best bottle warmer for us. They're not a necessity, but even a lasting warranty on a bottle warmer is a plus when compared to just the product itself.
Price plays a role in our decision making, although it doesn't hugely impact the choice. After all, we weren't just looking for the cheapest bottle warmer. On the other hand, we weren't looking for the most expensive bottle warmer, either. We were browsing for something hopefully a little in between.
Our Pick for the Best Bottle Warmer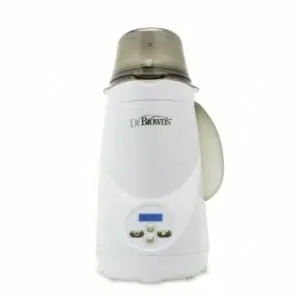 Dr. Brown's Bottle Warmer
Once we had all of the variables laid out that we were going to use to determine which bottle warmer was the best bottle warmer on the market, we started narrowing down the search. We looked at the ratings and reviews first, crossing off any bottle warmers that didn't have good ratings or not enough reviews.
Not only does Dr. Brown's Bottle Warmer warm wide neck and standard baby bottles, but the refillable water chamber actually allows you to store several bottles into the machine at once. Depending on how many bottles you need and how long you'll be out, Dr. Brown's Bottle Warmer will last you throughout the entire day, ensuring that your baby is fed on time and without hassle. The LCD control panel makes the bottle warmer easy to read and use. It's so easy to use, in fact, that the brand claims you'll be able to memorize required heating times in no time after using this particular bottle warmer, saving you even more time in the long run.
Other features include an alarm that sounds and lights up the LCD panel when the heating is complete and the preferred time you have set can be saved into the bottle warmer's memory so that you can use it again in the future without having to make the same exact settings.
The one-year warranty is an excellent addition and provides some peace of mind when purchasing the bottle warmer. With it being so affordable, being backed by a reliable warranty from the manufacturer, and being of such high-quality, it's no surprise that we picked Dr. Brown's Bottle Warmer as the best bottle warmer in our number one position.
Our Second Pick

Conair Cuisinart BFM-1000 Baby Food Maker and Bottle Warmer
Functions on the Conair Cuisinart BFM-1000 Baby Food Maker and Bottle Warmer include chop/puree, steam, and it also has a classic bottle warmer function. The 4-cup work bowl allows for leftovers for later. You don't just get the baby food maker and bottle warmer with this product, though. It comes with a spatula, recipe booklet, integrated measuring cup, and a bottle adapter ring. That, topped off with an 18-month warranty, is enough for anyone to look past the price to get this goldmine of a product.
Budget Bottle Warmer Alternatives
We don't assume that every mom, dad, and guardian is able to buy their baby all the things in the world, as much as they wish they could. On the contrary, we understand that some parents are perpetually on a budget. This doesn't change when they start looking for baby products. We had a couple moms try out some budget alternative bottle warmers so that we could give proper recommendations for parents that are always looking to save money.

Tommee Tippee Travel Bottle and Food Warmer
Instead, this particular type of travel bottle and food warmer is capable of lasting you a good amount of years, as long as you take care of it and handle it properly.

The First Years Quick Serve Bottle Warmer
The quick serve bottle warmer by The First Years is a capable bottle warmer with an auto shut-off system built in for added safety and peace of mind. The First Years Quick Serve Bottle Warmer works with most bottles, whether they're wide, angled, narrow, or even disposable. Best of all, this warmer is BPA-free, adding more peace of mind to what your child is consuming without you knowing. It's available for free shipping, so you just have to pay for the price of the warmer.
Bottle Warmers that Double as Coolers
In some situations, you may need something cooled off or cooled completely and something heated at the same time. In this case, a bottle warmer that also works as a cooler is the best solution. They're actually fairly affordable – in fact, you'll pay about the same price even with this specialized type of bottle warmer. While there are many to choose from, there are a few bottle warmers that double as coolers that outshined the rest in our book, so we feel that they deserve at least a mention.

The First Years Night Cravings Bottle Warmer & Cooler
The First Years Night Cravings Bottle Warmer & Cooler is capable of warming just about any type of bottle in less than 5 minutes. Not only does it heat fast and easy, but it also has a removable cooler that holds up to 2 bottles. This particular bottle warmer and cooler is officially licensed by the American Red Cross association, so you can feel rest assured that you're getting a reliable product.


Gourmia GMF-600 Gourmia GMF600 Portable 6 Can Mini Fridge Cooler and Warmer
The Gourmia GMF-600 Gourmia GMF600 Portable 6 Can Mini Fridge Cooler and Warmer is more than just a bottle warmer and cooler. It's a portable mini-fridge and heater that can store up to 4 bottles or 6 cans in it at one time. The removable shelf just adds to the overall convenience of this device.
Specialized Choices
We couldn't list every bottle warmer that we liked as our number one choice. It took a careful amount of consideration before we came to the conclusion that the Dr. Brown's Bottle Warmer is in our first place slot. While we were narrowing down the search, though, we couldn't help but to find a few bottle warmers that many of the moms on our teams actually liked. There may be some parents who find that all of the bottle warmers we've listed thus far just don't quite meet the mark for what they're looking for. This is why we feel it's necessary to add in a few honorary mentions that could also be recommended to parents as some of the best bottle warmers on the market.
Best Bottle Warmer for Multiple Functions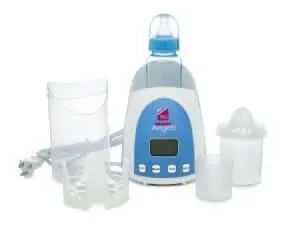 TEG Little Angels 3-in-1 Multifunction Breastmilk & Bottle Warmer
Using a steam-warming technology, the TEG Little Angels 3-in-1 Multifunction Breastmilk & Bottle Warmer is able to heat up formula, breast milk, and food evenly and cleanly. This allows all of the vitamins and nutrients to be consumed instead of broken up by heat. This bottle warmer is still a viable option, especially since it also doubles as a sterilizer and a juicer. The backlit LCD display allows you to know how much time is left before whatever you're heating is ready, and the anti-dry feature allows you to heat multiple bottles with just one fill-up of water into the warmer.
Best Bottle Warmer for Travel


Gland Portable Baby Bottle Warmer
The ultimate travel companion, the Gland Portable Baby Bottle Warmer is an excellent addition to long voyages away from home or a power supply. You save time with heating each bottle in this warmer thanks to the advanced PTC heater that's hyper-efficient. It has three functions: keep warm, sterilize, and heat up. The LCD display makes it easy to know when the food is ready, with voice reminders guiding your way the entire time. It's worth the price if you find yourself on the go frequently, since this is one of the best portable bottle warmers on the market.
Best Bottle Warmer for Breast Milk


Kiinde Kozii Bottle Warmer and Breast Milk Warmer
The best thing about the Kiinde Kozii Bottle Warmer and Breast Milk Warmer is that it doesn't require a measurement of water after each use. Instead, it's got a built-in system that holds a long-lasting reservoir of water. This means you can take the bottle warmer with you and back home for hours on end before it ever needs more water, much less for it to be charged. The auto shut-off completely removes the heat from the bottle, so there's not even a potential risk of heating the bottle up too much in the Kiinde Kozii Bottle Warmer and Breast Milk Warmer.


Maxx Elite "Digital Gentle Warm" Bottle Warmer & Sterilizer
Best Bottle Warmer for Complete Sterilization
The Maxx Elite "Digital Gentle Warm" Bottle Warmer & Sterilizer is designed specifically with keeping all of the vital enzymes, nutrients, and vitamins in breast milk and formula safe and protected. This is because those same enzymes, nutrients, and vitamins are what protects your baby from harmful bacteria and germs that could make them sick at an early stage in their life, which no mom wants their baby to have to go through. Not only is the Maxx Elite "Digital Gentle Warm" Bottle Warmer & Sterilizer capable of maintaining all of those precious enzymes, but it also has a "steady warm" function, which allows the bottle to stay at a warm temperature for an extended period of time.


Boon Orb Bottle Warmer
Best Bottle Warmer for Portability
The Boon Orb Bottle Warmer is a convenient, portable little device that is highly recommended for moms on the go that don't have a lot of room when they're on the move. Because of this bottle warmer's size, it can be stored in a diaper bag, balance on top of a cup holder, or sit in the back of a car seat in the pouch. Not only do you get the Boon Orb Bottle Warmer, but you also receive baskets that store baby food jars and a graduated measuring tube that allows you to measure out water to be steamed.
Commonly Asked Questions About Bottle Warmers
There are, of course, some questions about bottle warmers that we may not have fully covered yet. This guide is designed to give you all the information you need to purchase a bottle warmer, whether it's one you find on our list or a different one altogether.
Is a Bottle Warmer Safe to Use?
A bottle warmer is absolutely safe to use – as long as you get a bottle warmer that is of standard quality or above. A substandard bottle warmer that isn't FDA approved, doesn't have all of its certifications, or was made poorly for it being so unreasonably cheap is not the kind of bottle warmer you're looking for.
What are Some Disadvantages to Bottle Warmers?
If you don't know what you're looking for and end up getting a bottle warmer of poor quality or even faulty wiring, there are some potential disadvantages to using it. You could melt the bottle, the warmer may simply not get warm enough, or it may take up too much time to warm up a bottle. To avoid this, simply ensure that you get a bottle warmer that we recommended, or one that stays at a reasonable temperature without getting too hot or not getting warm enough. The right bottle warmer will get just the right amount of heat, and it will warm the bottle in a timely manner.
How Do Some Bottle Warmers Help Prevent Colic?
Heating up a bottle to a certain temperature can actually help reduce the risk of colic for babies by 80%. It increases the melatonin and serotonin levels, as well. While all bottle warmers help prevent colic, there are also specific bottle warmers that have vents in place to help prevent it even further.
Does a Sterilizer Just Sterilize Bottles?
A sterilizer can, typically, actually sterilize just about anything that can fit inside the bottle warmer. If you can fit a pacifier into the sterilizer section of the bottle warmer, there's no harm in sterilizing it. The same goes for anything you need sterilized.
Wrapping It Up
While Dr. Brown's Bottle Warmer came out on top on our list, it may not match up with all the features you can't live without on your list. By narrowing down which variables you're going to need to consider, which you can do without, and which you absolutely don't want in a bottle warmer, you can find the best bottle warmer on the market for you and your child's needs.
Jen Miller is a former electrical engineer and product specialist with more than 20 years of product design and testing experience. She has designed more than 200 products for Fortune 500 companies, in fields ranging from home appliances to sports gear and outdoor equipment. She founded Jen Reviews to share her knowledge and critical eye for what makes consumers tick, and adopts a strict no-BS approach to help the reader filter through the maze of products and marketing hype out there.  She writes regularly and has been featured on Forbes, Fast Company, The Muse, The Huffington Post, Tiny Buddha and MindBodyGreen.