While some parents may not find that a good baby food maker was a necessity for them, it is a luxury that significantly cuts the time you spend making and preparing food for your little one. For parents with more than one child, a busy lifestyle, or just the desire to not be in the kitchen longer than they have to be, a food maker is typically a great investment early on.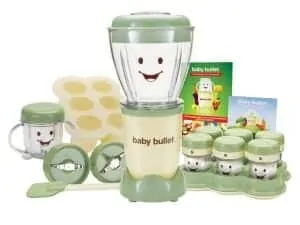 Magic Bullet Baby Care System
By incorporating a baby food maker into your daily routine early, you can use it to transition your baby to regular food when the time comes, too, just adding to the benefits that come when you invest in a baby food maker. The question you may be asking yourself, however, is which baby food maker you should pick for your baby and your particular situation.
Since we have a team made up of a lot of moms, we were able to test a lot of baby food makers ourselves. After hours of research, testing, and careful consideration, we came to the conclusion that the Magic Bullet Baby Care System is the best baby food maker. That's not to say it's the only baby food maker that we liked. On the contrary, the BEABA Babycook Pro 2X came out to be our step-up pick, while there are many other baby food makers that didn't make the number one or number two spot but still deserve being mentioned. We even had a particularly frugal mom test the budget baby food makers, so we have choices for that, too.
We don't just give recommendations without giving the valuable information to back it up, however. This is guide is geared towards taking you from your first steps at looking for a baby food maker all the way until it's been delivered to your door. This guide is designed to help you come to a conclusion for yourself as to which baby food maker you think is the best.
Benefits of Using a Baby Food Maker
There are many benefits that you may not think about when a baby food maker comes into play. Getting the regular food you eat down to the consistency and size that a baby can eat is a benefit all on its own, but the others are not so obvious.
Control What Your Baby Eats
Making your own baby food at home is the best way to fully control what your baby eats. This also allows you to ensure that they get the right vitamins, nutrients, and antioxidants in their diet. You can also rule out all of the processed sugars, fats, and starches that a baby normally consumes from baby food and formula bought in stores.
Save Money in the Long Run
A jar of baby food averages not much, which isn't that bad when you look at the short-term cost of it. Imagine having to pay for three a day, seven a week, until your baby no longer needs to eat baby food, though? That can easily get into the high hundreds, so you save money on the long-term cost of things by purchasing a baby food maker and making food that you're already eating into food that baby can eat, too. We can see just from the New York Times that the baby food industry is trying to keep up and adapt to baby food makers becoming more popular.
Add Variety to Your Child's Diet
Making the baby food yourself will allow you to see how consistent, routine, and absolutely bland your child's diet is. By spicing it up and adding variety, you can introduce baby to new foods, recipes, meals, and dishes as often as possible. This will work out for you in the long run, because your child's well-balanced diet will follow them into late childhood, their teenage years, and eventually adulthood if you can ensure that they start early and get a wide variety of different foods.
Transition Baby to Regular Food Sooner
Let's just be honest – baby food jars taste absolutely nothing like the real food they're supposed to represent. By simply giving baby a helping of the food you cooked for the rest of the family, just in puree form, you can help them transition into regular food much later on in their development. Switching them to the family dinner with solid food won't even be a hiccup when the time comes thanks to your careful planning and utilization of a baby food maker.
How We Picked the Best Baby Food Maker
It took a team of experts in this particular field a few hours of careful deliberation before coming to a conclusion as to which food maker on the market right now is the best baby food maker in our book. That's not even mentioning the hours of testing and months of actual use that the baby food makers got out of this project. So, when we say that we determined that the Magic Bullet Baby Care System is the best baby food maker on the market, we have plenty of variables to back up why we came to that conclusion. It's important to lay out the formula we had in place to decide on the best baby food maker before beginning the search.
The first variable to consider is the reviews and ratings a particular baby food maker has on Amazon. While some baby food makers obviously exceed this rule, we narrowed out every baby food maker that didn't have a high rating. On top of the high rating, we also required that the best baby food maker would have a large amount of customer reviews, so that the high rating is actually true.
We couldn't base our decision entirely off of the opinion of others, though. The overall quality of the baby food maker plays a huge role in the decision process. We did thorough tests and ensured that every product on our list, period, passed all of the certifications and standards required. We only look at materials of the highest quality, because we don't want our children having to come into contact with a subpar item when you can get them something better for the same price or cheaper.
The overall quality of the baby food maker and the actual material that it was made out of plays a huge role in the decision-making process, but so do the number of additions, extra functions, and accessories that come with the baby food maker. If it's our #1, then it's got to have all the stops pulled out. Warranties and extended warranties on a baby food maker is also a big plus.
While the price of the baby food maker doesn't play the biggest role in the choice we make for the best baby food maker, it does play a small part in it. We ruled out any baby food makers that were overly expensive, and have a dedicated section to the high-quality baby food makers we found that were also extremely affordable.
Our Pick for the Best Baby Food Maker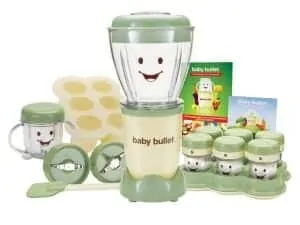 Magic Bullet Baby Care System
Through hours of consideration and hundreds of baby food makers on the market, we found the clear winner, the Magic Bullet Baby Care System. While there are some that come second and some that still shine, we want to shine the most light on the Magic Bullet Baby Care System for all of the reasons we had laid out while we were looking for a baby food maker to begin with.
The moms that we had test this particular baby food maker said that it was really easy to make baby food, even for the new moms that were doing it for the first time. Because this baby food maker comes with everything you need to get started, even new parents find that the set-up and actual food making process is simply a breeze.
It only has one speed, but the Magic Bullet Baby Care System is still capable of grinding, blending, chopping, and milling. Made out of a reliable, BPA-free plastic that's trustworthy and heavy duty, all of the parts for this baby food maker are actually dishwasher-safe.
As we mentioned, the extra goodies we get with a baby food maker also play into how high we're going to rate the food maker on our list. The Magic Bullet Baby Care System exceeded our expectations yet again. It comes with the power base for the food maker, one blending blade, one milling blade, a three-piece batch bowl, a short cup, a spatula, a batch tray with a matching lid, six date-dial storage cups for easy organization and clean-up, a storage tray, a reseal-able lid, a pocket nutritionist guide, a user manual, and a cookbook. Add all of that up with a one-year warranty and the opportunity to add either 2-year or 3-year protection for a small fee make the Magic Bullet Baby Care System impossible for us to pass up.
The price isn't a huge issue, but it does play into the decision we made.
Our Second Pick

BEABA Babycook Pro 2X
With that in mind, it is a recommended baby food maker that comes in an array of different colors. For those parents that aren't that concerned about price, we feel that the BEABA Babycook Pro 2X is certainly worth those few extra dollars if you're not frugal like a lot of moms on our team are. It's recommended because, in honesty, it's a high-quality baby food maker that can prepare vegetables, fruits, meat, or fish for any stage of baby or toddler growth. Whether you need the finest puree or a solid food steamed slightly, this baby food maker is capable of meeting every need you have for it.
The narrow footprint and removable cord allows for the easiest storage, and it also means that this baby food maker isn't going to take up a lot of space. This is a good thing for long trips where you barely have room for the things you have packed up already. This can fit under a car seat, stuffed up in a bag, or just about anywhere else that it needs to be stored for the trip.
The BEABA Babycook Pro 2X is especially recommended to those parents who have multiple babies or plan on having twins. It's also good for the parents who like to meal prep in advance. This is because there are not just one, but two large, 4.7-cup bowls that are graduated with measurements. Basically, you can prepare at least twice the amount of food you would normally be able to prepare in an average baby food maker.
Budget Baby Food Maker Alternative
There could be any number of reasons that you're wanting to stick to a budget or a more affordable option for a baby food maker. You may be doing this with all of the baby products you're looking for, you may be unsure about a baby food maker specifically and just want to get a cheap one to see what all the fuss is about, or something else altogether. Whatever the reason may be, we understand that some parents are simply looking to save as much money as possible without having to sacrifice too much quality. This very reason is why we have a budget baby food maker alternative for you to take a look at. Some of the other baby food makers on this list are also pretty fairly priced or on the low-range side of things, so we definitely recommend browsing through all of them in case you find a different one that's still within your budget or price range.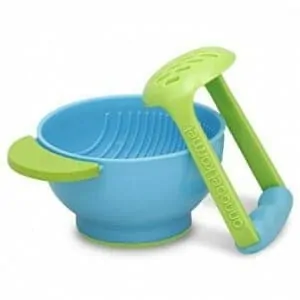 NUK Mash and Serve Bowl
The ultimate budget item, the NUK Mash and Serve Bowl allows you to mash up fruit, steamed veggies, and other food items conveniently in the mash and serve bowl. Microwave and dishwasher-safe with a non-skid base, this bowl is the ultimate convenience for parents that don't really have the money to get a baby food maker but still want to save a little time in the kitchen when they're preparing baby's food. BPA and chemical-free.
Specialized Picks
There may be a particular type of baby food maker you're looking for, or you may be looking for a baby food maker that has a special quality or function that sets it apart from the rest. In this case, we did our best to find all of the baby food makers that might catch your eye for its specialized benefits.
Best Baby Food Maker for Formula


Baby Brezza Formula Pro One Step Food Maker
Instead of wasting precious moments putting formula together when you could be spending holding your little one, getting things finished around the house, or staying up and about, you can do it in a one-step process. The Baby Brezza Formula Pro One Step Food Maker offers a hassle-free baby formula preparation system, taking away needing any measurements, mixing, and taking away all the fuss and trouble out of it. All you have to do is put formula in the section that formula belongs in, put water in the section that water belongs in, put a bottle under the spout, and press start. It does all the mixing to the perfect consistency and heat, leaving out all air bubbles and saving you a ton of time and effort.
Best Baby Food Maker That's Dishwasher-Safe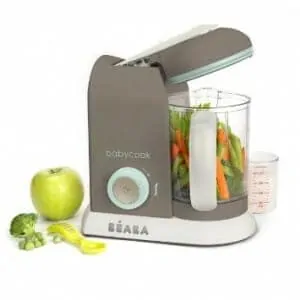 BEABA Babycook Pro Baby Food Maker
Similar to our number two choice, the BEABA Babycook Pro Baby Food Maker is an excellent baby food maker that's dishwasher-safe, contains no harmful BPA or chemicals, and it's easy to clean. The 4-in-1 capability and simple one-handed operation makes blending, steaming, reheating, and even defrosting a breeze. The stainless steel water reservoir keeps your water fresh and crisp before being streamed, and the 4.7-cup capacity allows for a whopping 17 servings or more just from one preparation.
Best Baby Food Maker for Saving Time


Baby Brezza Food Maker
This little baby food maker was designed with speed in mind. The Baby Brezza Food Maker allows you to blend and steam food all in one bowl, so you never have to transfer the food while you're right in the middle of your entire cooking process. The large, 4-cup glass bowl minimized all food contact with plastic during the cooking process, ensuring that your child's food isn't harmed during preparation.
The Competition
The competition for the number one slot in our roster was mean, and there were countless baby food makers that almost made the cut, but fell just shy. For some reason or another, these particular food makers were close in securing their spot in the number one chair, but fell short just slightly. That's not to say that they're not each baby food makers of the highest quality, which is why we still feel justified in recommending them.
Best Baby Food Maker for All In One Use


Lil' Jumbl Baby Food Maker
The gadget we found from Lil Jumbl is a baby food maker, bottle and pacifier warmer, sterilizer, and it's a 3-in-1, which means it's capable of blending, steaming, and reheating. It's an all-in-one appliance for your little one, with selectable blending functions so that you can yield the right consistency for your child's specific development stage. The water reservoir holds up to 10 Fl. Oz at one time, and the powerful steam production that the reservoir is capable of producing because of the water contained inside is able to sterilize, heat, warm, and much more. The intuitive design, down to the impressive, intelligent LCD display, makes the Lil' Jumbl Baby Food Maker almost too hard to pass up.
Best Baby Food Maker and Bottle Warmer Combo



Conair Cuisinart BFM-1000 Baby Food Maker and Bottle Warmer
The Conair Cuisinart BFM-1000 Baby Food Maker and Bottle Warmer did an excellent job of coming close to our number one spot. It can steam, chop, puree, and blend, and it includes a bottle warming function. With intelligent technology, the steam blade is able to create an even steam distribution, which allows for more efficient, quicker results. The 4-cup work bowl is nothing to complain about, either. Not only that, but it also comes with a recipe booklet, a bottle adapter ring, a spatula, an integrate measuring cup, along with a trustworthy 18-month warranty.
Best Baby Food Maker for Discount


Smart Planet BRM-1 Baby Oasis Baby Food Maker
A cute little baby food maker with a recipe booklet included, the food maker from Smart Planet is a smart investment for any parents looking for a reliable food maker that isn't ridiculously expensive. For even more reassurance, this type of food maker offers a convenient 2-year or 3-year protection plan depending on how much extra you want to invest.
Best Baby Food Maker Station


Infantino Squeeze Station Feeding Kit
The Infantino Squeeze Station is a unique take on making food for your baby. It offers a different but easy way to feed your child, including a soft rubber press for easy grip and a non-skid base so that you never have to worry about it slipping or sliding. The product comes with one squeeze station, three different tubes, a press, and 10 squeeze pouches, giving you everything you need to get your baby started off right.
Best Baby Food Maker for Speed


Conair Cuisinart DLC-2ABC Mini Prep Plus Food Processor
The 250-watt food processor has a simple push-button control panel that's easy to get the hang of. It's durable and lightweight with a 3-cup plastic work bowl that's BPA-free. Capable of chopping, grinding, and blending with their patented stainless steel reversible blade, the Conair Cuisinart DLC-2ABC Mini Prep Plus Food Processor is leagues ahead many of its contenders. This rings especially true when you consider the price of this particular baby food maker.
Commonly Asked Questions About Baby Food Makers
It's certainly understandable to have questions, especially when it's about baby products and you're a first-time parent. Sometimes, we know the questions you have ahead of time, so we're able to come with a small list of answers that are available to you in case you needed them. Here are a few questions we found a lot of people frequently had when it comes to baby food makers.
Is a Baby Food Maker Really Necessary?
Many first-time parents find themselves asking whether they're actually going to need a baby food maker. However, many parents found after they had the child that they did end up needing more versatile foods, an easy way to prepare those foods, and the pre-packaged goods at regular stores just weren't cutting it. While plenty of parents rave about how important they find a baby food maker, it boils down to being on an individual basis. You may find that you don't need to use the baby food maker all that often, or you may find that you need to use it multiple times a day and you can't ever set it down. Fortunately, there are a lot of baby food makers that have money-back guarantees, so you can try it out for about a month and then return it if you find you won't actually use it as much as you thought you would.
Does It Have to Be Labelled as a Baby Food Maker?
A baby food maker may not intentionally be labelled as a baby food maker, since it can be labelled as other things simultaneously. For example, there are many baby food makers that are also sterilizers, bottle warmers, and work in multiple other functions. Having an all-in-one or something like it that includes a baby food maker in it is just a bonus, and means that you don't have to buy those individual baby products separately.
Can a Food Processor or Blender Work Too?
You can use a food processor or a blender as an alternative to a baby food maker, but it's important to remember that, in most cases, food processors and blenders will not cook the child's food. The baby food maker, which can puree, cook, and prepare the food from start to finish, is the best choice in the end for a device to prepare food for a child.
Wrapping It Up
Not only were we able to provide a variety of excellent recommendations for baby food makers to consider, but we also gave you any information you didn't have already for how to find a baby food maker. You'll be able to narrow down your search, weigh out your options carefully, and cross off any baby food makers that don't meet all of the important variables you have set in place.
By deciding ahead of time what features you absolutely need in the baby food maker you're going to purchase, you can save time by not looking at the food makers that don't have those features. Whether it's the Magic Bullet Baby Care System , one of the competition, a specialized option, or your own choice for a baby food maker that you and your child both love, now you know what you have to do in order to find the food maker you're going to actually use.
Jen Miller is a former electrical engineer and product specialist with more than 20 years of product design and testing experience. She has designed more than 200 products for Fortune 500 companies, in fields ranging from home appliances to sports gear and outdoor equipment. She founded Jen Reviews to share her knowledge and critical eye for what makes consumers tick, and adopts a strict no-BS approach to help the reader filter through the maze of products and marketing hype out there.  She writes regularly and has been featured on Forbes, Fast Company, The Muse, The Huffington Post, Tiny Buddha and MindBodyGreen.