When you're devoted to artistic tools, you always fancy the best one with many possibilities. For us, that's the Soyan Gray Printing 3D Pen. It is an excellent fit for the average artist where it might last for a really, really, long time with minimal maintenance. This best 3D pen is for anyone serious about 3D printing, doodling, or drawing. The Soyan Gray Printing 3D Pen is lightweight, easy to handle, and extremely durable. It comes with all the required settings and controls that a 3D pen needs to function exceptionally. With this best 3D pen you can draw horizontally, vertically, and sideways for endless drawing opportunities. The design is engineered in such a way that it keeps away from any possible sign of dust, dirt, or any other particle. If you know 3D printing that can be experienced by both children as well as adults, you know how it encourages a positive and productive lifestyle.
The Soyan Gray Printing 3D Pen is a honest and reliable buy for everyone. Thanks to innovative pen technology, 3D pens are on the verge of becoming the most popular and loved artistic tool for children and adults. Making your drawings and doodles come to life, a 3D pen is a far better and exciting pen to have after a mechanical pen. While choosing different pens can depend upon your plans of using it, a 3D pen has straightforward applications. They help you create interesting and colorful drawings, improve your thinking, and translate your imaginative skills into beautiful art. For that purpose only, the Soyan Gray Printing 3D Pen stands as the best 3D pen on the market. It comes with an additional 30g ABS filament and a power adapter for smooth operation, plus the 3D printing pen is designed to quickly change colors with unlimited possibilities.
For fancy buyers who don't mind spending more to buy better, the 3Doodler 2.0 3D Pen is a must. It boasts of its creativity than it does of its practical uses on the list. When 3D printing pens were unlocked, not many years ago, they become an overnight success for creative people of all ages and skills. The 3Doodler 2.0 3D Pen is a first-class pen with just the right features and setup for, at any cost, does what it's designed to do. It is backed by revolutionary heating algorithms, temperature controls, and such relevant features that only a higher-grade 3D pen can pull off. It's expensive because it's an upgraded model with superior improvements over its previous model. It has proper ventilation, no lagging performance, and is made with durable components for longevity. So, you should expect this best 3D pen to last for a really long with minimal upkeep and power shortage.
For budget-conscious buyers on the list: the Lay3r Craft 3D Pen is a fast and reliable 3D printing pen with simple features that cater to its appeal and price. If you've never used a 3D pen before, this best 3D pen can make an excellent getaway product for you. It is fun to use and extremely easy to comprehend, giving you hours of consistent 3D skills. We recommend this handy 3D pen to anyone even slightly mentioning a reliable and affordable 3D pen. Many consumers have dubbed the Lay3r Craft 3D Pen as a durable and convincing product for children as well as adults. The only minor drawback of this best 3D pen is the time taken for the heated plastic to harden, but considering how efficient the Lay3r Craft 3D Pen is, it's worth the wait. The quality and heated plastic extrusion performance of this best 3D pen is impressively solid and does not wobble.
What to look for in the best 3D pen
Design
3D pens don't require a professional setup or computer assistance to function. You don't require one either. But the most basic feature to look for is the design. If it's too heavyweight or uncomfortable to hold on to, it means that that 3D pen is not yours to purchase. The design includes features such as style, color, shape, weight, and material. Keeping all these factors in check can you determine the scope of the best 3D pen.
Filament
Based on the different kinds of 3D pens we have reviewed here, the only two kinds of filament that stood out were ABS and PLA. Both are human-friendly and strong for durable use. Some 3D pens are compatible with both filaments while some only cater to ABS or PLA. Based on what you want, you can take your pick.
Variable Speed
3D pens are designed for consistent and safe plastic extrusion. For art projects, you want to run the pen at the lowest speed for accurate drawings and paintings, but if you want to make quick and efficient repairs, you want to run the pen at the highest speed for refilling. To have variable speed in your ideal 3D pen is must if you like to experiment.

Our best pick: Soyan Gray Printing 3D Pen

Soyan Gray Printing 3D PenThe workings of a 3D pen is extremely fascinating: it heats plastic to the optimal temperature so it comes thrusting out of the 3D pen which instantly hardens, allowing users to draw in three-dimensions freehand or on another material. You can draw artistically in every direction with the Soyan Gray Printing 3D Pen, which is suitable for children as much as it's exciting for adults. We're looked upon some adult users of this best 3D pen and found no lagging or compatibility complaints of any kind. It has a simple temperature change frequency feature, which is only necessary to alter if the heated plastic is coming all wrong. The FORWARD button is for power start and stop functionality, so if you let go of that button, the pen will stop thrusting heated plastic immediately. About the versatile extrusion speed settings this best 3D pen offers, for 3D printing or drawing purposes, we recommend you use the lowest speed setting there is for the Soyan Gray Printing 3D Pen, and for other purposes such as prototyping, invention, or even filling in gaps, you can experiment with the other speed measures on the pen. Using its lowest speed measure is perfect for drawing with consistency and attention to detail. What's more: you get three 1.75mm ABS filament with random colors and a AC100 240 volt input power adapter along with the lightweight and slim 3D pen. It comes with ABS filament and not PLA because ABS is more reliable and consistent under this pen's extrusion speed settings for drawing and printing purposes. Ideal for education, art, prototyping, and innovative inventions, the Soyan Gray Printing 3D Pen adds that artistic element to your project to help you create something high-minded and efficient.
The Soyan Gray Printing 3D Pen is perfect for those who quickly want to know what to get. It is a stylish 3D pen that would make the perfect gift for anyone with an artistic imagination.

Our upgraded pick: 3Doodler 2.0 3D Pen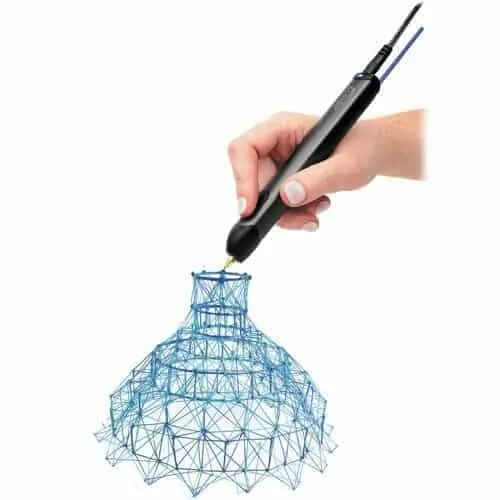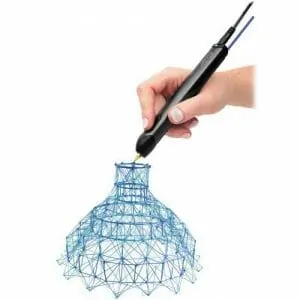 3Doodler 2.0 3D Pen
Even though there are plenty of decent options out there, there comes a point when you look at the price of a reliable 3D pen and scrutinize its features based on that price, whether too cheap or too expensive. The 3Doodler 2.0 3D Pen is one such intelligent 3D pen for creative drawing and printing that comes with a high price tag and exceptionally advanced features. You wouldn't know the workings of a true 3D pen if it weren't for this best 3D pen on the market. If you want specific features in your next best 3D pen, you've found the 3Doodler 2.0 3D Pen and its impressive features they offer. With a sturdy and smooth nozzle design, you can ditch inconsistent extrusion of heated plastic, with the exclusive heating algorithm, the heated plastic oozes out comfortably and smoothly even if you're moving around in different directions, and finally, with the variable speed and temperature controls, you can experiment with different consistencies and depths when inventing something new. To have such advanced and powerful features at your disposal is exciting primarily because you wouldn't expect a 3D pen to be this talented, to begin with. The 3Doodler 2.0 3D Pen has got all it needs to suit all kinds of people, skill levels, and creative pursuits. For long term use, this best 3D pen is expertly designed to reduce the higher risk of jamming, thanks to the pen's versatile low and high temperature speed setting that lets users turn the temperature whenever they fear a risk of consistent jamming, especially after long minutes of use. The 3Doodler 2.0 3D Pen comes with an additional 80 premium strands of PRO Series PLA and ABS for efficient printing. You can create anything you want out of thin air with these strands and make imagination in a three-dimensional reality forever.
The 3Doodler 2.0 3D Pen inspires its users to create more and better for its price. The performance features of this best 3D pen might be too advanced, but to use them is as simple as ABC.

Our affordable pick: Lay3r Craft 3D Pen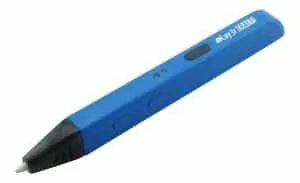 Lay3r Craft 3D Pen
The Lay3r Craft 3D Pen has the most intuitive and plain interface, which makes 3D printing and drawing to someone who's never used a 3D pen before no trouble at all. It's just like using a regular pen, but only for creative purposes. If you are serious about buying a powerful 3D pen for yourself, there's never a better time than doing it now. The Lay3r Craft 3D Pen is as effective and reliable as they come. With 6 variable speeds and adjustable temperature, you can draw versatile consistencies of models freehand or on paper. For making imagination a reality that you can touch and feel is possible only because of powerful 3D pens such as the Lay3r Craft 3D Pen. From creating colorful doodles and modelled drawings to making minor repairs with heated plastic and creating innovative prototypes for professional gains, this best 3D pen is extremely efficient and safe to use. After looking at many positive consumer reviews online, we came to a solid conclusion that the Lay3r Craft 3D Pen is the only low-priced model out there with features that come close to higher-grade models too. The automatic shut off safety feature, quick start drawing guides, eiffel tower tracer and dog tracer are some of it innovative features we loved so much. Ideal for kids and adult, the Lay3r Craft 3D Pen ranks for its operational capabilities and usable standards which can survive longer than your expectations. Overall, the Lay3r Craft 3D Pen is a durable pick for crafters, as it has many available features that are better for freehand drawing and printing. With three 1.75mm PLA filament assorted colors, you can bring to life some of your best work in a matter of minutes. Just in case it takes your hours too, this best 3D pen won't jam or overheating after consistent hours of use.
If you're investing in a budget-friendly pick, you don't have to perish your expectations for it. The Lay3r Craft 3D Pen keeps both crafters and curious-creators between the realms of artistic creation for personal or professional purposes.

Best pick for the money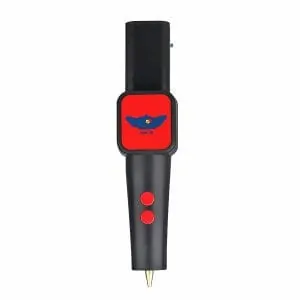 YaYa3D V1.5 3D Pen
The appeal here is to buy something worth every penny, not saying that our previous picks aren't, but when you need a little more convincing, a reasonably priced buy is the safest choice to opt for. The YaYa3D V1.5 3D Pen is an expertly designed pen used for crafts, school projects, home decor, gifts, and such creative purposes. It features a 0.7mm copper nozzle that thrusts heated plastic consistently and smoothly without wobbling. The way this best 3D pen is designed, it allows users to test their own limits when it comes to artistic explorations. Unlike many standard 3D pens, the YaYa3D V1.5 3D Pen can be used with ABS or PLA 1.75mm filament so the benefits of shopping for one aren't slim. For crafters who want something reliable and long-lasting, this best 3D pen offers impressive design and performance that can easily be plugged into a power supply without the high risk of overheating or jamming.

Best 3D pen for versatile use

Lay3r 3D Pen
The Lay3r 3D Pen has the most comfortable body, simply because of its versatile appeal. You can use this best 3D pen for doodling, education, art projects, inventive purposes such as prototyping, or as a hobby. It makes use of 1.75mm ABS filament for consistent plastic extrusion. It is a versatile pick because it offers many all-powerful features found in not many 3D pens on the market. The Lay3r 3D Pen has an Auto-shutoff feature, 3 spools of 1.7mm ABS filament, a quick and responsive cooling fan, and AC adaptor with both backward and forward extrusion feature. You see can how seasoned and capable this best 3D pen as it combines some of the best features for perfect artistic pursuits. It allows users to modify their work in a matter of seconds and creative three-dimensional models out of thin air. Lastly, the best part is the cooling fan that efficiently hardens plastic a second after it's thrusted out of the nozzle. That means no wastage of time and no blunders!

Best 3D pen for ease of use

3Design Professional 3D Pen
The 3Design Professional 3D Pen is what it is so buyers don't have to read a quick start guide every time they decide to create something three-dimensional. It offers simple and dependable features so you get to create your special design with just your imagination, and nothing else. The bright OLED display is perfect for controlling the speed and temperature on the 3Design Professional 3D Pen. With it comes the speed adjusting controller and a double click power button for safe extrusion. You won't get a chance to complain or regret about this best 3D pen because it's exactly how it is advertised. The 0.6mm ceramic nozzle and 1.75mm filament diameter is compatible with PLA and PBS filament materials. Essentially, if you ever need help with anything, it would be to create more intricate designs because the 3Design Professional 3D Pen can take charge of anything and everything.

Best 3D pen for beginners

Manve Intelligent 3D Printing Pen
If you're new to 3D printing to the point where you don't know whether you'll be able to keep up with its features, we have exactly what you need. The Manve Intelligent 3D Printing Pen is a professional and durable 3D pen with environmental-friendly features and responsive settings. It's a great tool to possess when you want to challenge your inner creativity and bring to life the ideas that you could draw on paper. With its intelligent standby function, this best 3D pen doesn't cause accidental disasters as it automatically shuts off after 5 minutes of no use. That's when you forget to turn of the 3D pen or you keep it to rest. For consistent extrusion, it features variable temperature regulation and continuous speed regulation so you can draw freehand, stress-free. The only practical choice for beginners to draw and create three-dimensional models is by the technologies of the Manve Intelligent 3D Printing Pen.

Best 3D pen for advanced users

3Doodler Create Non-Toxic 3D Pen
Whether you're a teacher, a student, a parent gifting a 3D pen for your kid, or an adult yourself looking for a creative challenge, everyone could use the best advanced 3D pen for fun. The 3Doodler Create Non-Toxic 3D Pen is a lightweight, portable, and stylish 3D pen with enhanced features and an intuitive design for long term use. It comes with an improved drive system and quieter operation so you make the most out of its performance. It's feature-packed to the core to provide stress-free and fast 3D printing performance, even in low-light conditions. The ambient light bar and 50 free plastic strands of multiple colors and materials are just some of its best features. The experience of creating something three-dimensional, horizontally as well as vertically, is virtually appealing for both children and adults. This best 3D pen unlocks your creative potential in ways unimaginable before. Equipped with a Quick Start Guide, a Power Adapter, and other non-toxic tools, the 3Doodler Create Non-Toxic 3D Pen is the best 3D pen for advanced users.

Best 3D pen for children

Scribbler V3 3D Pen
Children love to indulge in their creative tendencies better than adults, and that is a known fact. They're more open and colorful with their art, creating honest and memorable pieces that stay with them forever. For such an inventive lot, you need something equally intelligent and visionary, enter the Scribbler V3 3D Pen. With this best 3D pen, parents can affectionately say that they're gifted their kid/kids the best way to improve spatial thinking to tap into that creative genius most children often overshadow. It comes with a large LED screen with control extrusion speed, temperature settings, and plastic filament switches. The heated plastic is so mature and stable that children can easily draw in thin air and the result would be beyond belief. It is lightweight and is available in many exciting colors, so we know it's made for kids since they love experimenting with tools that aren't only functional, but look tempting to use. Lastly, you can use any kinds of plastic from PLA or ABS, plus the switch is hassle-free.

Best 3D pen for creative experimenting

7tech 3D Printing Pen
Compared to other higher-grade competitors, the 7tech 3D Printing Pen is an exciting 3D pen at a good price. The way this best 3D pen is designed and the way it performs, we think it's best left to use for a creative genius. With its smooth temperature adjustment settings, step-less speed control, and LCD screen, crafters will make the most out of something so reliable and handy. Comfortable with 1.75mm ABS or PLA filament, this best 3D pen efficiently heats plastic at the highest temperature to offer a consistent flow of plastic out of its durable nozzle to create strong 3D objects. It might look heavy, but the overall design is impressively light and easy to handle. For 3D printing, this best 3D pen gets everything right the first time- something worth picking over models that promise stress-free operation, but are unable to deliver after intense use.

Best 3D pen for enhanced performance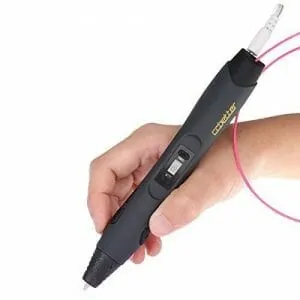 CCBetter Intelligent 3D Pen
The CCBetter Intelligent 3D Pen is a journey worth taking if you're looking for better performance and upgraded features. This best 3D pen boasts of better enhanced features than any other 3D pen of the similar price. It cuts through your imagination like butter to offer impeccable 3D printing performance and sustainability. The smart temperature adjustments and settings boast of precise plastic melting frequencies, the variable speed settings offer stability, and to support it all-the LCD screen is incredible. You can easily monitor all the set frequencies such as speed, temperature, plastic material compatibility on the LCD screen so you can throw guesswork out the window. The CCBetter Intelligent 3D Pen has a 1-year warranty with no drying or jamming problems. You'll get smooth and consistent extrusion after 1 year like you would when it's a day old. After a minute's use, you'll find it hard to put down this best 3D pen because nothing will seem better.

Best 3D pen for detailed crafts


GBB Intelligent Fibrous 3D Pen
Any creative project demands an accurate approach to design and appeal. And based on today's scope of design and art, there's beauty in the details. The GBB Intelligent Fibrous 3D Pen is an upgraded 3D pen with detail-driven features for creating drawings, paintings, and sculptures in thin air. Never have we seen such a powerful 3D pen that efficiently cools and hardens the heated plastic after it's out from the nozzle to create accurate shapes and cuts. If you want a stable foundation for your work, we recommend you the GBB Intelligent Fibrous 3D Pen. You can use ABS fibrous material with it, with consistent power supply and efficiency. Backed by a 1-year technical warranty, this best 3D pen is portable, intelligent, and ready for detailed crafts. Ideal for hobbyists, crafters, professionals, and inventors, the GBB Intelligent Fibrous 3D Pen an incredible tool for experimenting.

Best 3D pen for doodling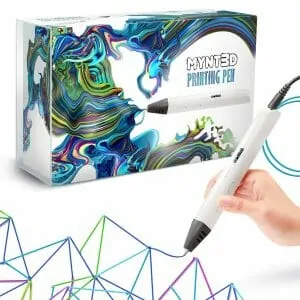 MYNT3D Professional 3D Pen
Design with aesthetic features and durable components, the MYNT3D Professional 3D Pen is the perfect doodling companion for everyone. The response we got from this best 3D pen is highly responsive and creative with intelligent features, something that doodlers look for in any pen. Ideal for right-handers and left-handers, the MYNT3D Professional 3D Pen features a variable extrusion speed control and a large OLED display to monitor all heat settings on the 3D pen. The best part of this best 3D pen is its drawing kit that comes with a lightweight ergonomic stylus, 3 colors of ABS plastic, and a power adapter. The quiet and smooth operation is also a huge bonus for doodling, so crafters can keep at it without worrying about jamming or overheating. Overall, the MYNT3D Professional 3D Pen ranks for its perfect combination of design, material, and durability when compared to other high-grade competitors.

Best 3D pen for long lasting operation

SUNLU Professional 3D Pen
Last but not the least, the SUNLU Professional 3D Pen is an intelligent pen with features that will last longer and perform more powerfully than expected. We recommend this best 3D pen to those who get lost in their artistic pursuits for hours even. This best 3D pen comes with 5m filament material length, hot melting extrusion molding accumulation, and an adjustable spinning speed for consistency and smooth operation. You can't put a price on such a reliable product, especially when it's for creative projects. If you want the perfect gifting item for someone you know loves to spend time indulging in artistic projects, for personal or professional use, this is the best 3D pen to give. It's perfect for its price and performance, and even for impressive for its durability. The response from the SUNLU Professional 3D Pen is commendable and convincing enough to pursue for long-term use. And if you're a picky buyer, there's nothing better left to last this long without giving in.

Wrapping it up
You want plastic masterpieces? Go for our best of the best 3D pen on the list, the Soyan Gray Printing 3D Pen. It is suitable for beginners as much as it is for advanced users and it is exciting for children as much as it is for grown adults. So, with this best 3D pen, there's so much you can do to pass time and get artistic. Following that, we have our most favorable picks on the market: the upgraded pick and the affordable pick. Both choices offer incredible standards and features with mind-blowing performance and consumer responses. After several hours of researching, the next popular models are based on their performance and performance only. 3D pens are a trending product in 2016, each featuring its own appeal and charm for both enthsiasts and professionals. Buyers get to create intricate models and sculptures with a 3D pen for prototyping or innovative purposes, so it's safe to say that the combination of pens and 3D printing is doing more than efficient today. Based on what there is out there, we've recommended some of the best performing 3D pens on the market. Each offers its own unique quality, and we love each for that only. We hope that we our extensive review you buy the best 3D pen for yourself, and we hope that you do it based on its right price and performance. Sometimes, the best 3D pen is the only most recommended rather than most sold. If you buy what everyone is buying, and not talking about, it's considered a missed opportunity, unless you're really lucky.
Jen Miller is a former electrical engineer and product specialist with more than 20 years of product design and testing experience. She has designed more than 200 products for Fortune 500 companies, in fields ranging from home appliances to sports gear and outdoor equipment. She founded Jen Reviews to share her knowledge and critical eye for what makes consumers tick, and adopts a strict no-BS approach to help the reader filter through the maze of products and marketing hype out there.  She writes regularly and has been featured on Forbes, Fast Company, The Muse, The Huffington Post, Tiny Buddha and MindBodyGreen.