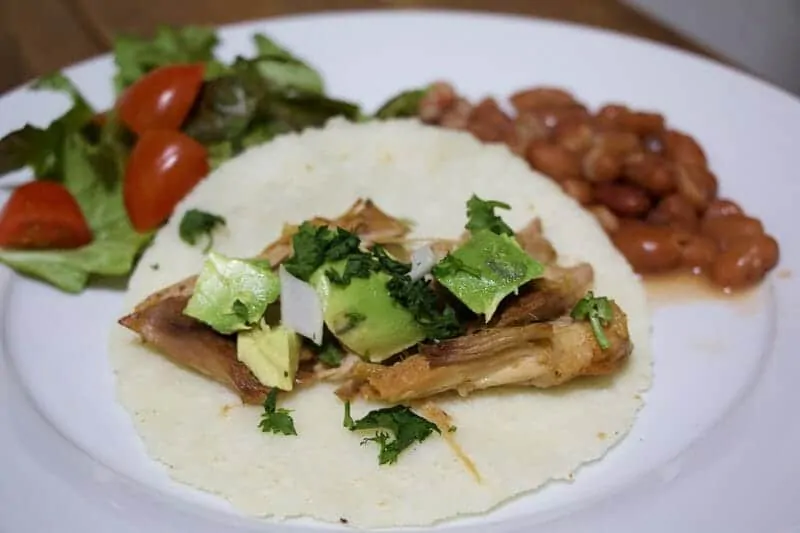 One of my favorite Mexican dishes is pork carnitas. Many restaurants have varying methods to prepare and cook this tasty dish, and the outcome is almost always – crispy, succulent pulled-pork. I had to know how to replicate this dish to have it at home, whenever I wanted. I researched some different recipes and Mexican food sites and tried several attempts at different ingredients and ways of cooking until I found this one. The tangy citrus flavor and last minute broil of the meat are what made me stick to this method. It is a combination from several different recipes I have seen and surprisingly enough, it is more simple than most.
Having a 'crock-pot' or slow-cooker is helpful in this process, but braising the meat in the oven in an oven dish with a lid works well too. The prep is very simple and does not take up much time, and the last step of broiling the meat in the oven seals in the juices and crisps up the pork. You can set this to cook all day if you are away from home, or you can turn the slow-cooker to 'high' and the meal can be ready in a little as 4 hours. It does take a bit of planning because it is a slow-cooker dish, but the tender meat just falls apart and makes all that planning worth it.
This is a great meal for large groups, serve it with tortillas and salsa to make 'street-tacos' or serve beans and rice alongside it for a more formal, sit-down event. This meal is gluten free and lactose free. It is a definite crowd pleaser!
I've also included my homemade tortilla recipe, in case you want to impress your guests with some authentic Mexican corn tortillas!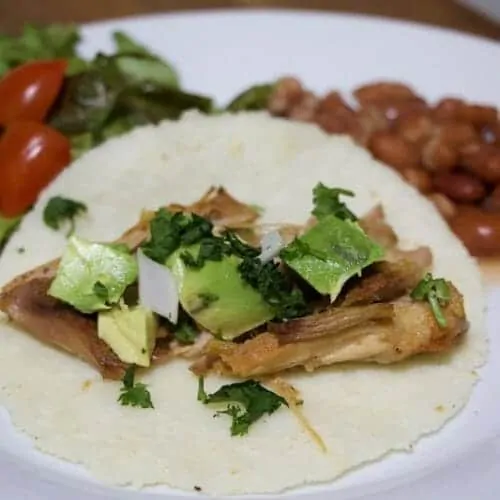 Authentic Mexican Pork Carnitas
Total Time
4
hours
10
minutes
Ingredients
2

lb

Pork shoulder

you can also use pork butt, anything with some fat in it

2

Oranges

2

Cloves

garlic

Salt

Pepper

Cinnamon

Chili Powder

Cumin

Oregano

Tortillas:

1

cup

Masa harina

pre-cooked corn flour

1 ¼

cups

Water

Salt to taste
Instructions
Prepare the meat and place it at the bottom of the slow-cooker.

Chop the onion and garlic and set aside.

Add the salt, pepper, cinnamon, chili powder, cumin and oregano to the meat.

Add the onions and garlic on top of the spices.

Slice the oranges and add them to the pot.

Make tortillas using my recipe or heat up store bought ones.

Prepare toppings or side dishes.

Pull the meat apart.

Broil the meat in the oven.
(These measurements make about 8 tortillas)
STEP ONE – PREPARE THE MEAT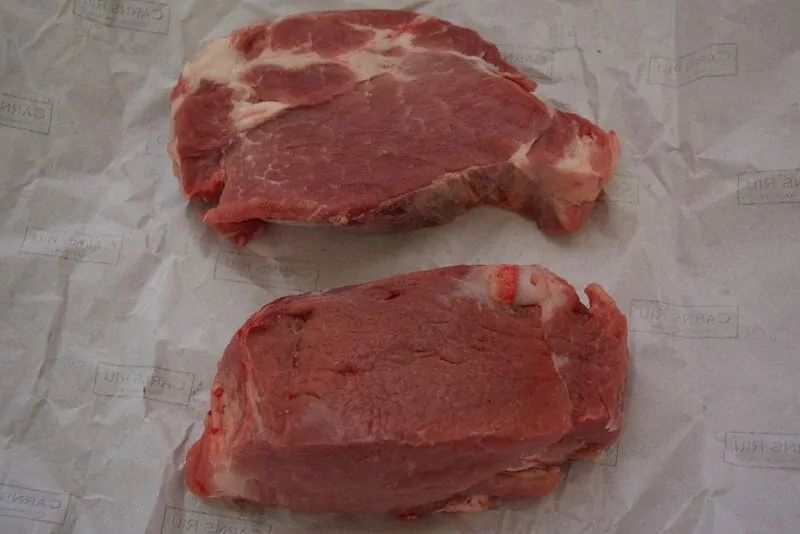 I often pull the meat out of the refrigerator about a half hour before cooking it to get it to room temperature. Place the meat in the bottom of your dutch oven or slow cooker and turn it on. Set the heat at low if you are cooking the meat for 6-8 hours or high if you are cooking for 4 hours.
STEP TWO – CHOP ONIONS AND GARLIC

Dice the onion and garlic and add it to the pot. It doesn't have to be finely diced, larger pieces work fine as well.
STEP THREE – ADD SPICES

Add the salt, pepper, cinnamon, chili powder, cumin and oregano to the meat.
STEP FOUR – ADD ONIONS AND GARLIC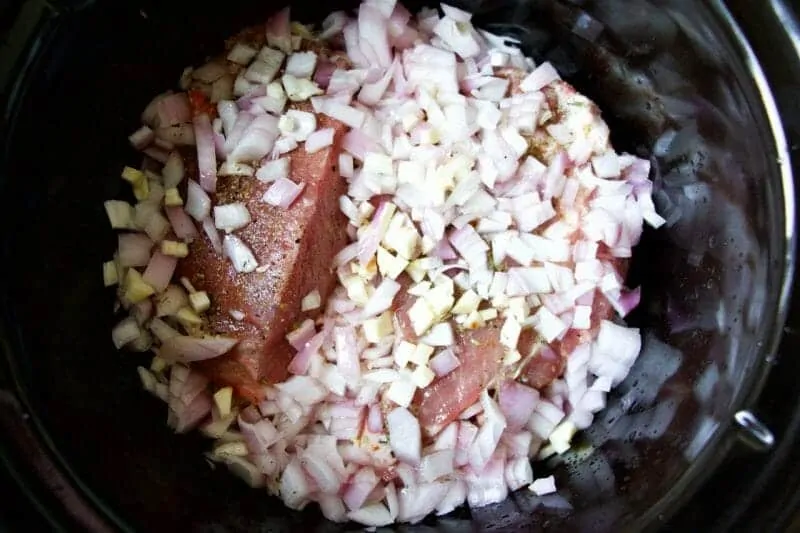 Add the chopped onions and garlic to the pot, making sure some of it lands on the meat.
STEP FIVE – ADD ORANGE JUICE AND RIND

Slice the oranges in half and squeeze all of the juice onto the meat. Place the orange rind on top as well.
Now place the lid on it and leave it to cook, if you are making this dish for a dinner party, this is the time to decorate and prepare your house for your guests!
STEP SIX – MAKE TORTILLAS

About a half hour before the meat is ready, you can start making your tortillas. Or for an easier after-work meal, purchase already made tortillas.
Mix the masa harina in a bowl with the salt and slowly add the water. (Suggested measurements for tortillas are often on the packaging for the masa harina). Once you've made these a couple of times, you won't need the measurements, you can just feel the texture. The drier the dough, the harder the tortillas are to form and cook. Keep a cup of water nearby, if the dough starts to feel dry, dip your fingers in the water before rolling the dough into a ball. Then, separate the dough into small balls.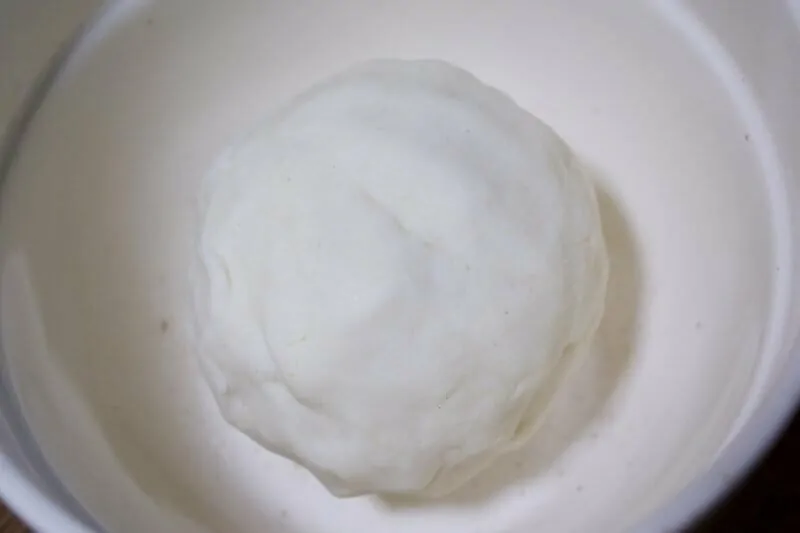 Here is where a tortilla press can come in handy, but before we had one, we made due with a rolling pin. (Tip: if you don't have a rolling pin, a wine bottle works just fine). Roll or press your balls into a thin circle. It is helpful to use plastic wrap or wax paper to press out your tortillas as they stick easily. This takes some practice, don't get frustrated if it doesn't work perfectly on the first try. You can always form the ball again and roll it out a second time, and the tortillas don't need to be perfectly round, just perfectly tasty.
Preheat an ungreased frying pan and lightly cook each side of the tortilla. Keep a plate nearby and stack them here as you cook them. There should be some small golden spots, and they may puff up as they cook.  They take about 2 minutes per tortilla.
STEP SEVEN – PREPARE TOPPINGS OR SIDES
Prepare your toppings and other dishes to have with the meat, such as beans (pinto or black), lettuce, tomatoes, Mexican rice, salsa, avocados…etc
You can use this meat to make tacos, or serve it on a plate with a side salad, rice and beans. It's a very versatile dish that works with many other dishes.
STEP EIGHT – PULL APART THE MEAT

When the pork is ready, pull it out of the slow-cooker and place it on a plate, or on a cutting board and pull apart the meat into small pieces using two forks.
STEP NINE – BROIL MEAT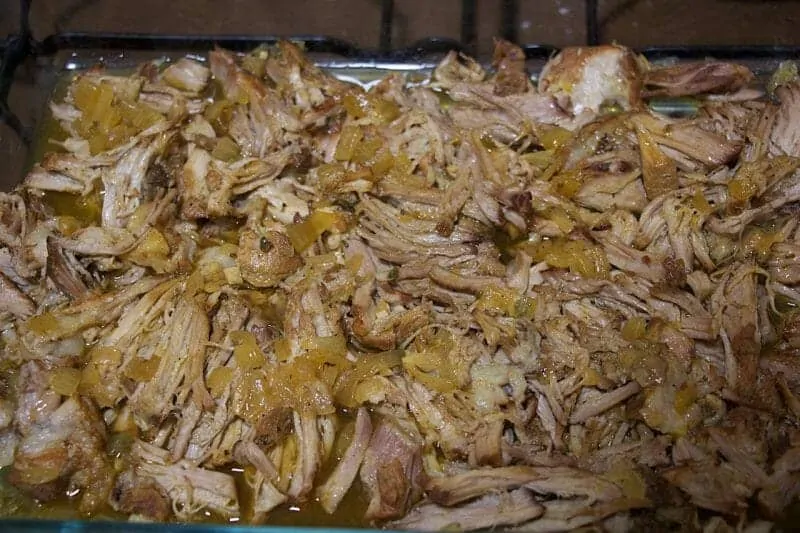 Place the meat on a baking sheet or in a glass pan and put it under the broiler to let it crisp the edges. Broil it for about 5 minutes then remove it from the oven. Use a spoon or pour the juices from the pot over the meat, mix the meat, and continue to broil for about 5 more minutes. It should be browned on the tops but not burnt.
Enjoy your meal!
If you are using this recipe for a party with friends or family, you can easily set up a buffet bar and place all the dishes and sides here, have everyone build their plates and tacos and then make their way to the dinner table. This provides you extra room at the table and everyone gets to prepare their own plates just how they like it.
About the Author – Tracy Carmen Watkin
Tracy lives in Barcelona, Spain with her husband, Jeff. Originally from California, they made the big move overseas in 2012 and have settled into expat life quite well. They love creating new recipes and cooking together. Tracy has a large garden and tries to cook using what they grow as inspiration. She loves to host dinner parties and create food themes using local and organic ingredients.