Bring your favorite summer squash into the fall season with this delicious zucchini bread recipe. Nothing says fall like a warm and well-spiced loaf of zucchini bread. This zucchini bread recipe uses a few classic baking tricks to make a uniquely moist, sweet, and sponge-y for a perfectly addicting treat. It tastes great with a bit of butter on a warm slice and makes a great on-the-go breakfast snack as well.
Plus, zucchini is full of health benefits that make it as nutritious as it is delicious. And this recipe is surprisingly easy to throw together, so long as you have a good mixing bowl and a study 9×5 loaf pan. Of course, feel free to toy with the flavors you add in to the recipe to really make it your own. Dried cranberries, walnuts, cardamom, and nutmeg make excellent additions for a holiday twist on your zucchini bread's flavor profile.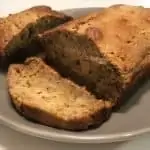 Zucchini Bread Recipe
Total Time
1
hour
30
minutes
Ingredients
1/2

large zucchini - grated

2

cups

all-purpose flour

1/2

teaspoon

baking powder

1/2

teaspoon

baking soda

1

teaspoon

cinnamon

1/2

teaspoon

salt

1

large egg

1

teaspoon

vanilla

1/4

cup

honey

1/3

cup

brown sugar

1/2

cup

white sugar

1

cup

unsweetened applesauce
Instructions
Preheat oven to 375 degrees.

Shred half of a large zucchini.

Sprinkle ½ teaspoon of salt over the zucchini and set aside.

Mix the flour, baking powder, baking soda, and cinnamon.

In a separate bowl, beat one egg.

Add in honey, brown sugar, white sugar, and vanilla– whisking the mixture between each ingredient.

Combine the egg mixture with your dry ingredients.

Add applesauce, then stir until fully combined.

Pour off any excess water from the shredded zucchini, then add it to the batter.

Grease a 9x5 loaf pan and pour the batter in.

Bake for 50-60 minutes or until golden brown on top.

Let cool for 10 minutes before slicing.
Step 1: Shred the zucchini

The first step is probably the most time consuming: shredding the zucchini. You'll want around two cups of shredded zucchini, which is about half of a large zucchini. No need to peel the outside first. The green adds a bit of color and texture to the zucchini bread without affecting the flavor. Once you're finished shredding the zucchini, sprinkle a half teaspoon of salt on top. Give it a quick toss to evenly distribute the salt and set it aside.
Step 2: Combine dry ingredients

In a large mixing bowl, combine the flour, baking powder, baking soda, and cinnamon. Give it a quick stir to make sure all of the dry ingredients are well-combined. Meanwhile, the salt should be helping the shredded zucchini sweat a bit to remove excess water as it rests.
Step 3: Beat Egg and white sugar

In a slightly smaller bowl, use a whisk to beat one large egg until it becomes frothy. Then, slowly pour in white sugar and continue whisking. Make sure to maintain that frothy texture as you whisk away.
Step 4: Combine wet ingredients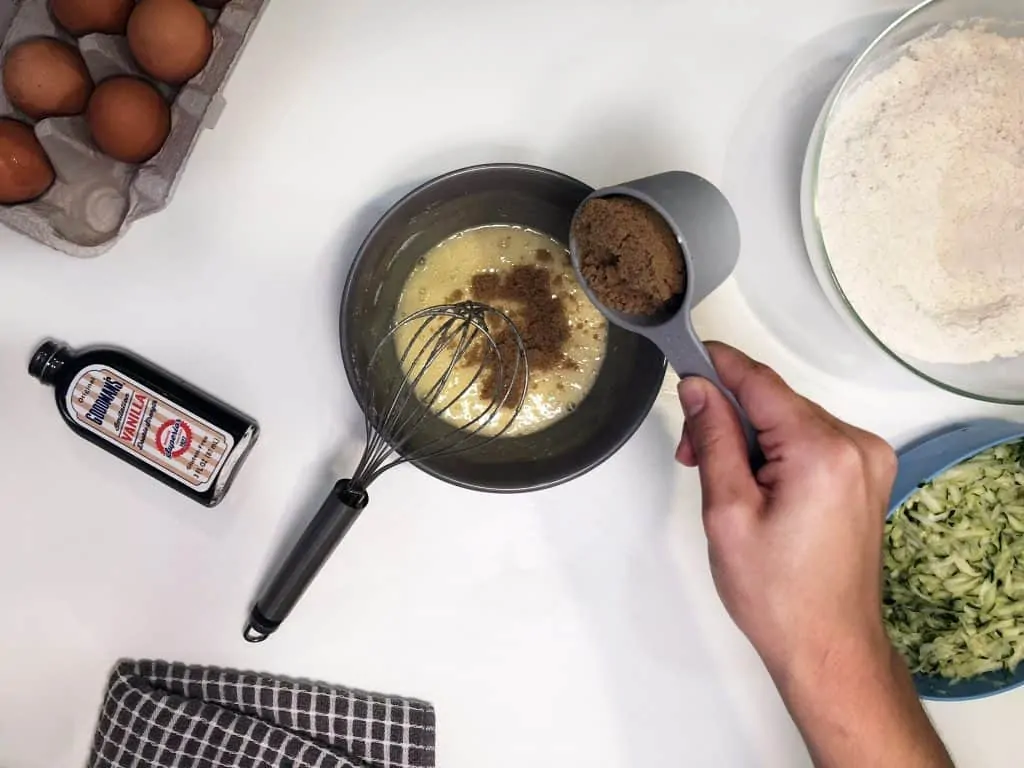 Repeat this process of pouring and whisking with the brown sugar, honey, and vanilla as well. You should end up with a thick and frothy mixture with a light brown color. This step can be a bit time consuming, but be patient and add the ingredients in little by little. Keeping the mixture airy will give your bread a light and fluffy texture.
Step 5: Combine the wet and dry ingredients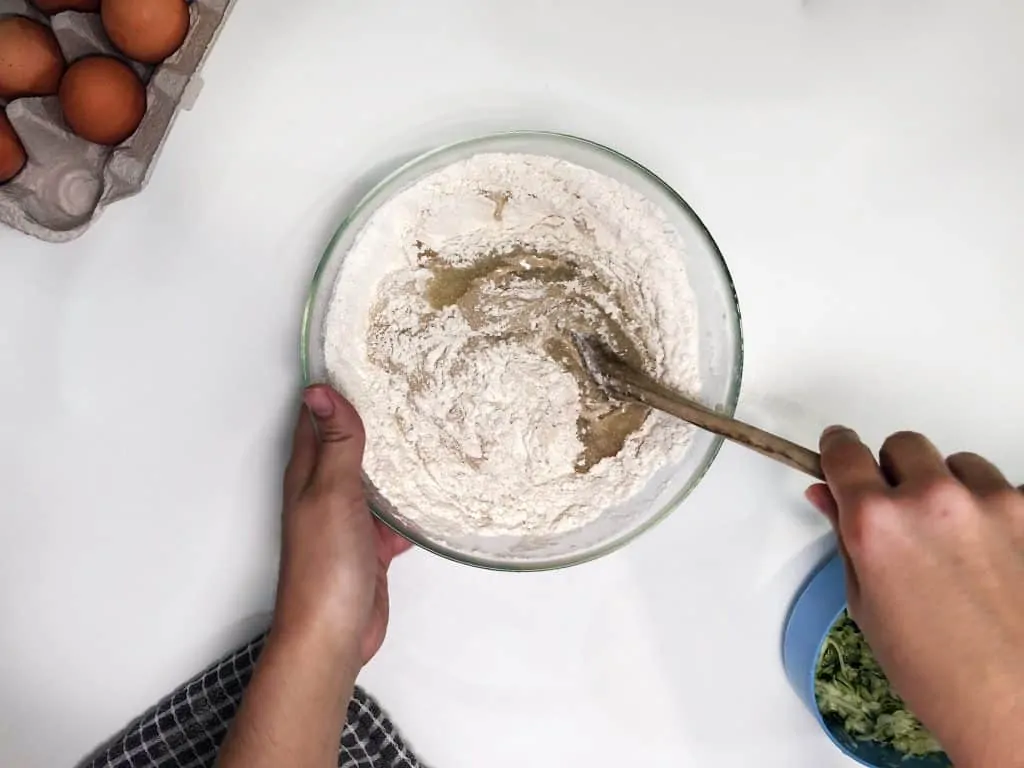 Pour the egg mixture into the large mixing bowl to combine it with the dry ingredients. Give it a quick stir, but be careful not to overmix at this stage. Over mixing the batter will push out all the air bubbles and the finished product will come out a bit rubbery in texture and cause the center of the loaf to sink.
Step 6: Add applesauce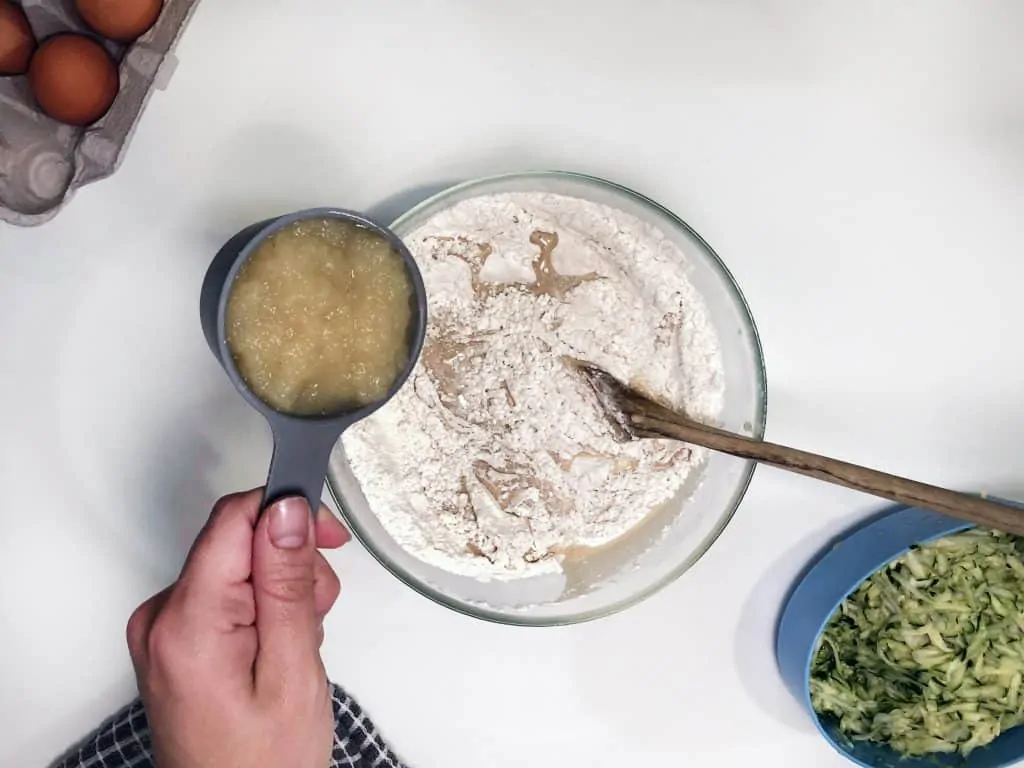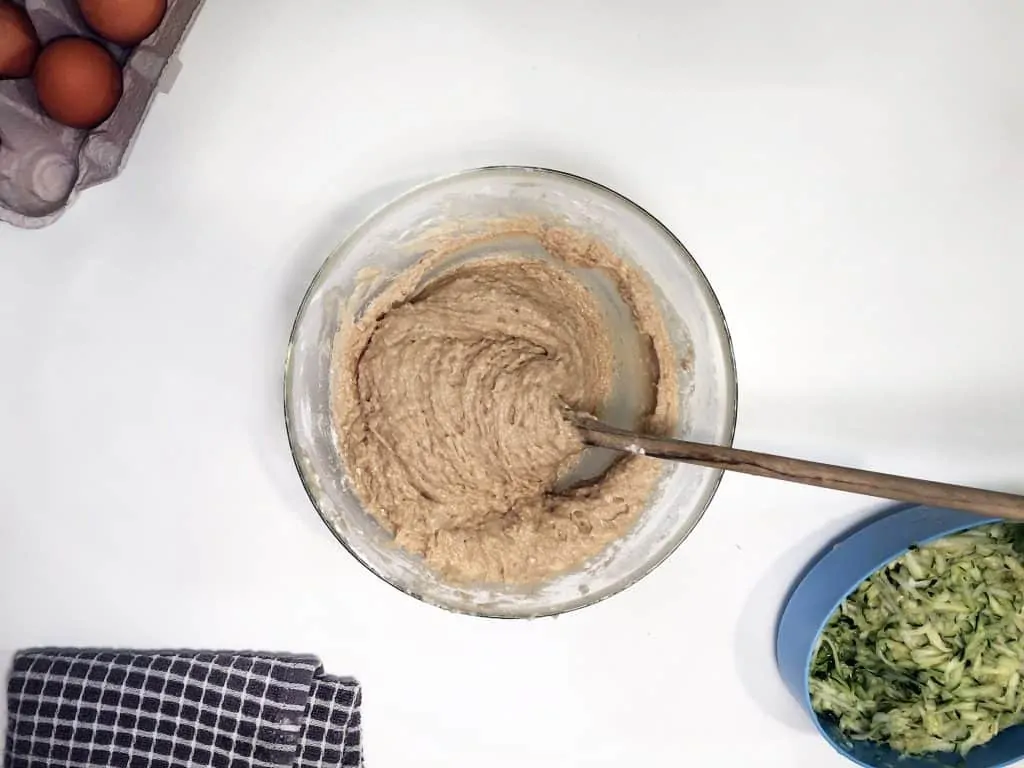 Pour in one cup of unsweetened applesauce. The applesauce will help the zucchini bread retain moisture and add a unique and subtle sweetness. Stir until the batter is smooth and fully combined.
Step 7: Add shredded zucchini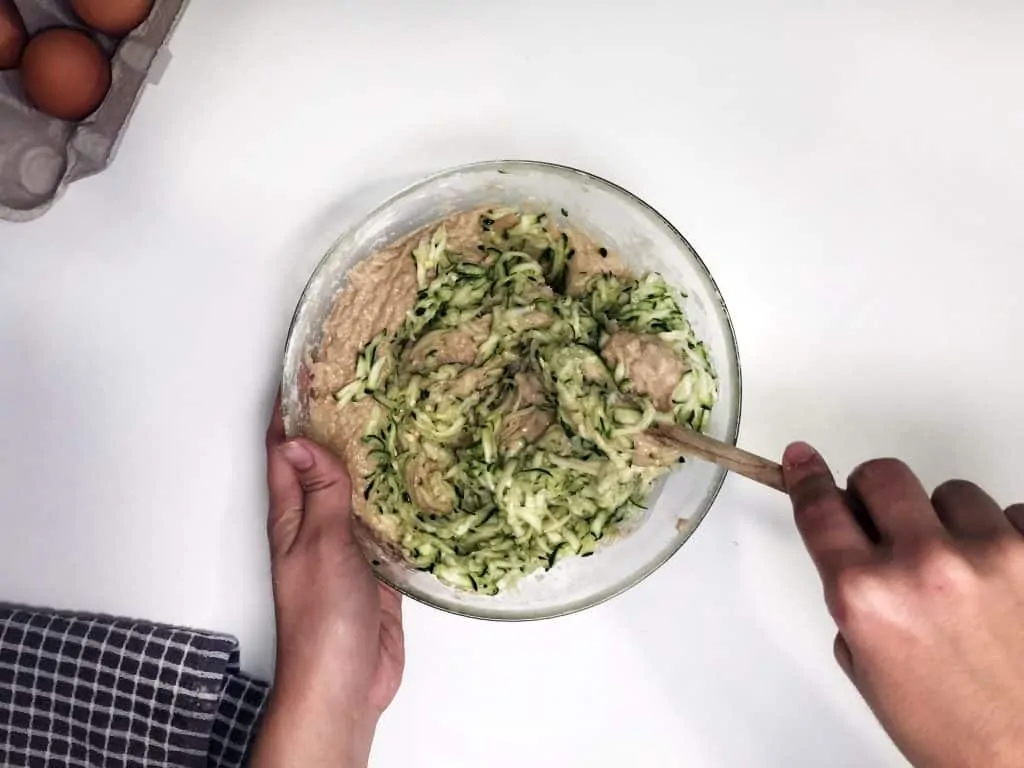 The salt should have helped remove excess water from the shredded zucchini. Pour off any water that has settled in the bottom of the bowl. But don't fret if there's still some moisture in the zucchini. You want to remove enough water that the zucchini doesn't fall apart, but still has some crunch to it. Go ahead and toss the zucchini into the batter and give everything one more good stir until it's thoroughly combined.
Step 8: Pour and bake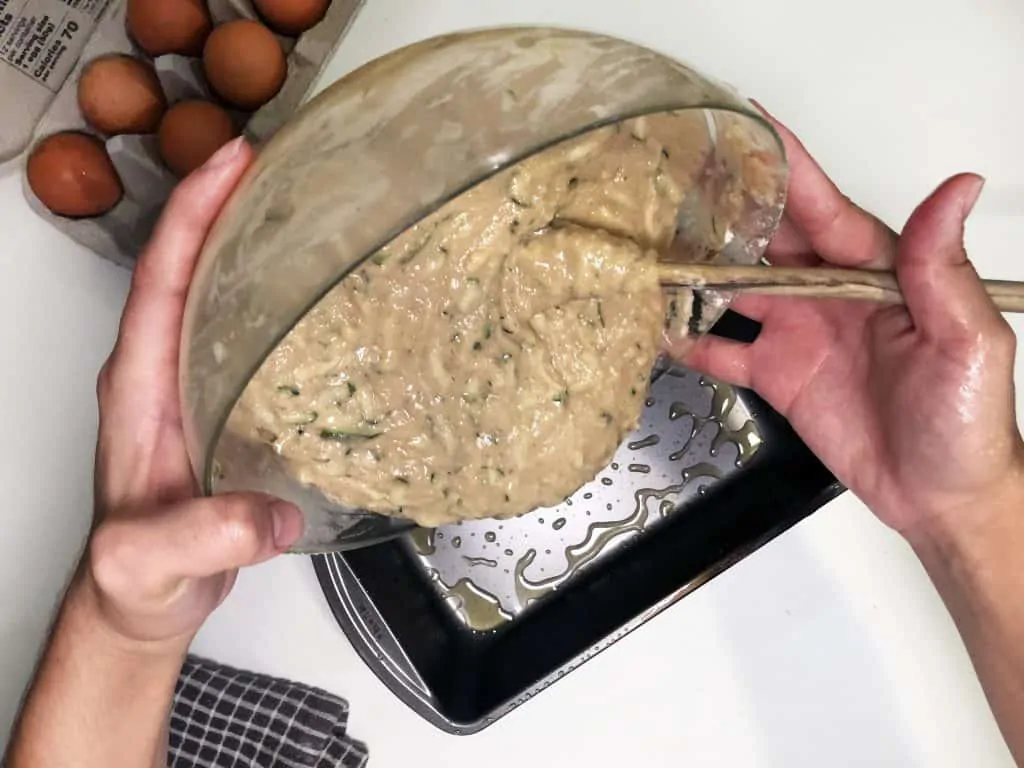 Pour your batter into a well-greased bread pan. Then set it in the center rack of the oven and let it bake for 50-60 minutes. When it's ready, the top will be golden brown and you should be able to stick in a toothpick and pull it out clean.
Step 9: Let cool

Once your loaf passes the toothpick test, remove it from the oven and let it cool. It's hard to be patient, but try to wait at least 10 minutes before slicing into your zucchini bread. It smells great, but it's in a very fragile state and will likely rip if you remove it from the pan too early.
Once your zucchini bread has fully cooled, you've got the green light to dig in. To protect the loaf, use a clean rag to cover the bread. Then, pressing your hand firmly to the top, flip the pan. The loaf should come out bottom-up with little effort. Then you can place it on a plate and slice away!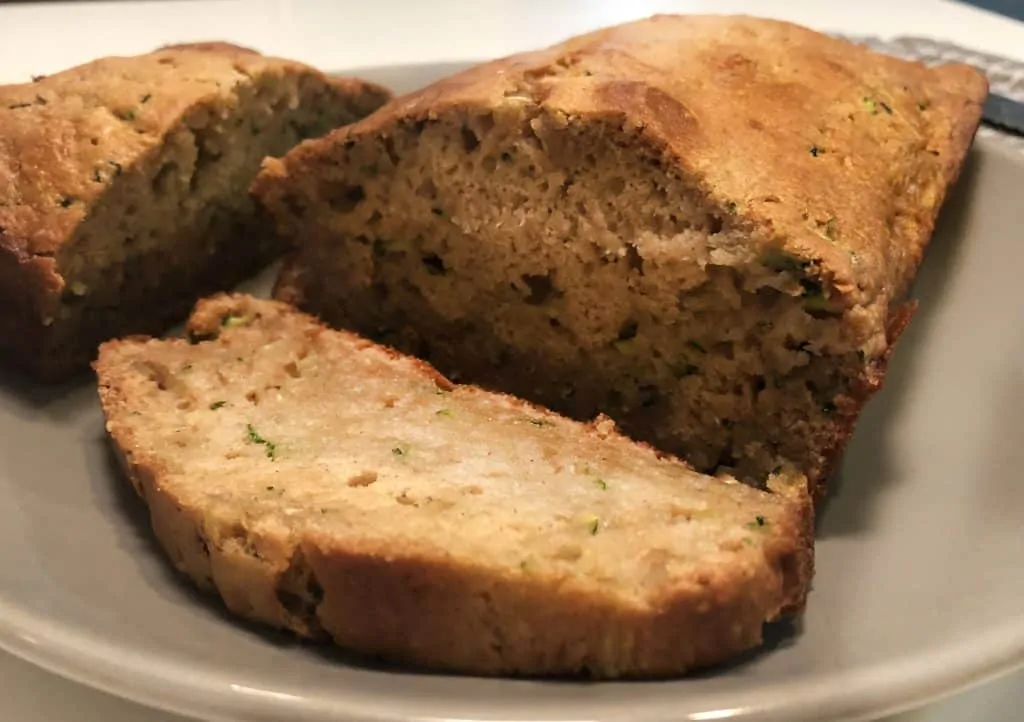 This zucchini bread recipe should be moist, fluffy, and lightly sweet. It's delicious served warm with a bit of butter on top, or on its own. You can also adapt this recipe for a mini-muffin version by swapping out the bread pan and baking the batter for 18-20 minutes instead. This delicious zucchini bread is the perfect take-along for a holiday party. Plus, if you're the host, it'll make the whole house smell like heaven.