[no_toc]When you need a quick meal after work, or the fridge is looking a bit barren after a big weekend. This might be for you!
A quick salad that can be put together within 20 minutes, packed full of leafy greens, healthy fats and a good amount of protein. This Smoked Ham and Hard-Boiled Egg Salad can be a great way to use leftover ham after a feast, Christmas lunch, special occasion, or if you just love ham!
Ham can get unnoticed, or mistaken for just a sandwich meat, but there are many alternatives, great snacks and meals that this cheap ingredient can be used for. There are many different types of ham, and it will vary on your budget, and flavour preference, that will enhance the texture and taste it gives to the salad. Ham can have varied tastes, from a strong smoky flavor, to a milder taste. Although, not everyone likes the smoky flavor, so you can also omit this type of ham for a maple glazed ham or a glazed ham of your choice. This will add a lovely, sweet flavour to the dish. The texture will also differ depending if you use ham off the bone, it would more likely give a chunky ham texture amongst the salad, compared to sliced ham which will be more delicate and finer strips throughout the salad. These are all variations that can be suited to your tastes and budget, to make this a personal tasty dish. Using coconut oil to cook to mushrooms with, adds another incredible flavor, that works really well with the rest of the components in the salad, and adds another great health benefit of coconut oil.
Smoked Ham and Egg Salad
Ingredients
1

cup

baby spinach leaves

chopped

3

large cooked mushrooms

sliced

1

TBSP

coconut oil

2

small cucumbers

chopped

1

ripe avocado

diced

5

oz.

150g smoked ham, diced

2

hard-boiled eggs

roughly chopped

2

medium sized tomatoes

diced
For the dressing
1/4

cup

mayonnaise

2

Tbsp

lemon juice

1

Tsp

Dijon mustard

1

tsp

of mixed herbs of your choice

1/4

tsp.

Himalayan salt

1/4

tsp.

freshly cracked black pepper
Instructions
Boil eggs

Cook mushrooms

In a bowl add spinach, avocado, cucumber, cheese and ham

Prepare dressing

Add cooled/cooked ingredients to serving bowl

Mix dressing through salad

Top with freshly cut tomatoes
STEP 1: COOK EGGS
If you are starting with fresh eggs, this would be when you would boil the eggs in a sauce pan.  Fill a saucepan with water (enough to cover the eggs) add 2 tsp of vinegar and a tsp of salt and bring to boil. Place eggs into the water and put a timer on for 9-11 minutes.  Or if you already boiled eggs as leftovers, that's great and you can skip this step! But if your eggs are boiling away, this is when you can Prep the rest of the salad.
STEP 2: SAUTÉ MUSHROOMS
Melt coconut oil in a small fry pan and Sauté mushrooms. Allow to cool
STEP 3: COMBINE GREENERY AND HAM
Add Spinach, avocado, cucumber and ham to a large serving bowl
STEP 4:  PREPARE DRESSING
In a separate bowl or salad dressing shaker, combined lemon juice, mayonnaise, mustard, herbs, salt and pepper to make the dressing.
STEP 5: EGGS AND MUSHROOMS
Add cooled boiled eggs and mushrooms (or already prepared) to bowl.
STEP 6: ADD DRESSING
Mix the dressing through the salad.
STEP 7: BRING IT ALL TOGETHER
Top with freshly cut tomatoes. Divide servings and ENJOY!
Alternatives: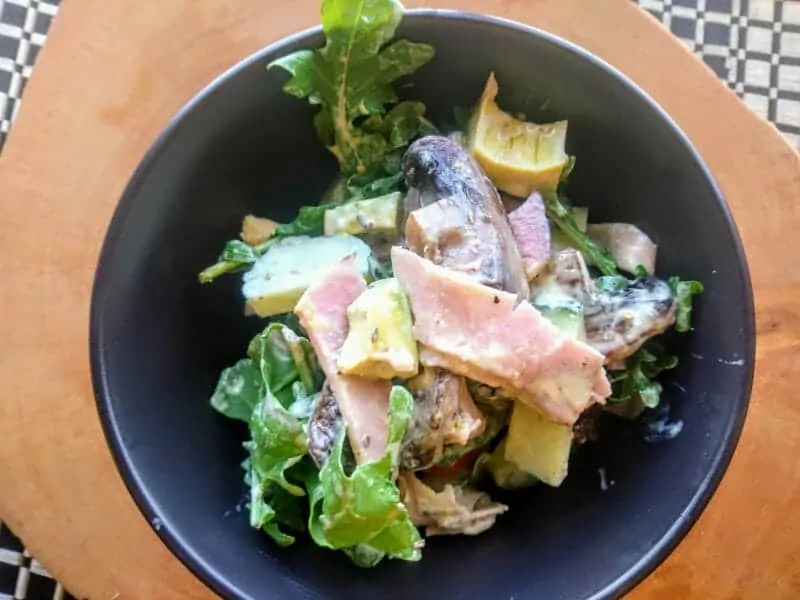 There are many variations that could be put together depending on what leftovers you have in the fridge or would like to purchase. This salad would also be great with leftover chicken, turkey or thinly sliced roast beef.
With the chicken alternative, omit mustard with a tsp of red wine vinegar into the salad dressing mix
With the turkey alternative, omit mustard with a tsp of cranberry sauce in to the salad dressing mix, add a 1/4 cup of chopped camembert/brie cheese
With a beef alternative, serve with the original salad dressing mix
Turn it into a winter meal
If you're looking for something on a cold night or a warm lunch alternative this could be turned into winters meal by replacing the spinach and cucumber with:
200g of beans
1 cooked sweet potato
2 cooked white potatoes
200g of thawed peas
This alternative would create a heartier meal and could be served hot or cold!
After Christmas there is always many left overs and A LOT of ham usually in the fridge. This would be amazing for those few days after Christmas, when you don't know what to do with all the ham, and you feel like you need a light, simple dinner or lunch. This ham and egg salad can be used as a side dish to accompany another protein, or a complete healthy protein packed main dish.  OR change the Christmas or the special occasion menu up completely and serve this on the day!