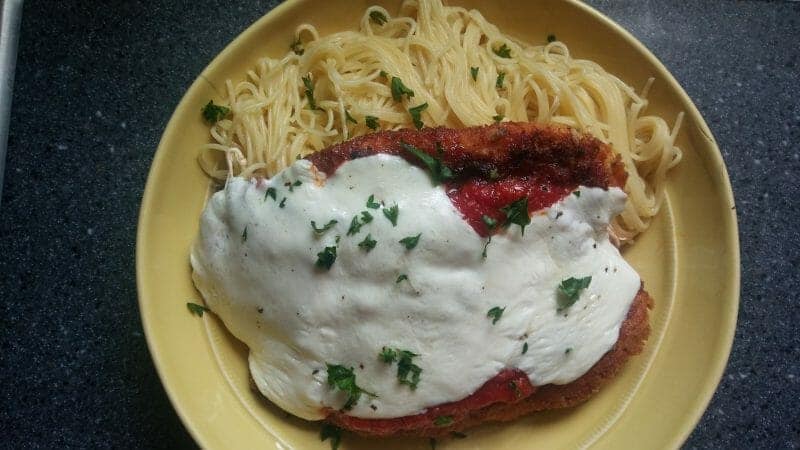 When Italian cuisine comes to mind thoughts of chicken pasta dishes, mozzarella cheese, and marinara sauce usually begin to arise. Funnily enough, combining these three elements creates perhaps one of the most iconic Italian dishes, chicken parmesan. This recipe for chicken parmesan will incorporate a crispy breaded chicken breast along with a rich and flavorful homemade marinara sauce, all topped with perfectly melted mozzarella cheese.
This dish will impress with not only its flavorful and filling portions, but also the simple process that is required to create it. With only a handful of common ingredients and a relatively short cooking time, just about anyone can try this dish out for themselves.
Authentic Chicken Parmesan Recipe
Total Time
1
hour
20
minutes
Ingredients
2-3

Chicken Breasts

Fresh mozzarella cheese ball

1

cup

all purpose flour

1

cup

bread crumbs

3

Tbsp

parmesan cheese

3

eggs

¼

cup

vegetable oil

1

box of thin spaghetti noodles

Fresh Parsley
Marinara Sauce
2

garlic cloves

3

Tbsp

olive oil

1 28

oz

can of crushed tomatoes

⅓

cup

red wine

1

Tbsp

fresh oregano

1

Tbsp

fresh basil

Salt and pepper
Instructions
Heat olive oil over medium heat in a large saucepan. Add thinly sliced garlic cloves and saute for 1-2 minutes.

Add red wine to the pan and let it simmer for an additional minute.


Combine crushed tomatoes, oregano, and basil with the garlic mixture. Let simmer over low heat for 30-45 minutes.

Butterfly the chicken breast by making a horizontal slice halfway without cutting completely through the breast.


Fill separate baking trays with flour, egg wash, and bread crumbs. Mix parmesan cheese into bread crumbs. First cover the chicken with flour, then egg wash, and finish it with a thick coating of bread crumbs.


Heat oil in a large skillet over medium-high heat. Cook the chicken until golden brown on one side and flip.


Once both sides are sufficiently fried, remove from the pan and place in a baking tray. Cover with marinara sauce and sliced mozzarella cheese. Bake in the oven at 350°F for 20-30 minutes or until the cheese is completely melted.


Remove from the oven and serve over a plate of cooked noodles, top with freshly chopped parsley and enjoy!

Step One – Thinly Slice Garlic and Saute
The key to a flavorful marinara sauce lies within the garlic. In order to get a rich yet not overbearing flavor we will slice the garlic as thin as possible. Heat 3 Tbsp olive oil over medium heat and begin sauteing the garlic for around 1-2 minutes. Make sure to continuously stir the garlic to prevent it from burning.
Step Two – Finish the Sauce with Red Wine and Crushed Tomatoes
Right before the garlic begins to brown, add the red wine and allow it to reduce for one more minute. This step adds a lot of flavor and will halt the frying process, ensuring that the garlic does not become burnt and bitter. Add the can of tomato sauce and top with sprigs of fresh basil and oregano. Mix everything together and reduce heat to low. Allow the sauce to simmer for 30-45 minutes, adding salt and pepper to taste halfway through.
Step Three – Cut the Chicken Breasts Butterfly Style
In order to achieve the desired thin and crispy chicken parmesan, it is important to butterfly the chicken breast. To do this simply slice the breast halfway up and parallel to the cutting board. Do not completely slice the breast in half, bring the cut just to the edge and open the breast into a butterfly shape. This will allow the chicken breast to cook more evenly, and will double its surface area.
Step Four – Prepare the Egg Wash, Flour, and Bread Crumbs
Once your chicken is all prepped for frying, it is time to set up the breading which will give it that crispy golden brown exterior. You can use baking trays, plates, or even plastic bags to do this. Simply fill one with flour, one with well beaten eggs, and one with bread crumbs. We will be mixing parmesan cheese into the bread crumbs to give it an extra depth of flavor.
Step Five – Coat the Chicken with Flour
Now it is time to coat the chicken. First, cover the chicken with a light layer of flour. Try to cover the entire breast without developing too thick of a layer.
Step Six – Dip the Coated Chicken into Egg Wash
Next, take the floured chicken and cover both sides with the egg wash. It is important that there are no dry spots on the chicken after this step, as the egg will serve as an adhesive for the bread crumbs.
Step Seven – Cover the Breast with Bread Crumbs
Finally, cover both sides of the breast with a liberal amount of bread crumbs, patting them down to ensure it all sticks. You can even use parchment paper and a rolling pin to firmly press and set the crumbs into the chicken.
Step Eight – Fry the Chicken in Hot Oil
Now that the chicken is perfectly breaded, it is ready to be fried. Heat a cast iron skillet or frying pan to medium-high and add a thin layer of vegetable oil. Not much is needed here, and the less that you can get away with will result in a less oily tasting product. Once the oil is up to temperature place the chicken in the pan and allow it to fry until the cooking side is golden brown (around 2-3 minutes). Flip the breast over and repeat this step until both sides are perfectly fried.
Step Nine – Bake the Chicken with Marinara Sauce and Mozzarella Cheese
Remove the Chicken from the frying pan and spoon over a decent amount of marinara sauce, topping it with slices of fresh mozzarella. You can use as little or as much of each as you desire, so feel free to make it as saucy or cheesy as you like. Place the baking tray into an oven preheated to 350°F and bake it for 20-30 minutes. All we are trying to accomplish here is a perfectly melted cheese, without burning it. If the mozzarella begins to turn brown and bubble remove it immediately.
Step Ten – Remove From the Oven and Serve Over Cooked Noodles
By now the chicken is perfectly cooked with a crispy fried exterior, the sauce should be thick and rich, and the mozzarella will have covered the entire dish with its melty goodness. The only thing left to do is plate this meal over  a decent amount of cooked noodles and top with freshly chopped parsley.
Once your house is filled with the aroma of homemade marinara sauce and this beautiful meal is on your table, you will begin to realize why it is such a popular dish. Of course there is always room for variation, perhaps you have a pasta maker and prefer to use fresh pasta or even a different blend of cheeses. However, sometimes a meal can be so perfectly crafted that there is no need to eat it any other way than in its most authentic form.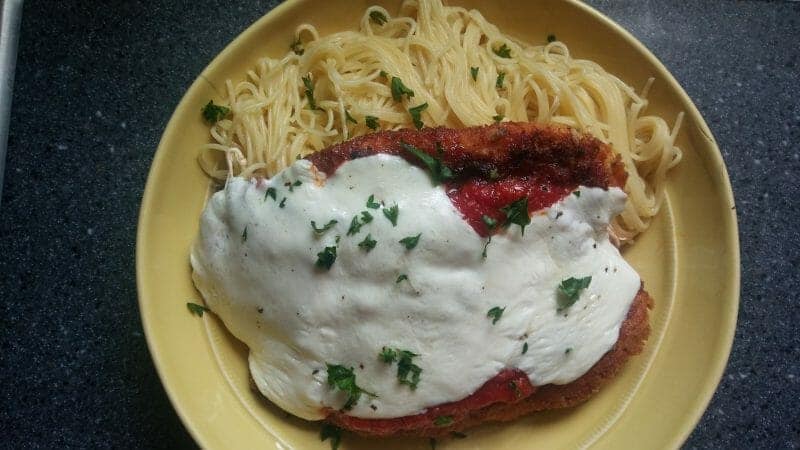 Regardless of how you decide to prepare your chicken parmesan, rest assured that this dish is one that will provide a lasting memory to go along with a full belly. So if you are looking to enjoy the taste of Italy and prepare a chicken parmesan that all of the Italian grandmothers out there will approve of, go ahead and follow this simple recipe.